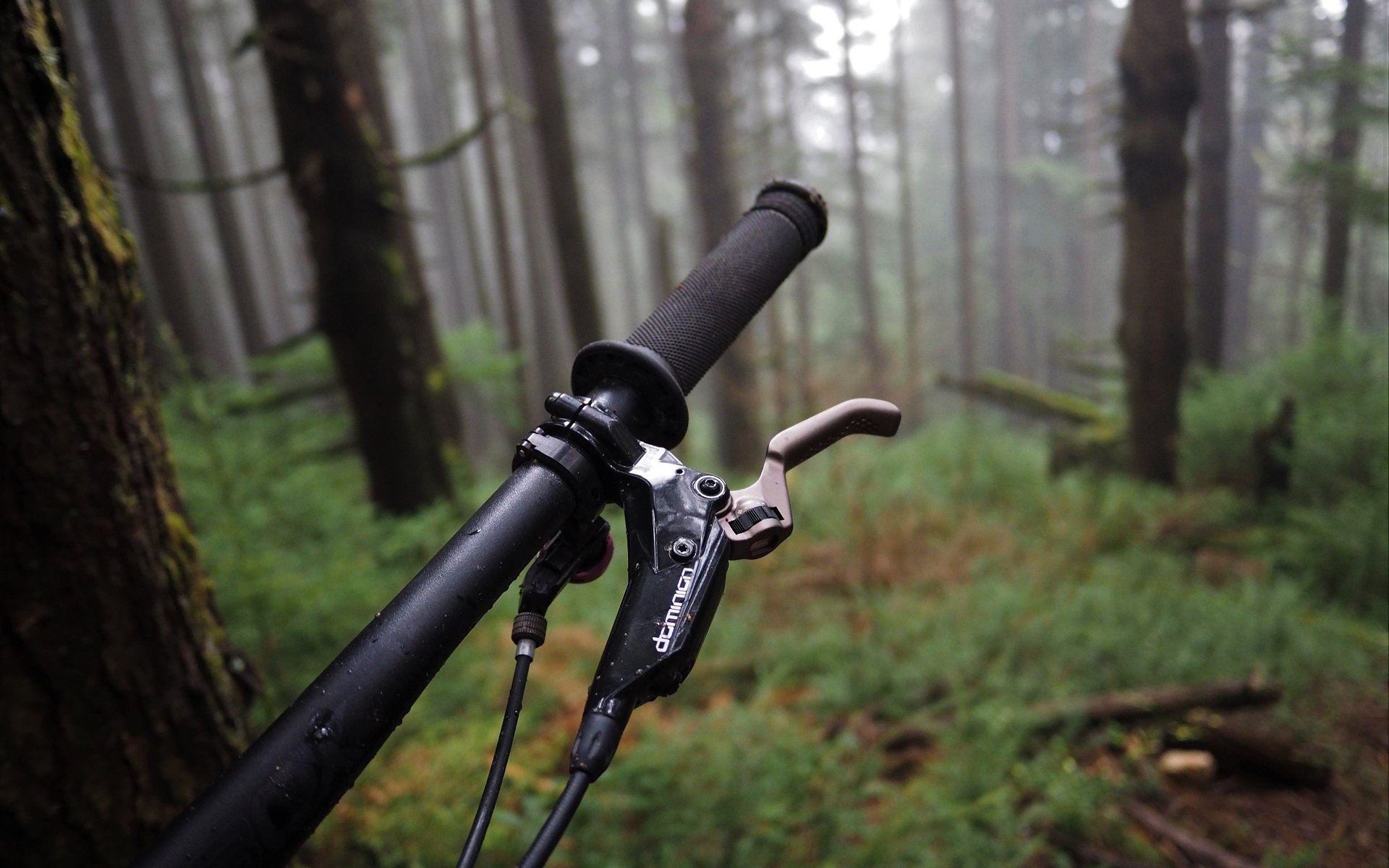 REVIEW
Hayes Dominion A4 Brake Review
Is Hayes Back? (Andrew Major's Review)
The Hayes Dominion is another option in a sea of great four-piston brakes like the Magura MT, Formula Cura4, Shimano Zee/Saint/XTR/XT, and SRAM Code.
To Hayes, the Dominion is a pull-the-goalie fight for credibility in an increasingly choked market, after years of lacklustre systems. The brakes seek to compete on both power and feel while delivering a unique experience that will sell brakes. As I noted in my first impressions, Hayes immediately makes a mark with the lightest lever action in the business, a clean-and-easy tool-free reach adjustment, ample leverage at the lever blades, and a fierce amount of raw stopping power.
Choice is chief. To be considered over the established players, a system has to at least match them in quality and raw power. To really grab market share, brakes have to deliver something special. Is the feel and light lever action of the Dominion enough to set them apart? It isn't without precedent; the performance and feel of Magura's MT series brakes won acclaim as aftermarket options for riders seeking something better, or different, and now they have a decent, and growing, level of penetration in the OE market.
Does the Hayes Dominion have the juice to get there?
Teardown
Doing the teardown of the Dominion with Jeff, it became obvious that Hayes pulled out all the stops to make a quality product and nothing in my testing experience has refuted that conclusion. The levers still cycle silently, the cartridge-bearing lever pivots move smoothly, the pistons retract perfectly every time. I've not had to touch the brakes since ride one.
The Dominion brakes are bled with a syringe at each end - caliper & master cylinder - in the same technique SRAM has popularized. Interestingly, both the brakes I'm currently testing, the DOT fluid Dominion and mineral oil Formula Cura4, are bled in exactly the same way and equally simple to bleed. I'll give them a tie for second place in the easy-perfect-bleed competition with SRAM's excellent Bleeding Edge design.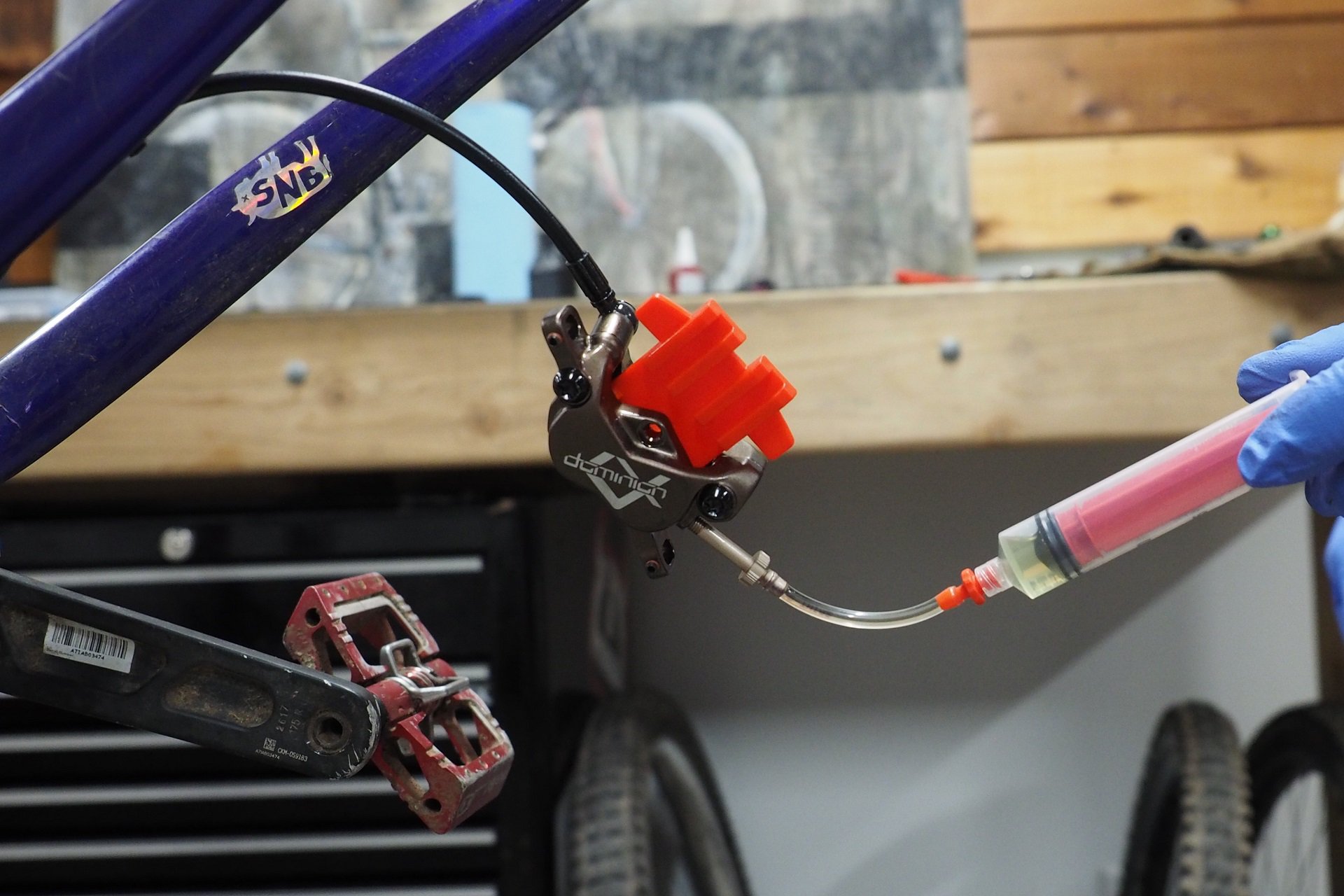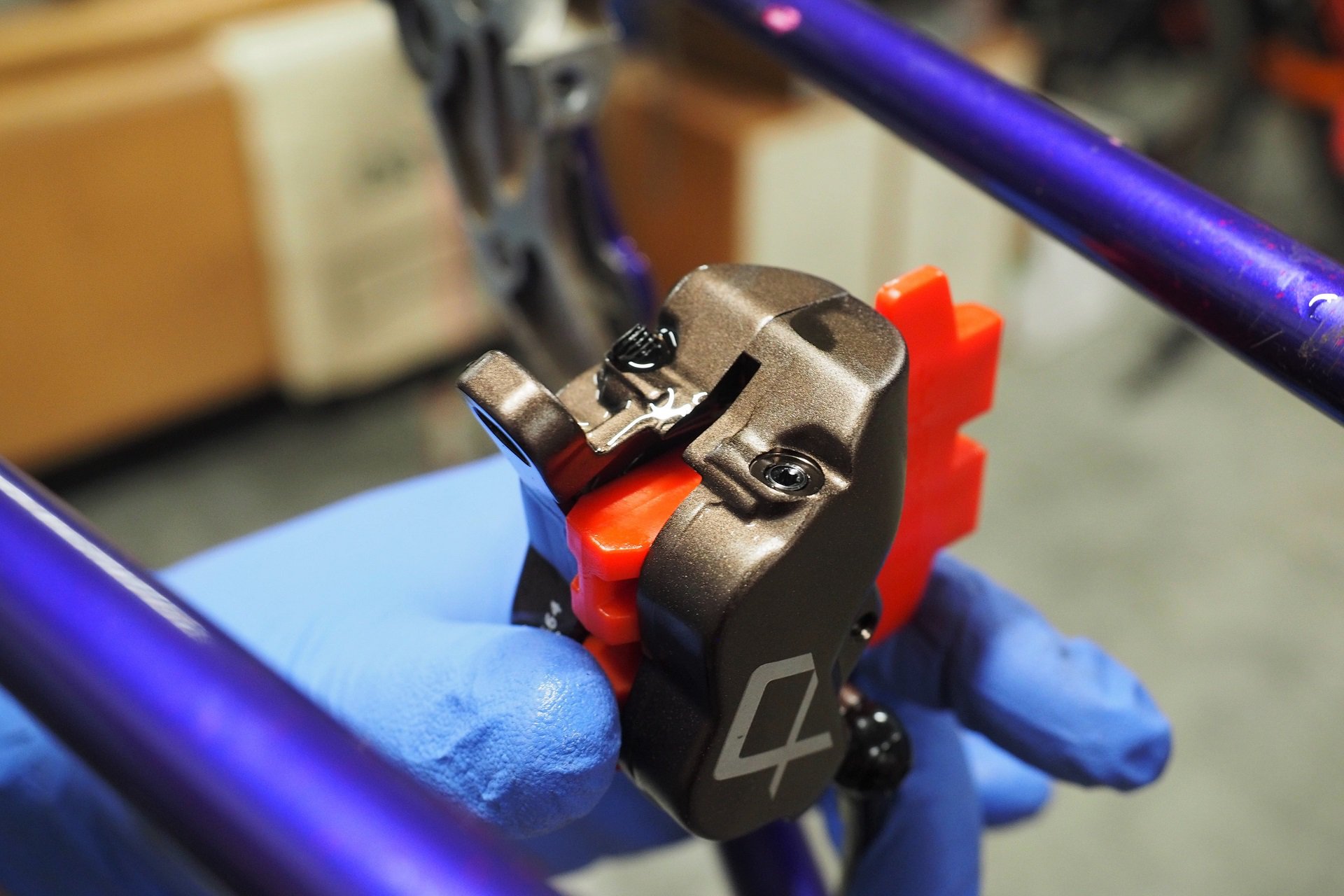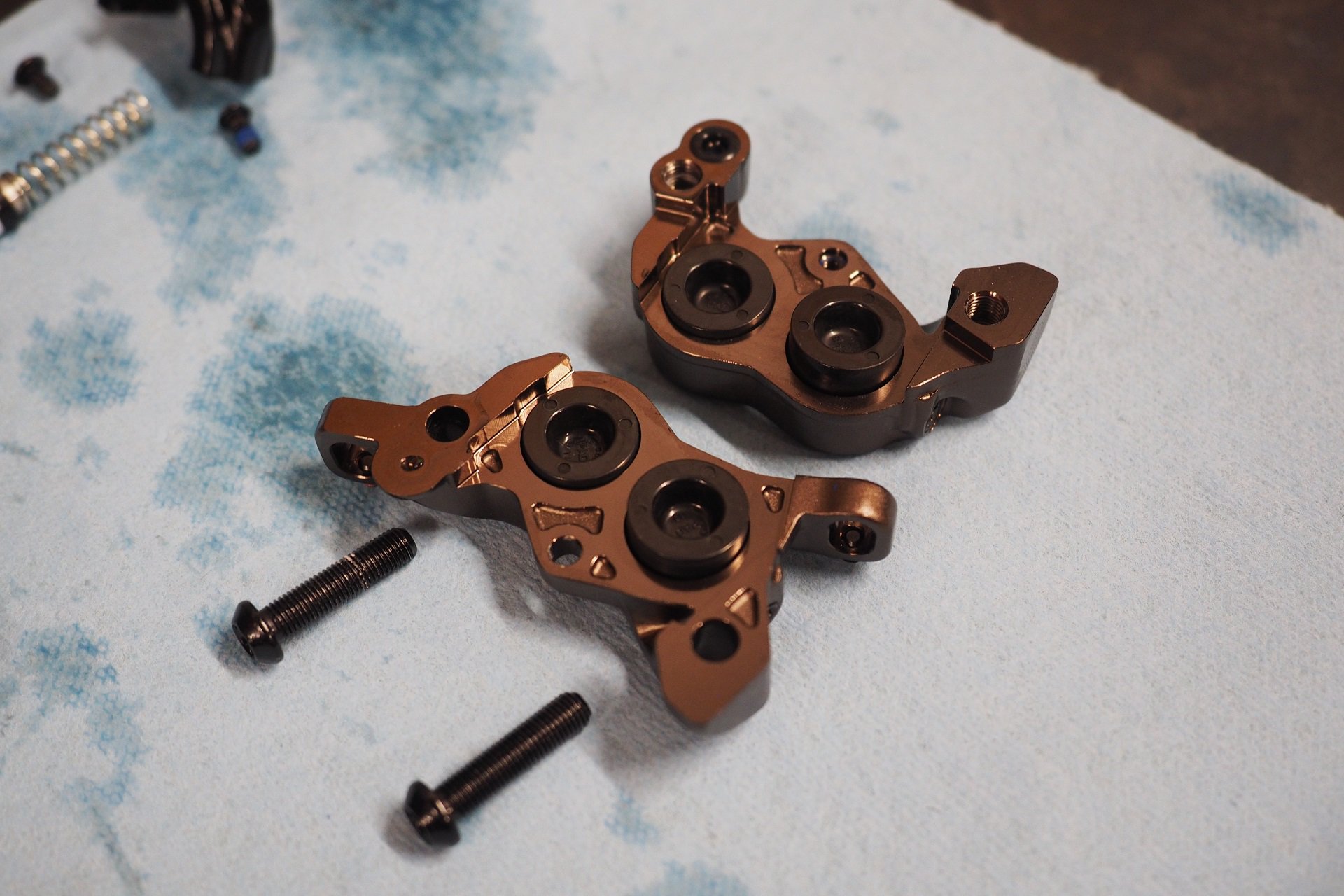 The dual bleed ports on the caliper confuse some people. On a truly haggard set of brakes, this allows for the caliper to be fully purged of any old fluid sitting behind the pistons without having to disassemble the caliper. It's a feature that 95% of owners will never appreciate but I've flushed coffee-coloured fluids out of more than a few one-piece calipers on brakes that were "recently bled" so I think it's an excellent addition.
To reiterate one more note from my teardown article, Hayes is unique among brake manufacturers in that they produce both DOT fluid and mineral oil hydraulic brakes so their choice of DOT 5.1 doesn't just come down to choosing one fluid and being a dick about it. They say that the choice to stick with DOT fluid for the Dominion A4 is an important factor in their achievement of a light lever feel and consistent bite point in all conditions.
Dominion
At first, going back and forth between the Dominion and Cura4, or Magura MT5 took my brain a few pumps to recalibrate. Compared to the more traditional feel of, well, any other system on the market. Hayes has engineered a brake that's so comparatively light to the touch that once my brain adjusted, other brakes felt significantly overdamped. Then I would readjust to other brakes and the Dominion felt a bit vague. Now I regularly jump back and forth between the three systems I listed with nary a second thought.
The Dominion's lever action is almost akin to typing on a keyboard and I can certainly picture a key demographic being riders who grew up playing video game consoles where modulation is more in the brain than at the lever. Power was consistently simple to control, it just has a very un-brake-like feel compared to say pushing the brake pedal in a car.
These brakes will work for anyone but between the raw power and feather-light action, any rider who has issues with grip strength should give them a squeeze. The Dominions are a product that has the potential to be experience-changing for some riders.
For everyone else, there's the consistent bite point in all conditions, the nicely shaped lever blade, that gentle action I can't stop talking about, and the brutal but easily controlled power snapping at the rotor. I chose a 203mm rotor up front which matched up nicely with a 180mm in the back, which is what I'm generally running on 29ers these days.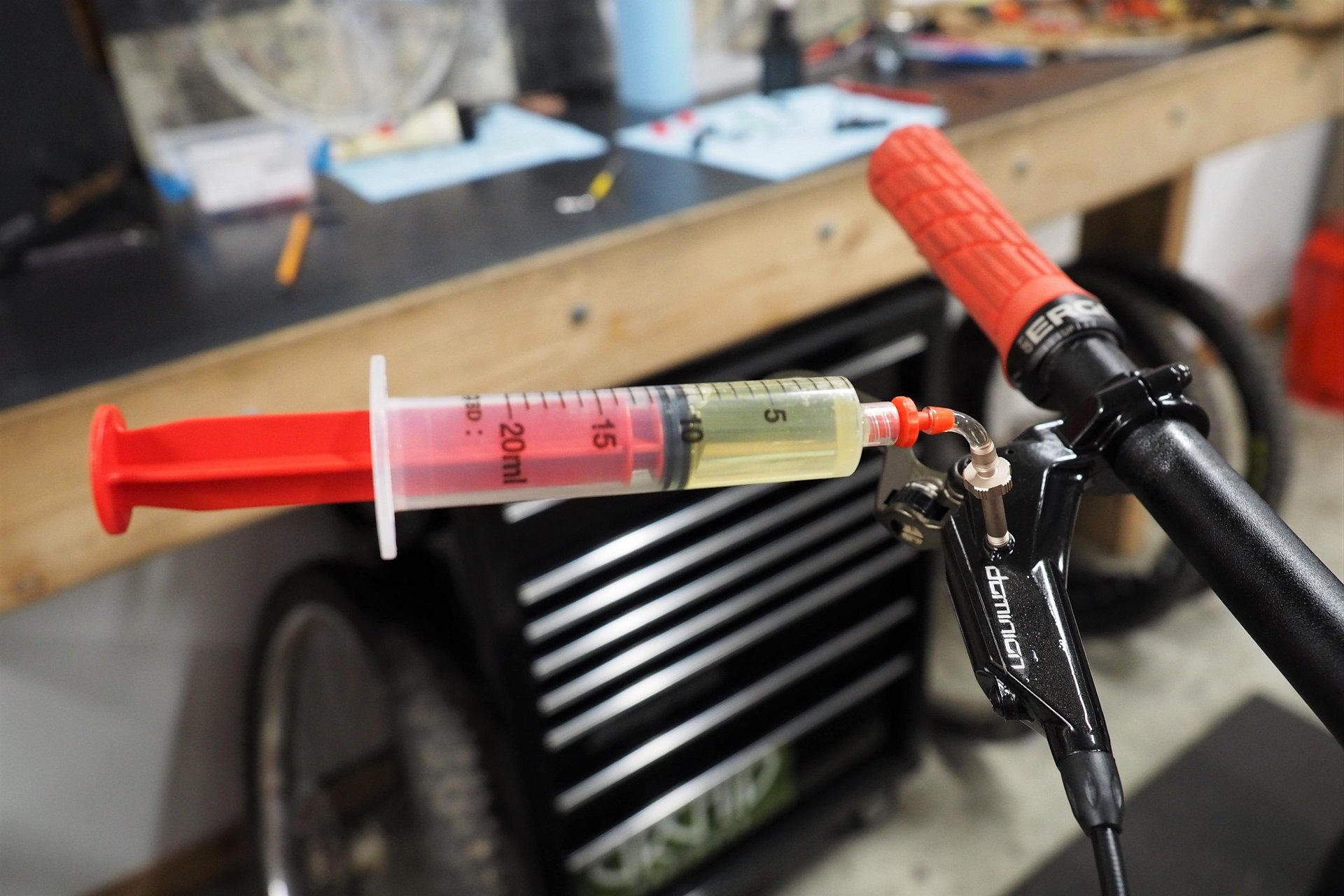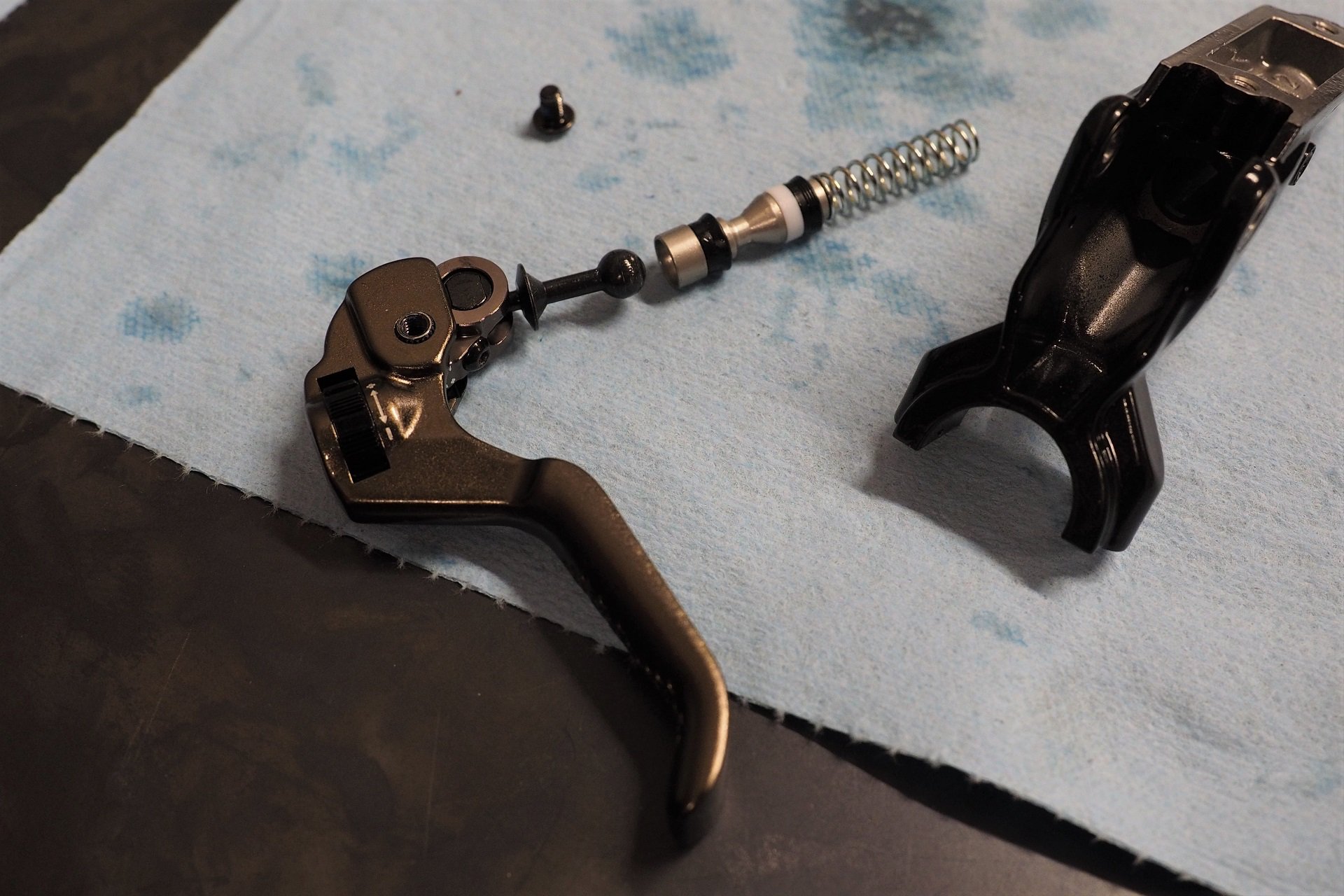 From bleeding them in the shop to riding them on the trail, there's really only one thing I'm not impressed with and that's the stock semi-metallic pads that come installed but Hayes also includes the sintered metal option in the box for a quick swap. After some experimenting with both materials, I ended up running the harder biting, but noisier, sintered pads front and rear.
With a fresh set of Dominions, I would be tempted to run the sintered pads up front and burn through both sets of the semi-metallics on the back brake but that's just my min-maxing nature. That said, with how much power they have on tap I can foresee some riders choosing a slight increase in modulation and a notable decrease in noise (especially when the rotors are cold & wet) by sticking with the semi-metallic pads.
There are some very good non-sintered metal pads out there - Magura's Race & Performance pads being obvious examples, but Formula now also has a great organic pad as well - that blow up the convention that sintered metal is always better. Hayes joins my experiences with Shimano and SRAM for which I now choose all sintered all the time even if they are much louder in use.
It's tough to crack the SRAM-Shimano stranglehold on OE brake sales and with the rise of long travel 29'ers, the aftermarket is inundated with full-power DH stoppers and some really nicely made also-rans for folks happy with a bit less juice at the lever. I'll make a bold prediction that the Dominion is good enough that Hayes will ride it back from obscurity in both aftermarket and OE sales. I'll also bet that many of the next generation of brakes from other companies will feature much lighter action.
My experience with the 230 USD per wheel Hayes Dominion A4 brakes has been excellent. I've recommended them to a few friends for whom I think the light lever action will be ideal and I'll recommend that anyone who can get some hours on them take the opportunity.
---
Cam McRae's Review
Andrew and I were both riding these brakes, so it made sense for me to share my impressions as well. I didn't read his thoughts before writing this and he will only see mine once this is published. Hopefully we haven't tripped over each other.
---
"Wow!"
That was often the first reaction when one of my buddies pulled a lever on the Hayes Dominion A4 brakes. The lever feel is smooth, silky and light enough to provoke that exclamation. While lever feel is great for the showroom floor, it also translates into improved performance. Less effort from your fingers improves endurance, power and control. The Dominion A4 stands out in each of those categories and I was impressed on the trail virtually every ride.
It got to the point that I stopped thinking about brakes, even in the nastiest moments; times when I had to feather smoothly in steep, rough terrain, or jump hard on both ends to rein things in for a panic stop. On long descents I didn't experience any fade and heat control seems to be effective. The tool free reach adjust is the best I have used, and can be engaged with gloves on from the saddle.
PeaceMaker
When it came time for the install, I pulled off a set of XTR brakes, thinking this would be relatively simple. Hayes doesn't yet have a system to integrate with I-SPEC EV so I had to add two more clamps to my bars. It turns out that Shimano's I-SPEC EV system isn't compatible with individual clamps so I couldn't use the XTR dropper lever or the shifter as it was: they only mount to the brake levers. Shimano sent me a shifter with its own clamp (SL-9100-R), but there isn't a clamp available for the dropper lever at this point. Instead I swapped out the XTR for a PNW Loam Lever (PNW makes adapters for the Loam Lever for both Matchmaker and I-SPEC-EV). Hayes makes clamps for the SRAM Matchmaker and Shimano I-SPEC II (they call these adapters 'PeaceMaker'), but only a right hand clamp so nothing for a dropper mounted within reach of your thumb (I was told something is in the works). And it was silver rather than black. Woe is me. Of course everything works just fine with multiple clamps, but I really like having only two clamps on my bars.
Lever
In most situations the lever shape was fine, but there were a few times when I could feel my fingertips slipping off the end if conditions weren't perfect: poor lever placement, cold fingers or a thicker glove than usual, for example. I prefer a slightly deeper, rounder and more pronounced hook. Lever stiffness was solid and I liked the increased grip afforded by the dimpled texture.
The dual syringe bleed procedure went very smoothly and I am completely down with the thread-in fittings of the pro bleed kit. It was as simple and smooth as the last bleeds I did on my beloved Purple Hayes in the early 2000s.
An element which tempered my affection for the Dominion A4, was the worn pad performance. I got to the point where my pads had perhaps 1 mm left, or maybe slightly more, and the honeymoon was clearly ending. The bite point began to wander and a squeeze would sometimes almost hit the bar. Luckily the reach adjust was magic as a remedy and power and modulation didn't suffer at all. I prefer the Shimano XTR 9120 performance as pads wear, which stayed strong and consistent almost until metal, but this was better than SRAM in the same circumstance. Pads are expensive and buying them more often is less than ideal. Not to mention the fact that many of us don't check our pad wear regularly so this threshold might be reached on some long ride without warning.
After a few months of riding, and lots of rides in absolutely hideous conditions, both levers started to squeak and complain. Their return speed slowed and that lovely light feel was compromised. As I've mentioned before, I generally try to simulate Mordor for bike parts by spraying the crap out of them after muddy rides, and shooting water where it should never be shot. Consistent with this theme, rather than disassembling the lever mechanism and meticulously cleaning every part, and repacking the cartridge bearings, I grabbed a can of spray silicone and shot it into each lever, with low expectations. Much to my surprise they once again began to work perfectly, and have done so for the six weeks since I performed this pro-level maintenance.
Comparing Hayes Dominion, SRAM Code, and Shimano XTR brakes
To compare these to the best brakes I have been riding recently, SRAM Codes (245 USD an end) and Shimano XTR 9120s (350 USD at full retail w/o rotors), I'll have to chop things up a little.
For lever feel, Hayes takes the crown with XTR in second and SRAM third.
I'd put modulation as a tie between Hayes and Shimano, with Codes reasonably close in second, and for power I think Shimano has a slight lead over Hayes, with Codes a close third.
I'd need to do some long, mid summer runs with each to get a better feel for the heat management, but all three have been good.
Worn pad performance might be a personal category but I'll list it anyway in descending order; XTR, Dominion and Code.
For lever shape it's XTR, Code, and then Dominion in third.
The bleed procedure and bleed kit crown goes to Hayes followed by SRAM and then Shimano in third.
Aesthetically, XTR are the prettiest, followed by Codes, and then Hayes in third because of the lever. A fairly distant third.
Tool free reach adjust in descending order; Dominion, Shimano and Code.
The Hayes Dominion A4s are a set of brakes that, with a slight proviso regarding clamp compatibility, I could see using forever. Do yourself a favour and give them a try. I'd guess my first 5 or 6 sets of hydraulic discs were made by Hayes and it's great to see them making a top notch product once again.
As Andrew mentioned, these top of the line brakes will set you back 230 USD per wheel. More info here...