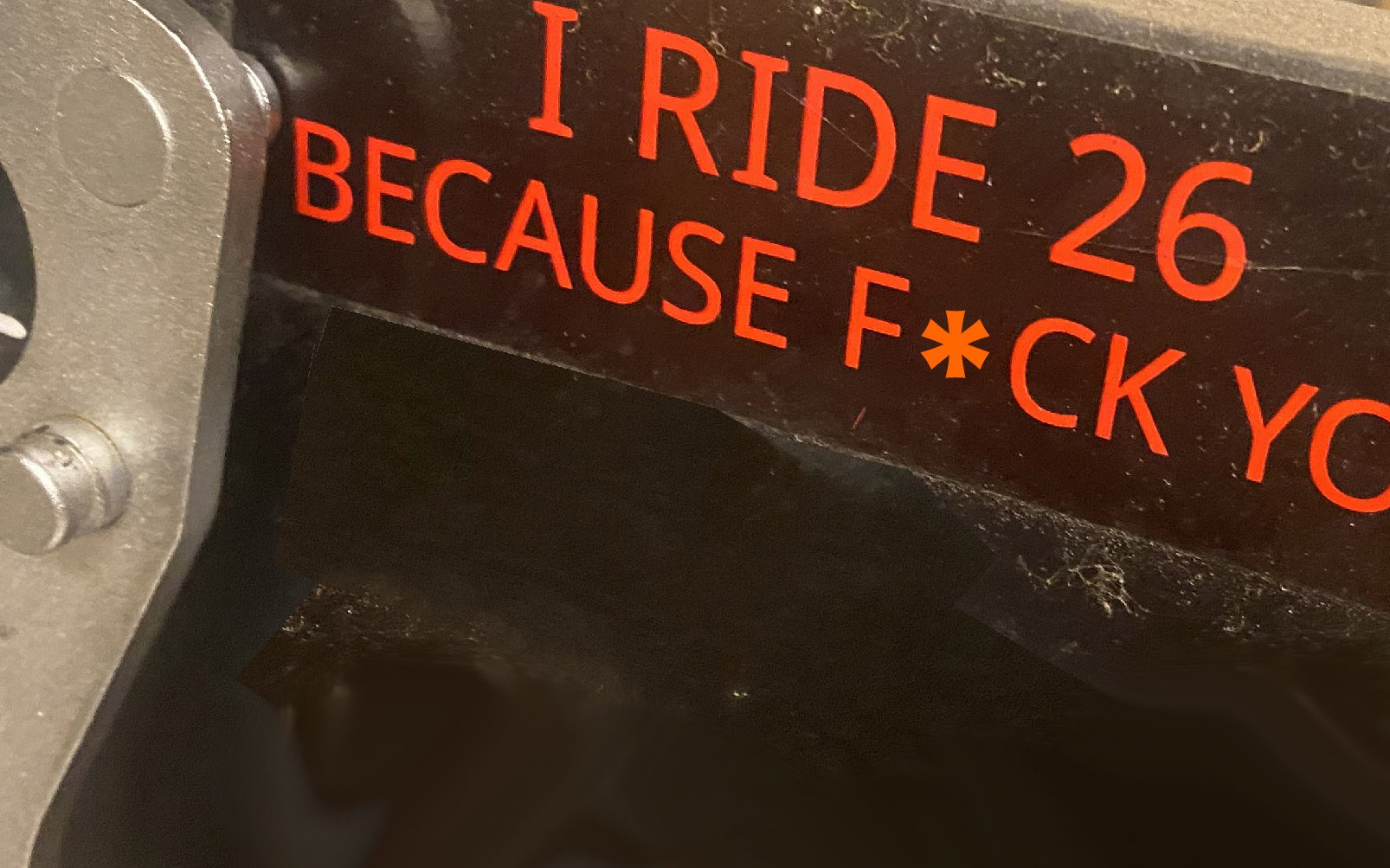 Editorial
Have We Finally Run Out of Wheel Sizes to Try?
If you have been a mountain biker since Hayes were the only disc brakes to buy, you know this tale: 26" wheels were fine for the first 30-odd years our sport existed. Little did we know nefarious characters were playing around with different diameters long before 29ers went into wide-scale production. And then in 2007 an interloper emerged in the form of 650b wheels for off road use when Kirk Pacenti commissioned some rims from Cane Creek and hand-sewed some tires to use on them. Despite these anomalies, aside from a few early 26" front with 24" rear mullets, like the Specialized Big Hit, hoop size was boring, and we liked it that way. Or we thought we did.
Those new sizes had some supporters however. Riders who tried them appreciated the way 29" wheels stabilized your bike, rolled over obstacles easily, and seemed to even climb better despite the increased weight. Many early wagon-wheelers didn't ride very well, as manufacturers tried to figure out how to wrestle the larger wheels into full suspension frames, and they often looked freakish, so there was an understandable backlash from riders who asked why 26" rims were no longer being considered circular.
The divide between big wheel lovers and haters followed a predictable pattern; in general, those into gravity disciplines hated 29ers while the lycra crowd tended to be early adopters who praised the larger diameter for endurance racing. This was a perfect storm for market turmoil, and it turns out turmoil is good for business.
Several bike companies saw an opportunity to capitalise on the bubbling rage 29ers managed to stir in some circles, and they leaned heavily into what was then called 650b (and has come to be known as 27.5 and referred to as twenty-seven five - despite being closer to 27.0). Those companies did remarkably well initially because 650b bikes rode much like 26ers but were more stable, rolled better than 26ers, and were a little faster. The best of all worlds? For a time they were. Companies started making 29ers and 650b-ers, sometimes in identical models, while a few (like Specialized) stuck to 26 and 29 allowing Santa Cruz and others to take a bite out of their market share. 
Companies that rejected either 650b or 29 learned their lessons and before too long, the slightest whiff of a new wheel size had companies opening moulds and searching for rubber. Fat bikes looked to be the next big thing for what seemed like several years but was closer to five minutes. Market saturation for bouncy ball rubber took far less time than expected and just as full suss bikes with 26 x 4.0 or 650b x 5.0 tires started to be produced, they were mothballed, despite being ridiculously fun to ride in a wide variety of situations. 
It was time for another tweener to emerge, this time in the form of Plus tires, that had some of the traction goodness of true fatties but with less weight and more control, despite tire selection being abysmal. Again there was a rush to market and a bunch of companies leaned in. Many models were made to be convertible between 29 and 27-plus for versatility, but Plus also died a hasty and fiery death. 29 Plus was a bit of a thing, but they never got very far despite enthusiasm in some circles for bikes like Trek's Stache. 
This turmoil, along with changing standards (but let's not get into that here) sold a surprising number of bikes because riders were afraid of getting stuck with an expensive bike they couldn't sell, a fate many of us suffered. Companies can't resist strategies that make them money and the confusion and turmoil got a bit out of hand, despite leading to some excellent progression and a new high water mark for performance bikes. 
The current state of the mountain bike kingdom? 26" tires and rims are becoming difficult to source and some bike shops don't even bother carrying them. As bike companies roll over new models, many have put 275 front and rear on the chopping block. Santa Cruz's former 650b bikes continue to morph into mullets and while some companies, Canyon being one example, produce models that include options of 275 front and rear, mullet bikes with 29 front and 275 rear, and straight 29ers. Despite this, the cancellation of bikes with 275 wheels exclusively seems well under way. Which leaves us where we are now; with mullets for some applications, like DH and enduro, 29ers for all kinds of bikes that aren't flipping or spinning, 275 for riders who aren't large enough to comfortably ride 29ers, and 26ers live on for dirt jumpers, slope riders, and proud and stubborn luddites who are perfectly happy with their tiny little wheels, despite being banished to rubber Siberia. 
Is it time to breathe a big sigh of relief? This feels like the most stable scenario in terms of wheel circumference since before Kirk Pacenti pulled out a needle and thread. Tires for big wheels are available in virtually any compound, sidewall, and tread pattern there is, and while they don't provide the same mesmerizing sensations of some smaller-wheeled beasts, and are harder to tip into corners (a trait mullets excel at), they are undeniably fun and capable to ride. 
I'm not saying the bike biz mafia Dons and Wiseguys hashed out this plan at their annual sitdown at Davos;* they just painted themselves into a corner by already trying everything they could imagine. Or maybe this is premature? Is there a reverse mullet mule being welded up by the crankiest employees at Giant, Trek, and Specialized? You may have heard that Travis Brown, founding father of the 29 and 26-combo, the 69er, has spent some time on both 32 and 36" wheels, and that basketball legends Shaq and Reggie Miller* both own bikes from the custom builder Dirty Sixer, which rhymes with a size of wheel, but I can't imagine any scenario where the wheels on the bikes we ride for aggressive terrain get larger. This feels like when you were 16 and you looked at a cool car and thought to yourself, "nothing will ever be cooler," but the next year there were several dozen models that you liked even more. It's a never ending cycle. Except when it isn't.
**Reggie also rides bikes for mortals like an XXL Santa Cruz Blur
* Actually below Davos Get Smart style
---
I talked to our resident motorcycle historian, Mike Ferrentino, about off-road moto wheel size over the years, and he had much to tell me. The take-home was, there were a few detours along the way, like the Yamaha DT1 with 19" front and 18" rear, motorcycle wheel sizes for dirt have been stable at 21" front and 18" rear for most unpaved applications, and 21" front and 19" rear for motocross, mostly since the 70s and entirely since 1983. In fact off-road bikes pretty much use the same suspension system as well. That sounds pretty homogenous but then you realize how much development energy is left to produce better tires, suspension, drivetrains and brakes. Even better, there's a chance your wheels from last year might fit next year's bike.*
*Maybe a little far-fetched
Before I declare this case closed, far be it from me to underestimate the bike industry's ability to squeeze something shiny and new out of what was shiny and new last year. And I don't say that entirely cynically. This reluctance to rest on laurels has created some great innovations, and some complete flops, but there are several expressions, now cringeworthy from overuse, that prove this is the best way forward in life. I'll choose the Canadian version, attributed to Wayne Gretzky: "you miss 100% of the shots you don't take." And you have to admit, the current crop of performance bikes, while more costly than you could have ever imagined, rides incredibly well. 
I'm probably being irrational and overly optimistic, but in the immortal words of Mr Burns, "shoot for the stars, you might hit the moon."