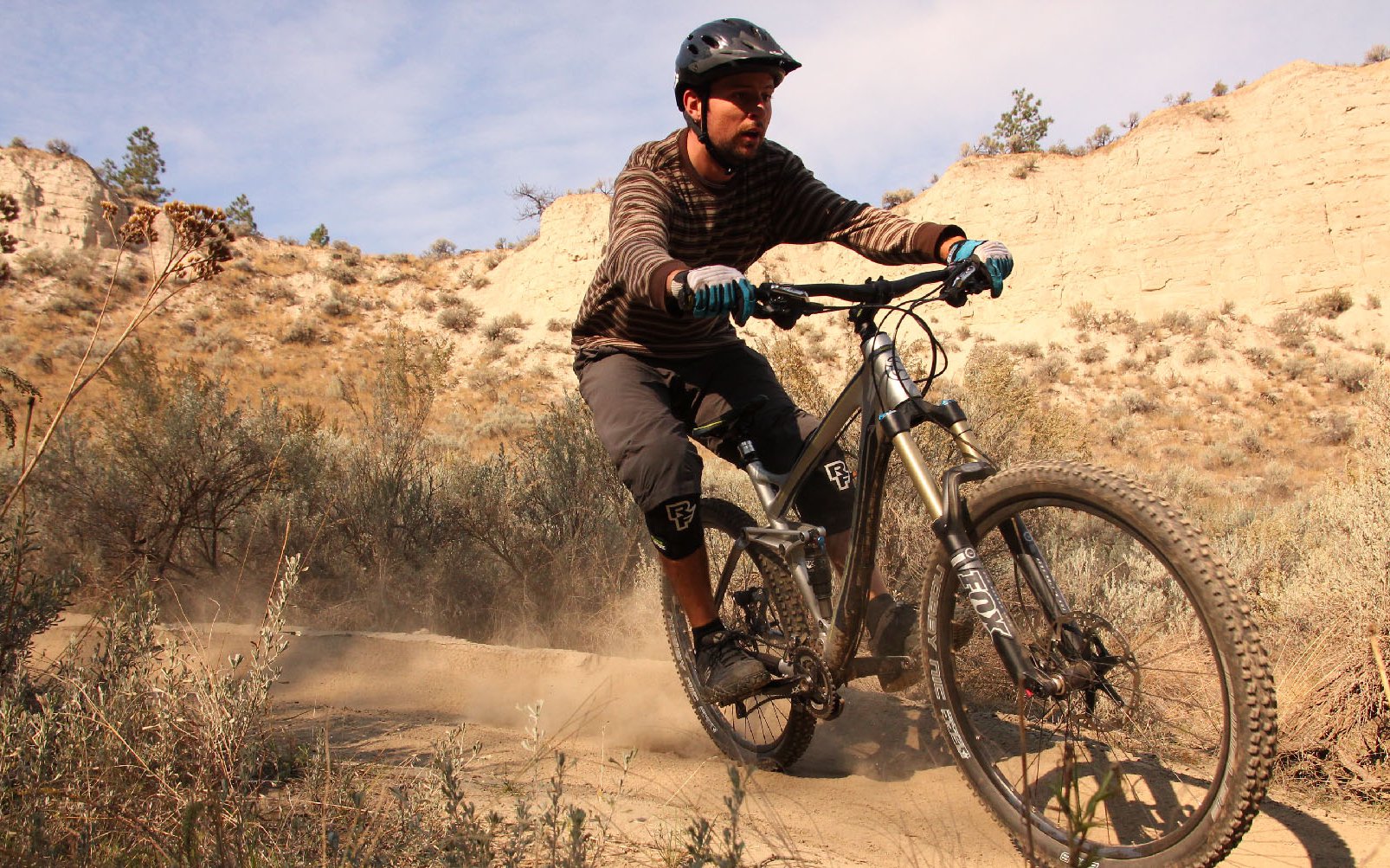 Ask Uncle Dave
Have New Standards Made Bikes Better?
In my youth, I often found myself getting riled up about new mountain bike standards. Few things (bicycle related) made me angrier. It took years of booze, heartbreak and outrage to cave in and stop caring. When Dub was announced, I could barely summon a whimper. Take a moment to consider that this is what me not caring looks like.
Some of this is probably down to conditioning. After so many half-baked, half-assed standards, we've come to expect companies to mess with even the holiest of accepted standards. Who can get upset about a mm in a bottom bracket spindle when we've faced such battles as 35mm handlebars and super duper boost axle spacing.
Into this walked Mr. Quinney, with his half-baked attack on attacking standards. This felt like the new HR guy firing off an e-mail on the great new lunchroom restrictions that we are lucky enough to be experiencing. On the surface, it's not a huge deal, but as an office drone who has faced down years of benefit reductions, switches to defined contribution pensions, and cost-of-living adjustments that do no such thing, this was an unnecessary victory lap on my soul.
I'll take a look at some of the individual arguments Mr. Quinney put forth later on in this article (if I can stifle my rage for long enough to remember), but most of it boiled down to progress. It's all in the name of progress! If we want "the best possible bikes" we need to accept whatever gruel the bike industry decides to feed us. Nay, we should demand more gruel, and insist that it has less taste and fewer nutrients, as long as we can shoot it down our throats with more velocity.
You could probably boil some of my disagreement with this article based on how one defines "the best possible bikes". I think part of my acceptance of new standards boils down to this changing for me, over the years. 10 years ago, what I wanted from a bicycle was far different from what I want now. Then, I wanted a relationship with each and every part. I wanted to lovingly select each component, and then caringly attach it to my bicycle after a great deal of thought. I looked at bike parts as an investment, one that would hopefully solve a problem, or eliminate a future challenge. I wanted long life, serviceability and performance, and I very often transitioned parts from one bike to the other.

One could take the tech of yore and build something very competitive to any modern bicycle with up to date engineering and manufacturing standards.
Now, I just can't be bothered. The thought of piecing together a custom build using a modern full suspension bicycle frame sounds more like a giant headache than something I long to take on. And I used to love putting a bicycle together! One of my favourite things was to throw a frame into a stand, disappear for a few hours and emerge out the other end with a fully functional bicycle. Some of this has to do with me plunging into the world of bicycle review, but if I were to buy a new bike right now, I'd probably just hobble down to the nearest shop and take whatever they had in stock that didn't anger me too badly. To put it more bluntly, the bike industry won! They got exactly what they wanted! They can fill the page with acronyms and engineering jargon and news of the latest advancements and I'm just going to shrug my shoulders and take what's coming to me. Why would I bother to curate a new bicycle if I have no faith in the long term viability of any given part?
The consequence of this is that "good enough" has replaced "just right"? Where once I would have insisted on XTR and King, I'm now just fine with SLX and whatever house branded nonsense some cheapskate product manager can jam into the frame. That bike will ride circles around my precious bikes of yore, but I would think twice before describing it as "better".
So I now have a dramatically different relationship with my bicycles. To a certain extent, they've become a means to an end. Some of the love is gone. I'm happy to move from bicycle to bicycle from one year to the next. Indeed, I'm more likely to move from a new bicycle from one year to the next. This is a bit silly, and perhaps even a bit irresponsible. However, these are the behaviors that are the result of the erosion of my faith in standards for mountain bikes. I now am somewhat apathetic, and I care a bit less about my bicycle. So, if our measuring stick is absolute performance, then yes, perhaps we should encourage the industry to go wild with new standards. I would argue though, that this changes our relationship to the bicycle, and not in an entirely positive way.
Look at cars or motorcycles?
This gets brought up a lot. "Look at cars! Nothing from one car fits another car! They all have parts designed and manufactured specifically for one vehicle. Nobody complains about that."
This may be true. However, it misses one major point. For all of recent history, those things never had large scale compatability. There wasn't a time in the 70's when parts were easily transferred between models and manufacturers. The manufacturers didn't all decide in the 80's to create a free for all of competing standards. It's just always been that way. Bicycles, have not. The cross compatibility of parts between bicycles was (and is) a good thing. Justifying the removal of this benefit by pointing at all the things that don't have it is like justifying kicking your friend in the crotch because you just watched somebody else do it to a guy on the other side of the room. Just because one guy has sore testicles, doesn't mean we all should. Arguing for a change for the worse because other people are doing it is the job of accountants and CEOs of media conglomerates, and is what is known as a "race to the bottom". Stop doing this.

Yes, certain new standards are now a fundamental part of the modern bicycle, but so, so many had no consequential impact.
Nobody is forcing you to buy this!
I mean, they aren't. But they kind of are. Of course, nobody has to go out the day after a new standard is announced and buy all new parts. That would be absurd. But a year from now? Two years from now? Five years from now? Talk to the people trying to replace their 26" tires, 1/8" steerer tubed forks, 31.8 handlebars or non Boost hubs, and I'll bet you'll start to hear something about forced choices. Generally speaking, new standards are a zero sum game. Worse, they tend to propagate. So, not only will a new standard now most likely reduce your ability to buy the current standard in the future, it will probably inspire somebody else to create another new standard, lest they be seen as letting technology pass them by. Maybe it's good that we can no longer easily buy some of these things, but it's disingenuous to claim that you aren't forcing somebody into a future purchasing decision with the introduction of a new standard. That's the entire problem! New standards displace old standards and replacement parts for old standards disappear. This has never not happened.
Not all new standards are bad
One would be crazy to argue that there haven't been improvements in performance with mountain bikes, and one would also be crazy to argue that this would be possible without new standards. Progress isn't bad, but it can often be as much about the journey as the destination. One could argue that our route has been haphazard, at best.
Few people have a problem with the death of a tired old standard that causes nothing but problems. There are very few pining for the return of the square taper bottom bracket, for example. One could argue that the problem with bottom brackets is that nobody went far enough! Imagine if we went back to 2005 and somebody proposed a new bottom bracket standard that had enough room to accommodate both larger spindles and larger axles, in an easy to understand threaded format. Imagine avoiding years of tiny, incremental changes that only came into existence to solve the problems created by the previous tiny, incremental change. Imagine if everybody with a vested interest got together, discussed the problem and then came to an agreement on how to move forward. If you're going to go to the trouble of blowing everything up, you may as well make it worth our while. People are more likely to come along for the ride if they can see the benefit and if they have faith that it's going to last for a while. This is generally not what happens. I mean, people still pine for the threaded bottom bracket that everybody was trying to replace! It's ludicrous.
Of course, there was a reason why we needed to curate bicycles. It was almost a necessity to gain something that functioned. In this regard, it's wonderful that new bicycles have created a world where mechanical challenges are no longer so prevalent, but to attribute all of this to new standards is insane. Yes, certain new standards are now a fundamental part of the modern bicycle, but so, so many had no consequential impact. One could take the tech of yore and build something very competitive to any modern bicycle with up to date engineering and manufacturing standards. Let's take that 2011 Giant Reign the Mr. Quinney hangs out to dry and see what we could do with a modern take using nothing but 2011 standards.
1 – Re-design the geometry to not suck. No new standards there.
2 – Build it out of carbon. No new standards there.
3 – Design it around 29er wheels. No new standards there, just better tire tech.
4 - Slap the latest tapered steerer tube fork on the front, mated to a standard pressfit 1-1/8 and 1.5" headset. No new standards there, either on the fork or the headset.
5 – Build it around DH hub standards of the time – 12x150/157mm in the rear and 20x110mm in the front.
6 – Throw a threaded bb in there. No new standards there.
7 – Use a modern imperial sized shock. No new standards there.
8 – Use a 31.8mm handlebar and stem. No new standards there.
9 – Install your wide range 10 speed, single chainring drivetrain. No new standards there. You can argue that 12 speed improves the way this functions, but just because our current wide range single chainring drivetrains are 12 speed, doesn't mean they need to be.
10 – Throw in your favourite 30.9 or 31.6 dropper. No new standards there.
11 – Bolt your favourite brakes to those 6-bolt hubs. No new standards there.
Honestly, name one new standard developed since 2011 that has to exist for our bicycles to be as wonderful as they are. Perhaps the bike I've listed above with the old standards is only 96% as rad, but it's a delusional argument to put forward that we are light years ahead of where we were because of the scattershot implementation of new standards. Slightly better or slightly easier to design is not enough reason to blow it all up. And the more I sit here thinking about it, the more I'm starting to think that I'd actually rather have the bicycle that I just described above, over what is now available.