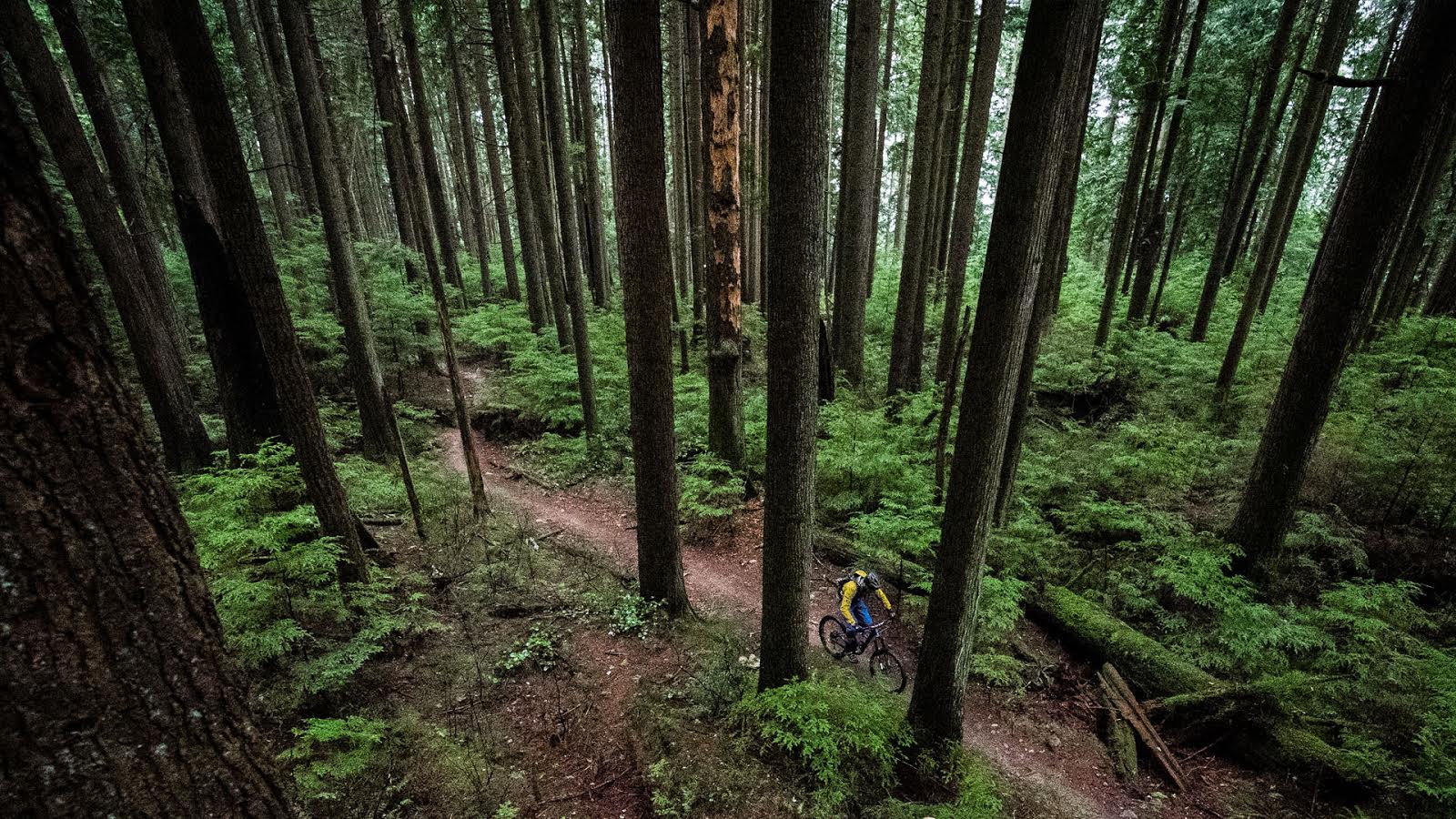 Has the Coastal Crew Sold Out?
This video arrived with an innocuous title. Skeptical, it was called, seemingly to draw us in with rad ripping before we noticed what was happening; The Coastal Crew riding their home trails on Specialized Levo e-bikes. We all know this is a touchy issue and you may have been surprised to see Dylan Dunkerton and Curtis Robinson riding electric. They are, after all, some of the most untainted and humble riders in the sport. They haven't sold out to a sugar water company and they live modestly and simply, chuffed to be able to ride bikes, build trails and share the stoke they so genuinely feel. But we probably shouldn't be surprised.
The Sunshine Coast, where Dylan and Curtis live, has an economy that was once largely based on industry; logging in particular. In the video you'll notice the lads ride in a cut block for much of the time. The land, just a short ferry ride from Vancouver, has been used as a resource for as long as we Europeans have squatted there. On virtually every ride you'll encounter evidence of industry rusting into the forest floor. Most of the low elevation timber is second growth and much of it is likely slated to be logged again in the future. But this is also an economy in transition and recreation and tourism are being encouraged to replace jobs lost as logging slows down.
This is the context the Crew rides within. Long-time residents of the area are realists. In communities moving away from the resource sector, you're unlikely to find anyone upset about mountain bikes. In B.C. we have places like Rossland, Nelson, Kamloops and Pemberton, to name just four industry towns that have embraced mountain biking and other outdoor activities enthusiastically as forestry and mining sectors have become less viable. When you compare bikes riding on trails to clear-cutting, fracking or strip mining it puts the activity in proper perspective. And when you have communities struggling to replace high paying jobs, the idea of attracting moneyed mountain bikers is an easy sell.
Here in North Van, in Portland Oregon, Marin County and near any urban centre in North America, access to trails is either forbidden or threatened. And in rare areas where access is in good shape you can be sure it was hard won. These battles were fought by volunteers for the most part, toiling in the trenches for the rights of riders everywhere. It's not surprising that these stalwarts, and those who understand and appreciate the work they have done, are wary of e-bikes and how they may be viewed by landowners and the general public.
Context is everything. The Coastal Crew seem to be able to go out and build a new trail wherever they like, and the loggers even do what they can to preserve lines and structures when it comes time to harvest. In my experience fallers are more likely to use stunts as targets for falling timber so it's clear they have the community behind them – and riding e-bikes isn't going to change that. In the world of the Coastal Crew, where dirt bikes and ATVs are as common as lattes in San Francisco, there is little that is threatening about e-bikes. Independent of any encouragement from Specialized, it's easy to see why Curtis and Dylan see them as harmless.
Most of us don't live and ride in areas like the Coastal Crew's free-for-all zone. And while I think a lot of the hysteria over e-bikes is overblown and that the vitriol reflects poorly on our community, there is a lot we don't know. Caution is warranted.
Matt Hunter's turn.

Companies like Specialized, banking on new customers clamouring for pedal assist bikes, seem focussed on a pull marketing strategy. If they create a demand for these bikes, by enlisting riders like Matt Hunter and the Coastal Crew, Levos will start selling in larger numbers. Once there is a groundswell and heaps of riders have trail-eating electric bikes, the group will be a force to be reckoned with and access will have to be sorted out at that point. And that could get messy. I put in a call to Specialized today late in the day, and I haven't yet heard back but I'm interested to hear what the company is doing to define access for these bikes pre-emptively. It seems to make sense to sort that piece out before ramping up the marketing offensive.
Skeptical, the title of the video, came from Curtis and Dylan's initial feelings about these bikes. They assumed they would be great for grabbing beer from the store but not for their daily shred. By their telling, they were soon seduced by the access and range the bikes served up and by their shredability which is evident in the video. And they claim to genuinely like riding the Levo. From my perspective, based on what I know and what they have said, Curtis and Dylan are the same stellar lads they have always been. 
I have tested an e-bike and I can tell you that my feelings were similar. I even tested a relatively crappy version with a spindly fork and it was still great fun. But if "because it's fun" is your argument for an activity, why not crack or heroin? Unprotected sex maybe? I've heard those activities are fun as well. Rushing into this e-bike world with marketing, before navigating the access and user conflict challenges, is a little like becoming a junkie and worrying about detox later; it's bound to be a rough ride.
---
Where I stand
My line on e-bikes hasn't been a hard one. I for one would never suggest that we should prevent a rider like Martyn Ashton from accessing trails simply because he can no longer pedal. I also think that using the same strategies that have been used against us is a terrible idea. If we say that e-bikes cause too much damage to trails, it's easy to imagine our opponents saying the same thing about shuttling or DH bikes in general. And if we approach a group of outdoor enthusiasts with closed minds and hateful words, what right do we have to expect anything more from those who oppose us? If we oppose e-bikes because of the number of laps they can do, what is stopping hikers, environmentalists or even XC riders from opposing shuttlers or lift riders using the same justification?
In case you missed it…

How mountain bikers tackle this situation may be as important as the outcomes we produce. If we take an open-minded and mature approach, it's much more likely we'll be given the same courtesy from other user groups in the future.
---
A Preliminary Response from Specialized (more to come)
Marketing versus Advocacy is not an either or proposition; both components are equally critical. The biggest difference is that our marketing efforts are extremely visible (that is how marketing works…), however, the work we do on the advocacy side is not nearly as visible to the average rider. We appreciate the opportunity to talk about this because we've struggled to come up with ways to let riders know about the work we do without boring them to death. It's easy to get people to watch a video of the Coastal Boys or Matty Hunter shredding some trail but it's not nearly as easy to get the word out about things like sending our people to speak at IMBA summits, rallying our staff and athletes to do trail work days, participating with organizations like the BPSA to ensure a sustainable future for all types of cycling, etc. As critical is all that stuff is, it just isn't very sexy.
A company of our size and position in the industry has a huge responsibility to be stewards of the cycling community, and it would be incredibly near-sighted of us to aggressively market pedal-assist bikes without simultaneously doing the work to ensure long-term sustainability. What good would it do us to make a bunch of money over the next year or so selling pedal-assist bikes if it meant jeopardizing access for all bikes, thereby negatively impacting future sales? To prevent that sort of thing from happening, we are actively involved in many facets of trail access and advocacy – some of our efforts are specific to pedal-assist but many apply to cycling as a whole. We have been big supporters of IMBA for many, many years and have heavily funded and worked closely with them. We are also part of the BPSA, leading the charge towards a sustainable future for the bicycle industry, doing a lot of work with them specific to the challenges of pedal-assist. We have also undertaken a massive effort to educate our retailer network in regard to making sure their customers are clear on where these types of bikes can be ridden legally, as well as providing tools for our retailers to work with local land management agencies on safe and responsible solutions. Another organization we support is People For Bikes, they do amazing work that benefits us all. We strongly believe there is a place in our community for all types of riders and all types of bikes, and we are doing everything within our power to ensure that vision remains a reality for a long time to come.
– Sean Estes
---
Opinions?