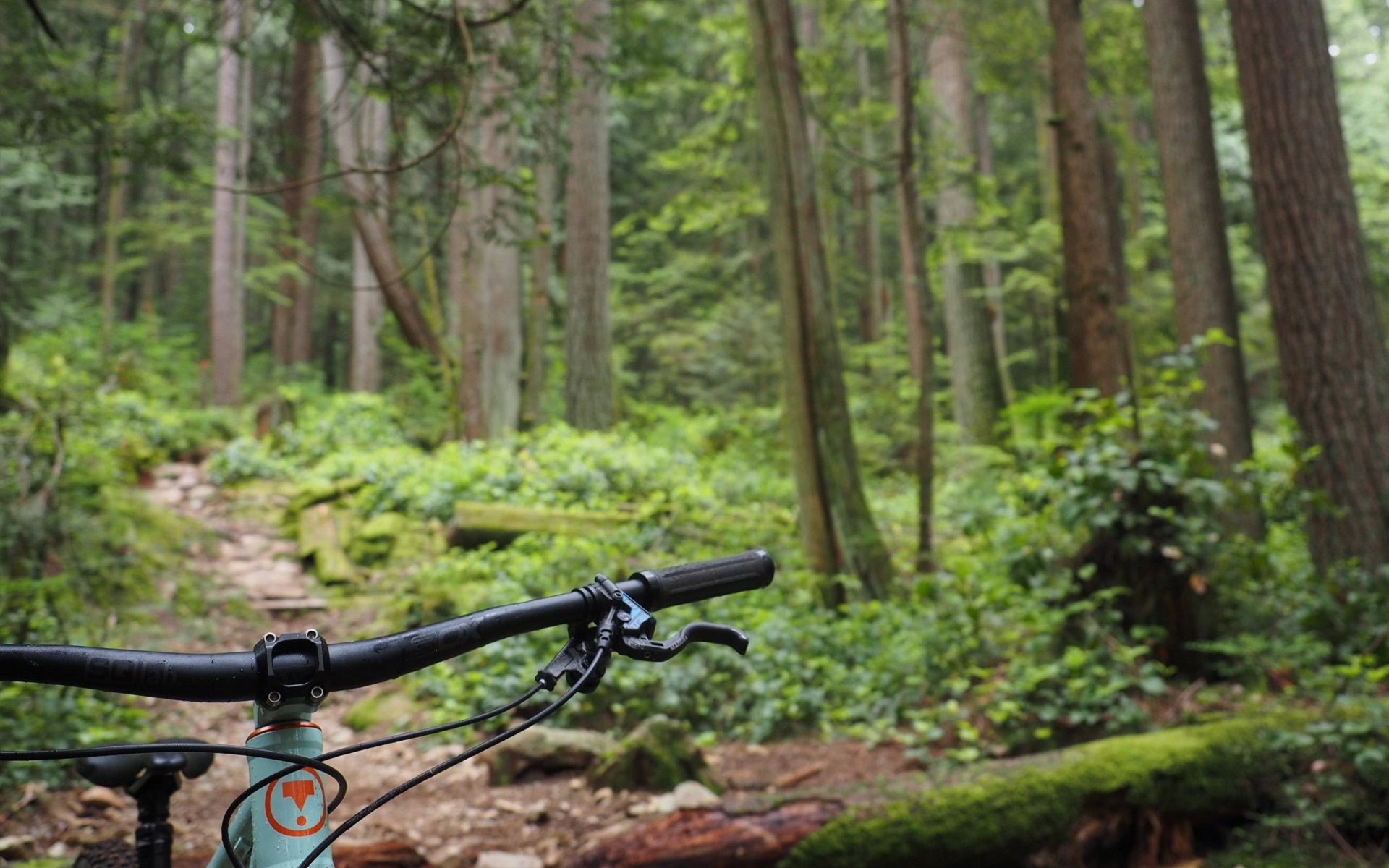 EDITORIAL
Handlebar Width & Staying Gracious
Go Ride Your Bike
Short days, creeping moisture, greasy trails, and a regular torrent of tears from the heavens; it's that time of year again when it's too easy to skip a few rides. I'm here to remind you that if everyone in your life - partner, pets, parents, kids, bike mechanics, baristas, etc., seems to have less patience for your bullsh*t these days, it's definitely you, not them.
Sorry. They still love you. They just really want you to go ride your f**king bike.
Many of us love nerding out over gear, but anyone who's spent the last three evenings trying to divine whether a 76.5° or 77° seat tube angle is superior needs to pull their lights off a charger and go for a ride. And if you're blind raging about anything, literally anything, to do with mountain bicycles then that's doubly true.
Sorry. I won't make a habit out of telling you what to do but rain or rain, go ride your bike.
Case in point, a friend sent me this link to an article on Pinkbike by Richard Cunningham about handlebar width. The body, for the click averse, is looking at the heights of various EWS and WC DH pro racers compared to their handlebar widths but the premise is asking whether you've taken a look at your personal setup lately.
There are some interesting numbers to compare, like Isabeau Courdurier's 760mm bar at 5' tall VS Tracey Hannah at 740mm for a 5'6" frame, but I think the data largely illuminates the long held consensus that bar width is always going to be a combination of personal preference and average gap between trees where you ride.
That wasn't my friend's profanity-laden takeaway; "no stem lengths, reach numbers, ape indexes, bar heights, head angles... how am I supposed to find this sh*t helpful?"
First off, bike fit isn't exactly a precise science. Even talking road bikes there are plenty of riders on 46cm bars who 'should' be on 42cm bars and vice versa, and there is much more fit-specific research and consensus on the tarmac.
I think the point is that it never hurts to have a think about your current bike setup. I love playing with my setup so I don't need any encouragement, but for a lot of riders I know playing with handlebar tilt or height or width, when they consider their current set up fine, is a foreign idea.

To set the record straight, personal preference is reason enough to defend your favorite width. I'm not going to dictate which bar you should ride." - Richard Cunningham
Food For Naught
If there's any overarching takeaway from the last couple decades of mountain bikes it's that there's no point in jumping in a foxhole with an opinion and surrounding myself with Concertina wire.
As AJ mentioned yesterday, it feels like all the really interesting new bikes are aluminum or steel. I know a few previously passionate 29" wheel haters working as their own absolution-ists. The men's WC DH title basically was won on a 1999 Balfa BB7*. Heck, I'm not sure how I ever thought lock-on grips where a good idea**.
*Okay, not exactly the same.
**Shout out to Dan Graham for never straying from glue-and-wires.

Injuries, age, fitness and so on, there are plenty of changes that affect bike fit beside the measurements of your new rig. Even the change in weight distribution from ditching or switching packs can encourage dropping or raising bar height.
Lately, I've been going back and forth between a 50mm and 60mm stem on one of my bikes. I prefer the 50mm on aggressive descents but the 60mm is much more comfortable on long climbs. It has me wondering why so many companies make a plethora of stem colourways but don't fill in their lineups with 45mm and 55mm stems.
Back to my furious friend looking for an article to say what width bar he should run. I climb standing a lot and I've been buying 780mm bars or cutting longer handlebars to 780mm for years. That is my happy spot when I'm reefing back and forth on the grips and with narrower bars, my hands always end up hanging over the ends uncomfortably. Easy right? Wider bars don't work for me, which doesn't mean an 840mm bar doesn't work for you.

Except lately I've moved my brake levers inboard and when I landmark for descents a quick shift has my hands in a position closer to what I'd get with a 760mm or even 750mm handlebar. Handling is a little faster, I'm pumping the bike a bit more, and the stubs of my bar hanging out from each side make me feel like one of those punks from Bone Deth that huck off roofs on BMX bikes with more air pressure in a single 20" tire than most readers will have in their suspension fork.

It sounds a bit silly, but my +/- 20mm hand positioning for long climbs versus descending seems to be working really well for me and who knows, it may work for others who are indecisive about their optimum hand placement. With my push-on grips having no clamps there's ample grip space to move my mitts around.

I happily recommend trying different widths, heights, and sweeps even for riders who are generally happy with their current setup. I won't recommend what bar dimensions you should use but I will say shorter winter rides are a great chance to experiment.
Oh, and hey, go ride your bike!