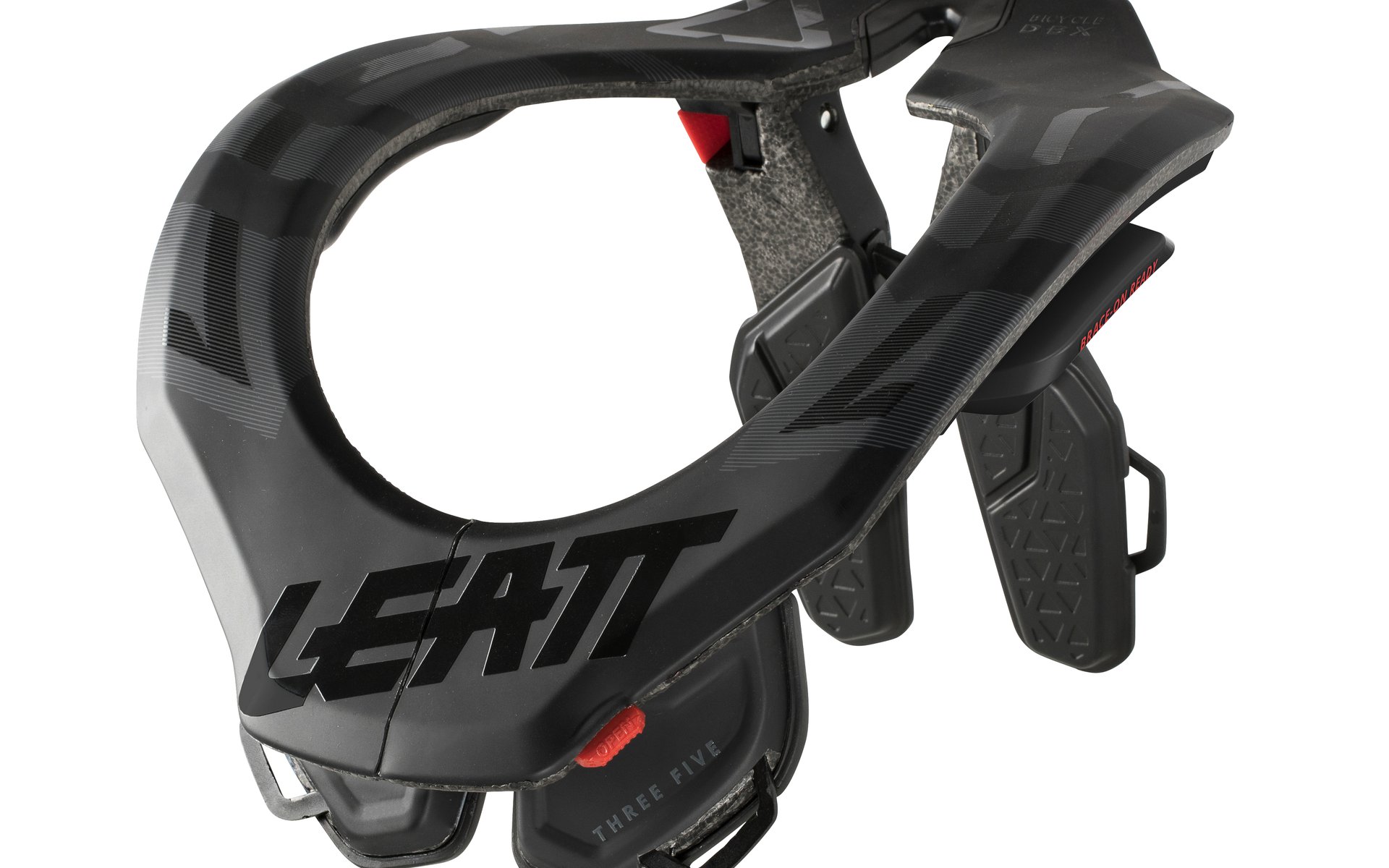 Smart Protection
Hammer Time with Leatt
Cruising the halls of Interbike is kind of like going to the fair as a kid. There is so much to see, touch, and even taste. It's hard to focus sometimes. In spite of some of the larger brands leaving the tradeshow scene behind, there are still plenty of products to peruse, high fives to give, and odd little things to ogle over. Perhaps my favorite part of the show is the creativity used to get people into booths. In my short time on the floor this year, Leatt had me hooked with simply a hammer and pile of gel.
Turbine Technology
Leatt has made a big impression on the market this year with their updated neck braces, so I wanted to see what all the hype was about. But, before we got to the braces I was first shown their cool helmet technology called, "Turbine." Turbine is Leatt's answer to Mips and other rotational impact reducers and provides omnidirectional impact protection by having these little circular squishy turbines throughout the interior of the helmet. Upon impact, they harden and deform so your head doesn't. Unlike other technologies, Turbine dissipates rotational, direct and deflective impact energy. The turbines are placed all throughout the interior of the helmet ensuring the most sensitive parts of your noggin are considered. 
Just to prove how effective the technology is, the Leatt team had a few cool demos to show off how Turbine works. First was a long, thin tube with a weight able to slide from one end to the other. On one end was a standard composite helmet finish. The other end had their Turbine technology. When you held the tube up one way, the weight would slide quickly to the opposite end. The point was to be able to feel the vibration difference between the Turbine and regular shells. While there was a difference, it was hard to imagine what that would be like against your body. Leatt figured this out and opted to have another, more interactive demo. They had the gel used to make their Turbines in a little, malleable pile. They told me to squeeze it to feel how soft it is. Then, they took it and wrapped it around their knuckles and slammed their hand with a heavy rubber mallet. Over and over and over. It was masochistic and amazing, so of course, I just had to try. While you can definitely feel the hammer hitting your hand, it was more of the nature of a dull blow versus a smashing hit. I definitely would have broken a knuckle without the gel. That's something I wouldn't mind having protect my head. 
Helmets
Impressed, I got the low down on the rest of the gear that uses their impact technology. Their DBX 2.0 trail helmet features Turbine technology, 20 vents for airflow, a breakaway visor, and a slew of nice colorways for a really great price point of $99. For the Enduro crowd, they've introduced the DBX 3.0 Enduro with a removable chin bar. Notable is that while the chin bar does flex a bit, it is rated for DH protection. For those seeking a true downhill helmet, their DBX 5.0 and 6.0 are well suited for burly descending. The 5.0 is their composite shell, which is only 40g heavier than their top-tiered Carbon 6.0 helmet. Both include the Turbine technology and a 10% reduction in shell size, reducing rotational forces on the head and neck in the event of a crash.
Neck Braces
Aside from Leatt's new and improved helmet line is their massively improved neck brace line. I vividly remember my first attempt at wearing a Leatt neck brace years ago. It wasn't terribly pleasant. The brace was super heavy, fit my little shoulders weird, and seriously hindered being able to move my head around. I wore it once and sold it. Fast forward seven years and the new DBX 3.5 neck brace is everything the original wasn't: simple to operate, lightweight, and comfortable. Winning the 2017 Eurobike and Interbike innovation award, this brace is astonishingly light at just 575g. When placed onto my shoulders, a simple adjustment had it feeling comfortable quickly. An easy spring-loaded button on the front of the brace makes for easy on/off. The DBX 3.5 has tested to show that it can help reduce significant neck injury by more than 40%. It's also been redesigned to put less pressure on collarbones, reducing the likelihood of breaking them upon impact, a complaint I used to hear when bikers first started wearing neck braces. The cherry on top is the pricing. At just $250, the DBX 3.5 is an easy choice to add to your quiver of safety gear. Your spine is worth it.
While our focus was on these two main products, Leatt has overhauled the majority of their line including their pads (hard and soft) and clothing, though I was disappointed that they still have nothing in the pipeline for women's wear. The complete collection of helmets, pads, neck braces and apparel is available now on Leatt's website.