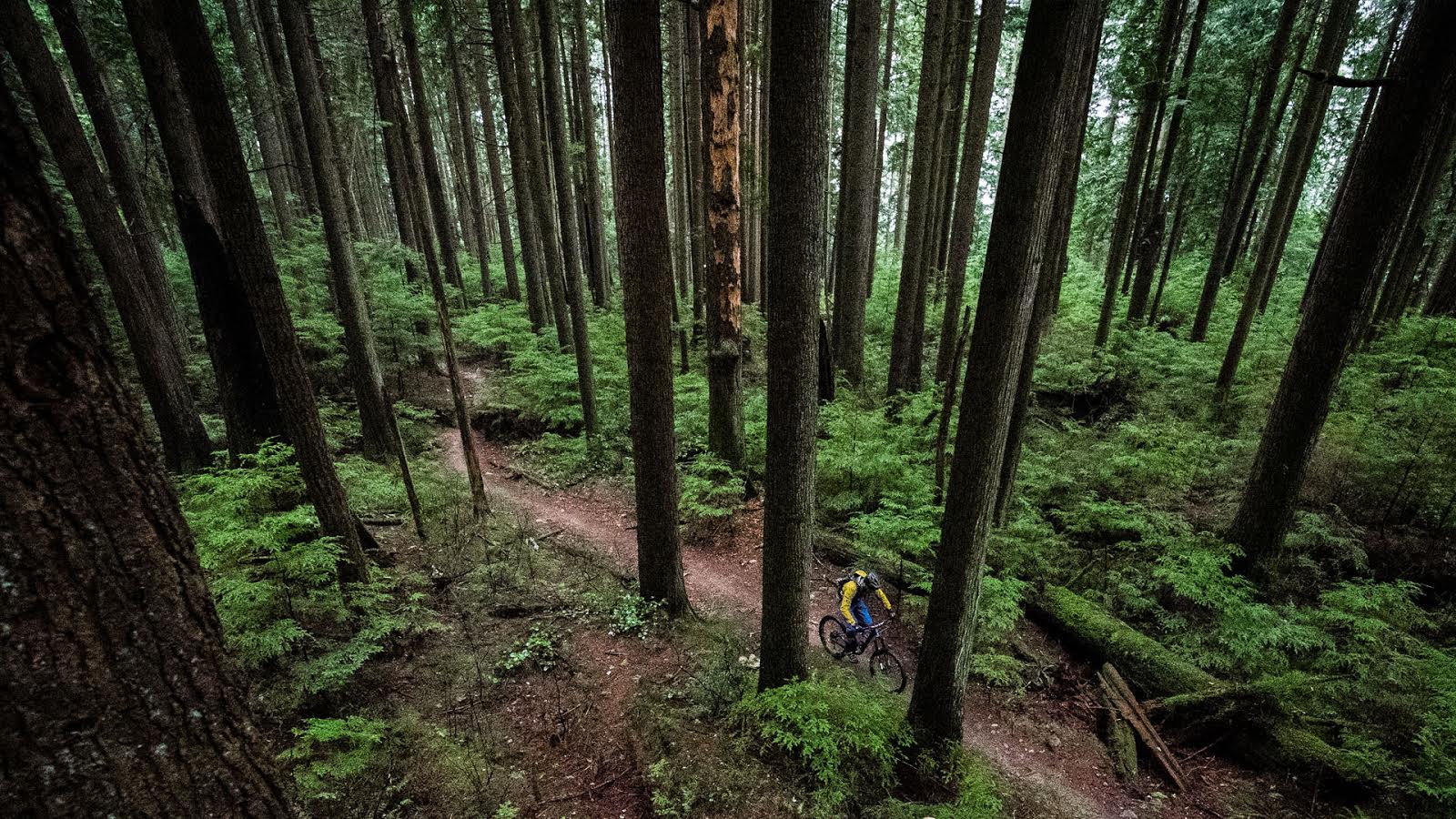 Haibike Xduro AMT 27.5 E-Bike Review
Blasphemy! I have tested an electric-assist mountain bike. Brace for hate mail and death threats! If you have read this far after coming to the conclusion that NSMB.com is endorsing these bikes for use on mountain bike trails (and many will not read this far before unleashing the hate) you can put the pin back in the grenade. A test does not an endorsement make, and forming an opinion requires knowledge of the subject. Beyond that, I personally think e-bikes are here to stay, particularly in urban environments, and they are likely coming to our trails in at least modest numbers in the coming years. If we decide they are the enemy we're going to need to know something about them. If not we are as well.
The 2014 Haibike Xduro AMT RX 27.5 was the lower spec model of Haibike's 150mm travel Xduro AMT line, but for 2015 three carbon-framed models reside in a higher bracket and, of course, an e-fatbike has arrived as well. There is also the 180mm travel Nduro for those looking for something burlier. The battery lives where your water bottle would normally reside.
Talking about E-bikes on a mountain bike site without talking about THE ISSUE is like discussing marijuana while ignoring its fluid legal status. It can be done but it's a cop out (Washington State has it right, for the record). If you'd only like to hear about how this bike rides, feel free to skip the commentary below.
My Political Stance
There's a lot of hysteria about electric assist mountain bikes. The Loam Ranger shared some thoughts on the topic here, and while I agree that many of the objections stem from an elitist bias, there are some legitimate reasons to fear the electric beast.
The Xduro has a high pivot and guide wheel set up. Did it pedal efficiently? Who cares when you've got 350 watts pushing you along. I didn't have any chain issues while I was testing the bike.
Pedelec is the awful name for assist-only bikes that only add juice when you power the pedals with your legs; without leg power or gravity they don't move. These bikes are limited by legislation to 32 kmh/20 mph in North America. E-bikes include both bikes like the pedelec tested here and powerful e-bikes that can go with the twist of a throttle. Pedelecs could be quite compatible with human-powered bikes but I'm not so sure about throttle bikes, which don't currently seem subject to any regulation. Banishing throttle electrics from the trails is a much easier call, so let's discuss Pedelecs, even though it sounds like the label for someone allergic to salt.
Exhibit A: I'm clearly guilty as charged. I could say I didn't enjoy Xduro, but I'd be lying. While not as ridiculously fun nor as capable downhill as the carbon-framed 160mm travel 650b bikes I've been riding lately, it was still a very solid downhill performer that I enjoyed riding.
Mandatory climbs make trails less accessible. In a given interval an E-bike could easily knock off twice as many laps, and on a burlier bike, further burdening trail maintainers. This is only relevant if it turns out these bikes become very popular, and that is anything but certain. Think of the difference between shuttle access trails and pedal access; it could be that bad.
A controller allows you to change between the five assist modes (from no assist to Turbo) and the i button changes the information shown on the display.
If land managers lump e-bikes in with conventional mountain bikes it might change the access equation and clearly we don't need taller hurdles. The powers-that-be might also re-evaluate current access if they decide these bikes are to be feared for any reason.
The frame has some nice details including well-executed internal routing.
On the plus side, easing access for riders whose physical limitations preclude climbing under their own power is to be encouraged in my view. I'd happily absorb the inevitible abuse and ride an e-bike if it was the only way I could keep riding with my buddies because of some affliction.
Otherwise if I'm riding my mountain bike and I encounter someone riding the trail with a pedelec, I can't see how this will limit my ability to enjoy the experience. E-bikes are also megawatts better than shuttling and lift access in terms of fun factor, exercise, efficiency and environmental impact.
Unlike the weed question, I'm on the fence here. While an offroad Pedelec isn't something I'd currently add to my quiver, I don't see the access issue as black and white. Those who see the case as open and shut, saying that there is no place for motors in mountain biking, often don't object to chairlifts or gas-powered shuttling, which seems like a contraciction. I know the hardcore set will hate me for this but the truth is I'm not willing to say I'm dead set against pedelecs on trails, but nor am I prepared to give my meaningless endorsement until the dust settles and more information is available.
The Crank Brothers Kronolog post worked without complaint for the duration of the test.
The Bike
Never heard of Haibike? It's a German brand owned by the publicly traded Accell group, which also owns Ghost, Lapierre, Raleigh, Diamondback, Redline and several others. Hai means shark in German. Yep. Sharkbike. The bike is powered by a Bosch Midmount Performance 36 Volt, 250 Watt motor with a 36 volt, 400 wh lithium ion battery.
Performance electrics are an emerging category of electric bike that are designed to go toe to toe with top end road and mountain bikes in terms of handling and feel. On the mountain side minimizing the impact of the battery and motor weight is particularly important. Haibike accomplishes this by placing this mass as low as possible and centring it at the bottom bracket.
I changed very little despite stem, bars, grips and saddle that were not to my liking, but the bike still handled just fine.
For the most part these bikes are built up with conventional mountain bike componentry, and you can swap wheels, fork, rear shock, bars and stem etc. with a regular bike. This 2014 model rolls on 650b wheels and comes with a Crank Brothers Kronolog dropper post. The 150mm of travel is damped by a Fox 32 Talas CTD up front and Fox Float CTD in the rear. The rear suspension uses what Haibike calls a 4 Link system, composed of a rocker and a pivot positioned on the chainstays.
The large display gives you the usual speed and distance information as well as your assist mode, remaining range at the current setting and battery level.
The spec isn't great with a stem that is too long paired with a too-narrow bar, an uncomfortable saddle and terrible grips. The Deore brakes were surprisingly good though and the wheels and tires worked fine. At the same time I didn't bother changing much because everything worked well enough for me to decipher how the bike rides, and I wanted to see how the bike rides out of the box.
The Bosch-made guts of the Xduro pedelec from left to right; the motor, the display, the battery (vertically oriented) and the controller to the right of the display. The intuitive system worked without a hiccup. There is a slight delay when you first put pressure on a pedal but the system immediately cuts power when it notices you have stopped pedalling, making it extremely safe and easy to use.
The Ride – UP
The bike arrived months after I expected it, at a time when I was travelling often and my testing schedule full. As a result I rode the bike less than I would have liked. Fortunately it didn't take long to unravel its mysteries.
Not suprisingly the Xduro climbs incredibly well. It's easy to get the power down but it takes some time to get used to hitting technical sections with speed. The AMT RX had a 10 spd 11-36 cogset mated to a 22 tooth chainring. I climbed some steep singletrack pitches I never would have made it up with a regular bike. I encountered a few that were too steep though – and she's a heavy push.
Pretty much everyone's first reaction to a pedelec is a huge smile followed by one word reviews; amazing, awesome, incredible. You push your foot down and you get a taste of what it was like to be a fully juiced Lance Armstrong. The bike leaps forward in response your power, but boosted by 350 watts of electric motor. On my first steep climb I was able to hold 20 km/h. A misconception is that you aren't able to get any exercise on an e-bike but that is garbage. I put in my usual effort, and sometimes more to keep my cadence in the target range, but I went much faster. I quickly realized getting a workout wouldn't require any change to the way I rode, I just went further and faster.
I rode the Xduro on trails that would challenge any bike – and it responded without complaint, despite the relatively steep 68 degree head angle.
Apparently Nico Vouillioz likes to train on his Lapierre pedelec because he can climb singletrack at downhill speeds, sharpening his handling skills while gaining vert. Angling your bike to deal with berms on the climb is an odd but thrilling sensation and with the right trails the ascent can approach the stoke level of downhilling.
47 lb bikes are not supposed to be nimble, but the location of the battery and motor defies that logic.
The Xduro can come in handy when you are pressed for time. I rode from my house to Expresso trail on Fromme, traversing singletrack to arrive at the fireroad before climbing and descending, and made it home in 42 minutes. I don't think I could do the same ride under my own power in less than 90 minutes.
That looks like a regular bike.
The mechanism itself works seamlessly and soon feels natural. There are four assist settings that predictably affect the battery life. You can choose from ECO which adds 50% of the power you put into the pedals to TURBO which adds 275% of your force to the rear wheel. A left hand bar-mounted control allows you to switch the power up and down. Descending I usually turned the system off, and it pedals just fine like that but otherwise I kept it in Turbo mode because, well, TURBO!
The Bosch system gave me nothing to complain about – except when it shut off at 32 km/h (by law pedelecs can't go above that speed in North America) and reminded me of my mortal limitations.
The system senses when you are shifting gears and clutches the motor briefly and the range is advertised as between 40 and 56 kms (25-35 miles).
The Ride – DOWN
At 47 lbs, the Xduro is as heavy as an early Banshee Scream with a Monster T, despite being equipped with lightweight componentry. I expected the bike to feel sluggish and awkward on the trail but I quickly forgot the extra heft. I could change direction easily, bunny hop over obstacles, corner aggressively and attack steep sections. The bike was a little under-forked with a 150mm Fox 32 but it performed adequately and the rear suspension action was good. Overall the setup and spec are nothing special but even without top level parts and a steepish 68 degree headtube the Xduro descended just fine. A few tweaks and swaps would have pushed it to very good.
The downhill ability of the 47 lb Xduro shocked me. In a short time I completely forgot about the extra weight and rode it exactly like an un-electrified bicycle.
I didn't go easy on the Xduro, riding some very steep and challenging trails and others that were fast and rough, and it surprised me by handling it all without problem. I rode Bobsled – our local bermy flow trail – with some buddies, observing our no pedal rule, and kept up just fine. In short it rides down like a mountain bike.
Of course I'm not smiling. You can tell by this photo.
Final Analysis
There's no denying that this is a fun bike to ride, both up and down, but it was lonely. I only rode it once with my buddies and that was to get photos for this article. Otherwise they were too damn slow and there was no point in crushing them on the climb only to sit and wait twenty minutes for them to arrive, so I chose other bikes on those days. It became clear over time that despite the appeal of speed and the thrill of climbing singletrack at serious pace, the whole experience was less satisfying than a ride completed using my own inferior motor. And yet more satisfying and far less hassle than shuttling or riding the chairlift. These bikes are so good now, it's scary to think where they'll end up as batteries and motors get lighter and more efficient. What is certain is that they will get more popular as they improve and mountain bikers are going to have to figure out how we are going to respond, preferably without hysteria.
This particular model, the XDURO AMT RX 27.5, comes with a suggested price of $6350 in US dollars. Considering the well made frame with internal routing and hydro-formed 6061 tubing and the level of component spec, you are likely paying a premium of between $2500 and $3000 for the Bosch system that makes it go.
---
Hopefully this time around those of you who see red at the mere thought of E-bikes will read what is written here before commenting.