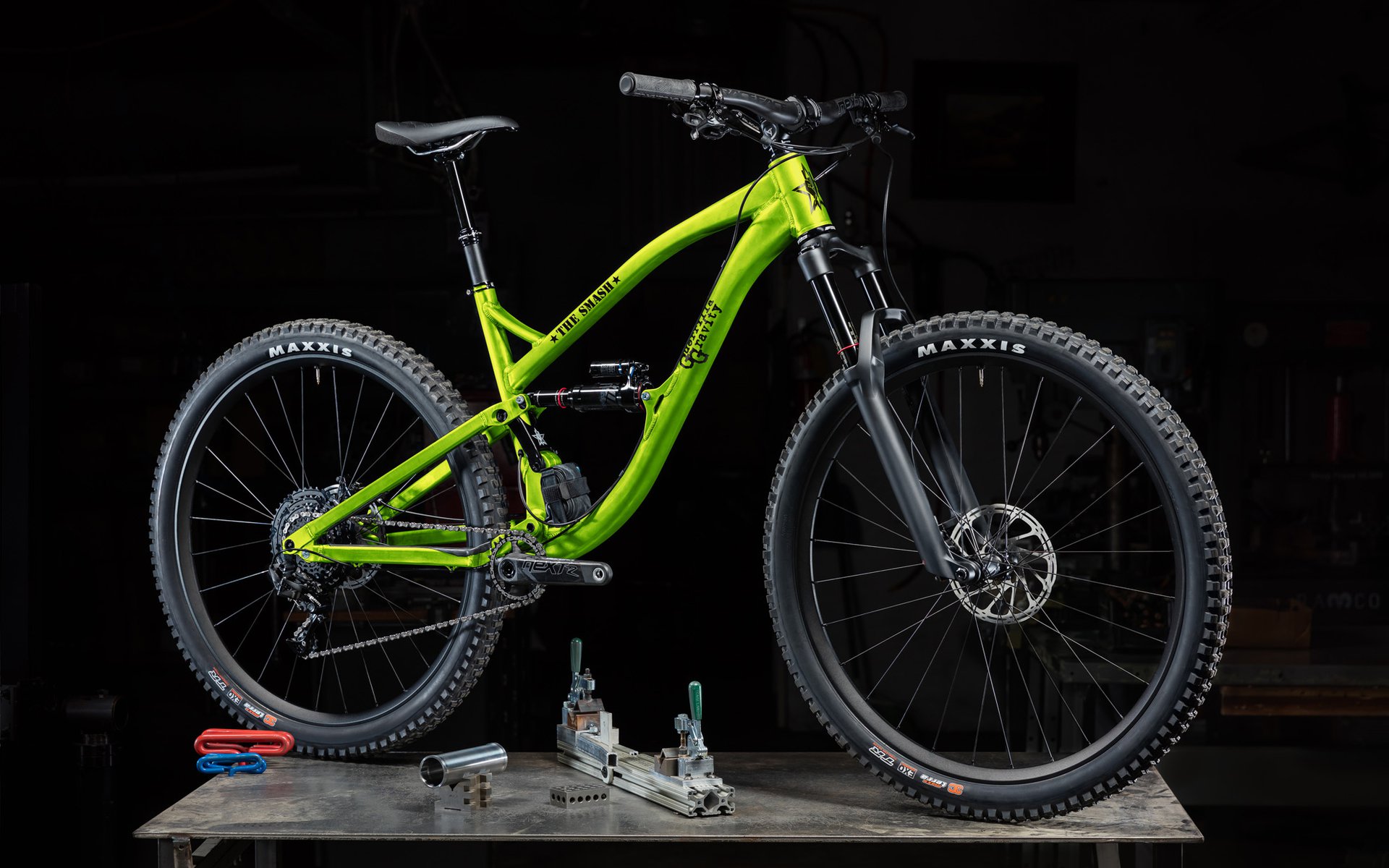 PRESS RELEASE
Guerrilla Gravity Launches The Smash
Touting a "Made in America" ethos and channeling their inner 80s punk rocker, Guerrilla Gravity have announced their new longer-travel 29er: The Smash. Sporting 140mm of rear suspension, and adjustable between two different suspension curve setups, GG have pitched The Smash as a "29er version of the Megatrail." Get all the details from GG after the break. 
---
Don't be scared of anything that stands in your way: the punk rock spirit of Joe Strummer lives on in The Smash, inspiring riders to assail anything in their path. The combination of GG-style geometry and approach to suspension design creates the "surface to surface missile" that is ready for smashing rocks and goin' fast--up and down.
With The Smash, Guerrilla Gravity (GG) has introduced their long travel 29er option. The frame has 140 mm of travel, can accept up to a 160 mm fork, and has room for true 29x2.5 tires. For those waiting on a 29er version of the Megatrail, here it is.
Approach to Geometry & Suspension
When designing The Smash there was a concerted effort to avoid common compromises found on long travel 29ers--namely long chainstays, excessively tall BB heights, and slack actual seat tube angles.
To accomplish this, travel was set to 140 mm and efforts were focused on tuning the kinematics, instead of increasing travel. Compared to our other models, The Smash's leverage curve is tuned to be softer off the top, where most of "the smashing" occurs, and then have more ramp up for hard hits.

It's also notable that after riding and testing various 29er setups and comparing them to their 27.5 counterparts, a 29er performs as if it has 10 mm of additional travel vs the 27.5 wheels. This is due to the larger wheels' ability to smooth out the trail by reducing vertical accelerations, hence allowing the rider to carry additional speed

The Smash utilizes the same steep actual seat tube angle geometry found on GG's other models. It's important to note that the actual seat tube angle, as effective seat tube angles can be misleading. A steep actual seat tube angle allows for an upright, efficient climbing position at any saddle height. Back-to-back tests have shown that this geometry is 10% faster on climbs compared to their previous geometry, which used a 71º actual seat tube angle. Want to get GG folks fired up? Ask them about the proliferation of quoting effective seat tube angles, a number they feel is grossly misleading.
Crush Mode and Plush Mode
As with all Guerrilla Gravity bikes, The Smash was designed with versatility in mind. Riders can choose between Crush Mode and Plush Mode to dial in the suspension platform that's ideal for their local terrain. Crush Mode has a more supportive mid-stroke for flow trails and all day trail rides, while Plush Mode is softest off the top, making it the go-to for plowing into rocks at mach-chicken.
Riders can also choose between an air shock and coil shock. Designing a platform that works well with a coil shock was a priority given the bike's intended use: smashing whatever's in front of you. As a general guideline, GG recommends running an air shock for a lighter weight trail setup and for those that don't have exceptionally rocky or loose terrain, while a coil shock is ideal for those that prioritize small bump compliance and traction over weight.
While pedalling will be most efficient with an air shock in Crush Mode, The Smash will impress with its climbing ability in either mode and either shock, even without the aid of a climb aid on the shock. This is due to the well refined kinematics and efficient geometry designed into the frame.
Frame Layout
Taking inspiration from the Megatrail, The Smash uses their custom tubeset that reduces weight, increases strength, and improves aesthetics. It also includes the frame storage system to carry a water bottle and flat-change supplies with the NUTS bracket (Necessities Under The Saddle). The team at GG are big fans of reducing the need for a backpack on the average ride and frame storage goes a long way to making that happen.
Made in America
The Smash, like all of their frames, was designed and manufactured in-house at their Denver, Colorado facility. This holistic structure allows them to maintain tight quality controls, have a short and efficient supply chain, and offer riders extensive customization options.
Questions + Answers
What sort of rider is The Smash for?
It's for the rider that wants to smash rocks with the same vigor Joe Strummer wanted to take down the Bourgeoisie. It's for the rider who wants a 29er they can take on anything from epic big mountain rides to days in the bike park to your rock-strewn afterwork lap. 
How did you decide on 140 mm of travel?
For a 29er trail bike, going beyond 140 mm creates geometry compromises--namely long chainstays, excessively tall BB heights, and slack seat tube angles. By focusing on the quality over the quantity of travel we're able to optimize geometry for the most well-rounded package possible for its intended uses. By really analyzing how the bikes use their travel and making fine tune adjustments to the leverage curve, it's possible to have a slightly shorter travel bike that rides like a longer travel bike downhill, but is going to have a noticeable pedalling advantage uphill. With "gravity" as part of our name--what we describe as the fun part of mountain biking--we obviously prefer to go downhill, but any help we can get on the climbs here in the high country of Colorado is appreciated! Plus, 29" wheels smooth out rocky trails to the tune of approximately 10 mm of travel, due to the larger diameter that reduces vertical accelerations when you run over a rock and rides higher over holes in the trail.
What's the difference between Plush Mode and Crush Mode?

Plush Mode and Crush Mode allows riders to adjust the bike between two different leverage curves, tuning the ride characteristics to their local terrain. Crush Mode is more poppy and supportive, while Plush Mode is smoother in the rough--turning rock gardens into a fine velour carpet.

How does this mode fit into your current bike lineup?
The goal was to create "the 29er Megatrail" in regards to ride characteristics, more so than a longer travel Trail Pistol, which has a suspension platform that is very supportive and poppy. This is ideal for trails that are more on the flowy, less-rocky end of the spectrum. The Smash is softer off the top and through the mid-stroke, yet has more bottom out protection towards the end of its stroke. The Smash will be the ideal bike for riders that have relentlessly rocky and high speed terrain. We really scrutinized how the suspension would feel compared to the Trail Pistol and Megatrail throughout the travel, making minute changes to achieve the goals. From there, the kinematics were fine tuned to allow a similar amount of sag at the rear wheel as the Megatrail, giving a rock gobbling feel, and enough support mid-stroke and at bottom out for big days in the saddle and sending it in the bike park.
Can you explain a bit more about your seat tube angle?
Steep seat tube angles are all the rage right now, but most companies are only providing effective seat tube angles and not the actual angle. The problem with effective numbers is that they are measured at the height of the top of the head tube and are only valid for one point in space. That point is usually closer to the saddle height used during descending than climbing, and hence, by itself, does not tell the full story. Typically, the steep effective angles use a slack actual angle with significant offset in front of the BB. This can mean even with a steep effective seat tube angle, when the saddle is at climbing height, it is still too far behind the BB. Then, on rolling terrain, lowering the saddle an inch or two makes for a noticeable change in cockpit length. 
In contrast, GG bikes have steep actual seat tube angles, which puts the saddle in an efficient upright position throughout a wide range of saddle heights. Additionally, on rolling terrain, the cockpit length has minimal change as the post is lowered. Back-to-back tests have shown that this geometry is 10% faster on climbs compared to their previous geometry, which used a 71º actual seat tube angle.
* The Smash accepts forks between 140-160 mm of travel. Changing the travel +/- 10 mm creates a head angle (HA) change of +/- .4 degrees and BB height change of .1" (3 mm).
**It's worth noting that the unique take on geometry increases the reach numbers for each size beyond what riders expect to find for a given size. This is due to the seat being further forward in the climbing position than it would be with a slack seat tube angle. Additionally, riders should be aware that we take a bit of a different approach to sizing compared to our peers. Riders 5'10" will find themselves in the middle of the range of GG's medium size.
Is it carbon?
Of course not, but it is grain structure modified rocket grade aluminum, which is twice as awesome as traditional aircraft grade aluminum alloys. We refer to it as our SAFE material: Strong As F* Everywhere.
Pricing (USD)
Frameset: $2095
Ride 2 build: $3295
Ride 1 build: $4295
Race build: $5295
Build kits feature components from SRAM, Shimano, RockShox, Race Face, e13, DT Swiss, Industry Nine, SR Suntour, MRP, and Maxxis. Frames and build kits are customizable: riders can choose their fork, shock, control components, brakeset, drivetrain, wheelset, and tires for each model.