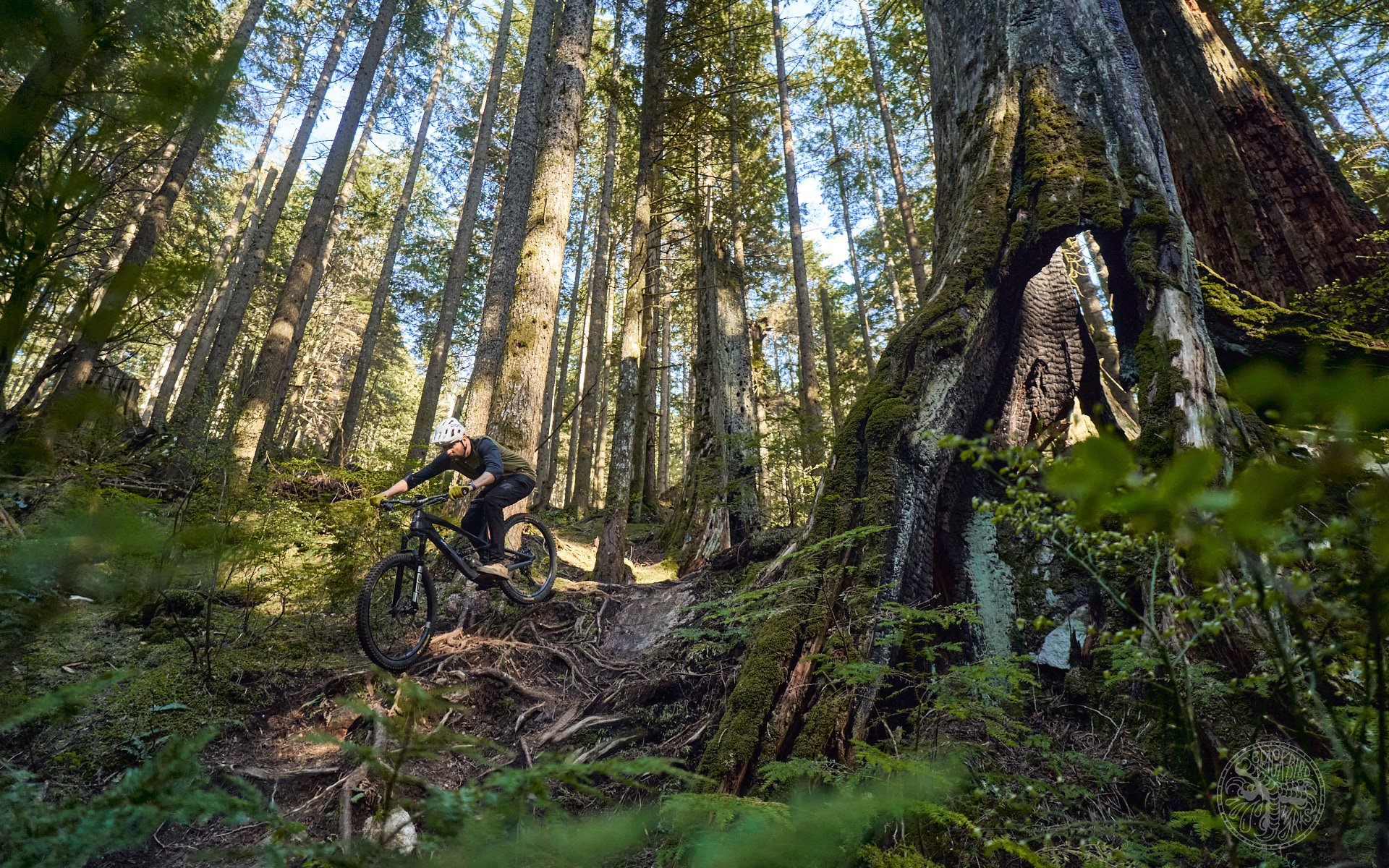 Long Term Review
Guerilla Gravity Gnarvana V2 Review
The days became longer, the shuttles more plentiful. Post work rides began in earnest, as did the yearning for secret North Shore loam. "Aye! We'll hit the one with the thing and then do the other one with the stuff." I tucked in on a wheel and followed to the best of my ability. The line was steep and the traction was elusive. By the bottom, my arms were sore and my hands were upset. I muttered to myself "What the fuck have I gotten myself into?"
At least I was on the correct bicycle.
Building the Guerilla Gravity Gnarvana
The first look article talked at length about how you would go about building and ordering your own Gnarvana. I was a bit wishy washy on pricing, and we've moved on to MY2023 components, so it seemed worthwhile to take a look at what parts now come on a Gnarvana. Things have evolved!
It looks like Guerilla Gravity have done away with the à-la-carte ordering system. You now have (by the looks of it) three major builds, and then depending on that build, potentially a suspension option (or two) and a wheel option (or not). That's still more than many companies offer, but it's not quite the experience I had when putting mine together.
The bike that I tested is the mid-tier "Rally Like Barelli". The current set-up is much like the one I have, except it comes with:
- SRAM GX
- MY23 Zeb Ultimate fork
- MY23 Fox Float X rear shock
- E13 cockpit
- SDG dropper post
- TRP DH-R EVO brakes
- Hutchinson Griffus tires
So, the bike I tested shares the frame, the wheels and the grips of what you would buy now. And I swapped out the wheels and the grips.
The good news is that this is all pretty good stuff. I can't speak to the tires, but most of the other parts are going to perform similarly to what I tested. Again, see the first look if you want a detailed breakdown of that.
All of this you get for what seems like a bit of a "market price" affair. Right now, the "Rally Like Barelli" will run you 10,234 CAD or 6,495 USD. If you want to save some money, there's a SRAM NX/RockShox Select version available (on sale) for only 3,745 US / 5,901 CAD, while ballers can opt for a non-Transmission XO1/Fox Factory build for 5,755 USD / 9,068 CAD. That final one seems like the deal to be had right now. Regular price is 7,195 USD / 11,337 CAD.
I'll also take the time now to point out that this bike does have a UDH, so you should have no problem running your new SRAM Transmission drivetrain if that's what you're into.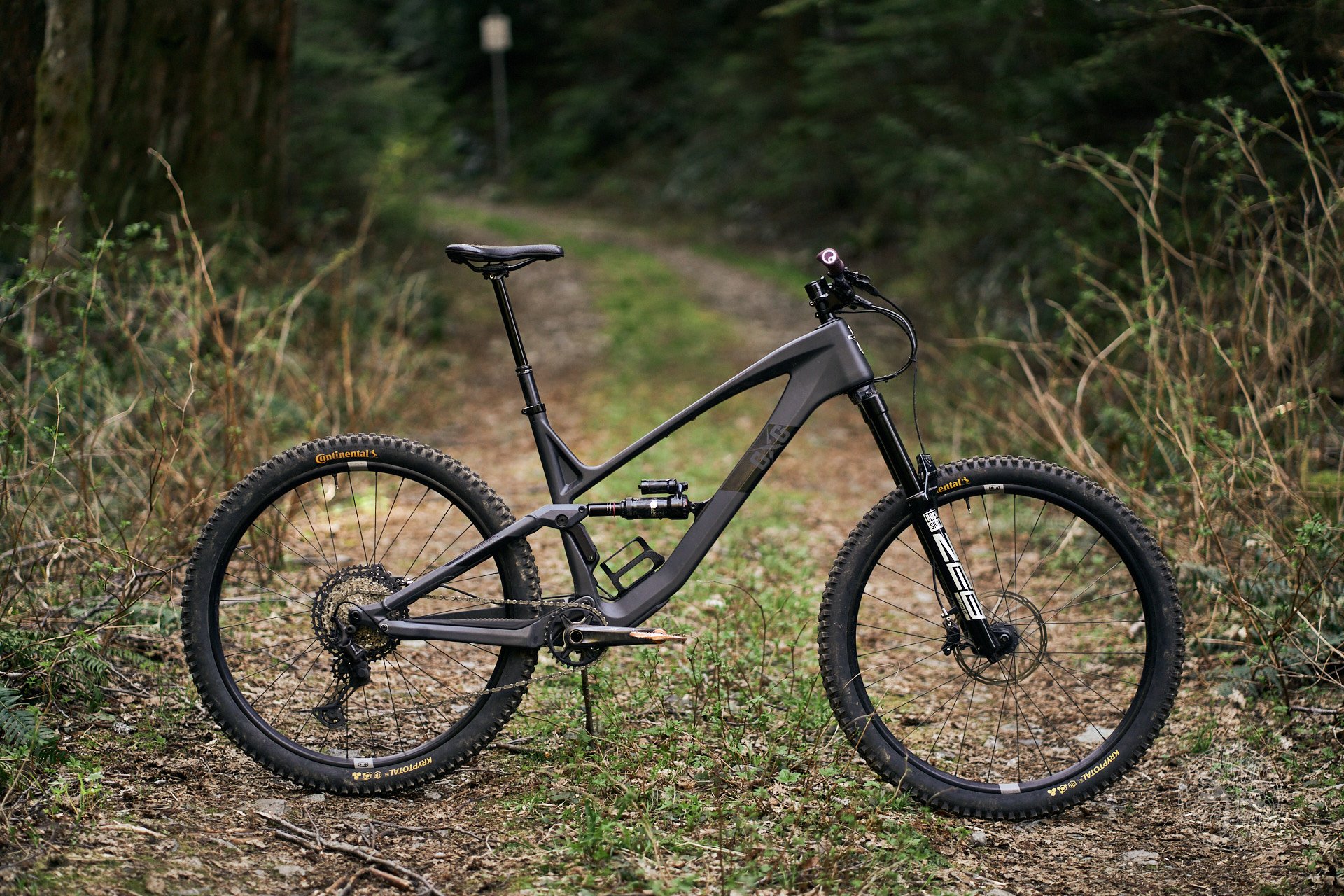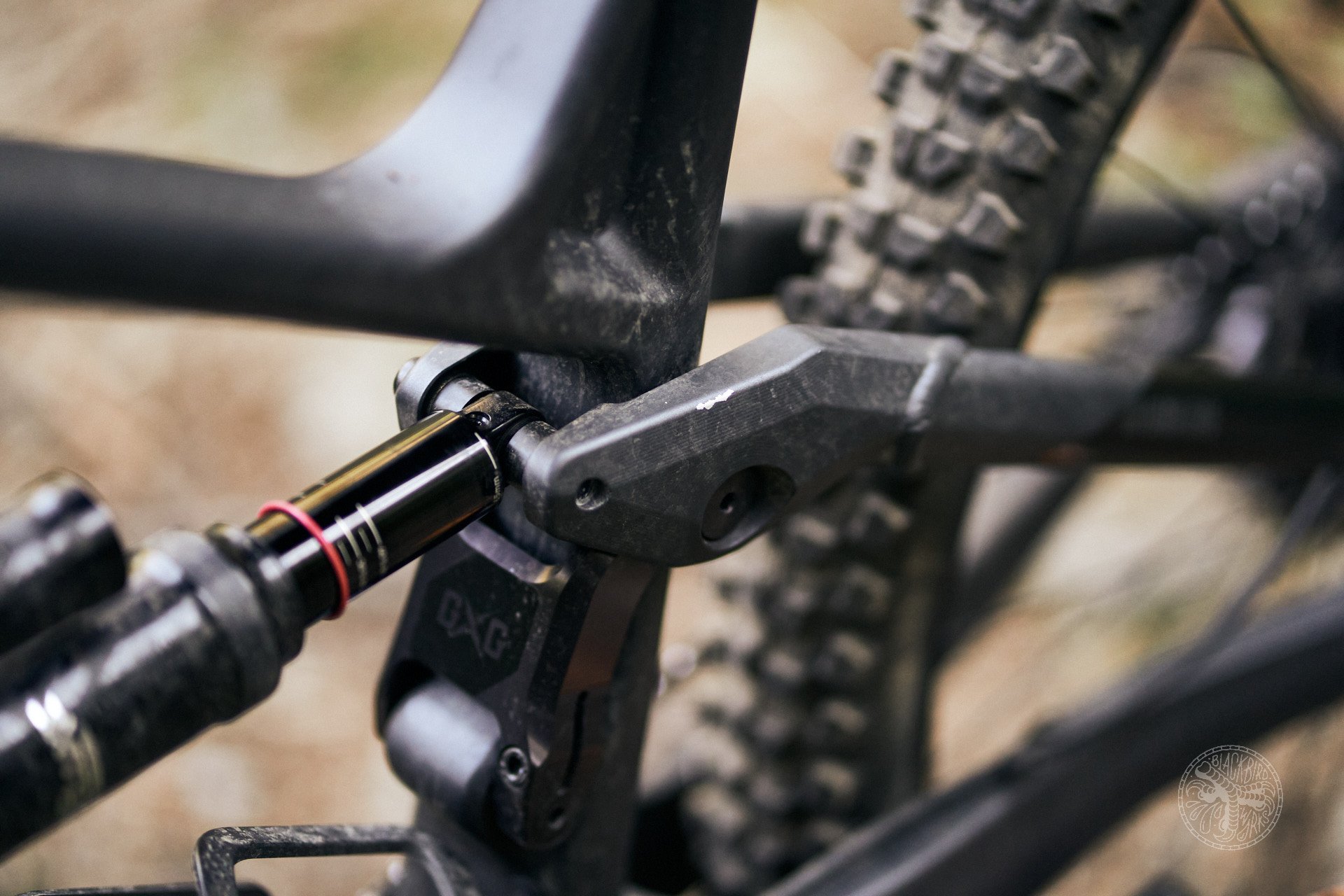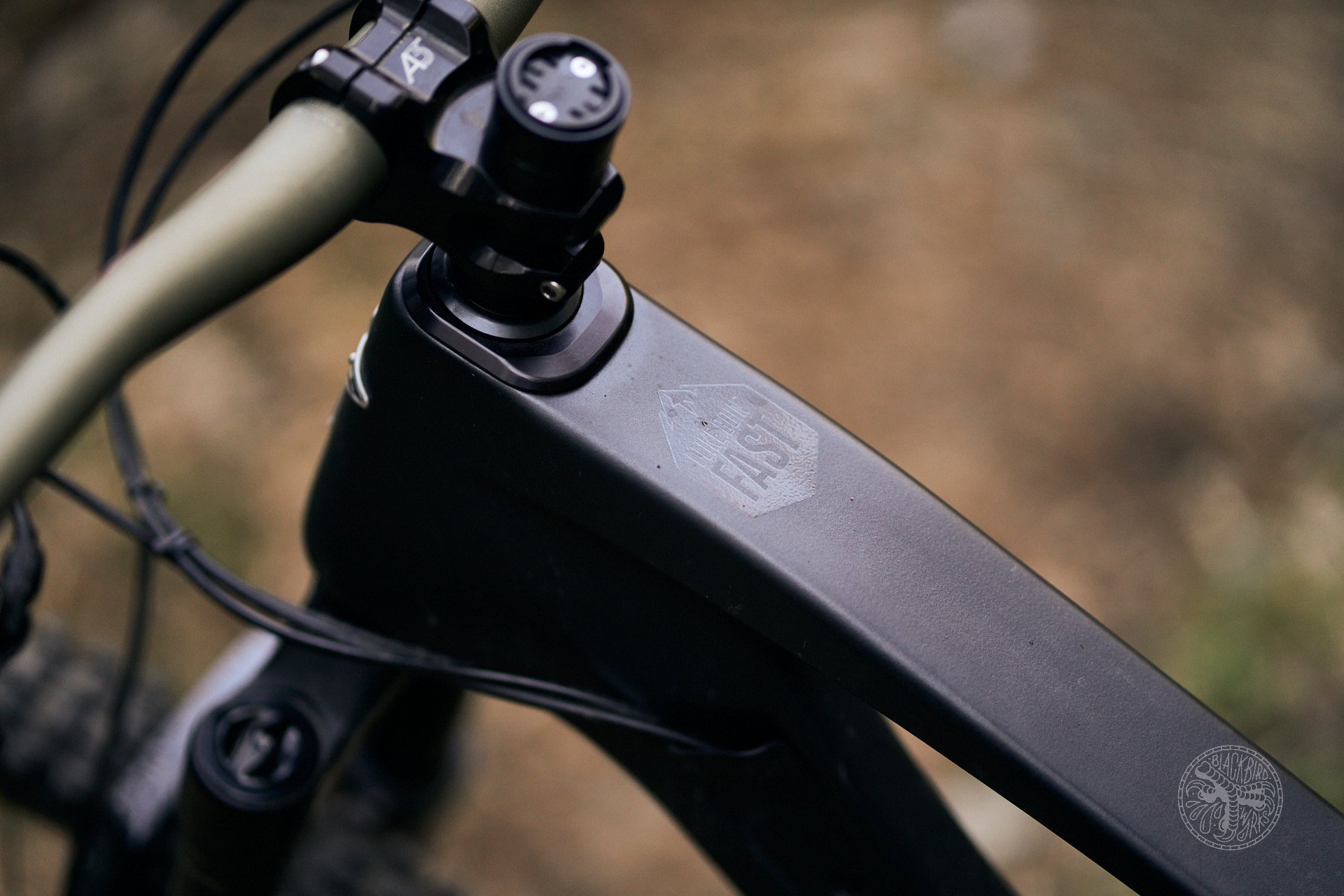 Bits and Bobs and Changes
I wound up changing out a few things over the course of the test. The first was to swap the bar. I had a nice Renthal sitting there, at the correct width, so it felt a bit silly to hack away at the stock PNW bar. As well, I threw on my favourite Ergon grips. For testing purposes, I swapped in a BikeYoke saddle and never took it off. All of these changes would be in the realm of personal preference.
I ran a few different tire and wheel combinations. The two sets of tires were:
- The stock Maxxis Assegai/DHR II combo, both in new EXO+: MaxxGrip front, MaxxTerra rear.
- Continental Kryptotal F + R, both super soft DH casing.
Wheels were:
- The stock Crank Brothers Synthesis aluminum wheels.
- Forge + Bond carbon fiber wheels.
Switching back and forth between these combinations had a large impact on the character of the bike.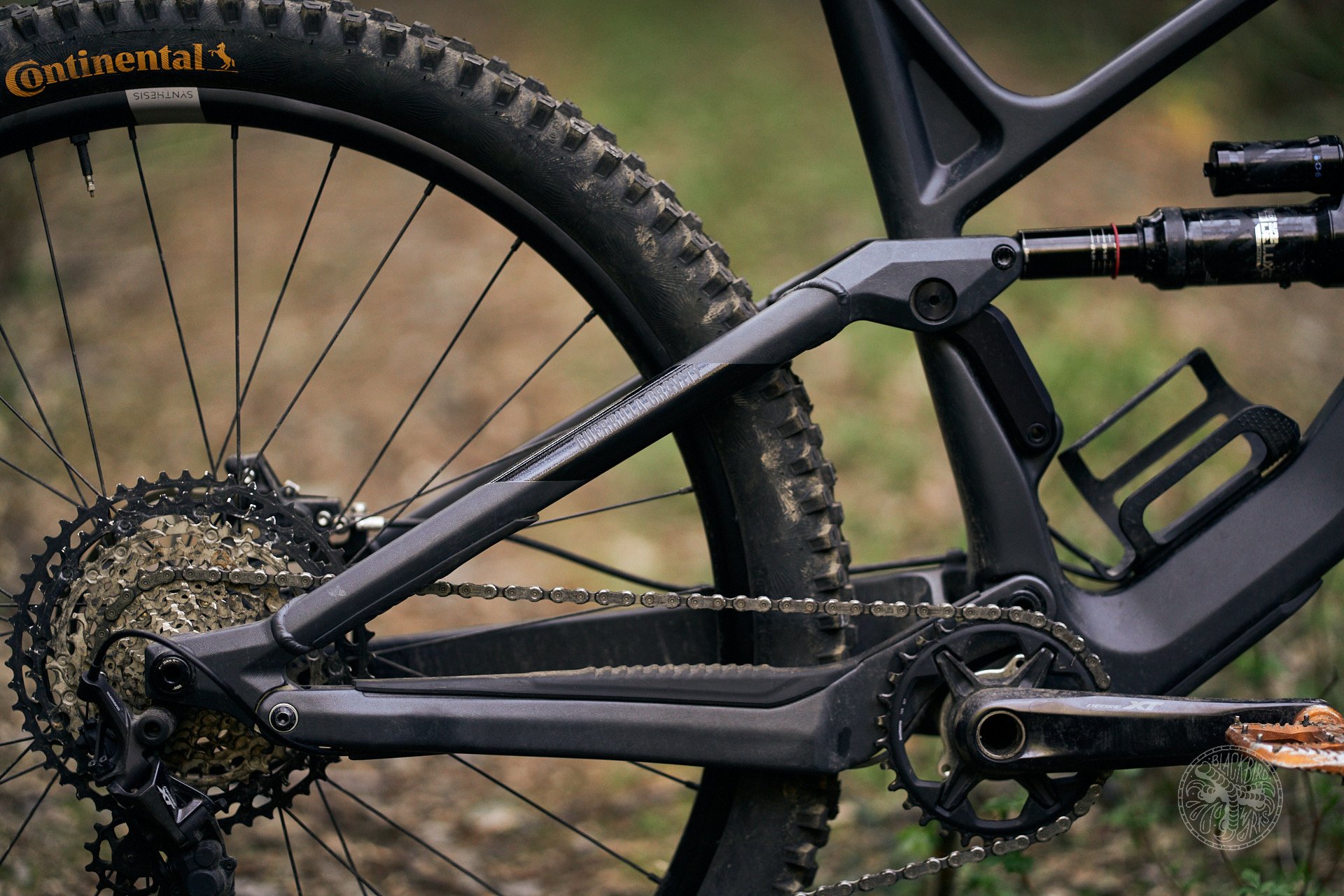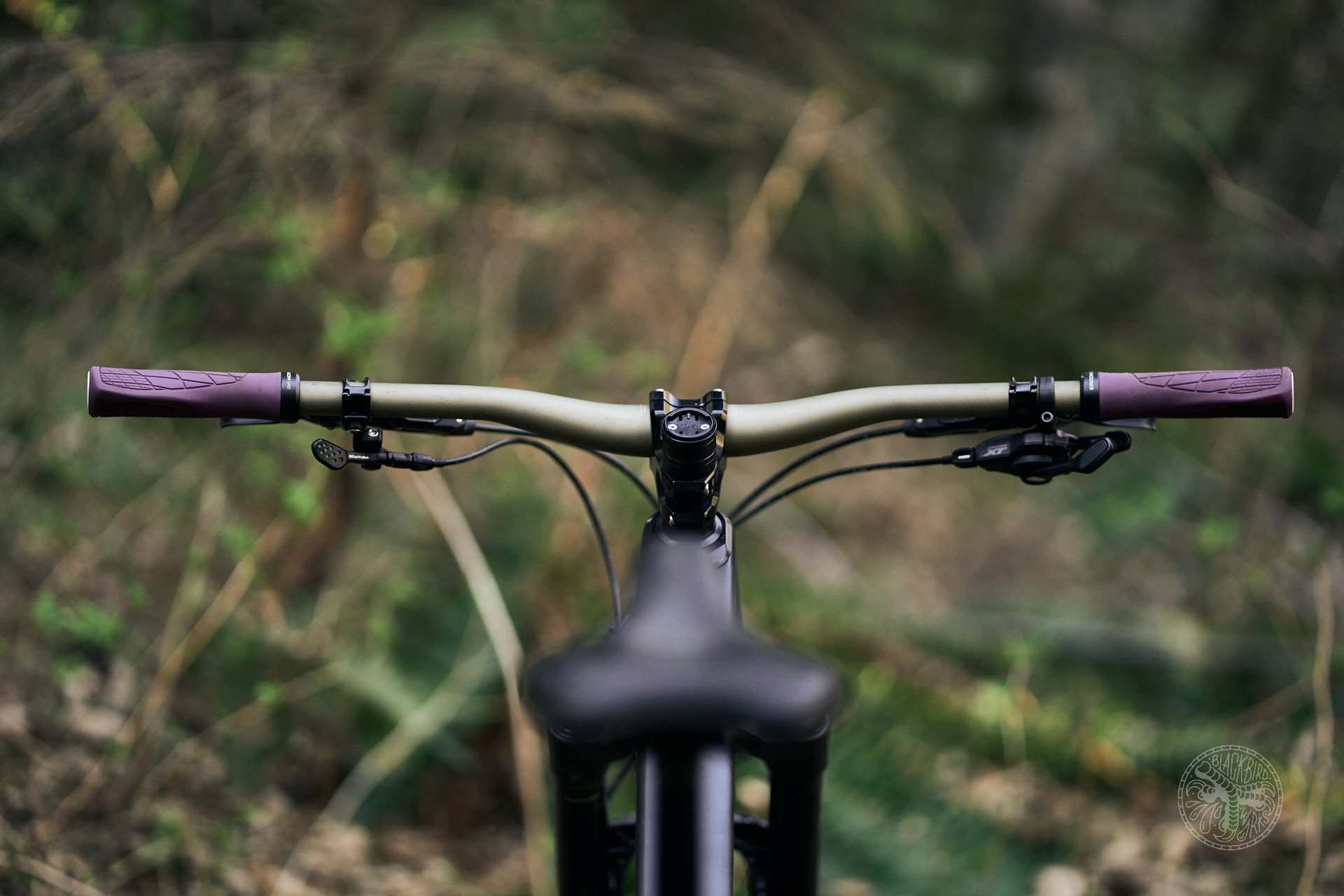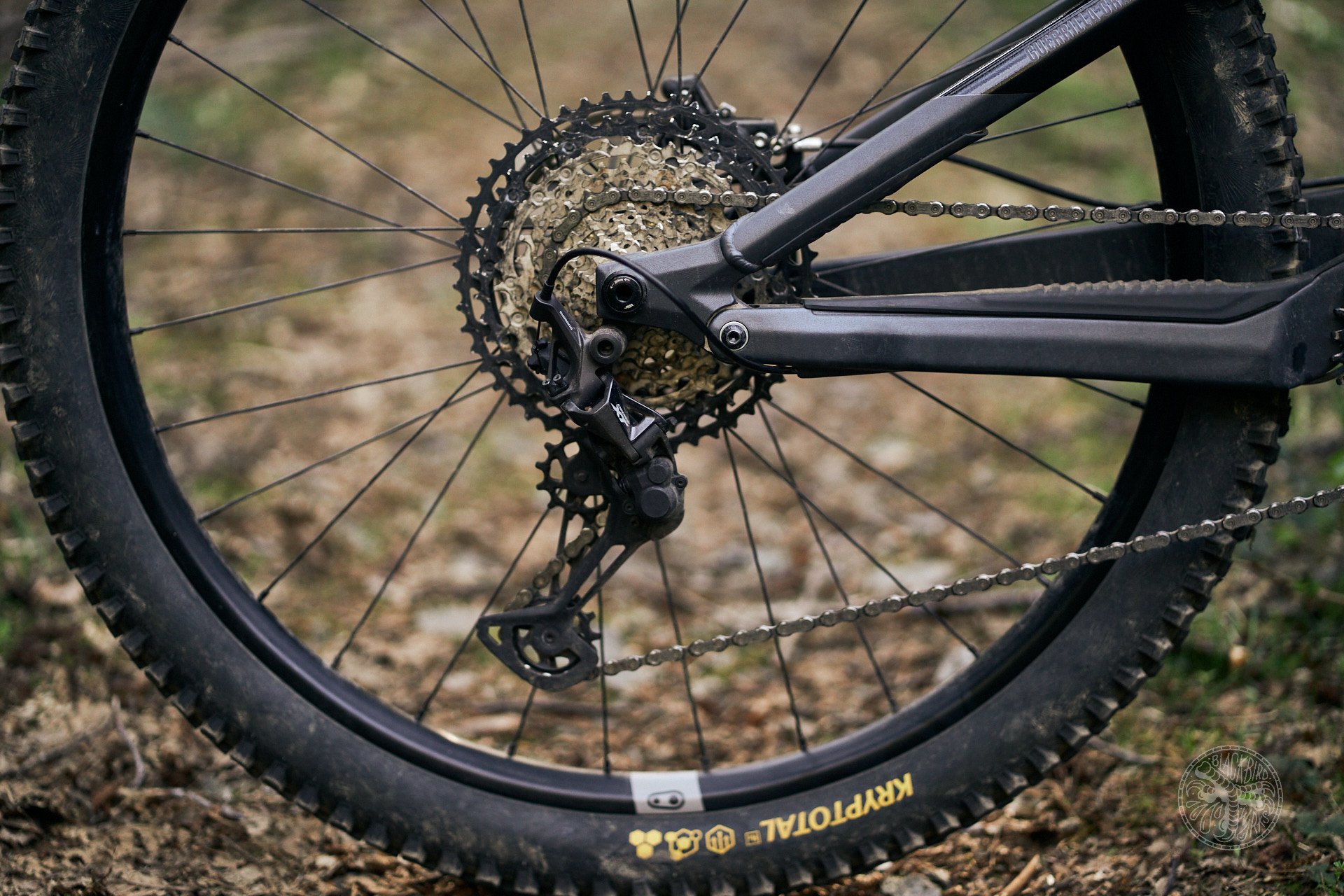 Suspension
The suspension design of the Gnarvana is fairly safe territory. It's a Horst link bike with the shock driven directly off the seatstay. This is similar to what you'd see with a Canyon Spectral or Torque, save for the orientation of the swing link that controls the arc of the seatstay. I don't have curves to show you for this version of the bike, but my suspicion is that the shapes probably aren't too far off the previous version of the bike, just with GG hinting at a bit more progression. You're getting a fairly known quantity here – active suspension with a fairly straight (not flat), progressive leverage ratio.
This will probably keep many people happy. It's easy to tune and rides predictably, without any weird quirks or suspension characteristics. Some will argue that quirks and nuance are exactly what one needs for magical pedaling performance, but many others will enjoy the simplicity. On that note, after I hop back onto the (albeit shorter travel) Ibis Ripmo AF, it would be hard to argue that the Ripmo doesn't pedal better than Gnarvana. Couple that with Graham's thoughts on the HD6, and it becomes obvious that suspension design contributes to pedaling feel. It really comes down to priorities, and I get the feeling that pedaling is not something that the suspension on this bike prioritizes.
The simple suspension curve and all that progression makes setup very easy. There is a large sweet spot with this bike. I set the initial pressure, twiddled a few knobs, and then rode around with a fair degree of contentment. The bike handled most conditions well, and seemed to always have a bit of travel in reserve. It was good enough that I didn't dig much further.
After a month or two of riding the bike that way, things were good, but I was missing that last little bit of the puzzle. I kept thinking about the Santa Cruz Megatower that I spent a bit of time on. The Gnarvana does everything that bike does, but it never felt like it was quite as lively. I thought about it for a while, and realized that I had gotten sucked into that tuning trap of "good enough".
Pushing through this, I found that a bit more air pressure improved how the bike rode. Adding 3-4 psi put me at around 28% sag, livened up the ride and improved pedaling performance. Essentially, I traded a bit of plush for a bit of support. This also meant that I was leaving even more travel on tap at the limit of travel, and opened up some room to play with spacers and compression damping.
What I think might be the hot ticket is a coil shock. I'm not complaining about the air shock, but I'm left wondering what one might do with a coil shock and all that progression. If I were to start again I'd probably order a version with a coil. Judging by at least one of Yoann's dozen or so bike checks, he might agree. Wait…hold on…
Once I made those changes, I just rode and rode and rode, and on my last ride, I decided that this rear end might actually be kind of magical. There were two moments that brought this to light. Both of them involved leaving the ground, and both of them involved landing on some slanted, gnarly roots. In both cases, the bike just ate it up and kept rolling with hardly a change in momentum. I try to stay away from over-wrought similes in my bike reviews, but if I were into that, now would be the perfect place for one alluding to how well this bike takes hits to the rear.
So, how does that translate to the ride?
As I transitioned full time over to this bike, I realized that I was really enjoying myself. I would go for a ride, finish up, and feel great. I would do the same a few days later. And then a few days after that. It was all just drama-free riding, devoid of bad feelings. I was just going about my business without having to think about all that much.
Not that a series of decent rides is unusual. But still, it felt noticeable just how smoothly things were going, and just how much fun I was having riding this bike. I found myself pushing things a little bit, hunting for what I came to define as "borderline gnar": stuff that pushed me a little bit but that was unlikely to kill me if I screwed up. It became very easy to enjoy riding this terrain.
There's more to it than that, though. As discussed above, this isn't the sort of bike that you would think of as a "good climber", but it wasn't bad, either. Things really turned around with the Forge+Bond/Maxxis tire combo. The wheels didn't drop a lot of weight from the bike, but it just felt a bit snappier. I was happy enough to plug away on climbs, and when I looked at the times on the climbs I use to benchmark my various test bikes, the Gnarvana wasn't much slower than the best, and eventually I started setting personal bests. Ya, there's a lot of variables in those times, but this was a bit surprising. I then moved to a lower travel bike and dropped another good chunk of time off the Gnarvana times, proving that there is no easy way to beat physics.
Looking at the flip side to climbing is a good time to talk about the Crank Bros./Continental wheel/tire combo. With those in place, it was easy to just hold onto the bike and trust that it would figure things out. This was especially evident on steep chutes and loose surfaces. This bike is one of the best chute surfing bikes that I've ever experienced, feeling comfortable even when speeds are high and traction is poor. Same ride as above, I was on a steep chute, hit the wrong line, sort of bounced it over a big rock, re-gained control and had no problem slowing down enough to arc out the bottom. Beautiful stuff.
I wouldn't go so far as to say this is a bike with two personalities, but it definitely is a bike with a couple of changes of clothes. And that's before you start swapping out bits and calling it a different model altogether! With heavy rubber, it will take on the nastiest stuff with ease. Splurge on some carbon wheels and mount some lighter tires, and it's pleasant enough to spin some miles in search of your terrain. I would say that this bike is closer to its happy place with the DH tires mounted. The frame appears indestructible, and the suspension always seems to have something in reserve. All that capability is probably best under the sort of person that shuttles a fair amount but that finds themselves having to climb semi-frequently. But that's not to say you need to shuttle to enjoy this bike! It's fine climbing, but you probably want to be experiencing some fairly large terrain if you're going to choose this as your all round machine. It can definitely handle it if you do.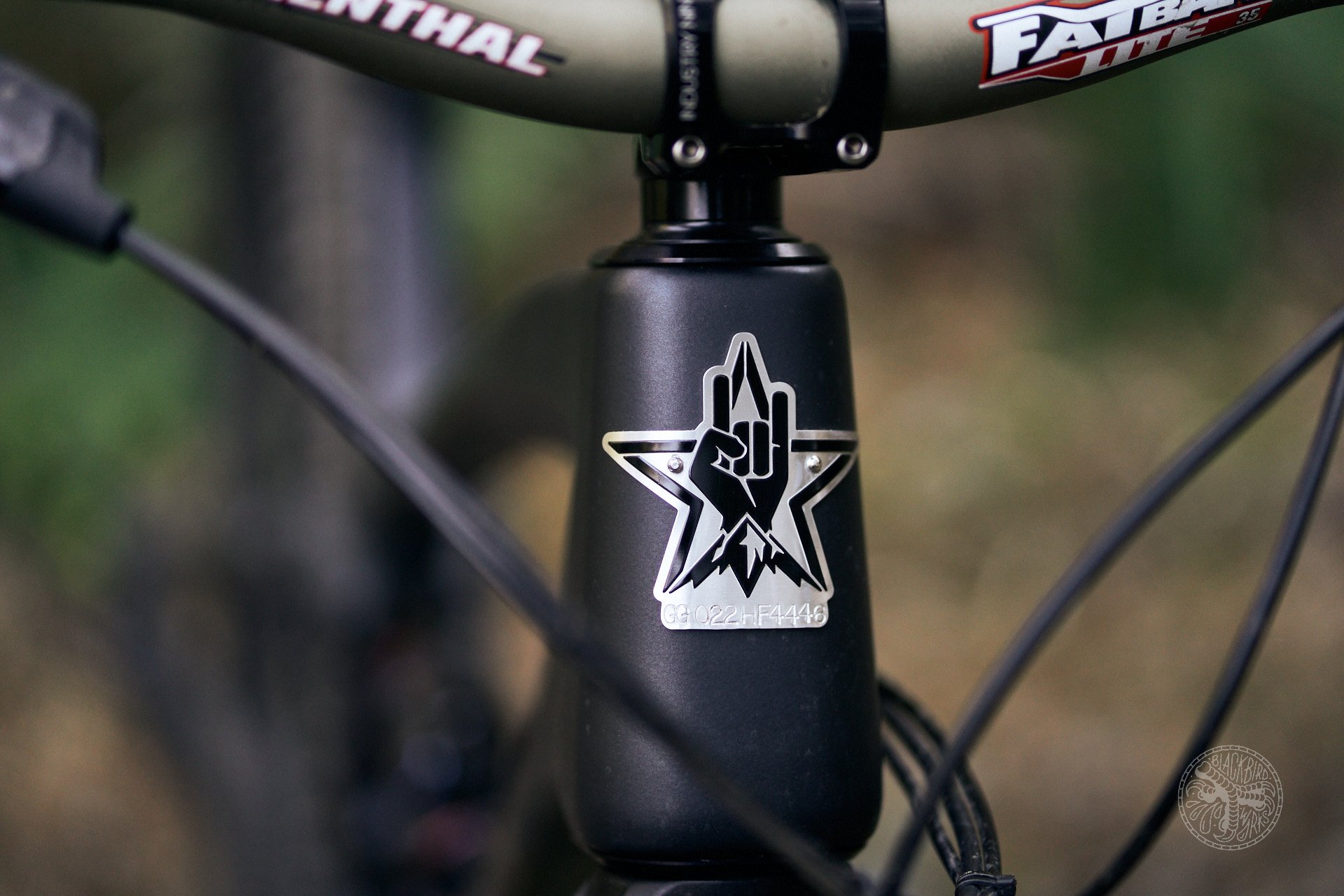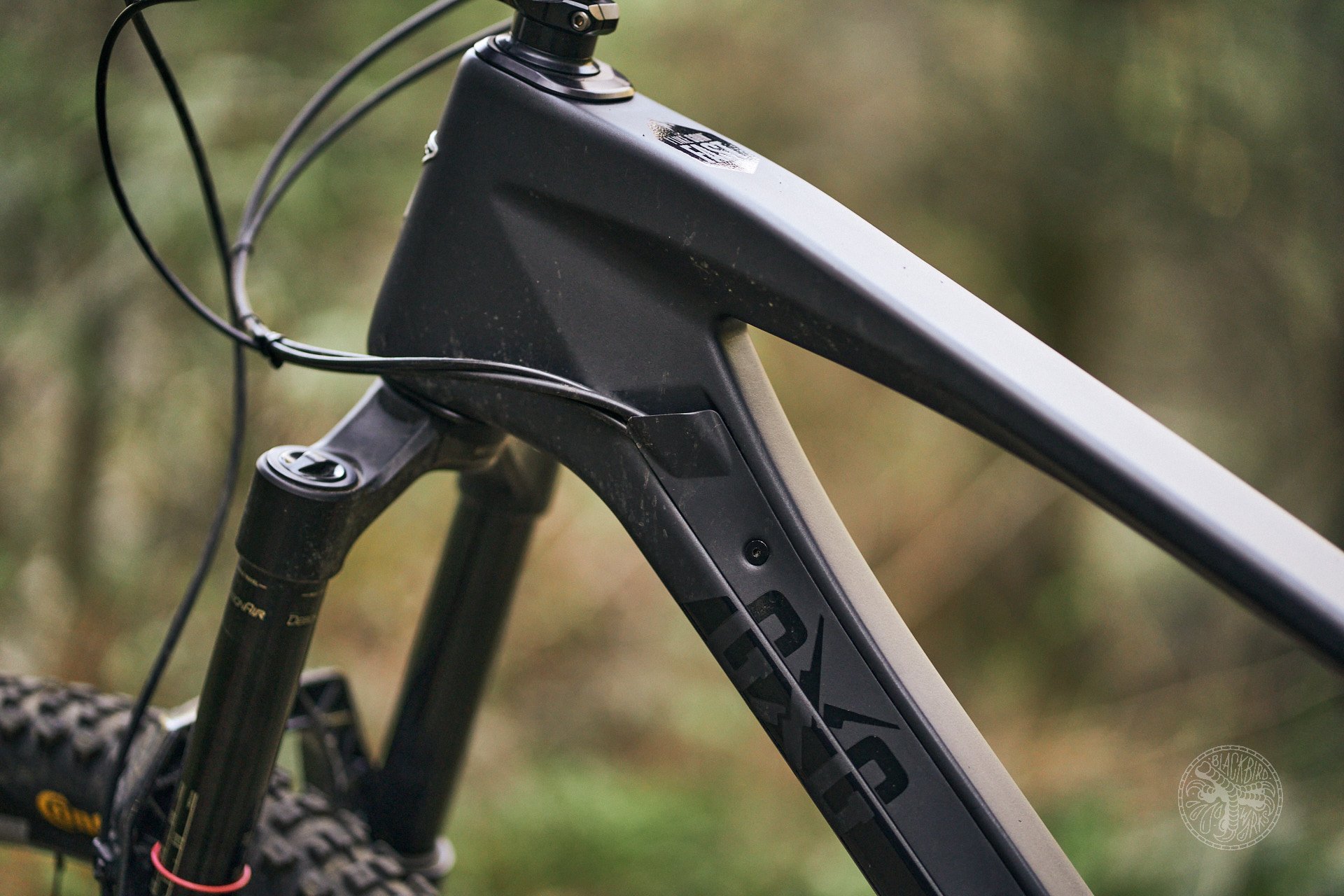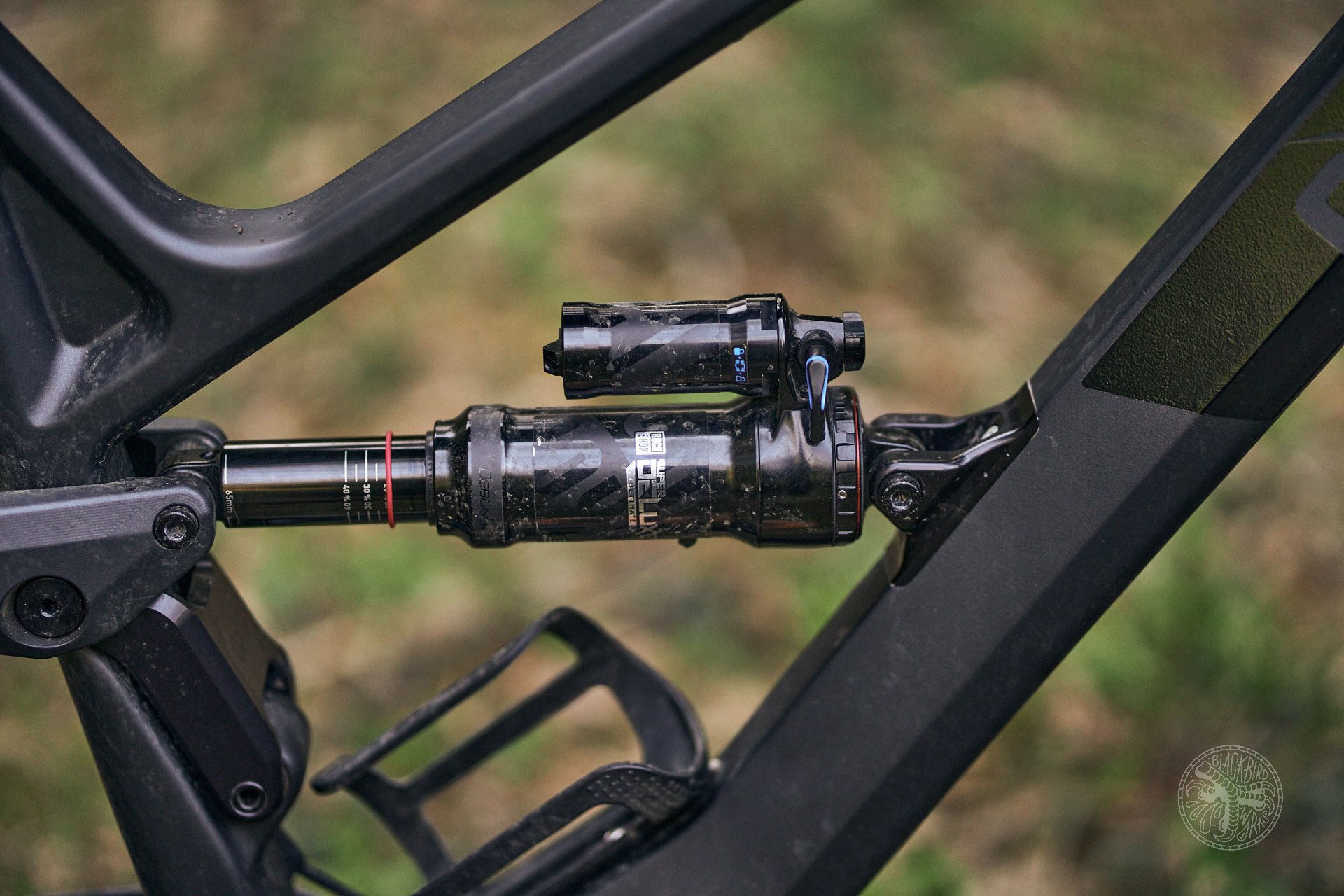 Quirks and Such
This bike isn't without its quirks. For one, with a Zeb fork, this bike won't fit in a North Shore Racks fork crown-style rack. I have no idea if it will work with other forks, but it most certainly doesn't with a Zeb. The chonk of the the head tube area and the chonk of the crown are just too much. Apparently you can fit it with some strategic bending on the rack.
Next, I'm not entirely sold on the cable tray/cover. I love that the cables are all external, and the cover does a great job of keeping things tidy. However, it is a bit finicky. It would be one thing if it was just a bit of a pain to get your cables tucked back in with the cover off, but it seems like it can go so far as to start damaging housing if you don't put it back together properly. It's a neat system, but I think it needs just a little bit of refinement, and maybe some extra width.
I did find that pedal strikes were a bit of a thing while technical climbing. So, you may want to downsize on your crank length. The BB isn't that low and the wheelbase isn't that long, but it was something that I found myself thinking about.
I like that GG has included not one, but two places to bolt water bottles and shit into your front triangle. However, the one beneath the shock is pretty tight, and will limit your choice of bottles. I tried the upper one a few times, but it always seemed like my bottle was going to rocket out of the cage. I finally found one that barely lets go once a bottle was seated, and this worked okay. Super news for all you tube exhibitionists, though!
Finally, I've never been able to get the shifting on this bike exactly perfect. It always seems to be just a tiny bit slow shifting at some point on the cassette. Tune for the top and it clacks a bit on the bottom. Tune to shift up and it's slow going down. Just never perfect and I have no idea why. Lucky for you, they're no longer selling a version of this bike with XT.
Final Words
This bike isn't perfect, but it's pretty darn great. It has an interesting backstory, and you certainly won't have the same bike as many other people on most group rides (around these parts, anyhow). It's made in North America and you can even recycle the frame under the right conditions. It does lots of things, and it does most of them well.
I have drafts of this review where I rave about the price, but my feelings have fluctuated depending on when I look at the website. If you're not in a hurry and you're not super particular, it seems like you can find a really great deal on specific builds right now. Even if you're paying full pop, these bikes are priced well, especially considering that it's Made in America carbon fiber with top tier suspension bits. If I was shopping for a bike like this right now, it would get some serious consideration.
The big question for me would be could this be your one bike to do everything? I think it could. It's certainly a big bike and it feels like you have to clear some mental hurdles at the bottom of a big climb, but it gets there. Where the proposition gets even crazier is that with a simple purchase of a shock, fork, rear end (I mean…you know…"simple") you can have a totally different bike. And that's the next step. In the not too distant future, I should have all that I need to turn this into the slightly shorter travel Smash. I'm going to see what happens if you drop the travel a little bit, and I'll see how practical it is to swap back-and-forth between configurations.
Learn more about the Guerilla Gravity Gnarvana.