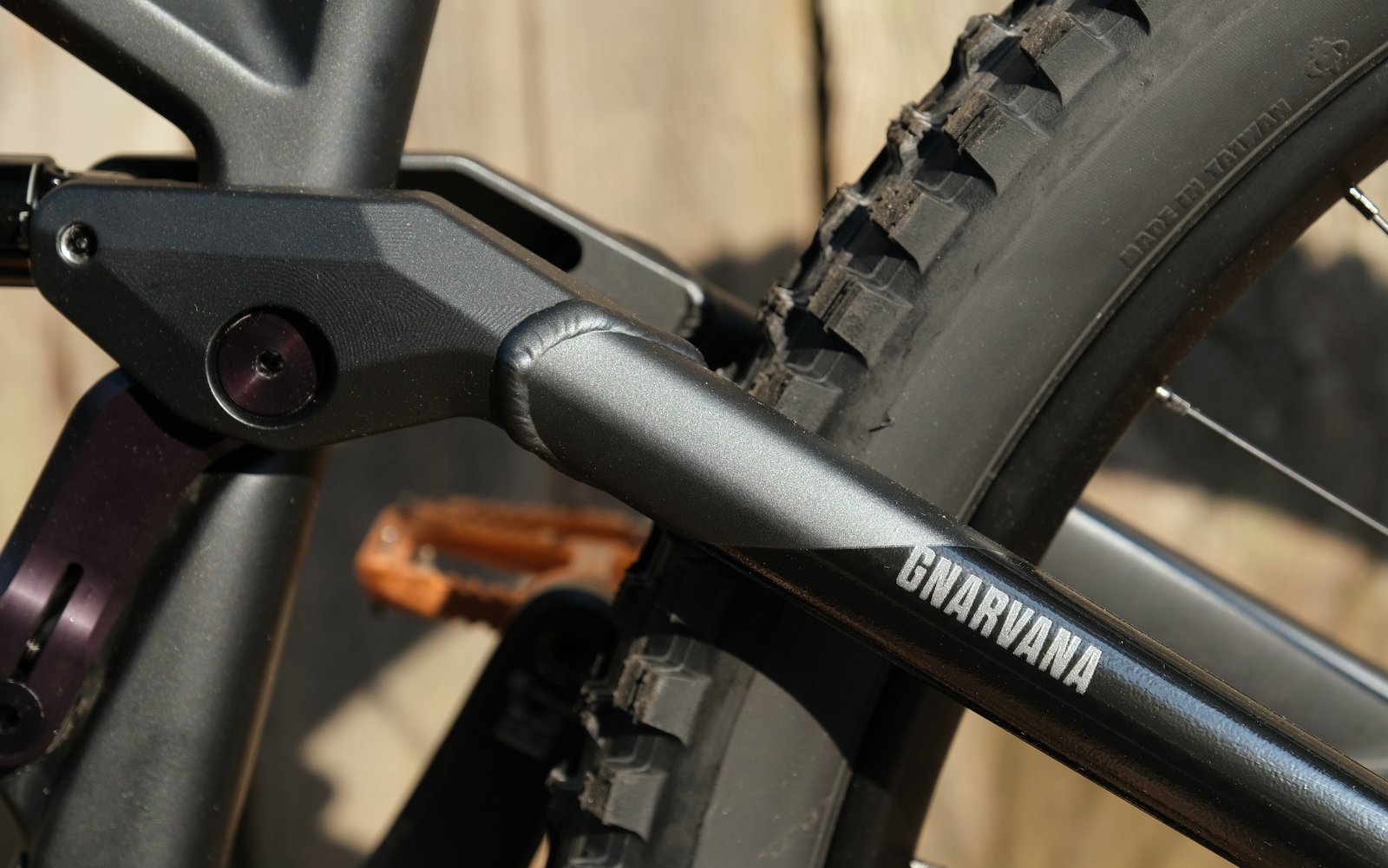 NOT A REVIEW - A FIRST LOOK
Guerilla Gravity Gnarvana - First Look
Life as a bike reviewer comes with a lot of perks. Well, actually, one perk. You get a lot of different bikes to ride. This is great and I'm not complaining, but this perk seldom comes with a lot of choice. If you're lucky, they'll ask you what size you want before the thing shows up. If you're really lucky, you'll have some say in the choice between a trim level or two. What never happens is a suggestion that you can just go ahead and order whatever bike you want off a website.
This left me a bit flummoxed by all of the options. It's one thing to cast judgment upon the choices of others, and another to commit to them yourself. And Guerilla Gravity (GG from here) presents you with a lot of choices, handing you options for everything from NX up to XTR, or EXT down to low adjustment Rock Shox. GG has some handy starting builds (Race Build for the non thrifty, Rally Like Barelli for the fanbois, and the Ride Build for the budget minded) or you can go full custom. The only quirk is that not every option is available for every build, even "full custom". The Race Build lets you option a Factory 38, Zeb Ultimate or an EXT, while the Ride Build only lets you go with a Zeb Select, for example, but no option gives you the full gamut. It sort of creates a high, mid and low tier bucket so it if you really want factory level Fox to go with your NX drivetrain, you might be out of luck. Practically speaking, there are options galore and the only person to blame if your build sucks is yourself.
The strategy that I decided on was what I am now calling mid-spec stickler. I didn't need anything flashy, but I also didn't want to be able to complain about anything. I pumped a few extra dollars into suspension, brakes and a longer dropper, and left the rest as a sort of mid-tier smorgasbord of fine-ness. Rally Like Barelli was my starting point and I only needed a few strategic swaps from there. The result was:
- RockShox suspension with a healthy dose of clicks and adjustments – or at least that was the plan
- An upgrade to Code RSCs
- Waffling between a GX and an XT drivetrain – I wound up going XT largely due to the low end gear ratio
- The standard smattering of parts from Industry Nine (stem), PNW (bar and grips), Crank Brothers (wheels) and Bike Yoke (185mm dropper)
- I toyed with some Hutchinson tires, but ultimately went with the devil I know in an Assegai/DHRII combo – Maxx Grip up front and Maxx Terra out back, both in Exo+
One option that I wish GG would bring to the table is chainring size. I would have loved to throw a 30T on the front, but it seems you're stuck here with a 32.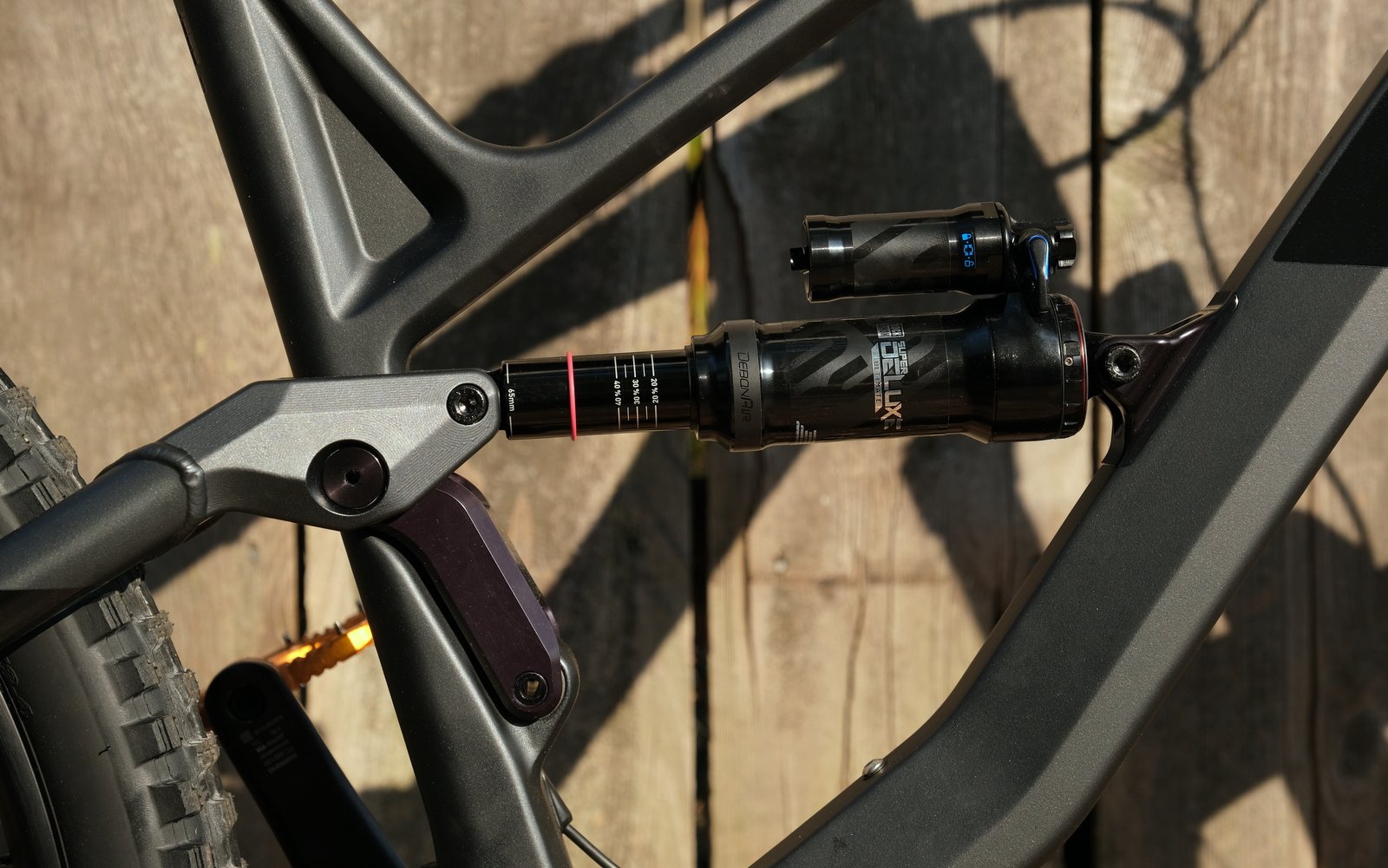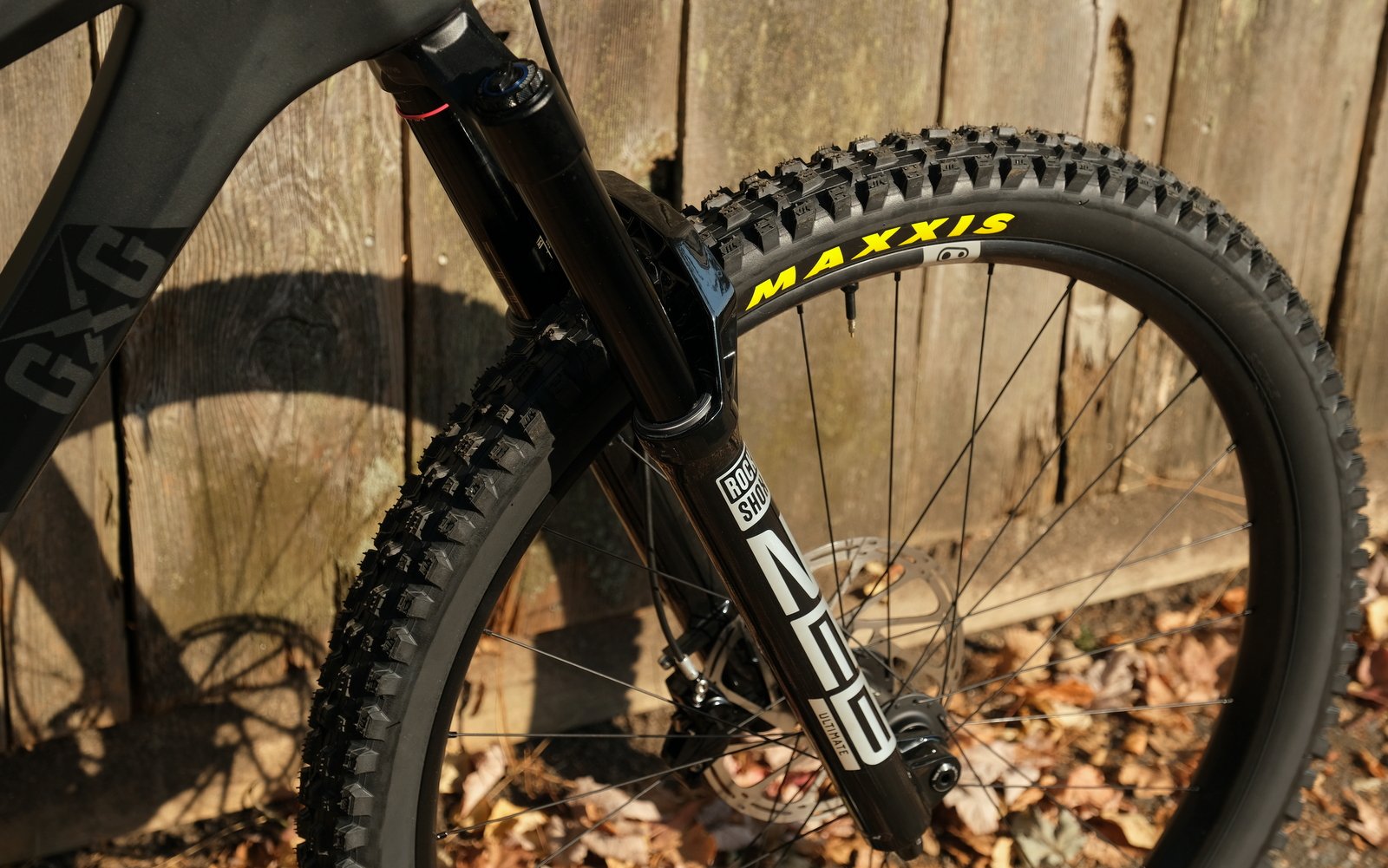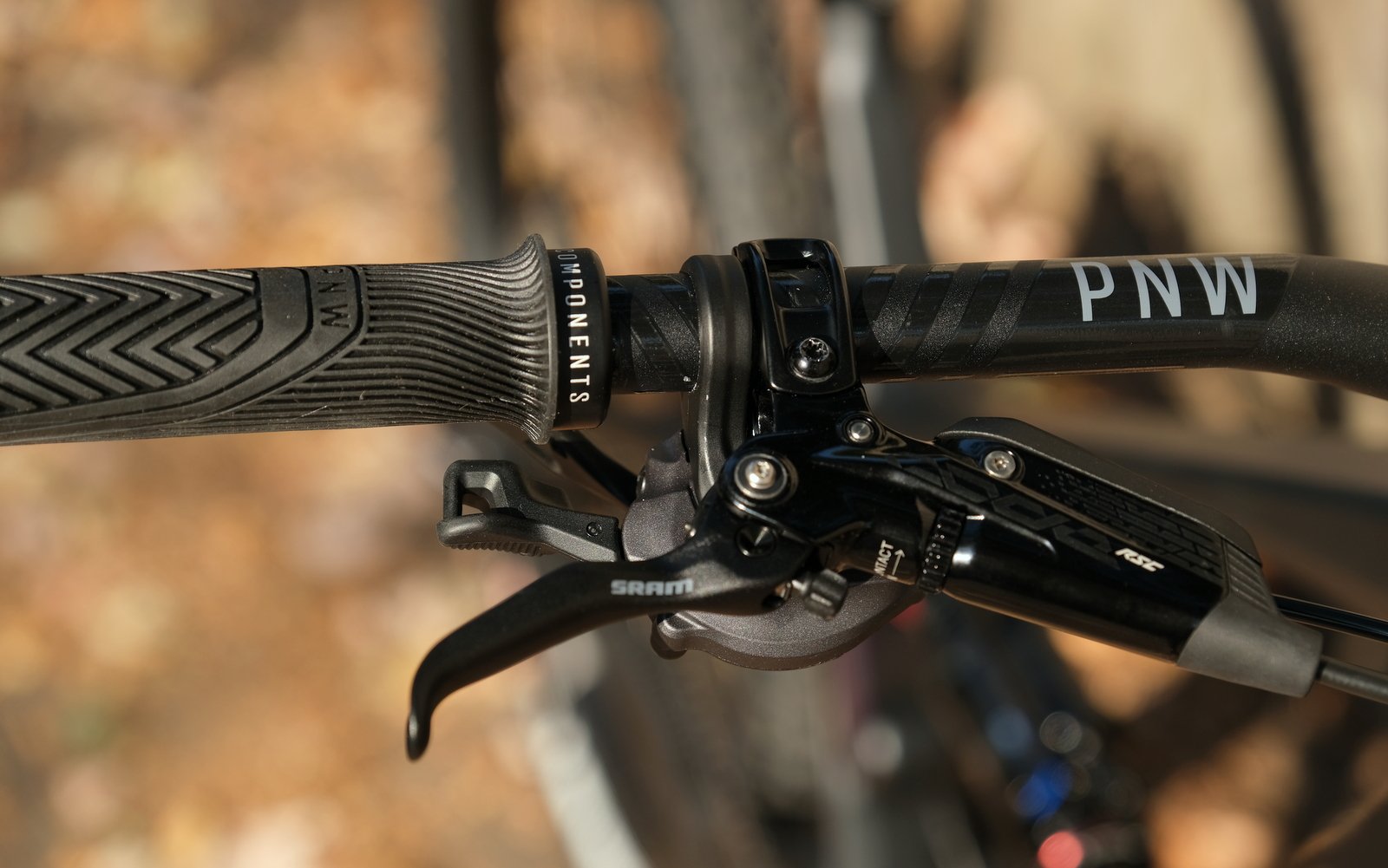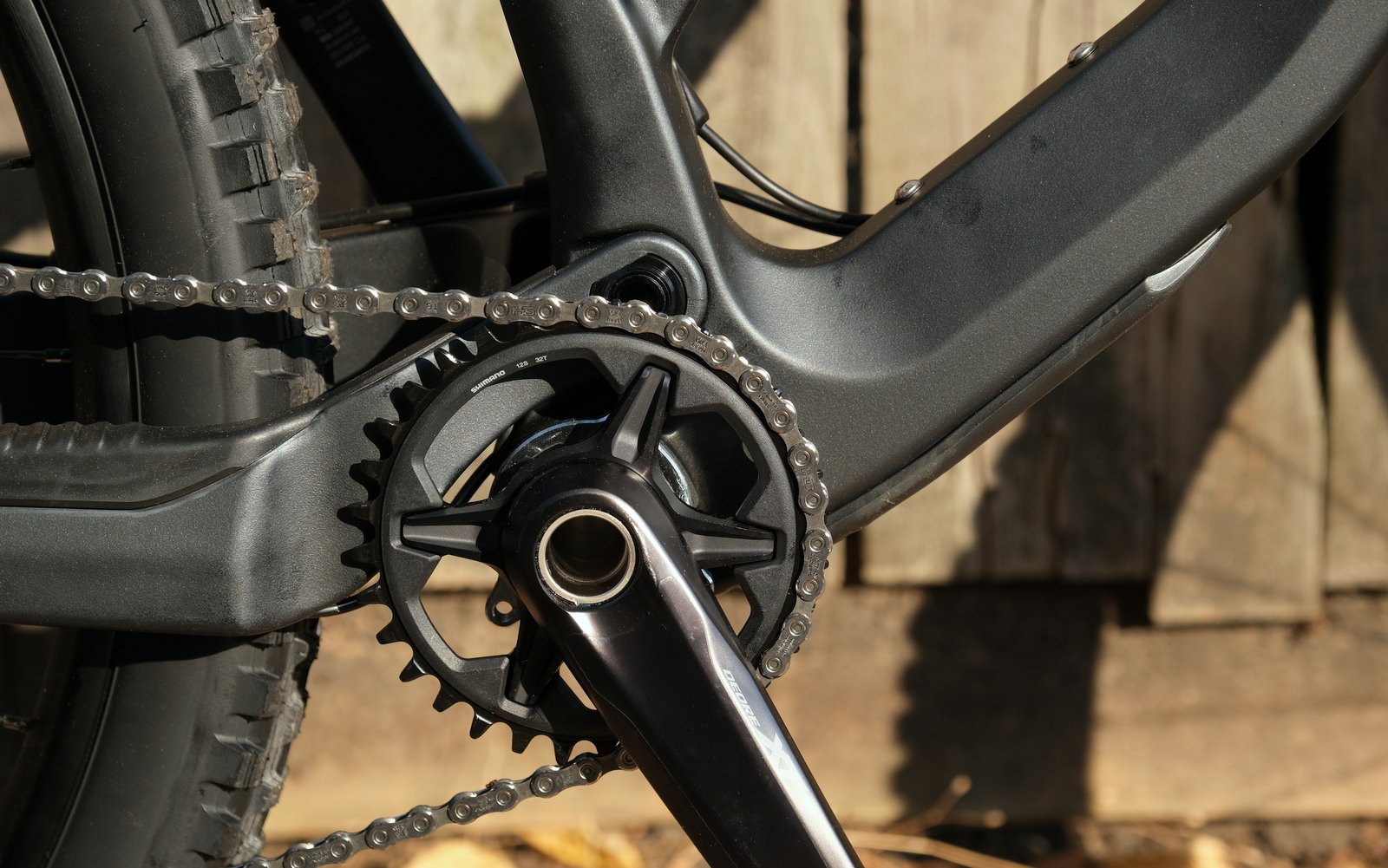 Purchasing and Shipping
Once you have your build selected, click a few buttons, enter your CC number and you're off. It took eleven days from my order being placed to my bike being shipped, which seems like pretty good turnaround for a custom bike build.
Shipping itself looks straight forward. My specific case was complicated by the commercial invoice for my review bike. Yours shouldn't be that complicated, and had there not been a customs schmozzle due to my specific circumstances, the bike would have been in my hands five days after it was shipped. This would have put total delivery time at 15 days after my order. Again, this seems really great for a custom bike build. In my case though, Canada Customs had it for so long I expected it to show up with dirt on the tires and some setup instructions from the customs agent.
The other thing to note is that if you are shipping internationally, you will be on the hook for duties, GST and service charges. Shipping is calculated at payment, and paid up front, but not brokerage and other fees. This was another $18 in customs fees and $400 in GST over the bill from GG, so keep that in mind when you order. GG will ship worldwide, and I'm sure results will vary by country.
If you don't want to go this route, GG still has dealers if you prefer. They're calling this "Shop Direct". This is a bit of a mishmash of dealers stocking bikes on the floor and some that operate more as an online assembly and delivery service. Some even stock demo bikes.
Assembly
The bike showed up in two boxes. Box one was wheels and a couple of small bags containing shock, grips and chain. Box two was everything else. Things were well protected and plastic and zip ties were kept to a minimum. Everything showed up looking fresh and without damage.
- Wheels had tires, discs and cassette mounted and sealant installed.
- Surprisingly, shock wasn't installed, but this makes sense considering the numerous shock options – easier to throw the right shock in at the end of packing rather than mount it up. The frame has a short metal rod as a spacer in place of the shock…I can see this spacer coming in handy in the future!
- Grips and handlebar weren't mounted, and in their original packaging.
- Brake calipers were mounted.
- Rear derailleur had cable installed, but was un-mounted.
- All controls were un-mounted and wrapped in protective wrap.
- Fork was installed, and well protected with some plastic and cardboard wrap.
- Chain was sized to the right length, but un-mounted. This surprised me a bit, but I guess it would be a bit of a hassle to ship it with the chain installed and wrapped around the un-mounted derailleur and with the suspension slightly compressed.
If you work on your own bike, you can easily get things rolling in less than an hour. Getting all of the packaging off took as much time as anything. If you're not comfortable with this, there are numerous places offering online bike assembly. Velofix will charge you $129 for example.
Once I had everything unwrapped, I bolted on the shock, installed the handlebar and the controls, mounted the wheels, installed the rear derailleur and installed the chain. That was it. Easy peasy. Cables weren't the tidiest, but everything else looked to be ready to go. There are some instructions in the owners area if you're looking for guidance. Using my photo timestamps it took me 35 minutes to go from a fully unboxed bicycle to a fully assembled bicycle (sans chain). You can do it!
Collecting all of the assembly detritus, I was left with a large pile of easy recyclables, a smaller pile of not so easy recyclables, and a really small pile of garbage. Could be better, but not too bad.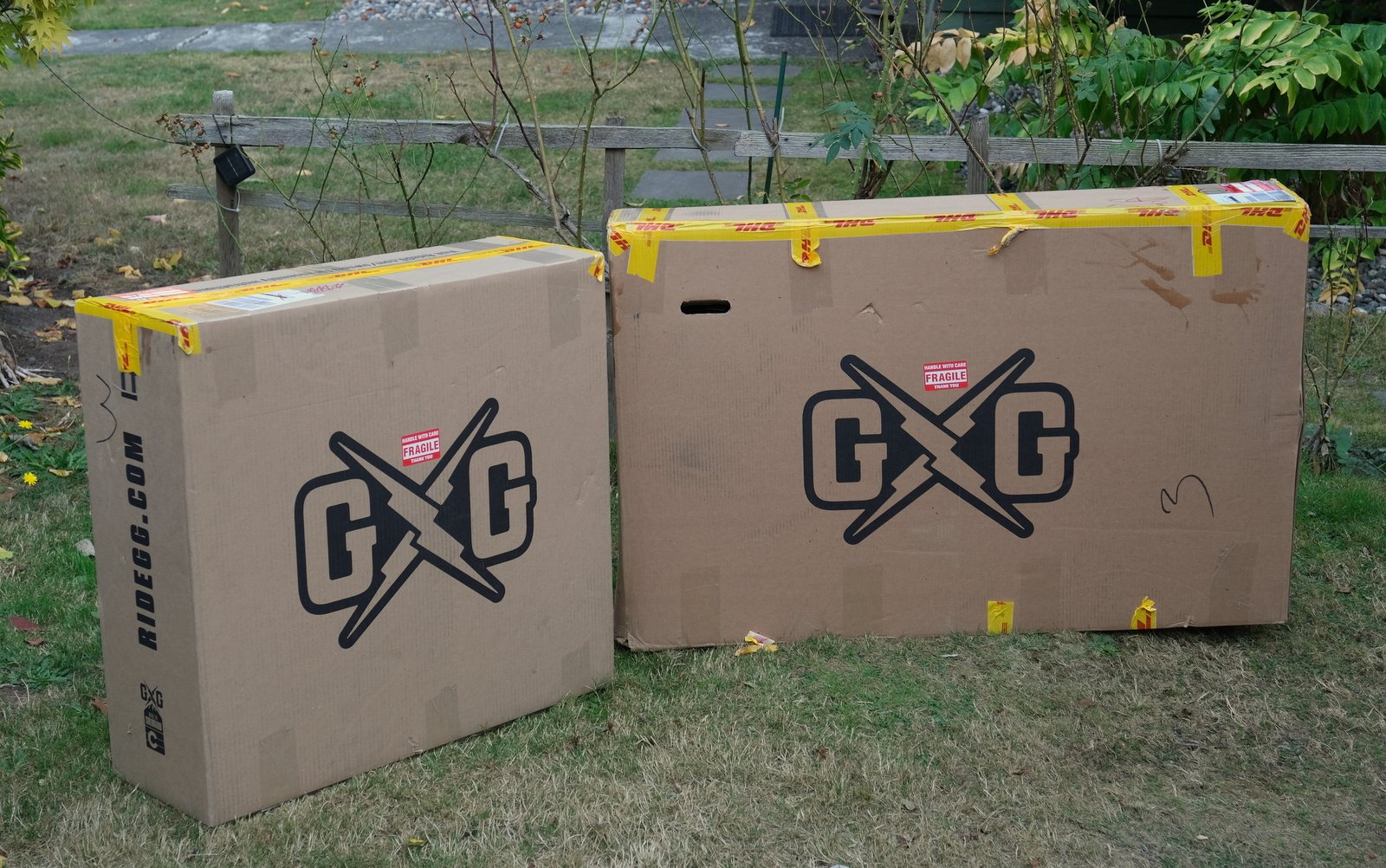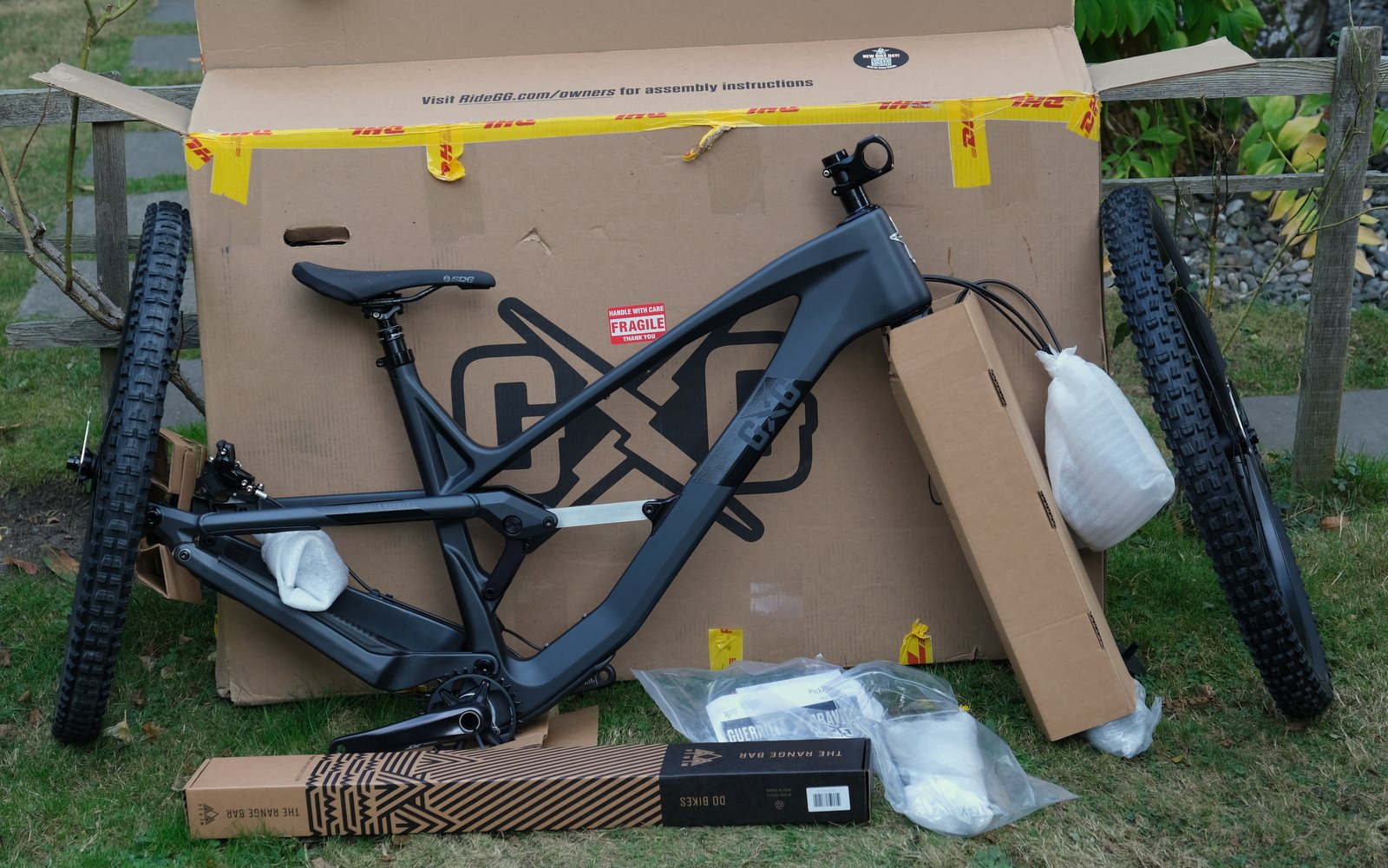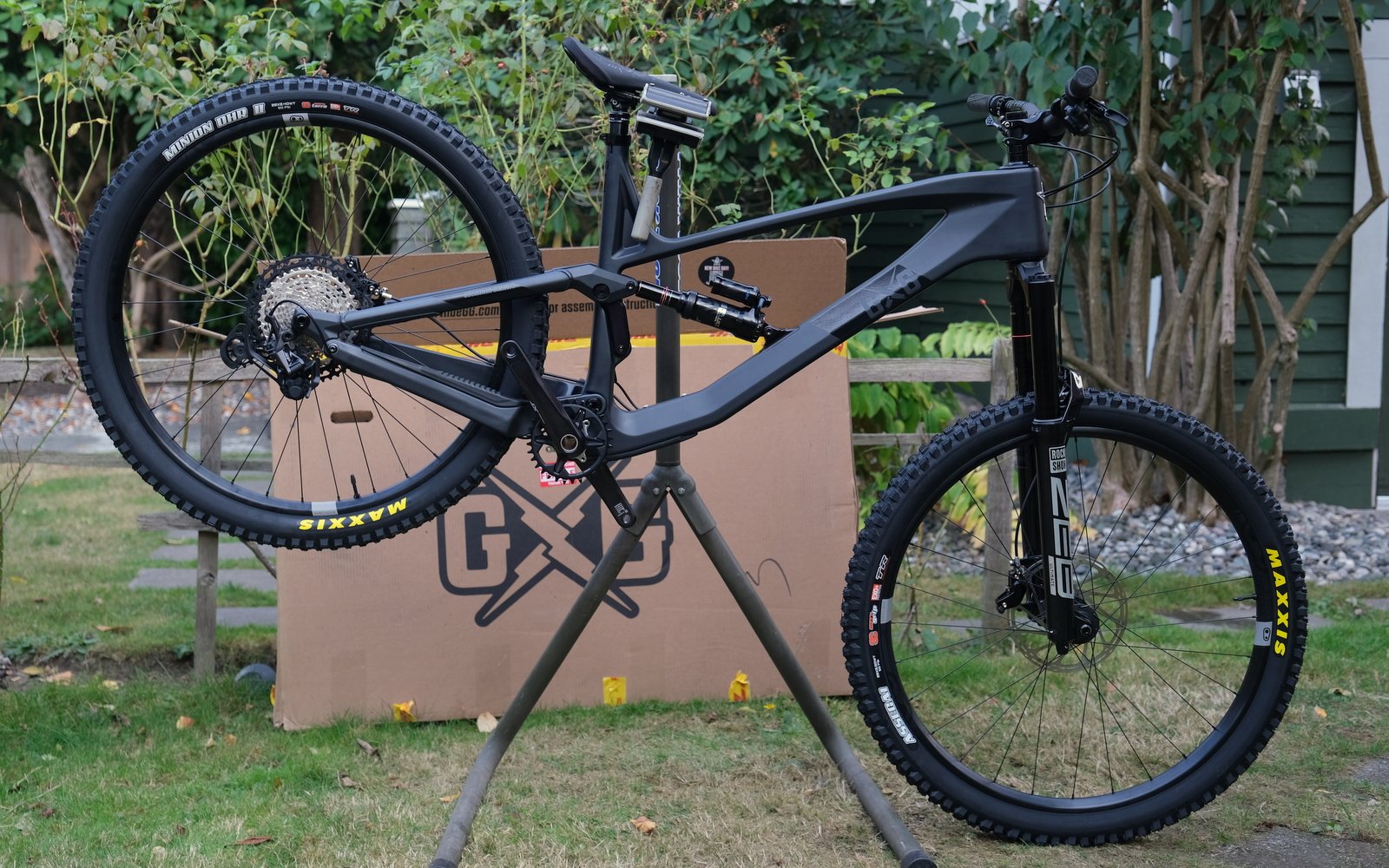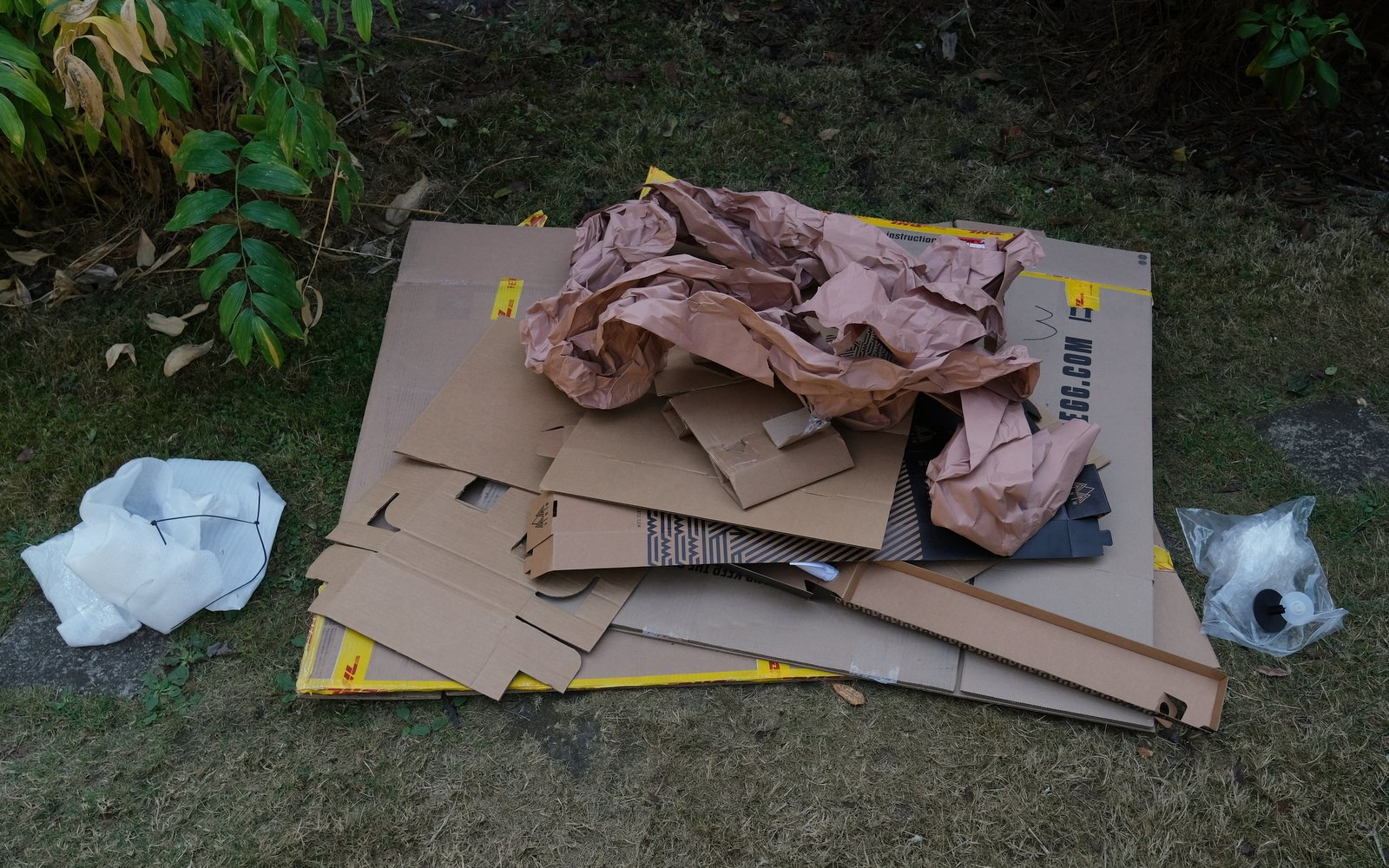 Warranty and Support
I asked GG about their warranty process. There is some detail here (lifetime warranty and crash replacements available), but not a lot on the process. What GG had to say is this:
Our customer service and warranty process is designed to be very customer friendly. If a shop sold a customer a bike, ideally they work through that shop for a resolution, but since we also sell Rider Direct, we're happy to help them. Response times are very rarely longer than 24 hours and often within a couple of hours. The shipping of parts / bikes is handled on a case by case basis (the less shipping and less work for the customer, the better).
Parts support looks pretty good. The parts store looks to have most of the things you might want to keep your bike going, including bearing replacement kits, hardware, axles, and even different heights of the reach adjust headset cups. They'll also happily sell you modular seatstay kits if you want to change up your bike at some point.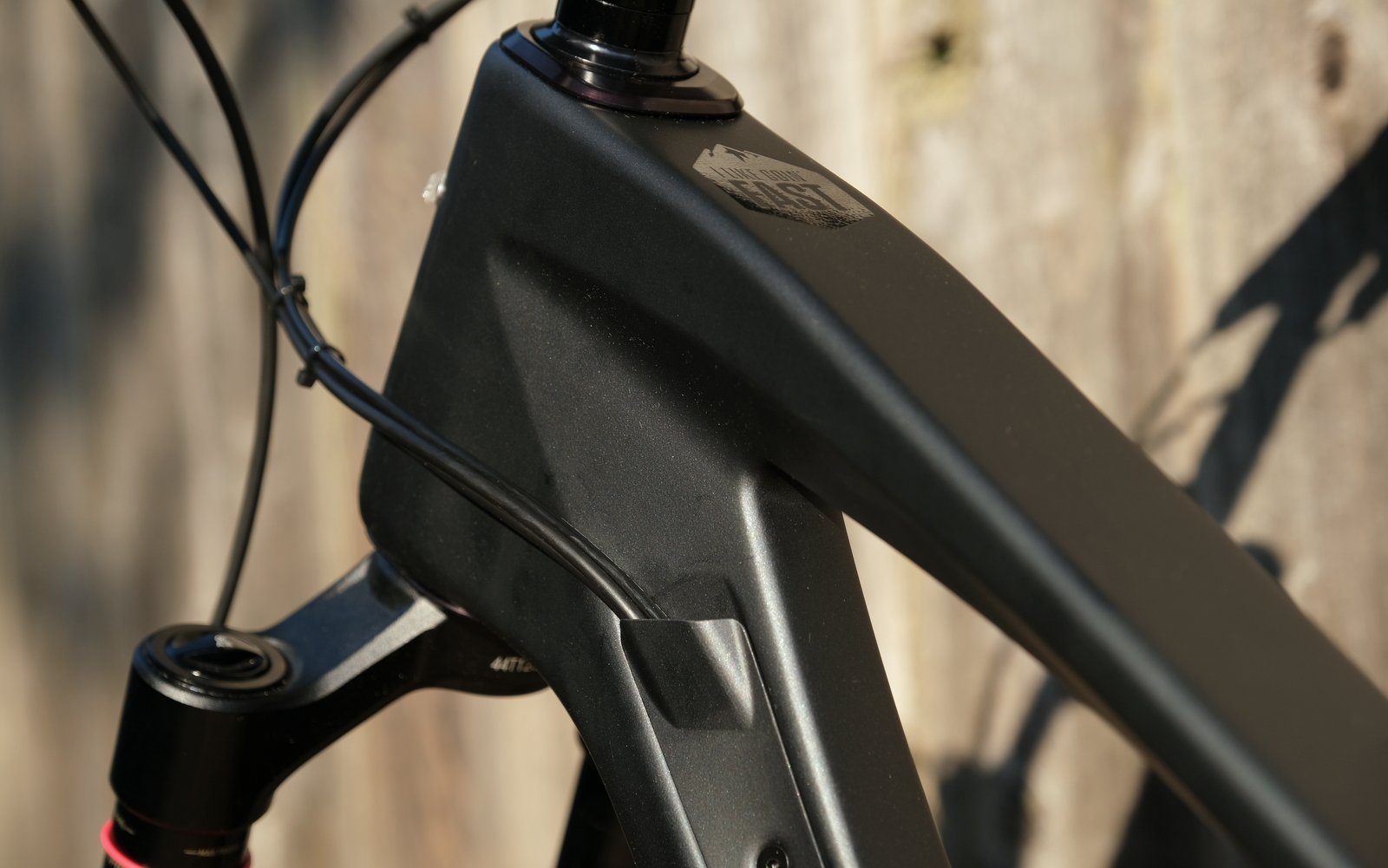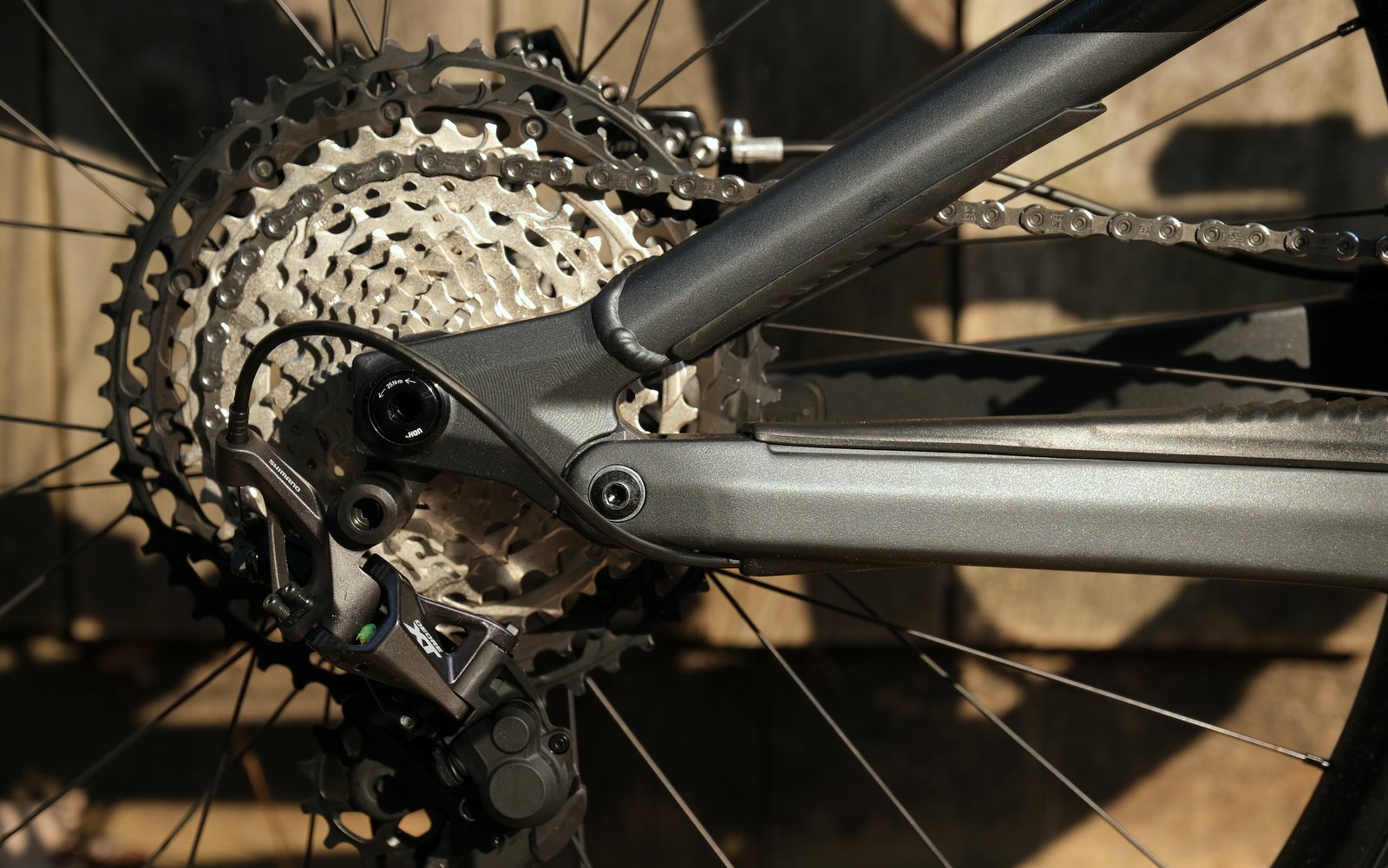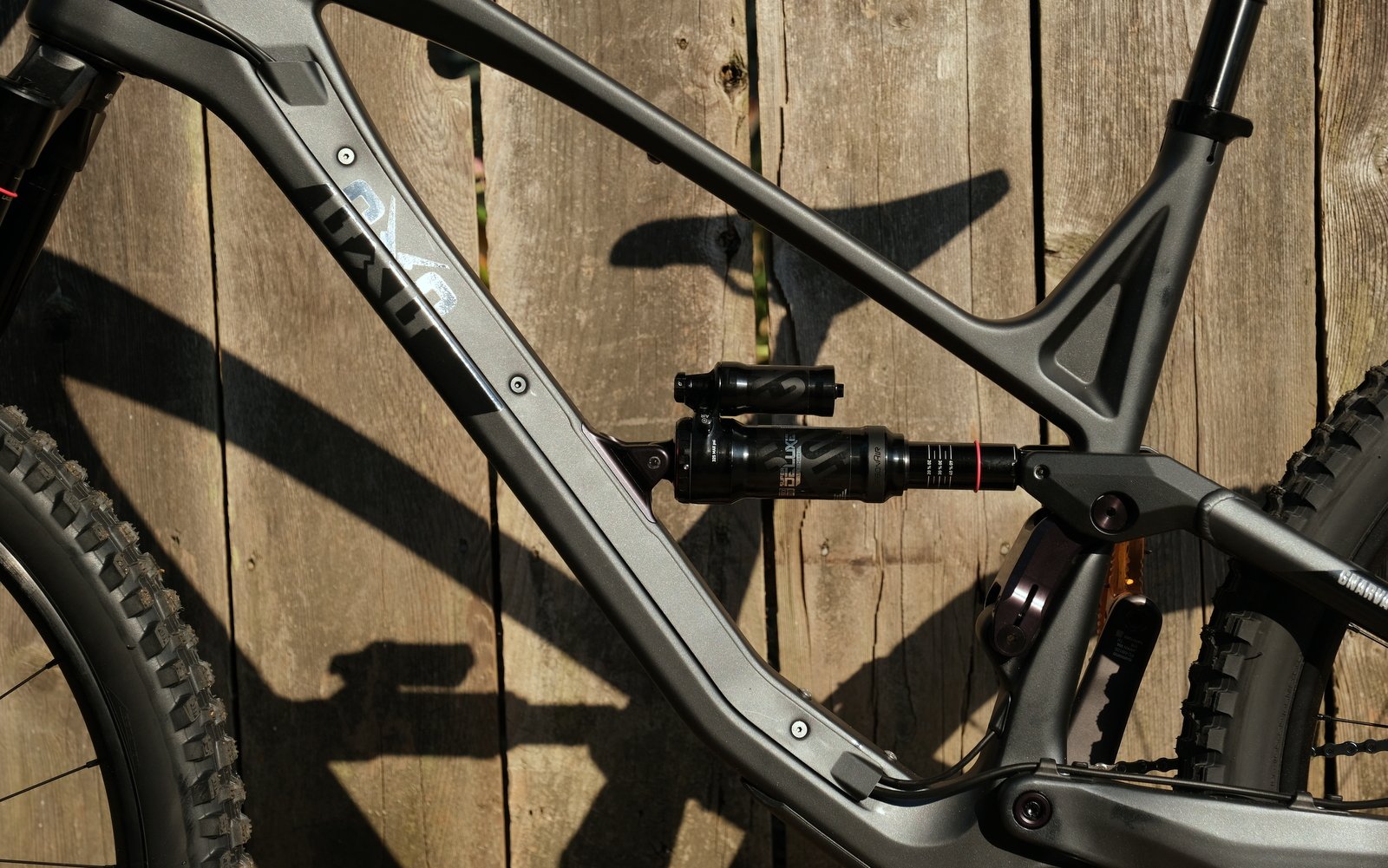 What's new with the V2
This here bike is the V2 Gnarvana. The first question you might ask is what's different about this one to the V1? Fair question!
The biggest change is probably the introduction of the carbon swingarm. The seatstay assembly is still aluminum, but the V2 inches closer towards becoming a fully carbon frame. Guerilla Gravity claims 50% added stiffness in the chainstay with this upgrade. This change also includes a move to a SRAM UDH, as well as no longer requiring a 3mm dish on the rear wheel. There's suggestion of a change in kinematics, where a touch more progression has been added. I'll see if I can track down more detail on that front.
The bike still has 160mm of travel in the rear and a 170mm fork up front. It still uses the modular frame system that will allow you to swap to a different bike with a few strategic changes. It still has all the cables run down the left side of the downtube, hidden under an easily accessible hatch (see! I told you I was going to mention this). And it's still largely black on black on black, although you can now pick from a few colours if you ask nicely. I kind of love that this warranted an announcement.
Geometry has few surprises. The angles are about as slack as you'd expect them to be, and reach is on the shorter side of modern, depending on how you interpret the sizes. The Size 4 has numbers that seem remarkably similar to the XL Megatower that I felt fit me pretty darn well, so it all works for me. 10mm of easy reach/wheelbase/top tube adjustment in the form of the geoadjust headset cups really open things up for lots of different shapes and sizes, as well.
Setup and First Rides
Once I got around to riding the bike, I noticed a few things that I didn't during the selection and build process. First up was a bit of a mistake on my end. Seeing all the fanfare of the new RockShox stuff, I figured this bike was going to show up with the latest and greatest from MY 2023. Unfortunately, no, it's clad with the old MY2022. Not the end of the world, for sure, but had I known this it may have changed my decisions. I expected an overwhelming number of clicks and cleverly named features and had I known no buttercups (the fork) or HSC (the shock) I may have saved a few dollars on these parts. Not the end of the world.
Guidance on suspension setup is a bit limited, both from RockShox and GG. I didn't find much beyond "20% fork sag and 30% shock sag" in the GG owners area. With so many shock and bike combos, I'm not surprised that this is the route that they chose, but it's always nice to have somebody whispering a starting pressure and clicks in your ear, while you're getting started. What GG does offer though, is a really in depth guide to water bottle cage mounting! I actually found this to be very helpful.
It's been a long while since I've tested a bike with a RockShox fork on the front. I was happy to find that they have a fancy little tool that will let you pop in either your serial number or model name and spit out some data. After all that work though, what they gave me was a bit limited, with only the air pressure and rebound settings and ignoring starting points for tokens and compression adjustment though. Still, the recommended pressure felt okay, and I don't think there is a need to pop any tokens in, so it all worked out in the end.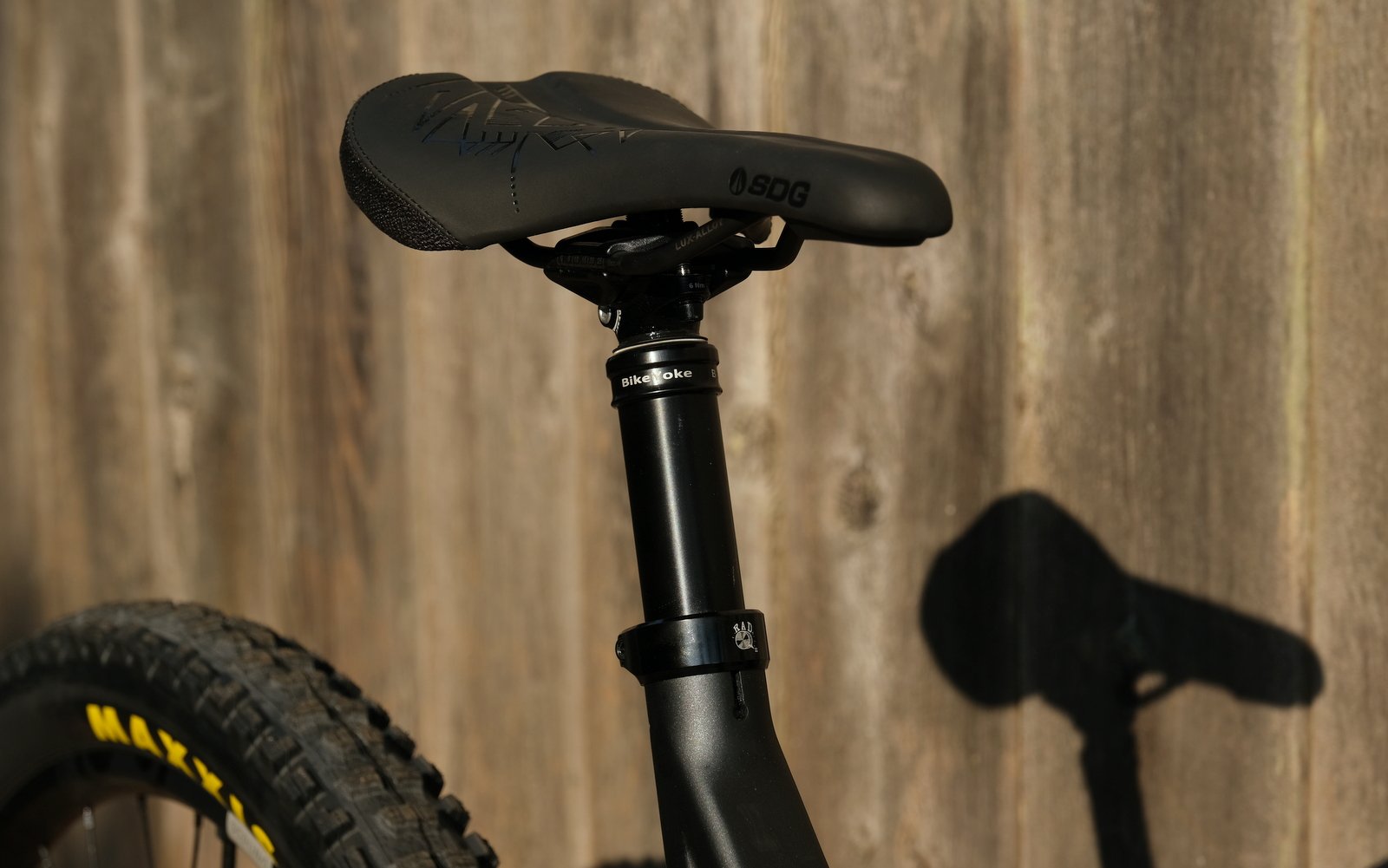 The rear was even more of a guess as there was nothing easily findable on the GG website. I remembered a conversation that I recently had with some SRAM folks where they said "if all else fails, start with your weight", so I plugged that in, bounced on it a few times to set rebound, opened up the compression and called it a day.
After that, adjustments were limited to adjusting the B-tension (I love the Shimano system with the built in indicator, compared to the need for a separate plastic gizmo from SRAM), fixing a stiff dropper post (opening up the cable doors and jiggling things around a bit got me most of the way there, however the post still isn't as buttery smooth as the other BikeYoke dropper I'm running) and moving some spacers around under the stem (the bar height didn't feel sky high when I rode around my neighbourhood but I couldn't get any weight through the front end on my first ride. Switching out a large and small spacer made a world of difference in how the bike handled).
With the customs delay, the bike missed a month of prime riding and showed up for the very end of our dry-and-dusty spell and the start of the rains. I feel like I had barely gotten things feeling how I wanted before the conditions turned treacherous and I had to remember how to ride in the wet again.
If forced/paid/cajoled, I'd probably have this to say: climbing is fine, but doesn't feel like it is this bike's strong suit. It handles the technical little bits well enough, but it's not a rocketship when chugging away. "Really, Dave? That sounds surprising for a 160mm enduro bike that has seen no attempt at weight savings." I say there's no need for that sort of sarcasm.
As I mentioned above, on the descents I feel like I haven't presented the beast with anything close to ideal conditions yet. "Really, Dave? During the month of November in Vancouver?" Which makes me hesitant to spend any more time with you, you sarcastic bastard.
There have been some moments though. One ride, probably the third, I felt like…I don't know…It was just there, you know? There was a corner, and I took it, and it was like…I got this man. You just do what you need to do and I'm going to be there to allow you to do it. And I liked that feeling. And I'm going to search for more of that.