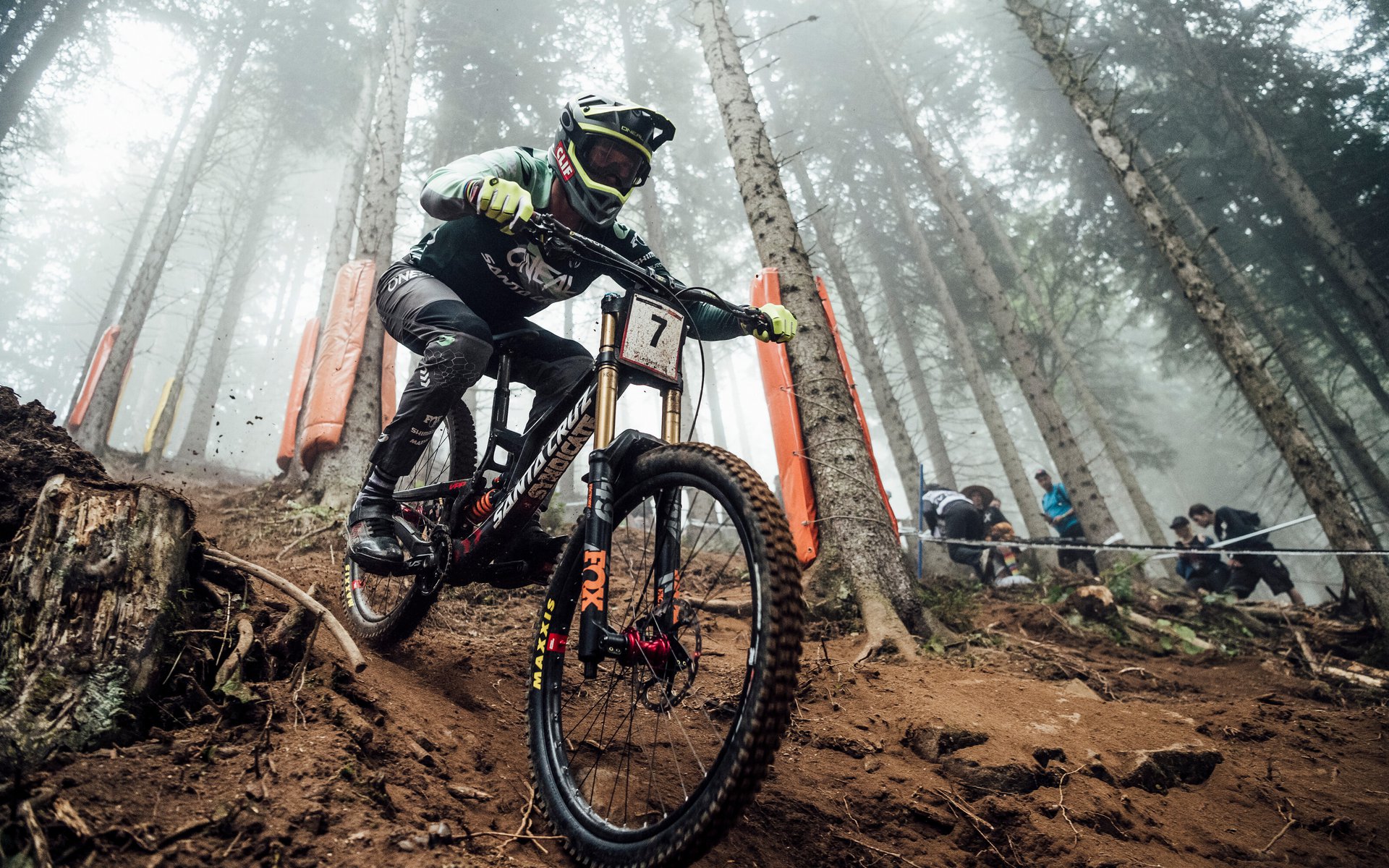 Interview
Greg Minnaar's Hunt For Perfect Geometry
Over his 20 years racing World Cup Downhill, Greg Minnaar has experienced a massive change in downhill bikes. He's raced the Kona Stab Dee-Lux, Orange 222 and was the lead rider for the Honda RN01 project. But for the last 11 years he's been aboard the Santa Cruz V10. In that time he's helped develop the bike that has become the winningest downhill bike in history. It's fitting considering GM is the winningest racer in history, but not all of the bike's wins were his, nor were all of his wins on the V10. Steve Peat, Josh Bryceland, and Nathan Rennie have all had a hand in the tally – Loris Vergier has one to his name too.
During his 11 years on the V10, bikes have generally grown in length and considering he's 6'3", Greg has always ridden the biggest bikes he can get. When Santa Cruz released the V10 29, Greg commented on how well it fit and since then I've heard him say it's likely more to do with the increased wheelbase than the wheel size alone. Outside of the World Cup it's reviewed well in bike tests and local park rats and weekend racers enjoy it too. But neither the bike or Greg's goals for it are complete and this season he continued making changes. The most obvious to outsiders like me is the experimentation being done with the rear chainstays.

Until recently, the shortest possible chainstays were the rage. And for some, they still are. Whether it's because they're being developed using a dartboard decision-making process or the result of actual engineering, short chainstays are going the way of 26" wheels. More brands are beginning to lengthen the rear centre to better position rider mass between the wheels. For downhill bikes being raced at the World Cup level, improving weight distribution and lengthening the wheelbase of the bike allows for increased comfort at higher speeds. This stability is great but it's long been considered that bikes with long rear centres can't corner well in tight sections or handle slower speeds. I don't believe that to be true, but slower speeds aren't something Greg Minnaar needs to worry about, and he can probably corner a limo down a tight trail better than most of us on a bmx.
I reached out to Seb Kemp of Santa Cruz Bikes to see if he could connect me with GM so I could pick his brain. I wanted to find out what Greg's looking for, what he's discovered, and what his thoughts are on going even longer.

Greg. Congrats on how the season is going so far, it's good to see you well into the top 10 in the overall. Are you reasonably happy with the way things are going?
Yea, it's not too bad I guess. I must be honest I'm not overly excited about how things have gone. But I guess after such a poor start—not qualifying in Maribor—I'm stoked to be lying 6th overall.
You've become quite well known for fettling with your bike and puzzling with suspension settings. Do you think being known for it is warranted? I mean, are there others who are tweaking and adjusting during a race weekend at least as much as you (*cough* Loris Vergier) but perhaps aren't getting the same media attention for it?
Sure, everyone is trying to tune the bike to be as fast and as comfortable as possible, for sure some more than others. For me it's probably been a combination of two things; one, not riding enough DH and the second being the overcompensation and the strain on my bike being so tall. Now that I'm more centred on the bike there's less strain on isolated parts of my bike.
Yourself and the Syndicate get together early in the season to work on some base tunes and setups. How beneficial is that early-season testing?
I find it super important, you need a solid base going into a season. Of course, your bike will firm up going into a World Cup but you don't want that adjustment being a major leap.

The reason I want to be more centred is because, regardless of how tight the corner is, I'll be able to ride it with a lot more confidence being in the middle of the bike, same goes for tech sections, mud etc. There won't be this pushing and pulling trying to centre myself. – Greg Minnaar
Roughly how far do your suspension settings shift from those test sessions during the season?
They haven't shifted too much. For example, 4psi in the fork, then 1 or 2 clicks of rebound to cater for the higher volume of air.
You're a tall fella and your bike has grown quite a bit over the years. Do you feel like it's got room to grow more or have you found a happy place?
I think we have felt the max reach finally, but I do feel there's a little bit of growth possible on the rear end.
The increases in length have steadily grown with each update (not just with your bikes). Do you ever think about taking a big leap forward—almost purposely too far—and then coming back a bit to get the final fit?
The only problem with growing too big too soon is the foreign feeling is so far from your comfort you can never feel comfortable, whereas baby steps allow you to grow with not much change to your comfort.
In Andorra, you were testing a 17mm longer chainstay/rear-center. What were you chasing with the longer rear on the bike?
We had done quite a lot of testing before Andorra with the 17mm longer rear end. What it allows is for me to be more centred with better weight distribution. I'm going on a lot about being centred. The reason I want to be more centred is because, regardless of how tight the corner is, I'll be able to ride it with a lot more confidence being in the middle of the bike, same goes for tech sections, mud etc. There won't be this pushing and pulling trying to centre myself.

How did you arrive at 17mm? Why not 10mm, for example.
It was the simplest way SCB engineers were able to create the extenders, then shortened up using the link… so the shortest and simplest way gave us 17mm, at that time. Nick has now found another way to do it so we can try 5–10mm.
What did you like about the longer chainstay?
More active suspension, stability and the cornering.
What didn't you like?
[It] made the front end feel really long on the steep sections.
I was surprised to hear that you didn't try the longer rear end in Les Gets. Is that true?
I was nervous to, as the wood section was pretty steep. I didn't think I would make up enough time to afford losing time in the woods.
Do you think you'll do more testing with longer rear centers in the future?
Yes for sure.
How do you decide which race you're going to make a more significant change to your bike like a longer rear-center?
We had a week of testing prior to Andorra, and everything was working out, I felt like the track was steep enough when testing… but clearly not 😂
You're working more on weight distribution through length and proportions of front to rear center. Have you been making any adjustments to BB drop or head angle as well, or are they something you're pretty happy with at the moment?
We have played about with BB and head angle before but I feel we're in the sweet spot on both now.
Both suspension and geometry are important but if you had to pick one, which would it be?
Suspension, you can do so much with suspension.
What's next? Do you have plans for geometry updates in the future?
I'm gonna keep going with the longer rear end, I really feel there's something in it.
---
Do you ride a longer bike than you used to? If so, what do you notice most?