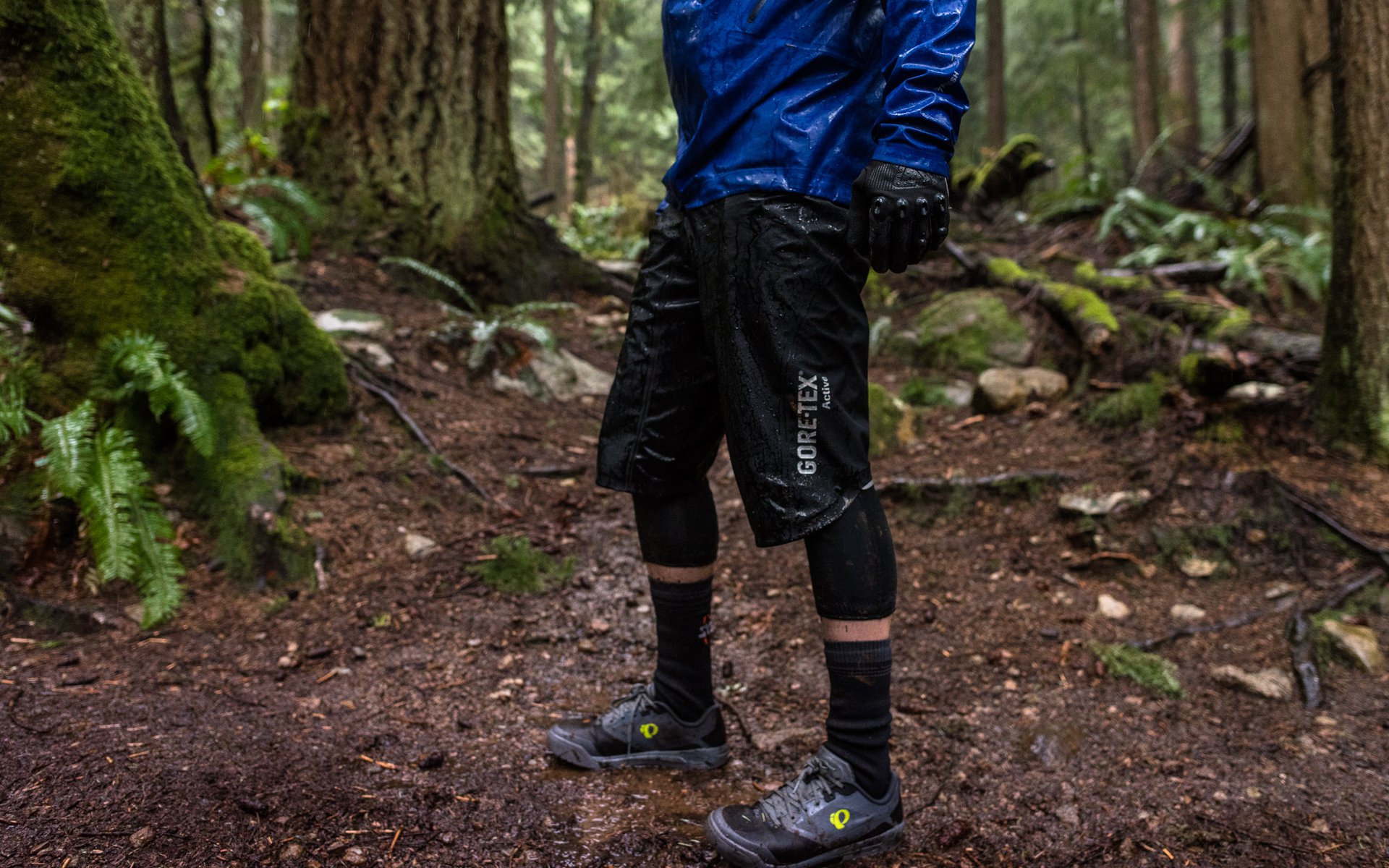 REVIEW
Gore Power Trail GT AS Waterproof Shorts
Weather - Part 2
As waterproof-breathable materials go, I'm convinced that breathability is the fourth most important factor when it comes to building shorts. Flexibility and durability rank much higher and where I'll sacrifice a bit of waterproofness for breathability in a jacket - see Polartec NeoShell - if I'm sliding on some 'waterproof' shorts they better keep my ass dry.
Enter the Gore Bike Wear Power Trail Gore-Tex Active Shell waterproof short. And no, I can't say that three times fast. The Power Trail shorts use a 3-layer Gore-Tex waterproof construction promising weatherproof performance in their most flexible material with a reinforced seat area that should resist a thorough sandpapering from my seat.
In my previous experiences with waterproof shorts, including those from Gore, I have ended up wearing them in biblical deluges only. I'd rather be wet than ride in a tarp. Case in point, my "last choice in my drawer except when it's really wet out" experience early in the year with Endura's 125 USD MT500.
Compared to the MT500, the Power Trail is made of a more flexible material and has a 7Mesh-esque back of knee scalloping which should combine for a more comfortable short for pedaling. At 150 USD I'm excited about the prospect of Cam's 7Mesh Revo (225 USD) experience for $25 more than the MT500.
Feature Complaints
In the ten years or so that Gore has been selling weatherproof bike shorts, they still haven't figured out that draw-strings suck for bike riding. Luckily for this review, and it goes for the MT500 as well, I've discovered Arcade Suspenders and I no longer give a sh*t about their lack of belt loops.
Now, anyone who is put off by the idea of riding in suspenders* is still going to be stuck with their shorts slipping down or the feeling of being bisected vertically. Both options suck and really at 150 USD these shorts should have a better retention system. Personally, I like plain old boring belt-loops.

*If you're riding around with a giant fanny-pack then I'll remind you of the stones vs. glass houses proverb.
The Gore Active Shell material is impressively stretchy for a waterproof product. Unfortunately, the Power Trail shorts are cut for beanpoles and even in size large they're a bit restrictive when I'm mauling my pedals up a steep climb sitting or standing. I'm no Curt Harnett, so if I find these shorts tight in the thigh then so do half the folks I know. Anyone who is more husky than greyhound would do well to try them on before buying a pair.
The Power Trail shorts share one feature with the Endura MT500, they're too short for the application. Waterproof shorts should terminate below my knee when I'm pedaling. I like short-shorts as much as the next guy but there are a time and a place.
In Fairness
Thinner legs, shorter inseam, and a need for waterproof shorts? The Power Trail Active Shell shorts have the potential to be excellent. As with the Endura MT500, I hate the draw-string waist but otherwise the material is stretchy enough, has proven durable, and is as waterproof as anything I've tried.
When it's pissing rain I'll reach for a pair of these shorts every ride but in a mild shower, or a dry day on wet trails, I'd rather have a damp ass in a regular pair of softshell shorts. I've washed them a ton of times and other than some of the graphics coming off after the first ride they function as new.
Since I started this review Gore Bike Wear has discontinued the Power Trail Gore-Tex Active Shell and replaced it with the much better named C5 Active Trail which looks identical in every way but for the absence of the green-graphics from day one, instead of day two. It advertised all the same features, for the same price, with the addition of the tagline that it's a "comfortable fit baggy short" which would solve one of my complaints with the product.
If the Power Trail shorts terminated below my knees, had a roomier fit in the thighs and sported belt loops I'd highly recommend them for any ride where moisture is a factor. As they fit now, I'd buy a pair of these or the MT500 to have for the nastiest days with the final decision coming down to whichever fits better.
125-150 USD is a lot of money for a pair of shorts to only wear when it rains, but it rains here a lot and it's a lot cheaper than psychiatry bills.