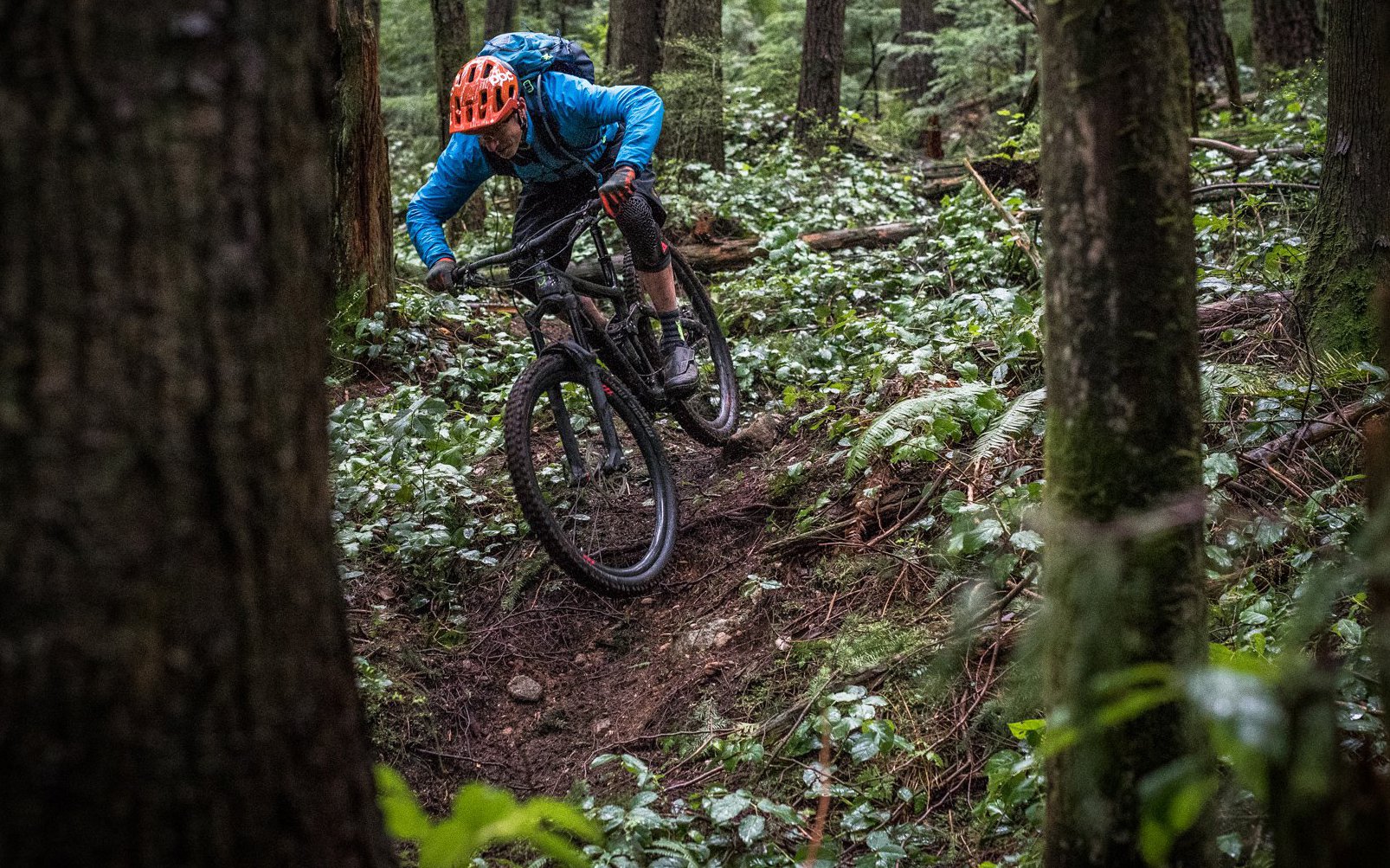 Editorial
Going to Wide Bars (and back again)
A broad-shouldered bruiser I am not, but as bars began to get wider I went along for the ride. At first I took tentative steps towards width with a modest 720, then 760 and finally 780mm DH handles. And then a test bike arrived with truly mammoth 820mm Bontrager bars. I can't remember why I didn't cut them down before the first ride  Maybe there was no time or I thought it would do little harm to try them at full width so off I went, likely looking like I was warming up for crucifixion. But a funny thing happened on that first ride...
The bike was the Trek Shremedy tester that Trek custom built for us with a longer fork and robust rubber. And it was a 29er; my first as a tester. In the past, I had found big-wheeled bikes tippy and sluggish and difficult to corner. Some of these early bikes weren't yet ready for prime time, and before Boost there were geometry limitations as well, but for me, there was also a wagon wheeler learning curve of which I was unaware. As it turns out some of the problem was me and some of it was the bikes but I blamed the bikes entirely. 
Off I went for a pedal up Fromme, thinking I really should have recruited one of our other excellent testers for this wagon wheeler job. But then something surprising happened; I liked it. Almost right away I enjoyed the way the bike rode in every situation except tight corners. One of our local trails was modified at around that time to include some short radius switchbacks, each flowing into the next without so much as a metre of straight trail for transition. I was flummoxed until one day I went in and rode them slowly, gradually increasing my speed. Eventually I realized I needed to get my weight even further forward to keep the bike rolling smoothly through these confounding s-turns. That was the last piece of the puzzle and everything else fell into place; I was smitten with a niner for the first time. 
Because I was riding well* I kept going with the ape hangers, sticking to widths of at least 800mm. And then I began to notice my neck getting sore on long descents and I felt like my riding was stagnating a little so I swapped in a 760 just to see what would happen. At first it didn't feel great. Wide bars are amazing for cornering and I felt a little shaky and imprecise, as though it was a little tougher to hold on. But then things started to click.
Wide bars give you lots of leverage of course and they make it easier to steer more precisely into narrow sticky channels, particularly in rough terrain. More importantly, though wide bars bring your head and shoulders toward your stem, putting you in a more aggressive position. If you have ever watched first tier pump track or dual slalom riders you have likely noticed that it seems their weight is almost ahead of the front wheel. Beginners tend to roll into scary situations with straight arms, pushing all their body weight back and making any sort of control or adjustment virtually impossible. In most situations getting your weight forward gives you more control, better perspective on the terrain and more options.
I wasn't intuitive or informed enough to realize that I needed to move my ass up on the bike to competently ride a 29er, but the ultra wide bars left me little choice. Holding onto Little John's staff (punchlines welcome below) put me in the correct position and got me rocking on big wheels. 
On my last few rides on narrower bars I have been feeling better on the bike than I can remember and I have begun to notice why. While wide bars have their advantages in terms of forward positioning, they limit your ability to move your body weight back to jump. bunny hop, thrust the bike over an obstacle or to angle bike and body to avoid a collision. Now that I have figured out that I need my weight forward most of the time I no longer need the training wheels big bars provided and, for someone without shoulders like Kyle Strait, wide bars can limit your ability to position your weight fore and aft and side to side and curtail your strength. 

Today was another first ride on a tester (one that I can't tell you about just yet I'm afraid) and I didn't have a narrower bar to swap so here I was back on wide mofos; 815s. I felt less at home on the climb and while there was a reassuring solidity in some situations, overall I felt constrained and a little uncomfortable. That was the last nail in the wide bar coffin for me. On a DH bike I'll still likely edge towards wide, and I don't regret my wide bar time because of what it taught me, but tomorrow the pipe cutters come out and I'll be back to 760.
*Riding well for me, not by any other standard