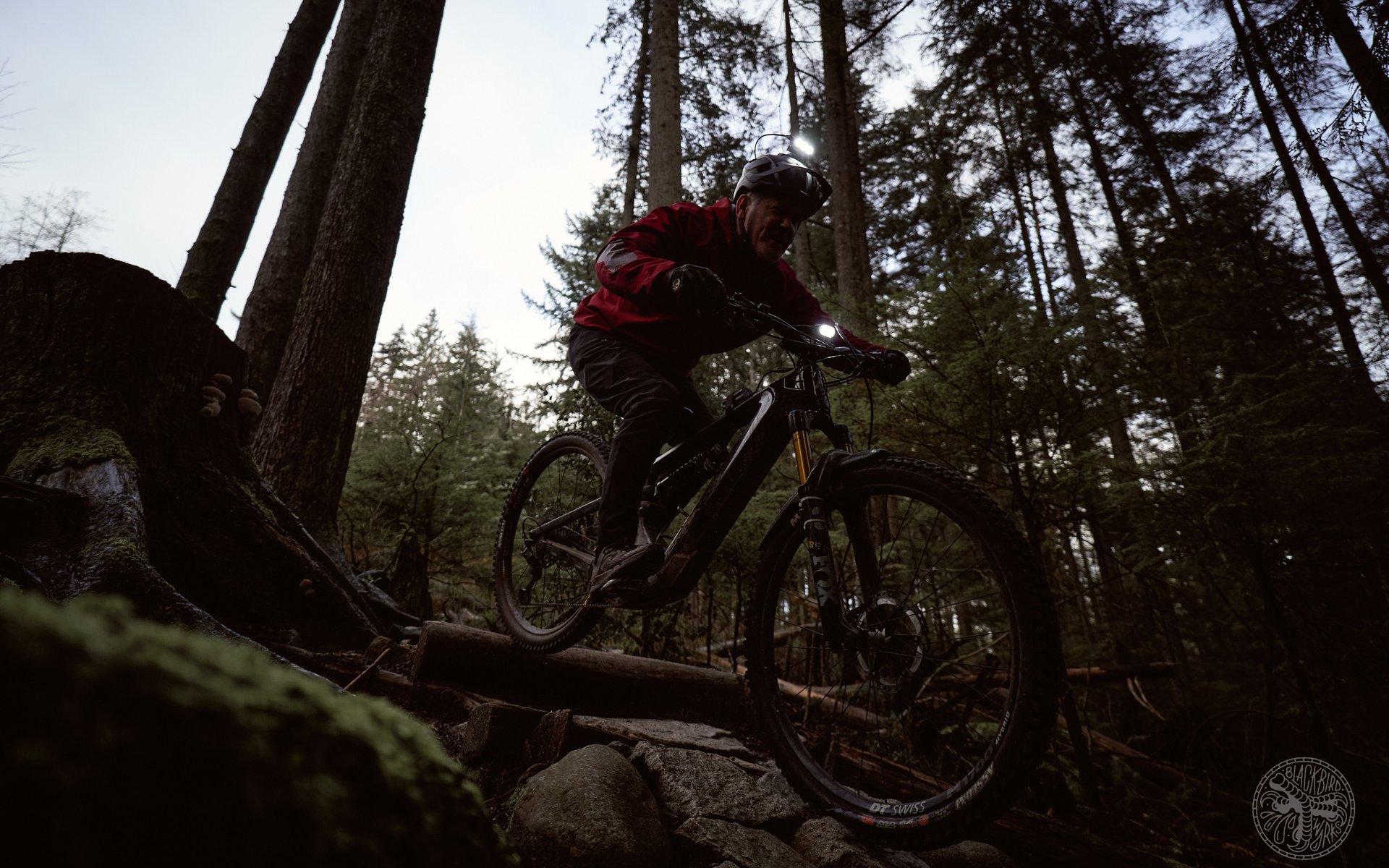 Review
Gloworm XS 2800 and Alpha 1200 Lights
My dark past
I have been night riding for almost as long as I have been mountain biking (28 years - holy shit!). Rather than buy lights I stuffed a halogen bulb into a tomato paste can and found a huge lead acid battery to power the Frankenlight. Then I spent hours pestering the shop teachers at the high school I work at to help with the wiring. On the first night, we all laughed hard when the weight of the 12 pound battery caused me to fall backwards on a wheelie drop, smack on top of the hard battery in my pack.
A Light & Motion was my first good quality light and it made dad life much more bearable. Being able to pop out for rides when junior went down for the night was a godsend. Later, I couldn't resist the urge to get a lot of lumens for little money with some cheap lights from China my "friends" recommended. They were great for 3 rides but both broke down in the middle of the fourth ride. Luckily Irish Tony was with me to light my way home and entertain me with humour, melancholic quips and happy rants.
I finally bought a nice NiteRider 1400. When my friend gave me 2 Cygolite Metro 1100s, I wanted 2200 on my helmet and the 1400 NiteRider on my bar. A student of mine who rides created a helmet mount using the school's 3D printer. It worked very well but the weight of the lights with self-contained batteries kept causing my helmet lid to drop into my eyes. Night riding is hard enough without that blinding side effect.
I like self-contained units but I want more power in the headlamp than these lights can provide. This is where lights with separate batteries are way better than anything with a self-contained battery. The small sacrifice of storing the battery on the frame, in bags, or pockets is more than compensated for by LOL (lots of lumens). Gloworm has been making this style of high quality lights in New Zealand for 11 years. They sent me the XS Lightset (G2.0) 2800 LM and the Alpha PLUS (G1.0) RF 1200 LM to be tested. I have had them on 14 rides so far.
Gloworm XS Lightset (G2.0)2800 LM and Gloworm Alpha PLUS (G1.0) RF 1200 LM
2800 up top
Before I get into the lumens, the lenses, the batteries, and the rest of the tech, let my buddy the know-it-all 2 minute expert (ya like I have ever heard his mansplaining stop at 2 minutes) give all the everything you need to know about lights mansplanation
The three features of the Gloworm XS Lightset that appeal to me most are; the 2800 Lumens, the whopping 3 hours of runtime at maximum brightness, a battery that only weighs 360 grams, and the wireless remote. Let's start with lumens. I love lumens. When riding at night I want the most light I can get on my head and my handlebar. The 2800 alone is plenty for medium speed riding on all but the gnarliest trails in my usual ride network. When I attach the 1200 to the bars and throw on another bar light from my pile 'o lights, I get a lit forest that helps me ride at close to regular speed on all the trails I like to hit.
The battery is light, has a slim shape, and comes with a time remaining display. The fact that I can get 3 hours on max is perfect especially for short rides so I only need to worry about charging the battery every other ride. The security of knowing I have 3 hours runtime on max is one of the best features of this system. The closest I got to full battery capacity was on a ride when I went up for 20 minutes, built for 2 hours, and then rode out for 20 minutes.
The bar-mounted remote pairs easily and allows you to change modes and power on and off. Rather than having to fumble for those controls on the light itself, while wearing gloves, while fatigued, and sometimes alone and scared, the remote makes operation easy. The only issue I had was that I needed to pair the remote each time for it to work; not a big deal as it only takes about 10 seconds but it's another faff to add to the already extra faffs of night ride preparation faffing. Other features include customizable lens swapping, customizing beam pattern settings using the Gloworm app, CNC machined alloy for less breakage on wipeouts, waterproof to IP67 and the fast charging capability of the 10000 mAH Lithium battery.
The lens swapping is a good idea but the lenses that comes stock with this light, 2 spots and 1 honeycomb lens, are so superior to anything I have used before I don't see the need to change them. For those that are into experimentation, this system has a spare honeycomb, spot and wide lens included. The CNC'd light not only offers shock protection, it looks and feels good on the hands. Even after two hours on high the light was not that hot. Most other lights I have owned would burn my hands after that much time- not that it matters much but it means power consumption is lower.
The beam pattern default settings are Low (20%) / Medium (70%) / High (100%) and special mode: Disrupted flash pattern. These can be customized using the mobile app. Because I just keep it on high beams all the way up and down trails, and medium on the road, I didn't need to change the settings. Also I dislike looking at flashing lights on other bikes while driving and biking so there was no need to get the flash going.
While the $485 CAD price tag is reflective of all of the high quality features, this is an excellent light that I would highly recommend.
Alpha PLUS (G1.0) RF 1200 on the bar
The 1200 is an excellent light, with all the features I listed for the 2800 except the dim elephant in the under-lit room: lumens and lots of them. Did I mention I love lumens? I get it, this is a light that focusses (ya I wrote it) on duration more (4 hrs on max) than Lumens (1200 on max). To get the 4 hours, a battery needs to be used. It isn't really that big a deal to strap the Alpha Plus battery to the frame but, well, you have to strap a battery to a frame. I would prefer a couple of self contained units on the bars to get up to the 2800 brightness of the helmet light. I did ride 4 times in different conditions with just the 1200 on the bar. It was fine but when I added a 1600 Lumen self contained battery, the 2800 made a huge difference. Don't get me wrong, 1200 is fine but when it comes to riding bikes in the woods at night I want more.
The light clamp is narrow and easy to mount or dismount. It screws into the side of the lamp allowing the light to be centered over the stem. It also comes with all the right stuff for helmet mounting. This provides a better beam than two bar-mounted lights on either side of the stem but again: lumens. One night I decided to plus size my ride and mounted a 1200 on one side, the 1200 Alpha in the middle and an 1100 on the other side. Wow - that just made riding a little easier. Who says money can't buy you lumen happiness?
The battery strap provided by Gloworm ripped on the second ride. I could still strap the battery down but it was not as secure. I used one of my velcro straps with a plastic loop attached (hint hint Gloworm) and it works perfectly. The battery is a bit portly in dimensions and weight ( 225g and about 4" by 2"). I used this on the bar but
I really liked the beam, the light lamp, the clamp but it just isn't enough light for my sub 2.5 hour night rides. I can see using this on my helmet for night building more than I can for night riding. But do I really wanna be out building at night longer than a couple of hours?
The light is priced at $300 CAD. Info on these lights and the entire selection of Gloworm products here.