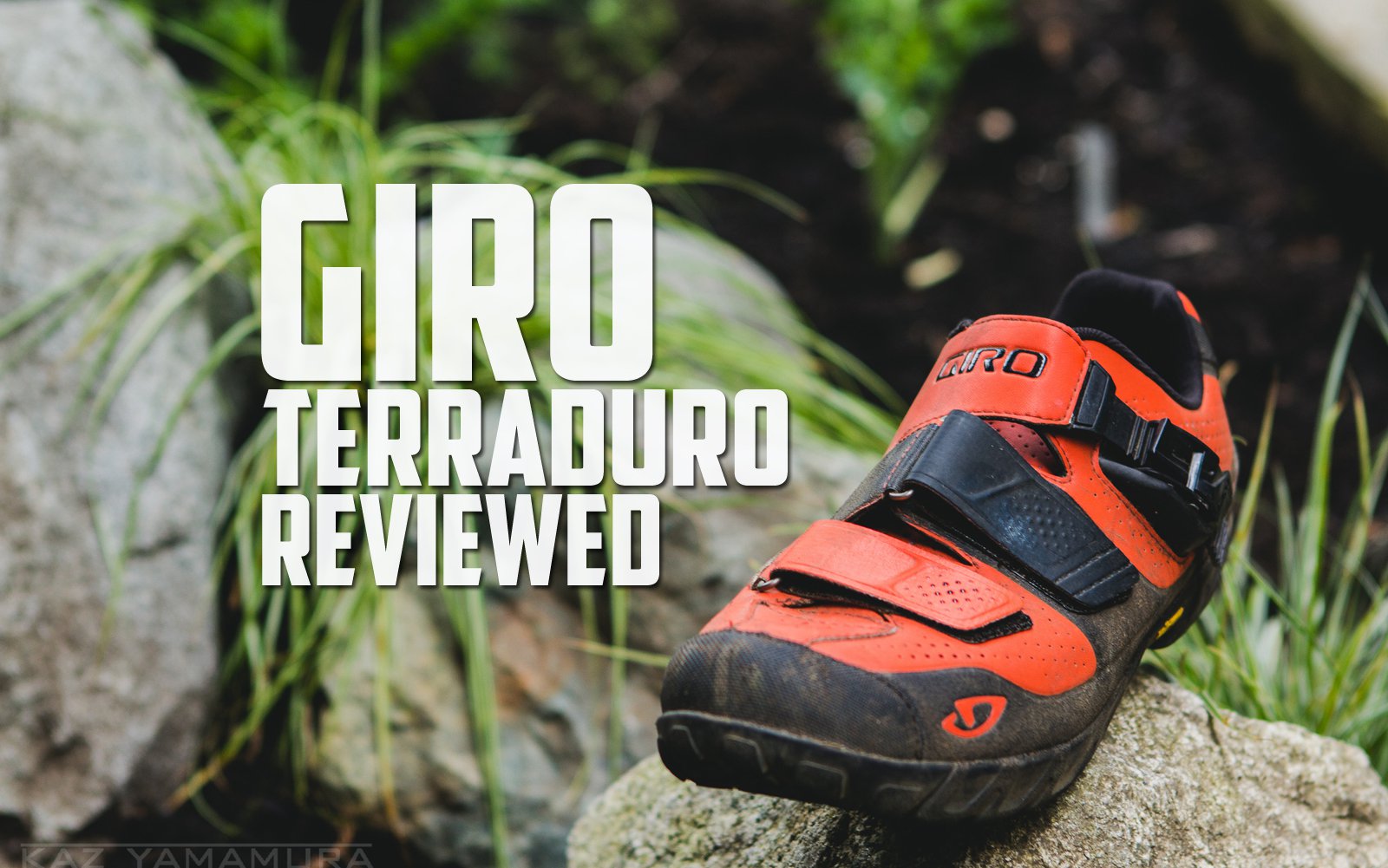 Giro Terraduro Shoes: Reviewed
Before mountain biking became EnduroTM mountain biking all over again, your shoe choice used to betray the tribe to which you belonged. Skate shoes said "I can't be bothered to pedal to the top (because I'm too lazy / my bike is too heavy)", and stiff-soled XC shoes meant that "Thursdays are for shaving legs, Fridays I go to bed early, Saturday I pedal all day, and if it's Sunday I must be dialing in my new burr grinder".
Flats really aren't great to pedal in relative to a proper XC shoe, but navigating a wet log crossing in slippers can be scarier than expressing an opinion about the Israeli/Palestinian conflict on Reddit. As a long time flat pedal/skate shoe guy, I have rediscovered riding clipped in (for the third time) and now go back and forth – clipped in 90% of the time, flats for DH or super scary stuff where getting the hell away from the bike trumps pedaling efficiency.
The Giro Terraduro skirts the line between low-profile XC and reinforced low-cut DH. This angle shows the sole's rocker, some of the many ventilation holes in the microfiber upper, and the mid foot strap which sticks up a bit but doesn't get in the way.
Giro recognized the middle ground wasn't being catered to so they dialed up the Terraduro, and chances are you've seen a bunch of them on the trails this Spring. Mostly you can't miss the bright orange but it's also because in typical Giro fashion, they fit, they work, they look good, and they're not priced like a wallet from the Ferrari store. Seriously, if you have a Ferrari you don't need the wallet, and if you have a Ferrari wallet but don't have a sexy red four-wheeled prancing pony car…why. the. F?
Features
The Giro Terraduro's purpose-built AM design starts with a microfiber upper that keeps your ugly hammer-toes in place with a micro-adjustable buckle and two hook and loop straps. The nylon shank is sufficiently stiff for pedaling (let me never write or say "sufficiently stiff" again), but the forefoot is more flexible and has a slightly rockered shape. Marry that with a Vibram lugged custom rubber outsole and you have a shoe fit for walking. Two-bolt clipless cleats have a nice fore-aft range so you can run your cleats up for XC-style pedal feel or back for more of a DH pedal-under-the-midfoot feeling.
A reinforced rubber toebox, offset D-ring strap for the mid foot strap (this is the one part of the shoe that could use slight refinement in my opinion – there are a few companies that have lower-profile, more comfortable options – see Shimano's X-Strap for example), average quality insole with above average cushioning and arch support plus an anti-microbial treatment (I took a whiff – they don't reek), and uhhhh, they're Orange. Which is great if you're Dutch, or into colour. I like 'em, but if you don't, they also come in a really stealthy looking black that looks matte.
The buckles are easy to tighten or loosen while pedaling and offer good micro-adjustability. They're also replaceable in case you manage to rip one off.
Fit
As usual, you need to cinch down the buckle to hold your heel in place. The mid foot strap definitely works but pull it too tight and it'll feel tight on your arch. The forefoot strap had minimal impact on fit for me – not bad, but not incredible, either. They've been great on long rides with hour-long hike-a-bikes or three hour non-stop pedal fests. No sore feet or hot spots to speak of. And a big bonus is that they're easy to drive in. This is actually a criteria for me – I prefer to wear flip flops before and after a ride, but if a shoe is easy to drive in, it means one less thing to worry about when I'm five minutes late getting out the door.
Despite having decent reinforcement both front and back, the Terraduros are by no means bulky. The heel cup is comfortable holds you in place nicely provided you cinch down the buckle enough.
Performance
So often, a product that tries to fit between two categories just feels like a compromise, but the Terraduro is exactly what it claims to be: a bridge between XC performance and hiking shoe utility – without harmful trade-offs in either case. If you're a dedicated XC racer, get race shoes. Otherwise, for AM/Enduro/ Mountain Biking, meaning a variety of conditions, ride lengths, time on and off the bike, dabbling in racing (not just the "E" kind), and yes – driving home or running the shuttle truck – the Terraduro is a great choice in an emerging category.
Vibram provided a custom rubber sole for the Terraduro. It's grippy and easy to walk in. There is plenty of range for your cleats – seeing this photo reminds me to try mine set further back for better descending performance.
The Giro Terraduro is available in whole and half sizes from 39 through 47 as well as 48 (US 6.5 – 13.5) and in two colors: Glowing Red/Black (it's orange, though) or Black.
The women's version is called the Terradura and comes in Black with teal trim, and is available in sizes 36-43 including half sizes 37.5 – 42.5.
They weigh 420 grams (each – size 43) and retail for $180 USD.
---
Can you handle these bright orange kicks?