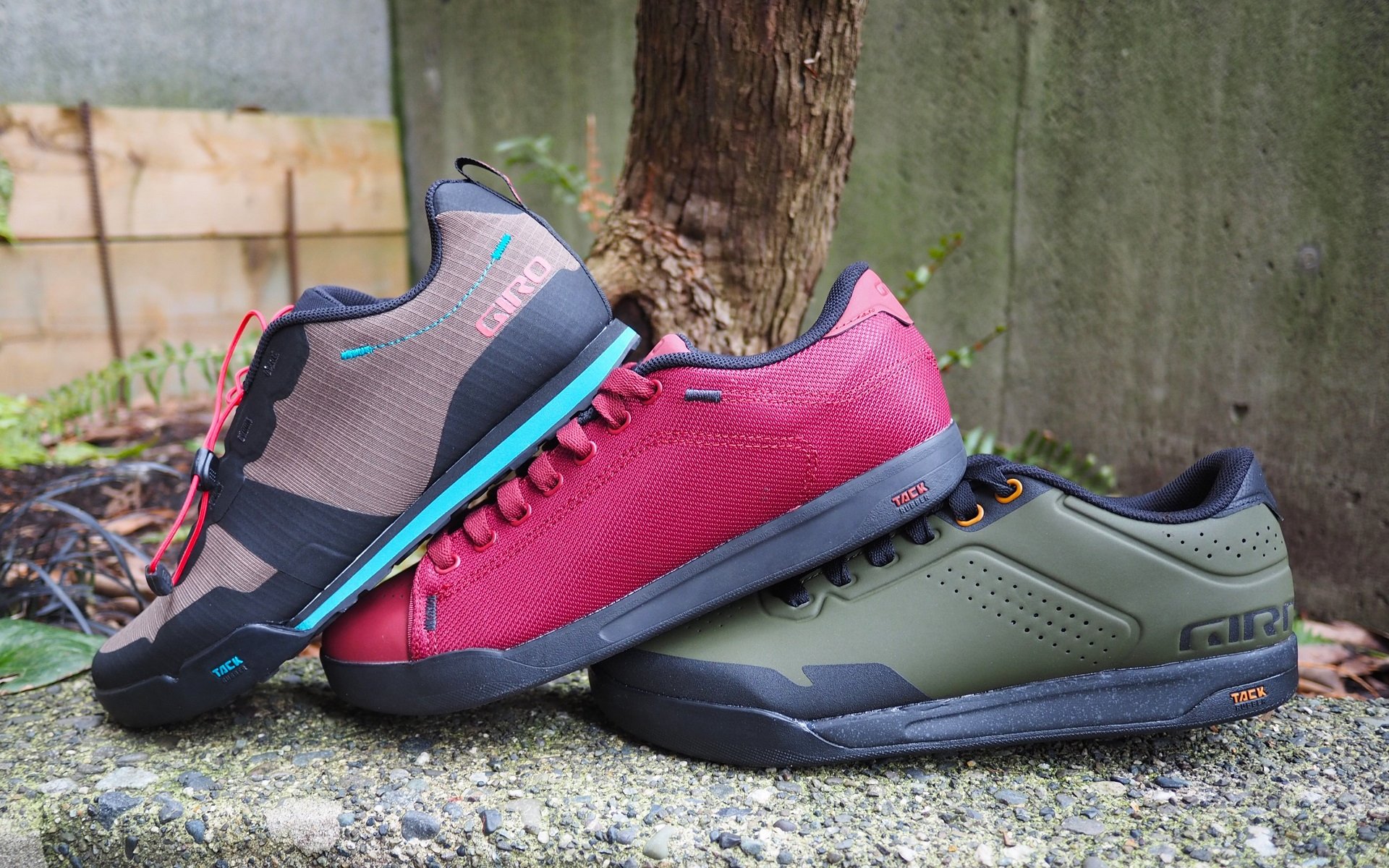 REVIEW
Giro Tack Rubber Shoes: Tracker, Deed and Latch
Tack Rubber
Giro has been making good flat pedal shoes for years now. The Jacket II, while not North Shore grippy with its Vibram sole, is a min-max favourite. The Latch, with its sticky Tack rubber sole, will go toe-to-toe against any shoe on the market for grip, but the quality of the microfiber upper puts other high-end options to shame.
The Latch's success has spawned a rapid expansion of Tack rubber options. The Latch is now available in four colourways and the line has been expanded to add two more models. The first is the Tracker, available in BOA and Fastlace versions, also in four colourways. Second is the Deed, also available in four colours and it's fairly obvious from the marketing copy, which I'll get to, that even the folks at Giro aren't really certain when it exists.
Full honesty: I took this review assignment because I love the Giro Latch shoes and mine were in a sorry state. Not the uppers, which have held up better than any flat pedal shoes I've used, but the soles are destroyed. I wish there was a good option to get them re-Tack-ed, as it seems a shame to toss them.
I've seen this same process play out so many times in the bike industry. If a company puts out a great product that sells through then they add a bunch of colours and a whole host of other similar products that are never as good as the original.
These are all high quality shoes, and the Tack rubber is awesome. But determining a use case for the Deed and Tracker is not as easy as the almost universally recommendable Latch.
But Weight
The Tracker looks the part of a much lighter shoe, and it is the most breathable flat pedal shoe I've ever worn, but it's only 5 grams per foot lighter than the Latch. With its mix of abrasion-resistant textile and microfiber, the Deed looks much heavier than the all-microfiber upper of the Latch and weighs 68 grams more per shoe.
These are dry weights. While the Latch and Tracker are both impressively hydrophobic, the Deed soaked up more water and took significantly more time to dry on my boot dryer.
Tracker Talk
Of the triumvirate, the Tracker is the easiest shoe for me to differentiate. If, like me, you use an arch-over-axle pedaling position then this shoe likely will not be a great fit. For what I can only assume are stylistic reasons, the sole taper from the ball of the foot leaving significantly less pedal contact at the arch.
This isn't something I could adjust for mountain biking but on my commuter, using concave pedals, I found a happy spot with a more ball-over-axle position and my saddle moved back a touch. I'd prefer if the sole matched the Latch and Deed, but maybe this matches the 'all-day adventure' tagline that Giro has attached to the Tracker?
I've started thinking about it as a flat-pedal gravel shoe, which makes the choice to use ultra-tacky rubber a bit strange. I will note here that the Tracker does not use the same Mute Foam mid-sole as the Latch and Deed, so expect a bit more trail-noise through the feet on rough trails.
The Trackers are the most breathable flat pedal shoes I've used. How's the durability? I can't really say as they don't work for me on aggressive mountain bike trails, but I'll report back if I have any issues after putting commuter miles on themthis summer.
For riders in warmer places who want all the traction and pedal with a ball-over-axle foot position, I'd say that the Tracker is your unicorn. Consider the BOA model if you have narrower feet since the Fastlace closure setup doesn't suck the shoe in as well as the laces on the Latch and Deed.
The Tracker Fastlace sells for 110 USD and the BOA-equipped Tracker runs for 130 USD. There is also a women's Tracker BOA at 130 USD.
In Deed
I'm not 100% certain what to say about the Deed shoes and neither is Giro. In fact, Giro is so uncertain why the Deed model even exists that they call it "our quiver-killer flat pedal shoe" but never make any effort to define what part of the quiver has been left for dead that the lighter Latch couldn't assassinate.
For my first couple of rides, the Deed shoes were notably stiffer than the Latch and this clearly came down to the upper since they share the same sole. It turns out these shoes just take a couple of rides to break in at which point the performance is a match for the Latch.
In terms of said sole, it consists of the highly elastic Tack outer rubber for pedal grip and the Mute Foam mid-sole to help keep my feet on the pedals by damping vibration. This is subtle and not something that can be tested without back-to-back riding, and I notice it much more riding my hardtails, but Giro's claims about Mute Foam cutting trail noise are legitimate.
At 125 USD the Deed shoes add 136 grams, dry, over a pair of Latch shoes for a 25 USD savings.
Within a couple of rides, the performance and fit of the Deed and Latch were essentially indistinguishable, so for someone that loves how they look, can't justify the extra bones, or finds a pair on sale, the Deed fits the bill.
The Giro Deed shoes sell for 125 USD. There is also a women's Deed at the same price.
Unlatched
I'd be keen to try a Tracker Fastlace shoe with the wider mid-foot of the Latch & Deed, but I certainly don't need to. I'd also be keen to try a Giro Latch with the same Mute Foam midsole but an outer with a similar (less grippy) sole to my Crankbrothers Match rubber shoes. I like a shoe that lets me move my feet around a bit more and wears a bit longer.
All that aside, I think the Giro Latch could be most flat-pedal riders' unicorn. The quality of manufacturing and materials is excellent, and grip is on par with any other brand. The cherry on the sundae would be if the Tack rubber soles could be purchased separately and installed at my local shoe repair place - since I think the uppers would easily last through a few lowers - but that's just me daydreaming.
If I was Giro I would have skipped out on making the Tracker and Deed shoes and put out a few more colours of the Latch. Maybe add some more interesting colours like Highlighter Yellow and, I don't know, Cosmic Lilac. If they really wanted to add SKUs then, as generous as the toe box is for me, I'm certain an extra-wide option wouldn't have gone amiss.
Beyond that, I don't really have anything to add to my review in 2021. The shoes are fantastic for feel and grip, and these particular stretchy laces are still hands down the most brilliant shoe retention device on the market. I didn't write any poems about them though, as they still don't seem to be available separately.
For lovers of sticky-soled mountain bike shoes who are looking for a high-quality, lightweight, excellent riding option you really cannot go wrong with the Giro Latch, and there is also a women's Latch, at 150 USD.