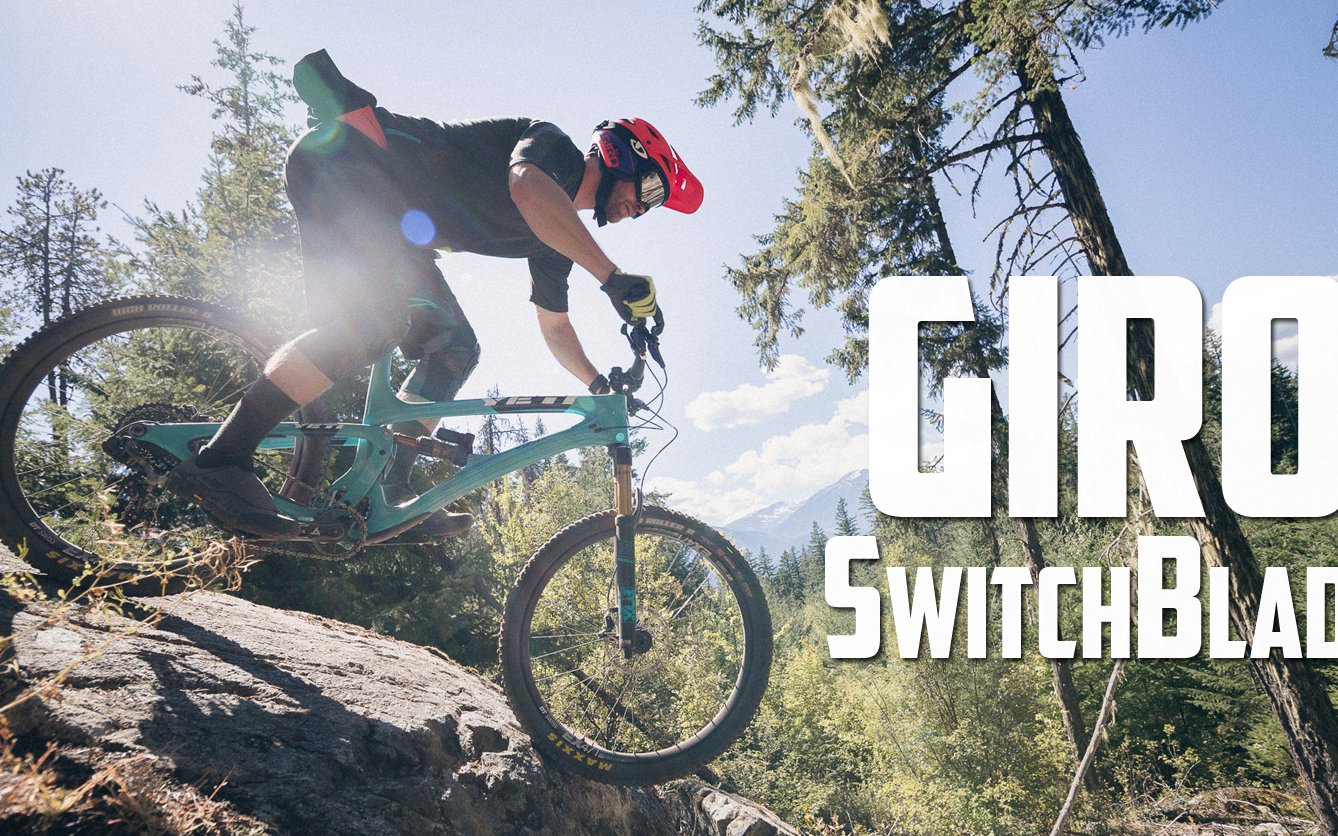 Giro Switchblade Redux
When we dropped in on Giro at Sea Otter this year, we didn't expect much in the way of new. Maybe some cool colours or updated kicks, but the Montaro had been released into the wild, and I thought that was it. Wrong. We got the glance over the shoulder, the "this has gotta stay quiet", and a beckon into the back area. That was when we were shown the new Giro Switchblade for the first time. It looked pretty damn ready back in April, even though it wasn't quite done. But a few athletes had started wearing it and the early returns were good.
I remember that it had the excellent design and finish typical of a Giro product. Lines were good, the chin bar fit into place with a reassuring thunk, it fit well, especially for a full-face helmet with MIPS. But I also remember wondering who the helmet was for and whether it was as big a deal as it seemed to be to the folks at Giro.
The new Giro Switchblade comes in six colorways. It will be available in stores the week of August 22nd.
After all, the Giro Switchblade of 20 years ago didn't exactly leave an enviable legacy. In fact, it is sometimes listed along with Biopace, Rapid Rise shifters and the Flexstem as one of the epic flops of our sport's young history. It was a greedy dentist's dream. Mostly, it didn't do what many riders (unfairly) expected it to do – protect the front of their face as well as a full-face helmet would.
The Giro Switchblade is ASTM certified even without the chin bar. Photo – Dave Smith/NSMB
Changes in intended use
The original Giro Switchblade was an XC helmet designed to provide additional facial protection when the optional chin bar was attached. The new Giro Switchblade shares a name and a removable chin bar with its predecessor, but everything else – including its intended use – is different. Rather than a trumped up XC helmet, it is a fully certified DH helmet that retains its ASTM certification (other than for chin bar impacts, obviously) even when you remove the chin bar. It is that last part that makes the Giro Switchblade Mk II such an impressive helmet.
Unlike the original Switchblade, the new one was designed as a DH/aggressive trail helmet first, that happens to have a removable chin bar, rather than as an XC helmet with a little something added. Photo – Dave Smith/NSMB
The lazy first impression is to dismiss the Switchblade because of the problems of the old one, but past mistakes and an evolved sport have led to a totally different animal, starting with intended use. Think of this one as an aggressive trail riding or enduro race helmet that you can use with or without the chin bar. It offers better coverage and protection than your half shell, without the chin bar, and with the chin bar installed, it is as effective as a DH full face. For many, it is a one-helmet solution.
Perception and Certification
Perception is one area that Giro has work to do, at least with those that remember the original Switchblade. Bell has done some of the heavy lifting here, by paving the way for Giro's new removable chin bar helmet with their own foray, the Super 2R (reviewed here). Unlike the Super 2R, however, the Giro Switchblade is ASTM rated which, in case you weren't listening, means it is certified to the same level of safety as your full face. Whether it's a Giro Cipher or a Troy Lee D3, ASTM is the one that matters.
The Roc Loc Air DH Fit System is similar to Giro's Roc Loc, but it has a bumper around the dial to guard against inadvertent re-adjustments caused by your pack or neck brace. It also makes for a very snug fit that differs from other full faces that don't have an adjustable cradle back there. Photo – Dave Smith
The POV plus visor lets you select the position to accommodate goggles or just get it out of the way. The Switchblade comes with a second visor with an integrated camera mount, nicely tucked out of the way. Photo – Dave Smith/NSMB
The Giro Switchblade is easy to assemble and disassemble. Feed the upper steel plates into the corresponding slots until you hear a solid thunk – then just rotate the chin bar down and into place. To remove, push on the two buttons on the bottom of the chin bar on either side (shown in black) and release upward. Photo – Dave Smith/NSMB
The Giro Switchblade has MIPS in addition to CPSC, EN-1078, and ASTM certification. 20 vents with internal channeling. With the chin bar removed, Wind Tunnel cheek pad ventilation adds even more flowing air. It still feels hotter than a half shell, obviously, but once you're moving, you can feel a bit more airflow across your cheeks. Photo – Dave Smith/NSMB
And at the back, rubberized vents do a nice job of holding onto your goggle strap. Photo – Dave Smith/NSMB
Nice detailing.
Five of the six colorways have matching Giro Blok goggles available. Photo – Robin O'Neill
Cody Kelly has been heavily involved in testing the Switchblade. Photo – Robin O'Neill
I like to avoid full face helmets and chin bars, so this is the configuration I plan to use most. The added protection is welcome, although getting used to it will take a few more rides. Photo – Robin O'Neill
At the same time, a lighter, better ventilated full face will be welcome on bike park days or when the descents get proper rowdy.
It takes a little getting used to the look of the new Switchblade, but the aggressive look is growing on me. Richie Rude and Cody Kelly were overheard saying they really appreciate the extra protection and may not be wearing a half-shell again anytime soon. We'll see. Photo – Robin O'Neill
Also doubles as a beacon in low light conditions. Photo – Robin O'Neill
Early impressions
After a couple of rides with the Giro Switchblade, my initial apprehension about a helmet that covers my cheeks is fading away somewhat. I won't be reaching for it on less aggressive / technical trail rides – for those, I'm comfortable using a half-shell, but once the speed ramps up or the grade pitches downward, I like the idea of more coverage and protection – either with or without the chin bar. And while it has good venting, there's no question it is hotter to wear than a half shell. For our riding conditions on the North Shore, that is only an issue between May or June and August. If it's hot where you ride, it may be a consideration. I'll have more to say about that after some more rides.
Probably laughing at an #enduro joke. Unlike other full face helmets, you can wear glasses with the Switchblade and not look like a fool (especially if there's a zit on your nose to do that for you). Photo – Robin O'Neill
Giro unveiled some other new stuff, but we'll cover that later.
The stainless steel inserts that house the chin bar plates are solid feeling and it hasn't taken long to get the hang of putting it on without removing the helmet. The cheek pads are a bit thick and I may swap in the thinner ones, but otherwise the Giro Switchblade in size M fits me just like a Montaro does.
Not just for enduro racers
It's early days but after some time with the Switchblade, I have a bit better idea of what the fuss is about. If you ride aggressively and like the thought of a helmet with more protection than a half shell, that gives you the ability to wear it like a full face for DH, it's well worth a look.
---
What do you think about removable chin bar helmets?