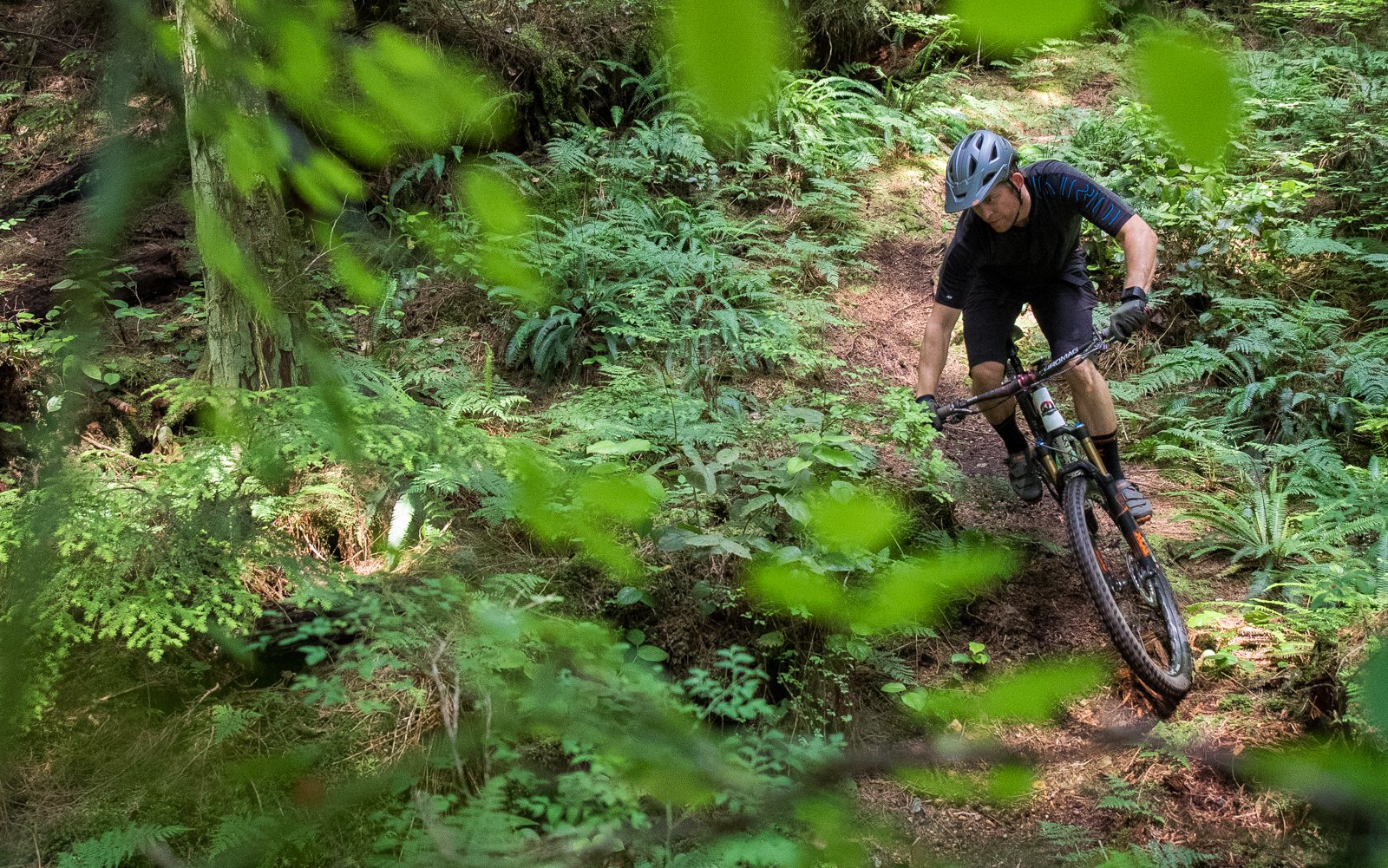 Giro Head to Toe
It's not too hard to pull together 800-1000 words about a helmet, or a pair of shoes, but let's try something a bit different and see if I can use fewer words to cover more pieces – all from Giro – and help you decide if they might be for you or not. If you have questions, stick 'em below and I'll be happy to provide more details.
---
Giro Montaro Helmet – $255 CAD / $180 US
The Giro Montaro in Matte Titanium/Flame. Among the understated colourways, this is my favourite. The others I like are all decidedly brighter. That visor adjusts to accommodate goggles if that's your thing.
Introduced during Crankworx 2015, the Montaro is Giro's premium AM helmet, equipped with MIPS. A lot of the details are covered in my first look article. I've spent a lot of hours with a Montaro on my head since then, so I can confirm that the venting is as good as any of its competitors. On long days in Chile, it kept my head cool and comfortable. I had a crash that caused a broken visor but the helmet was otherwise unscathed.
The frontal pad – which uses the same material that ShamWow is made of – works as advertised. Meaning it's expected to soak up 10 times the amount of moisture that a typical pad will absorb. I can't confirm 10x, but I can say that sweat doesn't drip out of the pad and onto my glasses until I squeeze the helmet against my head. Which is perfect, really, because that allows me to control when I wring that pad out. The material that covers it seems to delaminate for me (it has happened with three different helmets). While annoying, it appears this is unique to me – the PH of my sweat or something – as no other riders or media have encountered the issue as far as I or Giro am aware of. Should it happen to you, your shop will arrange a replacement pad.
One thing Giro has done well is to manage the fit of this helmet while incorporating MIPS. Sometimes the added material changes the fit of a helmet – I have experienced this with the Bell Super, for example – but the Montaro fits the same for me with MIPS as other Giro helmets without it, and it does not sit high on my head (another trait MIPS-equipped helmets sometimes demonstrates). Roc Loc Air
My head sweat's PH is special – and destructive. It'll take down a frontal lobe pad in 3-4 rides. So far the damage is only aesthetic, though – it still soaks up my sweaty head's worst, and keeps it out of my eyes and off my glasses.
A word on MIPS: there is science behind its efficacy. There is also some science out there claiming that there are other/better ways to combat rotational forces. It is not within the scope of this review to deal with that, but we are digging deeper and will be looking into impact studies and gathering more information in the future. It's not a simple subject. For now, suffice to say that Giro tests their helmets exhaustively and they always aim to exceed standard tests – and also have some of their own.
A few other features to run down. The goggle gripper material on the back works to keep your goggle strap in place (personally I use goggles about 5% of the time, maybe 25% for wet winter rides on the shore). The POV visor adjustment is useful – again depending on how often you pair goggles with your AM lid. There is an integrated camera mount which works with GoPro hardware, but personally, I think helmet cam footage looks almost as bad as a helmet with a camera on top of it. Chest cam footage or nothing for me. Once lights all start using the same hardware, though, I'll get excited about that feature. Hello light manufacturers, are you listening?
Top two rows are Montaro (men's) and the bottom row are the Montara (women's) colour options. Sizing is identical, so dudes and dianas can easily colour outside the lines.
My last comment pertains to the Matte Flame (aka Safety Orange) colour, which faded after exposure to the sun. Apparently, the first batch had this problem, but it has been corrected in subsequent batches. Again, if you encounter this, your dealer can arrange a free replacement with Giro. Something I was not aware of is that orange dyes are particularly prone to sun-fading, and since this cropped up I did notice a few Smith Forefronts out there with the same problem.
Recommended for: Trail and AM riders who appreciate a full-featured helmet with a little extra protection out back.
---
Giro Truant Jersey – $126 CAD / $80 US
What a welcome change. So many jerseys out there are either really bright or just have a sheen that screams "moto-wannabe". I'm ok with colour, and those jerseys work great to wick sweat and keep you cool, but there are other rides and adventures on two wheels where you want the styling equivalent of a well-made t-shirt with a zipper or snap here or there – and that's it. Hello Giro Truant aka the riding henley.
Dark, subtle styling, just a little detail here and there, not much more. One small zip pocket and a few snaps give you a style level or two up from a basic tee, and it's constructed from recycled polyester that feels soft and wicks well. I have worn it on three-hour trail rides, and on short ones knowing that the less I looked FoTT (Fresh off The Trail), the more likely I was to score a decent seat when scouring a decent post-ride brew. 10/10 would buy.
I'm digging the henley look for a casual jersey.
My only complaint is that there aren't more colour options. This is my current favourite shirt to ride in, and I have been seen wearing it off the bike, too.
Recommended for: Riders that dig a casual look – everything from XC, commuting, trail or -even- DJ. But especially patio season. And post-ride beer sampling.
The side pocket will sneakily fit a phone, but I usually tuck a key or a couple of bucks in there.
---
Giro Truant Short – $142 CAD / $100 US
This is the Truant short. On a recent trip it helped save my ass – literally.
Black trail riding shorts. No one doesn't own some. Any pair that arrives is only permitted entry if another leaves to make room. These were my thoughts when the Truant arrived. Then I tried them on and liked the fit that felt right for riding without the bulk – but also perfect for wearing around all day. And when travelling, multi-purpose apparel is like gold because it means more room in your bag to bring back macadamia nuts. Which really are almost as expensive as gold. Why don't cookies with macadamia nuts in them cost more? It seems like they should.
Another handy side pocket. Big enough for a multi-tool, not for an iPhone 6 – but the slash pockets accommodate it perfectly.
This Spring, I was in Hawaii for a week. MTB was not on the menu, but a road ride around the West Maui loop was in the cards. The day before the ride, I realized I had left my bib shorts back home hanging up to dry. Sh1tf*ck. The one item you can't borrow or rent but that you really, really want for a long, hilly ride in hot & humid conditions. I was already going to shell out for a rental bike, so I was not keen to spend another $50+ on single-use bike shorts. After a few texts back and forth with North Shore fast guy and "just make it happen" aficionado, Andreas Hestler, I resolved to wear my best "ball-huggers" and smear on the Chamois Butt'r and Vaseline (for redundancy).
Enter the Giro Truants – I packed them because they were comfortable black shorts that would double up well for hiking or other activity – now they were being pressed into service for a road ride. I'm fine with lycra in public, but just my 2 Undr boxer briefs might be pushing it. 100kms later, my taint (and the rest of me) were doing just fine. The Truants get a mention in this story because the fit is slim enough that it didn't feel bulky on the road bike, but off the bike, they hide in plain sight right under your favourite t-shirt (or the Truant jersey which I frequently wear as a t-shirt). Thank the hipsters for that one.
At the same time, they work with lower profile knee pads, and are just durable enough that a crash or two won't lead to holes, but thin enough that they're light and logical for long rides. The fabric isn't quiet, or noisy, so I guess that would make it an intermediate acoustic rating. I'm getting called out in the comments for that one. I just know it.
Sizing and more details here.
Recommended for: XC/Trail riding, traveling mountain bikers that like to pack light. Also good for casual wear, hiking, etc.
---
Giro Privateer Shoe – $220 CAD / $150 US
I've previously reviewed – and liked – the Giro Alpineduro and Terraduro shoes. The Privateer should have a wider appeal, primarily due to its lower cost. These are not cheap shoes by any means – and their looks, construction, and features reinforce that truth. In addition to a lower cost than the Terraduro, however, the Privateer R also skips the added weight in the sole and toe and heel protection. They aren't as comfortable to hike in, although the Terraduro is best in class for getting around on foot.
If you're after a reasonably-priced shoe that will ably handle XC and Trail riding (I've ridden burly stuff in them, too), don't need the outright stiffness of a composite sole (but are still stiff enough for long days at a good pace) but still want a full-featured shoe, head to your LBS and try on the Privateer.
Recommended for: XC racing, trail/AM riding with a pedalling focus. Full-featured shoe with an intermediate stiffness and decent walking sole. In short – perfect for all but aggressive AM including long hike-a-bikes or hardcore XC racing that requires a carbon sole.
---
Giro Rivet II Glove – $50 CAD
I've had the Rivet II gloves for awhile, and at first wasn't able to wear them because they came to me right before our cold season started. But they rule when it's warmer out, or for rides where I don't want anything more than a thin glove (almost always). I've come to appreciate the really fin thit which plays well with different grips, breathe well, and offer just enough protection from trailside grabbers. I've crashed in them a few times and they're holding up great. You can get a decent touchscreen interface (text: "I'll be home soon. I swear. Cam keeps flatting…"). And the cuffs wrap around the wrists like a high performance fiveskin: snug but not too tight.
Recommended for: thin glove wearers or those who prefer no gloves but need something to cut the chill or provide minimal protection when riding in overgrown spots – or to keep the sun off your hands.
All together now. These Giro pieces are ones I've been reaching for consistently over recent months. When the Truant jersey is in the laundry, it makes me do laundry more often. That's a lie – I just wear it, even if it smells.
---
That's nowhere near 800 words. But I packed in 5 things!