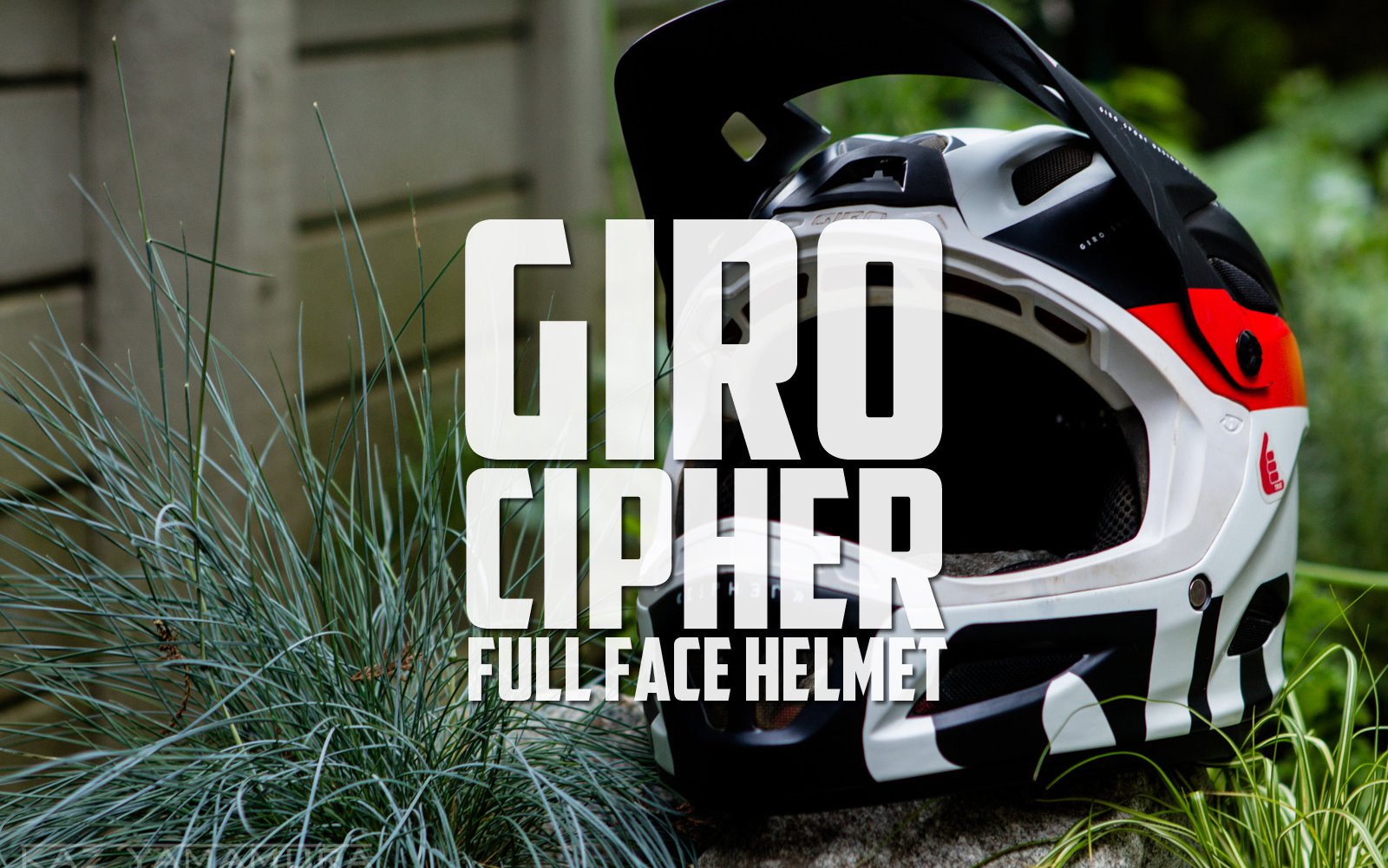 Giro Cipher Full Face: Reviewed
I hate full face helmets. They're hot, restrictive, heavy, bulky, and a hassle to deal with compared to smaller lids when you need to take one off or put it on. I've been reaching for smaller, lighter helmets for years, preferring to ride within my limits and enjoy the fresh air hitting my face.
I love full face helmets. If I'm wearing one, it means I'm riding in burly terrain, usually fast, and some of my best riding experiences have come while doing the kind of riding that necessitates pulling on the big bean basket. On those days the added protection and confidence easily outweigh a bit of inconvenience and warmth.
The Giro Cipher in Matte Red/Black. You can see several of the eight ventilation ports as well as the channeled vents at the brow line. The visor offers tool-free adjustment bolts at each temple, but none in the middle, since that space is reserved for the camera mount.
So, I love full face helmets. And I hate 'em. But they are necessary if you want to ride a big bike, or get a bit rowdy on your smaller one. And the new Giro Cipher full face helmet, which replaces their popular Remedy, is worthy of your consideration if you're in need of one.
Weighing 1,200 grams, and with a $249 MSRP, the Cipher costs a lot less but weighs a little bit more than its high-end carbon competitors. Given its list of features and the quality of construction, fit, and overall design, it represents good value for your money.
The modern lines of the smoothly sculpted fiberglass shell aren't as evident in some of the loud graphics options, but the 8 colourways deliver enough variety that just about everyone should be able to find a look they can get down with. The Orange Camo helmet is shown here with a GoPro mounted on top which still looks ugly but the camera mount is very cleanly executed.
I was sent the Matte Red, White and Black version, which is unique-looking in a good way, and somehow the massive GIRO branding on the side is integrated in such a way that it is not at all unappealing. This is one of the best looking helmets I've seen, but I was glad to discover its beauty is not merely skin deep.
The industrial design on the Cipher is top notch. The upward swooping rear neckline gives good vertical range of motion while providing a good goggle strap guide.
A better look at the brow line ventilation channeling.
The Cipher's Fiberglass-wrapped EPS liner construction is CEN, CPSC and ASTM certified. I hit the deck once on an ill-timed double over a blind rise and put it in a ditch but the Cipher and I both came away unscathed.
Removable cheek pads make helmet removal easier and safer in the case of a nastier crash. Speaking of nasty, X-Static anti-microbial padding has so far kept odor at bay. TuneUps audio pockets are included if you're the type that would rather ride to the beat of a soundtrack rather than the sweet sounds of your bike and your buddies giving chase.
A closer look at the integrated and removable camera mount.
The Cipher's M size was snug on my 59 cm head, but in just the right way: no pressure points or chafing to annoy me. The jawline isn't too deep, but didn't feel claustrophobic when I left the helmet on for pedaling or a climbing section. The D-ring buckle system with retention strap was really quick and easy to get used to, and the visor came with a sufficient range of motion to accommodate goggles at rest when needed.
Giro's Cipher has meshed well with goggles from Adidas, Oakley, Ryders, and Smith, and provides great range of motion and peripheral visibility. It is one of the most comfortable full face helmets I've ever worn.
At a recent press launch in Chile we were told full face helmets would be a good idea. Despite the loose conditions, a half shell was sufficient and several journalists made the switch. Normally I'd be the first to ditch the big helmet, but the Cipher proved comfortable and not overly hot, so I happily kept wearing it. For me, that was a good indicator that the Cipher will be a future go-to on rides where either helmet style may be appropriate. Photo: Gary Perkin
All in, the Giro Cipher is the complete package in a full face helmet. Provided the fit works for you, it's as good a choice as any, unless your case of carbonitis is too strong to resist.
Giro Cipher – CAD $249 / USD $249 (but you're likely to find it available for less)
---
Does the Cipher fit your bill?