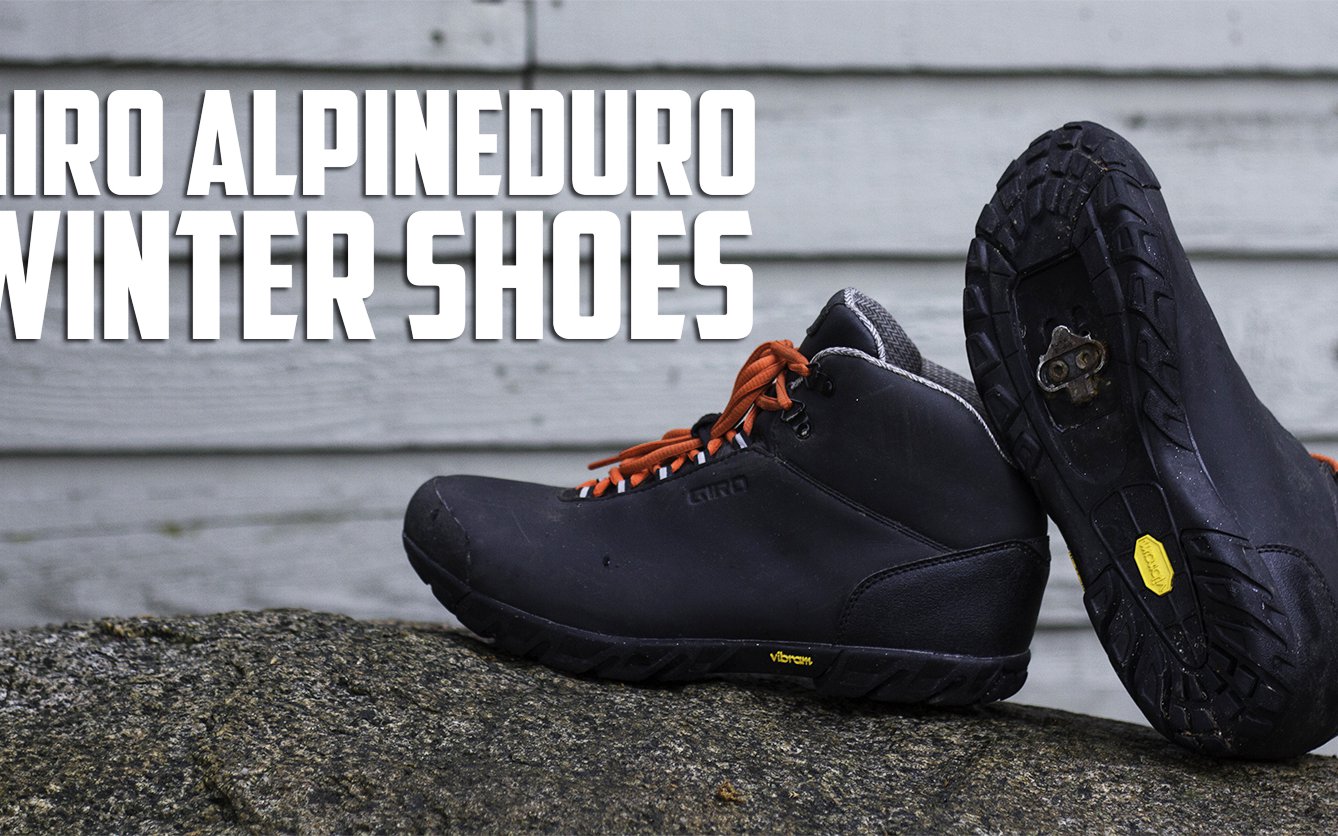 Giro Alpineduro Winter Shoes
Other than the cleats, you'd never know.
You might not notice your feet when they're warm, but if they're cold, then your ride is either over or about to be over. Of the winter riding shoes available, the Giro Alpineduro are the most unique looking simply because they look so normal, and I mean this in a good way. Unless an SPD cleat clicking on pavement gave you away, no one would ever know you were wearing an MTB shoe while walking down the street, which isn't exactly common for clipless shoes. Or clipless winter shoes. In fact when I first got them, I walked 10 blocks in them to a movie, just to see how that felt (completely normal) and whether anyone noticed (they didn't). Yeah, the orange laces are a little flash but you could drab 'em down with the supplied black laces if you want to fly low.
Of course, if you're walking around town, you might catch a few looks for tucking your laces into the lace tab.
With four metal eyelets per side, waterproof and breathable microfiber upper with PrimaLoft insulation and lugged Vibram sole, the Alpineduro doesn't just look like a hiking boot, it is one. It just happens to come with a two-bolt cleat mounting zone (ie. SPDs, Crank Bros. etc), with a decent adjustment range for those that have seen the light and run your cleats slammed back. Otherwise, most of the features that make them a solid winter riding shoe are concealed in a package that asks to be paired with flaid plannel.
At NSMB we're big fans of running our cleats as far back as possible. The Alpineduro offers a pretty good range of adjustment. Pedal entry and exit was straightforward, although mud and snow at this time of year always gives you one more thing to contend with.
Beyond compliments on their looks, many comments I've gotten have been about the laces, so let's start there. Most shoes I've used lately employed some variation of strap and buckle (including the Giro Terraduro) with the exception of the Shimano M-200 which has a lace/velcro cover/buckle combo. Generally they all felt great and I've never struggled to get a proper fit. With the Alpineduro I was concerned about whether my ankles would have good range of motion due to the high cut and very slightly thicker upper due to the insulation. Not to worry, though; after a ride or two they broke in slightly and have offered a good range of motion whether I was pedaling, walking, or hiking over rough ground. The laces help here by allowing a more precise fit, especially when wearing socks of varying thicknesses. Buckles would have added bulk too, so I have to concede that the laces were a good choice.
The laces help you cinch the Alpineduros down as snug as you like, and make it easier to accommodate socks of different thicknesses – key for dialing in your comfort level.
Giro haven't put too much insulation in the Alpineduro, but that makes them more versatile. They do help stave off some chill, and they are waterproof as promised (unless water comes in from the top, of course) but you'll still want to wear a thicker sock than normal if it's cold out. Go with something thinner when it's mild but wet or if you anticipate spending time off the bike, whether for a lot of hike-a-biking or to get off and do some trail clearing (which we all do at this time of year. Right?).
No matter how thick your socks, the Alpineduros fit a bit small. I'm guessing that's because they use the same last as other shoes like the Terraduro, but you lose a bit of wiggle room due to the insulation. I'm usually a 43 but a 44 was the ticket.
The tongue is sealed all the way up to the cuff. They're easy to put on and take off but also do a nice job of sealing out the cold. Nothing keeps hard rain and big puddle splashes out, though. You're always going to get wet feet when it's truly horrible out, so wear your wool socks.
This should give an idea of the thickness of the cuffs. The rest of the upper is slightly thinner. They don't feel bulky, but they're definitely more significant on your feet than a regular clipless shoe. You won't mind when it's cold out, or even when it's not. The Alpineduros are comfortable when you're off the bike and clearing debris or hike-a-biking.
The sole's shape will look familiar and that's because it's the same as on the Terraduro – yeah, the one that had a delaminating sole issue due to the wrong glue being used in an early production run. That's all cleared up now but if you have a flappy sole, your dealer won't have trouble getting replacements. For what it's worth, my test pair arrived in May or June and they're still going strong. The sole may look the same, but the Alpineduro gets a different rubber compound called Icetrek, designed by Vibram to give better traction in cold and wet weather – kinda like snow tires for your feet. I can't quantifiably state that they're stickier than the rubber on my Terraduros, however they feel stickier to the touch so I'm sure it has helped on a few log and creek crossings I encounter regularly on Mt. Fromme.
Like the Terraduro, they are reasonably stiff for pedaling due to the nylon shank, but a more flexible zone in the forefoot means walking isn't uncomfortable. It's a good balance between the two for all but the most XC-focused rider.
Vibram's Icetrek compound is designed to give a bit of traction in wet or cold weather. The toe and heel area is reinforced for protection and durability.
I was worried about ankle articulation, but a short break-in as well as this plunging cut at the back of the ankle means they feel just fine.
Riding clipless in winter can sneak up on you: sometimes your cold metal cleats are what ultimately cause your feet to feel blue. The Alpineduro's footbed is a fairly typical brushed EVA with X-static anti-microbial treatment (less stink) but is also a bit thicker than the usual shitty ones you get with all brand new shoes. Result: warm feet.
It's nice to see some footwear choices that don't scream DETAILS and FEATURES all over the place. Giro's design aesthetic is nicely reflected in the Alpineduro.
They weigh in at 495g (size 44) including an SPD cleat, which is not a lot heavier than many comparable lo-cut clipless shoes.
The Giro
Alpineduro
is available in whole sizes only from 37-48 and retails for $199 USD / $240 CAD.
---
Did someone say flaid plannel?