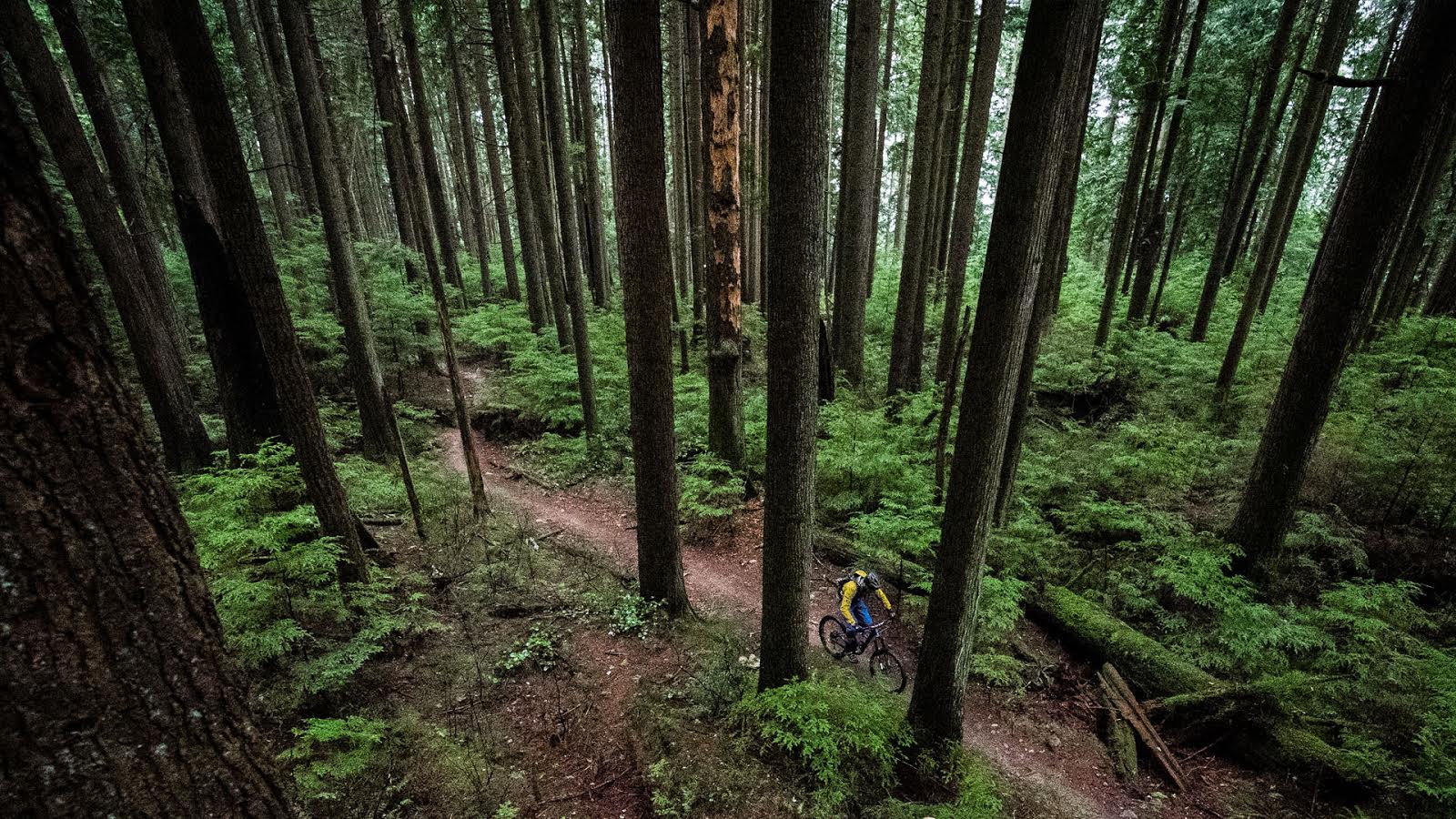 Giant 2015 Reign Advanced and Glory 27.5
In 2013, Giant signaled their commitment to 27.5″ wheels by gracing over 40 models with the new hoop size. Notably absent was a 160mm travel AM/Enduro bike in 27.5, and then there was the proto Glory we've seen Danny Hart running, but nothing was official until now. Giant have released both the Reign (alloy) and Reign Advanced (carbon) as well as an alloy Glory – all with 27.5″ wheels. They invited some media up to Pemberton this past week to get a taste of the new goodies first hand. There hasn't been much time to recover yet, so I'll follow up with ride impressions as well as more stunning photography from Sterling Lorence in a few days, but for now have a look at some details and numbers about the new bikes.
Reign / Reign Advanced
Giant knows they're late to the 27.5/160mm party, but they are clearly excited about the new Reign. The carbon Advanced Reign has a carbon front and Aluxx SL rear swingarm, which is driven by their Maestro floating pivot suspension's four pivots and two linkages. They got aggressive with the Reign, giving it a 65º head angle as well as a custom fork offset of 46mm (4 more than standard) and chain stays that come in at tidy 17.1″. For some reason BB height wasn't provided, but the one I snatched measures about 13.25″.
Internal cable routing is as clean as it gets, with the rear derailleur and brake cable paired at the entry point behind the head tube on the left side, with the Reverb's stealth routing entering the frame on the right. The Reign will accept a coil or air shock with piggy back reservoir and still have room for a bottle. Weight for the complete Reign Advanced (XX1, Pike, Monarch Plus DebonAir, DT Swiss Spline XM 1501 wheels) size L that I brought home from Pemberton is 28.2 lbs without pedals – very respectable given the alloy rear end and bar and a light but not carbon-light wheel set. Claimed weight for a frame without shock is 2260 grams (4.98 lbs).
Glory 27.5
We knew it was coming but the wait is over – Giant is the latest company to roll out their 27.5 DH bike. As is usual for Giant, they are rolling out the new frame in aluminum first, but a complete Giant 27.5 0 with a Boxxer World Cup, Vivid R2C, XO1 and DT 240/EX 471 wheels comes in at 35 lbs. Notable changes from the 26″ version include 5mm shorter chain stays, a front center that grew by 32mm, and a BB that is 14.5mm lower.
Other changes include revised cable routing (no longer under the DT), integrated fork bumpers that double as cable guides, a longer eye-to-eye shock measurement (it's now 9.5″ x 3.0″) and bearings in the linkage where it mounts to the shock, reducing breakaway stiction by 10% (they made the same change with the Reign's linkage as well) but also to address the problem of consecutive square-edged hits making it difficult for the shock to recover.
In his first test session on the new bike, Danny Hart was apparently nonplussed at first, saying that the new bike felt 'strange' but he couldn't quite put his finger on the difference. By his third run in San Romolo, he had knocked 2 seconds off his career fastest time. Sold.
Pricing for the new Reign Advanced, Reign, and Glory 27.5 is tbd (we should have that in a day or two). Ride impressions to follow soon.
---
Giant is coming in hot and has all the bases covered for 27.5 – from race hard tails to Danny Hart's new heat seeker.