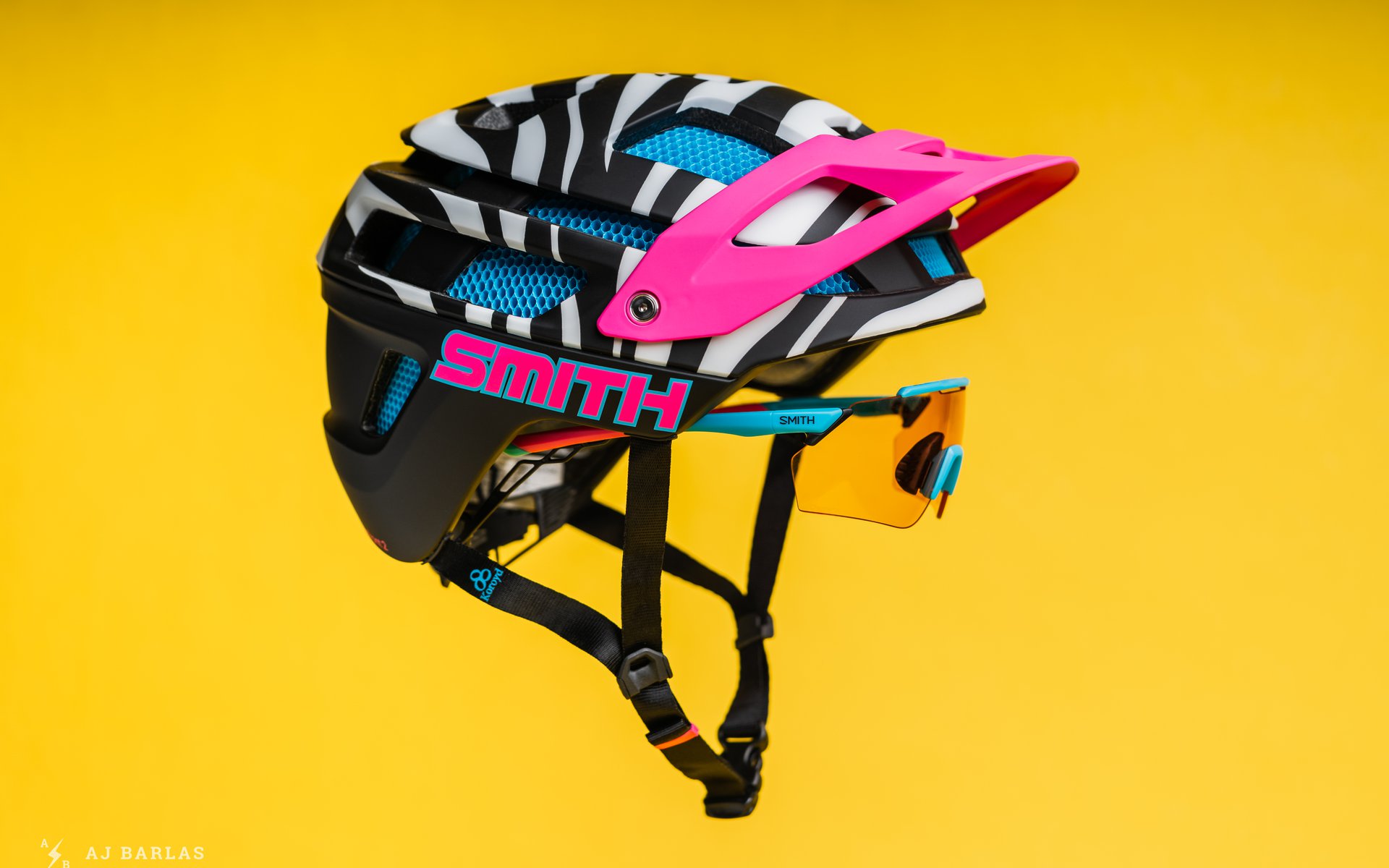 REVIEW
Getting Wild with Smith Eyewear and Helmet Integration.
The Forefront 2 helmet and Ruckus performance glasses are a total power couple. The Forefront 2 offers top notch protection and comfort, and with Smith's Trademark ChromaPop lenses, the Ruckus glasses will enhance your vision while protecting your eyes like no other. The two integrate seamlessly providing a secure way to carry your glasses without them fogging up or falling off your helmet until you're ready to send it down the trail.
Forefront 2
The Forefront 2 has been a part of Smith's arsenal for a number of years now. Boasting Koroyd technology, MIPS and a AirEvac ventilation system, every inch of this helmet is functional in protecting your brain, and keeping you comfortable at the same time.
The Koroyd technology is designed to crumple upon impact and absorb all the force and not just disperse it resulting in less force being transferred to your head. This combined with the MIPS, which protects against the rotational motion transferred to your brain, this helmet has everything to keep your head safe.
I've been rocking this lid for a couple of months in the Get Wild color and I can't lie, I love the attention it gets. I genuinely wish more helmet manufacturers went all out with some bold and crazy patterns each season. Don't love the loud colors? That's ok, the Smith Forefront 2 comes in many color options, a whopping ten to be exact.
Aesthetics aside, this helmet is very light and comfortable. The VaporFit system allows for a 5cm adjustment using a rotary dial and can even be moved at the 3 attachment points for a customized fit. I am on the cusp of a small and a medium based on Smith's size guide, I chose the medium and had no issues getting a nice snug fit.
Despite having very minimal padding inside the helmet, it still has a nice soft feel and it adequately absorbs and holds sweat. With twenty fixed vents, there is plenty of airflow and breathability. I've definitely had some good sweaty rides in this helmet and so far the XT2 antimicrobial lining has kept sweat out of my eyes and hasn't started to smell too offensive.
Ruckus Performance Glasses
The Ruckus glasses are a nice blend of performance and style, providing large coverage with those amazing ChromaPop lenses. They come with two lenses so even though they are categorized as sunglasses, with their darker Ignitor lens, an easy swap to the Contrast Rose lens, and you have some great low light riding glasses. Kind of a two for one really.
I can't say enough about ChromaPop, I've had a few sets of glasses and goggles with it and the clarity and definition never cease to amaze me. Colors are so vibrant and distinct, they make me truly appreciate my surroundings and take a bit more time to soak it all in.
Another cool detail of these glasses is the Megol nose and temple pads; made of a non slip material that gets grippier as it is introduced to moisture. The sweatier you are, the more they stick. I can produce some decent perspiration so this is a very handy feature.
Learn more about the Smith Ruckus and check out all the different frame and lens options.
Integration
The real magic here happens when carrying your glasses. No more shoving them into a pocket or pack only to have them scratched up or trying to wedge the arms into your vents while being poked in the head. Smith has created a channel along the helmet specifically made to carry your eyewear. Those extra sticky temple pads are not only there to stick to your head but also to stick to your helmet. Glasses can be stored both in the front and on the back of your helmet based on preference. This also goes for goggles if you're going for a more enduro look.
Once the glasses are on, they fit perfectly with the helmet and don't rub or touch anywhere. They have an adjustable nose piece to get that ideal fit without the nasal squeeze. Something I've noticed, when toggling between wearing and carrying my glasses, is that they are never foggy thanks to the helmet's airflow ventilation design.
V's Verdict
All in all these have been a really fun couple of pieces to check out. The features in both the Forefront 2 helmet and the Ruckus glasses make them look, feel and perform as truly quality pieces. With the helmet coming in at $280 CAD and the glasses at $200 CAD, they don't have small price tags, but I would never put a price on my brain or my eyeballs.
The Ruckus glasses are comfortable, functional and they just toe the line of making me look too serious about my sport. I have only been using the Contrast Rose lenses here in the forests of Squamish as the light can get pretty low and splotchy. There have been a couple rides at dusk where I had to lose the glasses altogether and was kind of wishing for clear lenses. In those cases, I've put the glasses back on the helmet, ridden rowdy trails down, and never had an issue with the glasses falling off or even budging for that matter. I love having that kind of peace of mind.
The Forefront 2 is a lightweight, comfortable helmet and as I mentioned this color way is just enjoyable to look at while inspiring a good time. So far it has done a good job of keeping me cool on trail with ample ventilation. The only negative comes when taking it off; the tabs that secure the MIPS have a tendency of pulling hair out with them. Sometimes the helmet gets some of my greys so I can't be mad, but it's going to be hard to explain away my developing bald spot. I know of people that have had to put tape over top of the tabs but I feel that this could be addressed by the manufacturer. That aside, I would highly recommend this helmet.