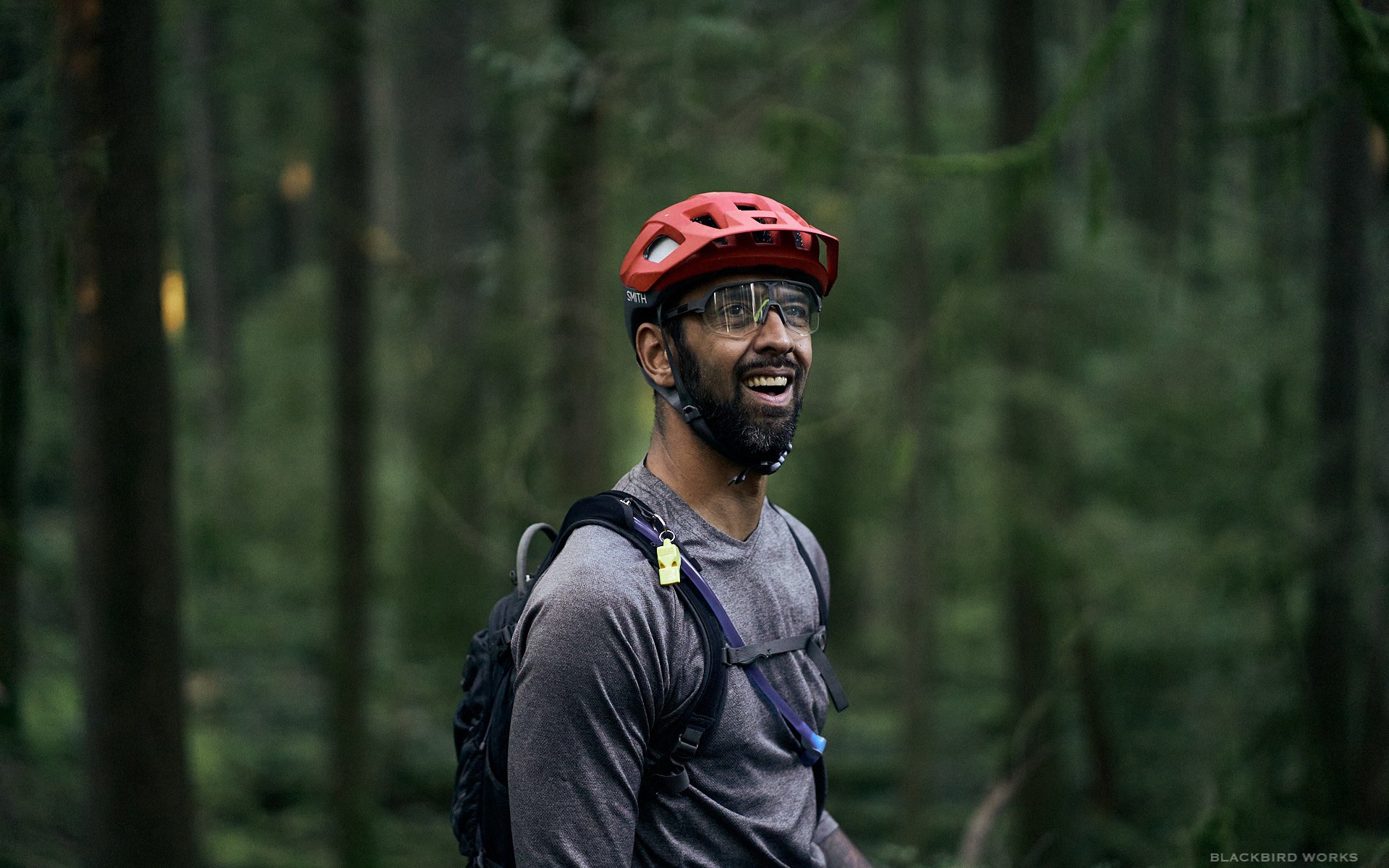 SHORE RIDER PROFILE
Getting to Know You: Alex Sinanan
We're trying to do more here at NSMB to address the lack of racial diversity and representation in mountain biking. In our second such article, Alex Sinanan was kind enough to share his experience and thoughts on diversity in mountain biking as a rider on the North Shore.
---
Hey everyone. I'm Alex Sinanan. Long time reader and commenter but first time contributor to NSMB. I'm a long term deep bike nerd. I grew up in Toronto where I first was exposed to high end bike culture in the early 90s. I attended UVIC so I could ride more and eventually get a job so I could buy more bike stuff. I first met Andrew Major at UVIC. I was a shop grom back in the day in Toronto and worked at FanatykCo in Whistler for a few years towards the end of my university career. I've been based in Vancouver for nearly 20 years now.
Like Andrew Major I like weird esoteric stuff. I've had around 30 high-end bikes in my life. I have an insatiable curiosity for unusual gear and I love running odd equipment experiments. I'm 6'6" so most parts don't really work for me so I have to do my own R&D. It's a hassle but it gives me a really deep understanding of how things work because I usually have to go back to first principles to understand why stuff is made the way it is so that I can find something that will actually work for me.
I worked as a PMP-certified IT project manager for 15 years but 5 years ago I founded Navas Lab Apparel which is what I do full-time now. Navas is a men's apparel company focused on slim athletic fit, tall options, and sustainable production. All of our products are made here in Vancouver and most of them using Canadian materials as well. Navas sets out to solve something that's a problem for me personally (fit!) but also to address some of the things I see wrong in the world that we could be handling better (outsourcing to third world countries/ labour ethics, fast/ disposable fashion, textile waste from processing and production, etc). The company is named after my cat. I mean, why not?
Becoming an entrepreneur and starting my own business has been very challenging but it was the only alternative I could see to grinding it out in an office for someone else. It felt like the cost of living was outrunning my ability to earn more money in a corporate setting so taking decisive action was the only real option. I've only seen 35 of the world's 195 countries so I'm going to need a lot more time off!
Oh, and some of my favourite rides are:
No Quarter to Bookwus to Expresso (Mt Fromme - North Vancouver)
IMBY climb to Manhandler and Three Little Pigs then Eastbound and Down to Hammertime (Eagle Mtn - Coquitlam)
Stonebridge climb to Rockwork Orange and Korova Milkbar then back to High Society (Westside Flank - Whistler)
NSMB - Do you remember the first time you had a negative experience that was racially motivated? Can you tell me about that?
Oh sure. I remember being the only not-white kid at summer camp and after-school activities like Beavers and Scouts and being called all of your favourite racial slurs by white kids. They were just ignorant kids who presumably learned that stuff at home. It wasn't until much later that I really processed how hurtful that was. Those slurs seeded a deep distrust in the cultural claim that we are all the same and equal. The news these days isn't doing much to prove me wrong.
NSMB - Has something like that ever happened in the mountain biking sphere?
Not in a really overt way. I can get some raised eyebrows if I go into a store not wearing riding gear. I've been a bike nerd for longer than most young shop guys have been alive so it often comes as a surprise to them that the brown guy isn't just there for a city bike. On one hand, I'm amused by their surprise that I have an encyclopedic knowledge of mountain bike esoterica and riding culture but on the other hand, I'm deeply disappointed. This is Vancouver. It should be assumed that we're all bike nerds.
Many of us have noticed that mountain biking is dominated by Straight, white, able-bodied males. Why do you think that is? Is it changing?
I happened to grow up in TO in a nice neighbourhood, my parents had good jobs and we lived adjacent to the Don Valley (a huge park system that bisects North Toronto). It was pure luck that a shop in the neighbourhood was one of the first in Canada to sell high-end mountain bikes in the 80s and 90s (Cycle Logic in North Toronto sold Moots, Pace, Proflex, Mountain Goat, Ibis, Magura, etc). I was hooked on this stuff immediately. Back then there was about as much media representation of PoC as there is now and it didn't matter. I loved bikes. I loved riding.
And that was enough. But I came from a very privileged place with parents who could afford to indulge my passion, a local shop with a welcoming community and some good spots to ride. In a more urban environment with different means I probably would have gravitated to some other non-team activity. Who knows? Maybe in another life where I wasn't 6'6" I'd be a skateboarder or riding BMX. There is a much deeper representation of PoC in those activities.
I don't know why the cultural makeup of mountain biking isn't keeping pace with the growth of the sport. The gear and culture has evolved to a place where there are lots of inviting entry points into the sport for all kinds of users (just look at the uptick in kids and women out on the trails!). But that doesn't seem to be as true for PoC. The crust bike/bikepacking scene (like on theradavist.com) seems to reflect a much broader representation of gender identity but I don't know why.

On one hand, I'm amused by their surprise that I have an encyclopedic knowledge of mountain bike esoterica and riding culture but on the other hand, I'm deeply disappointed. This is Vancouver. It should be assumed that we're all bike nerds.
Are the barriers put up by those of us who participate now? Those who hold the most influence?
Good question. I've been at this for so long that I wouldn't be dissuaded by anyone's explicit or implicit efforts. Maybe the lack of role models would be a more powerful detractor to a younger or more impressionable person. There are plenty of incredible female pro riders and thanks to a concerted effort over recent years to showcase them the trickle-down effect is clear to see. Look at a Squamish parking area or the base of the WBP on a summer weekend: women of all ages are riding hard. Women charging hard in mountain bike media is reflected in the culture. But that is barely happening for PoC. How many pro PoC riders can you name? When was the last time you saw a video edit from a PoC?
Are there any bright spots you've noticed? Is anything positive happening at all?
Women! There are so many more women out there riding hard than ever before. Women I know who were previously intimidated by the sport are starting to join in. I think it's a combination of better fitting more versatile bikes, better clothing (in less condescending colour options), more community support and a wider range of trails for new riders to progress on. Trailforks and public signage help a lot too.
Better bikes and equipment have really opened the door for new people to join the sport, combined with the remarkable array of clubs, courses and clinics available. Getting women and kids involved proved to be a great way to grow the sport. It's just a matter of time for everyone else.
Is there a situation as a mountain biker where you feel discrimination based on gender, sexual orientation or race is particularly egregious?
I'm 6'6" so I complain about the challenges of bike fit a lot but I have a great bike now so I'm happy. Size-specific chainstays and steeper seat angles are finally here. It's nice to see a few companies realizing that bikes at these prices should be optimized for each size rather than just M-L and everyone else having to make do.
But to your actual question: to encounter a big brown guy on a huge bike can be an intimidating sight. It would be easy to interpret some of the interactions I've had as racially motivated but if I saw me coming down the trail at speed I'd be caught off guard as well. We are all stewards of the sport so I do my best to be extra friendly and courteous to anyone I encounter on the trail. I do feel like I have to go out of my way to make non-racialized trail users comfortable, as if the burden of proof is on me to prove that I'm harmless and I deserve to be there. Since there are so few PoC out on the trails I need their interactions with me to be positive.
---
We want to thank Alex for agreeing to answer some questions and sharing some of his experiences with us. This is the second of many profiles and stories we plan to publish about BIPOC members of our riding community and, yes, we are also working on doing more to highlight the experiences, achievements, and stories of women and members of the LGBTQ riding community as well. We want all riders (and future riders) to feel welcome and embraced, but we acknowledge the need to do more than we have in the past to help you be seen and heard. We're working hard on that, but we'd love to hear from you if you have a story to tell, or if you know someone whose story you think would be interesting to our readers. Please feel free to reach out to us with suggestions: pete at nsmb.com, or cam at nsmb.com are great places to start, but you can also contact us via DM on our social channels if that's more your style.
If you haven't yet read last week's interview with Sanesh Iyer, we'd love it if you did. And we welcome your comments below, but please keep it civil. We will be actively moderating the discussion and eliminating hateful or intolerant posts. Please keep an open mind and treat this as an opportunity to learn something - it's certainly working out that way for us.