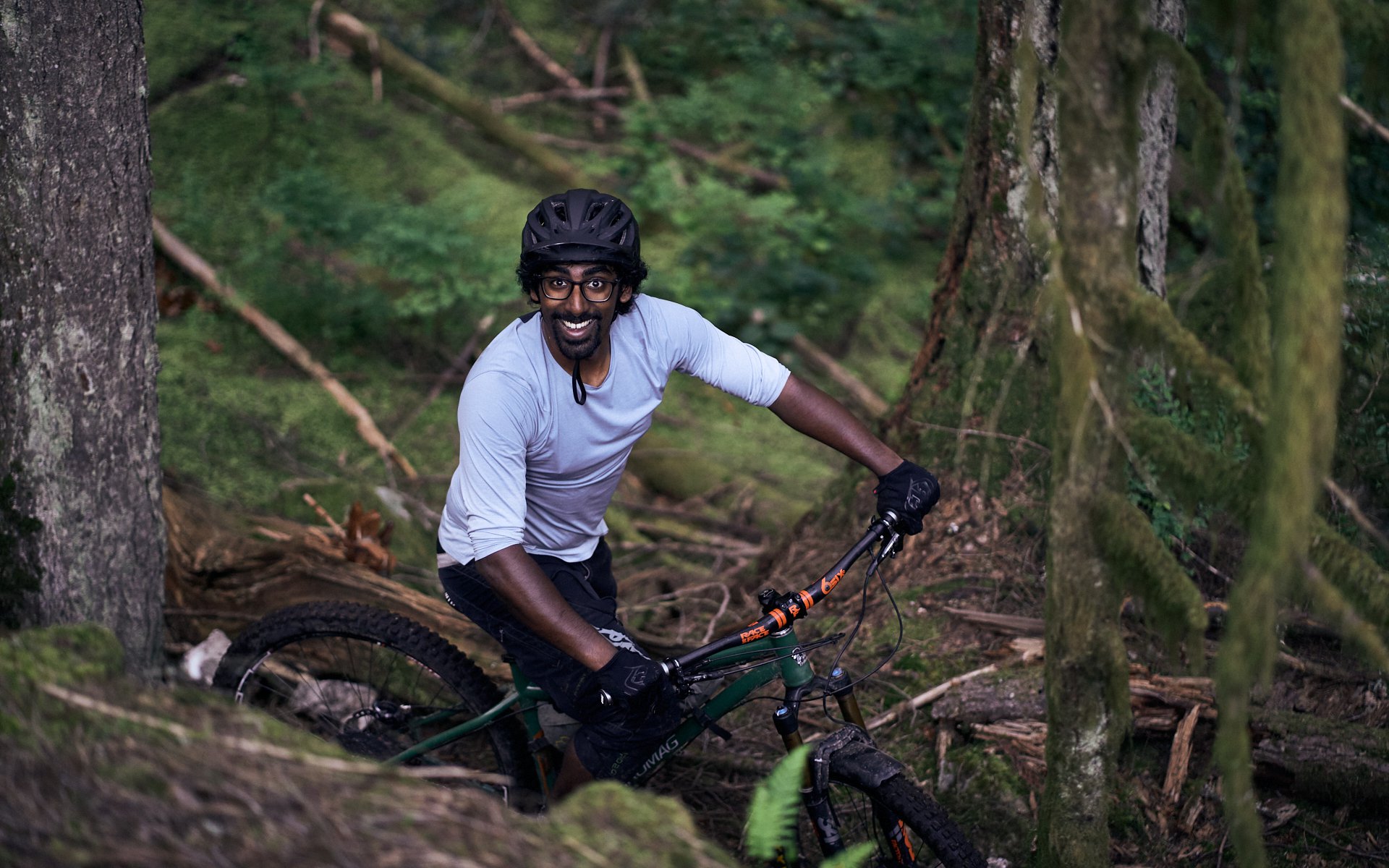 SHORE RIDER PROFILE
Shut up and Listen: Sanesh Iyer
We haven't done enough - much at all, really - at NSMB when it comes to addressing the lack of racial diversity and representation in mountain biking. A little more on that at the end. For now it's time for us to shut up and listen to Sanesh as he shares his experience and thoughts on diversity in mountain biking.
Hi everyone, my name is Sanesh. I like bikes, a lot. That's probably the most important thing. I was born in Cape Town, South Africa and grew up on The Shore in median income households*. I started mountain biking at 6 or 7 through summer camps. My parents are not outdoorsy, but they saw how much I loved it and did their best to get me out into nature as much as possible. I like to joke that they wanted to integrate me into the local culture.
My first job was as a mountain bike camp instructor. Since then I've worked for three shops on The Shore, as an instructor and guide, and held engineering internships at a local mountain bike manufacturer. All told, I worked in the industry for about 10 years. The thing I'm most proud of was wrenching competition bikes for top athletes, some of whom were also my childhood heroes. My interest in mountain bike design pushed me to do my Bachelors of Mechanical Engineering at BCIT. I left the industry to pursue my Masters in Mechanical Engineering at McGill, where I did my thesis on shape memory alloy/carbon fibre/epoxy hybrid composite structures. I currently work at an engineering firm specializing in composites. My goals in life are pretty simple, I'd like to have what I had as a teenager -- food, shelter, good friends, time and money to ride bikes, all while loving what I do every day -- stable for the rest of my life. Mountain biking has helped me build an incredible community and brought me more opportunity than I could have ever dreamed. I definitely feel lucky to have lived an MTB dream. That said, I hope in discussing accessibility to this sport we can think of ways of making that dream available to more people.
*I mention this because we all like to think of ourselves as middle class. People with income ranging from 30,000 to > 100,000 in the US identify as middle class [1]. I think being honest with where you sit on the income scale [2] is a pretty quick way to self-identify privilege, which is an important part of the conversation.
[1] https://www.pewresearch.org/politics/2015/03/04/most-say-government-policies-since-recession-have-done-little-to-help-middle-class-poor/few-with-family-incomes-of-100k-embrace-the-label-upper-class-2/
[2]https://www150.statcan.gc.ca/n1/daily-quotidien/200224/t001a-eng.htm
Do you remember the first time you had a negative experience that was racially motivated? Can you tell us about that?
Unfortunately yes... sad lesson learned. I was on a ferry on the way to Cub Scout camp, 8 or 9 years old. A kid cut in front of me in the arcade line. When I stood up for myself he started yelling slurs at me so I punched him. Of course, I was sent home (fair enough, I punched a kid). I remember being pissed off that that kid got to go to camp though. When my dad picked me up, he told me that "bullies always win, but you don't always have to lose." I'm really grateful that this is the most violence I've ever experienced as a result of discrimination (and it was at my hand). In general, direct comments are rare for me. It's more common that people are discriminatory around me but towards another group. Somehow people are surprised when I'm offended even though they are "not mocking me." That's pretty common. If you discriminate against anyone for any reason, you may as well be discriminating against me personally. It just shows an ignorance that's common in all forms of discrimination, which I have no tolerance for.
Has something like that ever happened to you in the mountain biking sphere?
Thankfully no. I don't think I've ever had an issue with direct racism towards me riding, or doing any outdoors sport in general. I've been fortunate to ride, hike, and do various other sports in a few different places in the world and rarely had an issue with direct racism. Even in places littered with *he who shall not be named* election boards just to our south.
That said, in Vancouver, there are some pretty strong stereotypes about how people of different races approach the outdoors which I find immensely frustrating. I don't think anyone's ever linked race with unpreparedness in the wilderness when it's a white person without proper gear on the mountain. Yet, when it's a person of colour or someone with an associated suburban stereotype, the comment is often similar to "people from *there* are always unprepared." Those sorts of comments show biases which individuals aren't addressing, biases which lead to passive or indirect discrimination. We're really lucky on the North Shore to have access to the outdoors and incredible local mentors to teach us outdoors skills as simple as "cotton kills" to advanced skills like mountain biking. When I was a teenager, I probably averaged 4 days a week of riding in a year with 7 days a week in summer. I didn't learn anything overnight. That's a huge privilege and there's no need to mock people who don't have it. We should be lifting them up.
Many of us have noticed that mountain biking is dominated by straight, white, able-bodied males. Why do you think that is? Is it changing?
I'm an engineer, so I feel unprepared to answer this because I haven't seen the numbers. I'm also limited in perspective to the Shore since that's where 99% of my riding happens. I've seen a lot more women on the trails in the last few years. Something I've noticed since lockdown is more PoCs on bikes too which has been great to see. Actually, this past June was the first time I saw a group of teenage girls doing a group ride on their own. Finally. The Shore's been full of teenage boys on bikes since... before I was riding, that's for sure. So yes, it's changing in my opinion. But a lot more people could be pushing that change, myself included.
As for why it has been dominated by straight, white, able-bodied males, there's a lot of layers there. I've got some ideas, they're not comprehensive but I do think all of them are part of the truth. For one, mountain biking is not on everyone's radar, immigrant or local. Yes, believe it or not, there are people who live on the North Shore who do not know mountain biking is a thing. White people, too. Most non-cyclists image of mountain biking is Redbull Rampage and Joyride, which are full of white able-bodied males. Representation matters. Furthermore, most publicized riding is death-defying. To convince people to try the sport I often have to remind them that most mountain bikers are riding smooth trails slower than a runner. But they imagine Rampage is all we do. Realism matters.
Then there's how we treat our youth. There's a lot of gender stereotyping that happens with kids. I'm not an expert on this, but would be happy to point you to some very interesting research on the topic. I did, however, see this first hand as an instructor. Mountain biking is definitely a sport that parents will push boys into and hold girls back from. Those biases are deeply rooted into how we were raised, and I think we have to actively work on them to prevent passing them to future generations.
Another reason, which is inescapable, is economics. BIPOC males make 90 cents on a dollar and women still make 70 cents. That's for the same job, so you need to adjust for the opportunity gap as well (who is more likely to be in a higher position and make more money). Mountain biking is expensive, so it's obviously a luxury that's more out of reach for those on systemically lower incomes. Media focus on high end bikes is alienating in this regard, reviews don't often include budget products or comments on durability or serviceability which matter when you need your investment to last. So, putting it all together... you see a certain demographic (representation) participate in a death-defying (realism) sport which you were not raised into. It looks cool, but the internet is telling you it's going to cost you 10,000 dollars to get into it. Why bother? There are other cool looking, cheaper, more diverse outdoors sports.
Are the barriers put up by those of us who participate now? Those who hold the most influence?
I think a lot of us who participate didn't put up the barriers, but don't actively work on bringing them down which is just as bad. The people who I regularly ride with are all white males, why is that? I'm not sure, but it's definitely my fault. Everyone holds power in my opinion. From as small as the consumers and independent shops to as big as the MTB OEMs. I'm acutely aware of how slim the margins in mountain biking are, but it's always easy to pass the buck. "I'm just a person", "it's hard to find good staff", etc. At some point we all just need to take ownership. Consumers need to spend their money at businesses they support. At businesses that make a difference in the community. This is going to help them invest in their staff. In my opinion, an easy way to spot a diversity problem in a business is when the staff is not representative of the community. Supporting the local cycling economy and ensuring it is inclusive of everyone has a lot of power. Consumers, speak with your wallets. It works.
I alluded to this before, but I do think the tendency to promote only shredders and expensive bikes is alienating. That's not how most people ride. Heck, it's not even how most people *want* to ride. I know the argument that those shredders are the best product testers and so on. I've built bikes for plenty of pros, and some will geek out on suspension settings while others really don't care. Point being that some pros pay dividends in bike design for sure, but far from all. I think that programs which support community groups and trail builders are an equally important avenue of growing the sport which I'm glad brands have tapped into. I'd love to see more of this. More brand ambassadors from different backgrounds, communities, etc. There's more work to be done in providing media content to new riders of mixed socioeconomic status too, not just people debating what second carbon wheelset to get.
Are there any bright spots you've noticed? Is anything positive happening at all?
First and foremost, are Kelli & Darren at Endless Biking. They have, by far, done the best job that I have seen of having a staff representative of their community. Often including a multitude of genders, races, and nationalities. They've done that since day one. When I took their kids' camps in 2005 or 2006, Micayla Gatto was my instructor -- her voice is still in my head when I ride skinnies. I don't think there's any magic sauce at EB. They just hire hard working, friendly people who are stoked on bikes. It's always felt organic, and is stand-out proof that MTB can be diverse if people put the effort in to make it happen.
In the other businesses I worked at, I never felt like race was a factor or holding me back. But definitely you have to have some sort of leg up to get jobs as it's so competitive, which of course biases to certain groups. I was privileged to live on the Shore and have parents who made me pay for my own bikes, so I always had a leg up. One challenge with addressing the hiring bias towards certain groups is evaluating direct and indirect qualifications. For example, I often had students apply to jobs who had extensive volunteer experience within the research field, while others had worked unrelated part-time jobs. Obviously those who volunteer have privilege as they can afford to not work, but they are also more directly qualified. Students with part-time jobs usually have the work ethic, but maybe lacked some of the technical skills. There are pros and cons of both choices, but in my experience people bias towards direct experience. That's a longer discussion that we can't answer here, but my point is that a discussion about the interplay between privilege and qualification is an important one to have to address diversity in everything, not just mountain biking. That's a huge digression from the question at hand. To summarize that paragraph, some local businesses have done a great job of supporting diversity in MTB, and there are steps that can be taken to build on that.
I think the NSMBA has done a great job of improving the spread of trail difficulty, from Bobsled to Boundary to Boogie Nights. That has worked wonders for getting more people into the sport while retaining the ability to improve and cater to advanced riders.
If you're not aware already, colourthetrails has done some awesome work in outdoors sports advocacy and they've been gaining a lot of momentum recently. Supporting the growth of organizations like that is on all of us. I definitely feel guilty about how much this community has given me and how little I've given back over the years. I'm happy to finally be out of school and have the time to do so. I regret passing the buck for so long, but I'm not going to continue to make that mistake.
The last bright light I would like to mention, which is very personal for me, is Shop Grom culture. Bike shops have long provided an incredible opportunity for youth. Shop Grom culture is strong and very unique in cycling -- it's rare for businesses to hire teens and give them real responsibility. Working in cycling with some incredible mentors gave me many opportunities I wouldn't have otherwise had, to the degree that there's a direct link between my first LBS job sweeping floors and my current job as an engineer. A Shop Grom job shapes lives. I do think there's a way to go in diversifying who gets that opportunity though. Consumers have an excellent opportunity to, again, support shops who invest in their community. Support shops who have Groms.
Is there a situation as a mountain biker where you feel discrimination based on gender, sexual orientation or race is particularly egregious?
Nope. It's all unacceptable. The easiest to answer question so far. And it's important to note, that's not just direct discrimination, but passive discrimination as well. That is to say, if you are not actively pursuing inclusivity, there is an issue.
Thanks for taking the time to share your experiences and ideas with us. Any parting thoughts you'd like to leave us with?
It was a pleasure, thank you for taking the time too. Mountain biking has an awesome community, and all of us who ride are privileged for a multitude of reasons. I think it's really important to honestly reflect on our individual privileges. Additionally, we should more openly communicate with friends, coworkers, strangers to engage in those reflections and discussions. There are actions we can take such as supporting businesses which make a difference in the community, not tolerating direct or indirect discrimination, and actively working on our own biases. These actions aren't specific to improving diversity in mountain biking, but if we address general diversity issues, our community will organically grow too. And that's the important thing, we all need to take active steps to improve diversity wherever we can.
---
During last year's period of heightened racial tension, we discussed how to address the lack of general representation in MTB and here at NSMB, but it felt trite to put out a statement that we couldn't back up with action at the time. In retrospect, that was likely the wrong course of action. Either way, we're not proud of our track record; good intentions are meaningless if we don't do anything about them. As a group of primarily straight, middle-aged white guys, we do realize that the best thing we can do is shut up, and provide a platform for BIPOC members of our community to share their experiences and help us understand what we can do to support them and make mountain biking and the outdoors in general a more welcoming place. Our lack of initiative in the past was due to a fear of getting it wrong, or being accused of virtue signaling, when in reality enduring a bit of abuse should be the least of our worries when many others are dealing with so much more than that. Inaction due to the fear of a misstep is far worse than doing something with the right intentions, even if we double flat and go over the bars in the process. At least it allows us to learn and, importantly, have a conversation about it.
Sanesh has been gracious with his input and a welcome sounding board as we have discussed the need to shine a light on the members of our community that have been under-represented for far too long. This is the first of several profiles we plan to run about BIPOC members of our riding community, and the plans won't stop there (we've also got to do better by the women and LGBTQ riders out there), but rather than tell you what we plan to do, for now we'll show you through our actions. Thank you for stepping forward and volunteering to share with us, Sanesh.