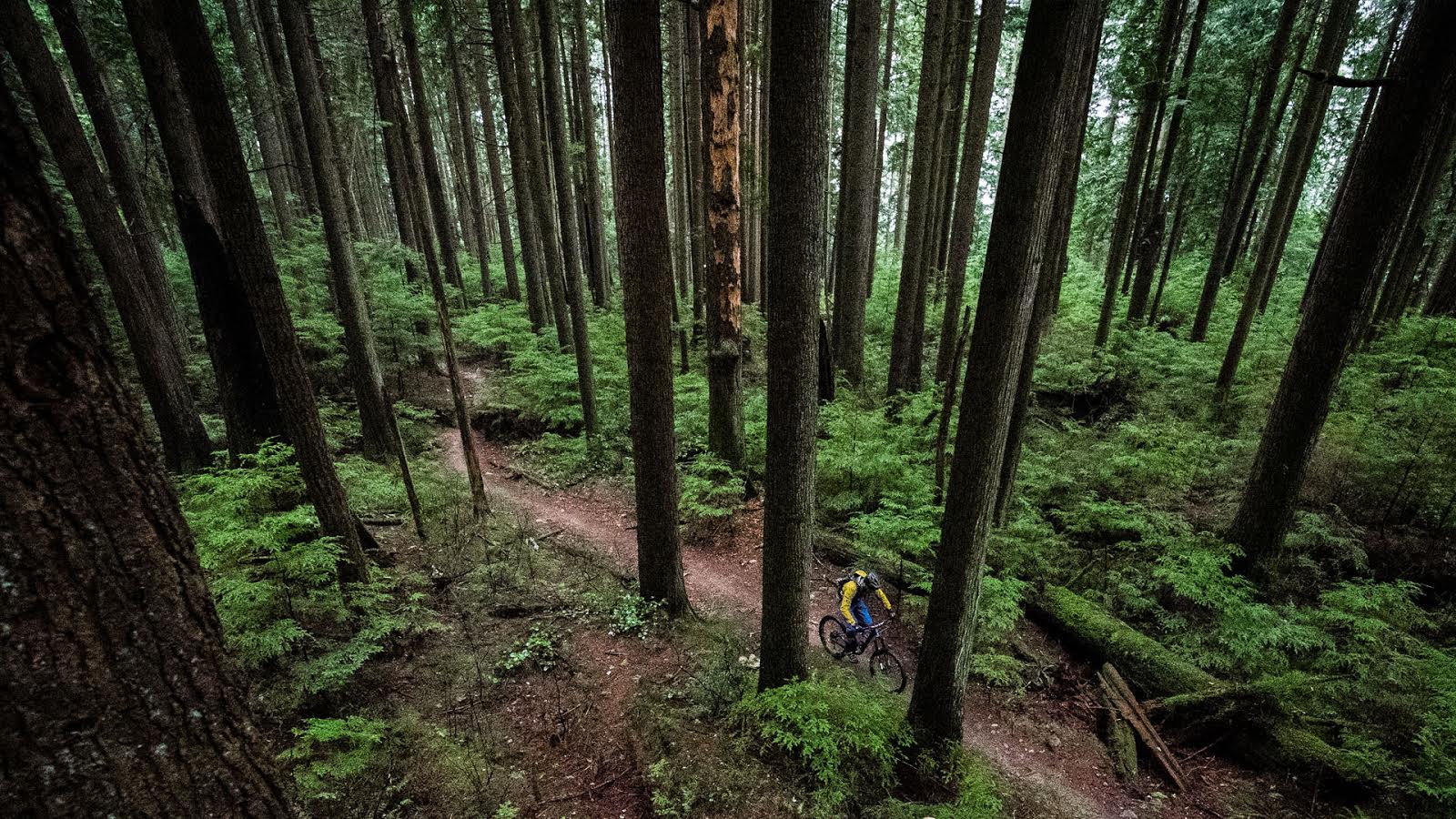 Getting Fat
Fat bikes have quickly gone from the eccentric to the mainstream. Initially they were touted as the ideal vehicle for traversing snowbound landscapes and for sandy adventures, but with growing interest and more companies producing them has come a diversification of their usage – into places where they are not necessarily not the best tool for the job.
I recently had the chance to experience the fat bike lifestyle, and I did my best to immerse myself in it: I found myself in a remote, snow-covered small town; I didn't shave for two weeks; and I made sure there was no other possible outdoor activity that could tempt me away from the fat tire. After spending a solid week in Fatcountry, I feel like I've done the due diligence on these machines, and I'm ready to expound.
I will present my findings in two sections. This first piece will focus more on my experience with the fat bike and what I learned about them through riding one in appropriate terrain; the follow-up, which promises to be a bit more controversial, will allow me to translate my musings and opinions on the practical applications of fat bikes and the culture that surrounds them. We begin with a snow-covered rural location and a bright yellow Surly Pugsley.
The Bike
Surly's brand image rests on the fact that they only build steel bikes with utilitarian purpose and a no-frills build package. Their Long Haul Trucker is one of the most trusted and sought-after touring bikes, a reputation no doubt bolstered by the fact that you can ride one off the showroom floor and straight across the continent. This is just one example of how Surly is often the first to go production in what had previously been a custom niche of utilitarian bikes.
Their knobby tire bikes have admittedly had limited appeal to mountain bike enthusiasts. You won't find one with 11-speed and rigid forks are the norm. As a result, you can't buy one for more than $3000. Of course, these simple machines do have their place, as a gateway drug, the singlespeeder's choice, and the appropriate home for soon-to-be obsolete mountain bike parts. Following this, Surly was the first to market fat bikes and they had that market covered.
The bike in question is one from NRG Enterprises' demo fleet. Being the Surly distributor for all of Canada, NRG was an early adopter of the fat bike and their Nelson, BC location provides an appropriate backdrop for my research. Surly was the first to build a production fat bike, that being the Pugsley, which sports 65mm rims and 4.0" tires.
This particular bike is a few years old, one of the original demo bikes, and the one which graces the cover of NRG's catalog. It is a bike with a lot of miles under its belt and testament to Surly's no-nonsense build spec. It is also a big departure from the complex machines I usually scrutinize. It takes a shift in perspective to appreciate the simplicity of the Pugsley, and it turns out that's exactly what these bikes require.
Given that we're examining a bike with a rigid fork, thumb shifters, and cable-actuated brakes, it's safe to assume we're stepping back from the forefront of technology. It's a return to the beginnings of mountain bikes where it was fun just to get loose on a fire road.
With a week in a secluded cabin and some fresh snow to make my world all the more beautiful, I set out on my first ride with the Pugsley. Our front wheel drive car was already stuck down the steep and snowy gravel access road – later to be extricated with the help of a pickup truck – so I was in the right place for a proper fat bike experience.
Churning the Pedals
With 8 psi in the tires I immediately felt the sidewalls squirming under power, something like what a top fuel dragster's tires look like when the light goes green. Climbing traction on the slick surface was definitely good, but tire squirm is not something I usually consider a good thing.
Following car tire tracks was easy, but diving into the 10cm of fresh snow in the center track gave me my first taste of the fat bike's limitations. Granted I was riding on the smallest 26" fat bike tires and rims, but keeping moving uphill was a chore in the powder, even with clipless pedals.
Just up the road, a former rail grade turned recreational trail traverses the property. A walking, running, and biking path in the warmer months, the trail is frequented by snowshoers and cross country skiers in the winter. On one side of the doubletrack the skiers set up a nordic track, while the walkers and snowshoers stick to the other. Knowing it would be a dick move to ride in a ski track, I set off down the rail grade on the quasi-packed snowshoe path.
To say I set off implies I had some speed; this is far from the truth. With the fresh snow on top of irregularly packed older snow, I had to stay on the gas to keep the Pugsley moving, letting the bike move underneath me as the wheels were pushed around by the crust underneath. The 3% rail grade had been turned into a challenging technical riding experience with fat tires churning powder. This is fun in its own right, but not an experience I would want to have all the time.
After a few hundred metres, a few wild and loose moments, and some trouble getting going after stops, the snowshoe path petered out and I was stopped in my tracks. Attempting to maintain any sort of forward movement was thwarted by my tires breaking through the crust beneath the fresh powder. It's possible that higher volume tires would make riding in these conditions more doable, but relating my experience with the guys at NRG reassured me that even a Moonlander gets stuck sometimes.
Turning around and heading uphill, I followed my own tracks and kept the pedals turning to return to the road. Again, a fun time on a bike in the winter – but if this was the usual experience of biking on snow I would definitely not be buying a fat bike. These bikes really do better on packed snow, or fresh on packed, or groomed trails of some sort.
Off-Piste
Back at the access road, I pedaled uphill to the top and turned back to descend to the cabin. Feeling some actual speed was nice, and blasting through fluffy powder in the center track was sweet. Sudden steering inputs were immediately rewarded with understeer, which inevitably leads to crashing.
On the steeper downhill grade, riding off piste was made possible. This reminded me of side hits on the side of a groomer at the ski hill. Just like pedaling on the rail grade, this wasn't easy, but I certainly had more "woohoo" moments as well as some sphincter-puckering ones. Back at the cabin after covering a dismal amount of total distance for the amount of time I'd been out, it was nice to have been riding a bike in what is usually a bike-free winter zone.
As the fresh snow became heavier over the following days, the riding conditions worsened. The irregularly packed rail grade became unrideable, as did anything that was fresh snow on flat ground. The road remained a viable way for me to spin the pedals and skid back down, but mountain bikes went beyond their fire road roots and into singletrack riding for good reason.
I had some fun moments, and it was a great way to get the dogs out for a romp – but without a properly groomed trail the fat bike is truly limited. Being that this small town doesn't have an existing culture of snow biking, the onus would be on me to maintain my own trails. Snowshoes are an option but they are slow; a snowmobile costs more than a fat bike.
To get out for a truly ambitious ride on a fat bike is a challenge. Not only do the snow conditions have to be quite specific, but your routes are necessarily limited by what you can pedal to. Unless you're content with riding just on roads, you'd want to be actively involved in maintaining routes to ride your fat bike on.
Now that I've done my field research, I finally feel justified in letting loose a rant that's been cooped up since well before I made that video at Interbike last year.
---
Who's ready for a rant?