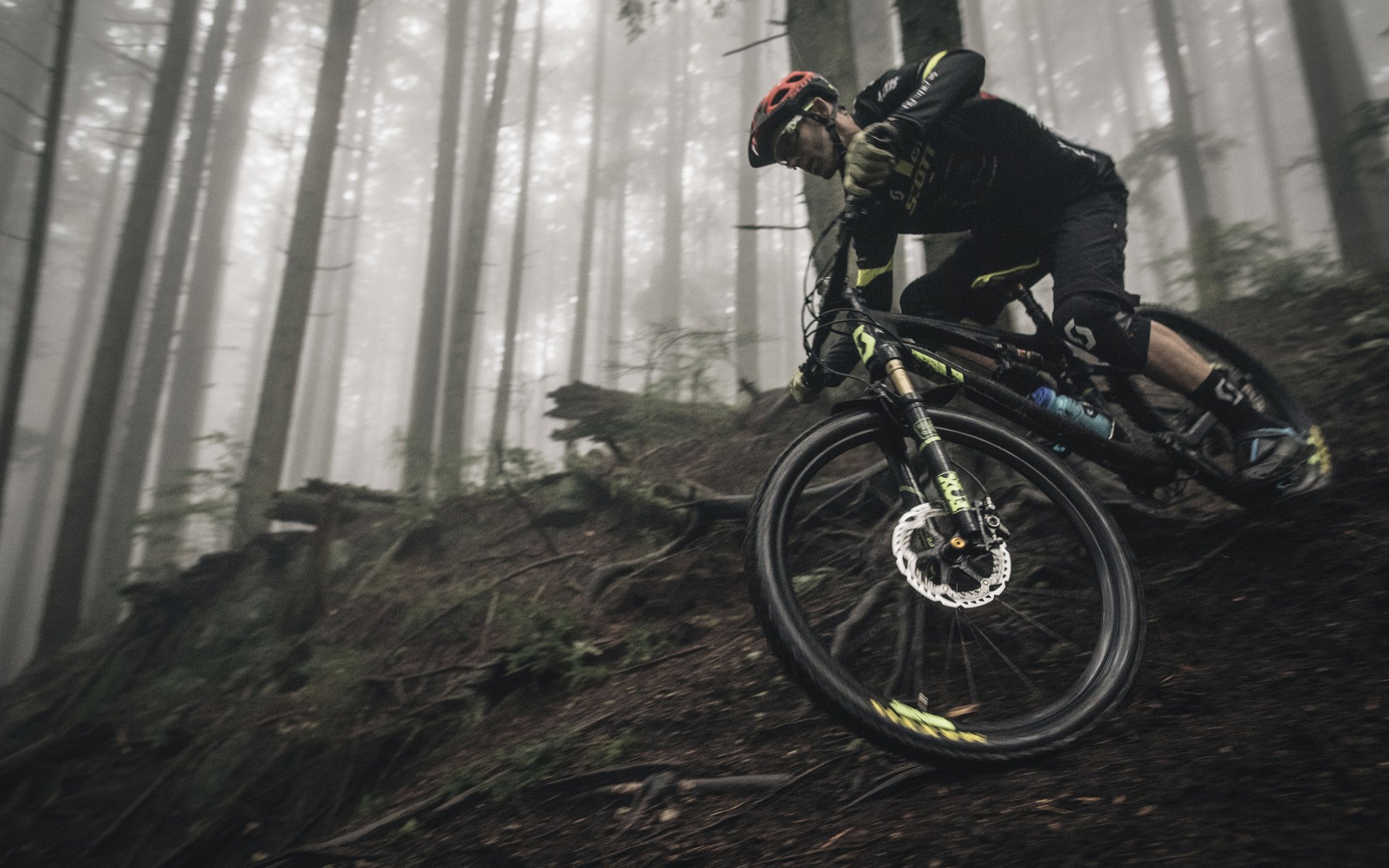 There's No Place Like Home
Geoff Kabush Goes Loam Hunting on the North Shore
For over 20 years, Geoff Kabush has been an icon in mountain biking, and while he may be most well known for pinning around a closed course on an XC whippet, he's no slouch when it comes to the gravity side of the equation either. Scott Bikes' latest episode of Chasing trail focuses on this BC native's past, as well as the future. 
---
Geoff Kabush is best known for traveling the world and tearing up the global cross-country racing circuit, where he rips around on a quiver of anorexic hardtails and short-travel XC bikes. But those who know him will tell you that that his heart and soul are rooted in the Pacific Northwest of the USA and Canada. 
Don't believe us? Let's put Geoff "on trail," so to speak.

We will argue here that Kabush is equally as adept on a trail bike, alone in a dark, dank, loamy forest, as he is on a man-made, manicured, and manic World Cup course.
We gathered the supporting evidence and present it here for your review. Make your own judgment, but make no mistake – Kabush knows his way around a trail bike.
EXHIBIT A: GEOFF'S 1-MINUTE MARGIN OF VICTORY IN THE 2016 TRANS-CASCADIA
To begin this hearing, the prosecution submits into evidence Exhibit A: Geoff's 1-minute margin of victory in the 2016 Trans-Cascadia, a burly 18-stage backcountry enduro. With typical modesty after the race, he said, "I just wanted to come down and have some fun! These guys put on an awesome event in a really fun place to ride. I rode the trails as fast as I could and I think it went pretty well."

EXHIBIT B: THE LOCATION AND STYLE OF THIS CHASING TRAIL PROJECT
About the zone, Geoff says, "We rode and filmed some of my favourite spots on the North Shore, just outside of Vancouver. The North Shore, like much of BC, has beautiful, green, mossy, rocky, rooty trails but it also has an incredible amount of history which makes it special. Starting years ago, there was a whole new riding style developed on the steep terrain of the North Shore and there are still so many legendary trails, people, and features hidden in the forest."

Geoff still travels the globe to various rides, races, and training camps. But having lived in North Vancouver for the last three years, he's come to appreciate the abundance and quality of local trails.
"Digger, one of the original builders, along with NSMBA (North Shore Mountain Bike Association) lead an incredible trail crew who do a great job keeping the trails running all year round despite the massive amount of precipitation we see," said Geoff.
And now, he's poised to move even farther into the forest. His housemates in North Van recently bought a place in Squamish, and Geoff is making the move along with them. "It was an area I had considered as a base years ago and I'm really excited about the move to a new location," says Geoff.
"We are really lucky in British Columbia as every community really embraces mountain biking and there is so much to explore," he continues. "Squamish trails are pretty legendary and I'm looking forward to getting to know them better."
EXHIBIT C: GEOFF HAS BEEN IN THE SPORT OF MOUNTAIN BIKING FOR OVER 20 YEARS
Which leads us to Exhibit C: Geoff has been in the sport of mountain biking for over 20 years and he's ridden all types of bikes. He's seen bicycles and riding styles evolve, and he's actually raced most of the ever-changing disciplines.
"When I started riding, the bikes were all the same and it was just called 'mountain biking'," says Geoff. "I rode everything early on and I even raced downhill at my first World Championships. I was extremely lucky to grow up in a place like BC and it was really the trail riding along with adventure that drew me to the sport," he says.
EXHIBIT D: GEOFF IS A TRAIL RIDER AT HEART
For further evidence that Geoff is a trail rider at heart, consider Exhibit D. By his own admission, Geoff's background of trail riding actually provided the foundation of his success on the XC circuit.
"My background of growing up riding singletrack in BC really served me well during my XC career," says Geoff. "I always had the technical skills in the bag and could really relax and focus on the other aspects of the challenge. It was really an advantage when the conditions deteriorated and I was right at home in the mud like when I won the World Cup in Bromont. The fitness I gained from XC racing is also a huge benefit when it comes to riding at home and enjoying the trails. I can cover so much more ground, spend more time on the bike, and explore more areas."
EXHIBIT E: GEOFF IS TUNING HIS PLANS TO INCLUDE MORE TRAIL RACES
And now here with Exhibit E, we learn that Geoff is tuning his future plans to include more trail rides and races.
"I'm excited to return to a few events focused more on trails and endurance where my strengths lie. On the XC scene, I was always known for my pacing. And as the XC races got shorter and shorter they basically took away the best 45min of my race. I also just love riding trails so I'm excited to return to a few events that really highlight that experience," he says.
"I'm definitely looking forward to events like Trans-Cascadia, BC Bike Race, Breck Epic, Whiskey 50/Grand Junction/Carson City Offroad, and Moab Rocks, among others," continues Geoff. "I also can't wait to have more time to just explore more trails and be a tourist in my own province of BC."
Our closing argument is as follows. Geoff Kabush, at an early age, chose to make a life of riding mountain bikes. Cross-country racing was the vehicle for his lifestyle, but the lifestyle of riding trail always was, still is, and will remain the ultimate goal.
"I tried almost every sport growing up but mountain biking was the one that really hooked me," he concludes. "The lifestyle you can enjoy in the sport is amazing and I will still be riding bikes long after I stop racing. I always say, 'keep riding until the fun stops,' and I don't see it stopping anytime soon."
The prosecution rests… and is now leaving the room to go for a trail ride.
---
If Kabush is serious about a run at the biggest stage races in North America, the field just got a whole lot hotter.