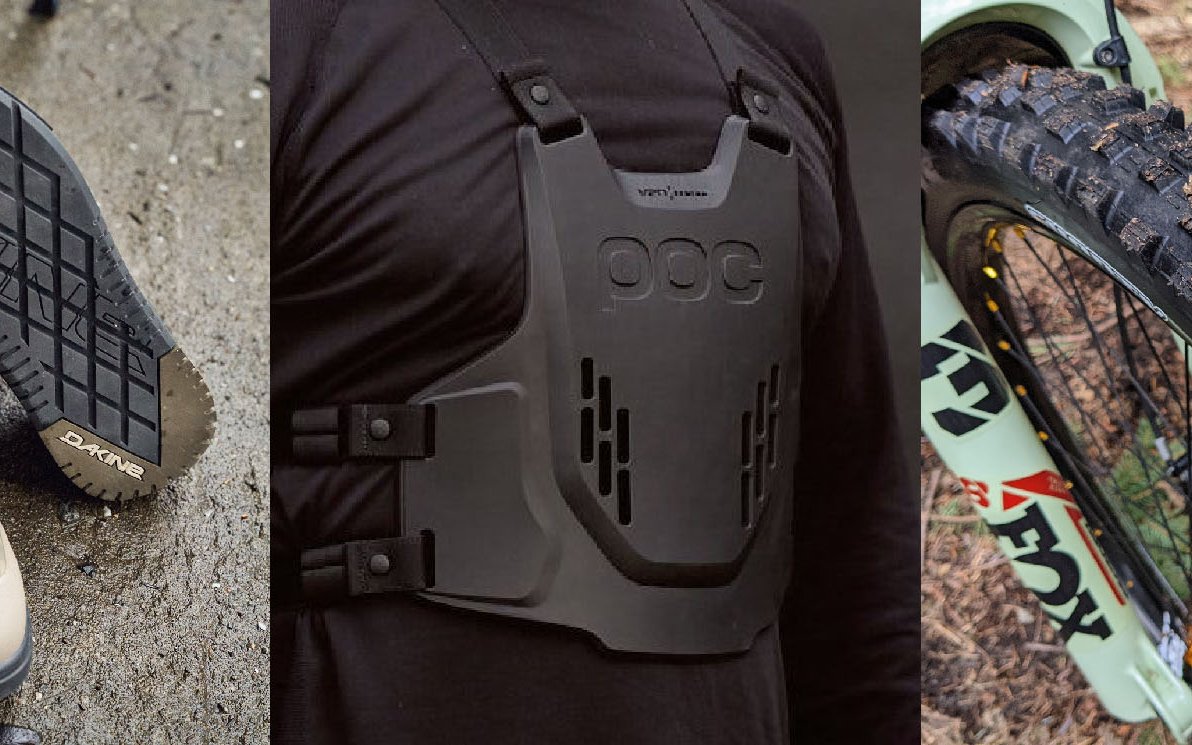 GEAR SHOTS May 5th
Gear Shots: Tires, Flat Shoes, and Armour
POC VPD System Torso - Trevor Hansen
I tried the POC VPD System Torso before I got my hands on Leatt upper body protective gear, which I wrote about during my quest for good rib protection after a crash broke several ribs - not for the first time. POC's piece offers solid chest and back protection but it was lacking in the flank protection I was after for my ribs. I even jerry-rigged some flank protection using my elbow pads (photo below). After one ride I just couldn't do it. For those after most of the upper half of the front of the body and a full spinal protector, the VPD System Torso protective vest seems like it will work just fine. It is very comfortable to wear, easily adjusts and is light enough to make riding with it less cumbersome than some heavier chest and back protectors.
Made with POC's favourite compound, VPD or Visco-Elastic Polymer Dough , this 3D molded chest protector is certified to EN 1621-3, Level 1 standards, is well ventilated and molds to the back as the VPD softens with body heat. I have used POC's VPD elbows and found the fit, breathability and comfort excellent. I currently use their older VPD 2 hard shell knees as my go to on the harder more dangerous trail days. I do enjoy POC's designs, comfort and the protection VPD offers in those pieces, but the Torso armour just won't work for my rib-a-phobia.
-Trevor Hansen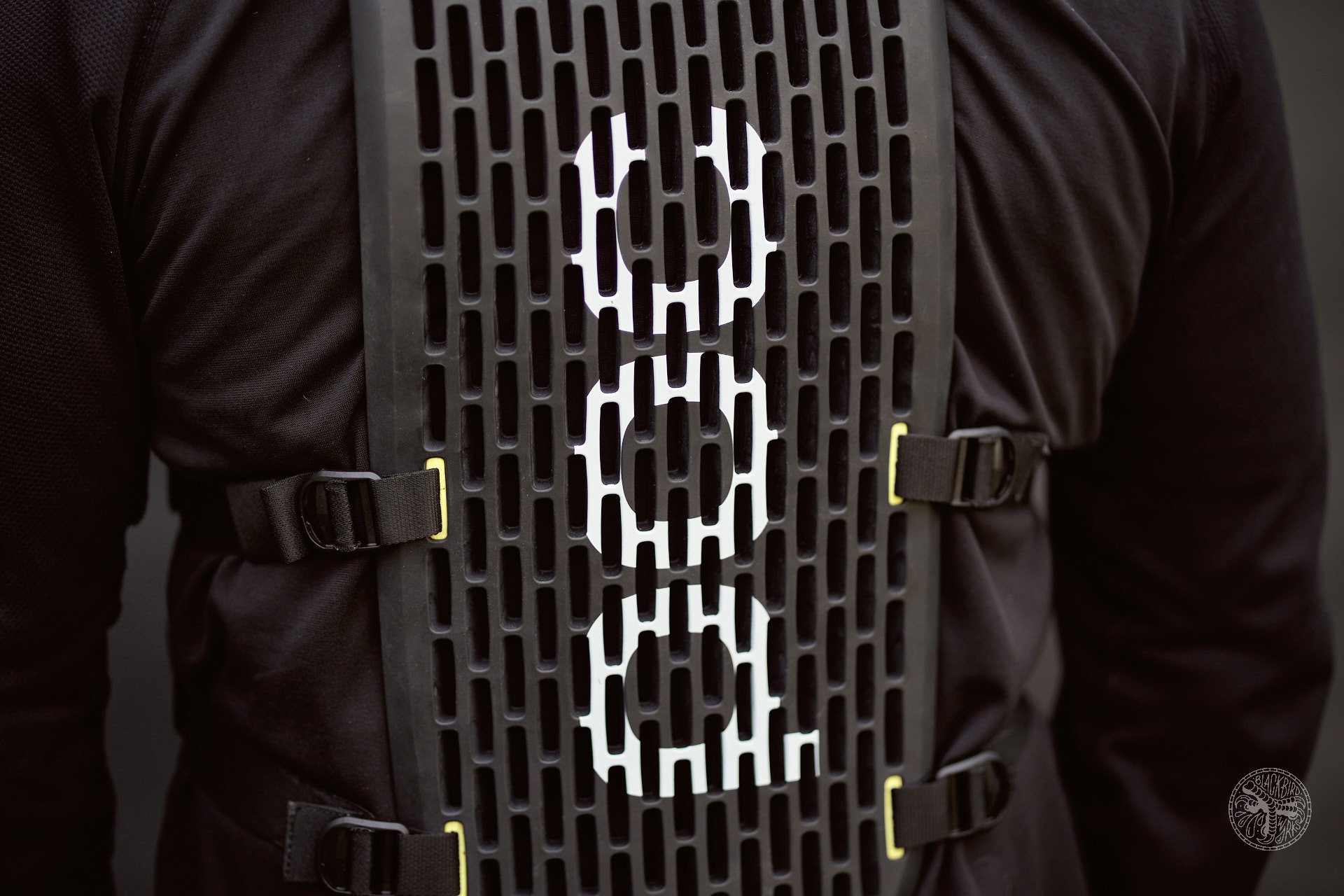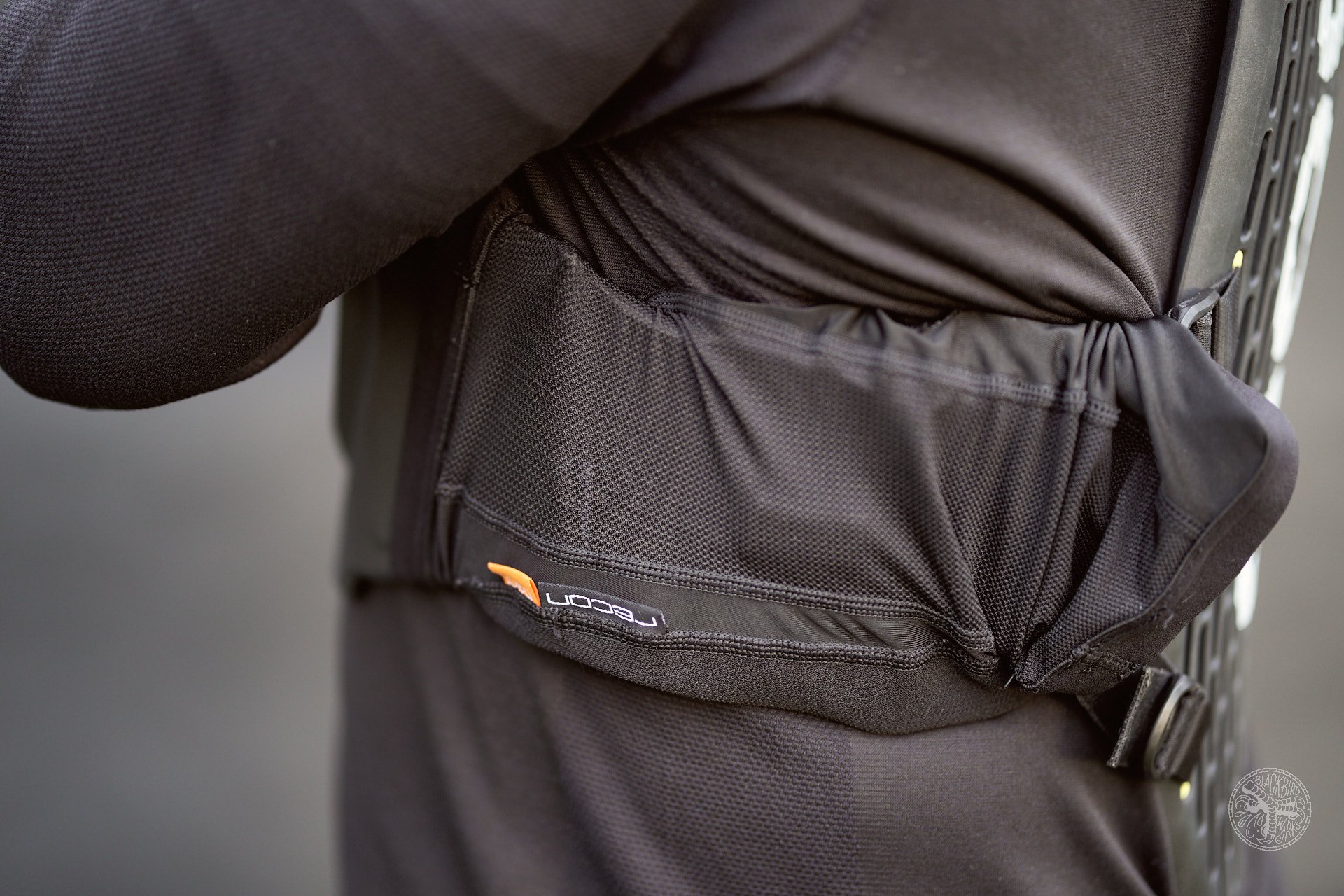 ---
New Maxxis Shorty - Tim Coleman
Maxxis has quietly released a new version of the Shorty, a tire that is essentially a pre-cut mud spike to be used in softer conditions, but not in a full-blown muck fest (that's what the Wet Scream is for). This style of tire was born out of World Cup DH teams cutting Wet Screams down to generate traction in soft conditions (sometimes even when the track is dry / dusty) but keeping some rolling speed and knob support.
Although the intended use of the Shorty II is the same as the original, the knob profile has changed quite a bit. The knobs are a bit more spaced out, the center knobs feel a touch taller, and the large center block has been split in two. The side knobs feel slightly shorter and more supportive than the OG Shorty. The Shorty II comes in 27.5 and 29er wheel size, but only in 2.4" width. Double Down and Downhill casings are on offer with the MaxxGrip compound, as well as an EXO casing with MaxxTerra compound. As expected, the casings on the Shorty II feel similar to other tires in the Maxxis range.
We've had a particularly wet March, which has made for great testing conditions. I like to ride a mix of trails, and I've found the Shorty II offered just as much grip in the softer conditions as the original version. That said I find the Shorty II is still more nervous than something like an Assegai across rooty sections, and on slick rock faces. This makes sense as the Shorty II has less knob contact area than tires intended for firmer / dryer conditions.
As the trails have dried, I've been pushing the Shorty II in dry hard pack corners, and I've come away impressed with the support from the side knobs, and how they progressively loose traction. The biggest downside to the Shorty II is that it rolls relatively slowly compared to something like an Assegai, and in dry conditions it's not going to offer the same support and ultimate traction. I think the changes Maxxis has made have resulted in the Shorty II being just as good as the OG Shorty in soft conditions, but more usable as the trails dry out and firm up. The Shorty II is an excellent choice on both ends of a DH or Enduro bike for a wet / soft condition event, or as a front tire for an aggressive wet season all rounder.
- Tim Coleman
$125 CAD // $100 USD // Maxxis Shorty
---
Dakine Drift Shoes - Trevor Hansen
When I was offered these shoes to test I was quite hesitant as I am a sticky sole shoe snob of the FiveTen-Specialized 2FO variety. I firmly believe the sole is the heart and underside of a bike shoe. If it isn't excellent I'm not interested. I have tried Shimano, Leatt and RCs but I always felt that no matter how well made, comfortable on and off the pedals and nice to look at each shoe was, the soles weren't sticky enough to inspire the confidence I wanted. With trepidation I tried the Dakine Drift shoes on and by goodness they were comfortable. The funky looking yet highly functional lace tuck-away pouch was intriguing and the shoes looked good (until Mr. Ryan Armani Walters burst my bubble by saying they looked like clown shoes). I tried a brief ride around the parking lot to check the stick between sole and pedal. I was pleasantly surprised; they felt as sticky as my Spesh 2FOs and close to my Five Tens.
Dakine has two exclusive shoe features here: DK UltraGrip rubber and DK FlexRide shank technology. The DK rubber has a nice tread pattern that Dakine claims is made 'for on the fly adjustments.' I will say that it is easier to adjust my foot on pedal whilst moving wearing these shoes compared to my 5-10 Trailcross. Is that because the sole isn't as sticky on the Drifts as on the 'Crossers or is it the tread pattern or combination of both? I'm not sure how I would be able to figure that one out. As for the DK FlexRide shank tech, it's very noticeable and the shoes have a balanced feel on top of the pedals. The extra comfy Drift insole also helps with feel and it's probably the most comfortable riding shoe insole I have worn. I even pop it out of the Drifts and put it in the Five Tens on occasion.
The shoes fit a bit big and while I usually wear a 43.5, the size 43 Drifts I tested fit perfectly. The shoe is packed with high quality features beyond the two DK exclusives. The reinforced toe cap is beefy, fits well and looks very durable. It is also what caused Armani boy to label them clown shoes.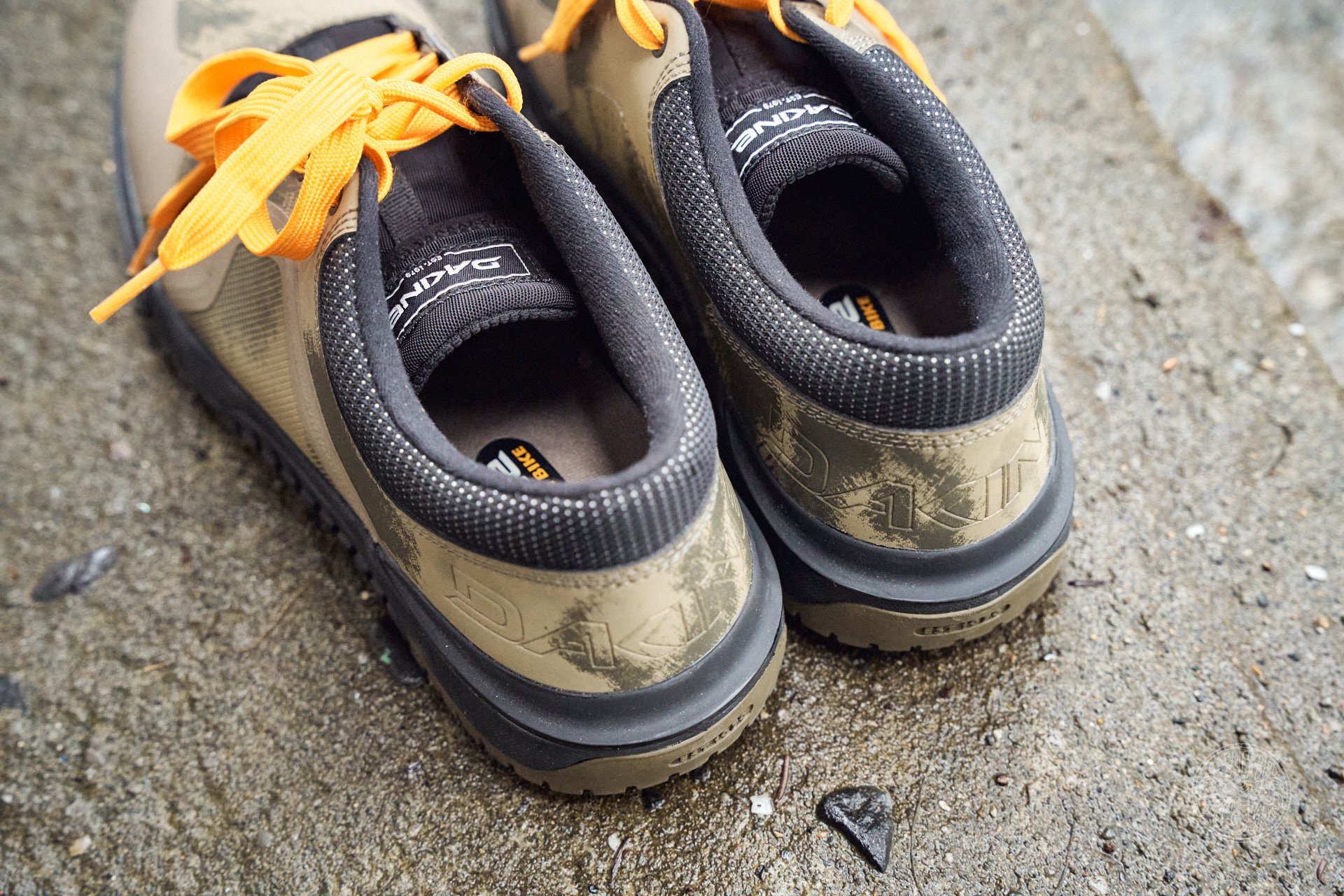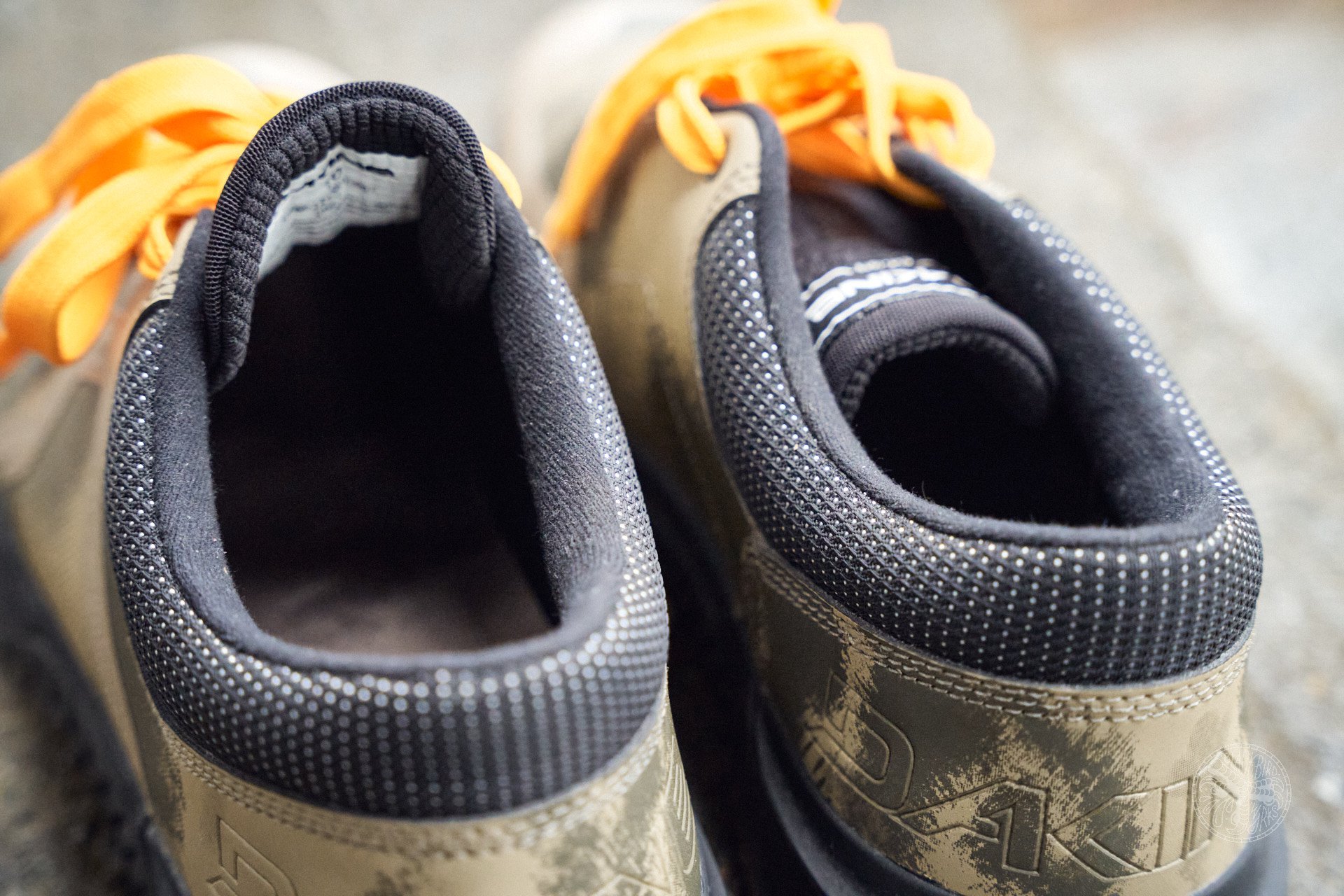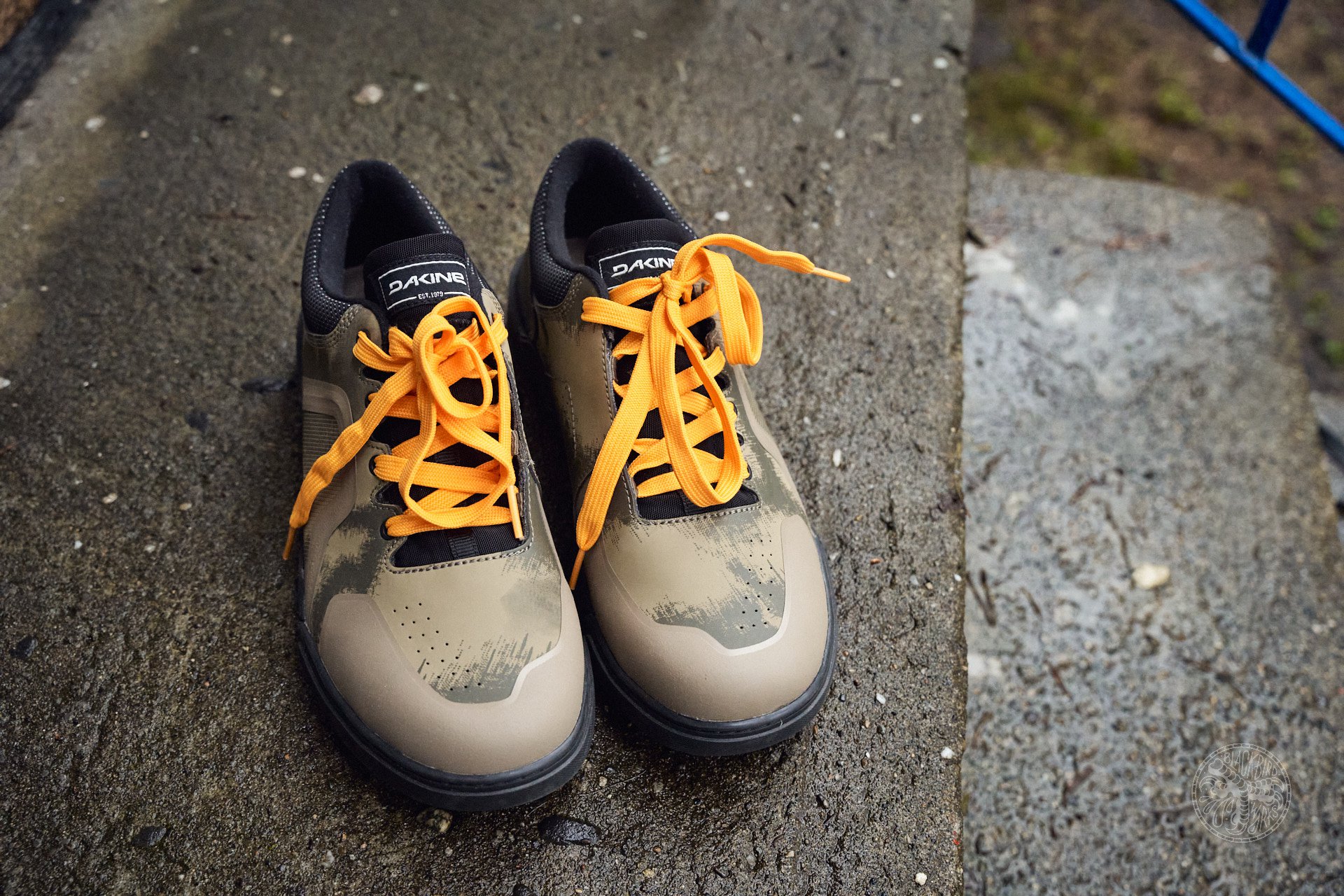 Other Features
Synthetic, durable PU upper features a perforated tongue for airiness
Tuckable lace pocket that keeps the crud off the laces but creates a lace bump hump which looks a bit strange but function over fashion I say.
comfortable padding on the collar
perforated tongue for cooling in the heat
The shoe has a pile of excellent features, it fits well in the heel, toe box, tongue and mid-sole while providing 9/10 sticky factor using my unpatented Trevor Tread-o-meter
Five Ten Contact 10/10
Specialized 2FO 9.5/10
Five Ten Freerider Pro 9.5/10
Dakine Drift 9/10
RC Powerline 8/10
Leatt DBX 3.0 7/10
Shimano GR7 5/10
---