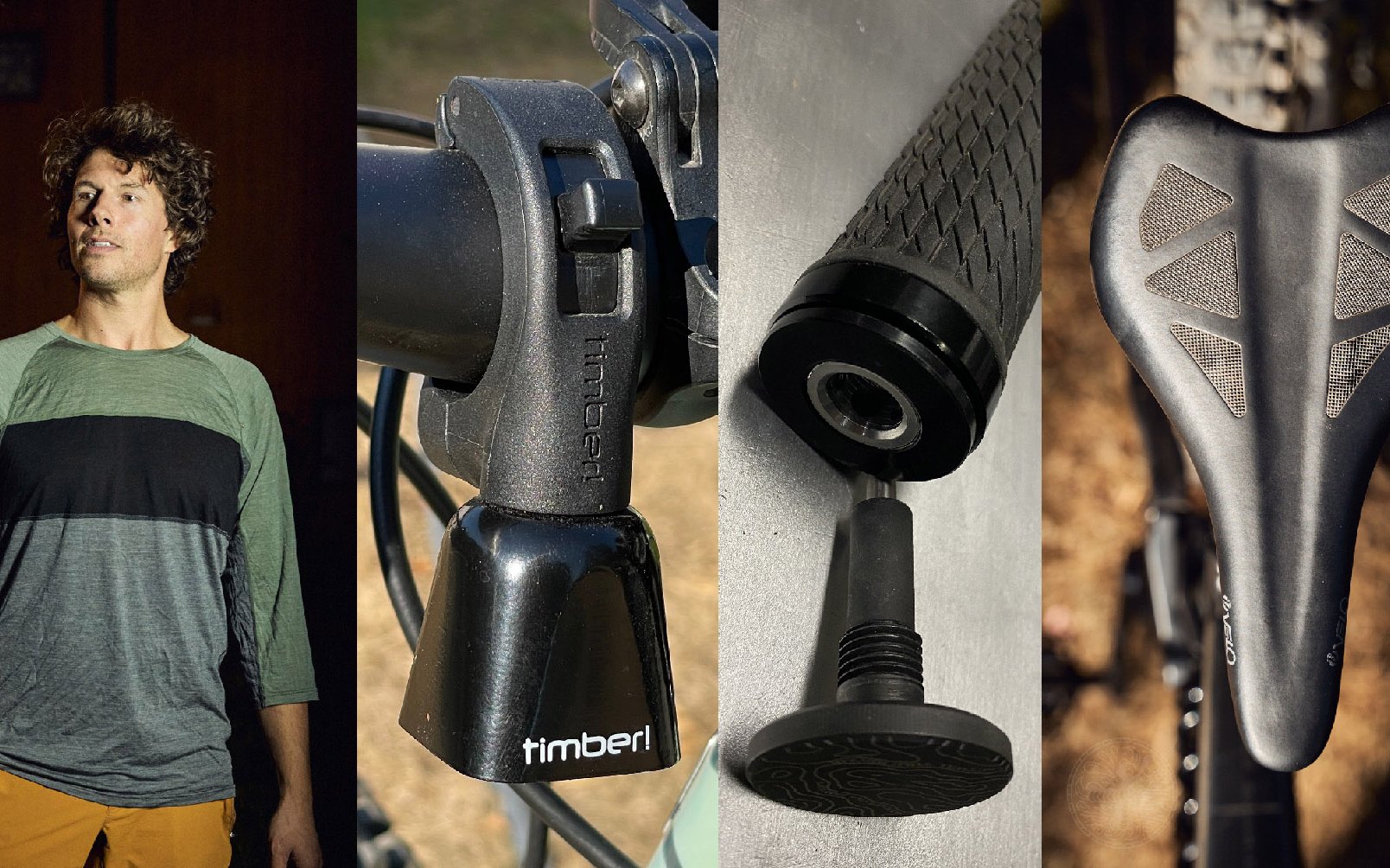 Reviews
Gear Shots September 27, 2022
Velo Senso Wilson Saddle
The greatest gamble a man will make is to take on a saddle review. The surprise kick in the balls doesn't come instantly but it's a slow motion anvil drop that seems to find its way to your brain somewhere around the 20km mark on your first ride. So of course I said let's go on a review to the New Velo Saddles Senso Wilson.
Designed specifically for mountain biking, there are 2 widths you can choose from: 133mm and 143mm. I did a sit bone calculation on a gel measuring setup so I know that my narrow sit bones prefer a saddle in the 130-140mm width range. These gel testers are at most bike shops and shop employees love measuring your sit bones on these devices. I recommend you go get a measuring done to have this in hand for the next time you go shopping for a saddle.
My trusted saddle is an Ergon SM E-MTB Comp small. It's got a nice scoopy design with a raised tail in the end and a cushy flat surface with a cut out that just seems to work for me. I am also comfortable on a WTB silverado on longer rides. I guess I should mention that I prefer no chamois for shorter rides around 2 hours and less. I also don't wear a chamois in the summer to avoid cooking up the eggs a bunch.
The Velo Senso Wilson looks nothing like the Ergon or the WTB. Shorter than both, its shape resembles a road saddle more than it does one for mountain biking.
Our climbs are steep and loose, so I point the front of my saddles down a little to compensate for the steep climbing angles. The Ergon's kicky tail was helpful for a work around to this down-pointing habit, but the Velo does not have much of a kick so it looks down at my headset setup for general Sea-to-Sky region climbing.
There is a neat cut out on the back for more tire clearance on full bottom outs. I haven't found that useful on my medium rig but I can see it being super useful on low standover small and XS frames. The textured padding on the saddle is excellent for butt traction.
The Velo Senso Wilson was uneventfully comfortable right of the bat. No adjustments, no chamois necessary. I got along with it famously even without a cutout to relieve pressure for the perineum and scrotum.
I did find that in the wet, my shorts got caught up on the wings of the saddle. Riding the bike off the back with saggy wet shorts is a rare issue but I ripped the crotch of my NF pants after it got caught on the saddle. Doesn't seem to be an issue in the dry but something to note for wet weather loam entrepreneurs.
65 USD is a great price for a light, comfy saddle with cro-mo rails. It has my vote!
-Deniz Merdano
Velo Senso Wilson Saddle $90 CAD / $65 USD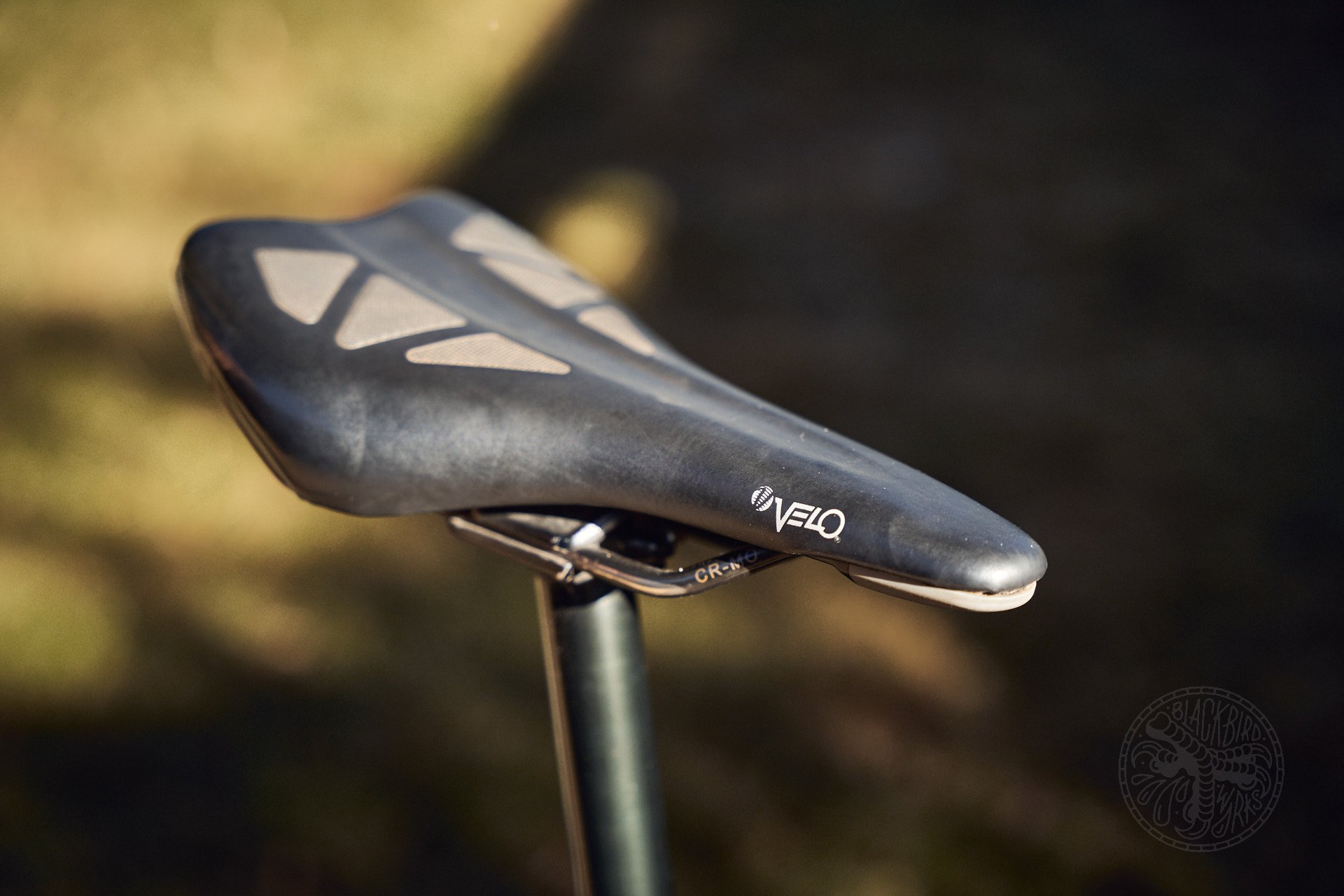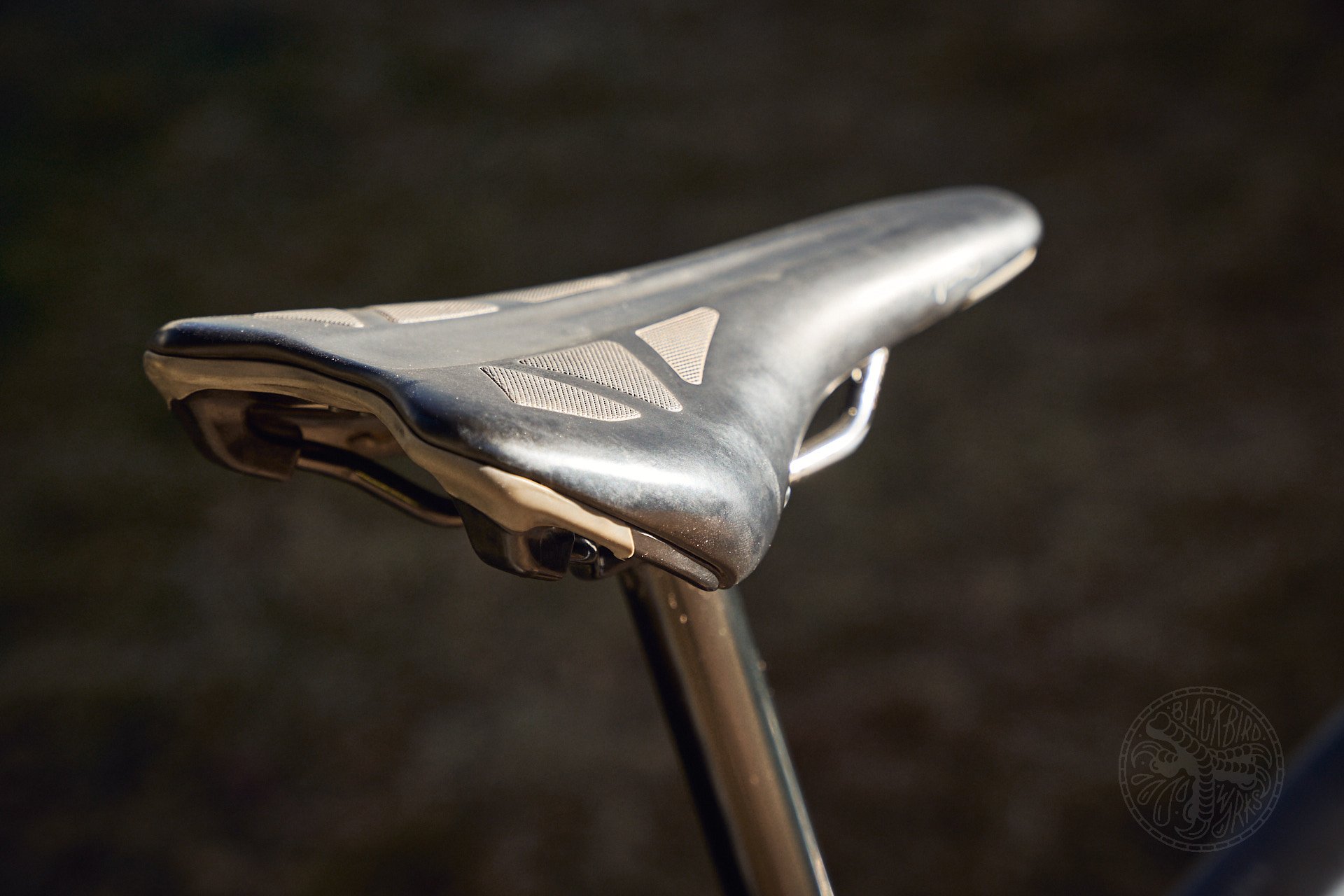 ---
Dynaplug Covert Bar End Plug Tool
Punctures are the bane of every mountain biker's existence. The advent of tubeless has made slapping a tube in mid-ride a more complicated process. Gone are the days of the tool free tire removal and installation and your sidewall will likely be bonded securely to your rim. Inserts, while likely to reduce the incidence of flats, make the process more fraught. If you put a tube in you'll have to either strap your insert to your bike, wear it like a bandolier, or push your valve through the insert before slapping the whole thing back together. If you think installing an insert is challenging at home, try it on the side of the trail with wet cold hands.
All these factors make plugs your best friend, assuming they work. I've had mixed luck with bacon strips but when they work it's like a miracle; back on your bike without even touching a tire lever. I haven't yet had any experience with Dynaplug, the bullet shaped plugs with a brass tip. I like the concept however, allowing you to cram a nice bit of rubber into a very small hole, but I'm still flying blind. I don't have any half destroyed tires around so that will have to wait until the fateful hisssss occurs. For now, here's the way the tool fits onto your handlebars.
The first thing you have to know is that if your grips don't have a hole through the end, you're going to have to make one. Looking around, the majority of bikes these days have just one clamp per grip and they seal off the end of your bars. I found some more traditional lock-ons to use with the Coverts but then I needed to find a bar with the right inner diameter. That turned out to be the OneUp's Carbon E-bar. Installation involves inching the set screws out to the required depth so the inner plugs can just push into the end of the bar. Then you don't need many turns with the modified Bondhus 5/64 hex key, which is a little awkward. When the time comes it can be quickly deployed without removing your gloves.
The Dynaplug Covert system will add around 85 grams to the weight of your bike, and removed 125 USD from your wallet, but it must might get you out of a jam the next time you spring a leak. There's even a drop bar version of the Covert.
-Cam McRae
Dynaplug Covert // 125 USD
---
Timber Model Yew! Riding Bell
Moving to a new town means I haven't yet met all the degens who are out riding when they could be working at day jobs or other things responsible people do. This means I've been riding alone a lot, and a few of the lower trails in my new quick loop are on multi-use trails often used by hikers. On my favourite loop there are two sections where I'm routinely traveling over 30 kph, and a few of the corners are semi-blind, meaning that hitting them when riding alone (ie. making less noise than in a group) isn't responsible without alerting possible traffic around the next corner.
Also, the Sunshine Coast is rammed full of blackberry bushes, so when I'm not thinking about hikers, I'm thinking about bears, especially at this time of year. Let's not talk about solo night riding, and cougars...
So, between hikers and bears, I needed a bar-mounted bell, and the Timber caught my eye because it has an on/off clapper controlled by a lever you can easily operate with your thumb while riding. I don't want a bell all the time, I want one I can turn on and off when needed and Timber's bells do that. The Model Yew! is new, and it fits all bar diameters including 35mm, and is the most robust of Timber's bells.
It attaches quickly and simply with a 3mm hex key that fastens with a bar clamp (shims are used to fit 31.8 or 22.2mm bars) and while Timber does offer a quick-release version of their bells for easier movement between bikes, I haven't been bothered about moving this one between bikes as it only takes 60 seconds.
It has three modes that are controlled with a lever you can activate with your thumb: off (clapper locked), mellow (partial clapper), and on (unrestricted clapper). The mellow mode is sufficient, although if you were on a smooth climb or flat terrain without undulations you may use the fully on mode. There doesn't seem to be a difference in the bell's volume between on modes, just the amount of ringing it produces. All of the Model Yew! parts are modular, including the cable and clapper ringer system, so they're easy to replace if worn out or broken.
While I think any rider who shares trails with other users should consider using a bell, e-bikers are even more likely to need one. I used to use a more traditional bell that is only activated when you hit the dinger, and those are better than nothing, but I much prefer the passive nature of the Timber design that allows you to turn it on and off when you like, or even periodically to let people and wildlife know you're in the area. Plus, it looks like a mini cowbell, how cool is that? Top marks to Timber.
-Pete Roggeman
TIMBER Model Yew! MTB bell // 29.95 USD // 50 CAD (amazon link for Canada)
---
Smartwool Merino Sport Ultralite 3/4 Sleeve Tee
I've tried many merino wool jerseys over the past few years, though this one could very well be the best so far. From a durability and structure standpoint, merino wool is often blended with nylon - which happens to hold onto stink very well. Unfortunately, this negates one of the key characteristics of merino wool, which is bucking the funk. Many merino garments tout they are able to withstand near endless days of sweaty activity without getting stinky, but I'm sure the rapscallions I've shuttled with recently could tell the days I was indeed rocking a nylon blend.
Pete threw the Smartwool Merino Sport Ultralite 3/4 Sleeve Tee at me right before the dog days of summer arrived. It's easily the most thin feeling merino jersey I've donned, made of a 53% merino wool/47% Tencel blend. Tencel, a natural fibre derived from wood pulp, wicks moisture away quickly and doesn't hold onto disdainful odours like nylon will, and breaks down easier at the end of it's useful life. Warm or cool, merino wool is incredible at temperature management, but dries slower than synthetic fabrics. The Ultralite 3/4 jersey admittedly dries slower than synthetic offerings, but I actually appreciate the cooling which saturated fibres provide during hot days. Inversely, I was also able to stay warm on a ride during one of the (very) few recent rainfalls over the past few months.
The Ultralite 3/4 tee has a regular fit, but a word on that - this jersey fits big, and I needed to size down from a large (the size I wear 99% of the time) to medium. A slight drop hem in the back helps maintain coverage while in riding position. Offset shoulder seams are sewn so riders don't experience chafing from pack straps. Two small reflective elements will potentially help others see you during a commute, camera flash, or sneaking e-bikes out of the NSMB bunker.
This jersey checks nearly every box I'm looking for in a riding garment: amazing temperature management (warm or cool), thin for layering, doesn't hold on to stink, durable, and doesn't look too technical. If Smartwool made a plain black version, I'd buy five tomorrow.
-Graham Driedger
TheSmartwool Merino Sport Ultralite 3/4 Sleeve Tee retails for $84.99 CAD.