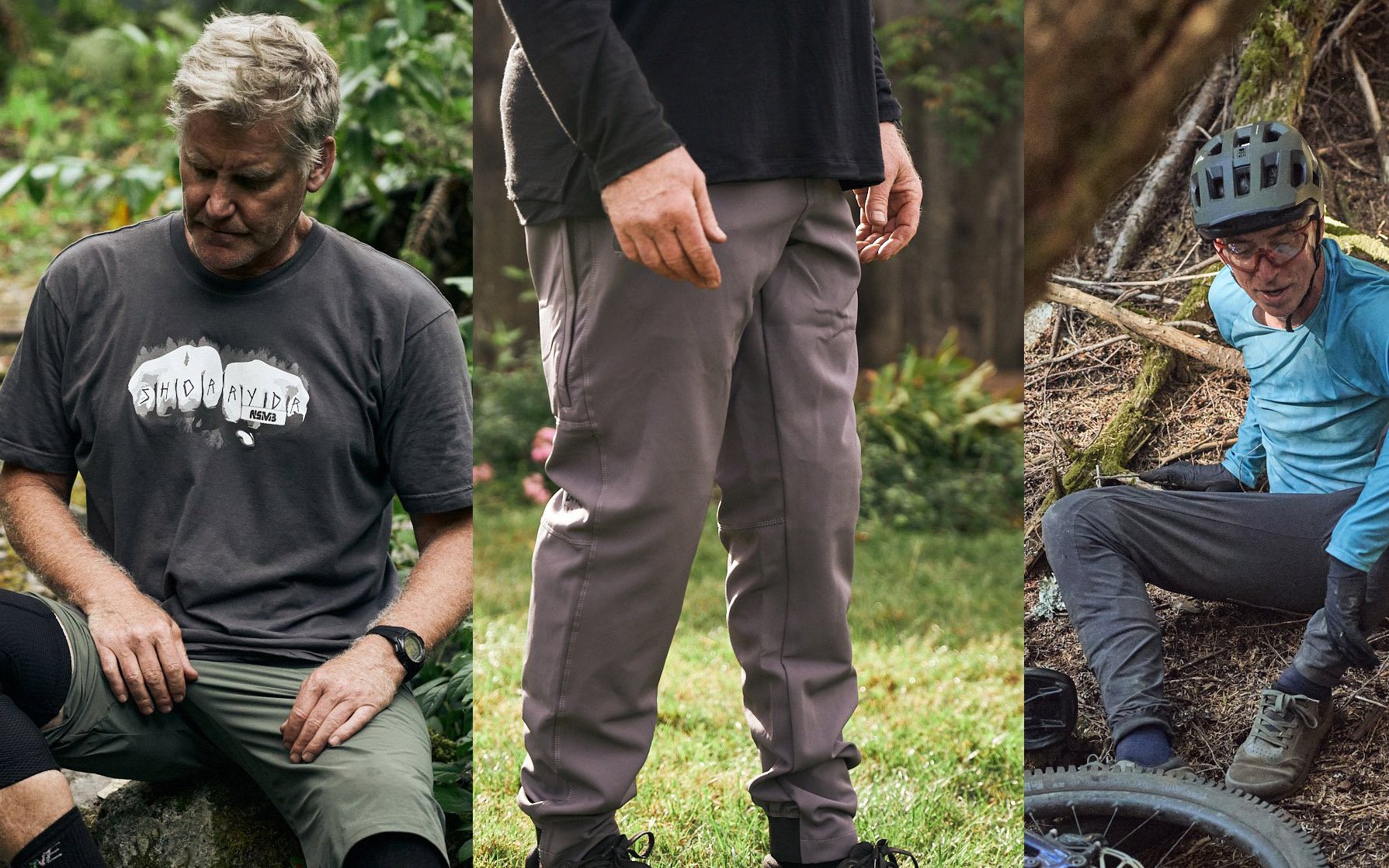 MINI REVIEWS
Gear Shots - November 2022
Tasco Scout Pants -Trevor Hansen
During a photo shoot with Deniz he said he had some pants for me to try. He likes tight pants and the Tasco Scout pants are not tight so I said I would test them. I have worn them twice and like them already. The material has a softer feel than the usual tech cloth feel found in most of the pants I have tried. I own a pair of Tasco lightweight shorts and I use them on and off the bike a lot; I see myself using the Scout pants the same way.
According to Tasco, the pants are "made with 90% REPREVE™ traceable, recycled 4-way stretch polyester spandex blend made from plastic bottles." I still have a hard time knowing the material close to my body was used as a plastic bottle that somebody slurped liquid from. The rest of the features listed below seem to work well so far. There is one feature I wonder about: the ventilated stash pockets. They work if your pants are unzipped so unless you stash your phone elsewhere these ports, or at least one of them, will not be used. Not that big a deal as I rarely feel the need to ventilate while wearing pants as it's usually cold enough to justify wearing the pants to begin with. One other feature I like is the elastic heel cuff to help with getting a foot through the narrow opening. The elastic makes it easy getting the pants on and off; this is something I wanted in a pant which I wrote about in the 7Mesh Glidepath review.
Durable self dyed fabric
Smartphone stash pockets double as large ventilation ports
Zipped front pockets
Quality SBS zippers
Premium spring snaps
Internal waist adjustment system
Park pass hanging loop
Articulated trail fit
Triple stitch rear rise
Elastic leg cuff for adjustable leg length
-Trevor Hansen
The Tasco Scout Pants come in sizes 28 - 40 // 125 USD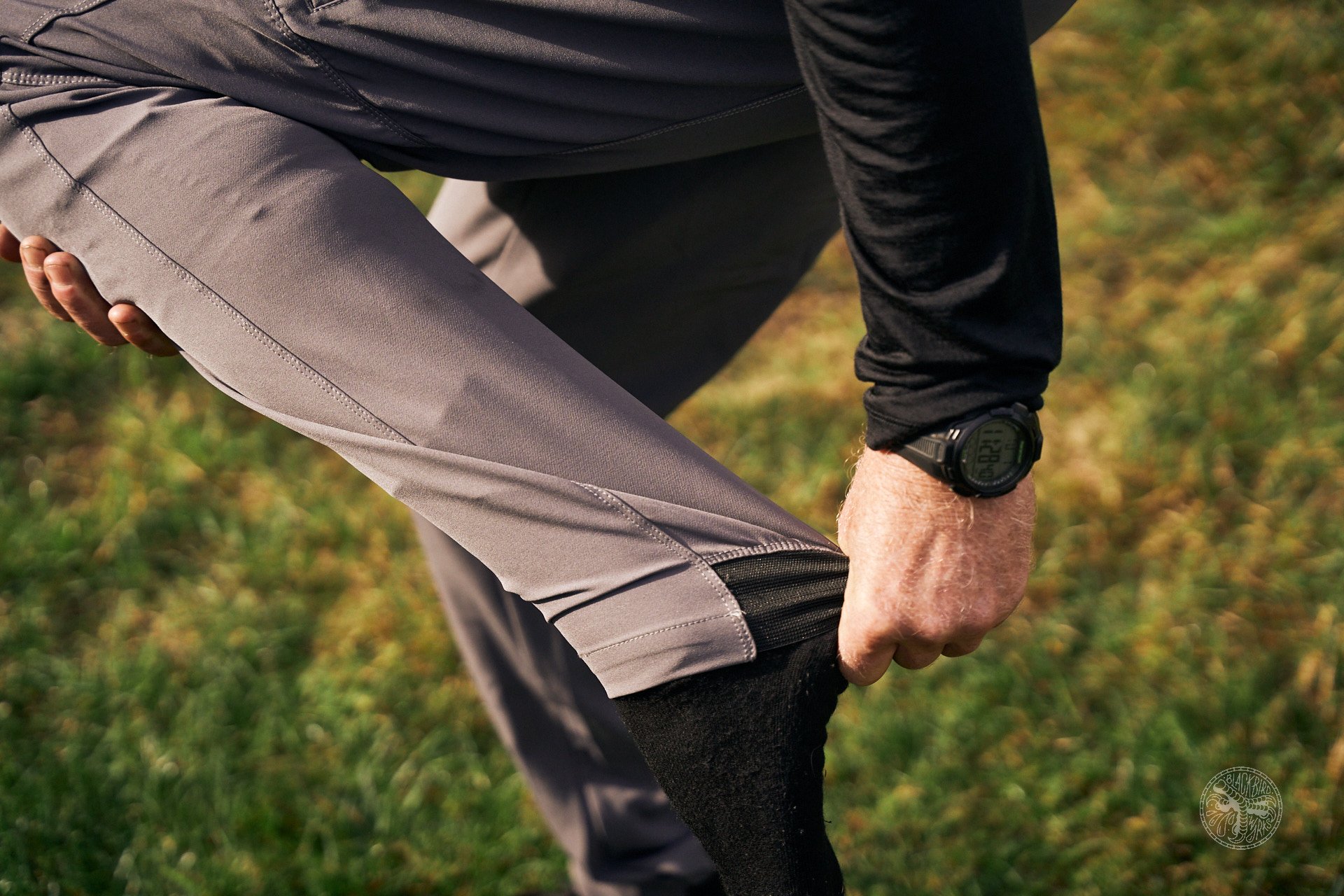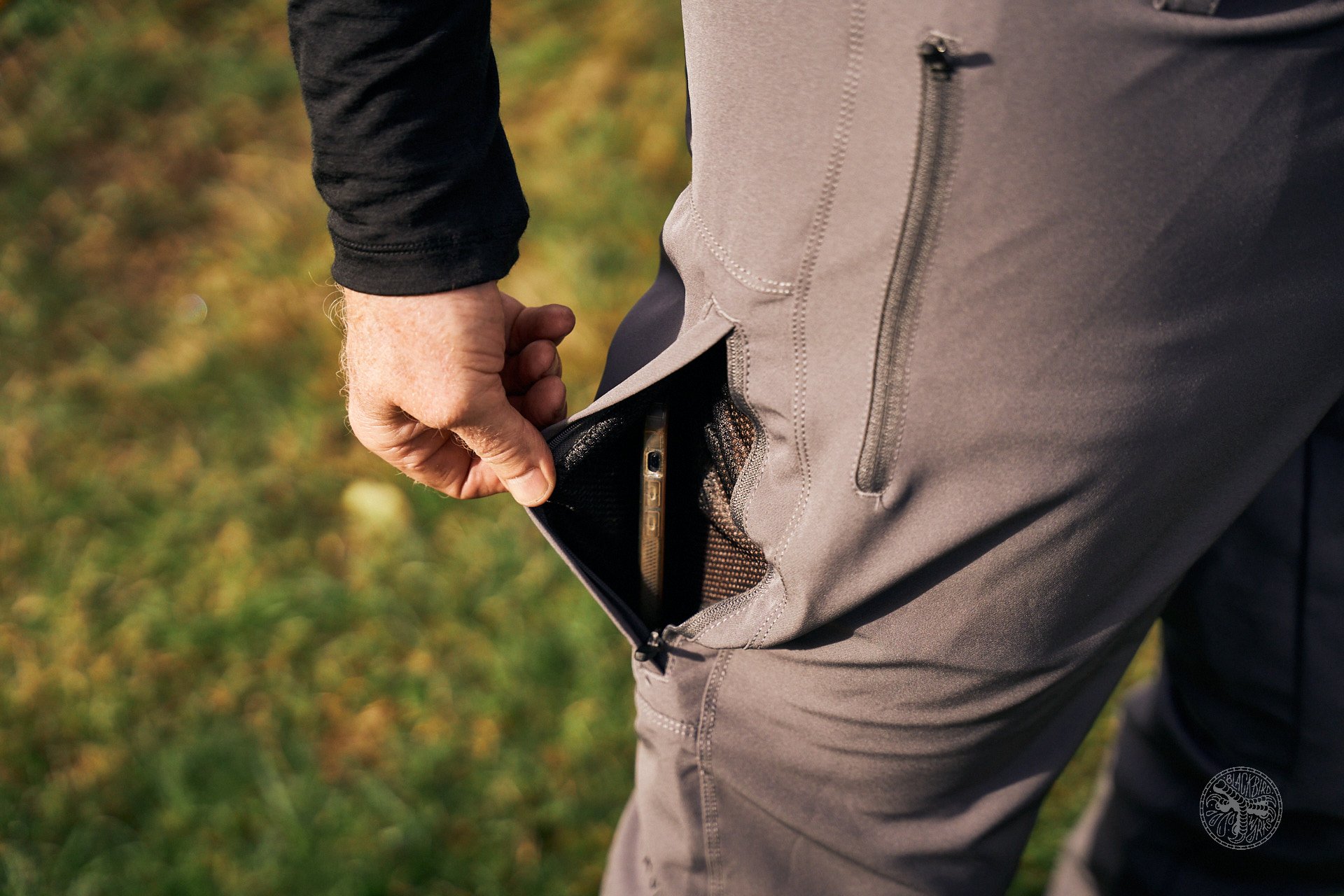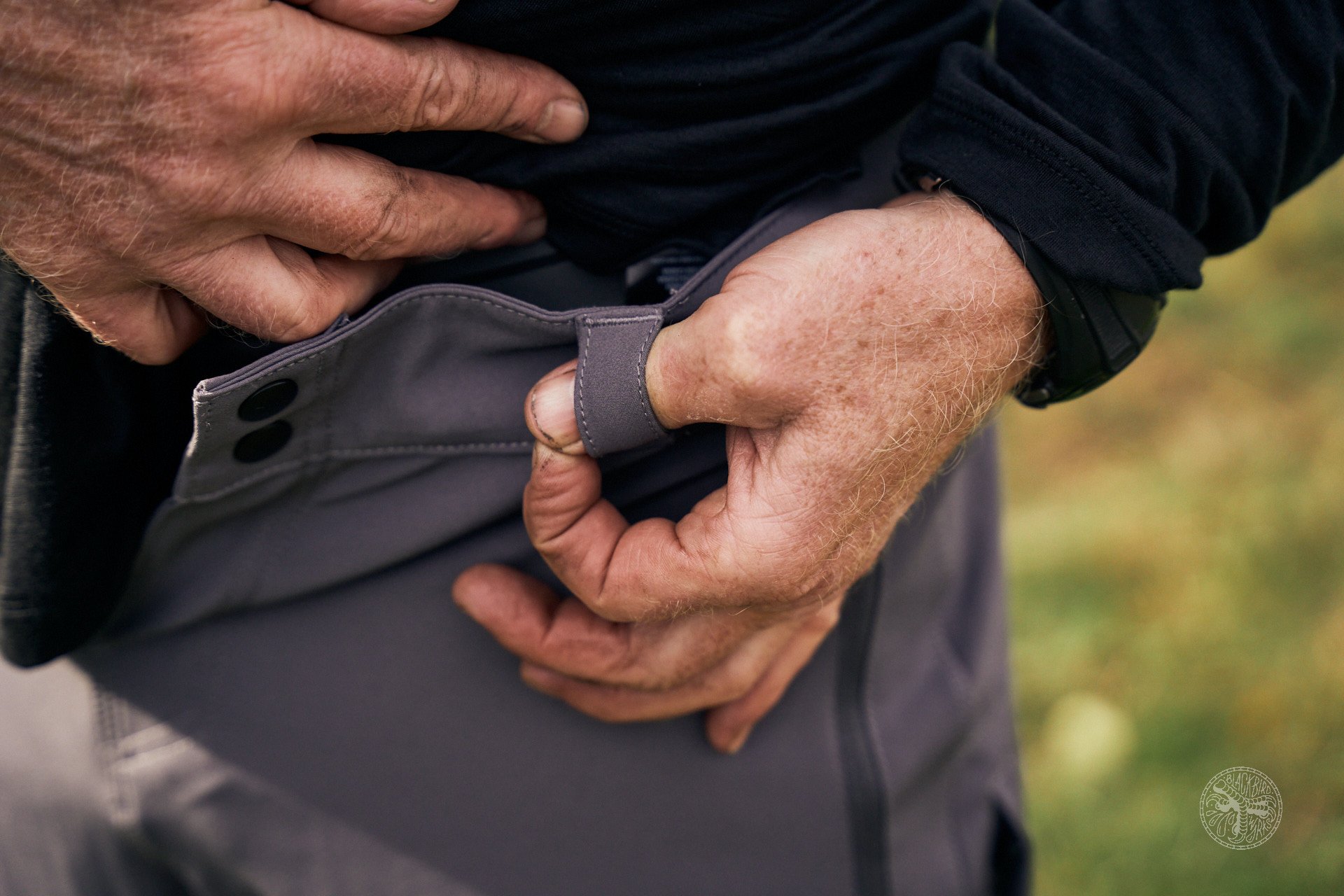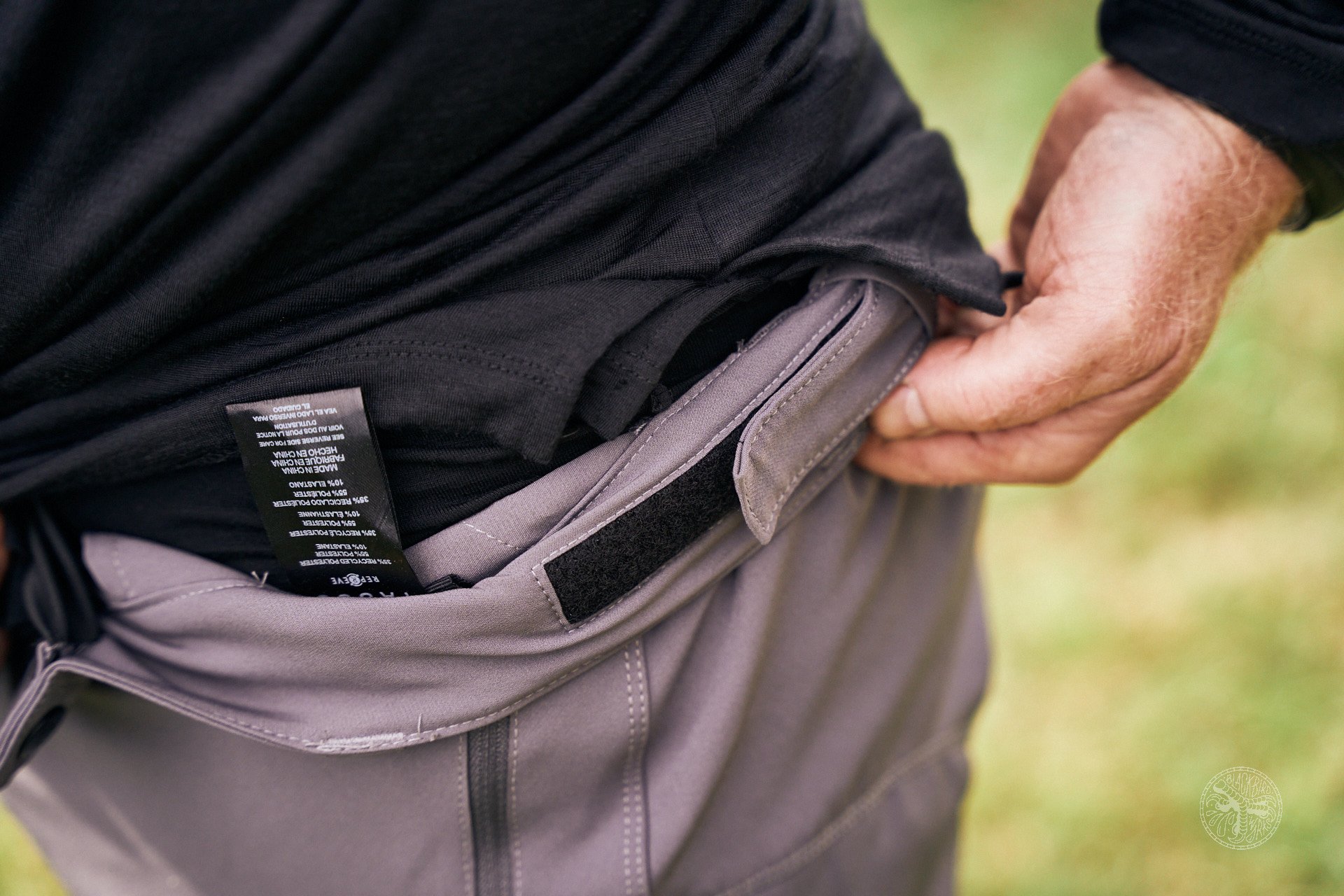 Race Face Covert Knee - Trevor Hansen
I have tested a number of knee pads in the last couple of years and I find myself trending towards lower profile pads. In my early days of riding I went from bare knees to big plastic shelled Stormtrooper knee pads then to skateboard bowl pads and then lower profile pads to where I am at now: Race Face Indy knees (I will post a full Indy pads and pants review later this month). I have been riding lightweight D30 knees a lot which was a bit unsettling at first but then if world champion Jesse Melamed wears them and he goes fast but does crash, they must be good. This trend with smaller and lighter knees may change if I have a big crash to the knee - knock on wooden knee. The Race Face Covert knees are definitely on the stealthy, lightweight barely any protection/will they work in a fall side of the pads spectrum.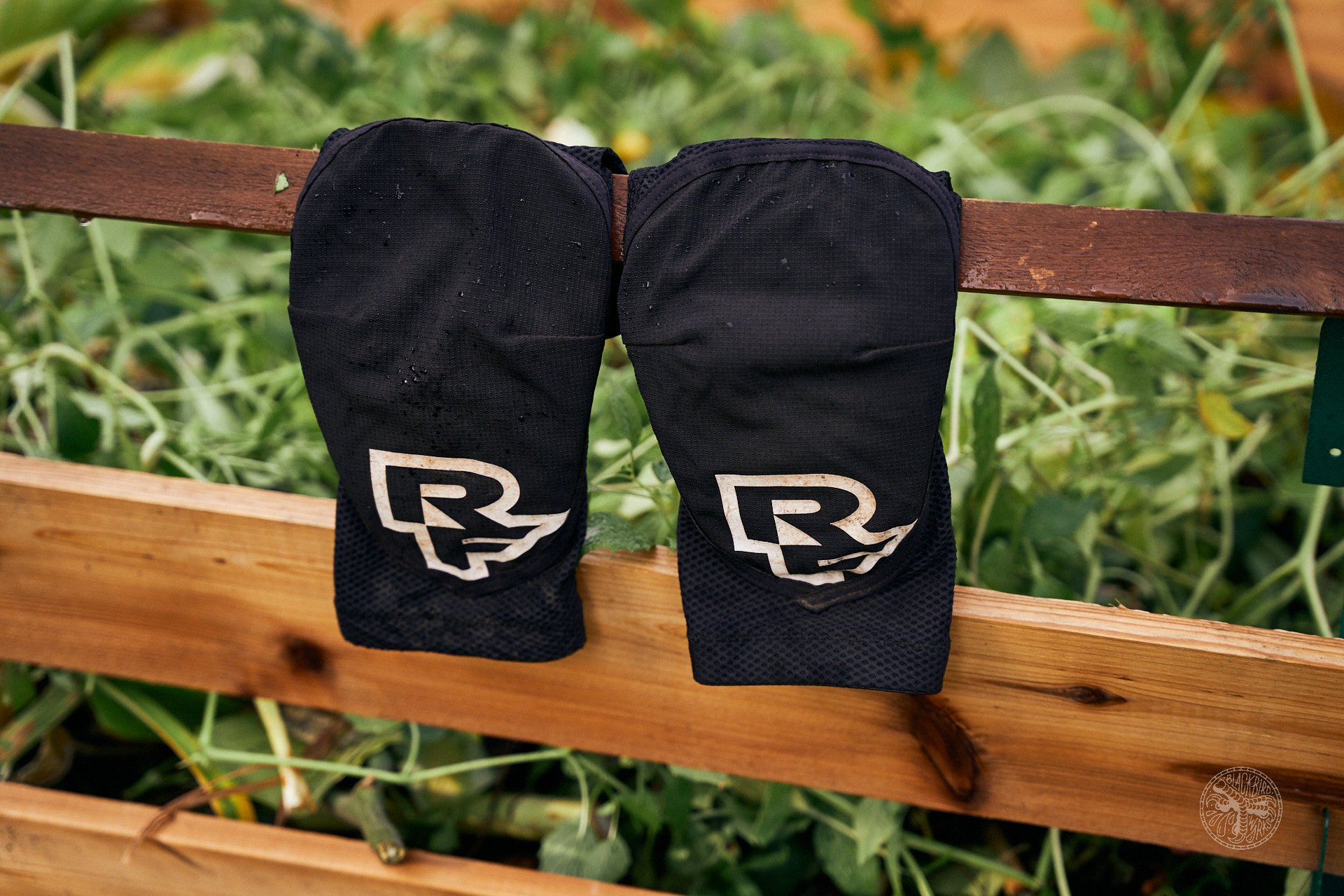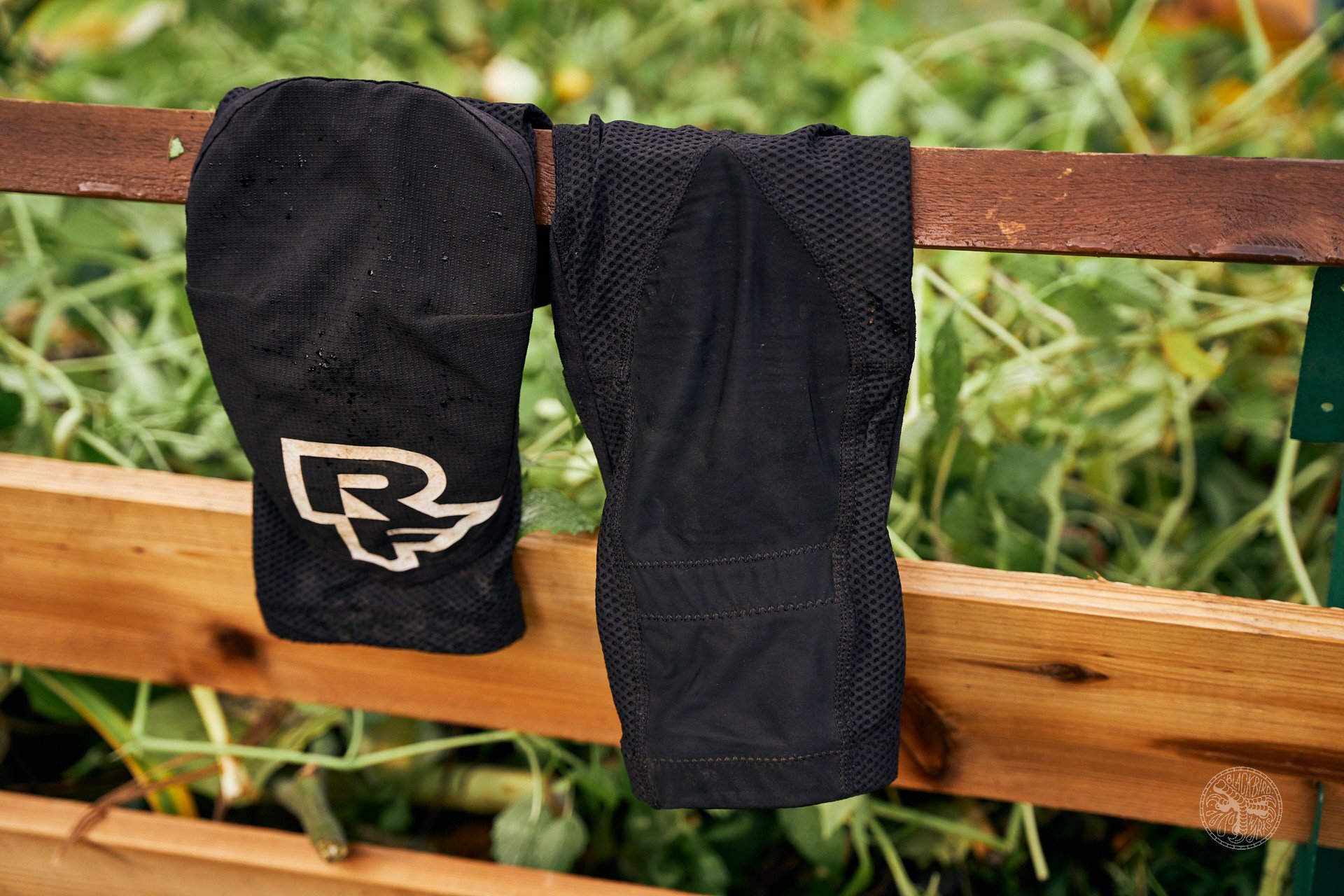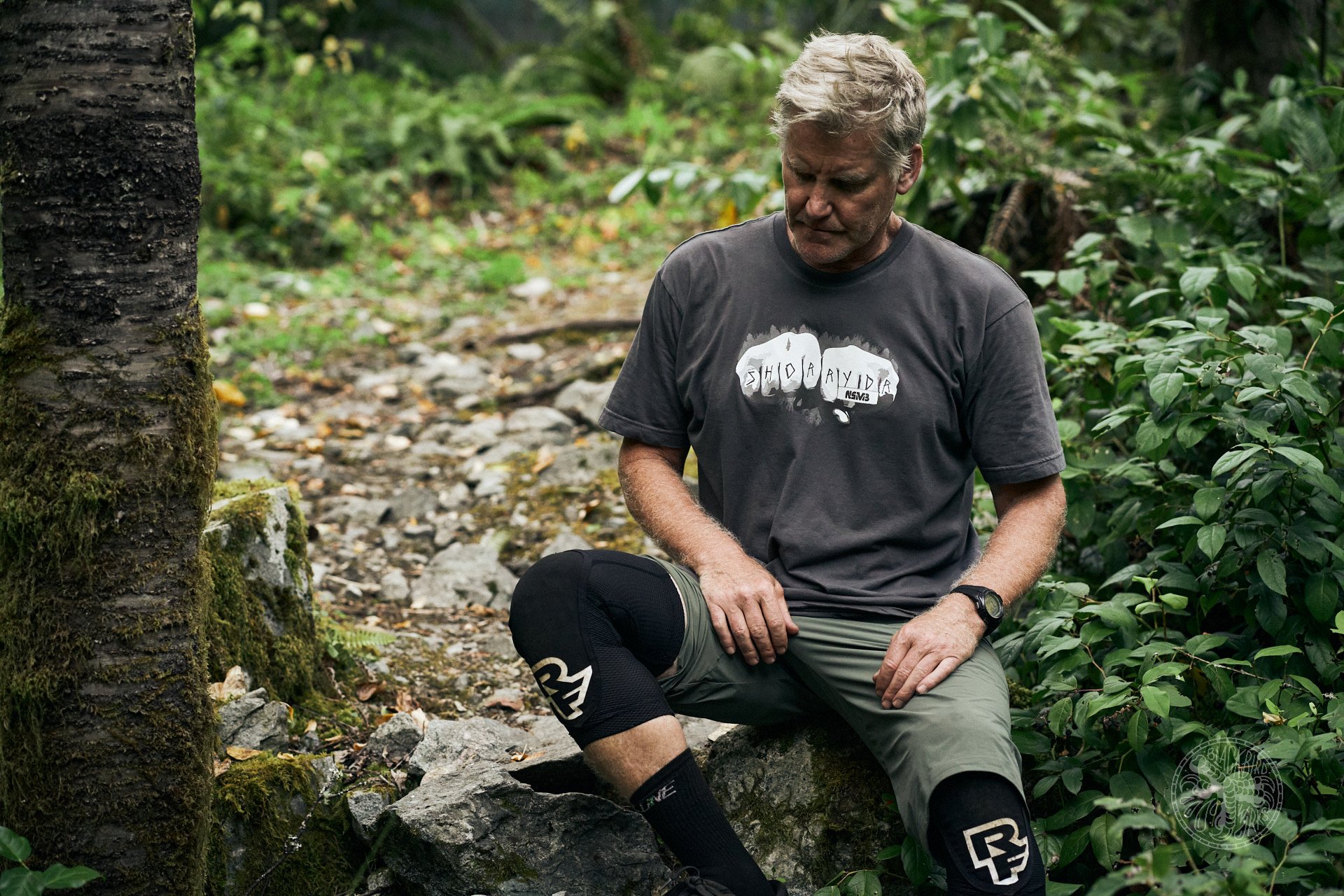 One test I have for knees is how good the pad is when I bang my knee against my stem when climbing tech sections of a trail. I think I experience that knee-knock more than crashes to the knees. I only did the stem-banger once during the Covert test and I could definitely feel the impact through the thin D30 Ghost foam. There was no bruising but it was enough to make me realize that Race Face has categorized these pads as trail riders for a reason. The only problem with that categorization is that when riding trail one can still wipe out at any speed and bang a knee on a rock. If anything these pads aren't so much about knee area bruising as they are about knee laceration prevention/minimization. After a few big rides on the Coverts, I just used them on days when I was riding up to trail build. They were good for this application because I don't usually ride gnar post-build due to fatigue. In addition, the pads are great for times when getting down and dirty on the knees during the build occur, and the Coverts are slim and unobtrusive for the pedal up and the inevitable forest hiking associated with building. For all the other rides I have been happily wearing the Race Face Indy knees.
-Trevor Hansen
RaceFace Covert knees // 119 CAD / 89 USD
---
Adidas Eyewear - 2 Models - Cam McRae
(Photos - Cam McRae unless noted)
I have become a full time eyewear guy. They keep me from getting too teary on cold days, give a little protection from dust when things are blown out, and deflect mud boogers when it's mucky. And of course they protect from debris that might injure us as well, although that tends to take a back seat compared to riding functionality.
And then there are those sneaky UV A and B rays that go through clouds like they aren't there and are responsible for many common eye diseases. I did some research and found an interesting paper published by the McGill University in Montreal. The TL:DR is below.
More money ≠ more protection. Even most cheap sunglasses block almost all UV rays, although optical quality is often tied to price.
Tint has no bearing on the filtration of harmful rays, but it can reduce glare and allow us to see better.
Wrap is important because UV rays can easily sneak in above and below.
Photochromic lenses are activated by UV rays meaning they won't darken appropriately if you are driving a car because the windscreen blocks UV rays.
Polarized lenses improve visibility when you are looking into water and reduce glare very effectively but they may impair your ability to judge distance and make it hard to read screens.
These styles have easily swappable lenses and I have done several rides with each that involve a long road climb in the open followed by a descent under a dense canopy. At the top I swapped out the tinted lenses and popped in the clears without any drama.
Adidas Sport SP0041
These are the glasses I've worn the most, largely because I have had them the longest, but also because I like them. While there are a few scratches, considering the beating they have taken, they have held up very well. If I have to take them off for some reason, in the heat of battle, I often just stuff them in a pocket with a sac made from lens cloth. Durability is likely another difference between cheap and expensive glasses. The inventively-named SP0041s wrap well and provide good protection without being as large as the foamless goggles that are currently the rage. I like the idea of more protection but that comes at the expense of ventilation. Less airflow means more fogging; the sworn enemy of all mountain biking eye shields. For me these provide a nice balance of protection, venting, and wrap and the view is unobstructed by any frame material, unless you happen to be checking out the ladybug that's landed on your nose, when the bottom of the frame will be visible.
Weight is another eyewear enemy. Too much and your skylights will bounce on your nose and soon begin to slide down. These are the lightest of the two at a mere 30 g but their stability is further aided by adjustability in the nosepiece and the temple tips. These contact points are also coated with a rubbery material that further improves grip.
Lens swaps can be the downfall of swappable eyewear but these are nice and easy. Simply pull down by the nosepiece and the notched lens tips then easily pull away at the temples. Reverse the procedure to install a lens, starting with the nose. The flexible frame is particularly helpful during this process.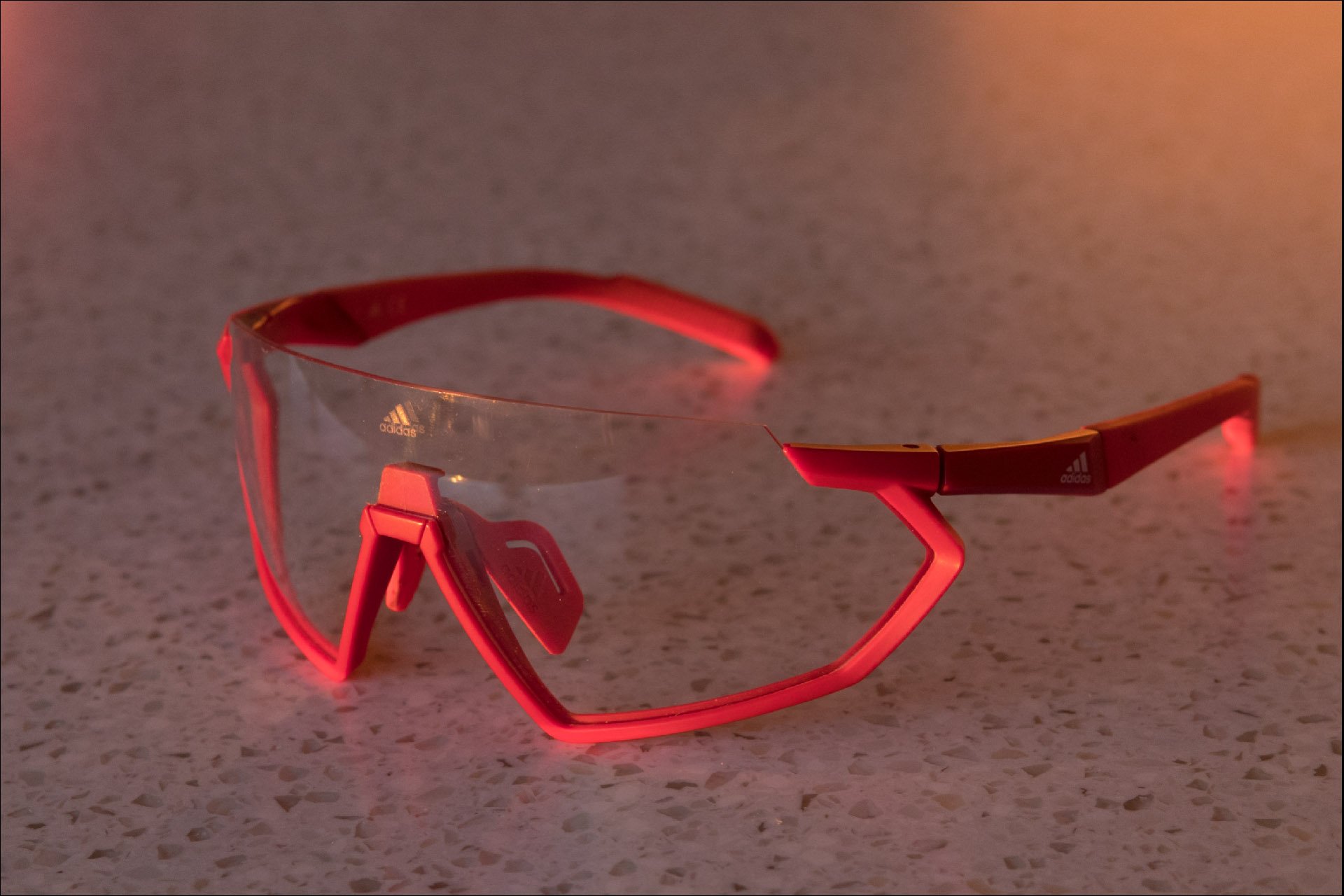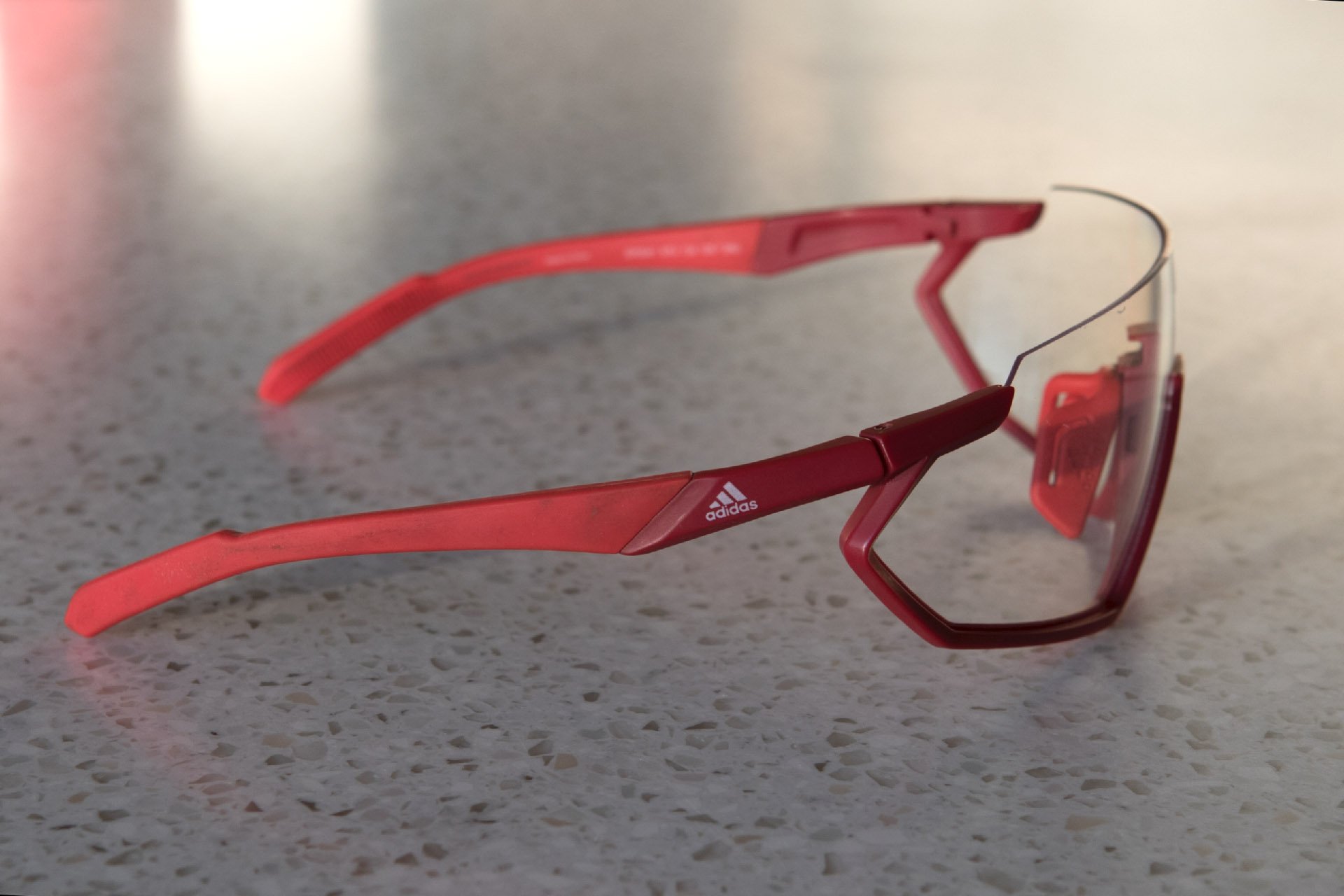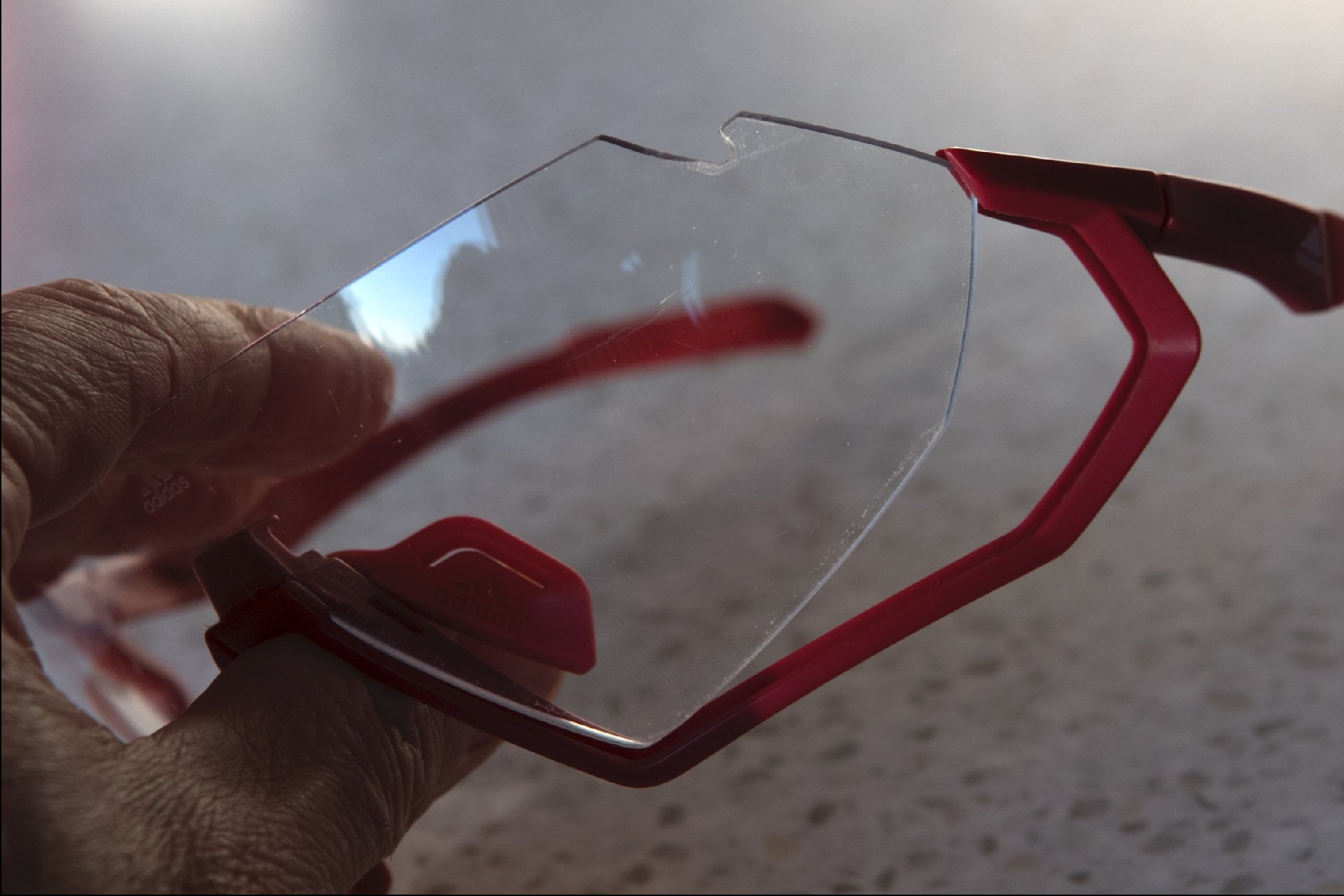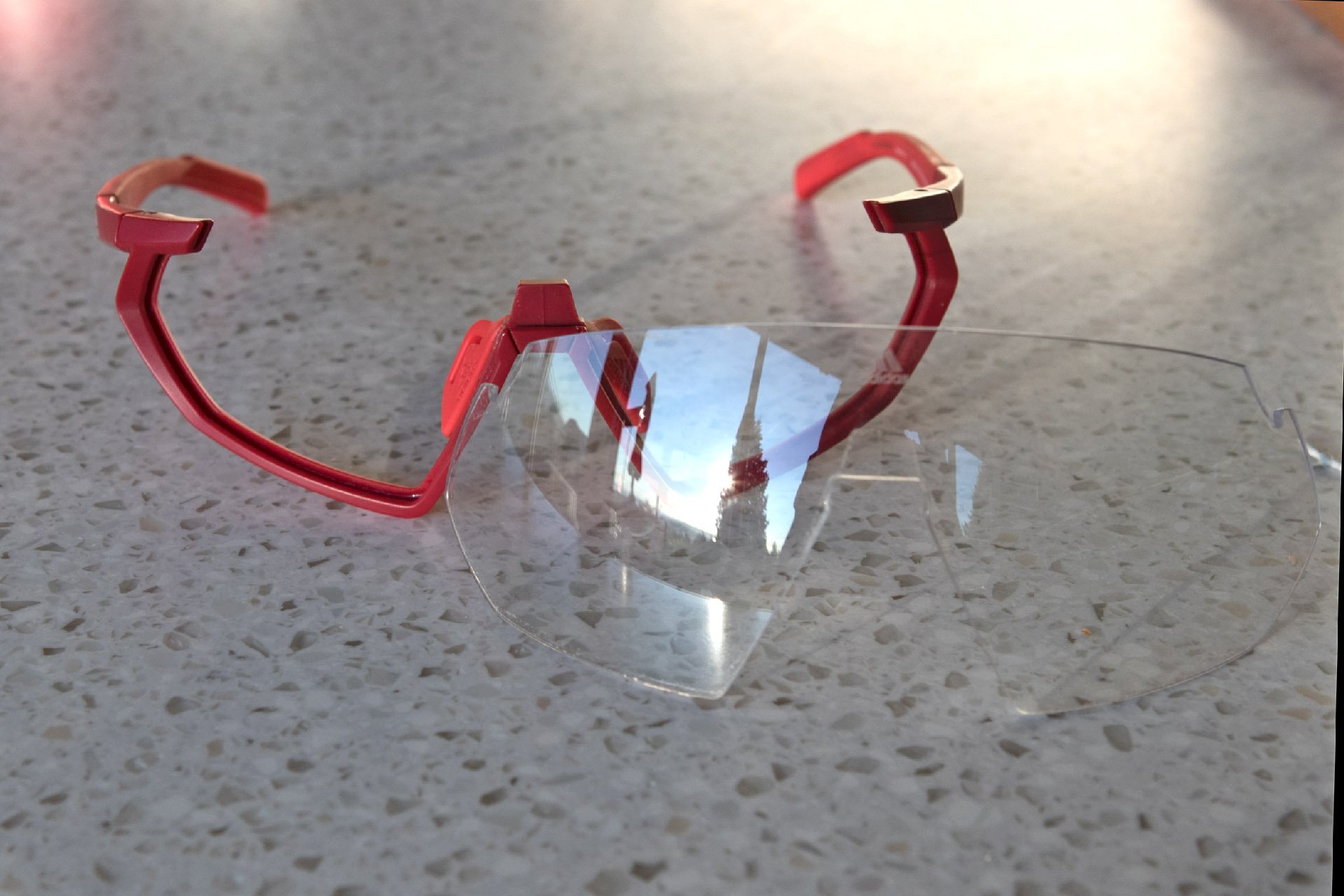 Features
When folded, temple tips (the ends of the 'arms') don't contact your lens.
Nosepads and temple tips bend easily but have a memory so you can tailor the fit and keep them firmly in place.
Very light at 30 g.
Excellent balance between coverage, protection and ventilation.
"Security Block Hinge" keeps arms firmly closed or open.
Simple lens swaps.
Frameless top gives unobstructed view.
179 EUR Includes one tinted and one clear lens
---
Adidas Sport SP0055
The 55s differ from the 41s in four subtle ways, while largely sharing the same features. Apparently I'm all about lists right now.
The frame on the 55s completely surrounds the lens, while the 41s have no frame on top.
Lens coverage on the 41s is larger on top by a noticeable margin.
Rather than a friction fit, there is a mechanism, released with a button, that traps the lens between the top and bottom of the frame.
Vents on the top of the frame encourage airflow.
Like the 41s, these weigh just 30 g, despite the larger frame and the closing mechanism, but with a smaller lens. The lens swapping procedure of these is perhaps a little more intuitive, and the top and bottom click pleasingly into place, but I wouldn't say it's easier once you learn each method. With these you simply push the button and the top of the frame separates from the bottom. Then you just pull it from the nosepiece and it's out. When replacing the lens, start with the nosepiece, adjust the top of the frame into position so it lines up with the lens, and then push them together to click everything back into place.
179 EUR includes one tinted and one clear lens.
If I had to Choose...
In use these are largely indistinguishable, although I imagine that the open top frame and larger lens of the 41s is more pleasant, once I'm dodging logs and navigating chutes I'm too busy to notice. In my experience, eyewear frames give moisture a place to congregate and hide from the wind meaning the 41s, without a top frame portion, should do a better job staying clear. I haven't experienced the 55s fogging more than the 41s thus far but I'll take any advantage I can get to prevent cloudy lenses, which gives the 41s another edge in my estimation. I also think the 41s look slightly better perched atop my large proboscis.