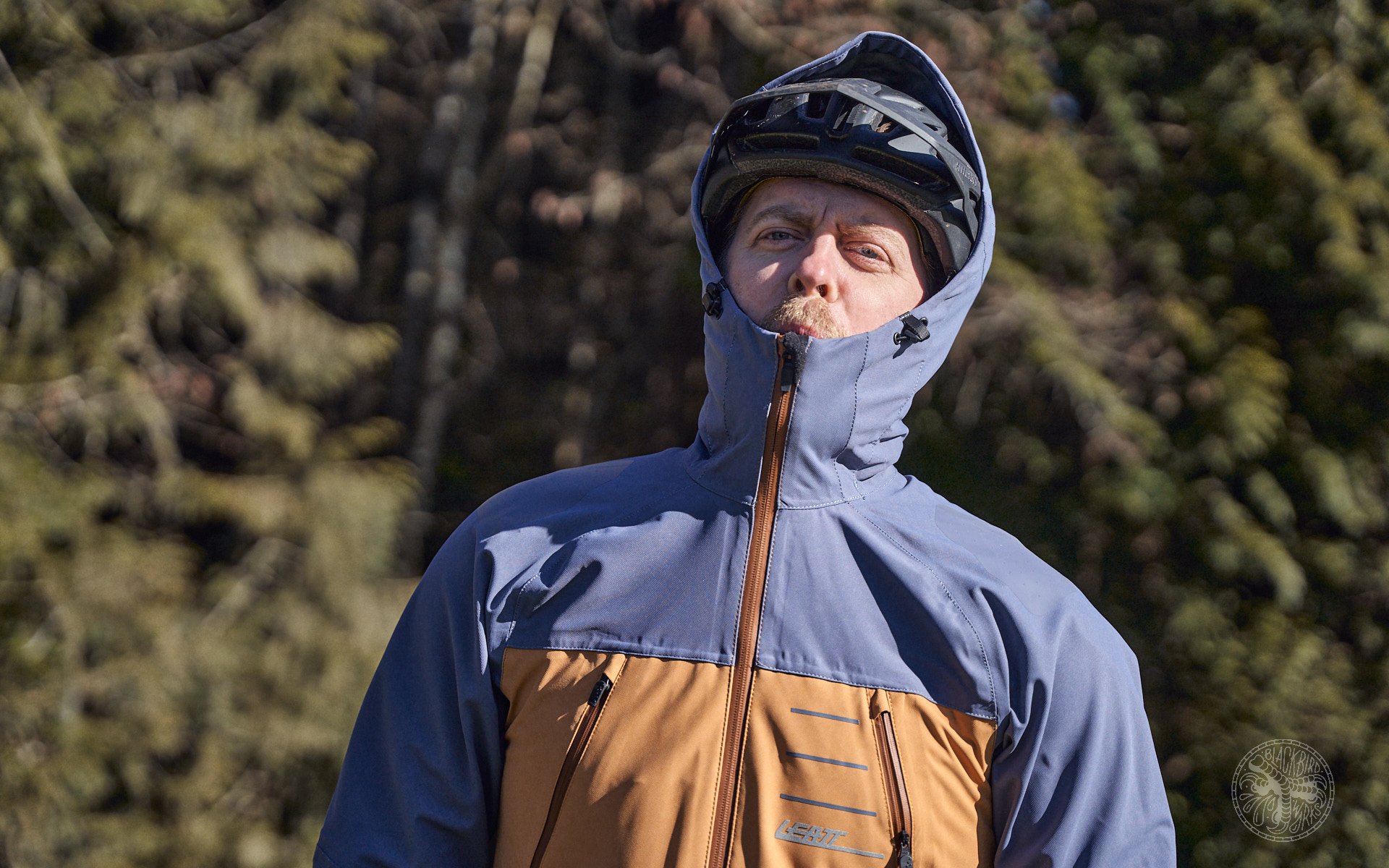 Mini Reviews
Gear Shots: May 11, 2022
It's May, which in the northern hemisphere should mean that Spring is in full roar. That may be the case in some places, but here on the wet coast, it still feels like February, with plenty of cool weather and rain, and even rogue snow flurries still popping up. So we've got some cool weather-inspired selections for Gear Shots this week. Even after the cool weather goes away, these pieces will all be good options for bike park season, where the weather at higher elevations will be chilly until at least July.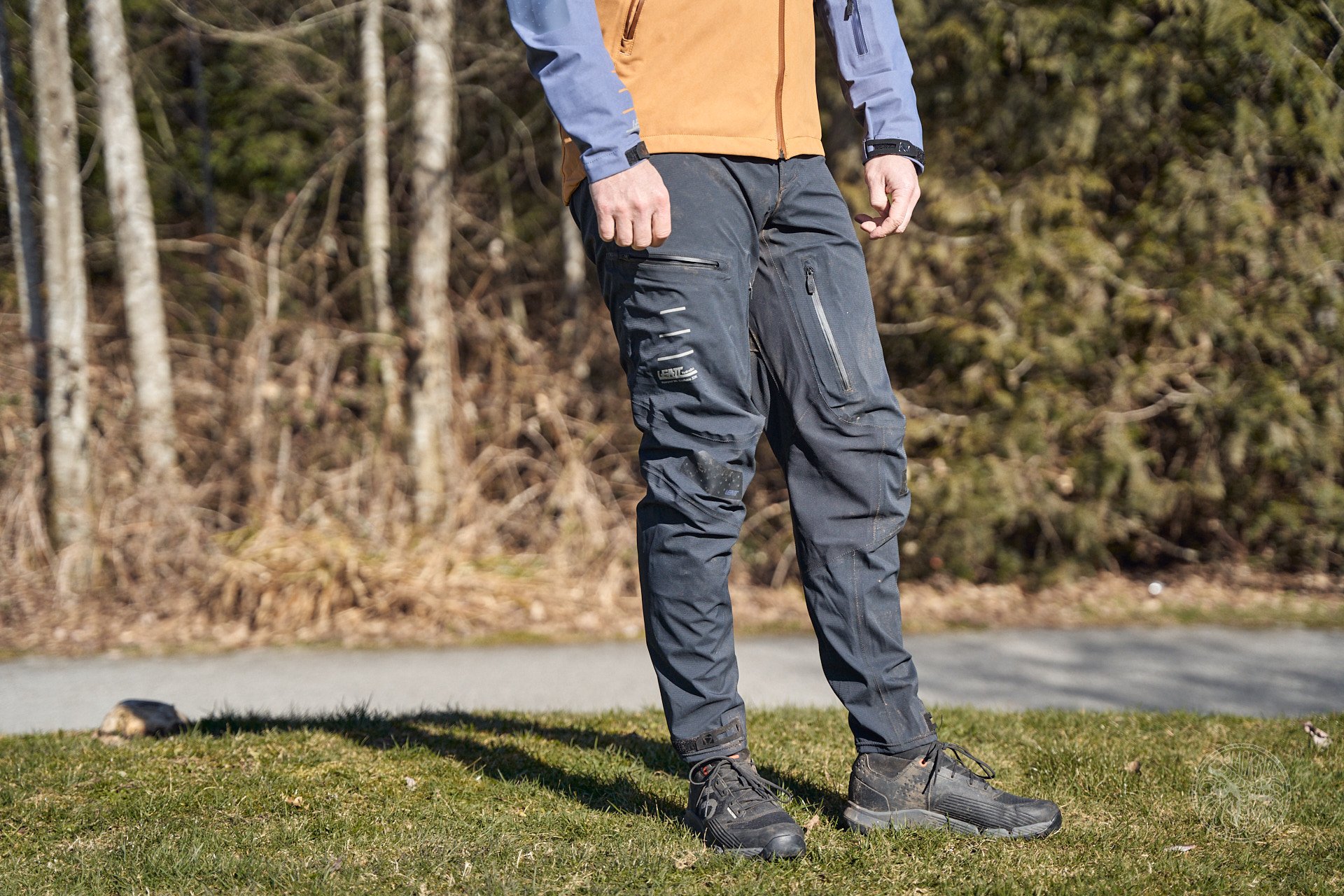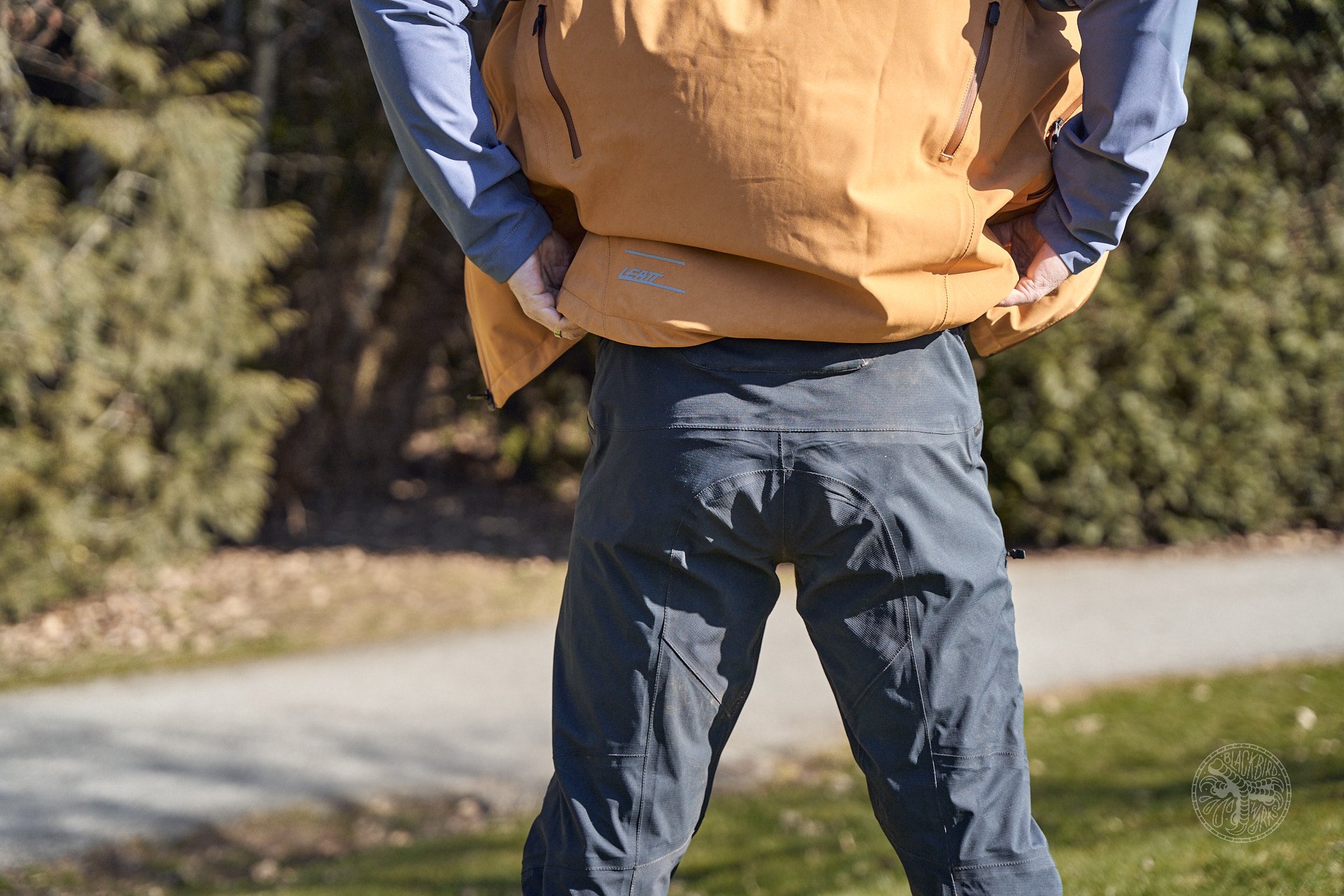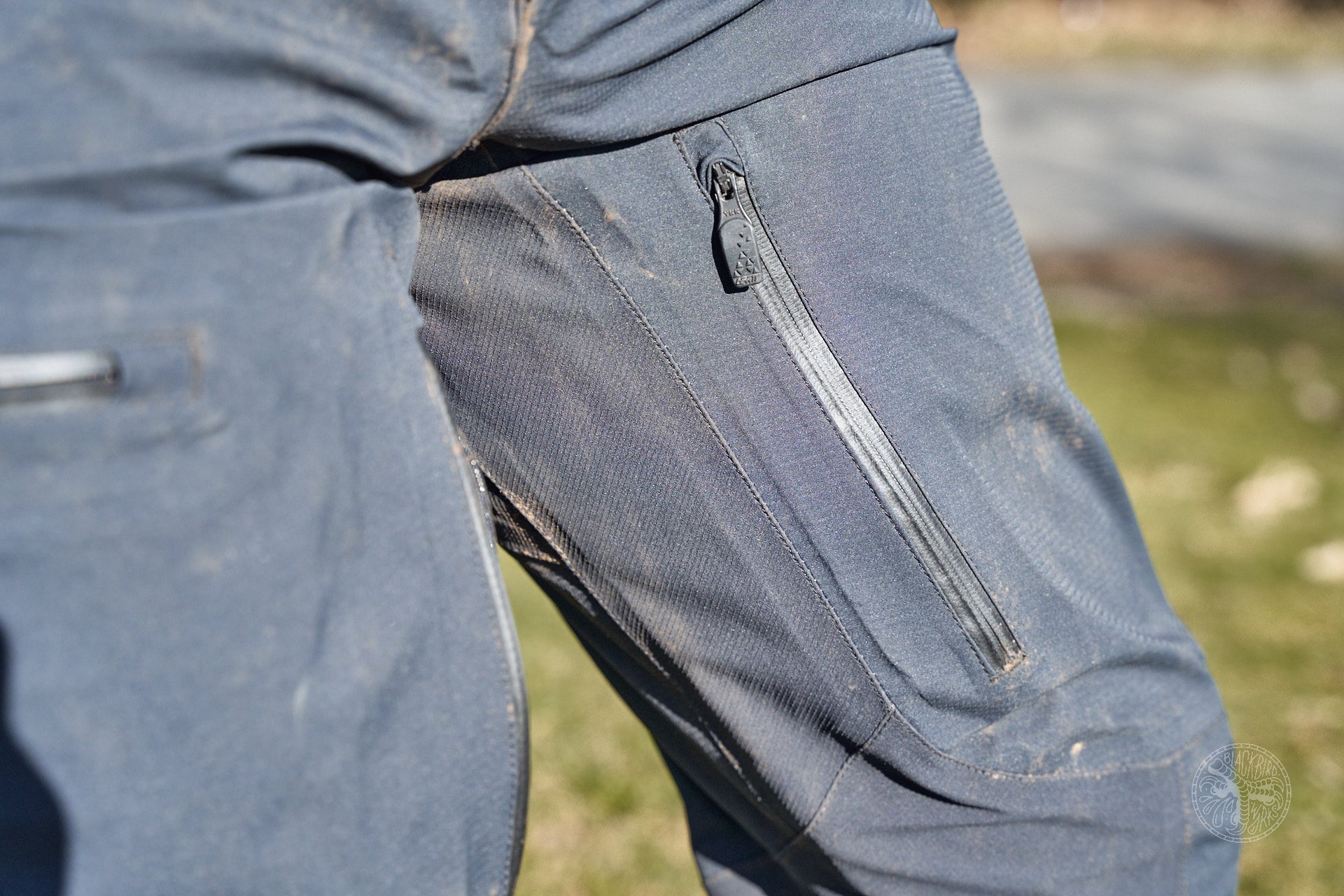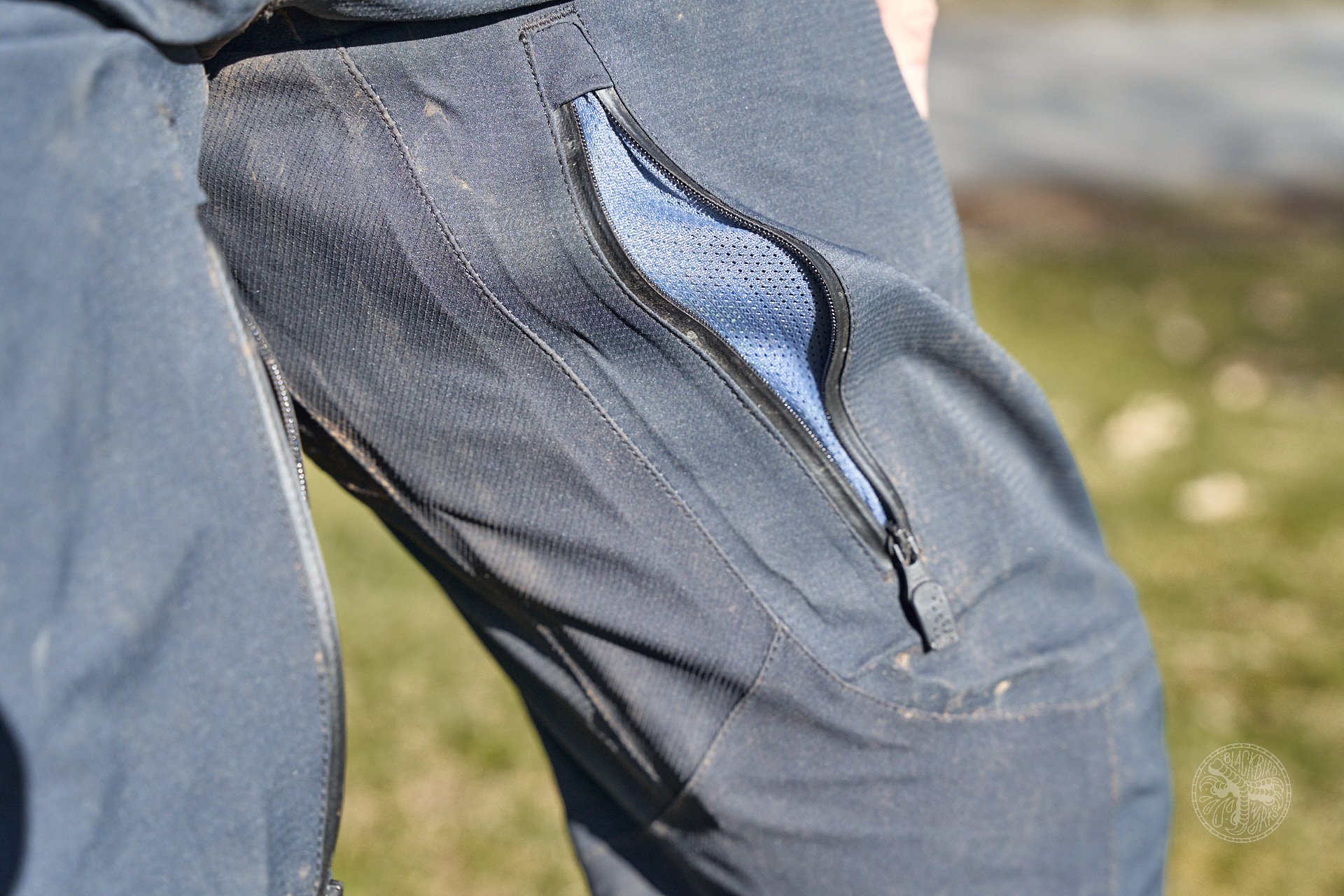 Leatt 5.0 Jacket and Pants
In the world of Leatt, 5.0 means heavy duty, and in the case of the Leatt 5.0 Jacket and Pants, that's certainly the case. And while these two are from the same family, I'll point out that depending on who you are and where you ride, there could be times when the pants may be suitable and the jacket may not. I'll explain below.
Let's start with the 5.0 Pants. Sorry, that's Leatt Pants MTB AllMtn 5.0 V22 if we're using the entire name, which is a naming convention gone horribly wrong. Anyway, we'll call 'em the 5.0 Pants. You may be thinking to yourself: "self, it's amazing - five years ago almost nobody was making riding pants, and now it seems like I can get 'em in almost any colour from almost any brand I want". And you'd be right. And that's a good thing.
Most of the time it would seem obvious that waterproof-breathable pants like these Leatt 5.0s are made for crappy days: cool and wet or cold and snowy, these will keep you dry and warm. However there are other scenarios where they'll also make you feel like a genius for wearing them. I've worn them on several rides this 'spring' (we're using that term altogether too lightly these days, unfortunately) when rain threatened, and even though it sometimes did not rain during those rides, the protection they offered from yesterday's rain (and the six days before that) meant that I came home with muddy pants but not muddy legs or pads. This makes the strip down clean up job at the end of the ride a lot easier. Take off the pants and hose 'em down at the same time as the bike (and shoes), leave 'em to dry and voilà, ready to go again tomorrow.
Next up: shuttling or in the bike park. Shuttling in mixed conditions usually means you'll be warm when riding (and in the truck, unless you're riding in the back) but there's usually some faff-time and less pedaling than normal, so it's easy to cool off - sometimes more than you'd like. Combine that with wet conditions and pants start to feel like a good idea for shuttling on all but the warmest, driest days. I'm a convert. It's a similar issue in the bike park, except that instead of riding to the top in a heated truck, you're likely to be riding up on a chairlift - and I don't know anybody that doesn't have a story about chairlifts and hypothermia, winter or summer.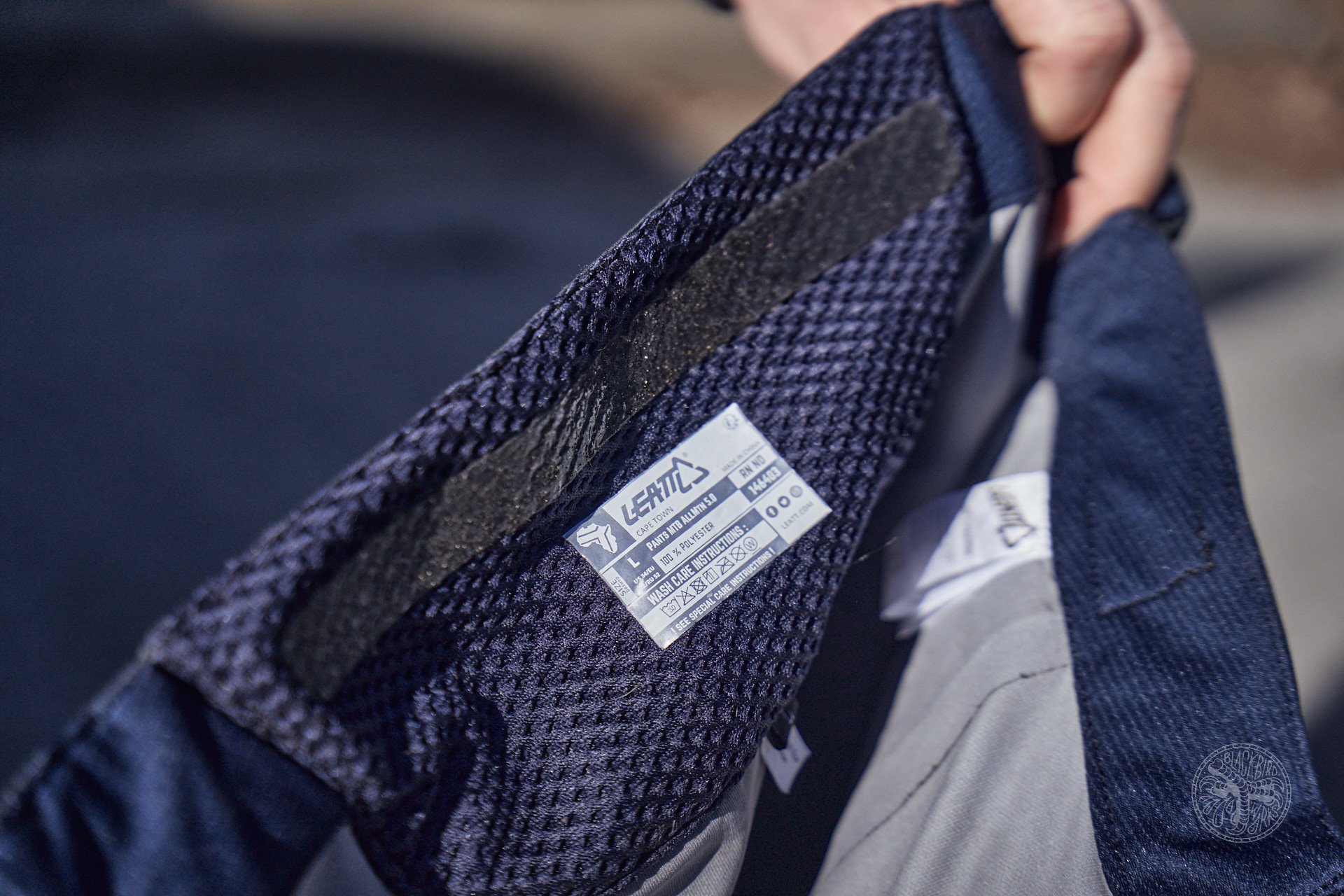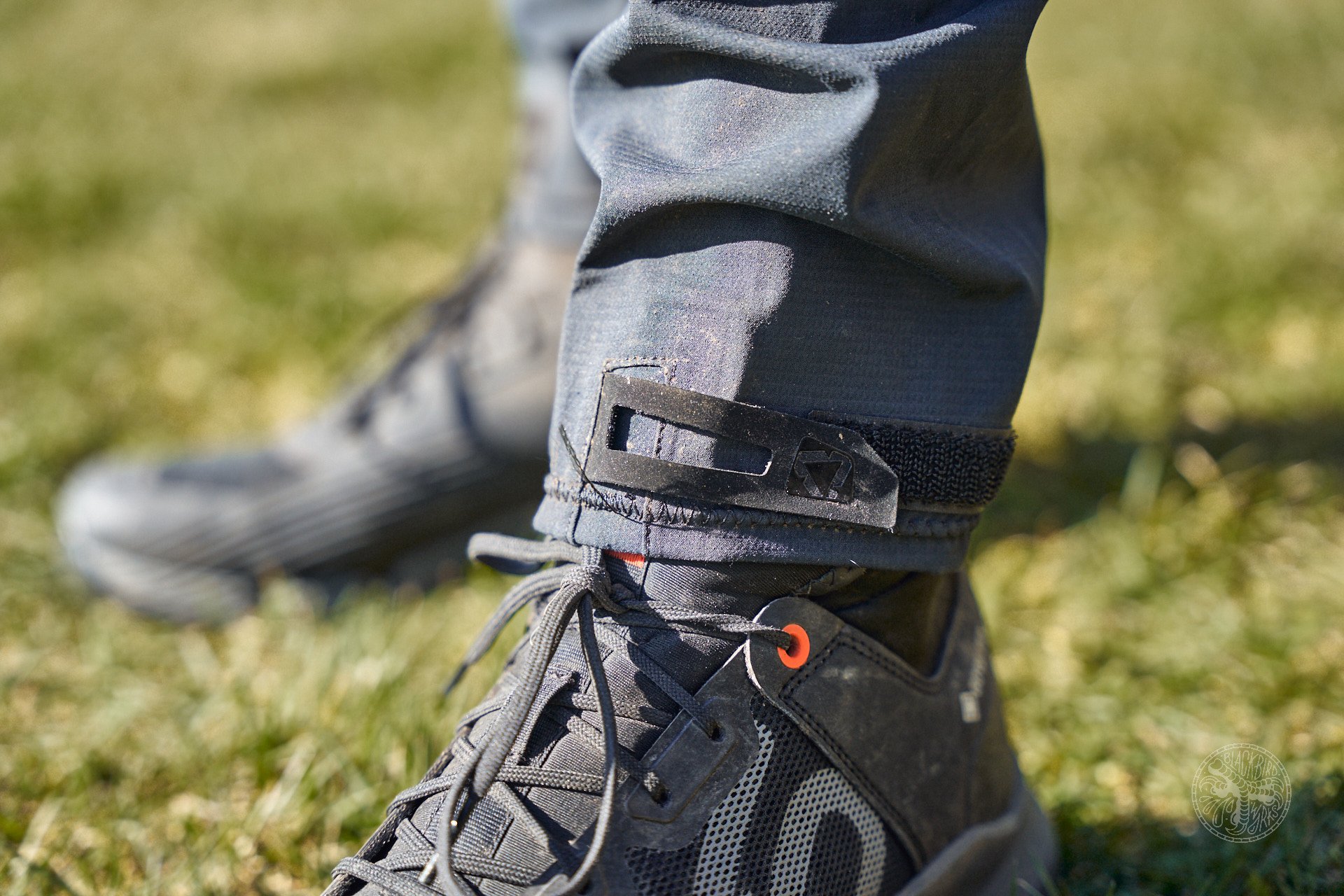 With many waterproof pants I wouldn't be so keen to wear them unless the conditions warranted it. It all depends on their breathability and the material's 'hand' - aka how it feels when you handle it, or more importantly wear it. The 5.0 Pant is still very obviously a waterproof garment, but the materials Leatt has used keep them from being overly noisy or plasticky when you're pedaling in them, and they also breathe well, which is helped by the ventilation from the effective inner thigh zips.
Other highlights for me are the fit, which is pre-formed and works very well both seated and standing for pedaling. No weird pulls or tendency to sag, and great range of motion. Like most riding pants, they're a slim fit, which doesn't mean they only fit slim legs, but rather that there isn't a lot of excess material, which is the only way to make riding pants that don't snag on things or flap in the wind. The ankles have a hook and loop fastener so you can snug them down which works perfectly to channel water past the ankle gussets of my Five Ten Trailcross GTX shoes, keeping my feet nice and dry even when I ride through deep puddles.
The Leatt 5.0 Pants come with four pockets: one at each hip, one on the right thigh, and one rear waist pocket. The hip pockets are tiny and only seem useful for something like a car key (there's a loop in the left hip pocket) and although the rear waist pocket just barely fits my iPhone 12 in a case, I usually put in the thigh pocket, where it also just barely fits. I can't wait until pants start coming with pockets on the back side of the thigh, which is by far the best place for storage on shorts or pants that you pedal in.
These are a very well-made, high performance pant that come at a premium cost, however they work so well in both the conditions they're designed for - wet and muddy - as well as in marginal conditions, and that versatility gives them a lot of extra value. Durability seems great, too, as the taped seams and stitching have all held up well so far, after 6 months of use and multiple trips through the washing machine.
30,000mm waterproof / 23,000g/m² breathable HydraDri membrane / Fully tape seam sealed
4 way stretch Hydradri seamless seat and back panels / Inner thigh zipper vents for great ventilation
Pre-curved riding fit with space for knee pads / Hook and loop ankle adjustment
Dirt, water and stain resistant fabric coating / Multi-row reinforced stitching
Hip pockets with Key loop (left) / Rear waist pocket / Thigh cargo pocket with silicone gripper
Reflective details / YKK – Japan. Top Quality Zippers
The Leatt Pants MTB AllMtn 5.0 V22 comes in sizes XS-XXL (28-38") and costs 299 CAD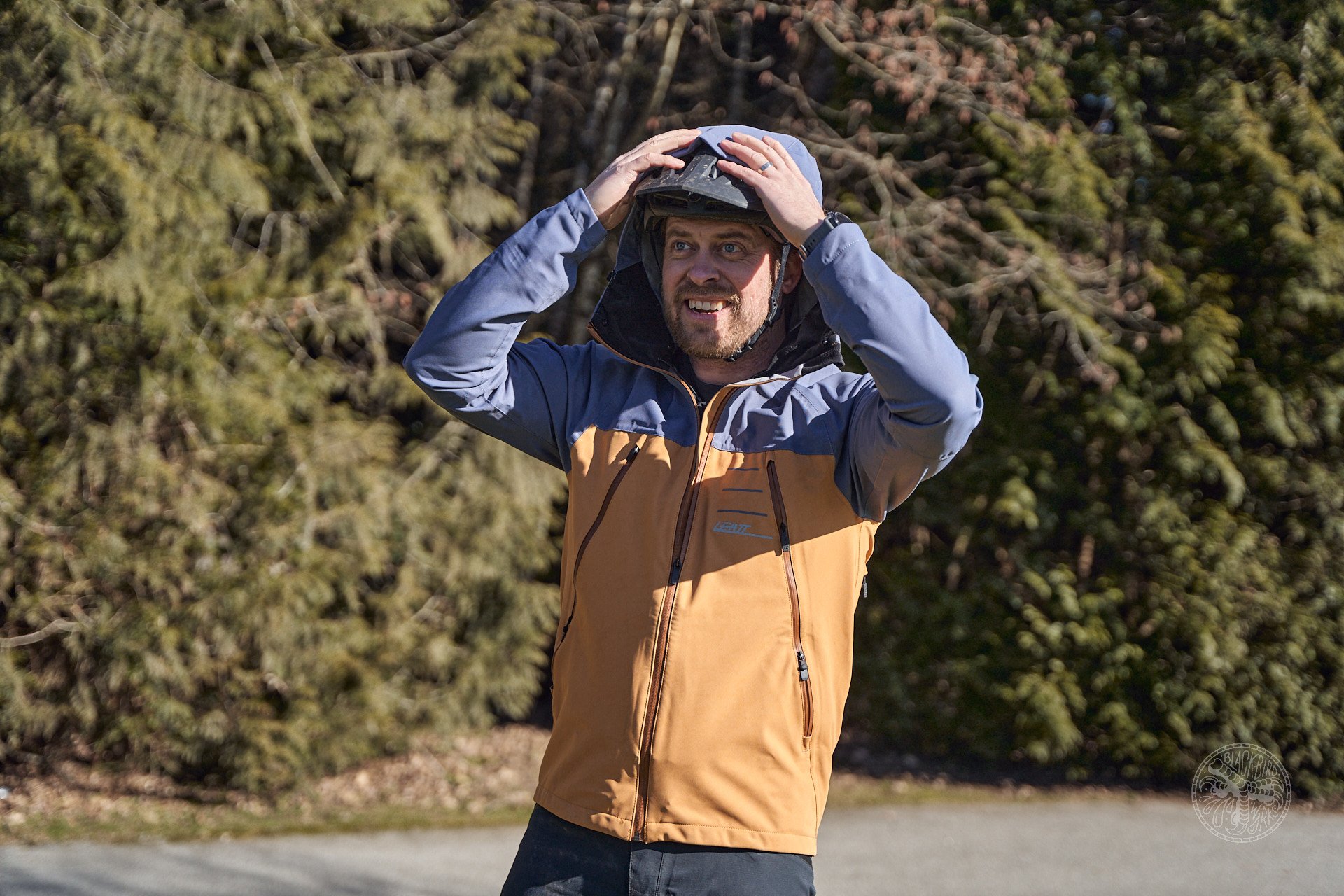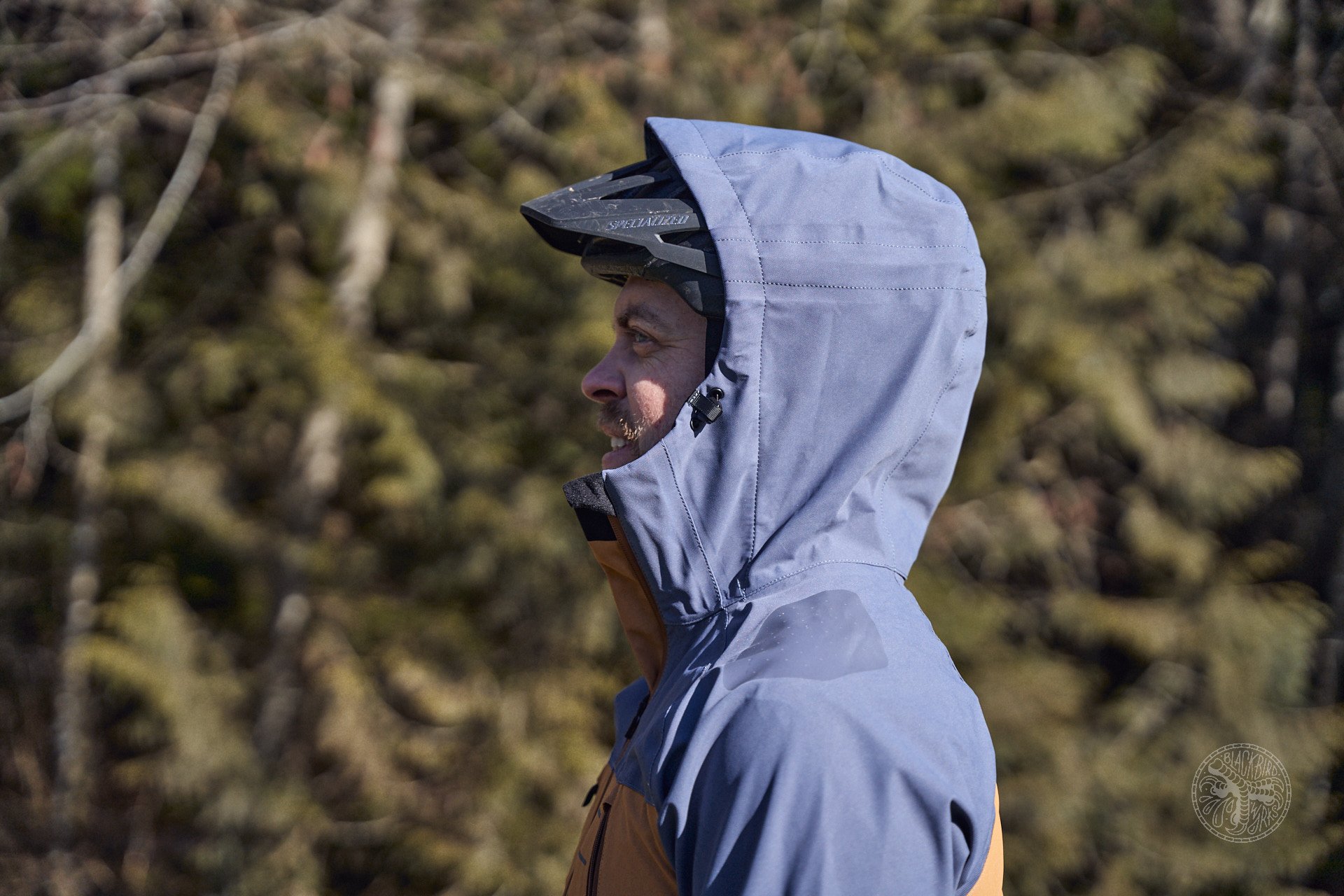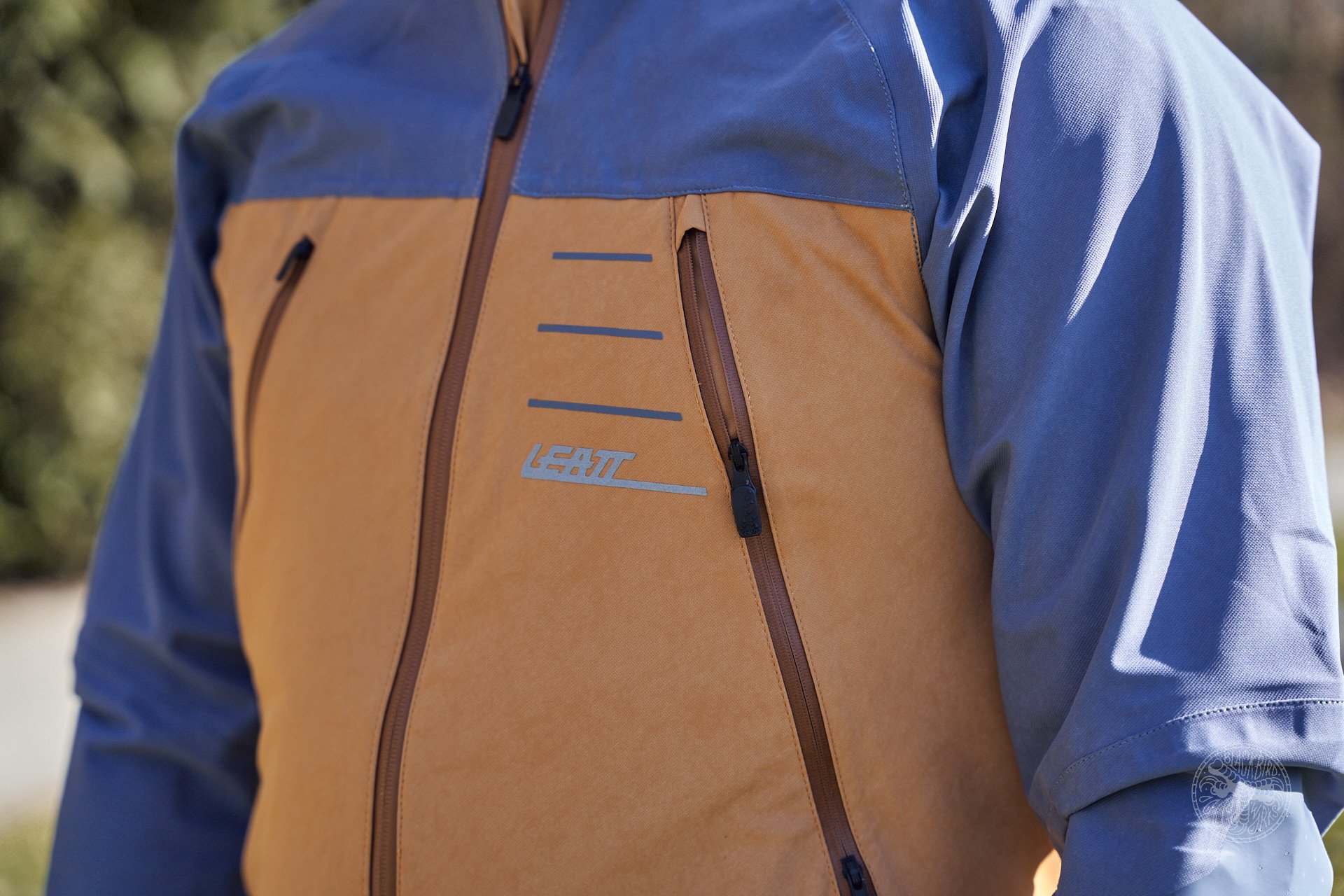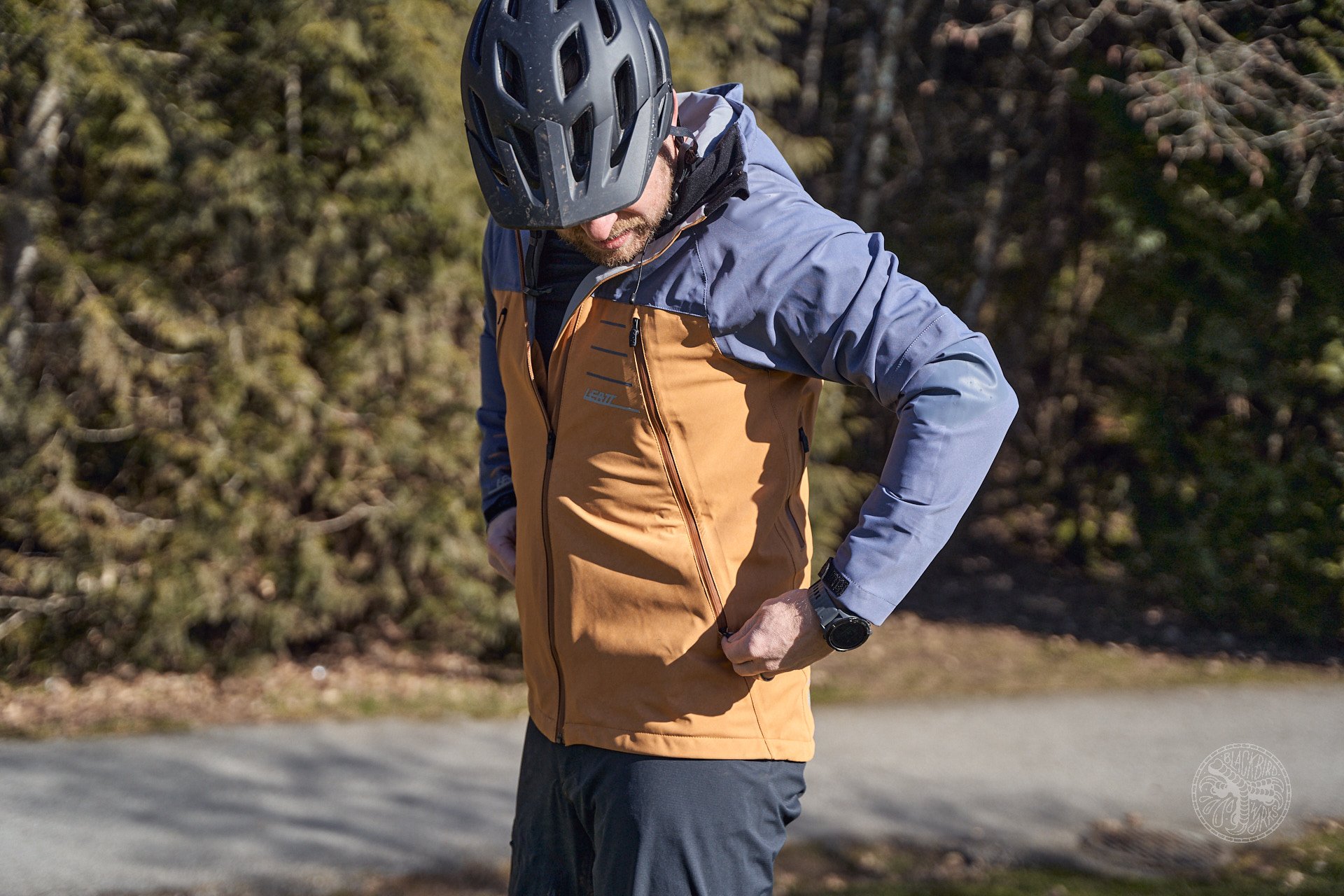 Leatt 5.0 Jacket
As we already covered, Leatt's 5.0 Jacket nicely complements the 5.0 Pant in terms of being loaded with features as well as intended use. Whereas the Pants are new to the line for this year, the 5.0 Jacket is in its second year (I reviewed it here) with the main update being the new Ride Adaptive Hood, which has a high collar that, when done up, makes me feel like a kid on a (freezing cold) chairlift. It can be folded down 'for casual wear/riding' but I found it awkward to tuck it down and it isn't 100% effective at dealing with the hood. In any case, with a jacket like this I'm using it for poor weather and resigned to dealing with a hood on days like that.
The impressive collar combined with a large hood that fits over a helmet and storm cuffs at the wrists all combine for best in class weather-proofing. It's great for truly awful days, but like the rest of the jacket, it'll feel like overkill if it's not cold and raining sideways. And that's the main takeaway of the 5.0 Jacket - for temperatures hovering between freezing and about 5ºC with rain or wet conditions, it easily seals out the elements so you can get on with your ride. But despite the claimed breathability, the 5.0 will stifle you if you're pedaling hard or riding in milder conditions.
Yes, the 5.0 Jacket has side vents in the back and the monstrous 2-way zippered front pockets can also be used to help with venting. And yes, there is also the ClimbVent connector which holds the front of the jacket together with pop-locks even when the main zipper is undone - and like last year, I like this feature. However, if it's mild and wet (or cold and wet) and you need the venting, the rain or tire spray will get in, so it won't matter if you're not getting wet from the inside from sweat, because the rain will make sure the job gets done from the outside.
There is no one jacket that covers all needs, and there are certainly some riders and places (and seasons) where a heavy-duty jacket like the Leatt 5.0 is the ticket, just be aware of what it does and doesn't do well. This is a Fall/Winter jacket for most, that also makes sense for long days outside in bad weather, and shuttling or banging park laps when it's nasty out, but it isn't a great choice for high output rides with lots of climbing (or if you sweat heavily).
With that caveat aside, the 5.0 Jacket is as impressive this year as it was to me in last year's review. Like the 5.0 Pants, it is packed with features, well-designed, and durable as hell. For those that are hard on their gear, it's a great choice. Just check the fit - it's the tightest fitting size L jacket I've worn, so you may need to size up depending on your dimensions.
30,000mm waterproof / 23,000g/m² breathable HydraDri shell / all-taped 360° lightweight stretch shell
ClimbVent connector for pedaling with the jacket open / Vents on sides of jacket
NEW Ride Adaptive Hood (RAhD): Over the chin for superior comfort / Chin fold design for riding or casual fit
Magnetic hood system keeps the hood at the back or fixes it on the helmet (helmet magnet included)
Dirt, water and stain resistant fabric coating
Water-resistant YKK zippers and hidden reinforced stitching
Shoulder Brush Guard with anti-slip function for improved backpack grip / Brush Guard fabric protection on elbows
Pass pocket on left arm / Microfiber goggle wiper
Waterproof silk storm cuffs at wrists
Seat gripper, prevents jacket rise
The Leatt Jacket MTB AllMtn 5.0 V22 comes in sizes S-XXXL and costs 369 CAD
SixSixOne Gloves
During my SixSixOne Recon line pad review I also tested 3 pairs of 661 gloves: the Recon Advance (aka the Knuckle Sandwich), the breathable & lightweight Raji and the Raijins, which may be the best winter gloves ever. SixSixOne sent me these three completely different gloves to test in a variety of conditions. -Trevor Hansen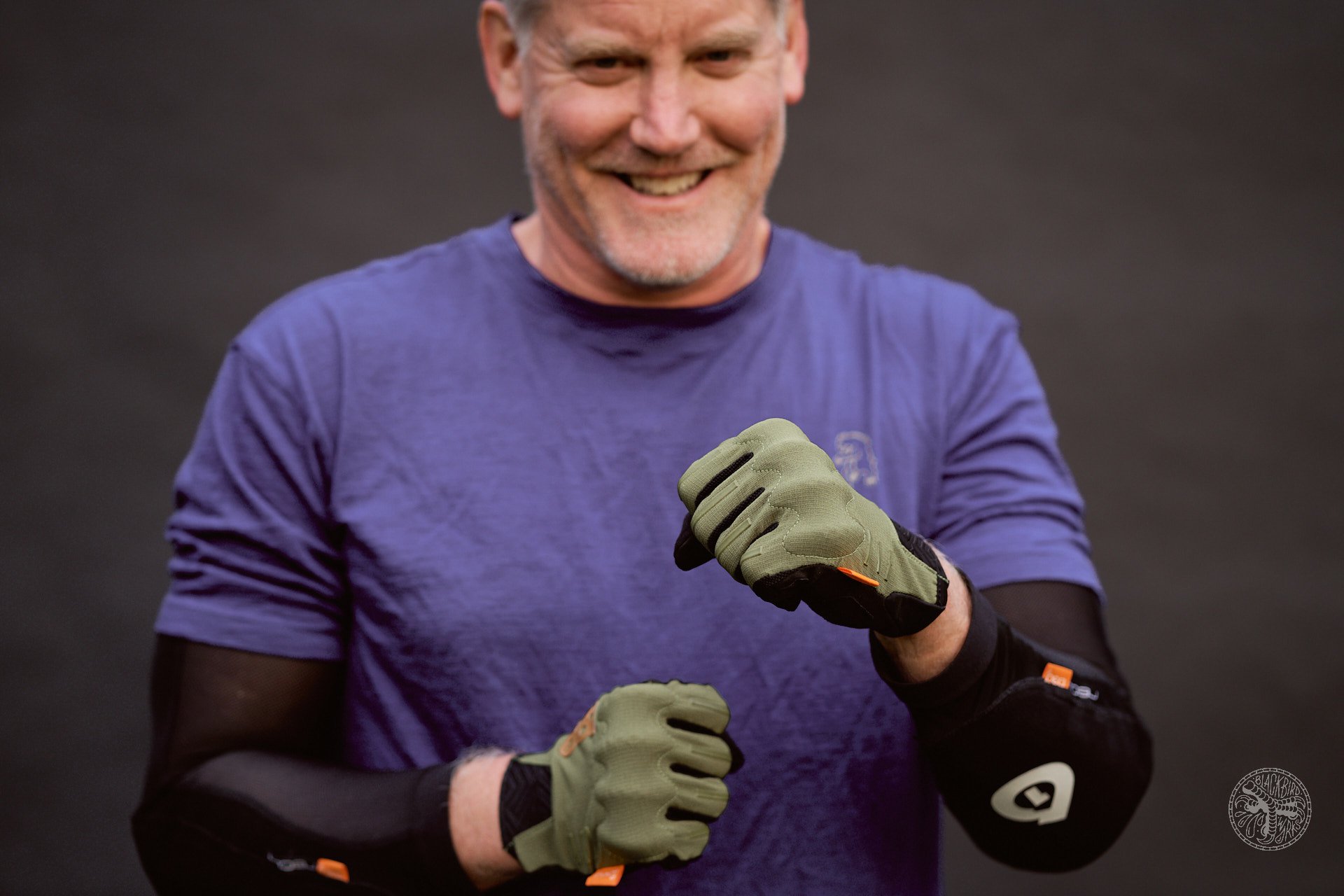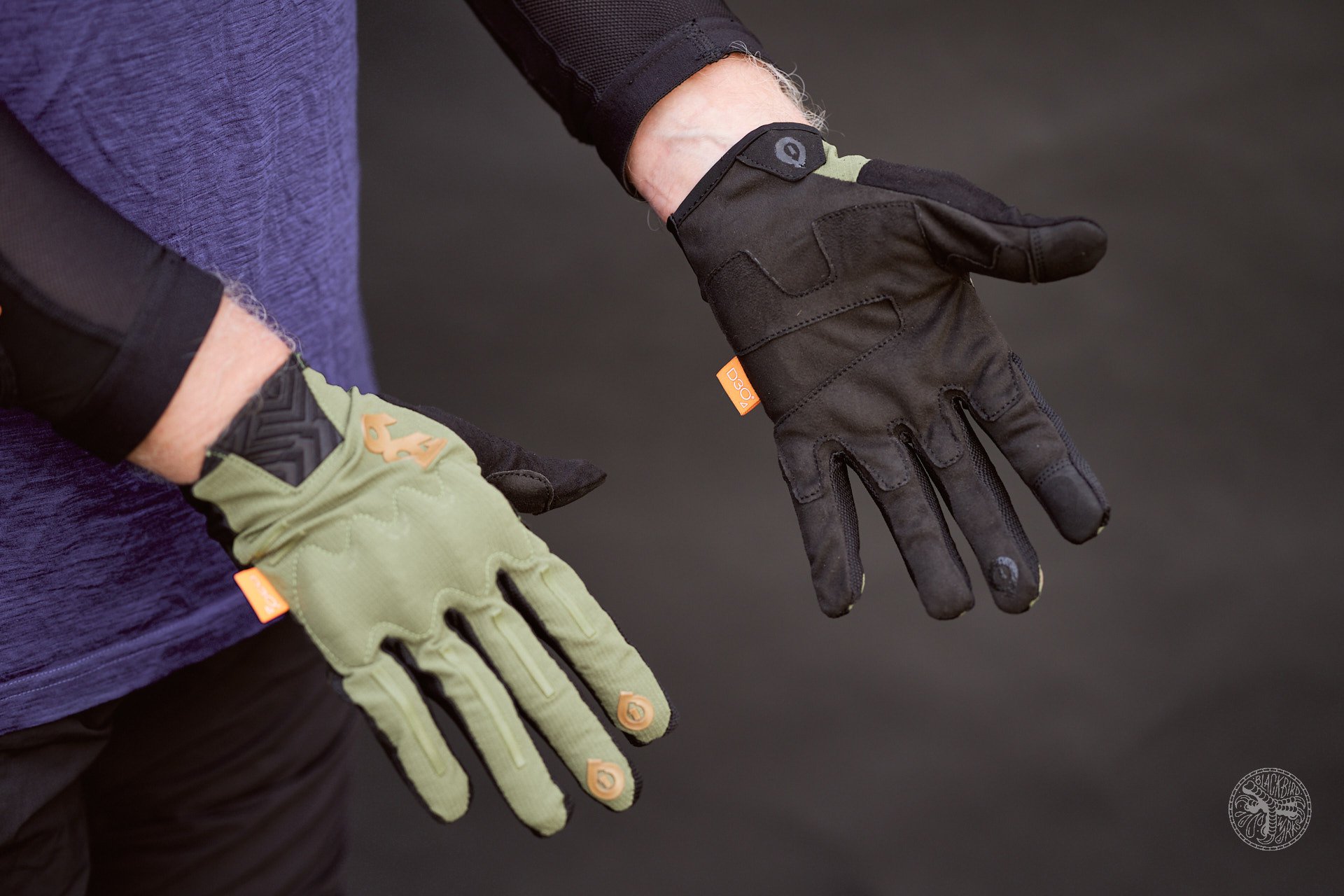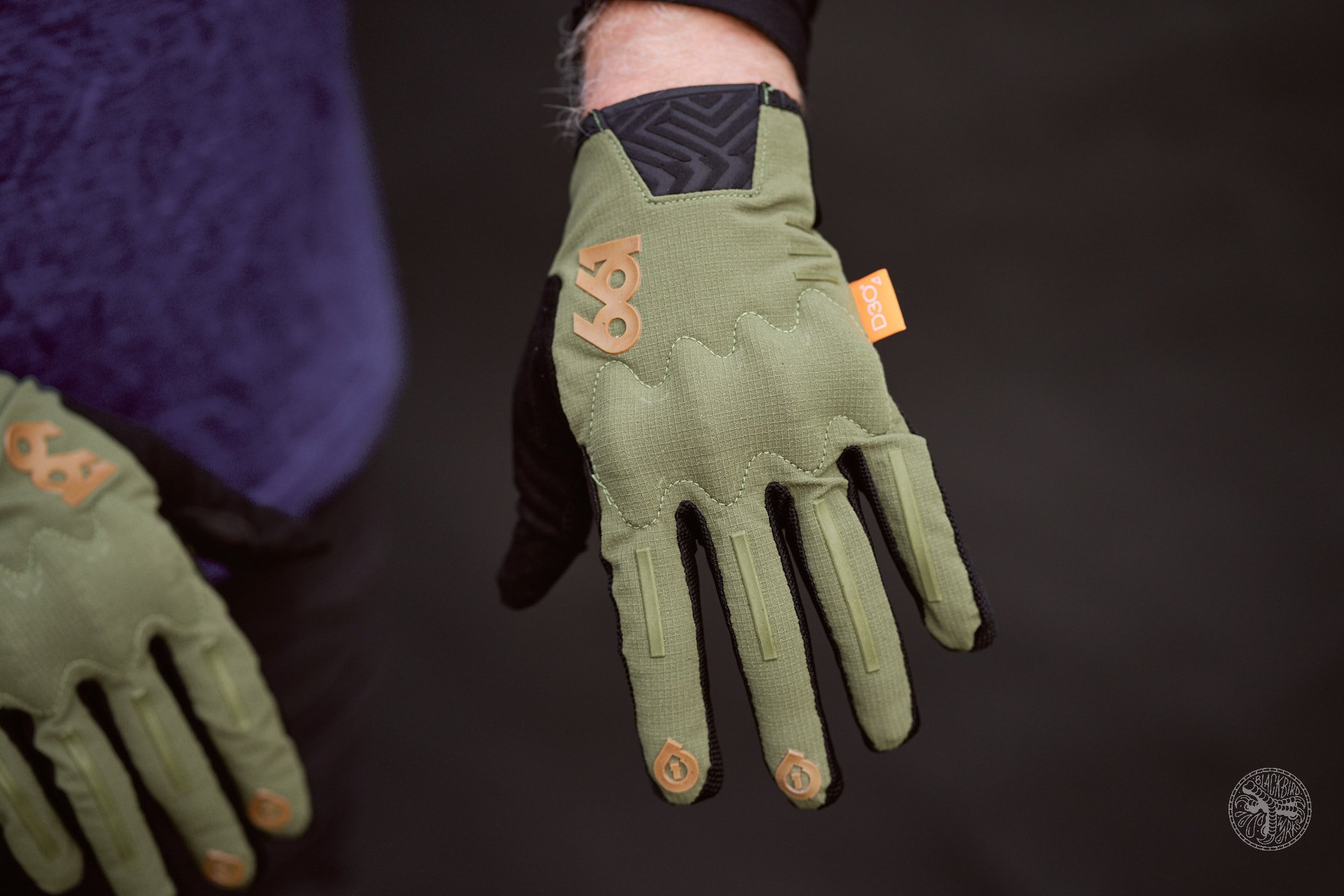 SixSixOne Recon Advance gloves
These knuckle protectors provide all the features I am looking for in a glove for the days I ride the hard gnarly trails. The knuckle protectors are pre-curved pieces filled with D30. Unlike older knuckle protecting gloves I have used from Dakine and Fox that can be thick and bulky, I can barely feel that I am wearing these.
661 uses strips of TPU for a bit of extra protection when the digits mix with things like trees. The AX suede palm is comfortable and works well with my grips. The same silicone printed fingertips and touchscreen index finger and thumb compatibility that the other 661 gloves I tested have also appear on the Recon Advances. The gloves slip on without a closure strap, as all gloves should in my opinion, using liteprene and lycra stretchy stretch inserts.My favourite feature of all gloves, the micro-fibre thumb sweat wipe, does the job dealing with my shwetty balls of sweat during climbs.
The SixSixOne Recon Advance comes in sizes XS-XXL and costs 49 USD / 65 CAD
SixSixOne Raji gloves
The 661 Raji gloves are lightweight, cool and very breathable, and very comfortable on and off the bars. The large fits me well but like most 661 gear, a medium-large would be perfect. The Rajis are a very light, low cost comfortable warm weather glove. These gloves have been around in one form or another for 20 years. The ventilated stretch twill on the back creates the comfy cool fabric that is combined with a perforated single layer palm. The 661 silicone print on the fingertips helps with grip and the touchscreen compatible index finger and thumb worked pretty well on my phone.
Unfortunately the hook and loop wrist closure strap is a hassle I can do without. From the hooks catching on my sleeves to the potential for ripping (see Raiijin below) to the stiff feel on my tender and sensitive but very masculine wrists this feature needs to be dropped. The same wrist opening used for the Recon Advanced would be great on the Rajis.
The SixSixOne Raji gloves comes in sizes XS-XXL and cost 25 USD / 32 CAD
SixSixOne Raijin gloves
These cold weather gloves win on two fronts: they are named after the Japanese storm god and they are the best winter gloves I have used - and I have worn over ten different gloves in the past ten years trying to find the best fit and performance in the cold, wet and dark months.
The SixSixOne Raijin gloves use an insulating, stretchy softshell fabric that feels great. The gloves are windproof and water resistant - two qualities I can attest to working well in this crappy weather. The synthetic leather palm is that perfect mixture of thin enough for grip but warm enough for, well, warmth. The finger tips have prints on them to help with braking and maybe even blocking a bit of brake lever cold from getting through to the tips. The micro-fibre sweat wipe did its job quite well. Like the Raji, the Raijin has the hook and loop closure that 661 claims to create a perfect fit. As you can tell by the photos, mine don't fit well after I ripped them open. I have never had a problem with winter riding gloves needing a closure to create fit. The rip occurred a few rides into the test but I liked the gloves so much I rode them ripped without a problem. I went easy on the other paw closure and they have been fine the whole time. Hopefully 661 will design the wrist better next season but even so I would recommend these mitts and just say go easy when opening the closure. And finally, another great feature is the price: it's hard to find a quality winter glove at this low price.
The SixSixOne Raijin comes in sizes XS-XXL and costs 30 USD / 40 CAD
Showers Pass Merino Hoodie & Long Sleeve Tech Tee
A few local Shore riders have mentioned to me that they're "fair weather riders". How does one even justify this statement, considering we live in one of the wettest climates around? I don't need to spew facts about the PNW and rain - omnipresent is the operative word. Nonetheless, "fair weather riding" significantly cuts down on...riding! To ride in the slop or sun, a comfortable riding kit is crucial to allow enjoyable days on the mountain. Drape me in merino wool, and I'll try my damndest to get out for a ride, regardless of what the sky is doing. -Graham Driedger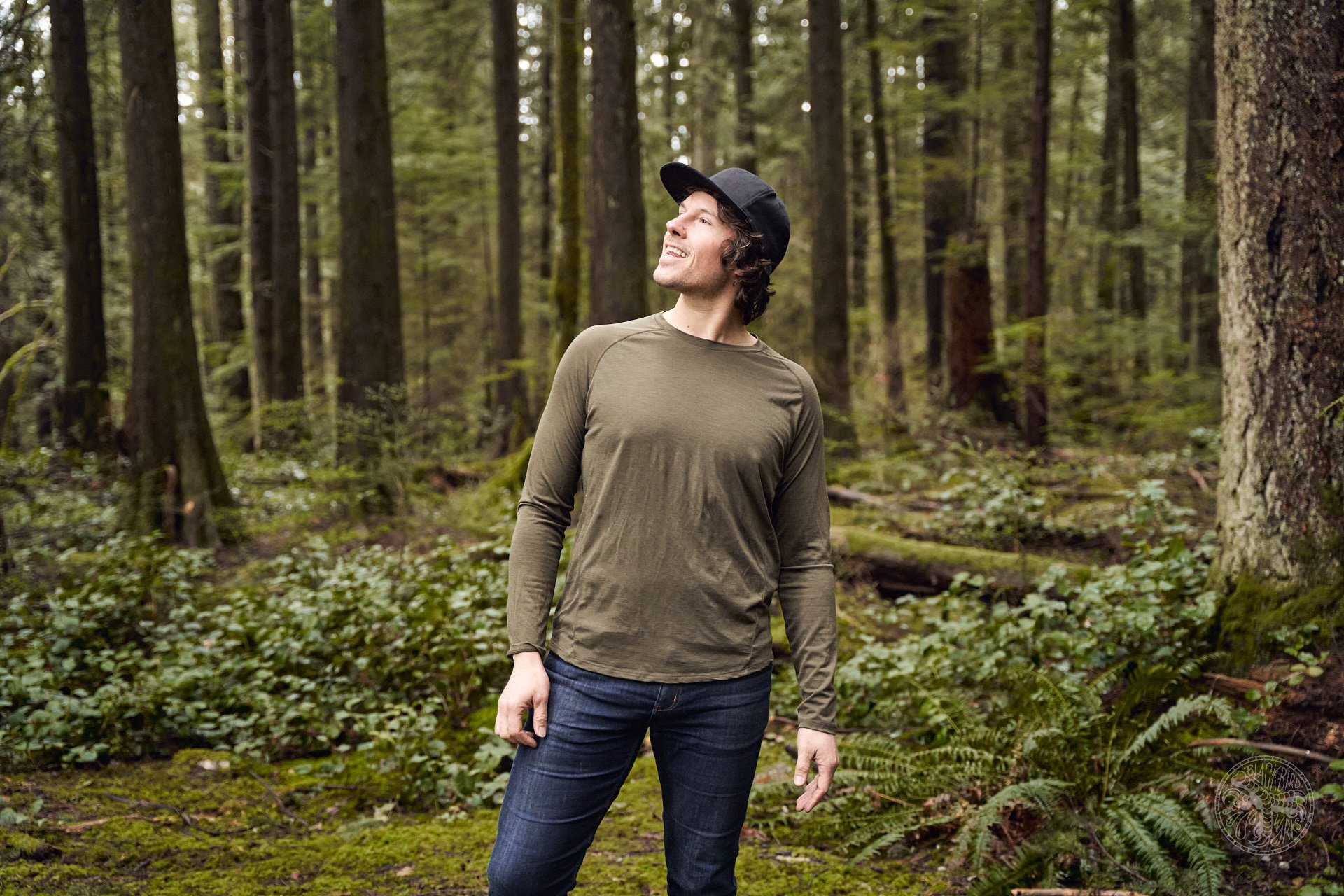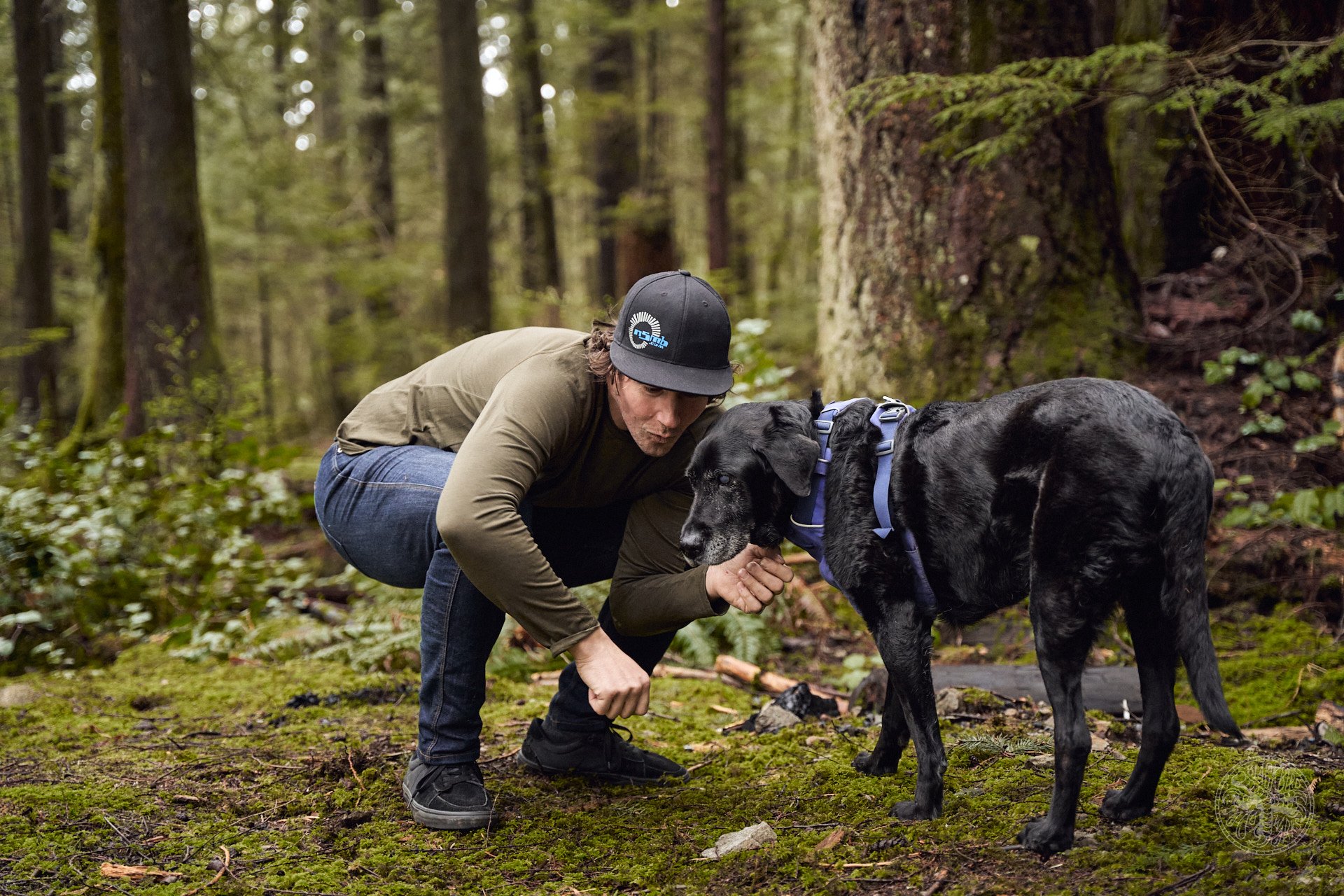 Showers Pass Apex Merino Tech-T Shirt Long Sleeve
For nearly every day of riding during the winter and spring of 2022, I've been wearing the Showers Pass Apex Merino Tech-T LS. The 150gsm fabric weight is thin enough to use as a base layer on chilly days, but my favourite combo has been wearing this piece over another lightweight merino short-sleeve, particularly for the many days hovering between 4°-10°C. Layering for the perfect combination of light insulation, sweat wicking capabilities, and breathability is key for comfort. Poly jerseys wick sweat away quicker than wool, but leave me cold as liquid evaporates - not good. Not to mention: poly holds on to funk, while merino wool keeps that shit at bay. The Apex LS allows great temperature management for this tremendously sweaty guy, and retains warmth while wet (a key merino characteristic). Spun with a 87% wool/13% nylon blend, the small amount of nylon retains slight funk (compared to non-funky 100% merino wool), but also lets the jersey breathe/wick quicker. This also gives the fabric some strength - I've managed to put some small slices in the left forearm, but they haven't grown with regular use or in the wash. Garment care is easy, wash and hang or tumble dry. I've definitely thrown this piece in the dryer without any wool shrinkage issues, though hang-drying is the ticket to keep it looking near new.
The Apex LS can easily be worn as a day to day long sleeve, the aesthetic tells nothing of a technical outdoor layer. I'll always default to this look - I want to wear subdued technical garments every time I'm behind handlebars. The cut is fitted yet not tight, with a slight drop hem to keep your lower back covered while in the saddle. Flat lock stitching affords zero bunching under a pack or jacket. I'll certainly rock this shirt for riding, après, and chilling in 3 of 4 seasons.
The Showers Pass Apex Merino Tech-T Long Sleeve comes in sizes XS-XXL and costs 89.99 CAD
Showers Pass Basecamp Merino Hoodie
The Basecamp hoodie has been my go-to for après ride beers, lounging at home, and a few backcountry ski days. It looks like a typical hoodie, not super tech-y. The 95% merino wool/5% polyamide textile has a weight of 230gsm - comparable to a thin sweater. A half-length front zipper helps evacuate hot air out of one's chest/neck, managing temperature to not overheat or saturate the garment with sweat. Fortuitously, merino wool will keep you moderately warm while soaked, but still dumps heat as needed - perfect for NSMB's home climate. The ubiquitous kangaroo pocket spans a bit wider than usual, while gloves/sunglasses/wallets stash securely away with a zipper closure on either side.
For cold-weather layering, the Basecamp would be a fantastic mid layer, or even work as an outer layer - provided you're okay with speckling the very sharp harvest gold colour with mud, or loam. On cold days, I prefer to use multiple thin base/mid layers under a shell, vs. a singular thicker base layer. This allows me to add or remove layers as necessary. The weather we've received from January through early May has been cooler than usual, but not cold enough to necessitate this hoodie under a light shell. I need maximum breathing/wicking capabilities from my jerseys, not warmth. Be bold, start cold.
The Showers Pass Basecamp Merino Hoodie comes in sizes Small-XXL and costs 179 CAD