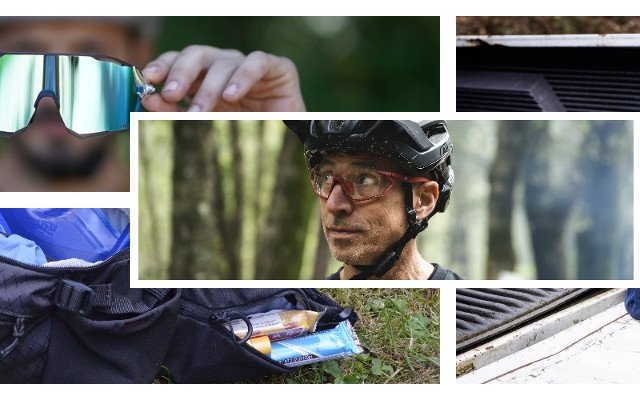 Five Products Reviewed
Gear Shots: June 2023
Waterfield Designs Cycling Tote
In the summer of 2004, before I quit my job and uprooted my life to move to Europe, I bought a 12" Apple Powerbook G4, and it needed a home of its own, especially for that nomadic period of my life. That's when I discovered Waterfield, a made in San Francisco brand whose owner, Gary, liked all things Apple and cycling and usually responded personally to inquiries. I bought a sweet little laptop bag that was thoughtfully designed, tough as hell and had a WTB grip for a handle. I loved that bag, and it served me well for years. When I eventually sold the laptop, the Waterfield bag sealed the deal. I would have kept it, but I wasn't planning on owning another 12" laptop. I bought a couple of cable bags at the same time. I still use at least one of them on almost every trip I take, and it's good as new.
Fast forward almost twenty years and I regularly check the Waterfield site, which is how I discovered the Cycling Tote. I'm always tweaking my pre- and post-ride routine for efficiency, and while that's included tote bags in the past, they usually piss me off for one reason or another. I'm no stranger to Ikea's iconic Frakta, but don't like the wide ends that sag outwardly, letting rogue socks or gloves make a break for freedom, though you can't argue with the value - that bag only costs a dollar or two! Great in a pinch but far from perfect.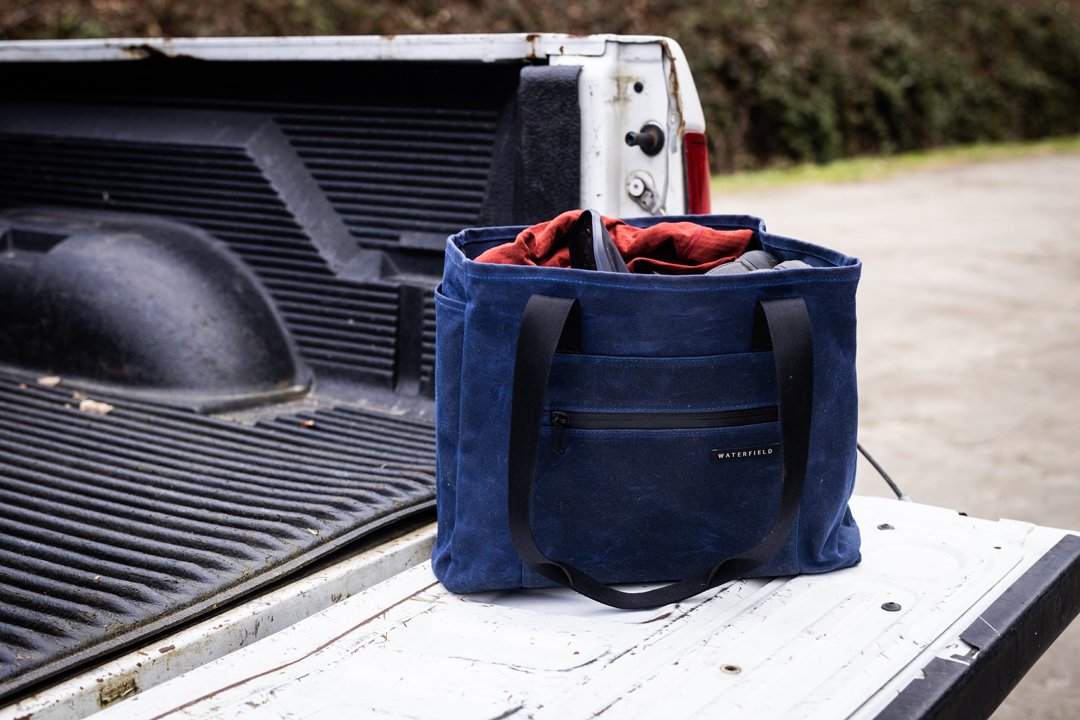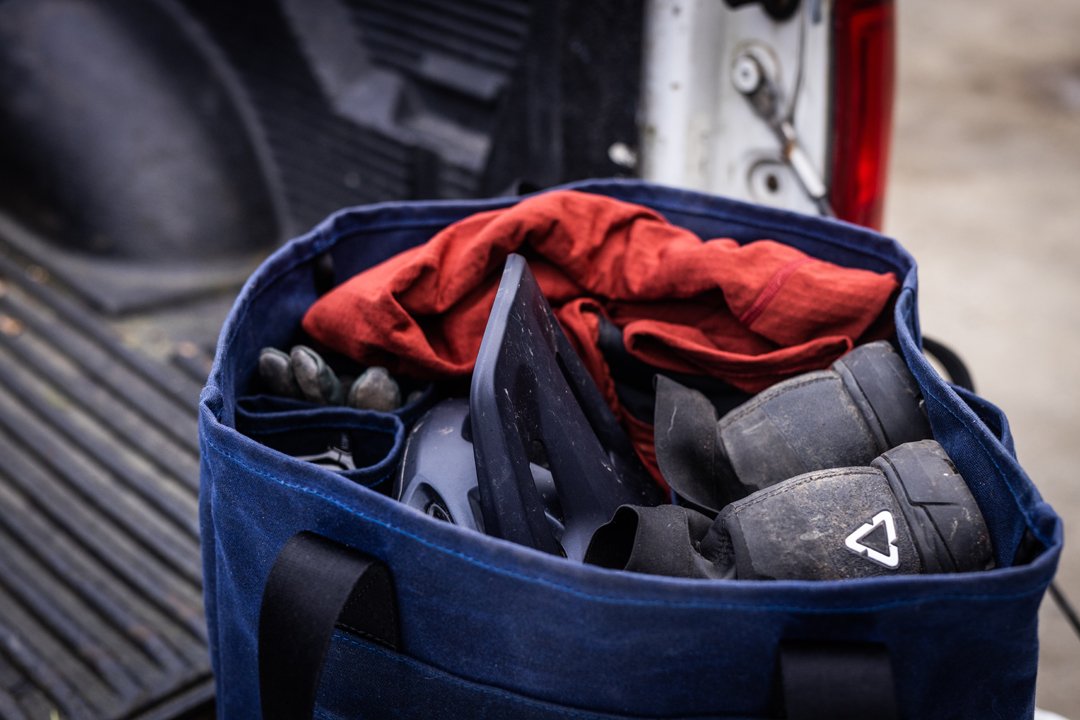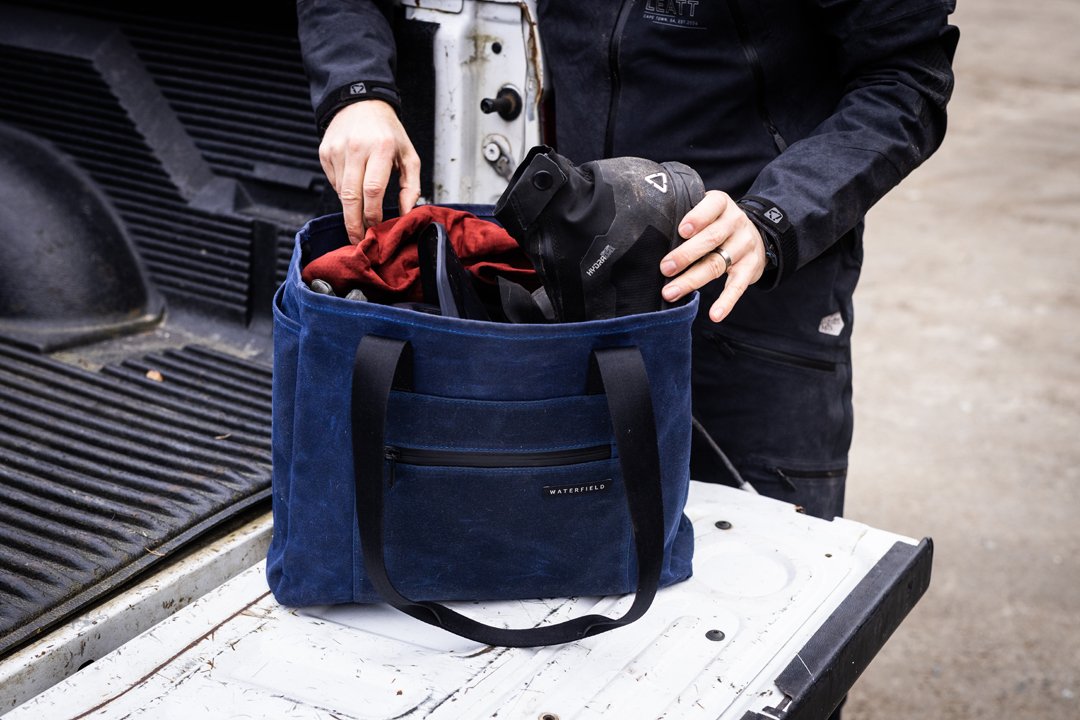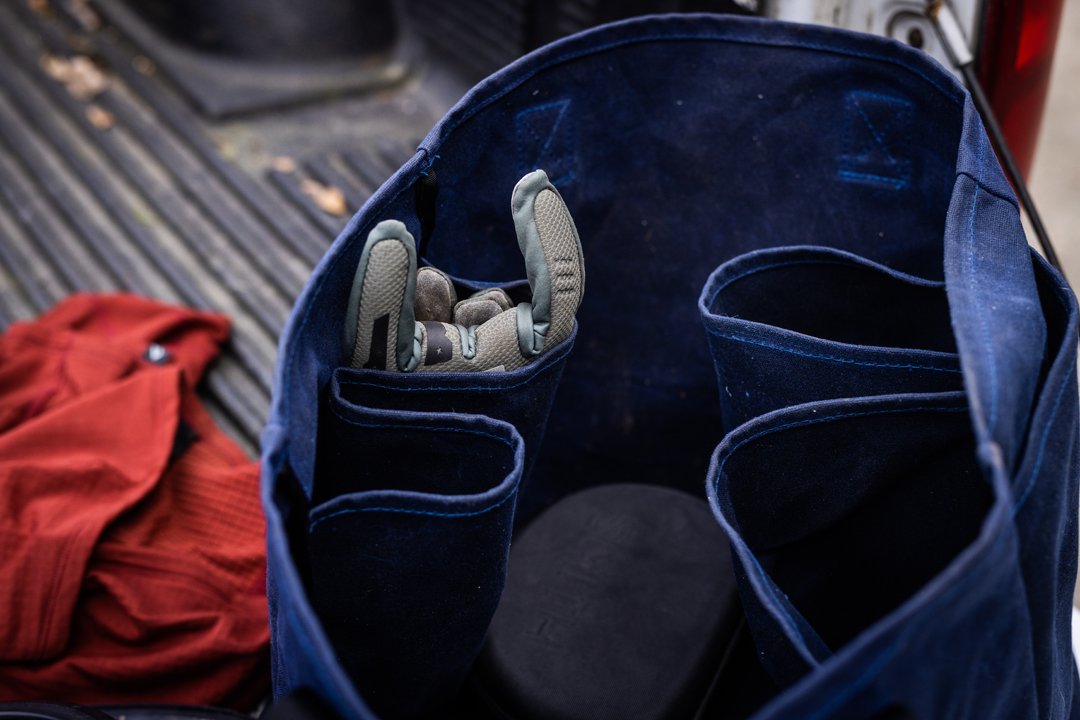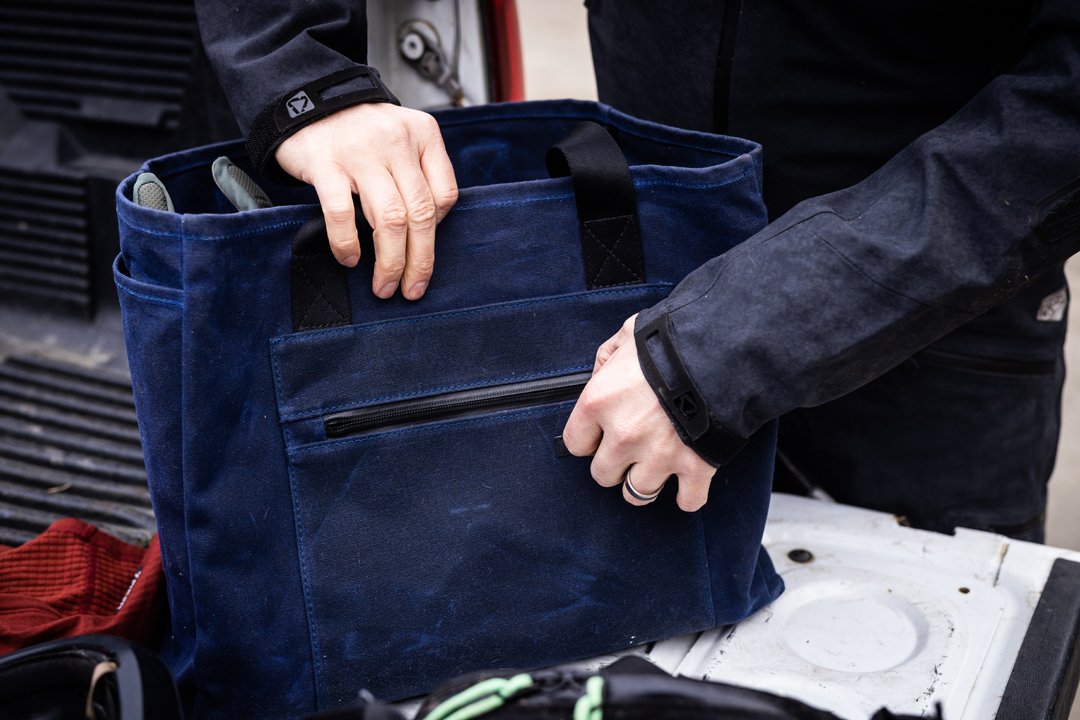 A Waxed Canvas Beauty
My long running on and off infatuation with waxed canvas hit a high mark last fall when I finally pulled the trigger on a Filson jacket. That thing is burly and will shrug off water and wind, but more importantly also brambles, snags, blackberry bushes, and spiky branches while I bushwhack my way through the woods. It's the kind of jacket that feels weighty when you pull it on, which I love for something that gets used roughly. It's made of 14 oz. waxed canvas. Waterfield's Cycling Tote is made of 15 oz. waxed canvas. It ain't a competition, but I think you get the point - this bag is tough, whether you load it up with as much beer as you can fit (more than 24 cans plus snacks!) or slam it in car doors and kick it around the parking lot. I don't know why someone would treat it like that, but if you did, you could just brush off the dust and pretend nothing happened.
However it's also malleable enough that you can fold it down and pack it for travel, so you have something useful when you get to the other side. It's not light nor slim - that 15 oz. waxed canvas comes with a bit of weight and bulk, but the utility of a bag like that on any kind of trip is high. I took the Waterfield Tote down to Sea Otter and used it while shopping for groceries (mostly snacks), transporting beer into and out of hotel rooms, carrying a sock order we picked up from Sock Guy, and to haul bike gear on ride days. I use it for the same things back home, but I keep it in my office so that I can carry parts and samples in and out of here to the car or the shed, and so it's easy to grab whenever I go out to buy stuff, go riding, or move stuff around. Yeah, that's the definition of a bag, but I love this one because it's tough, but also because it's nice to use - just grab 'n go, it'll never rip or blow a seam and spill its contents onto the ground, and it looks the part.
We should probably cover the fact that it's got a cavernous main pocket that is punctuated by two vertically-oriented slot pockets at either end and one on the outside of each end, plus a zippered exterior side pocket. For riding, the main compartment swallows my helmet, glasses, gloves, and hip pack with room for clothes to change into (jeans and a hoodie may put you over the edge but spare shorts, t-shirt or thin sweatshirt and socks work fine). The interior slots are intended for two shoes on one end and two bottles on the other, and sized accordingly. Use them that way, as they've been designed, and you won't forget those critical items. The exterior pockets will fit your flip flops on one end and several tools (hex keys, shock pump, etc) and energy bars on the other, with room for spare gloves, arm warmers, etc. The zippered pocket will handle a wallet, notebook, as well as keys or anything else you need to keep secured.
If I'm using it for something other than riding, I find all those interior pockets super useful. For groceries, the vertical pockets hold bottles or heavy items and keep things like veggies separated. The uses are endless, and like other things I've bought from the brand, I plan to be using the Waterfield Cycling Tote for a couple of decades.
-Pete Roggeman
Waterfield Designs Cycling Tote is available in Navy or Brown Waxed Canvas or Black Ballistic Nylon - all variants cost 139 USD. Lighter weight X-pac versions in white and blue look to be coming in about a week, but prices aren't confirmed yet. They are sometimes made to order, but the delay for mine was less than a week.
Ryder Innovation Slug Plug
Pete handed me one of these little capsules a year ago or so. A small black tube with rounded ends makes me wonder if folks view it in the same light as a CushCore Bead Dropper, but that's merely my perception. Pulling the two ends apart, the Slug Plug reveals a bacon-strip style tire plug, loaded into a corresponding sturdy needle. There's also has a valve core removal tool molded into the exterior tube.
I've used tire plugs in the past with varying success, and I wonder if that's due to smaller diameter plugs not sealing all of the puncture, letting sealant do the rest of the job. Included in a slim plastic case are five 1.5mm plugs, and five 3.5mm plugs. The 3.5mm diameter plugs are the ride-saver, obviously taking up much more volume than 1.5mm plugs. The Slug Plug has saved four recent trailside punctures, which is a hell of a lot better than listening to your buddies whinge about missing out on epic loam! Jabbing the needle into an injured tire and twisting the 3.5mm plug seals the tire nearly instantly. A slight air-top up with a hand pump, and Bob's your uncle! Ride on.
Thwarting a potential hour-plus walk out of the local steep and deep is a no-brainer, particularly when the tool is the size of your pinky finger, weighing nearly nothing. I've lost two Slug Plugs in the past, and have bought them again immediately while visiting the local bike shop. At $15 or so, I pity the fool who doesn't have one to fix a tire puncture!
-Graham Driedger
Ryder Innovation Slugplug: $15 CAD // $10 USD
---
M.U.L.E. 5 Waist Pack with Crux 1.5L Lumbar Reservoir
As the days get longer and warmer, so do our excursions. The deciding factor for bringing extra baggage tends to be either water, snacks, first aid, extra gear/tools or all of the above. The M.U.L.E. 5 Waist Pack has your back - or hips rather - for most of your Medium to Ultra Long Endeavours in the saddle. 
As the name indicates, there is a total of 5L of volume, with an optional 1.5L dedicated to the lumbar water reservoir. I say optional because alternatively you can use the two bottle pockets if you prefer that, leaving more room for snacks. The Crux 1.5L reservoir has an ergonomic handle for easier refilling and a round leakproof cap. The design is certainly interesting and even though it was easy to fill the reservoir, I ironically found it harder to drain and dry compared to one that fills from the top with a slide closure. 
Some key features include the bungee overflow, integrated tool organization, cargo compression straps to cinch down the pack and two smaller pockets on the hip belt for quick access gear. Additionally, the pack is DWR coated and super simple to wash when the time comes. The bungee overflow has to be my favourite feature for bringing a jacket or that extra bag of candy that didn't make it into the main pouch. There are many options for organizing your gear but you shouldn't expect to fit a ton of gear in the main pouch if you have a full reservoir. A bit of Tetris is required to maximize space.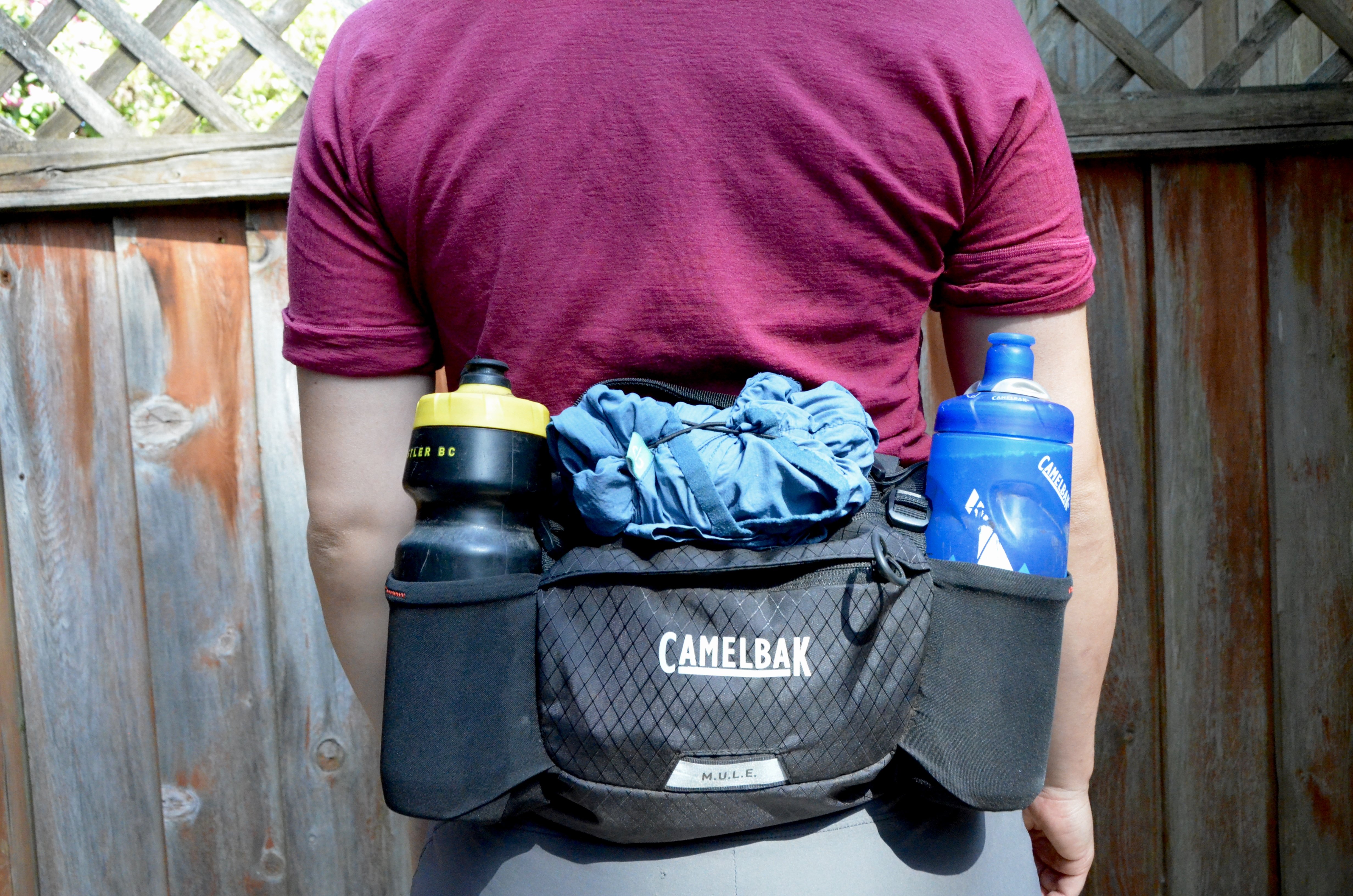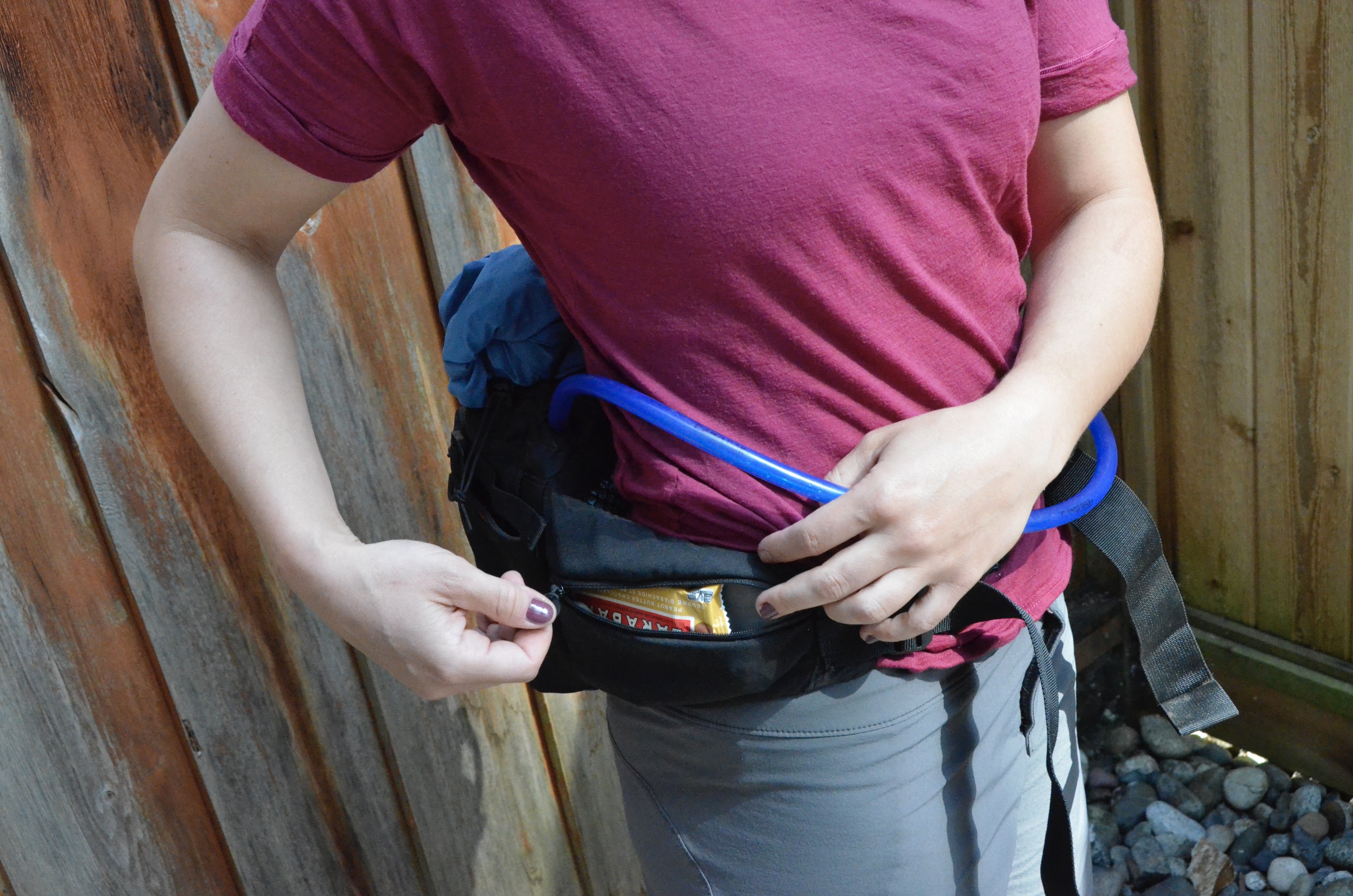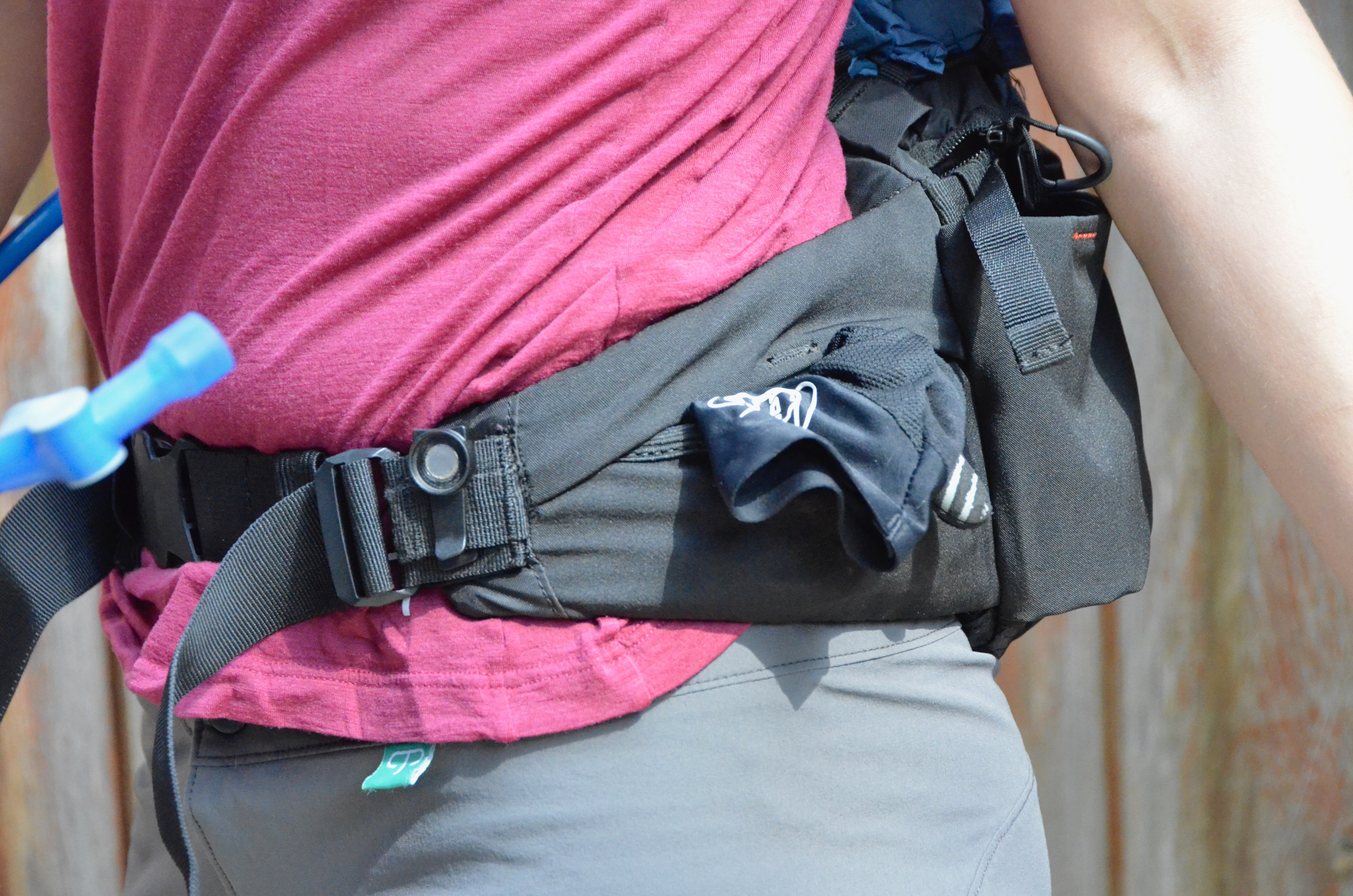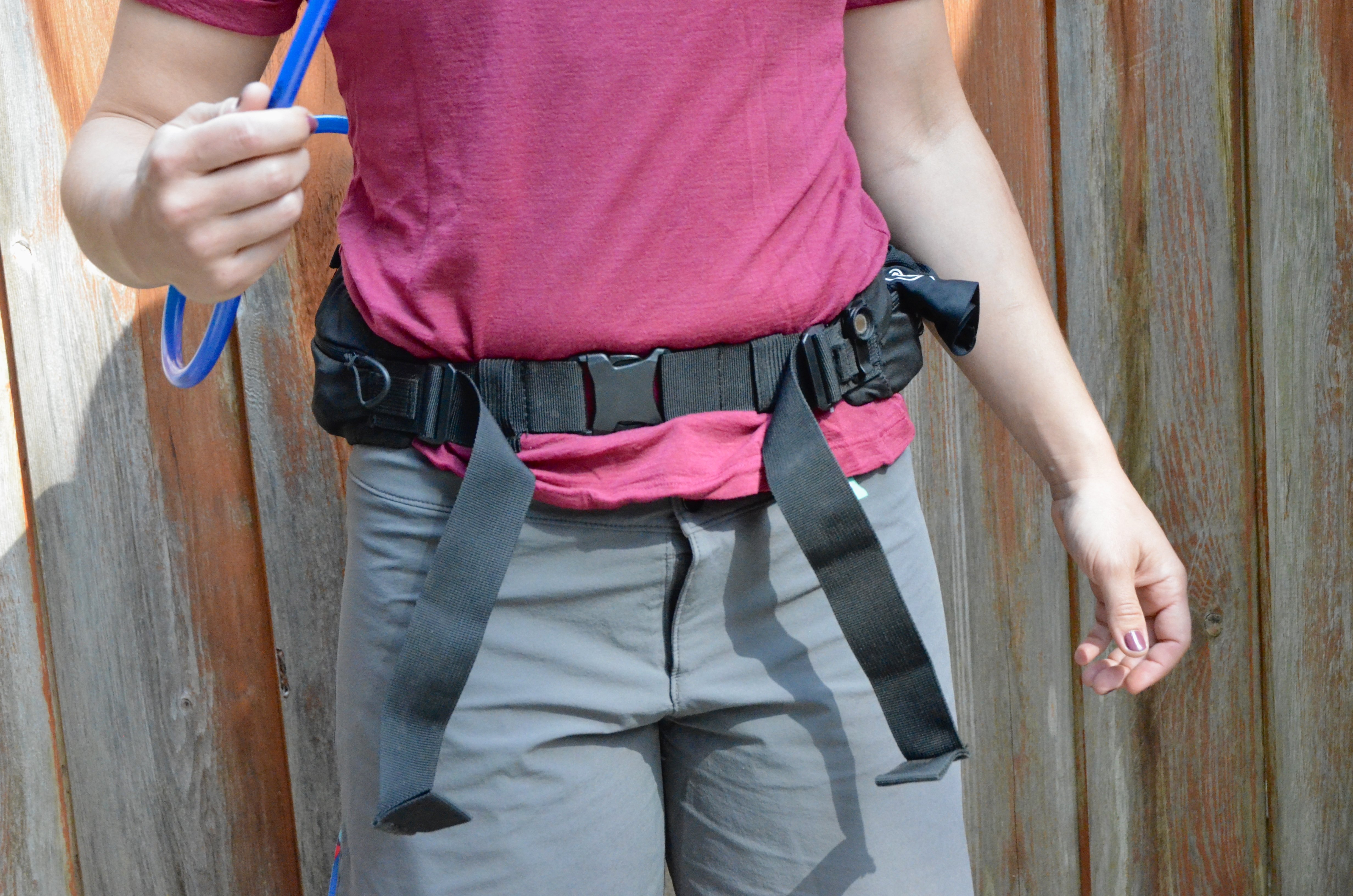 This pack is comfortable considering you are carrying a few extra few pounds your hips. The Air Support back panel is breathable and designed to maximize airflow. If you are doing some gnarlier riding with a full pack, I think it is inevitable that it will bop around a bit. Luckily, the cargo compression straps are helpful in keeping the bag close to your body. I am on the very small size of belt fit range having a ~28" waist. The belt is almost as tight as it will go and I would not recommend buying this if you are any smaller. Additionally, if you are in the lower belt fit range, the hydration tube will be much too long and irritate the shit out of you by constantly falling out of the magnetic tube trap or rubbing on an undesirable body location. I would cut the tube to a reasonable length or simply fill the hydration pack, leave the tube at home and refill your water bottle once empty.
Packs are an essential accessory for longer rides and the CamelBak M.U.L.E. 5 Waist Pack with Crux 1.5L Lumbar Reservoir is a great option priced at 90 USD.
-Emma Le Rossignol
---
Tifosi Rail Race Anniversary Edition Sunnies
In full Repack mode, flying high-speed down the Forest Service Road in early summer low light, I am focused on the possibility of losing the front wheel to a rogue rock that's been dug up by the 4-wheeling locals. I am trying to look as far ahead as humanly possible in order to avoid the prospect of painful showers that would be the result of a crash that would leave me covered in road rash. Somehow I neglect to pay attention to the low-hanging bare branches in my path. One catches the brim of my helmet and slaps me silly right across the face, causing a yelp. I hear 2 more similar screams behind me as my riding companions suffer the same indignity.
Now wiser, I will do everything I can to avoid rides without eye protection. My eyes are too valuable and I hate that they are extremely exposed to sharp and bright things.
The Tifosi Rail Race landed in my repertoire down at Sea Otter with its chrome frame and glacier blue lens. I was happy to look fast riding the local singletrack. With open skies above and plenty of sunshine to go around, the Clarion Blue lens with low light transmission did the trick.
Knowing well this darkness would not help my vision back home, I was happy to see a secondary, clear lens included in the compact hard case.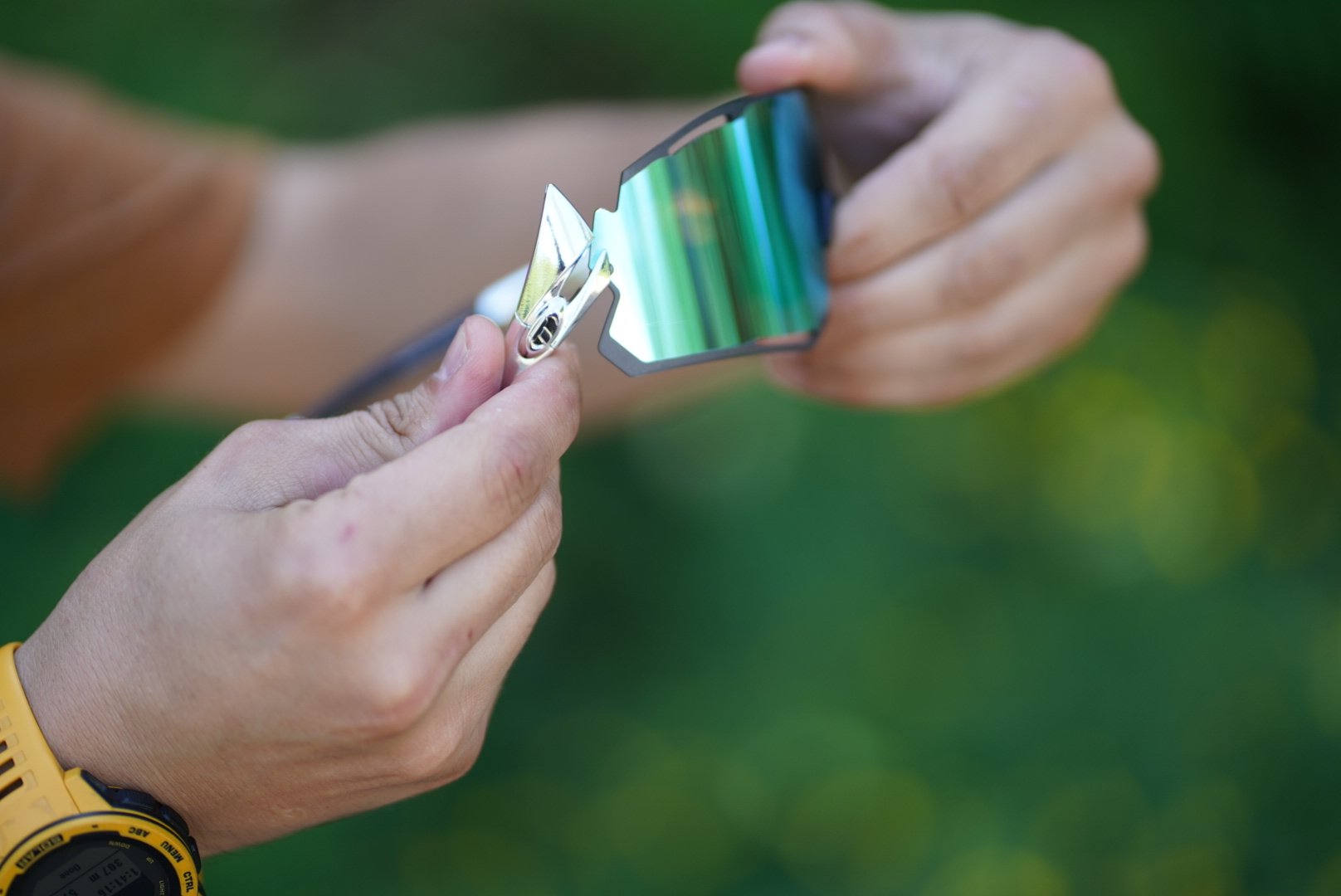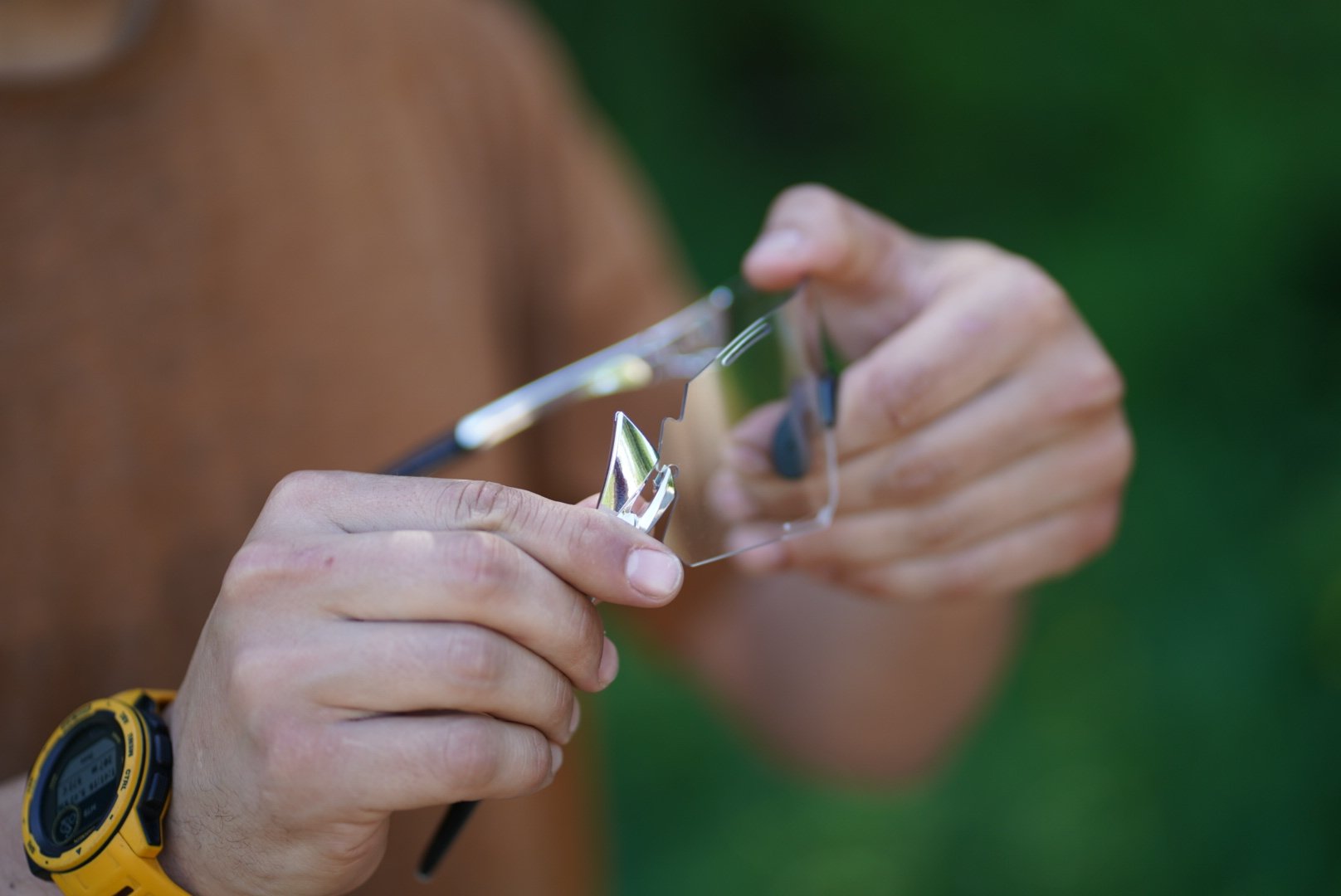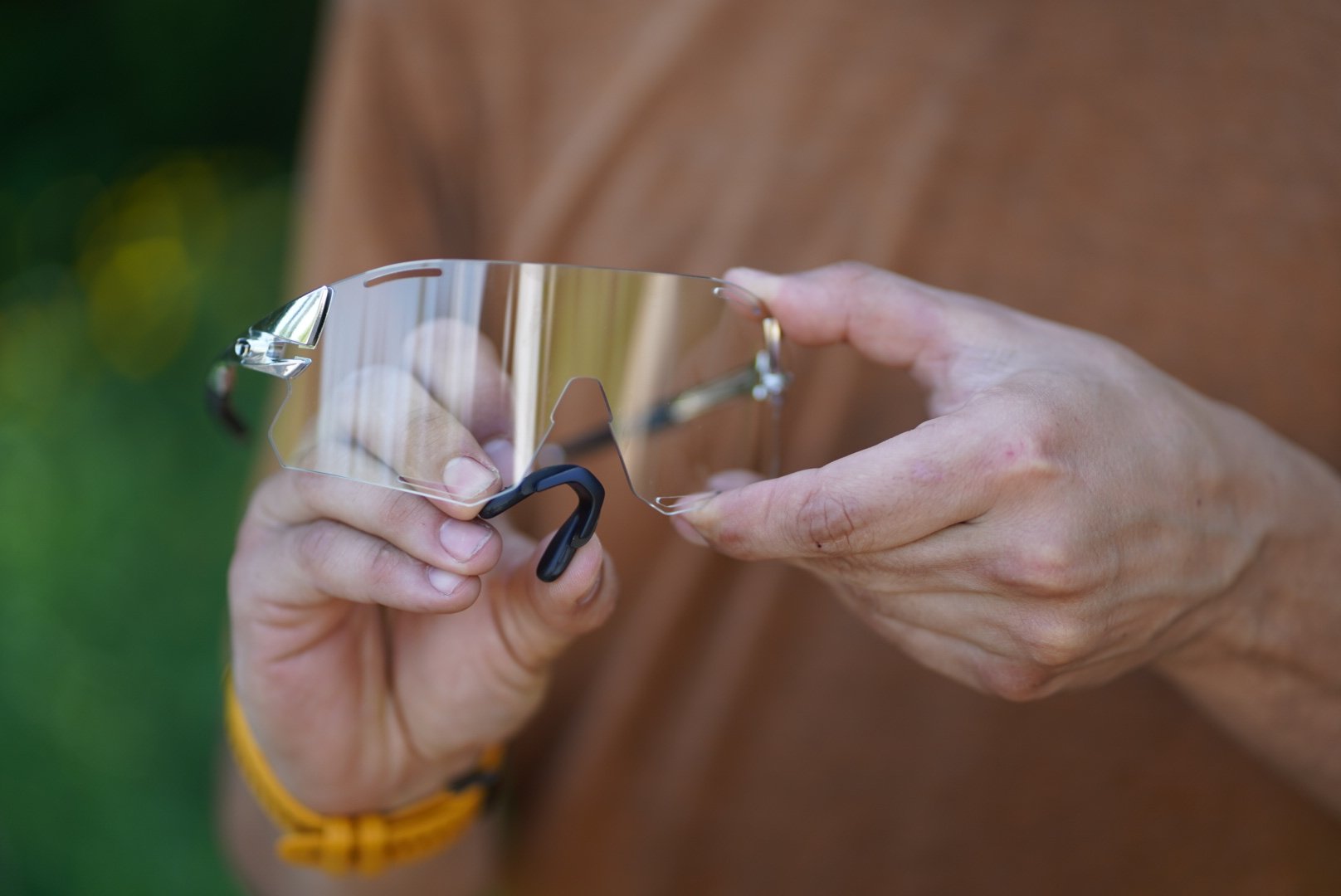 The 59.5mm high x 131mm wide Rail Race lens is not overpowering on my face but offers full coverage from the elements on the trail. 121mm long earpieces are adjustable by hand and have rotating hydrophilic rubber tips. Which means the sweatier you get, the harder they grip. I never doubted the Rail Race's grip on my face even flying down fast trails. They tuck nicely under the visor of my POC Kortal helmet when not in use. The heat exhausting from my head tends to fog all lenses and the Tifosis are not impervious to that, but nos more than the Smiths that sometimes adorn my pretty face.
Lens swaps are as easy as it gets without employing engineering wizardry. Rotate the arms down as you hold on to the frame and they let go without much fight. They don't feel loose but it doesn't feel like you are breaking them off either. The nose piece comes off with equal class: simply reverse the process for the new lens. I hadn't even heard of Tifosi until about a month ago and now the Rail Races are always within arm's reach when the clock strikes ride o'clock or 'lets renovate the basement' hour. I am known to reach for clear riding glasses for manual labour and they did a great job protecting my googlies while I took a sledgehammer to a floor of 60-year-old ceramic tiles.
I am pleased with the optical quality of the lenses as I can't see any distortion or magnification. Add the lifetime warranty to the picture and these things seem like a steal at 79 USD / 108 CAD.
-Deniz Merdano
---
ABUS Cliffhanger Mips Helmet
It's not very often I get excited about a helmet these days. Of course I want it to be well-made, comfortable and protective, but mostly I want to forget about it and get riding. The ABUS Cliffhanger got me revved up as soon as I put it on, however. The size medium fit like it was custom made for my 58cm head. Some brain buckets are too small for me in size medium but they leave gaps if I have to go up to a large, and it only makes sense that the smallest helmet that fits your head well is going to be the most protective. The cozy way it enveloped my noggin is nice for me, but that doesn't mean it will fit you better than any other helmet. The Cliffhanger however, has other features to recommend it.
Features
ActiCage: Structural reinforcement integrated in the EPS to optimise stability
Ponytail compatibility: Helmet well suited for ponytail wearers
FidLock magnetic buckle
Goggle ready visor so you can go full enduro
MIPS slip plane technology
3-position visor
18 colour combinations available (27 for the non-MIPS version)
Weight 380g size M (from ABUS - my helmet went AWOL before I weighed it)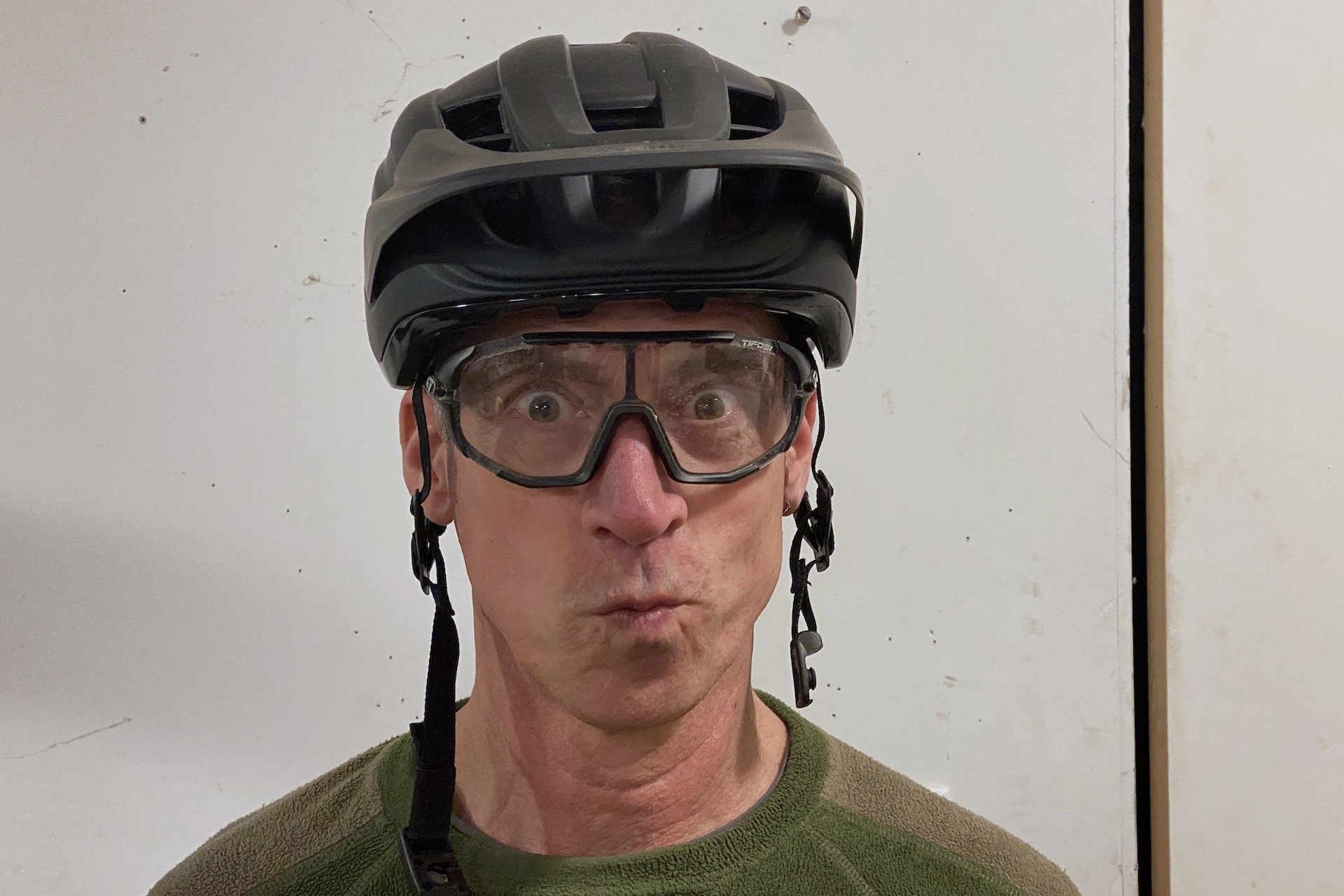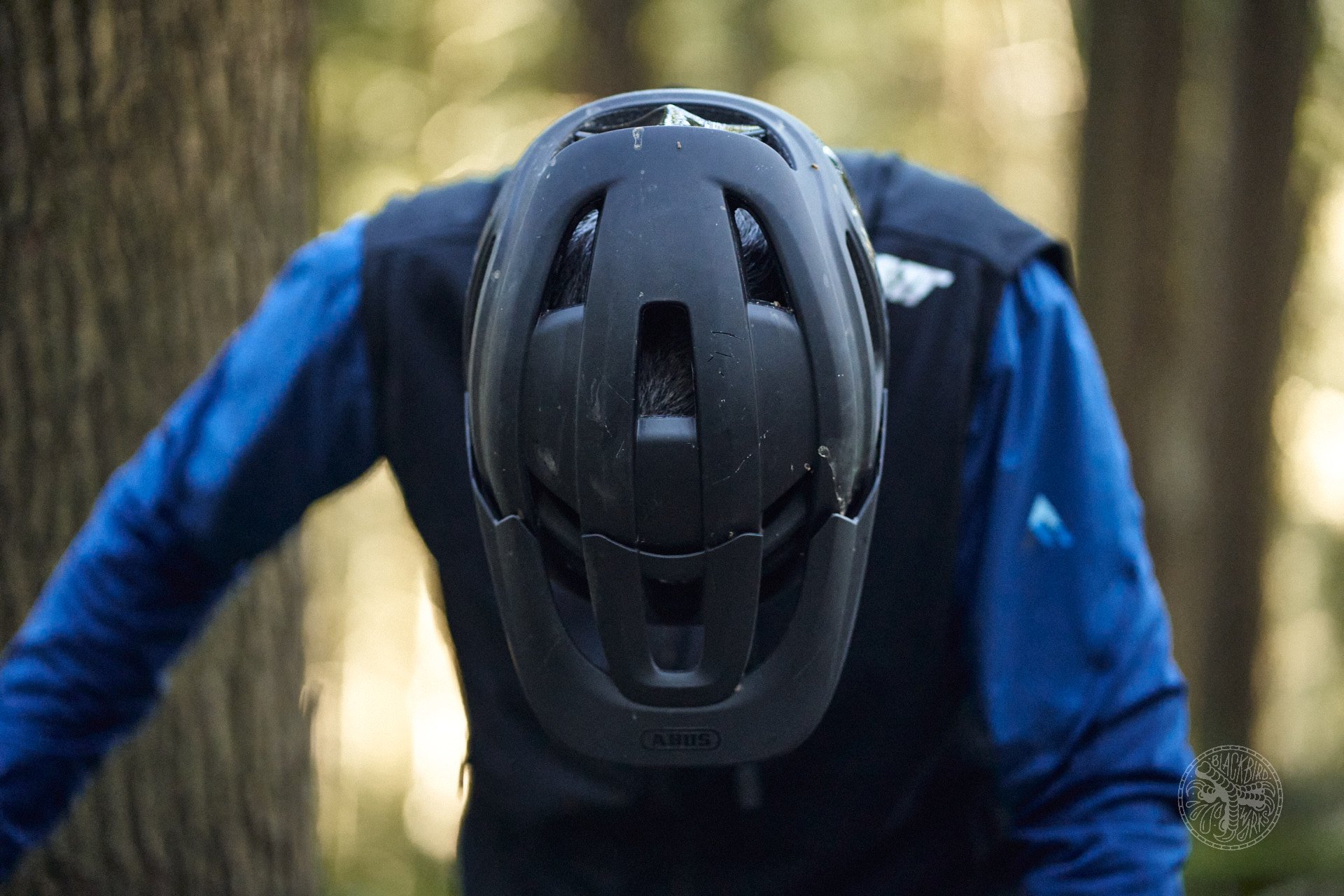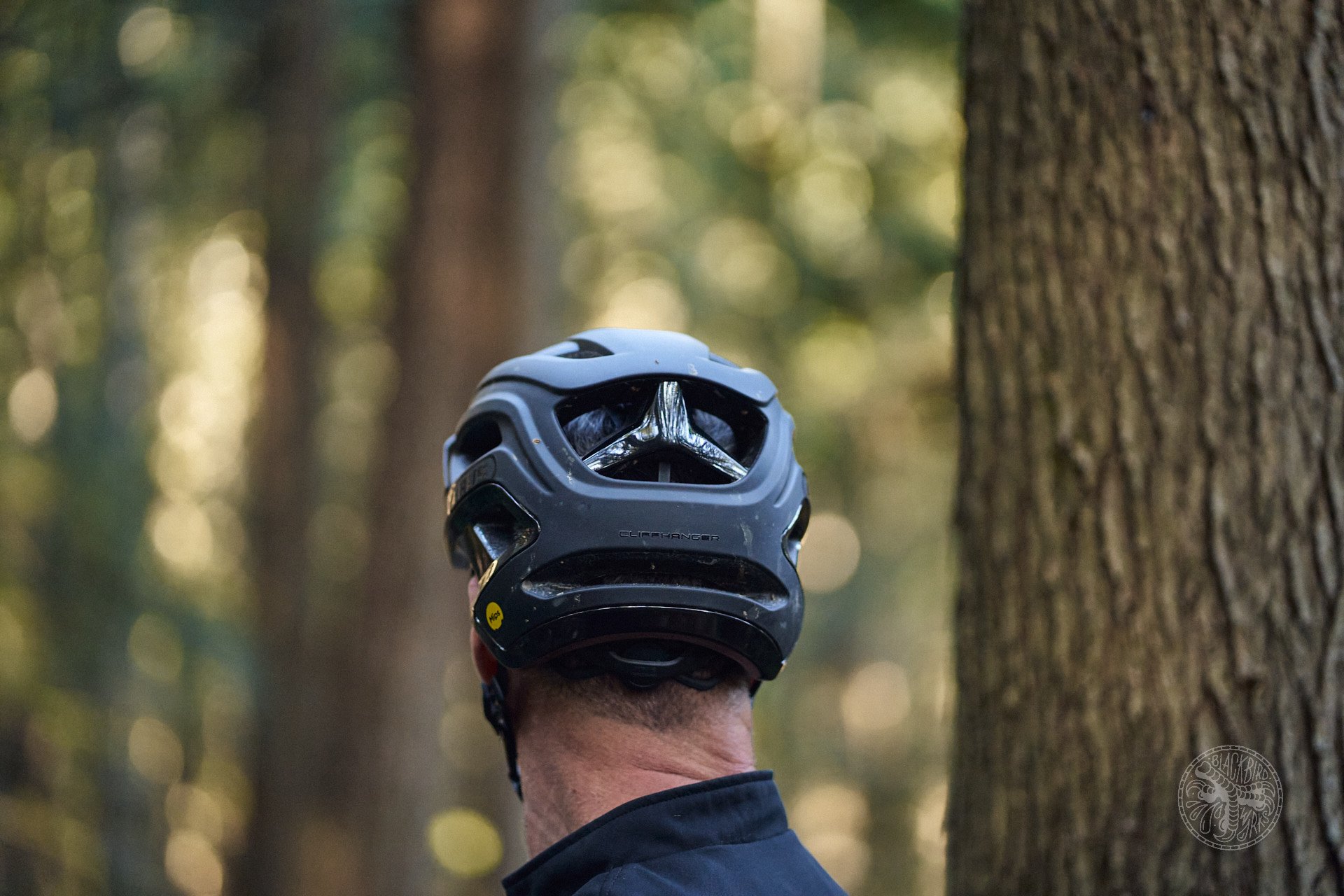 MIPS helmets in general don't fit as well as non-MIPS,* and airflow isn't as efficient either. Say what you will about the technology, it appears to be here to stay at this point. Does our hair provide a slip plane that performs the same function, without the comfort consolations? Many people would say it does, but not everyone has hair and when mine is short it acts like velcro, so maybe MIPS is an equalizer? As non-Spherical MIPS helmets go, this is one that minimizes the compromises. Airflow and comfort were excellent.
*The exception to this rule is MIPS Spherical, which is exclusive to Giro and Bell and has almost no impact on comfort or airflow.
This is a nicely finished bucket with excellent attention to detail. At first I wasn't sure what to expect, considering my previous exposure to ABUS was through their locks, but I have been impressed by every aspect of this helmet.
Why did I leave my helmet in Italy? I was late for my flight home from a trip to ride Canyon bikes (my fault entirely) and I had planned to check my bag. Unfortunately there was no way I was going to make my flight unless I jettisoned some gear and went carry-on only. There was a plan to send my extra stuff home to me, but it seems to have been lost while the crew packed up and went back to Germany (again - I take the blame for the entire episode).
In the end the ABUS Cliffhanger isn't the lightest, best looking, or best vented helmet I've worn, but it was probably the best fitting, had great features with an eye on protection, a simple and effective visor, and it was always comfortable. Where it doesn't compete as well is in the price category: the Cliffhanger MIPS retails for 348 CAD, comparable to Bell and Giro's top of the line helmets, but 68 bucks more than POC's Kortal MIPS.
-Cam McRae