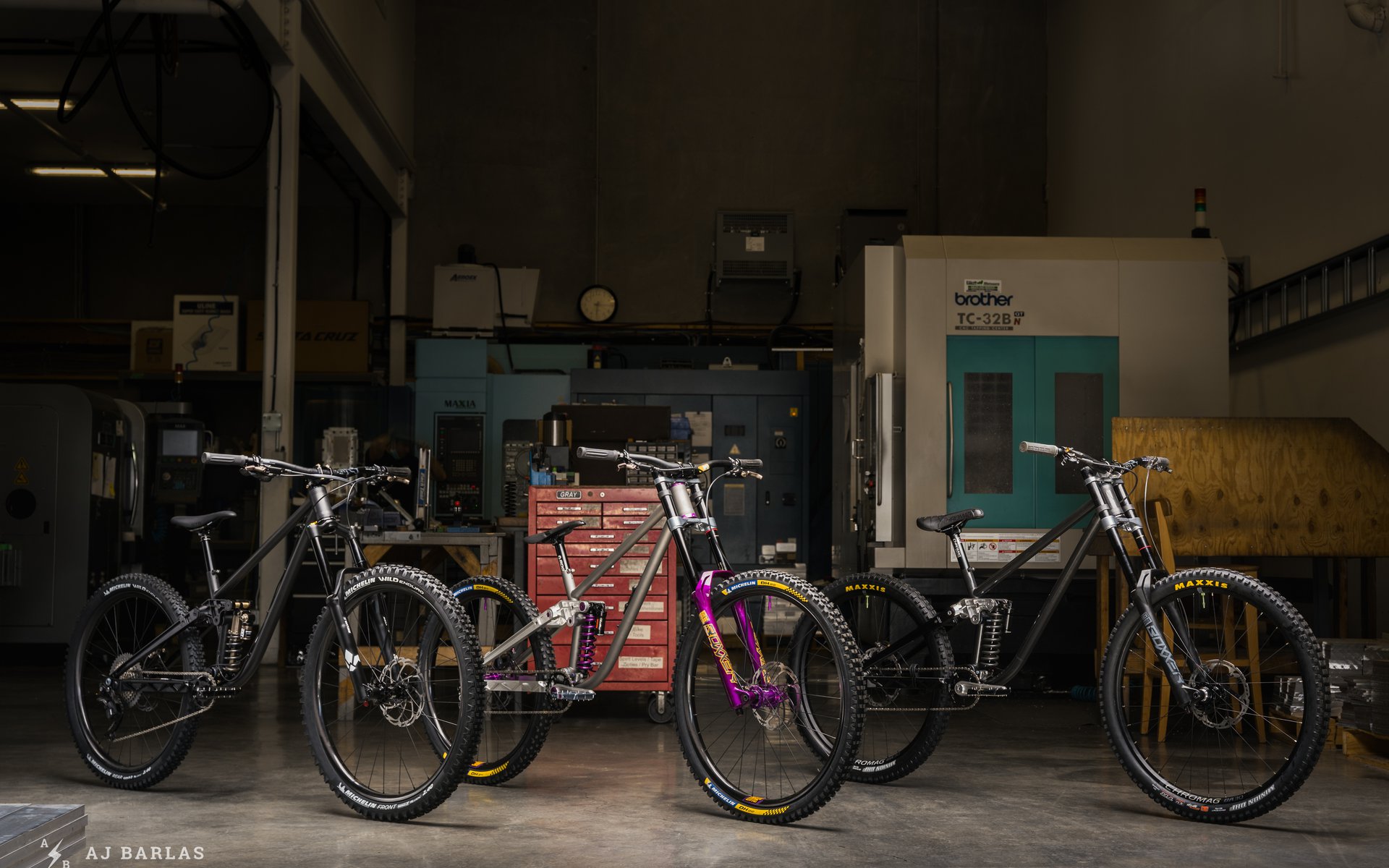 Mixing Metals
Garage Built: Tom Moffatt's Custom Made Bikes
New bike day is always exciting for riders. The anticipation that mounts after months of research and saving reaches climax, setting our excitement over the edge. Walking into a store – or clicking the "Add to Cart" button online – and wheeling away on the new bike is amazing but parting something to preference and bolting it all together goes one step further.
There's a sense of pride associated with building a custom bike, one with store-bought parts and a mass-produced frame. Designing, then manufacturing a frame from scratch takes it a step beyond anything most mortals can fathom. Tom Moffat, a fellow Aussie ex-pat, now knows that feeling well after completing his first custom-designed bike, which turned into three after his boss and fellow machinist wanted one each for themselves.
A machinist in Whistler at North Shore Billet, Tom's the driving force behind some exciting new parts for the company. But despite this, I was surprised when first learning of his desire to develop a bike of his own. In hindsight, I really shouldn't have been. Tom's the definition of a tinkerer and is constantly fettling with parts and setup to see what effect the changes have. Not everything works to benefit but so far, it seems his custom bikes have gone well.
Thanks to a background as a Fitter/Turner back in Australia – Tom informs me it's the same as a Machinist/Millwright in Canada – he's been manufacturing products and parts since finishing high school. He spent his apprenticeship working on custom boat parts, which results in heaps of stainless handrail fabrication and machining things from folding propellers to steam engines. He also has a trade in boat building and was fortunate to work with one of the best manufacturers at that time, McConaghy Boats.
His experience working with high-end yachts and the composite materials used in them leaves little to the imagination when guessing what his future bikes will be made with but for now, he's used what's readily available. The PB1 bikes are manufactured using a mix of metals; a steel-tubed front triangle, bent, formed and welded together by Tom, leads the alloy rear triangle created from CNC-machined billet.
Tomis quick to point out that his friend and colleague, David Davis, helped with the manufacturing process. Tom developed the bike's shape and suspension but a strong supporting cast is important and Dave helped ease the after-hours workload; he ran the machines for the rear end and custom cranks.
An impressive amount of work went into the development of the bikes, with Tom and Dave manufacturing everything they could. From custom lower shock mounts to bearing caps and nuts, the bike frame is close to 100% machined and built in Whistler by the guys that ride them. After starting on the design in September, Tom's now enjoying his days in the Whistler Bike Park aboard his own creation.
First off, what motivated you to design and build your own bike?
I needed something to do. I also find I need to tinker or make things. I've always wanted to make a bike since I started riding as well. Plus I wanted a rag-on-all-day, leave in the shed, super easy to work on, hassle-free bike.
All the bearings are the same except for the chainstays which use a larger angular contact bearing and all the hardware has seals to prevent the mud and dirt from finding their way into the bearings. I also used more common standards like a 73BSA BB and a 148mm hub width. The headset is EC/ZS 49, more to suit common DH bikes and to keep some adjustability. If I were to make it EC/ZS 56 the steel tubes would look small compared to the head tube.
Oh, and did I mention I wanted a water bottle on a DH bike?
You did now, haha. How did you arrive at the suspension design and kinematics used with the bike?
It all came from wanting a simple to maintain park bike, not a race bike, with ease of manufacturing. Plus it needed to look cool. I used Linkage, a bike suspension software you can get online to work out where to place the pivots and the geo.
What can you share about the suspension characteristics? Anything on the leverage curve, wheel rate, axle path etc?
It goes up then down with some squish in the middle, haha. 200mm front, 192mm rear. I'll send over all the curves. (A.J: See below.)
What was the process like coming up with the geometry for the bikes?
It needed to be mullet as I feel it's a nice blend and the best of both worlds after testing a few sets ups with and without. I'm sure you will have an article out on how you feel about this as well…
As for geo, basically just going off what I've ridden and tested, and taking the things I like and what I feel I'll like. Now that Dave and I have ridden them, we think I got it pretty good for what I wanted.
What can you tell us about the geometry?
The park bikes have a 63.5-degree head angle, 64 on Chris's one. 438mm chainstays, 345mm B.B. height, reach is 490mm on Dave's, 469mm (470 didn't sound right) on mine, and 445mm for Chris's and a 100mm head tube (110mm with the lower cup installed). Chris's trail version has a 78-degree effective seat angle. As for things like standover and stuff I can dig that up – it was a while ago now – but who realistically looks at that?
How did you draw up the frames?
It was all done on Fusion 360 from CAD to CAM.
Your bike and David's are set up for park abuse but you mentioned being able to switch them over for trail use. How's that work?
With a change to the lower shock mount and a different length shock. The park bikes use a 225x75mm shock and the trail a 230x65mm. And a 180mm single crown fork will give the same axle to crown as a 200mm dual crown, so it will maintain the geometry.
[It] Also just happened to turn out with my inseam that the effective seat angle with a dropper at my height was 77 degrees, so once park season is over I'll put on a dropper and single crown fork, then a drive train and try it out.
Working at North Shore Billet, you had access to the machines for the project. Do you think you would have built them if you didn't work with CNC machines?
100% but probably a trail bike. Also now I'd do it a lot faster as we just got a new machine with more travel and a faster spindle.
Why would it be a trail bike if you weren't working as a machinist in Whistler?
Anywhere else you don't really need a DH bike (unless you're racing DH or live near a resort) and where I was in Aus you definitely didn't need one.
How do you think they would differ if you didn't have the access and the machining capabilities you do?
If I was still in Aus it would have been either full carbon or lugged carbon, with the hardware machined the old-fashioned way (manual lathe and mill).
You mentioned that heaps of the parts you machined yourself, including axles, bolts, etc. What didn't you personally manufacture?
I didn't do the rocker, shock mounts and stay braces. Dave helped with that to reduce my workload, which was appreciated. He also machined the crank arms and lock ring based on an old program and design I did.
As for [frame] parts I bought; I got the BB, seat tube binder, then got the steel shock plates laser cut as I couldn't be bothered to make them and it was cheaper to buy. The cable mounts I grabbed when NSB made a batch for Chromag. Also, the axle is from Chromag as again, I wanted to cut some of the workload down. I didn't make the standard M6 and M8 bolts either, that's taking things too far.
Chris's bike is shorter travel and a bit different. What frame changes were there to make his shorter travel version?
Chris's is more of a proto for a proper trail bike so 0.5-degree steeper head angle and 1-degree steeper effective seat angle. It uses the exact same rear end as the big bikes but with a different shock and lower mount, it also uses a different front triangle to accommodate a dropper, to get the right drop and height for Chris. The only thing stopping it from going to 190mm rear travel is the seat stay brace with the seat tube.
I wanted to try and maintain the same chainstay and seat stay between bikes but ultimately a lighter rocker to suit non-trunnion shocks and a different front triangle will end up on Chris's. All the suspension points, B.B. etc. stayed the same as the other bikes – just the seat tube and a bit steeper head angle changed.
I'll install an adjustable headset in mine, to play with reach and head angles, then I'll settle on what feels good for here.
Aside from creating and riding a bike you designed and built, is there another goal for the project? I don't imagine this is where it ends…
The main takeaway was to learn, and to do something cool, seeing I couldn't travel due to covid.
I did the design with the goal of maybe producing it in a limited batch. Ultimately, I think it would be cool to start a brand and make locally made bikes, but that requires a lot of capital to do it right, plus with parts availability right now it's a lot harder. But who knows, let me refine it and we'll see.
Yourself, Chris and Dave cover a wide height range. What changes are there between the bikes to accommodate and would you consider these, say, medium, large, and extra-large?
Just reach, for now. I was going to do adjustable chainstays though decided to keep to the simple ethos – I might just do a separate seat stay with either a shorter or longer wheelbase. As for sizing, I'd say it would fall under the medium, large, XL categories, though I like the way Specialized label their bikes with the 'S' sizing. It allows you to go up and down a size as the head tubes are similar, which is the same as mine.
Having ridden it for close to a week now (at the time of the interview), what would you change about it?
Just little things like the seat stay and chainstay bolts, so it's not threaded into the stays, and the chainstay brace for ease of manufacture. Also, I'd add more room to the chainstay from the chainring as I forgot to take that into account, so I need a BB30 chainring instead of a Boost.
As for geo and suspension characteristics, I'm pretty happy with those.
What are you calling it?
Haha, no idea. I can easily think of a bike design but names I'm terrible at. I labelled it PB1 (Park Bike 1) on my laptop so maybe that.
How long do you want to be able to ride it?
At least 3–4 years of 70-plus park days, or until I break it. Though I'm sure I'll update it with revised parts along the way.
What's next?
A trail-specific version that's a couple of kilos lighter and maybe then a bike for N.A.B.S. which I think I've shown you the renders for (A.J. Yes, and it too looks incredible). That should push me, as it will be a mix of 5-axis machined parts, printed and composite parts.