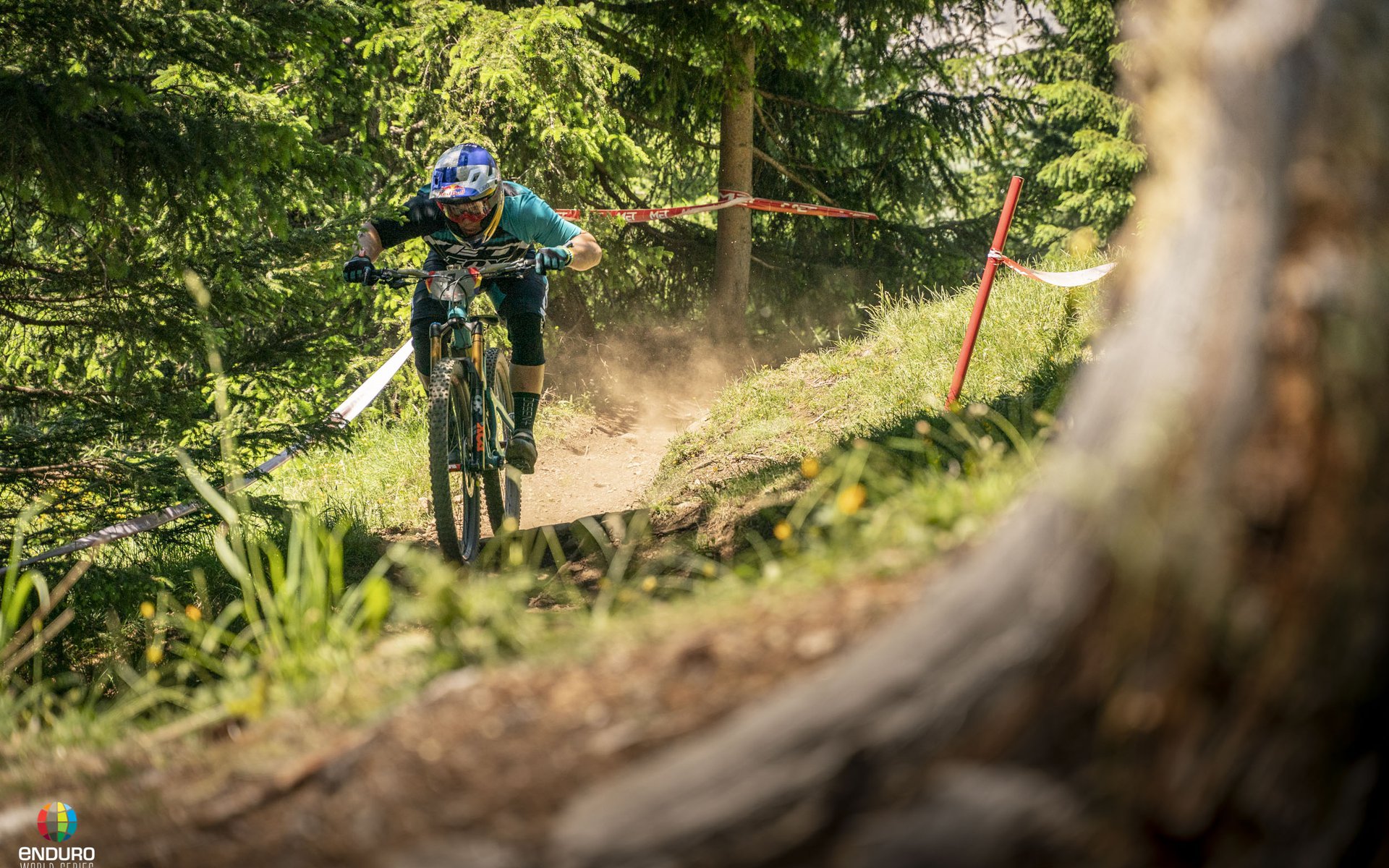 RACE NEWS/EDITORIAL
Is Fun the Secret To Success? Val Di Fassa EWS 2019
The 2019 Val Di Fassa Enduro World Series stop took racers to the massive peaks of the Italian Dolomites. Race conditions were hot and dry, with much of Europe currently deep in a record-breaking heatwave. If the heat wasn't enough, the race consisted of long physical stages riddled with roots and rocks. With the tracks already rough, the hot conditions wreaked havoc, with practice wearing into the course considerably.
Unfortunately, Canadian rider Jesse Melamed succumbed to the rough conditions. Melamed was sent careening off course at break-neck speed after a dislodged rock got in his path. After Martin Maes tested positive to the prohibited substance, Probenecid, the series rankings had shifted in Melamed's favour. Going into the Val Di Fassa stop, he sat in second place and was looking forward to competing for the number one spot. His crash has now dashed his title hopes for 2019 and he'll instead focus on recovery from a broken tib/fib near his ankle and a busted pinky finger that may require surgery.
Even more of a shame is that Jesse wasn't able to challenge himself against Richie Rude. Rude returned to racing in Italy after voluntarily removing himself when he tested positive for performance-enhancing substances, Higenamine and Oxilofrine. After the UCI announced an eight-month suspension and that Richie had adequately served it with his time away, he returned with a vengeance—and he had fun doing it.
Richie came out with guns blazing as hot as the Italian sun, taking the long and physical first stage by more than six seconds over Sam Hill. He then pipped Florian Nicolai on the shorter stage two by just under a second. Aside from stage three—which Hill took by just under four seconds—Richie continued the winning trend throughout the day.
But it was a different looking Richie that stood out. Humble, quiet and shy are all words used to describe Richie. He lets his riding do the talking and while that continued at Val Di Fassa, he was more animated in interviews and was often seen with a grin on his face. It's obvious he was pumped to be back at the races. But on top of that, when asked about his weekend, Richie said he was just having fun.
For any of us mere mortals, having fun on the bike will rarely—or realistically, never—equate to winning an international race. But it's becoming more common to hear from the world's fastest, and hearing it often coincides with a strong result. If having fun at the races is the secret potion, why is it so difficult to repeat event after event? After all, bikes are fun every time you get to ride one, aren't they?
With round five kicking off in Les Orres this week, it will be interesting to see if Richie can continue to ride with such authority. His competitors now know that he's on form, up to speed, and most dangerously, having fun racing his bike. Sam Hill has had a slow start to the season but his result in Italy shows he's still a threat. He also claimed he's starting to feel like the pace he knows he can ride at is back. Surely with that will come the fun factor and possibly another fun-haver on the top step. Florian Nicolai is also going to (almost) be on home soil—with Les Orres laying a few hours drive from his French home. The current world number one will be itching to take another win for the season and maintain his series lead. And guess what… he's been having fun racing his bike too!
Isabeau's Big Wheels & ALN's Career Best
In the women's race the battle to chase down Isabeau Courdurier continued. Canadian Andreane Lanthier Nadeau (ALN) prevented Isabeau from sweeping every stage after beating her on the fourth of the day. ALN seems to enjoy the long physical stages, and possibly the heat too. She was a standout performer at the 2017 Trans BC, which took place in similar, hot conditions and featured many large days made up of challenging loose conditions. But she attributes her success this weekend to taking her racing less seriously. Rather, she enjoyed her time on the bike and was happy with how she rode. It sounds like she had… fun?
ALN also did enough to bump Noga Korem down to third. Noga has been knocking at the edges of the top steps all season. She's finished on the podium at every round and secured a career best second place at the last round in Madeira. If her form continues the question is not if, but when she will win her first EWS.
For now, Isabeau is sitting happily atop the world. She's confident enough that she rolled up to the Dolomites with a new, larger wheeled race sled, silencing doubters about her size and how she'd get on with big wheels. But with rumours circling that Cecile Ravanel will return in the coming rounds, will Isabeau's reign remain? Or will Cecile return in a form similar to that of Richie Rude; hungry for blood, refreshed and ready to smash?
Outside of anything bad happening, at this point it would be foolish to bet on anyone other than Isabeau Courdurier. She's won four of four, including the bonus points for the Queen stage at each round, further asserting her dominance and increasing her lead.
The men's battle is now wide open since Martin Maes' suspension and disqualification from the first two rounds of the year. Jesse Melamed was looking strong and went into this weekend with the second place ranking, but will now sit out for at least a couple of rounds. Florian Nicolai is currently on top with a second, first, seventh and a third but with Richie back and looking on form, can Flying Flo hold the hungry American back?
We'll have to wait and see who's having the most fun when things get underway in Les Orres this weekend.