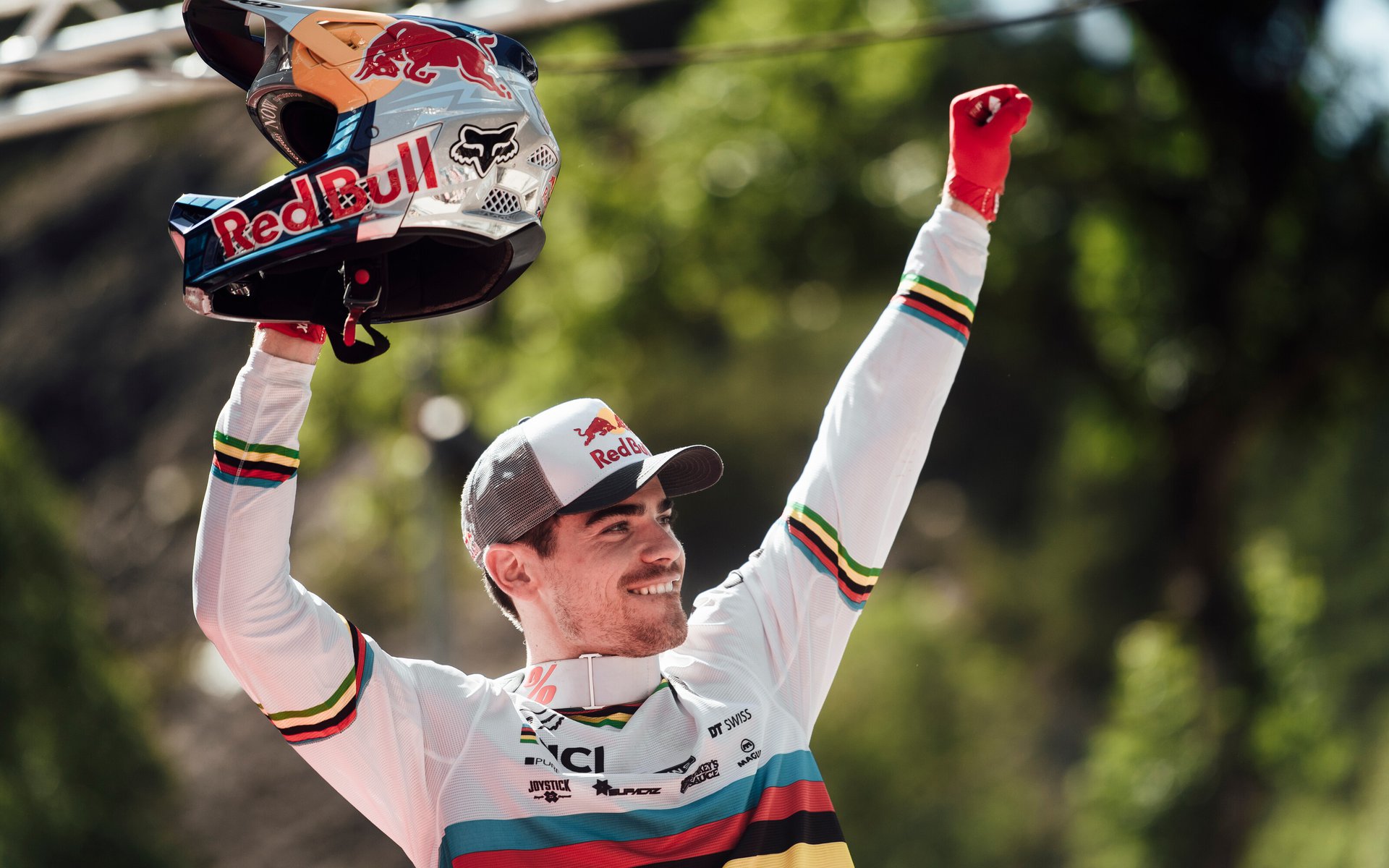 RACE NEWS/EDITORIAL
The French Are Dominating Downhill - Vallnord DH World Cup 2019
It was a battle on the slopes of Vallnord over the weekend. The Andorra World Cup stop has been on the race calendar since 2008 and the current track, a staple since 2013. But it may need a refresh for 2020. Hot conditions throughout Europe saw the driest and the loosest race we've seen here yet. Conditions and the steep pitch of the track took their toll with the only real constant on the track being the thick layer of dust.
It often looked like a war zone, with riders picking themselves up from the trenches covered in dust. It was so thick as it hovered in the air that some of the racers commented on how difficult it was to see even when the rider ahead wasn't within view. Aaron Gwin knows all too well, and after approaching a rider in his last practice run he was caught slightly off-line and off balance in the dust. Gwin smoked a tree that he had been confidently 'brushing' in practice and injured his shoulder. He won't be racing in Les Gets.

Loïc Bruni struggled all weekend as well. In his last run before qualifying, he crashed hard on the lower section of the track, emerging from the dust cloud absolutely covered from head to toe. Rumour has it he had to bolt back to his accommodation and take a shower to get comfortable and clean before heading back for qualifying. But as has been the story with Bruni this season, his struggles have worked in his favour. He won in Leogang after having to completely reset his thoughts the night before race day, and it was a similar affair here in Andorra.
Despite what was said to be a large crash, Loïc came back to take the top qualifying spot from Troy Brosnan by a cat's whisker; just 0.010 of a second. Troy was on fire in the loose conditions and being an Aussie, is comfortable with the heat, too. On race day, Loïc crashed again in his last practice lap trying a line that Troy was doing on a lower section of track. He opted to stick with the main line for his race run but what's really impressive is his ability to stay level headed when things aren't going right. Psychology is a big part of the equation for a successful downhill athlete and Bruni doesn't appear to lack strength in this regard.
Before Bruni dropped in, though, all eyes were on Loris Vergier. Bruni's brother from another mother threw down a screamer of a run, putting more than five seconds into Danny Hart, who sat on the hot seat. Everyone thought it would be the winning time but Bruni rode like a man possessed to take the win from his close friend.
Amaury Pierron won here last year and with his team based at the bottom of the hill, there's even more support than usual. He wasn't able to pull it off this season but it didn't matter. His fellow countrymen were one and two and all three of them couldn't be more stoked. There's an unbridled level of respect and support between the young crop of French riders. And while these three are the names most are familiar with, the talent pool goes far deeper.

Rémi Thirion is a constant top 20 threat and won this race in 2013. His skill and comfort at speed on the steep lower sections of the track blew everyone away, proving he's still got it. Rémi has struggled to find his form after a nasty crash at Leogang in 2017, where he sustained a broken collarbone, three broken ribs and two fractured vertebrae. But on race day this weekend, he let it all out and found himself back in the hot seat. His pace in the bottom of the track made sure no-one was able to touch him, until the top ten. He finished a strong eighth place.
The always entertaining young Commencal 100% riders, Thomas Estaque and Hugo "Frix-Frix" Frixtalon, each had their best results of 2019. They've both shown signs of what's to come previously—Estaque bagging a fifth in Val di Sole and Frix-Frix a fourteenth in Vallnord last year—but have struggled this season. That hasn't made their riding any less entertaining to watch, with the two often throwing some of the most bad-ass shapes on the track. Estaque finished a solid twelfth place in Vallnord this weekend while Frixtalon finished 26th.

There are heaps more too, including Dylan Levesque (22nd in Andorra), Baptiste Pierron (Amaury's brother, finished 24th), and Flo Payet finished 28th, just to list some of the top 30 results held by the French.
The women's side of downhill is quieter, and if you were to look at the EWS series rankings you might start to see why. But Marine Cabirou has come into her own this season. With the support of the new Scott Factory team, she's pushing for her first World Cup win. In Vallnord Cabirou finished second after also qualifying number two, showing her consistency in the most demanding conditions. Marine sits third in the world right now behind Tracey Hannah and Rachel Atherton—good company to keep.

Behind Cabirou is young Melanie Chappaz. Chappaz had a great junior year in 2017, winning three of the seven races and finishing runner up in the rest. She hasn't found the transition to the elite ranks easy, missing out on the qualifying cut off more than she's made it. But with Marine and her male countrymen doing so well, maybe that energy will rub off. And let's not forget the dominant Thibault Daprela and Matteo Iniguez. Thibault is comfortably leading the series but had a wild crash in his race run. With times consistently in the top 20 and sometimes the top 10 for the elite field, he's looking to comfortably make the transition. Iniguez started the season slowly but has been coming into form—he finished third in Leogang and won here in Andorra.
French riders have been pivotal in World Cup Downhill since its early days. Both Nicolas "The Alien" Vouilloz and Fabien Barel have a considerable number of wins and were renowned race tacticians. Cedric Gracia was a force to be reckoned with as well. But never has there been so many French riders at one time threatening to take a win or having this much fun. They're the perfect combination of Vouilloz, Barel and Gracia rolled into one. And with the junior field sprinkled with French too, it looks like we should get used to their winning ways.
Will we see them win in their homeland for the Les Gets stop this coming weekend? The last race that a French rider didn't win was in France—La Bresse last season where Martin Maes won—but with their current pace, and eight of the last ten elite men's race wins going to the nation, it'll be hard to bet on anyone else.