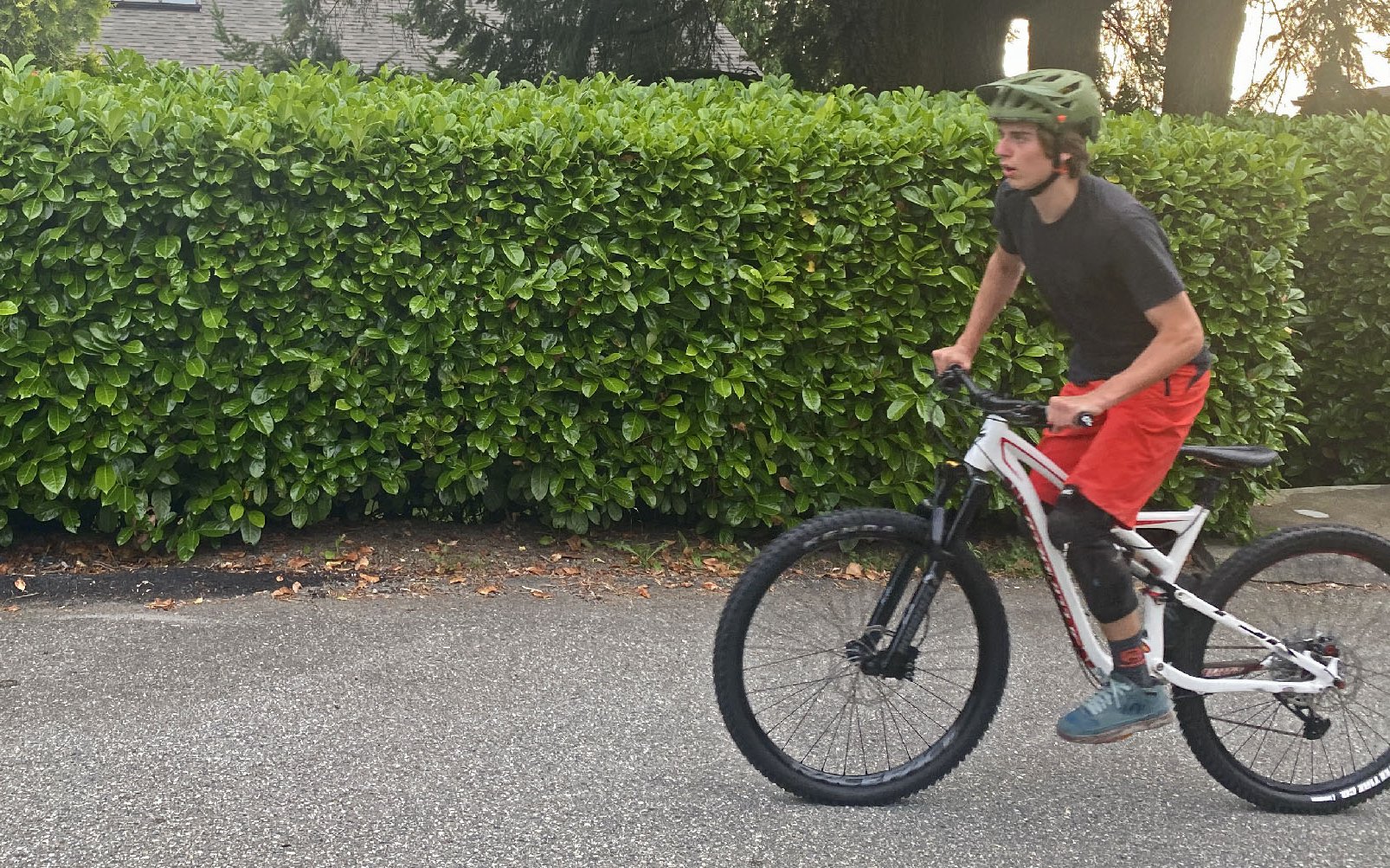 Home Mechanic Disasters
The FrankenCamber: A COVID-Era Bike Build
My timing was very poor. My 15-year old man-child had long outgrown my wife's hand-me-down 2008 Specialized Safire (essentially a Stumpjumper) in a size small and he's been sneaking rides on various test bikes lately. Unfortunately this has given him unrealistic expectations about his next bike. He has dreams of Kashima, carbon, AXS, and XTR but until he's paying his own hard-earned rubles, he'll find more modest but functional parts on his kids' menu. Or that was my plan when I figured I could find him a new bike to purchase. Alas the COVID bike boom made it impossible for me to locate any bike at all for him, new or used, except those that were priced like a used Tacoma. So we were in a bit of a pickle.
I'm a bit of a packrat and I figured I had enough parts to assemble a bike for him, but I couldn't find a frame either, and I wasn't about to brave the wolves selling used bikes from 2016 for more than you'd pay for a 2021 model brand new. To be clear, I bear these sellers no ill-will unlike many snide commenters; if you are selling a bike right now you are going to pay a premium for a replacement, making getting as much as the market will bear essential. #economics
Just when prospects were beginning to look dire, my good buddy Craig asked me if I was interested in his neglected 2013 Specialized Camber Comp 29er, which he'd replaced with a Knolly Fugitive. A short time earlier I wouldn't have had much use for the bike, but I was getting desperate. What kind of mountain bike dad leaves his 15-year old offspring bike-less for the summer? I began scheming about over-forking and modernizing the Camber with a complete rebuild.
The 110mm original fork wasn't good for much, the Command Post was only useful as a paperweight, and the mismatched set of brakes were underpowered. The roached 2 by 10 SRAM X9 drivetrain wasn't a highlight either. I assumed I'd be able to salvage the Specailzed/RockShox Monarch with auto sag (I was thanks to Shaun Cruickshanks of SRAM for the rebuild), and I was stuck with the 12 x 142 rear wheel. The rest would have to be replaced. The price wasn't spoken but it was understood to be a lifetime of free bike maintenance, (which I likely would have provided anyway). Either way it was very generous contribution to Luca's bike fund..
My goal with the build was to cobble everything together with parts I had around - or as much as possible. With that as my main design principle, I knew this would be a bit of a Franked-bike but I was pretty keen on that idea. My next ranked goal was performance, but right behind that was novelty; I chose quirky over easy whenever possible.
Unfortunately there was the little matter of the build to deal with before anything else and the project ended up taking much longer than I'd hoped. After the shock was rebuilt I tracked down a refurbished 30.9 externally routed PNW Components Cascade dropper to replace the pooched Command post. The post was only 108 USD and I matched it with a Puget Lever for another 29. From here I figured I could get everything out of the archives.
At that point the digging through boxes began in earnest. I managed to assemble a complete set of Magura brakes, with levers, front caliper (4-piston), and rear caliper (2-piston) all from different brake sets. I even had a little Royal Blood fluid and lines that were just barely long enough. I was confident he'd at least have good stopping power and modulation.
The drivetrain was going to be trickier. The 142-spaced wheel had a Shimano HG-compatible freehub without any hope of finding an XD or Microspline replacement, which seemed to make a 1x12 drivetrain impossible. Fortunately, I'd hung onto the HG-only 11-52 Rotor cassette I'd tested last year. This would serve two purposes because, while I'd been disappointed with the cassette's shifting at the time, it was then paired with a SRAM derailleur designed for a max of 50t while the new models are made to accommodate 52t, so this would be a chance for me to re-evaluate the shifting and perhaps update my recommendation for the beautiful 327 gram cassette. Continuing the Franken theme, I had an XTR shifter I was eager to link with a SRAM GX derailleur. Most of the people I spoke to thought it might work, and suggested it should in theory, but I failed to speak to anyone who had tried it.
The bottom bracket was looking like a bit of a problem. It was a press-fit 30 size but with sleeves to downsize the bearings and match with a set of 30mm SRAM cranks. I popped the dust covers and cleaned and re-greased cartridge bearings but once I had things back together it became apparent it couldn't be saved without new cartridges. In the end the bottom bracket would end up being the most challenging part of the project, and the task that almost had me throw everything in a dumpster.
I had other long term plans for a fork, but for now I was going to install the Marzocchi Z1 that had come stock on the Kona Honzo ESD I'd bought after being so impressed with it. The 150mm travel would push back the head angle from its orginal 70º, which was an essential performance enhancement, but also raise the bottom bracket and tip back the seat angle, which were less welcome. Thankfully the headset remained healthy.
I took some scarce parts to barter with and went to see Lou at Obsession Bikes. Lou's eyes widened when I revealed my bounty of sought-after bike bits. In return I walked out with a Raceface BB30 bottom bracket for 24mm axles so I could use the set of Raceface Aeffect cranks which had also been scavenged from the rebuild of my Honzo. But first there was a the little matter of removing the existing BB, which was essentially a set of cartridge bearings nested in two plastic sleeves pressed into the frame. I used my Enduro Cup Tool to remove the 30mm ID bearings, but the sleeves just sat there staring at me. I wondered if I'd be able to press in the bearings from my Chris King Bottom bracket and return the RF BB but in the end they wouldn't fit. The good news is that the new BB would allow me to use the Aeffect cranks.
The only tools I had capable of removing the plastic sleeves were a punch and a box cutter. I chiselled and sliced for about 20 minutes before everything came out. Fortunately I was expecting the next part to be the easy bit. I have rarely been more wrong. The aforementioned Enduro Cup tool unfortunately does not have the correct bits to add or remove 24mm BBs, but I eventually managed to put together a clamping system I thought would work smoothly. The cups had other plans however and they were reluctant to press in evenly. Each time one side would plunge deeply into the BB shell while the other side stuck, leaving the cups at a sickening angle.
If the definition of insanity is trying the same thing over and over again and expecting a different result, what is the diagnosis if you simply hope for a better outcome? That was me. After a few failed attempts and removals, I glopped some grease onto both the Raceface cups (as I should have done from the outset) and the BB shell with my fingers crossed. The result was less dramatic but equally disastrous.
When we were interviewing Paul Brodie a couple of weeks back he told us that he used to invoke Tom Ritchey if he got stuck on a frame building project. I instead asked, "what would Paul Brodie do?" The answer I came up with was to identify what was causing the problem, aside from the disastrous press fit scenario and my failure to use the correct tools. I removed and inspected the bolt that pulls the two ends of the Enduro Tool together and found it was bent. Once I got it close to straight with my vice, I made another attempt with the non-drive side. Voila! It was in and I was once again a hero in my own eyes.
After snapping seamlessly from despair to overconfidence, I checked and straightened the bolt once more, and worked on the non-drive side. After my third failed attempt on that side I needed a new strategy. I searched for something that might help press in the reluctant cup, like a c-clamp of the appropriate size, without success. I began opening drawers and rummaging through boxes looking for inspiration, when I had an idea. If I could block the side that was going in too quickly and deeply, the other side might catch up. I grabbed all my box end wrenches and laid them out next to me and began to press the final cup in. The first two attempts were unsuccessful because I didn't get the block between the flange and the frame early enough, but when I was removing the cup after attempt three I accidentally pushed out the cartridge bearing. This made me realize instead of pushing from the outside of the cup I could choose a smaller drift for removing frame bearings and press from the bearing seat, similar to the way the Enduro Tool would operate with the correct size bits. I wedged a 9 and 10mm box ends into the gap between the cup flange of the side that was going in too quickly and the BB shell and continued to screw the two sides together. Success! After two hours of frustrating futzing that had me close to throwing the whole thing in the dumpster, the bottom bracket was in.
I attempted to install the cranks with the bike still upside down but I soon realized the spacing was wrong and the chainring wouldn't clear the chain stay. I wanted as little clearance as possible because the chain-line was problematic, so the tight fit would be welcome. I removed the cranks and swapped the chainring around so it was dished away from the frame and everything fit nicely. Or I thought it did. Working upside down I'd decided to put the chainring on the non-drive side of the frame, opposite to the cassette. Clearly one of my finest hours working on bicycles.
Once I got everything back together without an orientation that would have the chain moving through the spokes, there was a plenty of clearance. So much so that I may look for a more deeply dished ring to improve chain-line, but for now this will have to do.
After airing up the rear tire and adding more sealant I spent some time trying to massage the rear derailleur toward smooth changes. I nailed down the b-tension using SRAM's new tool after checking the alignment of the derailleur hanger and I figured the bike would be GTG. Unfortunately the XTR shifter didn't seem to be pulling the perfect amount of chain. Shifting to larger cogs was consistent but dropping the other way was inconsistent. The cable and housing were new and the cable seemed to be moving smoothly. I haven't given up yet, but I have a GX shifter at the ready. Luca assures me the XTR shifts 'fine' because having top of the line components at his service is more important to him than function.
Riding the completed bike around the neighbourhood made me optimisitic. It felt solid and seemed to handle well at low speeds. The true test would be getting the bike on some challenging trails under my son who was becoming accustomed to having access to modern Norcos and Santa Cruzs for his trail time.
I'm relatively happy with the geo numbers that I could alter. The head angle is a reasonable 67.5º, and the bottom bracket measures 340mm. The reach doesn't feel too cramped for me so it will be great for Luca. The 1140mm wheelbase may be a little skittish at speed, but that should build character! The important part is that my poor neglected son is no longer bike-less, and he has an XTR shifter at his thumb. I'm a little concerned about the 150/110 travel and how much that head angle will steepen during large compressions, but otherwise I'm stupidly optimistic about this Franken bike. Hopefully a summer of riding will allow us to work out the kinks, rather than reveal some incompatibility I missed in the planning stages.
I welcome any and all low-dollar solutions to the problems that remain, like chain-line in the 32-52 combo for example, as well as any budget suggestions that could make the bike run better in challenging terrain.