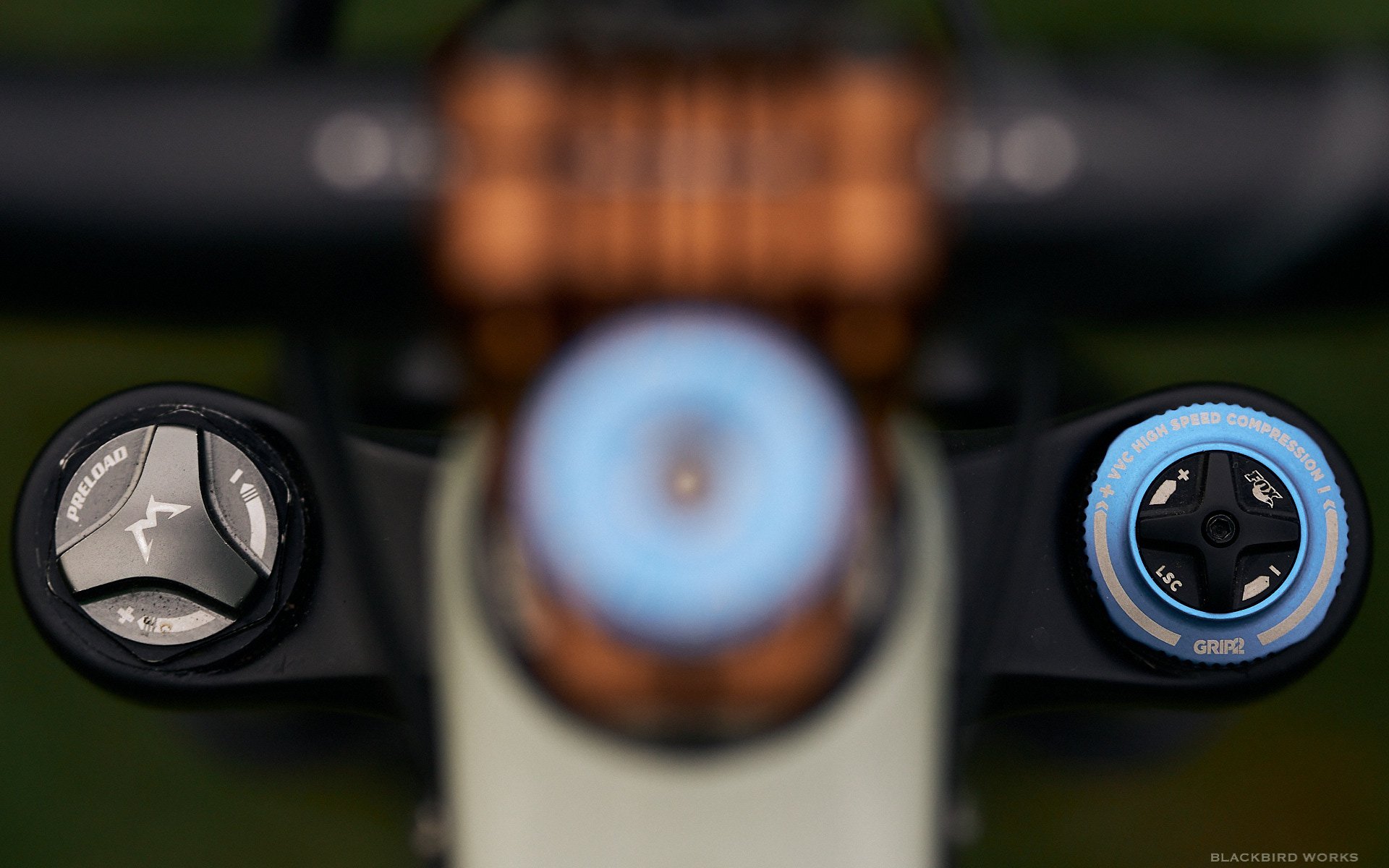 FORK SMASH-UP & REVIEW
Foxzocchi Z36 Coil GRIP2 VVC
There is a chromosome responsible for the desire to test out how plush a fork is. You grab your buddy's new bike, get yourself a fistful of front brake and push down hard onto the front wheel. Lift your head up and say... "woah, like buttah. You better service it every 50 hours." There is no denying that forks are getting better and your buddy's brand new zeb-36-ribbon-diamond-durolux-helm will feel smoother than your un-serviced OEM number from last year.
Some of us are in the 'sell the damn bike every year while it is still relevant and upgrade to the newest' camp. I believe more and more people are holding onto their rides from last year because of the serious shortage of low- to mid-end options available right now.
Unless you've abused your bike to the point of no return, there are a ton of improvements you can make to bring your spec up to recent benchmarks. Suspension is one of the second tier of improvements I'd consider after tires and grips. A couple of sticky-rubbered tires and inserts will set you back 350 CAD or so (I'm sure you've got a place on the dark web where you find 80 CAD Maxxgrips but that's just not the norm). Tires, without a doubt, will have the biggest influence on the ride quality of your setup. If you could buy confidence for $100, spending that money on tires will play in your favor.
Suspension upgrades tend to cost a bit more. But it is not unusual to go through hundreds of dollars worth of tires throughout the year. Most suspension upgrades are for life -life of the bike at least. Forks with the newest dampers will set you back 1,000-2,000 CAD at retail.
That's a big price spectrum but the bottom end of that scale is not necessarily a big compromise. So why spend more than necessary? If you have a $1,000 fork, can you squeeze out $2,000 worth of performance out of it, or even improve upon a $2,000 fork?
I have been smashing through holes and riding the 2020 Marzocchi Z1 Coil for about a year now (see the original review here). That's 4,000 kms - give or take - of BC riding. Rain, mud, snow, dust, loam, countless bike washes, you name it. The $1,000 Z1 Coil works really, really well. The Grip Damper is simple and with simplicity on its side, it offers a supportive and not overly damped ride quality.
Most of my testing was done with the Medium weight spring, good for anyone from 150 - 180 lbs. The preload was left just about fully unwound. The GRIP damper was set to zero compression for the most part. The only time I'd dial it to the halfway mark was when I knew there would be steep trails at hand or heavy compression landings of the 'dorp to falt' nature. If I forgot to set it back to open, the feel of the fork was left relatively similar, apart from top-end sensitivity.
I liked this simplicity. The kind of simplicity that allowed me to focus on other aspects of bike setup like tire pressures, inserts and handlebar compliance. Then as the year progressed, and autumn rolled around , some excellent weather patterns for riding allowed for loam hunting laps. Boy, those were good times and what we built and found was some of the best riding I've ever experienced.
Riding on these loamy trails was a similar sensation to skiing 40cm of deep powder over pillows of snow. There were no massive g-outs if you could time the back of the moguls to push off of. Time it wrong, and you'd be taking a chest full of handlebar at high speeds. The kind of riding where you wanted to find out if you could go faster the next lap. That's when I started to find the bottom of the Z1 in a violent manner.
It is an angry sound finding the end of a coil fork's travel. There is no hydraulic bottom out control and unless you modify the High Speed Compression shim stack, there is no easy way of achieving said 'composure.' I'd dial in half a serving of GRIP damper and would drop into this loamy goodness well aware of the fork's obvious flaw in handling the mid-sized repetitive hits. Small bump sensitivity suffered a a great deal with this compromise.
Riding was still good and the wait times at suspension service centres were longer than I wanted to accept. I put the Firm spring in the fork, fit for a 200-lb rider just to avoid the end stroke violence. No equipment deserved that.
It was when I was offered to test a new bike that the Marzocchi-suspended Forbidden Druid could rest for a few weeks, so I committed to the suspension getting serviced by SuspensionWerx in North Vancouver.
It was just a couple of hours later that I got a call from SuspensionWerx; the CSU needed to be warrantied despite there being no obvious creak I could hear while riding. Definitely not a consistent one at least. Off to FOX the fork needed to go for this and I started thinking of Coleman's words about popping a GRIP2 Damper into one of these bad boys.
The GRIP damper, when it was in good shape, offered great ride characteristics. It was when the lack of maintenance caught up with me with that the harsh bottom-outs occurred. I had to see how much neglect the system could take before showing obvious signs of degradation. A brief chat with the guys at FOX confirmed that the upgrade was indeed possible but not something they would do to customers' forks. I understand the plot. A Fox 36 GRIP2 VVC damper with a light rebound tune was on its way into the Z1.
First Ride
When the fork came back from Fox, I was surprised to see all new lowers as well. There was an undisclosed defect that requred warranty replacement. The first thing I did before turning any dials was to run a thin bead of Green Locktite in the crown and steerer interface underneath the fork. If in theory I could prevent moisture from making it's way in there, I could potentially stop further creaking. Time will prove or disprove this theory.
There I was, with a brand new fork in hand. The only parts that transferred over from the old fork was the axle and the FIRM spring. For the sake of continuity I wanted to keep the firm spring in the equation for a ride or two but setting up the damper was a bit of a shot in the dark. I pulled up the settings for the Air sprung Fox 36 grip2 for a 155lbs rider. Fox recommends 20% sag on a 160mm Fox 36, which equals to 32mm of travel use. In the air world, this would be around 78psi +-2psi
So I started with these settings:
Firm Spring
No Preload adjustment
LSR: 7 clicks
HSR: 6 clicks
LSC: 10 clicks
HSC: 5 clicks
I immediately headed to my test loop which starts with flat, rolling terrain that's great for testing LSC and out of saddle effort. Wallowing forks need not apply here. You need to stay in the sag without bobbing. The GRIP2 damper in the Z1 did what I expected: it kept me up and stable in the mid-stroke and allowed for pressure to be applied to the handlebars. Flat corners were negotiated easily and the small bumps were not robbing my speed.
After 2 minutes of lung busting XC effort, the trail then turns into a chunder-fest in a hurry. Thankfully the grade gets steeper and pedaling is not all that necessary. There are big rocks and rough, armoured sections to negotiate. This is a trail that runs prime when the weather is at its worst. There is sand in the soil so the rain drains though and traction is ample.
The fork felt very composed and steering was precise with ample compliance. The chatter was erased a lot more efficiently compared to the original GRIP damper and the front end seemed to hold a line more stubbornly without much deflection. The fork seemed to recover fast enough for the 4 or 5 drops that sneak up on you after bouncing through some rocks. I was able to preload the chassis without worrying about the remaining travel getting used too quickly. The adjustable high speed compression circuit played a big role in that, especially in a coil sprung fork like this.
After 2 minutes of rough downhill scattered with a few mid-sized drops, we approach a waterfall section. Like a DH worldcup track, there are multiple line choices and the straight line is the fastest and the roughest. I usually aim for that. Taking the roughest line choice that allows for ample exit speed so I put my fate in the GRIP2 and exited the water-damaged section without much worry. There were no spectators to cheer me on, so I proceeded at 80% effort.
When the trail was done, my timing device alerted me to a new PR. This was a bit of a surprise considering the lack of sensation of speed on the ride. I didn't even feel like I was pushing the limits of traction. My hands were a little tired, so my mind was curious about a spring swap. But a PR obviously meant that I was on the right track. I was hesitant to go down a spring rate, but I wanted more comfort for my hands so I dropped the Medium spring back in to the chassis, a 5-minute job once back at home.
I did some non-scientific math to adjust the damper settings to compensate for the increased sag. Here's where that ended up:
Medium Spring
2 turns of preload
LSR: 8 clicks
HSR: 7 clicks
LSC: 12 clicks
HSC: 4 clicks
A couple of days later, back on the same trail, another PR was attained. The change to a lighter (medium) spring was welcomed by my battered hands. It was noticeably easier to hold onto the bars and the front wheel seemed to move out of the way more easily to generate traction on the rough stuff.
The "Fun meter" O-ring showed 90% travel use which was also welcomed as I was worried I would be blowing through the last bit of the travel on the medium spring. The HSC has seemed to work its magic on high shaft speed impacts. I will move a couple of clicks north or south on the rebound circuits depending on temperature and conditions.
Value Proposition
Is all this adjustability worth 500 CAD? That depends on where you start. I love a coil-sprung bike. The chassis stability the coil suspension offers far outweighs the disadvantages on the scale, but adding about a pound on either end of the bike is not on everybody's agenda. For me though, if the system is designed for it, I'll go for it.
Finding the correct spring weight is a bit of a struggle too, but once it's figured out, the deviation from the settings are far smaller, and the bike is just about always ready for a rip no matter the weather and altitude. If your bike came with a Marzocchi Z1 air/coil or a Fox 36/38 Performance or Rhythm fork, the GRIP2 VVC upgrade is heck of a lot cheaper than dishing out for a new fork in these times when supply is so short on so many components. The Marzocchi variants even allow for a coil/air spring swap for maximum customization.
What if you already have a GRIP2 damper on the front end of your bike? Does a coil upgrade make sense for about $500? AJ dove in to the Vorsprung Suspension option a while back. He is an outspoken advocate for coil suspension, too. I love the idea of a Fox-branded coil fork (the bleed valves on the lowers should be used by all manufacturers). Cam took the Push ACS3 to the trails with great success. There are options to coil up a stock GRIP2/Charger 2.1 damper fork.
There is a MRP Ribbon coil-sprung bike in the test fleet right now that further solidifies my affection for spiralling bits in the fork legs. I think for a Fox/Marzocchi OEM warrior, the GRIP2 upgrade is a no-brainer for challenging terrain. The installation process is no harder than servicing the lowers; no special tools necessary thanks to the semi-open bath design.
Make sure you have the new PTFE fork oil at hand and dive right in.
Conclusion
You may not be in the market for a new ride this year or next, but there are significant improvements to be made to the bike you already own. The cross-compatibility of suspension improvements are better than ever. Do you think you can squeeze more performance out of your 2021 ride?

Deniz Merdano
5'8"
162lbs
Playful, lively riding style
Photographer and Story Teller
Lenticular Aesthetician