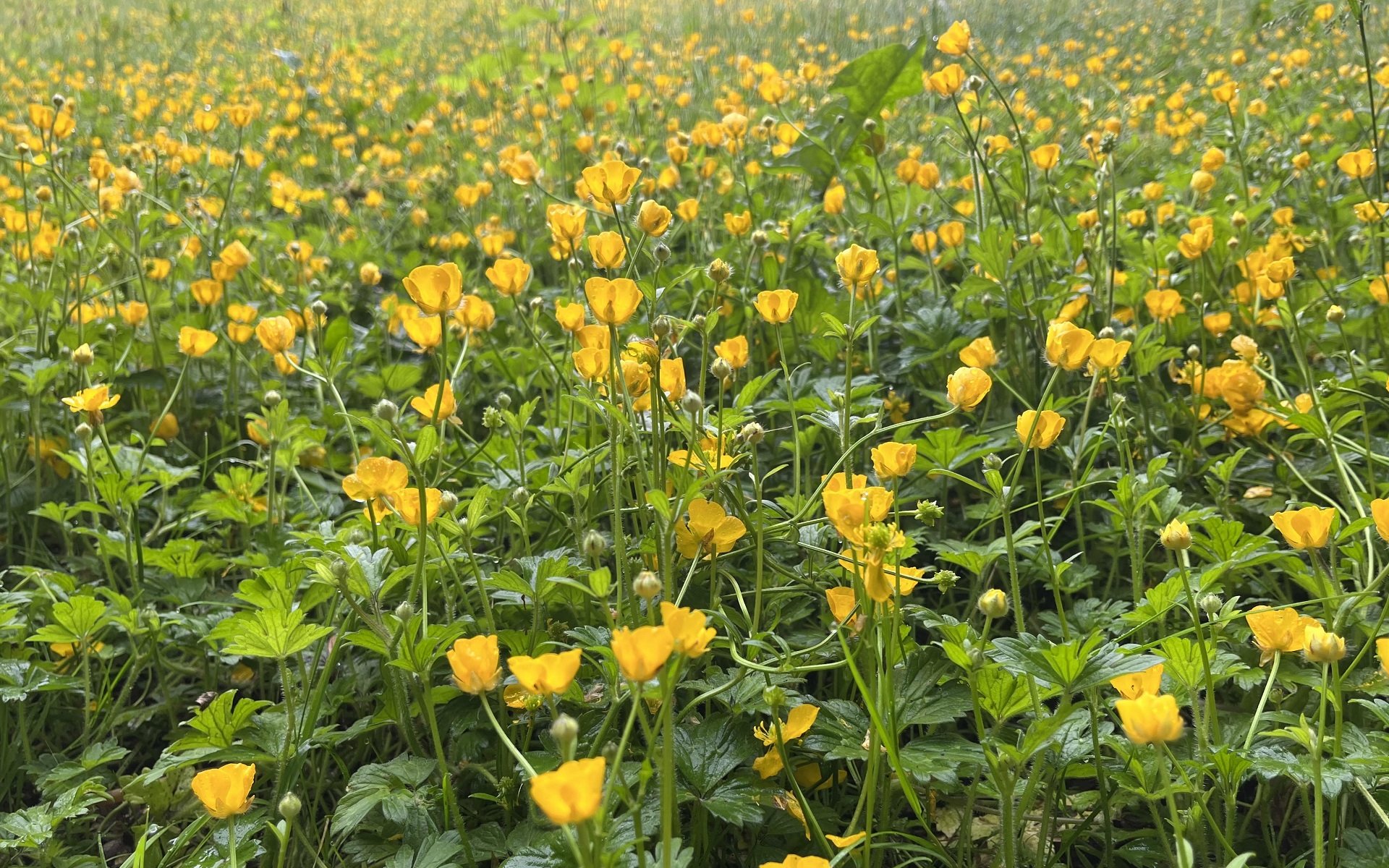 EDITORIAL
Foxgloves & Buttercups
Seekers
My friend Alex is tall, smart, and handsome. He's the sort of fella who gets chatted up all the time in the grocery store. You know, folks say things like "why, helllooo there, would you mind peaking up there to see if any toilet paper has been pushed to the back?" Yep, proper giant. And if you've spent some time around NSMB you'll probably know that, in addition to being tall, Alex owns a made in Canada fashion brand for tall people called NAVAS and a Geometron G1 that he purchased in September, 2020.
That date is important, because since I first met Alex in the summer of '97, I'm pretty sure this is the longest relationship he's had with a mountain bike. It's not that he's up and abandoned his bicycle-bachelorhood for some monogamous two-wheeling. I think it's fair to say he's always looking for his next fully suspended frame fling. It's just that companies are only now approaching the Nicolai-Porter geometry he loves and even then they're mostly not making proper long person bicycles. Even if they are, the chain stays are still usually much too short for a nicely balanced ride.
We often nerd out about new bicycles and Alex's boutique & badass German-made monster truck is regularly a frame of reference or a reminder that no matter how many brands have found their ways to the triathlon-steep saddle positions and WC DH slack head tube angles (HTA) there should be some recognition of how the concept was proven, and by whom. And that's my inspiration today. A year from now when we're talking about Buttercups, Foxgloves, Manitou's Elastomer Fluid Control (EFC) system, Zokes*, SR Duo Track, and every other company's trail 'noise-cancelling' 4mm-travel fork upgrade, I think it's important to recognize the little outfits that have been pushing versions of this concept for years, often faced with skepticism and derision from members of the riding community.
*Foxgloves with an 'M' stamped into them
The specific products I'm thinking about are Fasst Company's Flexx handlebars and suspension grips made by RevGrips. These products may not be something you need, but they are experience-changing for plenty of riders. I've been e-mailing with an NSMB reader named Phil about revisiting the Flexx bars, not from the perspective of someone who enjoys them (me) but from someone who needs them (him). He writes:
"I have a handful of holy shit moments on my bike yearly due to hand strength issues. Some of them result in me in the bushes, or broken ribs, or fantastic saves. I'm completely awestruck after trying this handlebar and I feel for my personal adaptive issues it will change my riding completely."
I've talked to a number of folks who have tried Rev's grips and were happy with the purchase, but then there are the folks who work with their hands for whom they're a revelation. And not just people whose suspension forks are three years overdue for their yearly service, but people with dialled in setups for whom Rev is the only system that prevents the dreaded 'claw' within a few turns. Stiffness, soreness, numbness, aching, whether you're typing or a technician, if your work is cruel to your hands to the extent that it affects your riding, these things make a big difference.
I don't think of these as suspension products in the sense of forks and shocks, but rather suspension assistance products. Counterintuitively, I find the Rev grips and Flexx bars are more notable on my full suspension bike, where I'm hitting stuff at much faster speed. That's especially the case with the bar.
Going back to Alex for a moment, he regularly brings up a point about products that are engineered, or at least marketed, to perform in a certain way but only one version is made available. People come in a wide variety of sizes - weight, strength, weight distribution - so if you're hard-selling one version of a product that's supposed to add a performance benefit, shouldn't you also be providing some sort of information about the optimal rider for the performance benefit so that other riders can have some hope of calculating the percentage of the benefit they are likely to receive?
For a real world example, take the base model Rocky Mountain Growler 20 that I reviewed in 2020. The spec includes a basic SR Suntour suspension fork with a single rate coil spring. At a buck eighty five or so, I felt it was a little under sprung for my weight but it was firm enough, and the fixed rebound controlled enough, that it was an entirely rideable setup. If Rocky told me the fork was optimized for a 180lb rider hitting blue-rated trails then I'd believe them. I know folks sporting my same 5'9" stature that weigh under 150lbs and I know folks my height weighing in over 250lbs. The farther a rider sits from whatever median weight value the fork is set for, the less of the prescribed benefits they'll receive from the product. Fasst bars are an exception, shipping with a variety of elastomer spring rates. The Rev Race grips I reviewed are set at the most popular support level but there is also a Pro Series that has a wide degree of tunability.
Successors
I have no idea what any brand is going to call their elastomeric vibration relief system other than RockShox's ButterCups system. It will seem like a shame if Manitou doesn't call their version EFC. If Fox had a sense of humour then Foxgloves would be doubly perfect. The lawyers at actual 'Fox Gloves' may take issue with that though. All the same, I have zero doubt that a similar system is coming from everyone. It's too easy and cheap to make to not offer it as a premium option. Or better yet, a standard feature through the whole lineup of performance forks. I am positive they'll all use elastomers* for this purpose as they're the lightest, simplest, quietest, and cheapest option for the application. My only wonder is if any forks on the market have the space in the lowers to offer such a system as a retrofit option or if, like ButterCups, this is for future forks only.
If you haven't checked out the RockShox ButterCups system, there's a full explanation in our MY23 Fork Teardown piece. I'm surprised they don't offer multiple rates for elastomers.** I suppose they may in the future. Or maybe changing them is enough of a pain - requiring the lowers to be dropped every time - and the spring rate, over 4mm of travel, covers most or even all riders. Either way, it would seem to this media hack that adding a degree of tunability via elastomer swaps or adjustability via preloading the elastomers will be an easy differentiator for one of their competitors' systems.
*Now that I've said that, some company (DVO?) will use coil springs instead of elastomers so the system won't be temperature sensitive or require replacements (elastic polymers harden over time).
** Chris Mandell from RockShox told us that ButterCups aren't tuned for rider weight. They are tuned for a frequency of vibration and are independent of rider weight.- Ed.

I'm completely awestruck after trying this handlebar and I feel for my personal adaptive issues it will change my riding completely." - Phil
Elastomers are going to be everywhere in suspension in the next couple years. Expect most shock brands with coil shocks to spring out multiple sizes of tapered bumpers for their rear shocks - see Avalanche Racing bumpers for inspiration. Whether they were working on it before ButterCups dropped or not, expect every fork brand to have an elastomeric element for next year. Personally, from my experience with Fasst Flexx and RevGrips, I think this is a positive development, especially for the riders who greatly benefit from those two products. There will be some disappointed riders however, as the potential performance gains will be greatly overstated comparing a freshly-serviced fork with the few additional millimeters of elastomeric travel to a freshly-serviced fork without.
I highly doubt that any suspension brand releasing an elastomer suspension system for their fork will give credit to companies that came before them. I am certain that all suspension brands have ridden these bars and grips, and probably SRAM's ButterCups by now, too. But remember, if you're lamenting a lack of retrofit-ability with this new take on mountain biking's original suspension medium, if you duck the fashion police for a few minutes, you can get some portion of the benefits in a bar or grips without having to flip your fork for a fresh one. And be aware that a couple of little companies have been pushing the trail 'noise-cancelling' feature for a few years now.