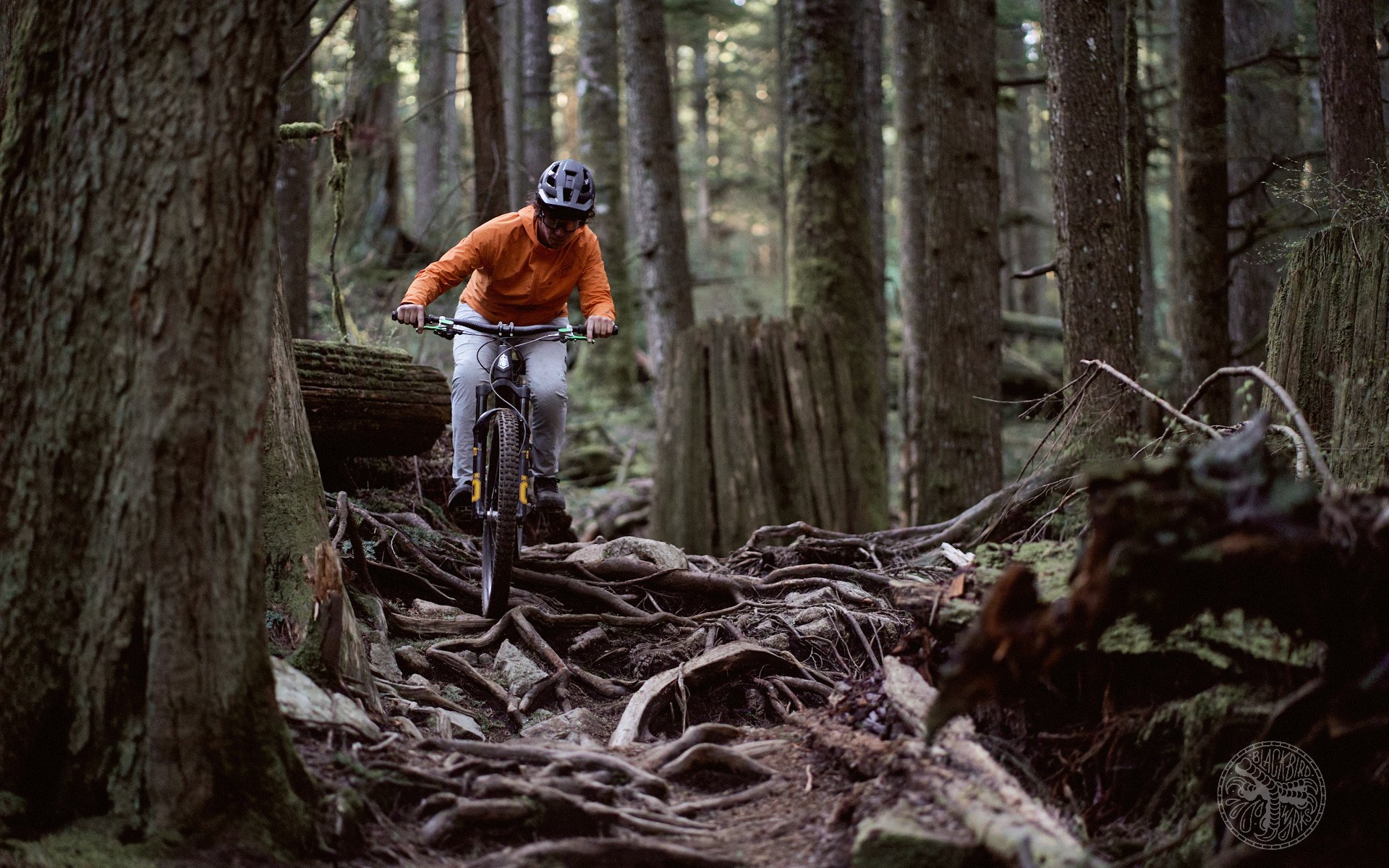 Shoe Review
Fox Union Clipless and Union Flat Shoes
Fox has been a mainstay in the MTB apparel world since the mid-90s. As a kid, I remember poring over their paper catalogue, lusting over a pair of blue Push pants as Palmer rode. Mowing a few neighbourhood lawns afforded me a trip down to the local motocross dealer to grab a pair of Dirt Paw gloves, sufficient to scratch the Fox itch for a 14yr old dopamine junkie.
While Fox has been in the MTB apparel game since the beginning, they launched their MTB shoe lineup only last year. There's been a few brands putting out decent bike shoes over the past couple of years, though few have been able to make a tremendous clipless shoe and a very sticky flat shoe that could contend in the ring with mighty Five Ten. Fox has only three models, all called Union. Emma covered the highest-end Union Boa Clipless shoe here, so I'm reviewing the Union Clipless and Union Flat shoes. Let me tell you more about these practical dancin' shoes.
Union Construction
The two Union shoes I'm testing here share many commonalities in construction. They're low-key, and don't appear to be anything fancy - no tech-riddled adornments, or XC-style speed slippers. Rather, they are low-cuffed skate-style shoes aimed at aggressive riding in any discipline, from trail ripping to downhill racing.
The Union features a regular lace-up configuration (a velcro strap atop the instep for the clipless model). Smart textile tactics employ a one-piece synthetic upper with perforations above the toebox and on the side for venting. Super-thin interior padding doesn't allow water to weigh the shoe down in the event of a dousing or during peak saturation of PNW riding. The toe box and heel is generously reinforced, for downhill intended protection. Fox uses an Ultratac rubber sole for high pedal and hiking grip, a nylon shank keeps stiffness high for pedaling efficiency.
I've ridden many shoes with vented panels stitched into the main upper, only to have it blow out later from a pedal strike or after the break-in period as textiles stretch at different rates. The one-piece upper Fox uses is slick, albeit a little warm. There are perforations atop the toe-box and side of the midfoot for mild venting. I'll gladly trade heat management for weatherproofing, which the Union has in spades. Very wet rides hardly allowed moisture ingress, keeping my feet comfy and clean on cool days, even after waltzing through some puddles. Toe and heel protection is high, as kicking a few rocks (despite what Trevor tells me) hasn't resulted in a sore toe. For a shoe that's rated for DH racing, protection is key!
I'll talk about the Union Clipless first, so if you're here for Union Flat info, scroll further down.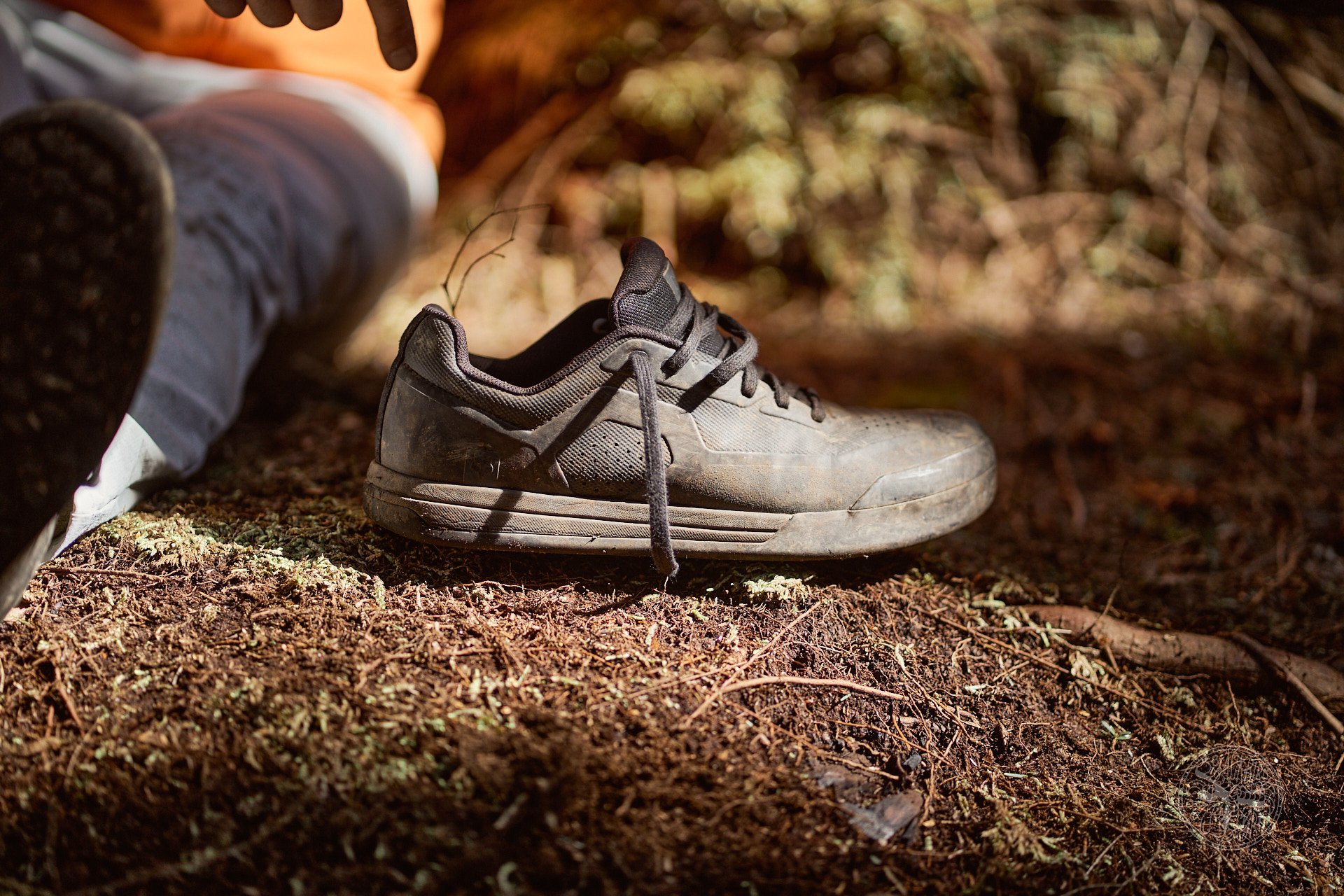 Union Clipless Shoe
Barring the construction details of both shoes above, the Union Clipless has a cleat pocket with a standard two-bolt mounting pattern. A reasonably long cleat channel allows you to choose forward (power) or rearward (control) cleat positioning. Two interchangeable arch supports via velcro-backed panels attach to the insole for fit customization. A velcro strap on top of the instep helps cinch everything down comfortably.
The last of the Union Clipless isn't too wide, or narrow for that matter. I have a wide forefoot, but otherwise low volume foot. I didn't notice any pressure points, and the laces combined with the velcro strap were easy to adjust with varying sock thickness or fit preference.
The insole has a spot for additional velcro-backed foam panels which integrate nicely into the arch area. My arch is low, so I'll take as much support as I can get. I started with the thicker (red) insert, which felt good. I really like this idea, but can't help but think the foam is low-density, and will likely pack down to near imperceptible heights between the two. A thicker foam or dedicated piece of plastic would last the lifetime of the shoe (or insole, at least) and not compress over time. Alternatively, you could use an aftermarket moldable insole to treat your dogs in full.
On my first ride, I noticed the considerable stiffness of the sole and shank. This allows for maximum pedaling efficiency, and hasn't been uncomfortable on the two hike-a-bike missions I've been on as of late. These could be too stiff for long-winded 50/50 bike to hike adventure missions but that's not really what they're designed for.
The cleat pocket is long, and biased slightly to the medial (inward) side, reducing crankarm rub and increasing the Q-factor. There's enough real estate here to satisfy riders who prefer cleats slammed furthest backward, or forward. I'm using these on Hope Union TC pedals (who knew they'd unionize so well?) with zero engagement issues.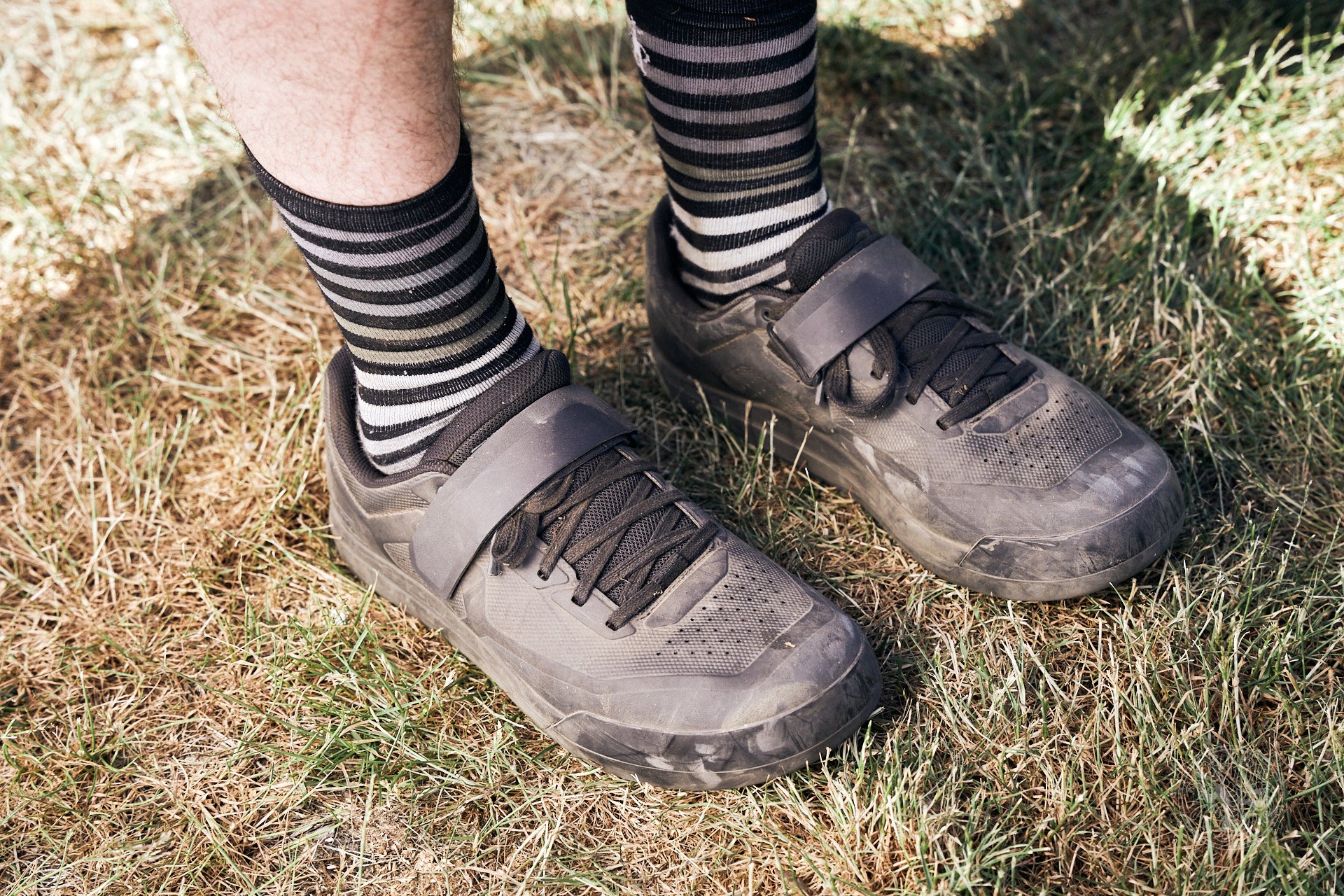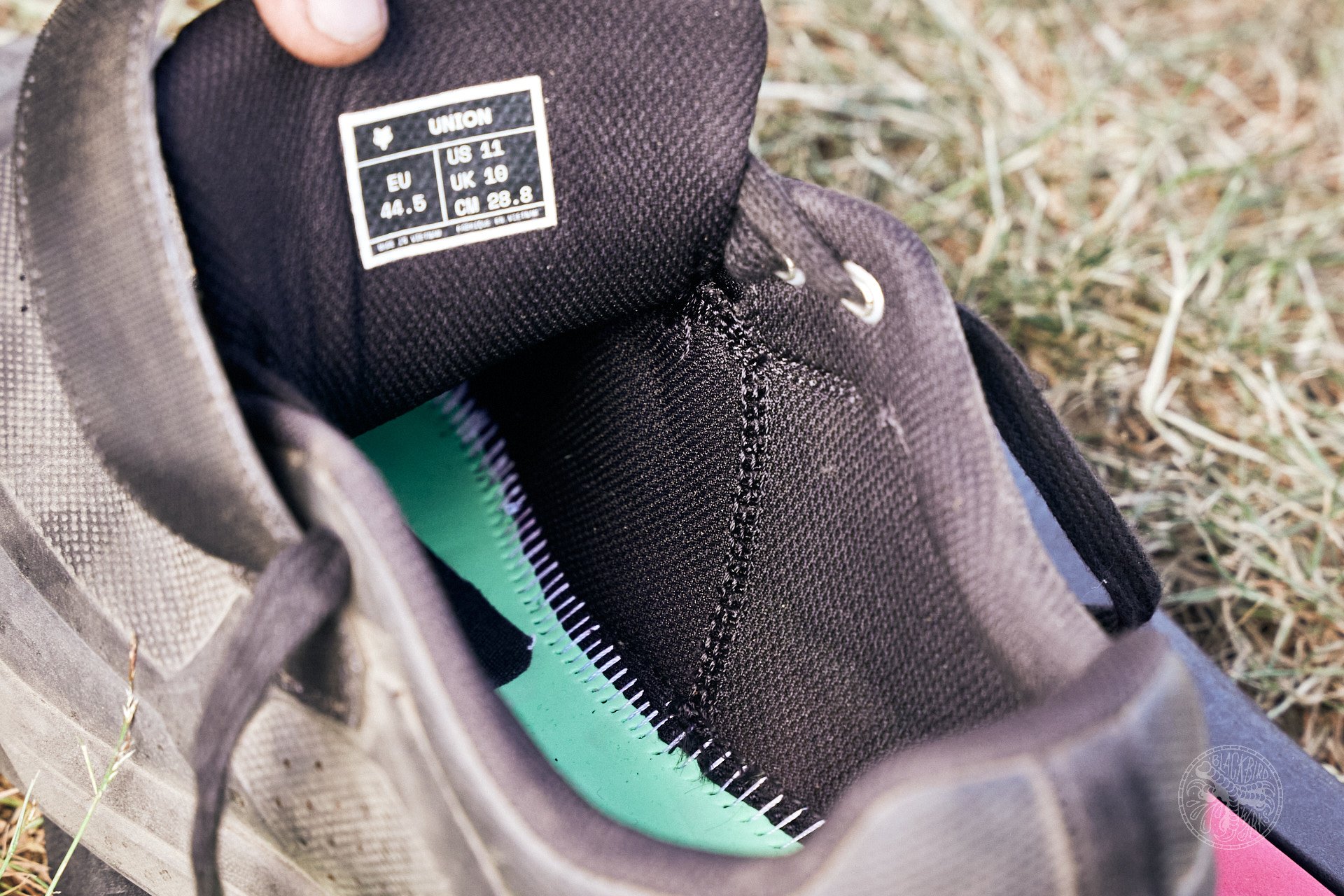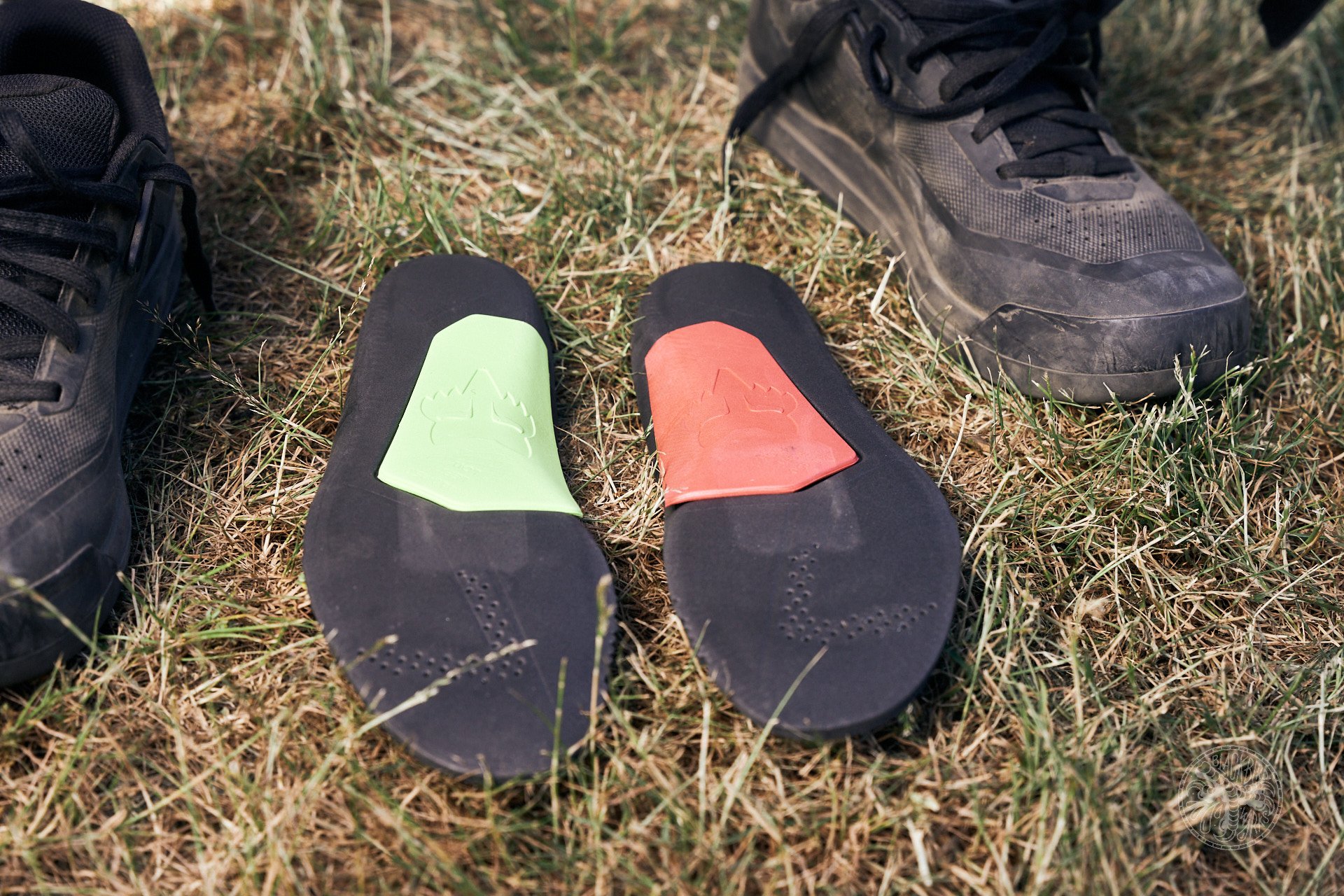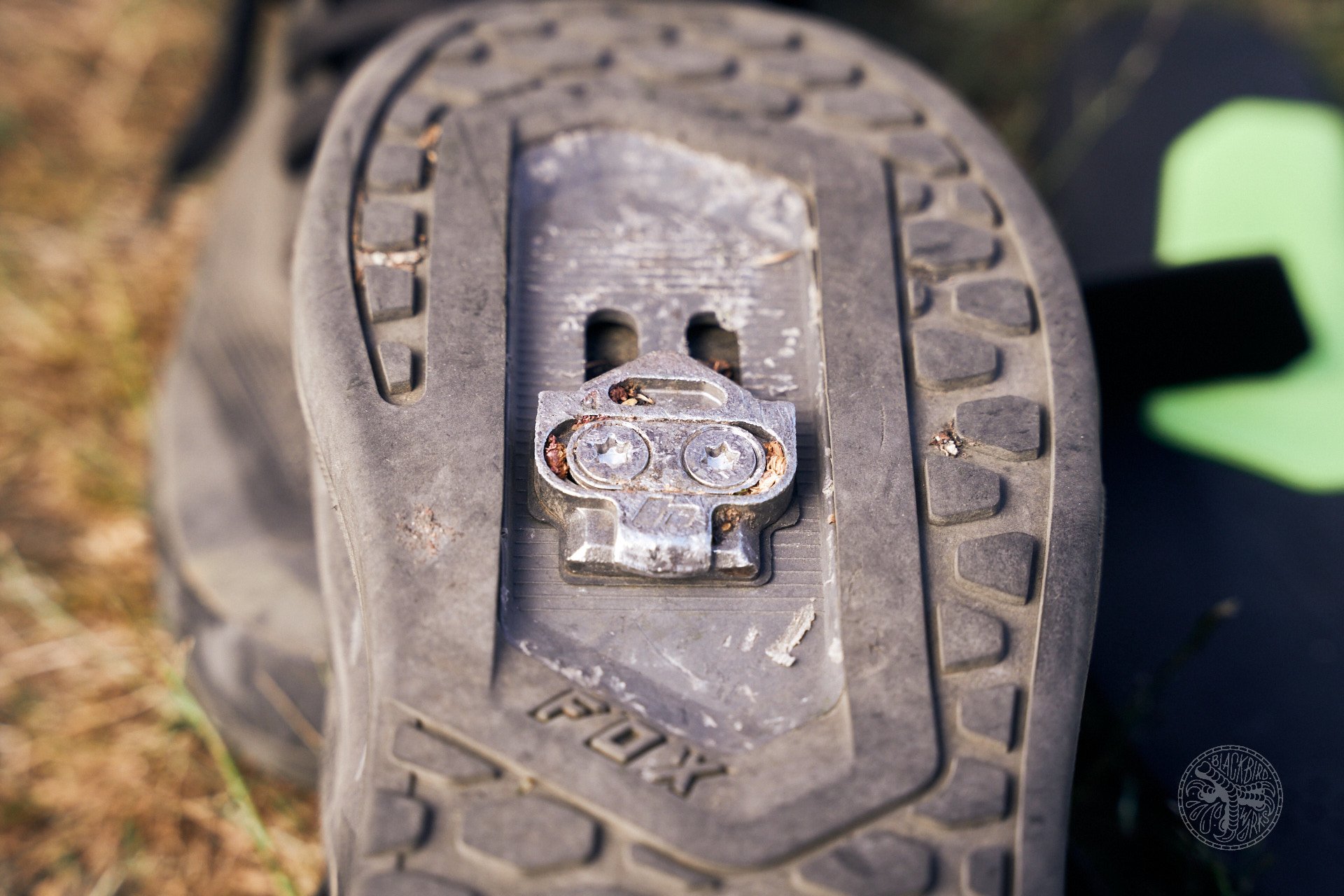 Union Flat Shoe
Construction of the Union Flat is damn near identical to the Union Clipless shoe, minus the obvious clipless channel, insole arch adjusters, and velcro instep strap. For me, the fit of flat shoes doesn't need to be as precise as clipless, so laces do just fine, and are replaced more or less anywhere.
Here at NSMB, we often compare flat pedal grip to the Stealth rubber of Five Ten shoes. If the Five Ten grip is 10/10 on a grip scale, I'd give the Ultratac rubber a 9.5/10. Fox uses an elongated hexagonal shape for their tread. The Union high grip tread combined with the stiff sole makes for a very comfortable ride, not tiring my arch by deforming over the pedal body. Compared to my Five Ten Freerider Pro Mid VCS, I'm able to reposition my foot easily on the pedal, if I'd placed it wrong initially. I used Chromag Daggas and Hope F22 pedals, and in both cases the grip was astounding. I also noticed how well the Union tread has held up. The Five Ten is showing signs of degradation from aggressive pins but the Union isn't showing any. Both shoes were worn for a similar amount of time, two months each. I prefer the Fox Union; the durability seems better than Five Ten, as does the fit.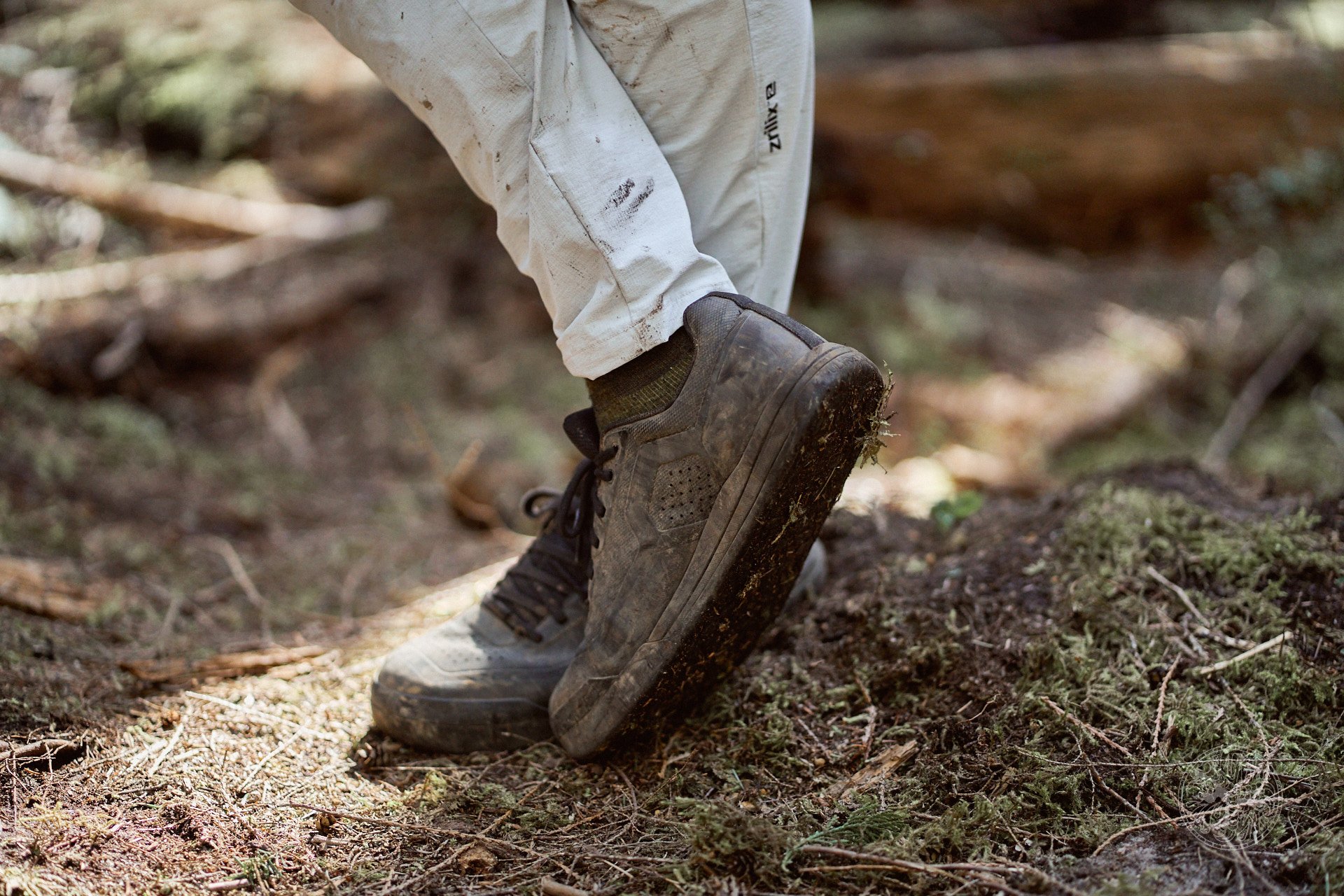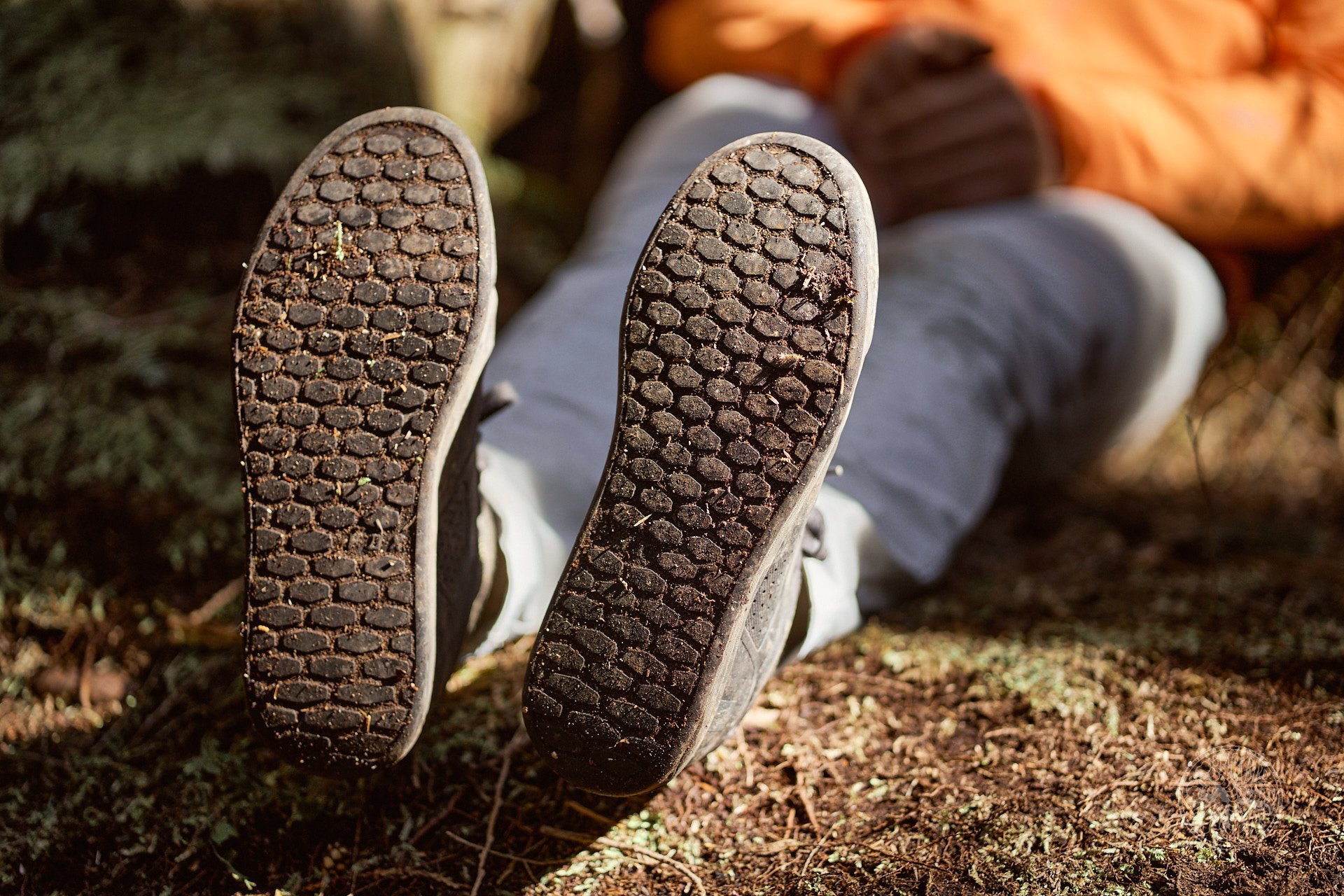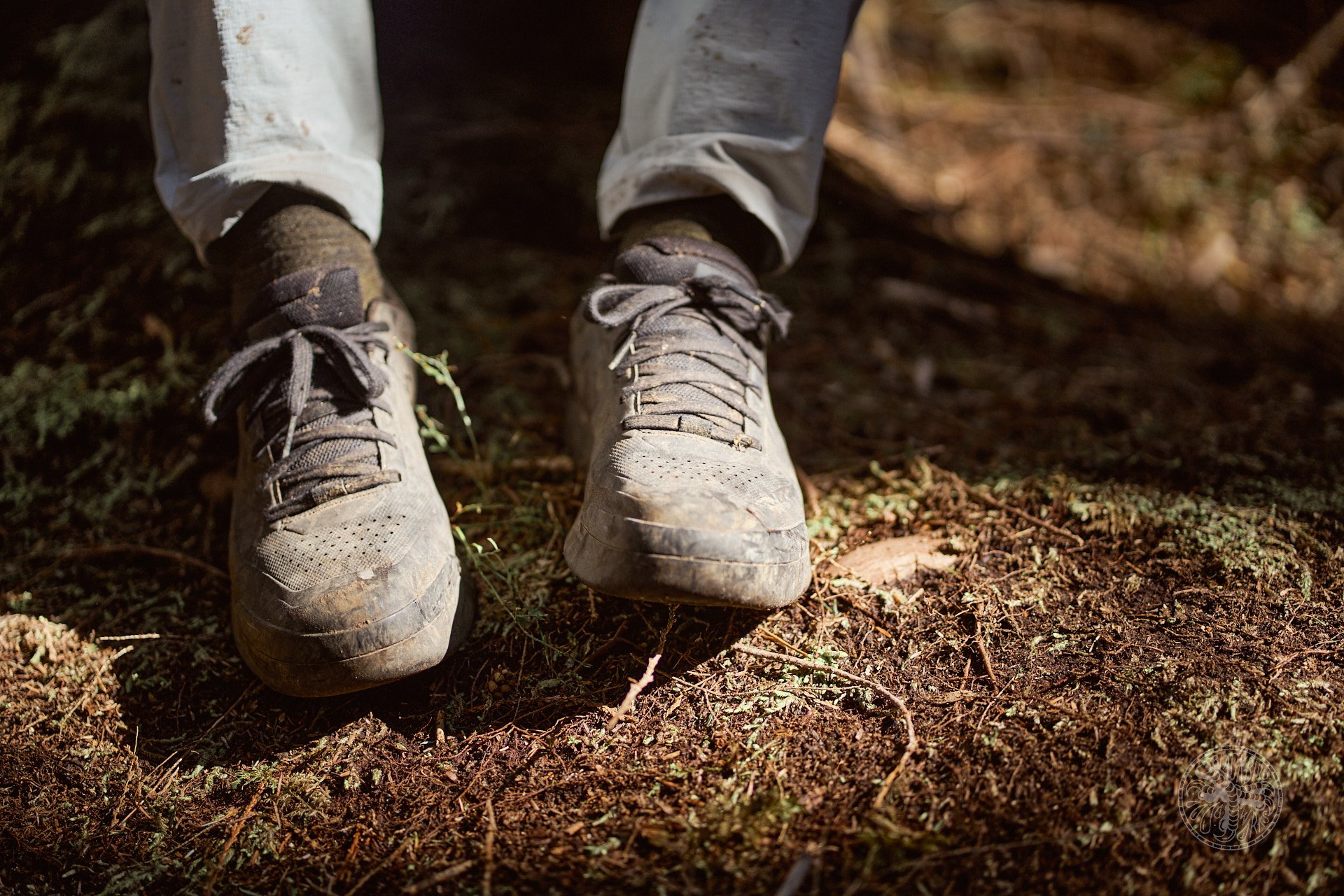 Fox has taken many design cues into account for the debut of their MTB shoe lineup. Refined ideas such as minimal interior padding, synthetic one-piece uppers, and stiff soles combined with amazing Ultratac rubber make for high-quality shoes. Both the Union Clipless and Union Flat are versatile enough for trail riders, enduro & DH racers, or bike-park rats. These are my new favourite riding shoes, and they hold their own against the current royalty of clipless and flat pedal shoes.
Fox Union Clipless shoe $239.95 CAD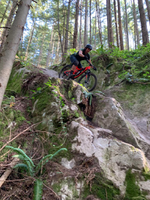 Graham Driedger
Age - 38
Height - 182cm/6ft
Weight - 92kg/205lb
Ape Index - 1.035
Inseam - 32"/81cm
Mountain: Seymour
Bar Width - 780-800mm
Preferred Reach - 475-500mm