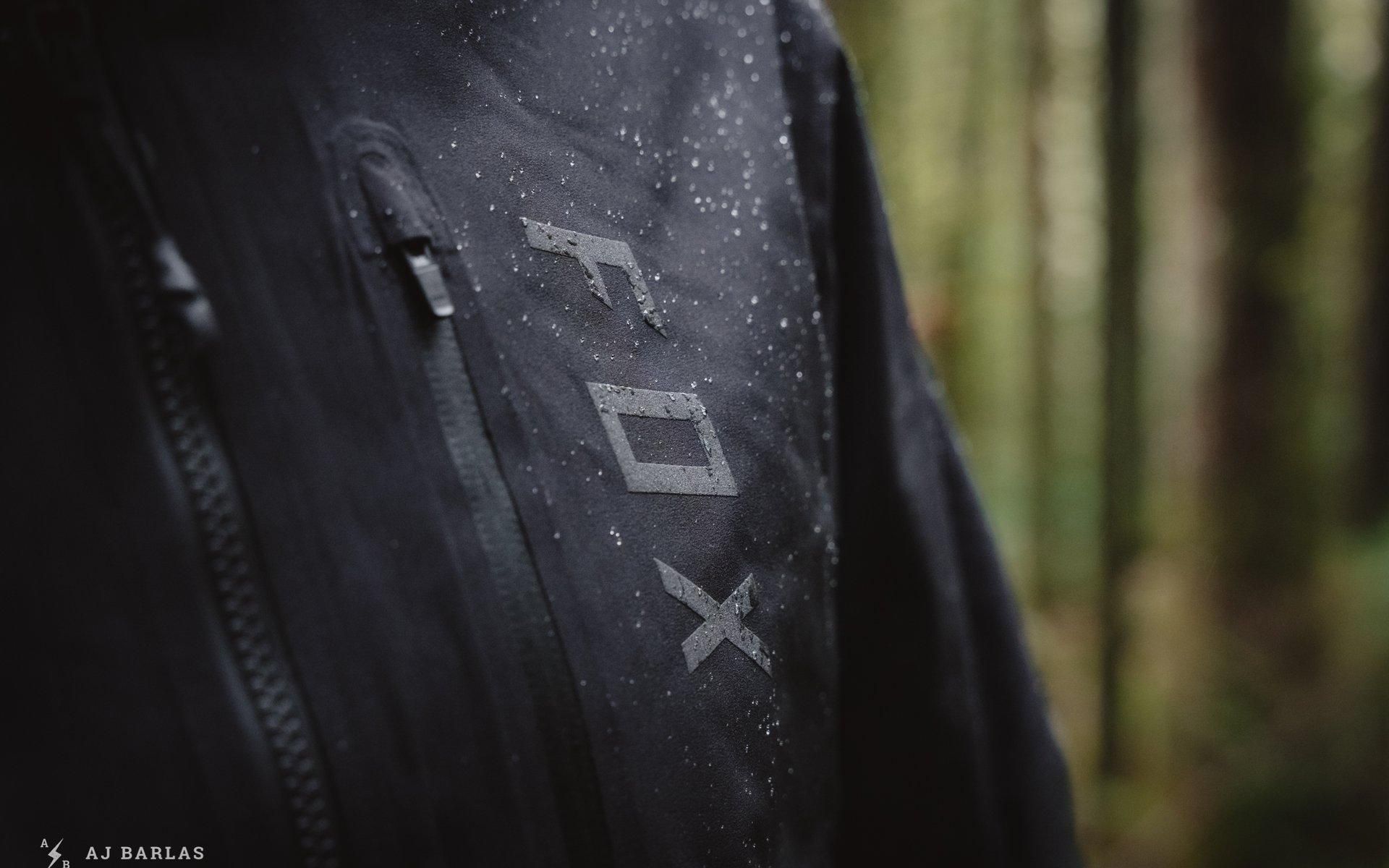 WET WEATHER REVIEW
Fox Flexair NeoShell Water Jacket & Ranger 3L Water Pant Review
After 10 years of eagerly getting out on the bike year-round, I've found the last couple of winter seasons more of a challenge. During my first autumn in Canada, a couple of close friends told me; "if you don't ride in the rain here, you won't ride much at all." They weren't kidding. Like a duck to water, I've grown used to the we(s)t coast weather and have ridden more than ever since settling here, despite my motivation waning over the past two winters.
Seventeen years after first having to adjust to the pronounced seasonal change, I still struggle with the initial shift to autumn and winter, and not only when it comes to riding. Heaps of people are fond of autumn but for a few close friends and me, it can bring the mood down. In spring, everything is in bloom, the forest smells fresh and there's a buzz of energy. Come the summer months people are smiling and stoked to be outdoors more, soaking up as much vitamin D as possible – as if trying to store extra in preparation for winter. I'm addicted to that glorious glowing orange ball of light.
But for some of us, autumn lacks that energy. In Squamish, there isn't much sun at this time of year, and the forest loses its vibrancy, browning as the deciduous trees drop their leaves. It's a bit blah compared to spring and summer. Sure, the evergreen trees keep their foliage and much of their colour, but the vibrant greens and singing birds of the spring and summer months are gone, along with the sun.
When it comes to riding I thrive on the hot, dusty, rough conditions of summer. Come autumn, things go from that fast and loose fun to slow and sloppy. Alone, this is an adjustment but the weather away from the bike also affects this Aussie reptile, at times making for a strong double hit of the doldrums.
What Are You Wearing?
But I really enjoy riding my bike and ideally, don't want to be off it for more than a few days. When riding year-round, I've always battled to make do with gear that's friendly on the wallet. Even as a tech ed for various media outlets, I've always gone for the jacket that looks like it could offer the best value for money. And I hadn't even matured to pants yet.
I also prioritize saving money to fly somewhere warm and dry during the winter months – usually home to Australia for an extended period. That's out of the question this year thanks to COVID. I can go home, but I'm not interested in forking out an additional ~$3K on a compulsory two-week hotel stay. When you consider the increased risk of getting sick or worse, causing someone else to fall ill, it's not as appealing as usual. Now more than ever, it's time to hunker down and get some serious wet weather gear.
I've previously fostered the same tactics with my casual wet weather gear as my riding outfit. Often, going for the cheaper option has left me sweating uncomfortably, and after a full day in the rain, wet from both inside and out. For years now, my wife has been pushing me to spend more money on quality wet weather gear and after testing her theory a few years back with some quality hiking gear, I understand why. With that kit, I can spend hours out in the pouring rain and not be phased by it at all.
I'm not sure where the skimping started though. When I used to spend 150 days a year on the snow, I spent good money on outerwear. Not Burton AK series money, but often just beneath it. I understood that layering and the quality of garments could make or break the day but when I turned back to mountain biking or casual winter clothing, that same attention and understanding had vaporized.
When researching options I once again found myself trying to cut corners even with the knowledge that better gear would get me out on the bike more often. I spoke with Fox about my concerns, making it clear that I didn't want the most expensive, particularly if the other options I was considering were suitable.
Conditions Ultimately Made the Decision
Autumn and winter in the Coast Mountains of B.C. are challenging for gear. It's damp all the time, making it feel colder than it is. But once you get moving on the bike, the humidity and relatively warm conditions turn you into a sweaty mess. This has always been my challenge and I don't even sweat much. I enjoy the 35-degree weather and grew up in very humid conditions.
Joe Schwartz once said to me "be bold, start cold" and it's been a helpful phrase to remember during the cold, wet months. Even with that in mind, it's easy to find yourself cross-eyed from overheating on the way up. Breathability, for me, has been the challenge and given our conditions, this season I decided to try garments that breathe better.
Being surrounded by temperate rainforest also means the gear needs to be waterproof. I remember from my snowboard days that getting both breathability and waterproofing sends the price up considerably and my ignorance had proven that less favourable attribute remains with both regular and mountain bike outerwear. I've focused heavily on waterproofing in the past but with a balance of breathability more in focus, I decided to try the Fox Flexair NeoShell jacket mixed with the Ranger 3L pant.
Fox Flexair NeoShell Water Jacket & Ranger 3L Pant
At first glance, neither of these garments fit in the great value bucket. Riders who swear by Gore-tex or similar are aware that the value comes after a long life of good use. While I can't speak to the durability/value component yet – I need at least a couple more years to pull that one off with these – I can share my findings with quality and experience.
Highlights
Flexair NeoShell Water Jacket
Polartec NeoShell
Waterproof zips on pockets and pit zips
Adjustable velcro cuffs
2-way adjustable, helmet-compatible hood
Adjustable lower hem
Flexible, comfortable and quiet material
MSRP: 399.95 USD / 469.95 CAD
Ranger 3L Water Pant
Fully seam-sealed
DWR surface treatment
Tapered leg fit
10,000 mm / 10,000g
MSRP: 174.95 USD / 219.95 CAD
The Fox Flexair NeoShell Water Jacket doesn't use Gore-tex like so many others and while there's no indication of DWR coating in their literature, I can confirm that the jacket does use it. The Ranger 3L pants are also coated with DWR and both products seem to bead the same. Breathability, comfort, and waterproofing of the NeoShell water jacket are largely thanks to the Polartec material used. Polartec claims the material is waterproof, offers best in class breathability, and is durable and easy to care for. As a bonus, I can confirm it's great for blocking wind.
Polartec claims that their technology releases heat and perspiration without a need for the high-pressure build-up that Gore-tex relies on. The Polartec material 'enhances natural thermoregulation while providing the required resistance from all outside elements.' That's a lot of science but I can say this is the most comfortable jacket I've ridden in and it breathes better than the ultra-lightweight windbreakers I've worn in the past while keeping me dry and protected from the elements.
The Ranger 3L pants are more typical. Three layers of material with a DWR coating on the outer layer, shed water and grime while remaining comfortable beneath. They're ergonomically cut, with a bend in the knee to help with comfort on the bike. They taper quite heavily down to the ankle, keeping them out of harm's way and use a ratchet closure at the waist to fine-tune size.
Their first ride was the perfect test with a classic steady rain that turned biblical during the ride. It had also been raining hard for days prior, leaving little chance of these avoiding dirt and grit, along with the swim they were about to go on.
As is too common, I struggled with what to wear and settled on a wool base layer (NF Halfdan) with a long sleeve tech-t on top. I wore wool socks and pads on my lower half but could have opted for a longer sock for added comfort. Pedalling in the pants was comfortable, more-so than walking, and with the hood up, I was easily able to turn my head.
I've enjoyed how quiet the jacket and pants are during movement. With the hood up, the absence of crackle allowed me to hear my surroundings and I was able to move on the bike without restriction. Water was beading but as I climbed to the start of the trail, things began to heat up. After opening the large pit zips and lowering the chest zip, airflow improved. The temperature never rose above 5 degrees Celsius but I remained comfortable climbing with the jacket opened up.
I finished the ride, laughing at how disgusting the conditions were but surprised by how comfortable I mostly remained. I say mostly because my feet were swimming in their own fishbowls. The wool socks kept me comfortable but my winter riding shoes (FiveTen Freerider EPS) were so well sealed that any water able to get in had no escape. Once home, I undressed to find I was 99% dry beneath. My second layer showed a hint of moisture down the front, directly behind the zip, and around the collar and cuffs of the long sleeves. My base layer and underwear were completely dry – amazing.
The fit of the jacket has been great and I don't find the sleeves short. I can only imagine the cuff moisture from that first ride to be from the stretched position and riding into the heavy rain. The same goes for the water around the collar. With the zip opened to the relaxed position just below the neck and the large hood, the pouring rain was able to get in and dampen my second layer. Otherwise, I've found the garments to perform sensationally with no issues from water penetration in more typical, wet conditions.
With the vents open, I'm able to comfortably climb and ride for hours without sweating into a sticky prune. I haven't ridden in temperatures above 10 degrees but below that, I've found it comfortable with the right layering beneath. In the past, I've not been able to complete rides with a selection of windbreakers because they breathe as well as large garbage bags, (which I have worn in local XC events). I also enjoy wearing the hood when cold or raining but it is quite big (I know, I can't have the moon on a stick).
The pants have kept me dry, particularly in the seat where water and mud are constantly targeted then sat on. They don't breathe as well as the jacket and when the sun is out, I've questioned whether they're the best choice. But when the trails are wet, not having to deal with any splashing from puddles or off the rear wheel gets preference. I don't typically struggle with sweat on my lower limbs but I have found them less breathable than the NF DP3 pants. The Rangers do a better job of keeping the water out though.
Room for Improvement
Other than the moon-on-a-stick request I've already made about the hood, I can nit-pick a couple of areas for improvement. The jacket's pit zips are weatherproof and I find this combined with the lack of pull tabs makes them awkward to open and close. Once they broke in this improved but I still find them a battle. I'm not sure we need weatherproof zips under the arms either.
With the pits open, I've mistaken them for pockets as well, placing my items loosely next to my body rather than securely where I intended. Greater separation between the two would help prevent the mistaken identity.
While effective, the pants don't fit me as well as I'd like. For me, the NF DP3 is the benchmark and these, unfortunately, don't provide the same comfort. The leg length on my size 32-inch waist is too short for my 32-inch inseam once seated on the bike. With an eight-inch cuff sock, there's only a roughly two-inch overlap, which isn't the most comfortable in the cold. I also find the rise (crotch seam) shorter than others, creating a strange fit at the front of the pant. On the bike, it's not a problem but walking around isn't comfortable.
The pockets in the pants are also quite small and tight, making it difficult to get my bony hands in there. There's no drop to the pocket, leaving items sitting precariously until zipped up and their location is high, leaving little room for movement. A deeper pocket would be welcome.
Conclusions
Although the fit of the pants isn't ideal for me and the pit zips get confused for pockets, I happily reach for both of these items now, and will for the duration of the wet season. They do a great job of keeping me dry on the trail and the comfort and fit of the jacket have made it a favourite.
I went into this hoping to find wet weather gear that keeps me motivated to ride in the muck for the next four months and it's been a success. The price is steep but I've never been fortunate enough to find a golden unicorn for less, leaving me to accept that comfort and performance come at a cost. Early next autumn I'll report back on the durability, because for the money, ideally these will wear hard and last many years.
More on the Fox NeoShell Water Jacket and Ranger 3L Water Pant.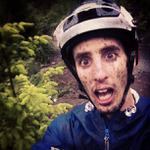 AJ Barlas
Age: 39
Height: 191cm/6'3"
Weight: 73kg/160lbs
Ape Index: 1.037
Inseam: 32"
Trail on Repeat: Changes as often as my mood.
Current Regular: Every test product spends time on Entrail