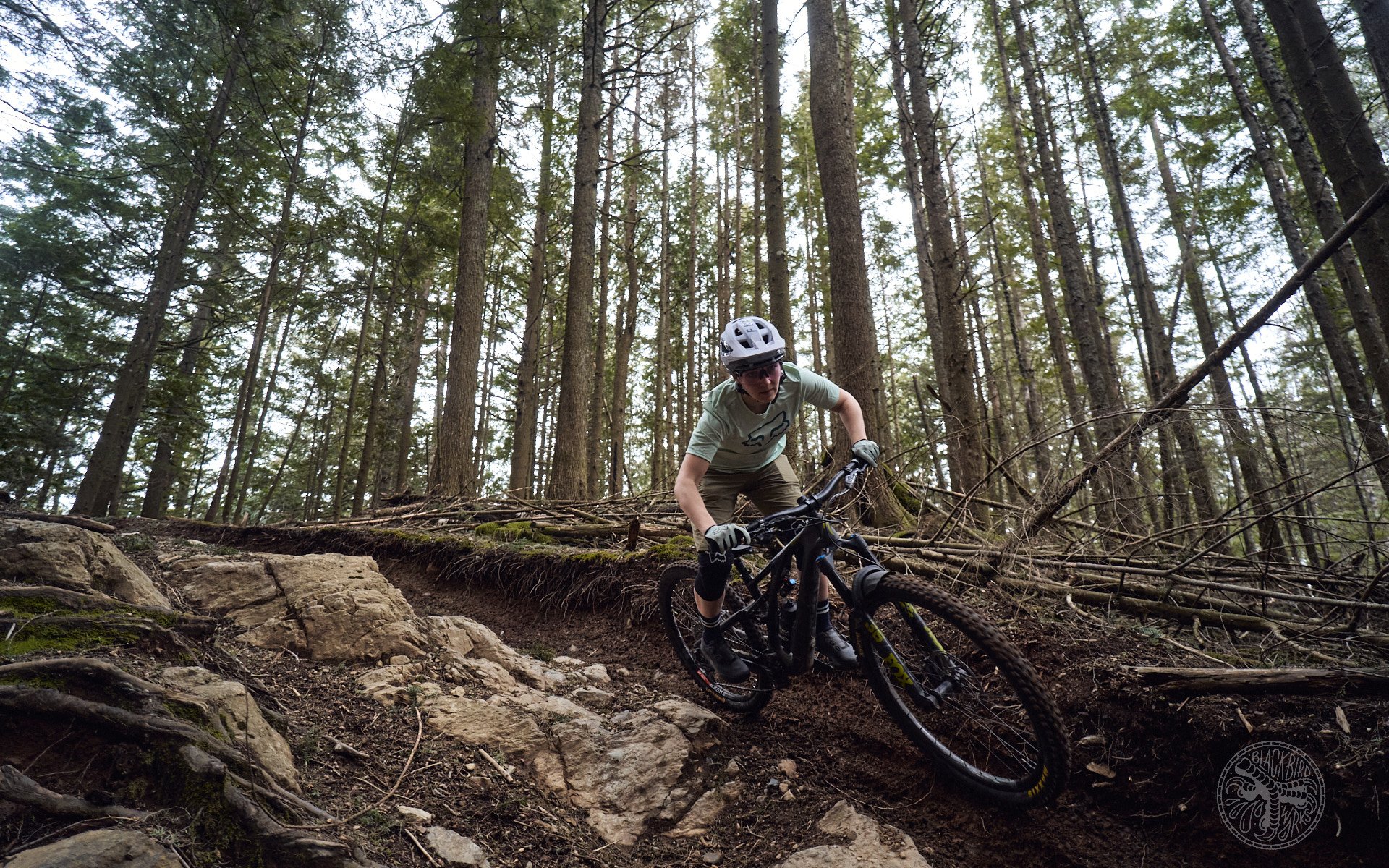 HEAD TO TOE
Fox Apparel
Fox Head to Toe Review
While I wouldn't consider myself a gear connoisseur, I have thoroughly enjoyed exploring these Fox items in detail for my inaugural review. I find it easier to identify what I don't like rather than what I do, as is often the case with human nature. We are a critical bunch. This process is helping me to see products objectively and already has me challenging my own opinions.
Fox Speedframe Pro Helmet
This helmet has a nice list of features beyond great protection. Besides coming equipped with MIPS, it has Dual-density Varizorb EPS, which is a fancy way of saying, the dual density foam is designed to have variable absorption depending on the size of impact. This design, aimed at maximizing protection upon impact, earned the Speedframe Pro a 5 star rating from Virginia Tech.*
*A total of 41 mountain bike helmets received 5 star reviews from Virginia Tech. The Speedframe Pro had a score of 11.84 (lower is better) which was 13th from the lowest score. - Ed.
Two key features that vary from what I currently wear (Smith Forefront 2), are the Fidlock SNAP buckle and the ventilation. The snap buckle is handy, especially in colder weather and something I could get used to, but it's more of a luxury than a must have. The ventilation was particularly noticeable to me. Not because I have a sweaty head, but more airflow is always welcome on hotter days. Compared to the Forefront 2, which has Koroyd coverage (the honeycomb layer), the Speedframe Pro is noticeably more breathable.
I have no complaints on the comfort side. The Speedframe Pro fit me well and was super snug after optimizing the 360 degree fit system with my head. I wear a size small (51-55cm) for reference. The visor has three positions and is easily adjustable with one hand. The strap splitters, however, are not adjustable under the ears which is unfortunate if they do not fit you. The antimicrobial liner in the front has two thin and sleek pads as opposed to one larger pad. It does the trick for me but I wonder if the liner saturates quickly for the helmet sweat purgers out there. The helmet also comes with a second pair to replace/switch out when washing and I appreciate the ability to easily purchase replacement parts on the Fox website - there really is no reason to waste a perfectly good helmet because you can't find new liners or a visor.
The main issue I have with this product is the lack of an obvious place to stash your glasses. While the helmet was designed more with goggles in mind, it has no specific place for your glasses when you're not wearing them. This may not be important for some, but it happens to be for me as I frequently take my glasses on and off to climb/descend and have grown accustomed to the perfect slot on my Forefront 2.
Speedframe Pro Helmet // 244 CAD / 189 USD *specific colours currently on sale on the Fox website.

The drop tail back panel is nice to cover my butt so I don't get loam crack.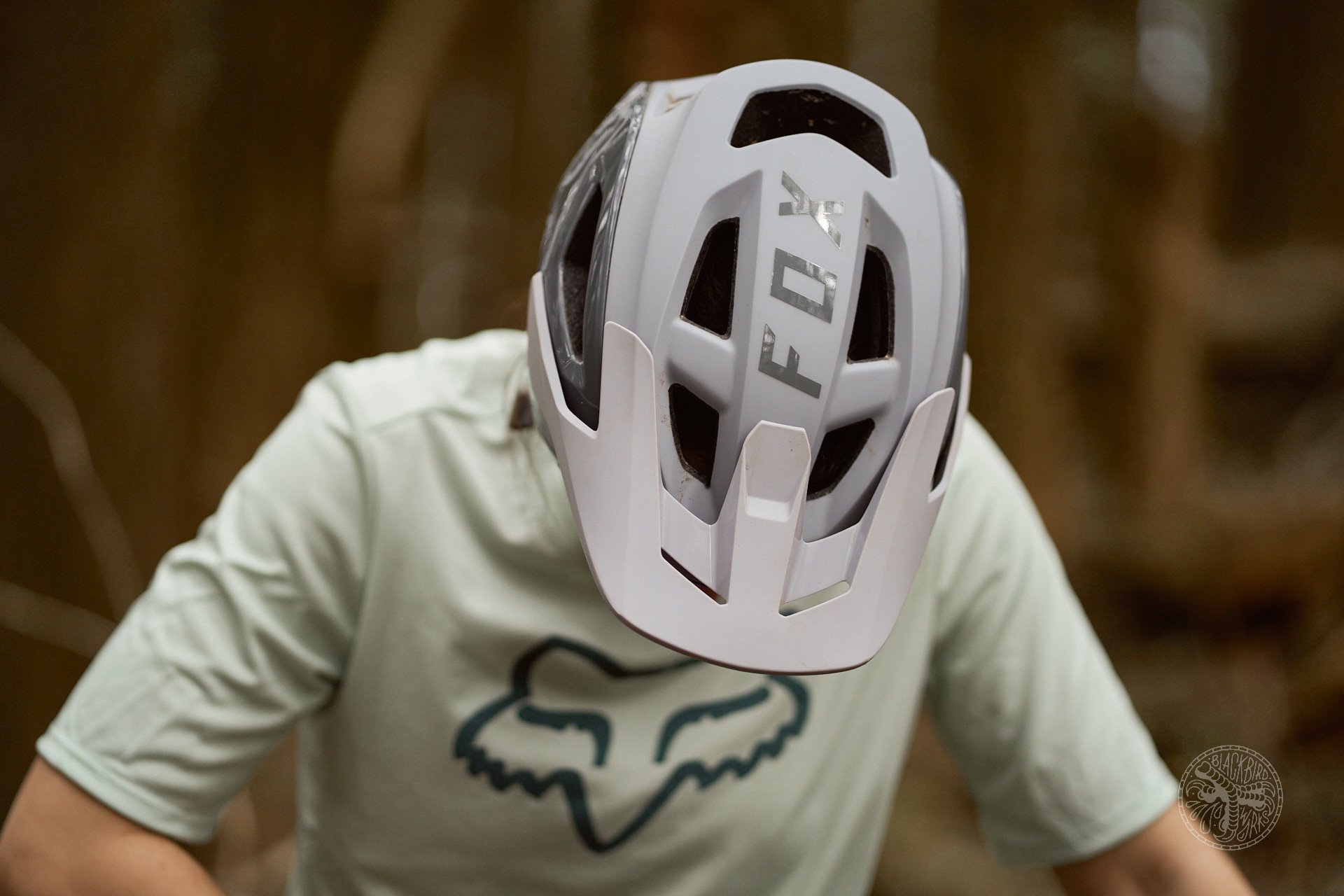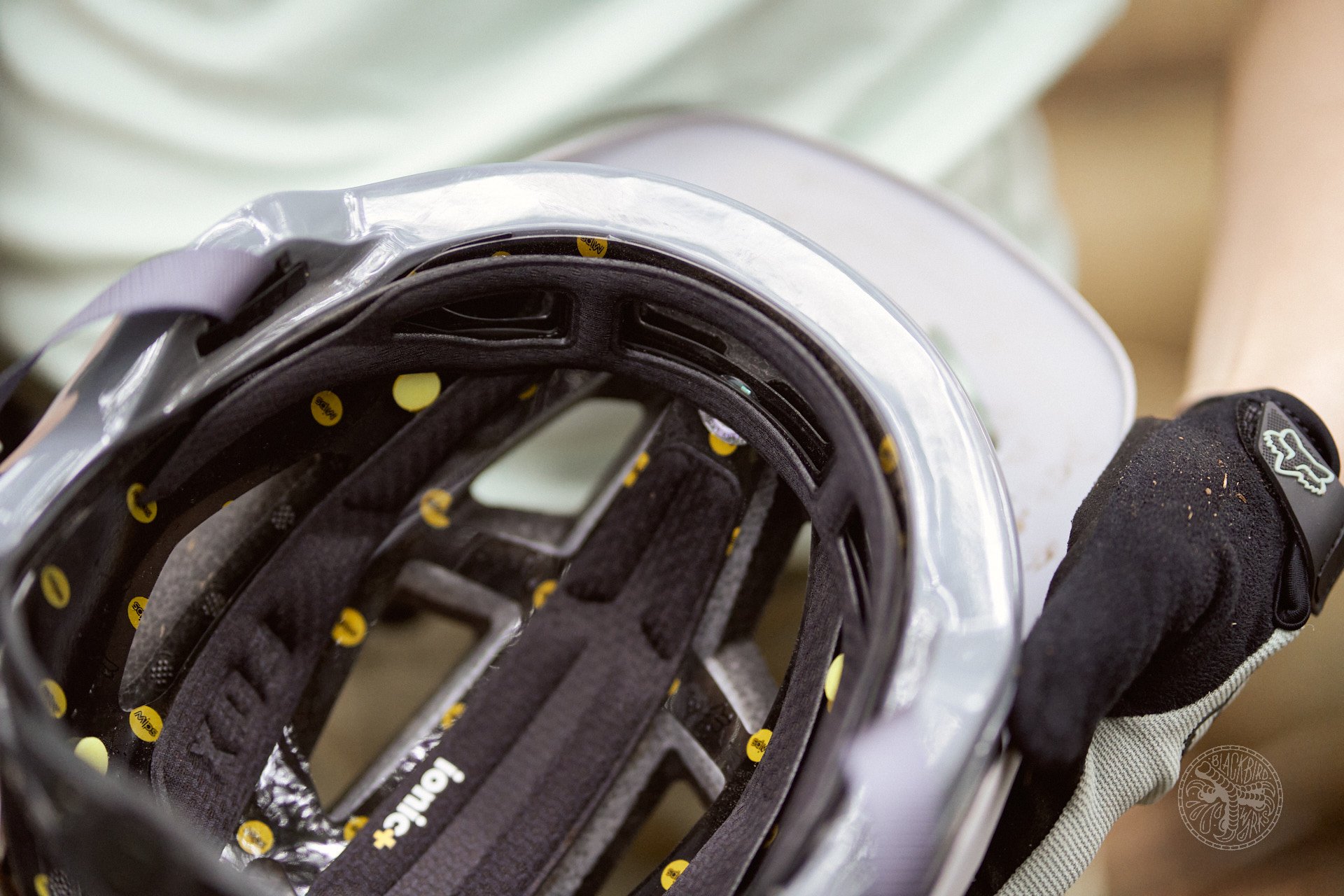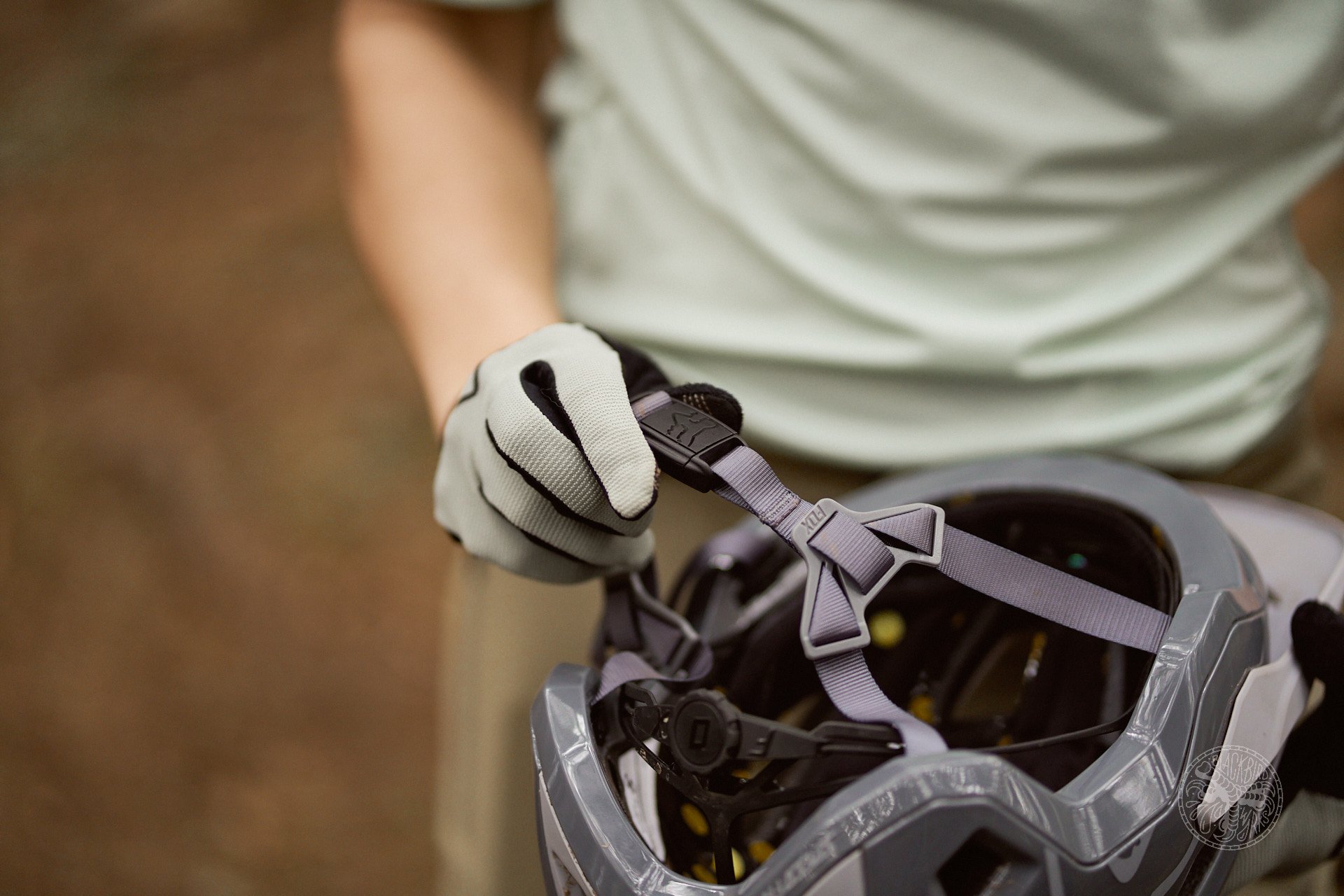 Fox Women's Ranger Kit
I tested the W Ranger Shorts, W Ranger Fox Head Jersey and W Ranger Gloves. 
The gloves come equipped with touch screen compatible thumb and index finger and have a hook and loop closure. I personally prefer a thinner glove that slips on as I do not want to feel the Velcro strap at any point or have it come loose (which it did). It took a few rides to break these gloves in and they felt better after I washed them. I can't speak to their durability but they feel well built and hopefully will last more than one season if I don't lose them. They come in a varierty of colours and sizes.
Women's Ranger Gloves // 47 CAD / 29 USD
The Ranger Fox Head Jersey is made from 100% recycled polyester which is a fancy way of saying it is still made from plastic. It has a relatively loose fit and I would size down to an XS if I wanted a more fitted look. The drop tail back panel is nice to cover my butt so I don't get loam crack. I tend to go for a merino top when I can but appreciate those who prefer a polyester jersey.
Women's Ranger Fox Head Jersey // 69 CAD / 54 USD *currently on sale on the fox website.
The Ranger shorts have a fairly simple design and I was pleasantly surprised how well they fit considering they only come with one snap closure button in the front. I typically wear size small and had to do a minor squeeze into them with bibs on since they have no zipper in the front but were very comfortable once on.  It is the first time I tried shorts with a side cinch adjustment instead of a ratchet or Velcro system and I much prefer it. It was easy to adjust with one hand and holds better. They are light, very stretchy, feel durable and are DWR treated. I also appreciate the small logo size.
While the pockets have a decent depth with quality zippers, I was quick to notice the positioning of them would be an issue when riding. I usually ride with my phone in my pocket and noticed it pinch at my hip right away when pedalling. Not the worst feeling, but still noticeable with a small phone sans case. The outer thigh seems to be the new trend for pocket placement. If this type of thing doesn't bother you, these shorts are a solid option.
Women's Ranger Shorts // 114 CAD / 89 USD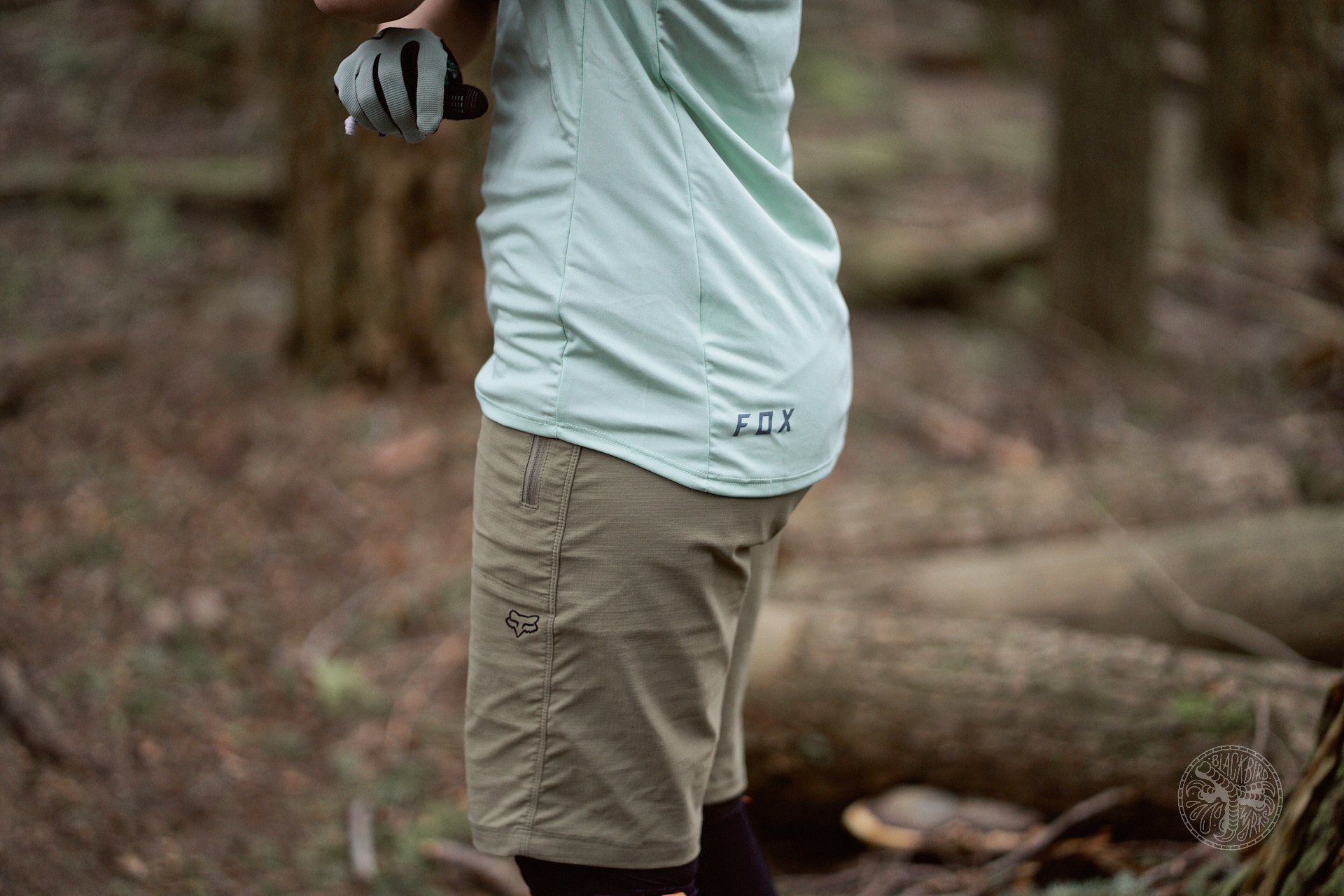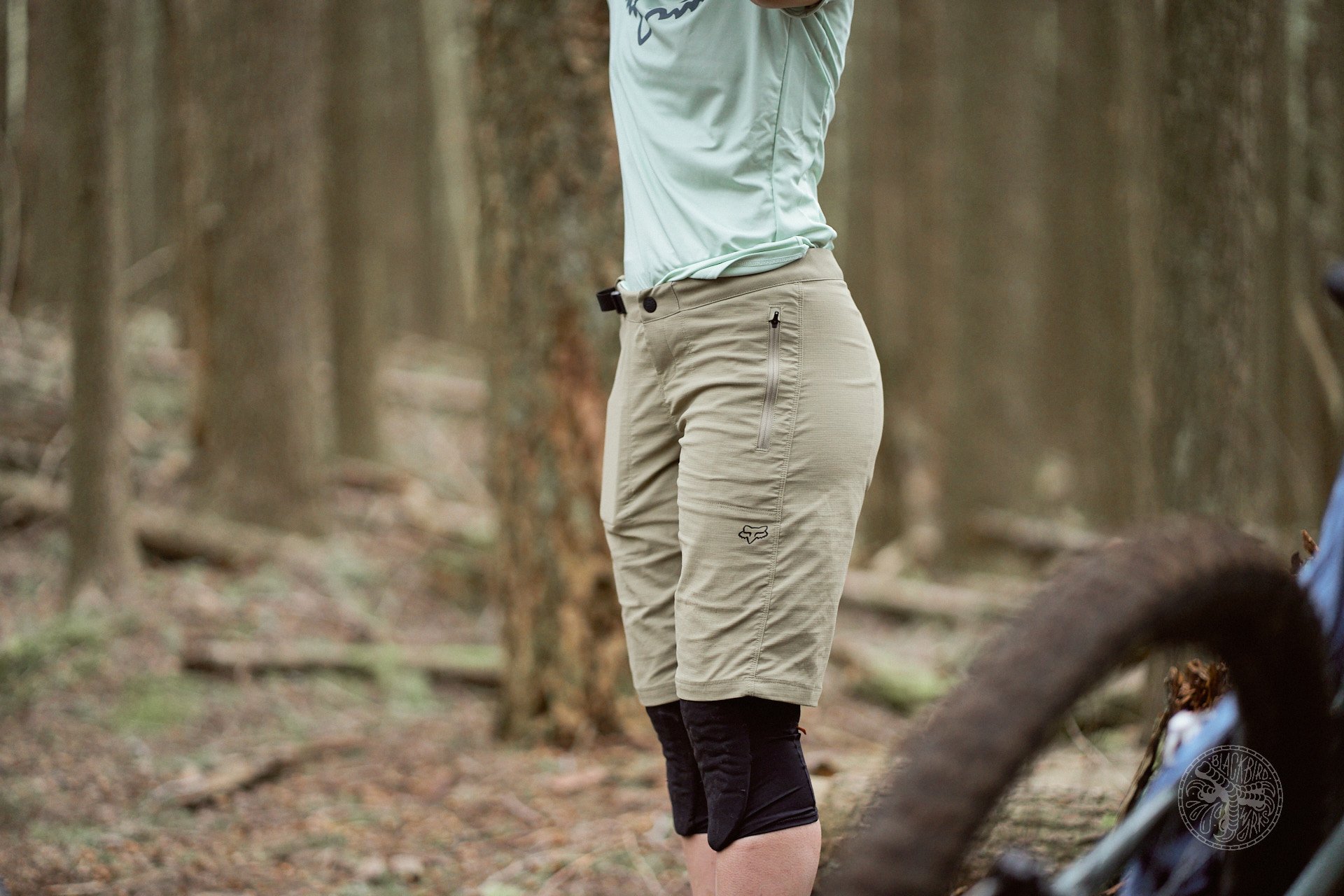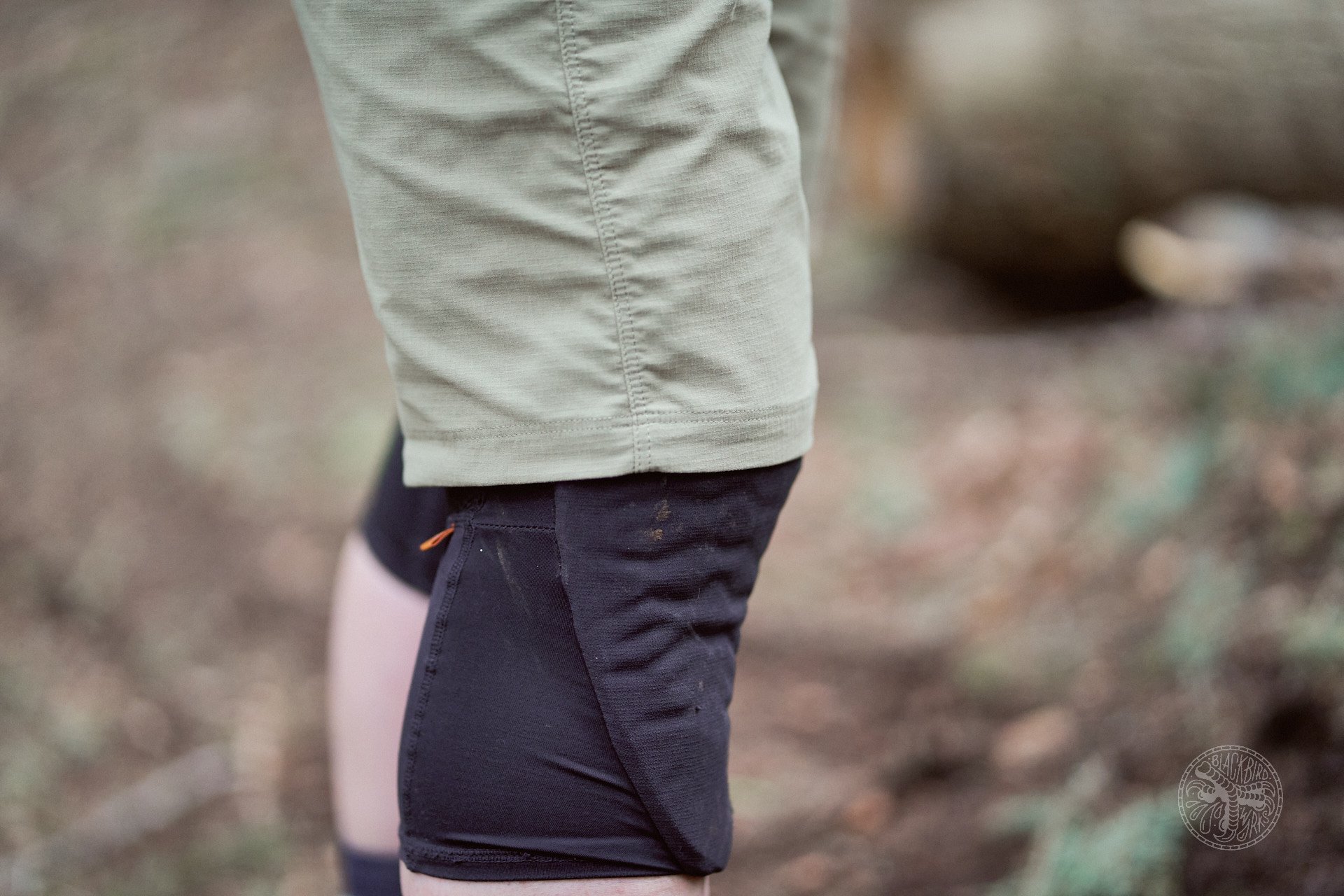 Fox Union Boa Clipless Shoes
Next up in completing the head to toe look is the Fox Union Boa Clipless shoes - the first mountain bike shoe Fox has released. There are three models in this line, two clipless and one for flat pedal riders. All models are available in unisex sizes 37-47 with 4 colour options.
Key Features 
Dual BOA Li2 system
Ultratac outsole balances grip and durability
One-piece upper
Moulded toe cap and reinforced toe protection
Exchangeable arch support options 
As a wide-footed gal, I was very happy to slip into these shoes with ease and tighten those fresh buttery smooth BOA dials (for now). I have spent far too many years riding in shoes that, while not uncomfortable enough to warrant a new purchase, are too narrow. Having a chronic ankle injury makes me picky about ankle and arch support. So far, these shoes have impressed me with their stiffness, support and overall comfort. The cleat box has a big range, was easy to set up with the horizontal guide lines, and I have had no compatibility issues with my Saint pedals. The exchangeable arch support is a nice addition and will come in handy for some. 
The Union BOAs are stiffer than my current shoes (Fizik Grativa Tensors) and I noticed the extra support and power right away when descending. The right shoe was digging into the inside of my rear foot while going down on my first few rides, until they broke in. Perhaps this is due to the fact that the shoes fit about a half a size too large for me? The overall feel of the shoes is sturdy but not clunky. The moulded toe cap and reinforced toe are part of the one-piece upper and should therefore resist peeling or delaminating. We will see about that after hike-a-bike season.
Riding in the rain with these shoes was enjoyable and I am basing that off coming home with dry socks. The weather-resistant welded construction helps keep moisture out and the Ultratac outsole provides some serious grip in the slick coastal rainforest. 
I have owned shoes with and without BOA dials and I am currently riding a shoe with lace and velcro. It has been fun switching back and forth between shoes and noticing the benefits of both. The BOA closures on the Unions are noticeably better for even tension distribution and quick micro adjustments. Not to mention they are ridiculously quick to put on and take off. The downsides of the BOA dials obviously include the potential for them to break/tear off as well as the slow decline in efficacy and smoothness from clogging up with dirt. BOAs are guaranteed, probably because no one would buy them if they weren't, and you can easily order them online. Don't be like me - order the replacement parts before you need them. Thankfully, Fox is fully aware of this long standing issue and they released the same shoe with the Velcro strap and lace system. So for an extra 90 CAD, the choice to have the dual BOA system is all yours.
Considering the Union is Fox's first mountain bike shoe, the attention to detail and customizability of these is impressive. No one can speak to the longevity or durability of the shoe yet*, however I trust that Fox has done their homework on this one and can hopefully add another great product to their line.
Fox Union BOA Clipless Shoe // Unisex sizing 37-47 // 329 CAD / 249 USD
*I'll be sure to update this review if durability proves disappointing.
Rider sizing:
5'2" // 125lbs
Jersey: Small
Shorts: Small
Gloves: Medium
Helmet: 51-55cm (small)
Shoes: 38 EU