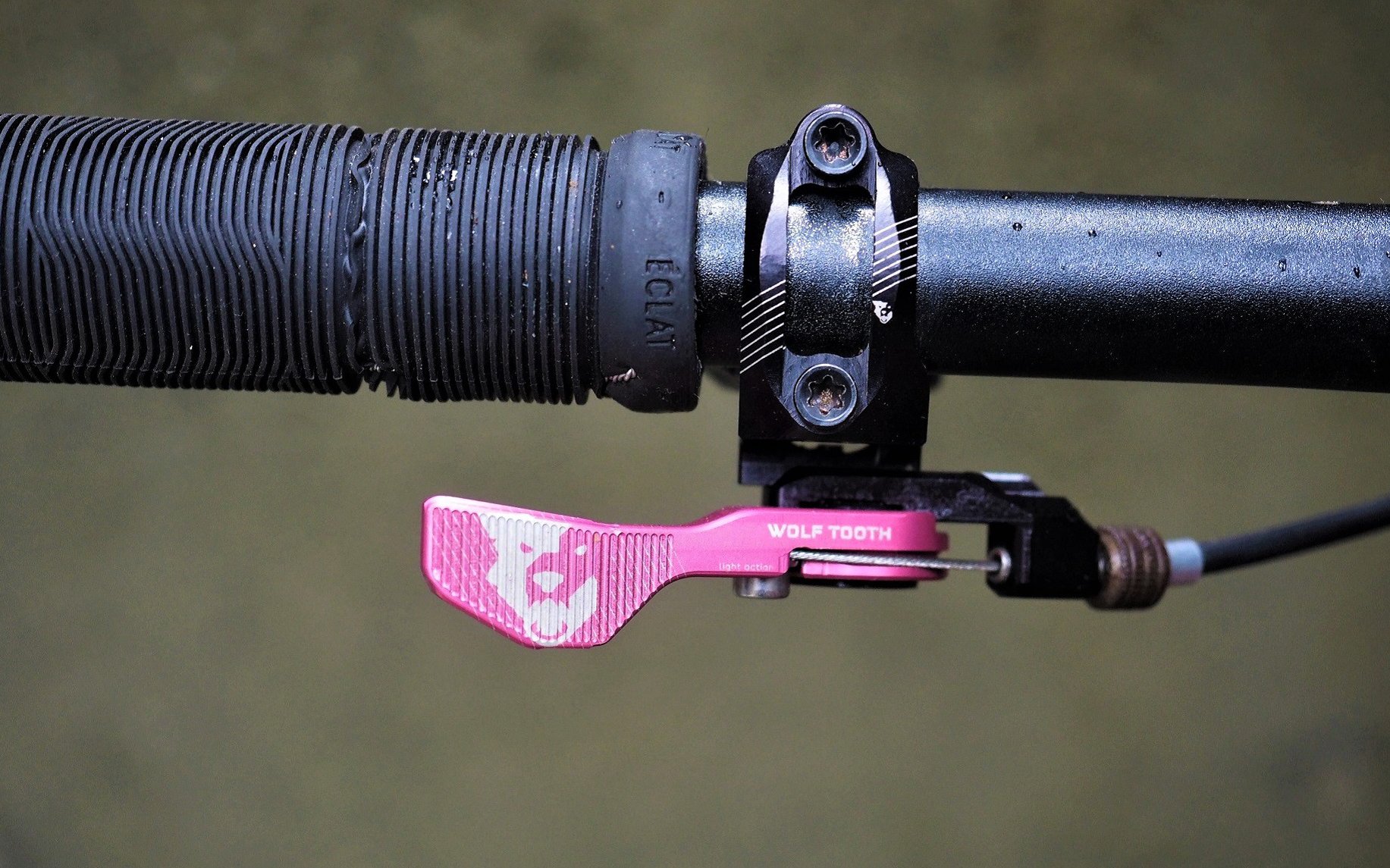 EDITORIAL
Four Clamps Good, Two Clamps Better
Adapter Farm
I've been around mountain biking long enough to remember the joy of two clamps being eclipsed by four. Shimano's svelte shifter-brake lever combo units wrenched from monogamy and thrown into a whirling menage of options to suit any passion. Hayes Mag brakes with XT shifters, Shimano XT Disc brakes with Grip Shift, Grimeca 6-pots with a manual shift eNVy Inner-E granny guard.
The empire attempted to strike back briefly by bringing their STI (Shimano Total Integration) concept to mountain bikes in the form of Dual Control, but after that failed colossally at capturing the hearts and minds of mountain biking, we all could get on with our mix-matched cockpits. The mass adoption of convenience over comfort in the form of lock-on grips largely negated any outcry for hinged clamps and everyone was happy.
Well, not everyone. Even a curmudgeon such as myself has to admit that having two clamps on the handlebar looks a whole lot cleaner than four and it wasn't more than a hot minute after mountain-STI had died when SRAM released MatchMaker.
SRAM's MatchMaker standard isn't perfect. Compared to running separate clamps for my brakes, shifters, and dropper remote, it doesn't always allow for my preferred placement of both brake lever and trigger. That's especially true when I start mixing a bunch of parts that are MatchMaker compatible manufactured by various brands to tie their products into SRAM's drivetrains.
But, SRAM never lets perfection get in the way of good enough - that's both high praise and a low dig depending on the product in question - and the true beauty of MatchMaker is that it was done right the first time. Sure, the hinged clamps can fubar a carbon bar like nobody's business, and the fixed clamps are a royal pain-in-the-tush for those of us who run push-on grips but it has three key features that make it the better system between the two biggest S-brands.
1) It's very easy, and relatively cheap to split up brakes and shifters to go back to a four-clamp cockpit.
2) Other brands have been encouraged to adopt it so there are factory MatchMaker solutions to combining SRAM shifters with other brake systems.
3) They have not changed it every couple of years since it was introduced.
And do you know who agrees with me? Shimano. Because what is Shimano I-Spec EV if not a final coming to terms with the fact that SRAM's system was better in the first place? Heck, I ran a Deore M6100 EV shifter mounted to a SRAM MatchMaker hinged clamp for months with a fabulous result.
Of course, I-Spec EV is not actually MatchMaker compatible. You're not just going to bolt a SHI-12 shifter to your beloved CODE-R brakes and ride off down the trail. That would not have been possible for Shimano the same way they couldn't just R&D* RaceFace CINCH for their direct mount chainring tool (using a legacy bike tool that every shop, and many riders, already own). And I'm not trying to blow smoke up SRAM's 28.99mm crank axles, but they are getting some traction with their universal derailleur hanger, and Wheels Manufacturing is now manufacturing hangers in some 431-flavours so it does feel like a little bit of a 'you're with us or against us' moment here.
*Rip-off & Duplicate
Adapter Industrial Complex
But wait, there is another side to the story. A lot of folks are choosing to Buy The Bike They Already Own and upgrading parts across four generations of Shimano I-Spec can get downright gnarly. Let's say your brakes crap out and you spring for some brand new Deore M6120 four-pistons. But wait again, your shifter is a 10-speed I-Spec B for which there is no I-Spec EV replacement, and your dropper post remote uses I-Spec II because when you broke your master cylinder that was the only option that was available and you purchased the dropper remote after the fact.
Those four individual clamps don't look so bad now, do they? But never fear, because the beauty of the sheer catastrophic volume of mountain bikers facing exactly the same cluster of ducks is that an entire industry has blown up to keep your clean-handlebar-dreams alive. It's a microcosm of the bike industry itself where a series of utilitarian units from Problem Solvers swims in the same lake as Wolf Tooth's newly released ShiftMount collection.
The potential combinations are of course boggling. Let's say I have a Formula Cura4 brake, I'm dead-set on two clamps on my bar, and I've just purchased a min-maxed combo of a Shimano M8100 I-Spec EV shifter with a Deore M6100 drivetrain. Formula doesn't yet offer their MixMaster handlebar clamps in I-Spec EV.
Thanks to the adapter industrial complex there are a few ways I can accomplish this match. For example, I could purchase Formula's MixMaster MatchMaker clamp (say that five times fast), then purchase Wolf Tooth's MatchMaker to I-Spec EV adapter. Or, I could purchase Magura's ShiftMix adapter for I-Spec EV which does work with a Formula Master Cylinder, or I could pair up Wolf Tooth's Magura-to-MatchMaker clamp with their MatchMaker to I-Spec EV adapter.
Be right-back, After that I need a Tequila Negroni.
Connect Four
If you're anything like me, the whole state of affairs makes a return to four independently clamped controls seem spiritually uncluttering despite being cosmetically more cluttered. On the Banshee Titan, I've been running four independent clamps (dropper post, two brake levers, one shifter) for months now and it doesn't really bother me compared to the much cleaner-looking cockpits on almost every other bike I've ridden or worked on in that time.
There are many practical reasons - not the least of which is future-proofing my controls - to keep everything divided, and from a min-max perspective, there is no way with all the adapters involved that it won't end up cheaper in the long run compared to potentially adding an adapter or two every time I change brakes or shifters.
I like to think that I almost always let practicality win over aesthetics but there is something about fewer clamps that cleans up a cockpit so nicely. Despite my own internal struggle, Wolf Tooth obviously envisions a lot of folks choosing to go back to individual connections by making push-on friendly hinged clamps for Shimano I-Spec EV and I-Spec II shifters that are looking to avoid, or end, their arranged marriage to the Shimano disc brakes. I'm a bit surprised they didn't do a MatchMaker version as well since the stock simple MM clamps aren't hinged.
I took a straw poll among some of the untrendy bike-nerds I know to fall more on the sensible and skint side of mountain biking rather than the give-me-AXS-in-oil-slick side of mountain biking and I was legitimately surprised to learn that most folks will spend a few dollars more to attach their dropper post and shifter to their brake levers.
Apparently, cosmetics matter most when it comes to putting hands onto controls. Four clamps good, two clamps better.