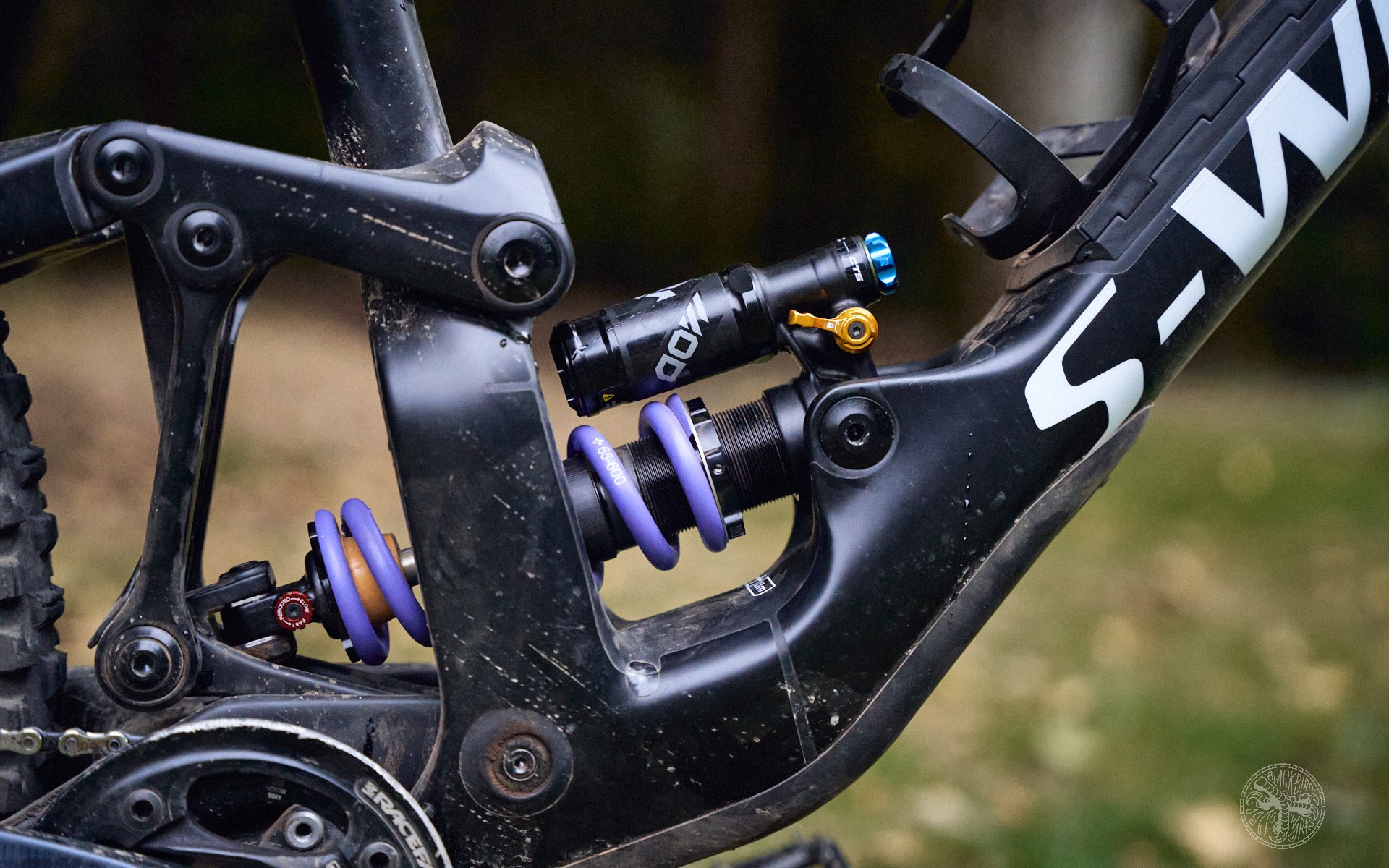 REVIEW
Formula MOD Shock
Air? Or coil? Choose one and be a d!#& about it.
The air vs. coil suspension debate has been a hot button issue for mountain bikers ever since we first added squishy bits to our bikes. Advocates of air tout the advantages of the lighter weight and superior tunability of their gaseous spring, while coil loyalists espouse the virtues of better sensitivity and greater reliability for their metal windings.
There have been excellent (and awful) examples of both air and coil sprung suspension over the years, and while it seems that air has mostly won over the domain of the suspension fork, coil sprung shocks are well-represented in the gravity-focused mountain bike arena.
Aside from the obvious advantages stated above, coil springs are generally more consistent in operation, particularly during sustained periods of intense riding, where excessive heat buildup can seriously undermine air spring performance. Ambient temperature and pressure (altitude) swings can also cause changes to air spring pressure, whereas a coil remains unchanged. There's also the dreaded "spike" that coil converts certainly don't miss about air shocks - the sensation that the air spring resists compression when experiencing a very hard or fast hit. Generally caused by friction in the system, this "spike" sensation is one that I know fairly well, and it always seems to strike at the worst possible moment, sending you offline, or possibly over the bars.


My personal ride is a Specialized Enduro, and after riding a slew of mountain bikes over the last few years - both air and coil sprung - I'm convinced that the Enduro is a bike whose suspension kinematics work very well with an air shock. The Enduro's high shock leverage ratio is likely the biggest contributor to this, as a higher ratio renders the inherent friction of an air shock less noticeable while riding. Unfortunately, higher shock leverage ratios also mean higher loads, and when you add in the increased maintenance required of an air shock + a heavy rider + poor line choices, you start to understand why I generally need to have my Float X2 rebuilt more often than I care to admit. And it doesn't seem to matter the brand - air shocks, with their extra complication, seals, and friction mean that they just need more love than their coil equivalents. I love the Enduro, but it's a bike that is notoriously hard on shocks, and forking out $220 every few months to rebuild an air shock is enough to make anyone coil-curious.
Formula is a brand that is better known for brakes, and they've been making discs for mountain bikes longer than anyone else. But Formula has also been quietly churning out suspension products since 2012, serving a healthy dose of Italian flair on a handful of suspension forks, and more recently, their unique MOD coil shock.


The MOD is Formula's first, and currently their only mountain bike shock and unsurprisingly, it's aimed squarely at the DH and enduro crowd. It features a single tube damper body that allows a massive 30 mm diameter piston to push higher oil volumes through the shock. This translates to more consistent damping, improved sensitivity, and better heat management. All that displaced oil has to go somewhere, so the MOD also features one of the largest reservoirs found on a mountain bike shock. Inside this reservoir, Formula has another trick up their sleeve, and that is the use of a pressurized rubber bladder, instead of the more common IFP (Internal Floating Piston) found in other shocks. The bladder system does away with the extra dynamic seal required of an IFP, allowing for lower friction and heat buildup, leading to better sensitivity and damper consistency.
External damper adjustments on the MOD include a single knob for rebound, and one for compression. There is also a climb switch that toggles between "locked" and "unlocked". The compression circuit also features what is likely the most unique feature on the MOD shock; Formula's own Compression Tuning System (CTS). Also found on Formula forks, CTS allows you to change the compression characteristics of the damper by swapping out a small valve cartridge. Included with the MOD are three colour-coded CTS cartridges, each with distinctly different compression damping curves. The best part about CTS is the fact that any home mechanic can swap these cartridges out in minutes - no suspension tech required.


The MOD is available in several standard eyelet and trunnion sizes, and Formula provides ultralight steel springs from 300 lb/in to 600 lb/in in 50 lb/in increments (with heavier weight springs soon to be available). Springs are available in a unique Ultraviolet purple finish, or Titanium silver. Formula could certainly be faulted for causing confusion in naming their silver coloured steel springs "titanium," as some online sources have incorrectly stated that these silver springs are indeed made from atomic number 22. They are not. They are steel.
The 205x65mm-sized trunnion shock body weighs in at 504 g (actual weight, no spring, no hardware), and it's worth noting that the 205x65 mm shock body is adjustable down to 57.5 mm stroke in 2.5 mm increments by easily inserted stroke reducer clips. These clips are brilliant, and can even be swapped in or out with the shock still mounted to the bike - which is great for those nerds out there who have done their research, and want to play around with different shock strokes on their bike.* The 600 lb/in spring that I used for the majority of the test period weighs in at 390 g, which gives a total weight of 894 g for the complete shock. For the weight watchers, this is 233 g heavier than my Float X2 air shock.


*I definitely DO NOT endorse or recommend experimenting with "non-stock" shock strokes on your mountain bike. No, like seriously - you will void all the warranties, possibly injure or kill yourself, and your bike will most certainly burst into flames.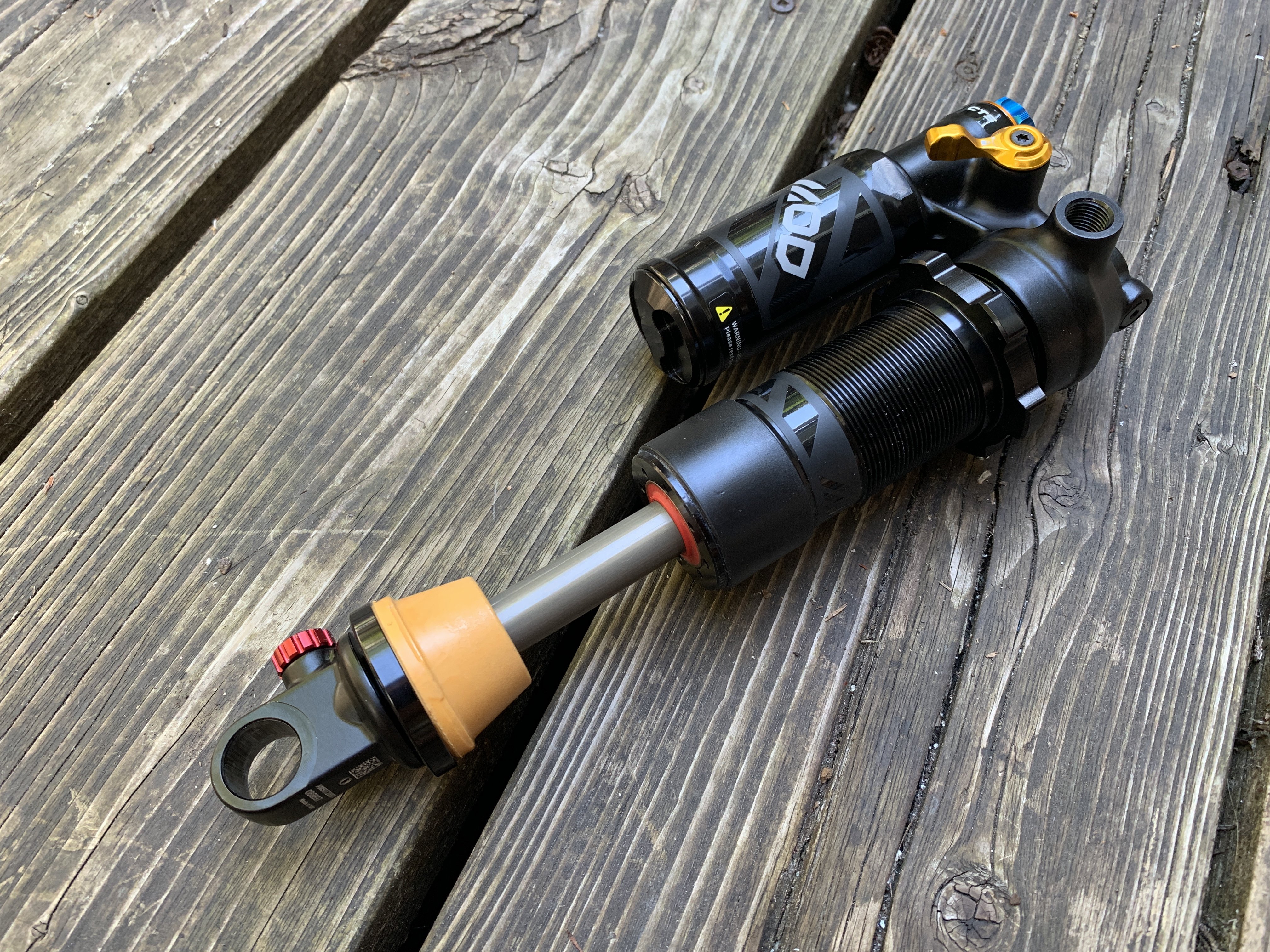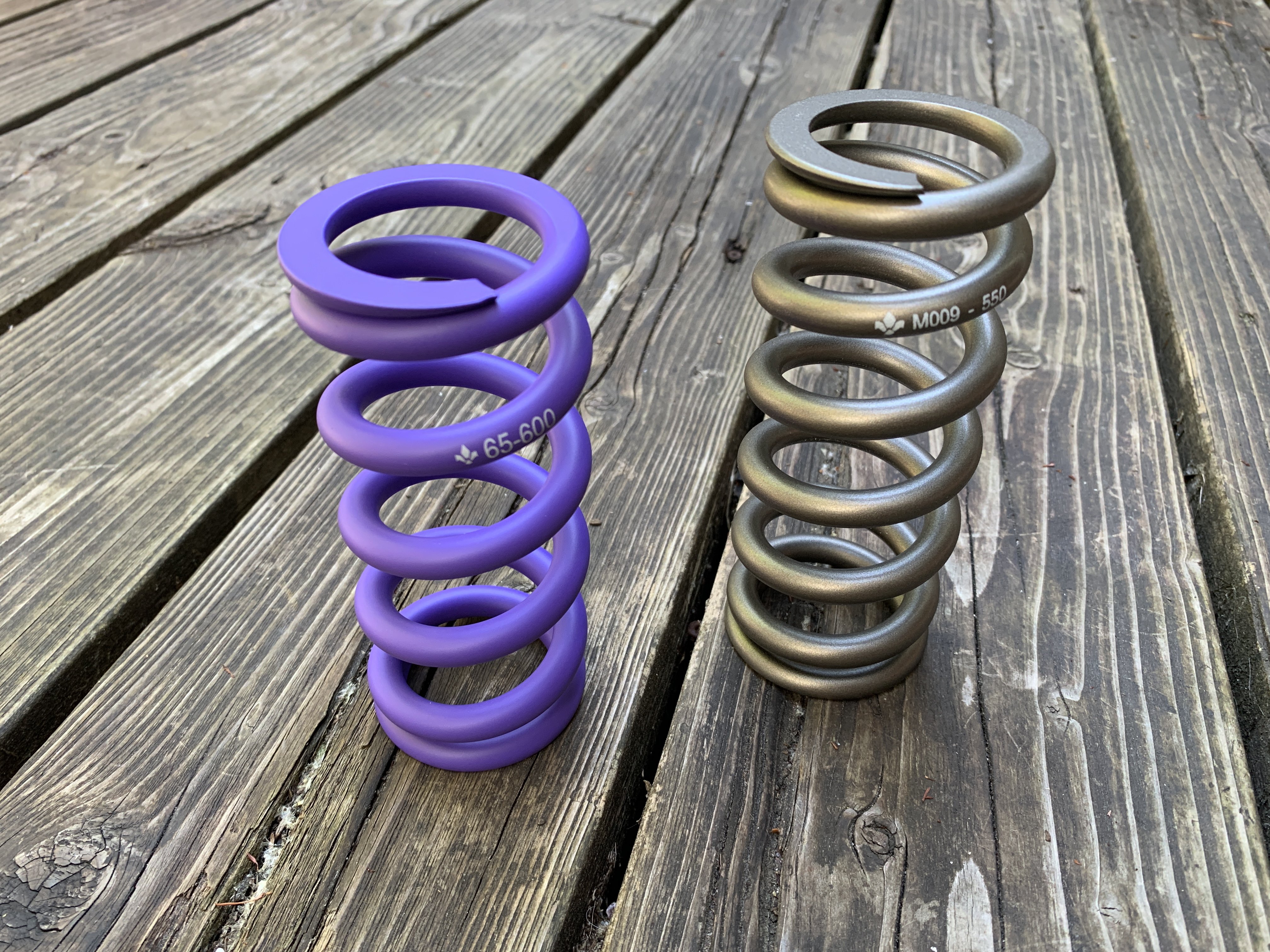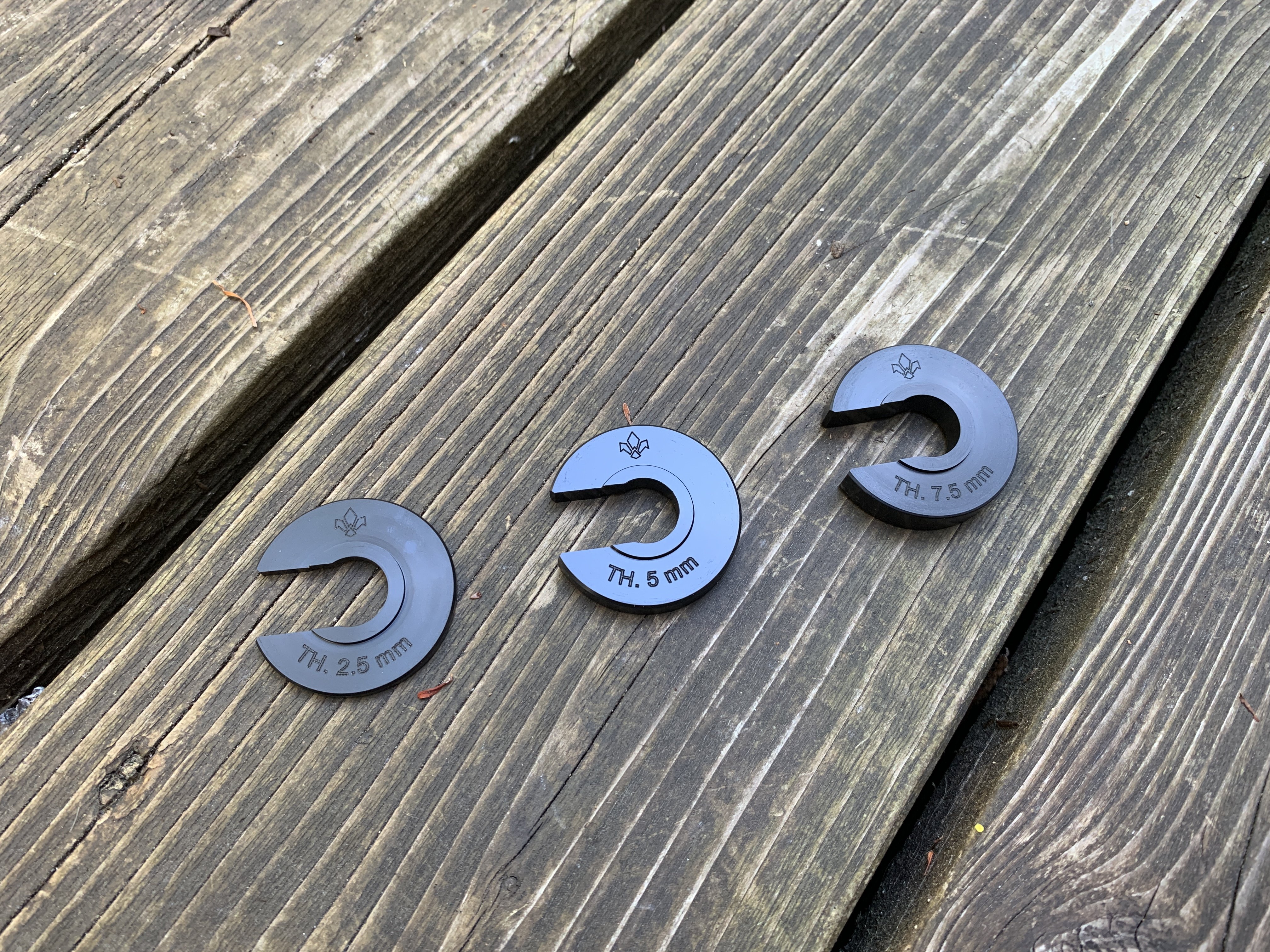 A DISCLAIMER ON YOKE-EQUIPPED REAR SUSPENSION DESIGNS:

One week into the review period, it was discovered that Formula does not recommend installing the MOD on any bike that utilizes a yoke (or "strut") to drive the shock. Formula's reasoning is that a yoke can place unanticipated loads on the shock body - particularly if a bearing isn't freely rotating, or if the shock eyelets are misaligned. Through some back and forth discussion with Formula, I was made aware that other shock manufacturers also have stipulations regarding the use of yoke-driven coil shocks. For example, Fox permits their coil shocks to be used in certain cases where the yoke length falls below a threshold, thereby limiting the bending and/or off-axis loads that the shock might encounter. Click here for a deeper dive into Fox's rules for yokes and struts. As the yoke on the Specialized Enduro is extremely short, it easily falls within Fox's allowable parameters.
Formula doesn't recommend the use of their MOD shock on ANY yoke-equipped bike, regardless of the yoke length. Failure to heed this warning is done solely at the user's risk, and will undoubtedly void any applicable warranties. This is a bit of a shame, as there are several yoke-equipped bikes that are technically "off-limits" for the MOD. I understand where Formula is coming from, but I have personal experience with multiple non-yoke bikes whose shock eyelet misalignment was so bad, they were definitely much harder on shocks than an aligned yoke could ever be.
It is the humble opinion of this reviewer that eyelet / trunnion alignment is far more important to the function of the shock than whether or not it has a yoke driving it. If there's a takeaway here for folks with yoke-equipped bikes, it's to first check that your eye-to-eye / eye-to-trunnion alignment is good, and periodically check that your yoke bearings rotate smoothly. A bit more transparency from Formula would have been appreciated on this subject as well, as their only mention of it is buried in the MOD user manual. This is the kind of important info that should be clearly stated in the technical specifications on the MOD website, saving people the disappointment and expense of ordering a shock that isn't compatible with their bike.
For the record, I completed the review period with no ill effects to shock, bike or rider, but I absolutely DO NOT recommend going against Formula's guidelines.


Once installed on my contraband bicycle, the very first thing I noticed about the MOD is how unbelievably smooth its action is - almost too smooth, to the point where I wondered if I needed a stiffer spring, firmer damper settings, or both. As I already had the stiffest spring at my disposal installed (600lb/in), I wondered if the medium (orange) CTS cartridge should be swapped out for the firm (green) cartridge. As I sat there debating whether to dig into this brand new shock without it even seeing dirt yet, it dawned on me that I was already late leaving the house for a group ride, so further faffing would have to wait.

The Ride.
Starting with a steady fireroad climb, I naturally experimented with the climb switch in both the locked and unlocked positions. The climb mode on the MOD is very stiff. It's basically a full lock-out that features a blowoff valve, allowing the shock to compress if it encounters any bump bigger than trail chatter. It's a bit of an odd sensation riding with the climb switch engaged, and I personally wouldn't employ it for any terrain other than smooth asphalt. When a bump force overcomes the blowoff threshold while in climb mode, the MOD does allow movement, but it's sometimes accompanied by a screeching sound that was very disconcerting the first time I heard it. Alba Distribution confirmed that this noise is sometimes present in the MOD shock, and it's normal, but can apparently be lessened through some revalving during a rebuild. For the noise reason alone, I rarely used the climb switch throughout the review.
Thankfully (and quite surprisingly), climbing with the MOD fully opened up didn't result in an acute case of sea sickness. It seems that Formula has worked some magic into the low-speed compression traits of the MOD, and while there certainly was some pedal-induced suspension movement, it was far calmer than I expected. Even on the Enduro, which is not known for its climbing prowess, climbing with the MOD unlocked was almost enjoyable, as if every watt of pedal power that was stolen by the compressing shock was generously returned on the rebound stroke. Traction and comfort while climbing with the MOD unlocked were fantastic, as this smooth damper was all too eager to get out of the way of any obstacle in its path.


When putzing around on mellow grades, the MOD certainly felt like it was wallowing a bit, and I found myself wishing the bike would sit just a touch higher in the rear, particularly while seated. A slightly stiffer spring - even just a jump of 25lb/in would have likely put me in the goldilocks zone. In spite of this, my MOD-equipped Enduro was happy to cruise along on mellow stuff, smoothing out and muting everything in its path. As comfortable as the ride was, I did kinda miss the playful, poppy character of my Float X2, but what the gooey-soft MOD lacked in pop, it made up for in ridiculous, ground-hugging traction. The MOD sports a substantial bottom-out bumper, and while I know I was massaging it frequently, I never once felt a harsh bottom-out. It seems that mountain bike shocks are finally taking a hint from the motocross world, and we're now seeing big, fat bottom-out bumpers that factor significantly into the last portion of stroke.
While not necessarily unique to the MOD, I did encounter a fair amount of coil rub on the damper body. The inner diameter of the 600lb/in spring rests very close to the outer diameter of the body. When the suspension is compressing, those fat, purple coils occasionally rub the plastic shield protecting the damper. This was at times noticeable while riding, and I can only hope that this rub would begin to diminish as the plastic wears down a bit. Wet weather seemed to make the rubbing less noticeable, and I would expect that lower weight springs might have more clearance, and not exhibit this behaviour.


Also related to the heavy 600lb/in spring I was using, I found the rebound damping range far too light. With the standard rebound tune, I spent the entire review period with the rebound adjuster in the fully closed position, and it was just barely enough damping for my tastes. While I think the rebound was pretty close to where I'd run it anyway, it was pretty hard to bracket my settings with only one direction to adjust, and even just two clicks open was too fast. Fortunately, any Formula service centre should have no problem revalving the rebound circuit if you need something different - just something to keep in mind if you plan on running with a heavier weight spring on the MOD.
After several rides with the orange CTS cartridge installed, I was curious if the firmer green cartridge would help alleviate some of the wallowing and provide a bit more support. I am usually the type to add pressure or spring rate in these situations, but seeing as I was already topped out on available spring rate, a firmer compression tune was my only option.
As evidenced in the video shown below, swapping the CTS cartridge is a fairly straightforward task, and I was able to finish the swap before draining a single beer.


Green means GO!
With the green CTS cartridge installed, the MOD was a completely different animal. Compression damping felt much stronger across all stroke speeds, and was particularly noticeable during high speed events. Not that I expected any different, but the green cartridge did nothing to help the bike sit higher in its travel, although suspension movement was definitely more muted compared to the orange cartridge. Cruising along at regular trail speeds, the green CTS felt overdamped and tiring after long periods of riding, and it wasn't until I attacked a proper DH style track that the true colour of the green CTS shone through. And when I say attacked, I mean ATTACKED. Suddenly, the whole point of the CTS system became apparent to me - the green CTS equipped MOD is a true FRO (for race only) piece of kit. If you're not absolutely hauling balls, the green MOD feels all wrong, but the harder you push, the better it feels. I was truly at the edge of my limits, and the shock was begging for more speed. Big compressions that typically overwhelmed my Float X2 were shrugged off, and my previously great feeling Zeb suddenly felt like it was losing badly at a violent game of tug-of-war with the MOD. It was absolutely uncomfortable to ride at this level for any appreciable length of time, taking every ounce of my dad bod strength to stay on the bike. All the while, the MOD never skipped a beat, feeling sure and composed the whole time.
As incredible as the performance was with the green CTS installed, I seriously don't think it's a setup I could live with for everyday riding. Unless you're the type who pushes a terrifying pace at all times, the green CTS just doesn't make much sense. That said, if you're a heavy, aggressive racer type who has a history of destroying bottom-out bumpers, then maybe the green CTS is your silver bullet.


Contrary to what you might be thinking about the CTS cartridges, and the range of adjustment offered by the compression adjuster knob, it seems that the characteristics of each CTS do not necessarily "overlap" by way of the adjuster knob. For example: the green CTS with the compression knob wound fully open was noticeably more damped than the orange CTS with the knob fully closed. While the compression adjuster knob did make a difference to the damping characteristics of the MOD, the changes were quite subtle compared to the drastic differences realized by swapping the cartridges.
With the orange CTS cartridge re-installed, I was whisked back to that gooey, traction-hungry feeling I first encountered with this shock. While it might not be the "checkers or wreckers" performance of the green CTS, it certainly made a lot more sense for the greasy, slippery jank of our local trails. Sometimes you just want your rear wheel to get out of the way, and the MOD feels unmatched in this regard. This was not my first rodeo with a shock equipped with a bladder-backed oil reservoir, and my experience with these shocks has proven to me that the lack of an IFP does indeed result in improved sensitivity throughout the entire stroke.

Final thoughts.
The MOD is a very cool piece of kit, and while it certainly has quirks, most of them were directly related to the heavy 600lb/in spring I was using. At $1099 CAD. for the damper (with springs costing about $150), the MOD is not cheap, and it's hard to ignore the fact that you can get more adjustability at a lower cost in the Fox DHX2 - a shock with fewer quirks, and a fairly good track record.
While I didn't get enough time on the MOD to truly gauge its long term reliability, I had no maintenance issues whatsoever during the review, and the damper oil is free of air bubbles. If your number one priority is traction at all times, then the orange CTS MOD is definitely a worthy candidate. Alternatively, if you're a heavy-set racer type, or an absolute bike park crusher, the green CTS MOD might be the shock you've always been looking for. And while I can't speak directly to the gold CTS cartridge, extrapolating from my experience with the other two, this cartridge would be best suited to lighter riders, or possibly bikes with low shock leverage ratios.
If you're coil-curious, and looking for something a little different than the status quo, the MOD is a shock whose personality can be changed drastically without the typically expensive teardown. For riders and racers who are intrigued by the tuning options available through the CTS, Formula is currently the only player in town doing anything like this, so that alone is reason enough to take a good look at the MOD. In the meantime, the trails are getting treacherously slick in my neck of the woods, so I think I'll capitalize on the MOD's phenomenal traction for just a little while longer.


$1099 CAD. / $829 U.S.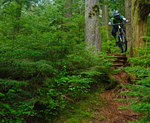 Ryan Walters
Age : 40
Height : 1803mm
Weight : 86kg
Ape Index : 1.03
Inseam : 787mm
Bar Width : 780mm
Preferred Reach : Pretty comfy at 487mm these days.