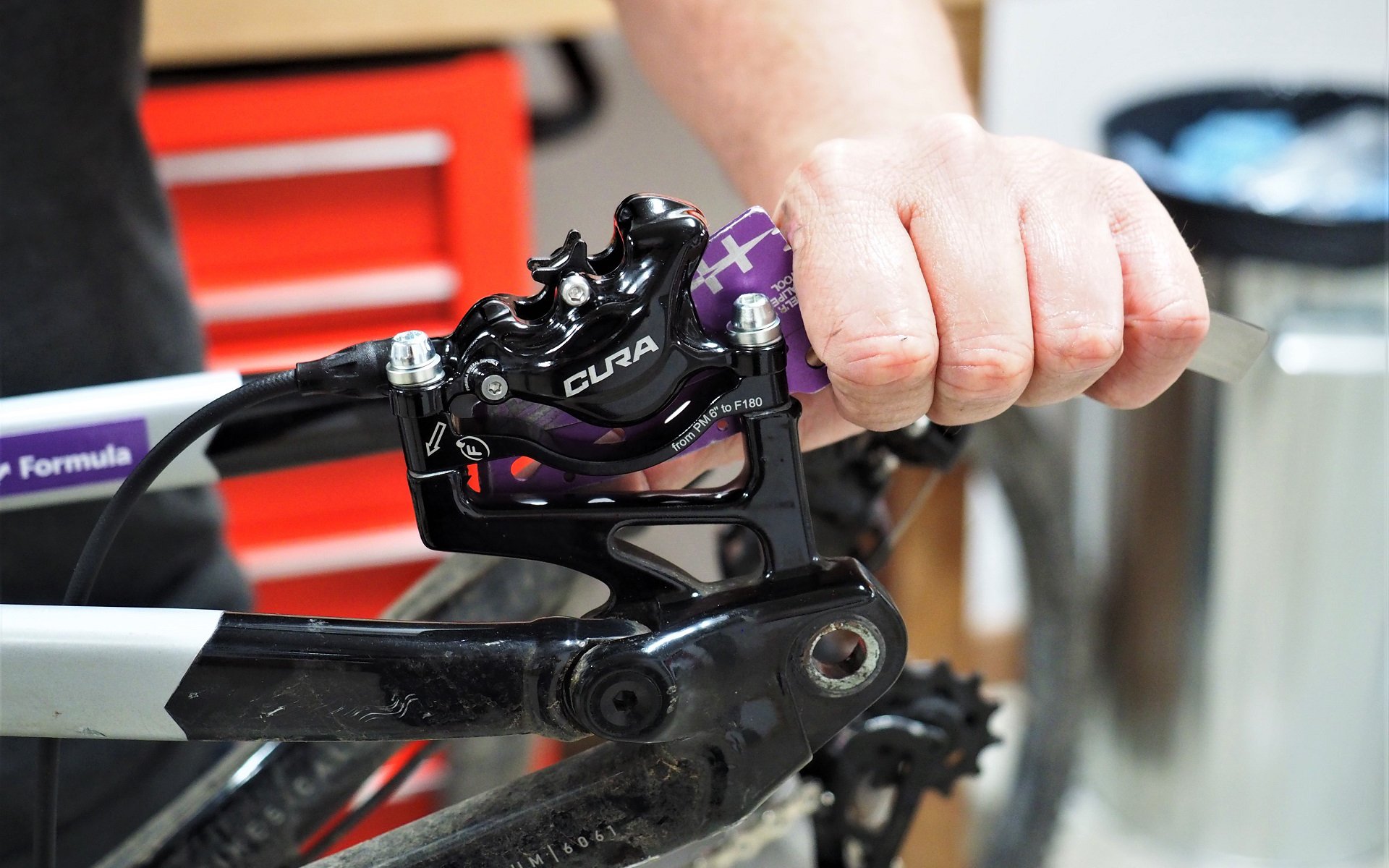 Teardown | First Impressions
Formula Cura Brakes: Teardown
Cura VS ROR
Formula Italy's foray into mineral oil brakes, the Cura, has been on the market for well over a year now but I've been ignoring it out of deference for the Italian brands gorgeous ROR brakes. I know that sounds funny, but give me a couple of paragraphs to explain.
I'm a very value-focused rider so I don't say this often but money aside the Formula ROR brake is the best two piston stopper on the market. Best feel, most power, best power curve, best looking, and absolutely packed with unnecessary but awesome features like the inverted, pull-style, master cylinder and the detents on the reach adjuster. The caliper uses oval-shaped pistons to maximize power without the issues of a four-piston system and they are a joy to ride and to work on. And yes, all that can be yours for just 350 USD per wheel.
If you have some time here's a link to my teardown of the brakes. My review of the brakes. And my review of a Shimano Acera level brake that sells for 45 USD per wheel for a bit of contextual grounding.
Compared to the ROR, the Cura has a significantly lower nerd factor and also lacks curbside sex appeal. It's still made in Italy and the much simpler architecture doesn't necessarily degrade power or feel. The Cura uses a classic horizontal layout for the master cylinder, which is a departure from the vertical orientation Formula has used most often.* Classic Hayes brakes may come to mind with the components laid out but that reflects both companies'' motorsport history. The Cura shares its basic layout and a lot of design details with Formula's current MotoCross brake.
*The notable exception is a horizontal-master version of 'The One' brakes.
With another test wrapped up, I jump at the chance to put the ROR brakes back on my bike and I've been riding them a lot lately. I serviced the brakes recently with no problem sourcing repair parts from Formula's new Canadian supporter, Alba Distribution. Post-service the brakes were nice and tight - as good as day one. That's impressive and I think very rare for brakes that have seen this much use.
Which brings me back around to testing a set of two-piston Cura brakes. With the four-piston models in the news, winning DH races and stealing all the attention, this is a chance to compare my two piston ROR experience to the brake that Formula's sponsored riders were racing world cup DH on as well as TRP's massive four-piston Quadiems.
At around 150 US per wheel, the Cura is only a few dollars more than a basic SRAM Guide R. A pair is a few bucks more than Magura Trail Sport brakes I've reviewed previously (here). I was going to say that the price is also ballpark to the Shimano M8000 XT 2-piston brakes but the street price on those seems to be dropping regularly. In that company, if they can produce the feel and raw power of the ROR in a simple two-piston design with Formula quality, reliability, and rebuild-ability then I'm in. Even without oval pistons, unique architecture, and sex appeal.
Teardown & Bleed
As with every NSMB.com teardown, this is a collaboration. First I had to convince Matt at Alba Distribution to loan me a pair of brakes after waxing poetic about how much more interesting, nerdgasmic, and Italian the ROR brake is. Then the hard task began; convincing Jeff of Bikeroom & Wheelthing to give me a hand.

Jeff is usually quick to crack a beer and help me with these projects but to him, the Cura is a blasphemous brake. Formula has long been in the DOT brake fluid camp with SRAM/Avid, Hayes, and Hope. The other camp is of course headed by Shimano, TRP, and Magura with their pink or blue mineral oil options. Jeff will bleed anything but he's not fluid-agnostic as anyone who's heard his passionate plea for DOT will confirm. The ROR is a DOT fluid brake. The Cura is a mineral oil brake. Cue Jeff ranting about additives, heat and water management, and people poring mineral oil down the drain "because they think it's environmentally friendly."
The Cura bleeds up using the same push-pull double-syringe method that was popularized by SRAM/Avid if you started riding after the turn of the millennium or Magura rim brakes if you're old and want everyone to know it. This method is slightly more involved than the syringe-and-tub method that Shimano uses but it's the best way to maximize air removal from the system. As Jeff is fond of saying, "bubbles are jerks." I can't overemphasize that while the Cura bleeds up exactly the same as the ROR and Avid, the same bleed kit cannot be used for both systems. Keep your mineral oil and DOT bleeding tools separate.
The Cura brake is a quick and easy system to bleed. For the rider that is only in the market for mineral oil systems, Jeff and I agree it's the most straightforward perfect-bleed-every-time brake on the market. If that fluid preference is driven by a desire to have a lower environmental impact from your preferred recreational activity, the fact a piston or bladder can be changed versus recycling-and-replacing an entire master cylinder assembly is a big plus.*
*For mineral oil brakes, the TRP Quadiem shares this feature.
The bleed itself takes the same amount of time as bleeding up a current SRAM Guide or Level brake, which is to say it's a quick process and generally perfect after the first bleed. A testament to the simple design of the Cura, this was by far the fastest brake we've torn down and put back together.
Internal Routing Stress Reduction
Formula Italy has really gone out of their way to take the wind out of my internal brake routing rant with their Speed Lock connection. Picture the zero loss fittings on an air compressor hose.It works exactly like that. There's a failsafe in the form of a retaining ring preventing the system popping apart and rattling down some rocky jank, but with that pushed out of the way the brake line pops off of the caliper quickly. The steel fitting makes it easy to use a magnet to help route the brake line through the frame. Then pop it back into the caliper and go for a ride.
I've built a couple different bikes from the frame up recently which both had unhelpful brake-and-internal-routing combinations. I don't own a bike with internal brake routing but if I did this would definitely be feature I would look for.
Setup
There is no trademarked Servo Wave or Swinglink wizardry here trying to achieve both simple drag free setup and good lever feel. Like Hope, Magura, and TRP that means a bit more time nailing that initial drag free setup. As with the latter three brands, the minimal deadband at the lever is achieved by having the pads sitting quite close to the rotor compared to what Shimano or SRAM is doing. The trade-off for the extra set-up time is a very consistent power curve. The harder I pull on the lever, the more power the brakes deliver. Or as my friend Uncle-Lou says: "I modulate with my hands".
Put another way, I can't just squeeze the brake lever, tighten my caliper bolts, and head out for a ride expecting drag-free performance with the Cura. The secret is to spend an extra couple of minutes to get the rotor centred between two equally activated pistons. At this point, the pads sit close to the rotor for a solid, engaged, initialization but spin drag free. Knowing my caliper is centered to the rotor also means if a pad starts dragging in the future I'll know my caliper is in the right position so as long as my rotor is straight it's just a matter of resetting my pistons.
This has been my experience with the ROR brake as well as Hope E4 and X2 brakes I've owned, a range of Magura brakes, and the TRP Quadiem brakes I tested. In all cases once my caliper position is set up properly I never have to loosen the caliper again until I swap the brakes.

I always ride with tools and don't tend to faff much with my bike on the trail, so I prefer the clean look and premeditated actuation of tool-required lever reach adjustment. Formula Italy obviously agrees with me but at the same time feels the market pressure to offer the tool-free reach adjust on the Cura. The diminutive final product is very clean looking, but the tiny adjuster barrels are such that I prefer to just use a 2mm hex key in the end on the rare occasion that I want to change the reach slightly.
Also, and I know this is a totally frivolous thing to whinge about that has absolutely no on-trail performance benefit, I miss the little detents when turning the ROR reach adjuster. I get it, 350 USD brake vs. 150 USD brake but it is an awesome little extravagance that my inner-bike nerd enjoys.
First Rides
I'll head right to the personal preference factor and say that the Cura lever blade itself is very comfortable. Both the shape and size. I know I'm stuck in the past but I'd love to see just a bit more of a hook on the end for those who run the brake levers close to the bar. After a bed-in the power is impressive and the power curve is very predictable. It will certainly take a number of rides to split hairs between the Cura and ROR and for a first impression that's a bold example of relative value.
Riders with really tiny hands will be better serviced by the inverted vertical master cylinder of the ROR or the Magura Trail Sport with HC levers, but I do not have long fingers and the Cura has ample reach adjustment for me.
The Cura isn't cheap - see my Shimano Acera review linked above - but I think a 150 USD a wheel, fully rebuildable, Italian made, brake with excellent power and ergonomics in a simple two-piston system has loads of potential. We're due for some rain here so my full review will include modulating down greasy steeps and speed checking loose-and-dusty summer conditions.
In the meantime, there's more information on the Cura on Formula Italy's website here.