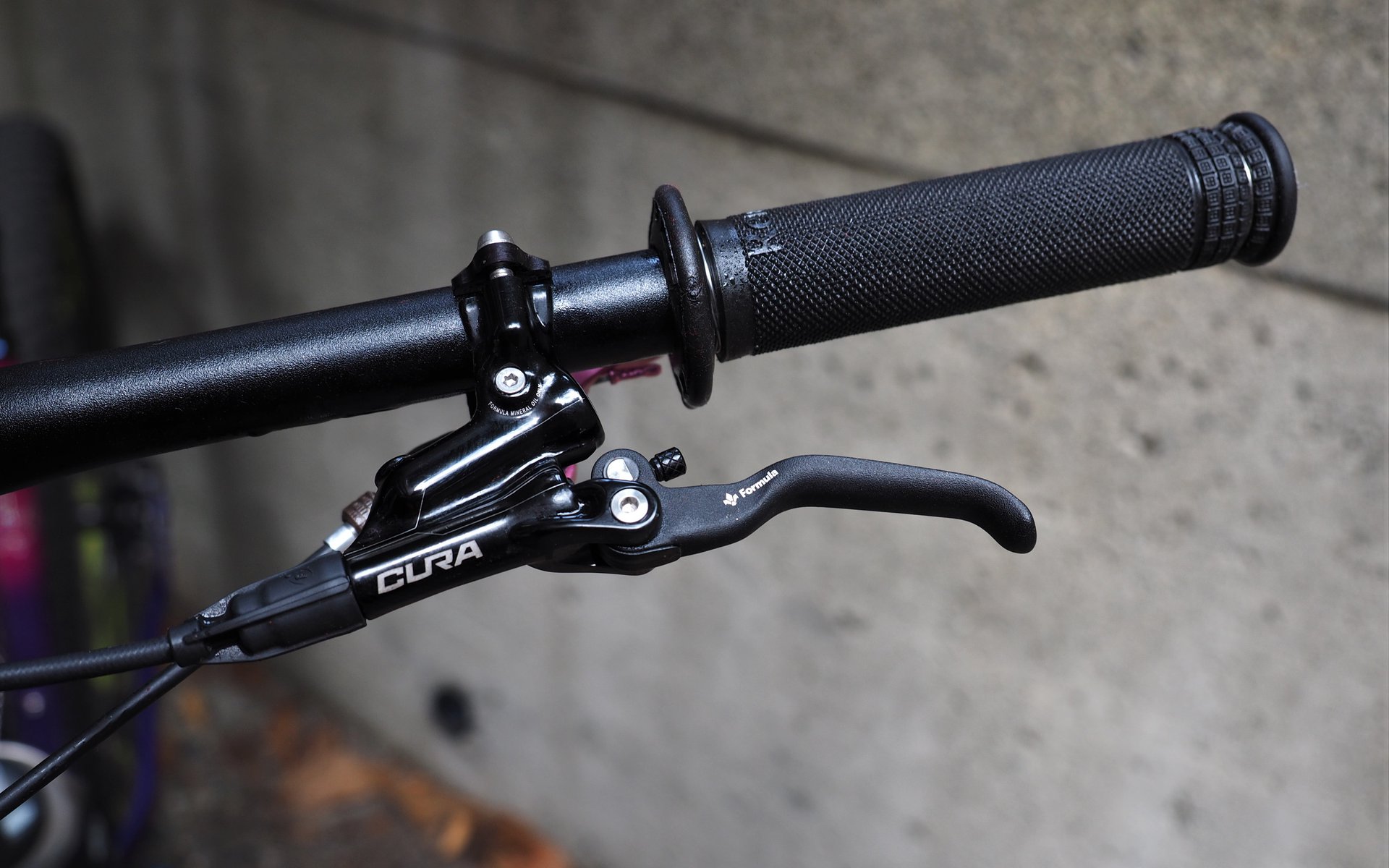 Product Review
Formula Cura Brakes Reviewed
Feathery Feels
Several features draw me to the Formula Italy's Cura brake system; the quality of the product and the surprisingly reasonable price* are chief among them. The brakes use simple architecture, long proven on mountain bikes and motorcycles and they are easy to work on. Beyond that, simplicity, the master cylinder design, my preference for mineral oil, full rebuild-ability, and two-pistons rather than four; there's a lot to like. But what I love about the Cura is the lever initialization which is the lightest, smoothest and most feathery on the market.
* For a Made In Italy product
Some brakes have ample power but heavy initialization making them feel on or off. Worse still are powerful brakes that feel like mush leading to poor control. With the Cura, the lightest touch starts the lever traveling. Power is instant and exponential but delivery is the most refined of any brake.
The two-piston Cura is not the most powerful brake I've used, a title that would go to the Magura MT 7 or TRP Quadiem, but I appreciate how it could be raced as the only two-piston brake on the World Cup circuit in recent memory.*
*Now supplanted on Formula riders' bikes by the four-piston Cura.
Prior Art
I've been fortunate to ride a number of great brake systems, and while each represents a different takes on how to best drive the pads into the rotor, my favourites share a common characteristic: modulation without mush. One example is the massive four-pistoned TRP Quadiem which is driven by a lever blade long enough to have been stolen from 80's cantilevers. The power curve is consistent and the harder I pull the more stoppage the brakes deliver.
Magura's Trail brakes seem entirely dissimilar with very short curved HC lever blades, but the combination of pad position, piston size, and the master cylinder architecture delivers a brake with ample power and tonnes of control.
Both of these systems use a four-piston calliper up front, where modulation is most important, but I can look to Formula's ROR for the only two-piston system that delivers a perfect combination of power and control albeit using the magic of oval pistons and a pull-style radial master cylinder.
Like the TRP Quadiem, the Cura relies on a long lever blade and pads positioned close to the rotors to deliver instant power and fine pressure control. Perfectly bled, the Cura has a firmer initialization and more initial control for feathering while the Quadiem has more raw pressure on tap. I'd love to try the new four-piston Cura to see if it delivers the best of both worlds. At this point, I'd call a properly-bled Magura MT Trail the middle ground.
For the bulk of the test, I used the Formulas with stock semi-metallic pads out back and a pair of Formula's sintered pads up front. I mainly experienced the TRPs with the stock organic out back and a pair of Shimano Saint sintered pads up front.
I used the Cura with Formula's one-piece and two-piece rotors with no notable difference in performance. The two-piece system adds 20-grams but is claimed to significantly improve heat management. I also used the Cura with a 160mm Shimano XTR Centre Lock rotor and a 203mm Magura Storm HC rotor and they worked perfectly with both.
The sintered pads are noisier than the semi-metallic but I think they are worth it for the extra stopping power up front, especially when it's wet. That's been my experience with every brake I've tried with the exception of Magura.
Quick Mounts
I used Formula's MixMaster replacement clamp with both SRAM shifters and a MatchMaker compatible e13 TRS+ dropper post remote to good effect. The MixMaster allows for a wide degree of rotational adjustment to uncouple the brake lever position from the shifter position. It's great for dialing in positions for those that prefer a flatter brake lever setup.
In my experience,* the Cura brakes are also compatible with lever clamps from the Magura MT series of brakes as well as a Hope Tech lever clamp I had kicking around. For me, this opened up easy and uncluttered compatibility with a range of direct mount shifter standards as well as my favourite dropper post remotes from e13 and Wolftooth Components.
* This isn't a guarantee. Please do your own research to ensure compatibility.
Bleed
I bled the rear brake once when I cut the line and then had a bit of a lever-squeezing boondoggle. Luckily it's an easy, relatively quick, and 100% consistent job using the same two-syringe method as SRAM or the Formula ROR. Just don't mix up the Mineral Oil and DOT fluid bleed kits.

Tool Free?
I haven't grown fond of the tool-free reach adjust dials. They are too small to be usable but I was happy to pull out a 2 mm hex key in the rare event when I wanted to adjust the levers. There's no lever traveling, pump-up, or fade happening here so I found the lever position was set-and-forget.

Formula's zero-loss quick-connect hose system is brilliant way to deal with internal brake routing without a bleed, but it removes the ability to adjust the hose exit angle at the calliper. On some frames this isn't an issue while on others it leaves a cheap-looking loop of hose.
Cura Curious?
One concern that comes up with brakes that aren't Shimano or SRAM is the availability of parts, particularly pads. A lot of the local shops I happened into over this test period had a pair of compatible Formula pads hanging on the wall. While Cura hasn't taken the Shore by storm, Formula hasn't changed pads for the sake of change like many other brands. Cura pads are backward-compatible with every Formula two-piston brake systems going back a decade, before the death of the 135mm rear quick release or straight steerers.
If you are in the Big bike, big rider camp, generating lots of heat or if you like the most power possible, there's a solid argument to be made for passing over the Cura in favour of the TRP Quadiem, or Magura MT Trail or MT 7, or potentially the new Cura four-piston.
It would be nice to see Formula offer a second lever blade option with a more pronounced hook and a more inboard minimum reach position for smaller hands. The light action will benefit every rider but this is especially true for those with more diminutive digits. For these riders, I think the best brake options on the market are any Magura system equipped stock with HC lever blades.
Like the Magura and TRP, the Formulas are a bit more time-involved in terms of getting drag-free initial performance and more sensitive to a warped rotor than Shimano Servo Wave or SRAM SwingLink brakes. Thanks to quality, and the two-piston design, I didn't have to reset the pistons or adjust the caliper position once everything was set up.

The complete rebuild-ability of brakes like the Cura and Quadiem is an important feature to me, as long as the companies do a good job of supplying the potential wear parts. I've had great experiences with Formula's Canadian support centre, Alba Distribution.

For this medium-fisted rider with a preference for a mid-flat lever position starting closer to the bar, the Cura had ample reach adjustment. The two-piston system and Formula's friction compounds delivered plenty of power consistently. No pump. No fade. And that feathery initial lever feel... There's nothing cheap about 150 USD per wheel but the Cura presents good value for all that cash.
Fire away in the comments below if you have questions or stop-in at Formula for more information.