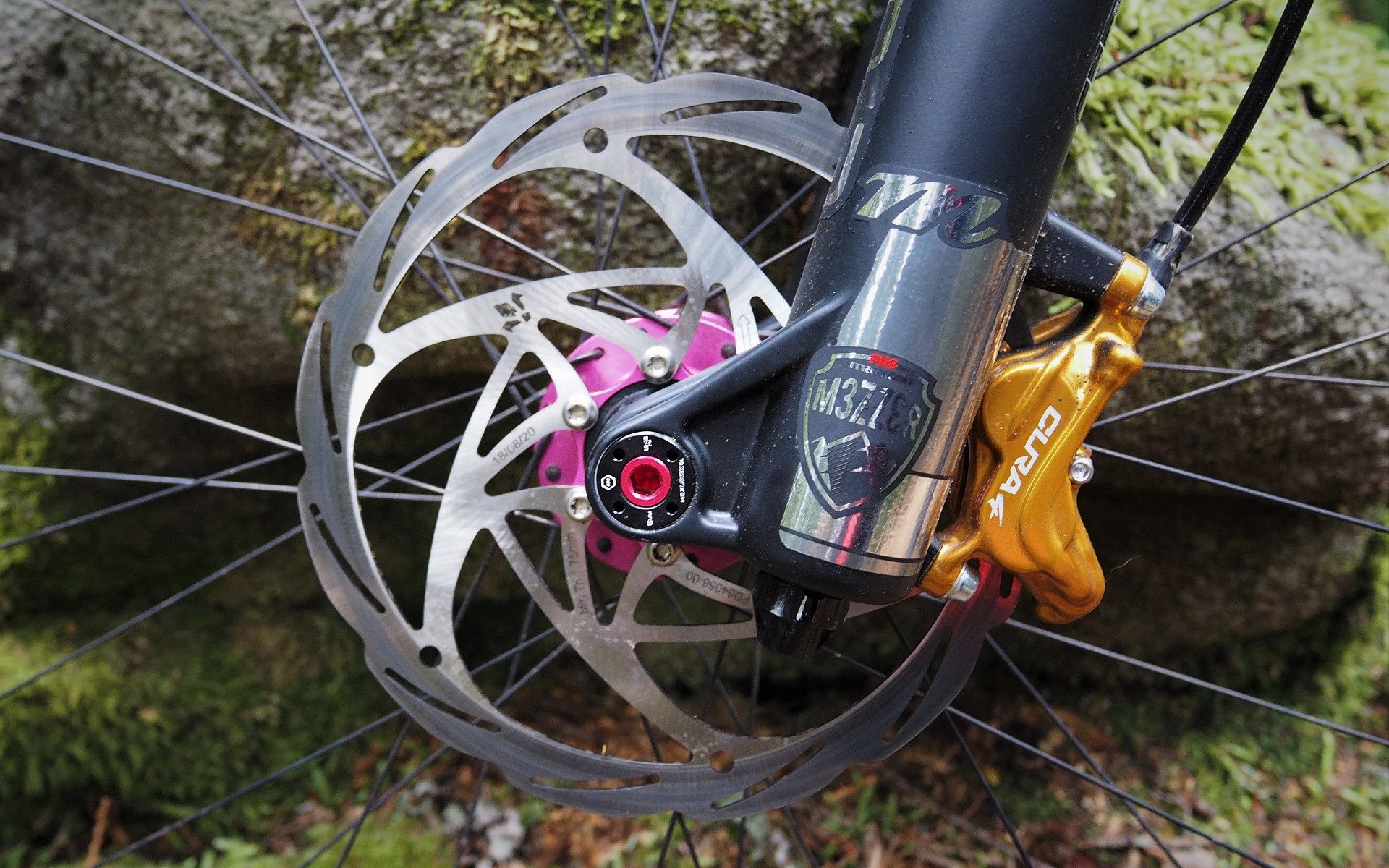 REVIEW
Formula Cura 4 Brake Review
The Formula
Formula has been manufacturing mountain bike disc brakes in Italy since 1993. Their press claims theirs was 'the first disc brake in mountain bike history' but to be fair it was the first hydraulic system with Hope and possibly other companies producing cable-actuated systems previously. Regardless, as much as I'm happy with cable-actuated brakes on my commuter, I think it's fair to say that Formula opened the doors to modern mountain bike brake systems and it's reasonable that they're quite proud of the achievement.
The relative success of their systems for aggressive riding has ebbed and flowed with Nicholas Vouilloz racing and winning on their brakes in the 90s, significant aftermarket popularity for their 'The One' system around a decade ago, and recently an impressive World Cup DH resume for their 2-piston and now 4-piston Cura brake systems.
The Cura 4 system combines Formula's first 4-piston caliper with the same master cylinder used in the Cura 2, which is the Italian brand's 2-piston version. Same bleed kit and process, same mineral oil brake fluid, and Formula's first new brake pad in a long time.
The system is simple, with a minimal number of parts that are all replaceable. It's fully rebuildable, has plenty of leverage at the brake lever, and a classic, positive, consistent, feeling where the harder I pull the more stopping force I get at the rotor.
An Easy Podium
I have no reservations in stating that, I think, two of the best brake systems on the market were released in the last calendar year. Throwing aside budget, just for the moment, and without taking aesthetics into question the Hayes Dominion, which Cam and I recently reviewed, and these made-in-Italy Formula Cura 4 brakes have ruined a lot of other brake experiences for me. My personal podium is based on that magic combination of best power and feel. I'm not counting grams, and I think more riders are looking for components that are more serviceable.
I have a lot more to say about these brakes, but I wanted to get it out of the way because like no other product I've tested, I've felt pressure from NSMB readers to write this review. Formula has been making quality brakes for ages, and I've previously tested the unique oval-piston ROR and their first mineral oil option the Cura 2 with good results, but their first foray into four-pistons are the brakes I've been asked about the most times in my years test-writing for NSMB. Despite having some theories, I frankly have no idea why, but the bike geeks are hungry.
Making a choice between the best brakes is trickier, especially if you're adding in the shear availability of the excellent SRAM Code lineup and Shimano's proven four-piston brakes. Without taking into consideration brake rotors the Dominions have an SRP of 230 USD per wheel, the MT7 clocks in at 240 USD per wheel, and the Cura 4 will set you back 210 USD per wheel. I'm not saying that 40-60 USD is nothing but the right set of brakes is the right set of brakes.
Teardown
For an in depth look at how these function, check out the first impressions & teardown I produced with Bikeroom-Jeff. I won't review that entire process here, but I want to mention that the Cura system is the fastest fully-serviceable system to tear down and rebuild that Jeff and I have done. It's also one of the friendlier systems to bleed, not just because it uses a SRAM-esque dual-syringe process but, also because the simple architecture lends itself to helping air escape.
I've never had brakes run drag-free with so little effort that didn't rely on some addition pad-moving voodoo magic like Shimano's Servo Wave or SRAM's SwingLink. That's across two sets of brakes. About halfway through the test period, I purchased a set of Cura 4 calipers to update the Cura 2 brakes that have been living on my hardtail when I'm not testing something else.
I have been asked about the value of rebuildable, versus replaceable, components v. the average mountain biker's mechanical abilities. While I don't expect that even 20% of riders would teardown their own brakes, any decent bike shop will have a tech who can replace a caliper seal in a Cura and I think it's a lot nicer to replace a few seals than to buy a whole caliper.
Sintered v. Organic
My previous experiences with Formula brakes put them solidly in the same brake-pad camp as ShRAMano, which is to say the only pads worth buying are the sintered models. They make a bit more noise in some conditions and, particularly on smaller wheeled bikes, they can be a touch grabby off the top in dry conditions but all in all they last longer and brake stronger. All of Formula's other brakes use the same pad but the Cura 4 has a longer version.
Formula also sent me a pair of their latest resin-compound brake pads to try out. I'm less skeptical of higher-end resin pads after all my experiences with Magura, and these pads actually live up to their billing. They have a bit less initial bite than the sintered pads, particularly noticeable with 29" wheels, but trade that for quieter performance, a nicer initial feel at the lever, more modulated braking, and similar deep power when I'm fully on the binders.
The sintered pads last longer, although possibly at the cost of rotor wear though I've never tracked it. I particularly was fond of the resin pads on my hardtail where traction isn't as consistent as on my 6" travel full suspension bike and the little extra power modulation helped me keep things in control.
Based on lifespan I'd probably put my own cash into the sintered pads in either event for the extra $10 a pair but I can confirm that next time I'm actually pulling the trigger on pads for my hardtail because the Resin pads are sort of glorious on a greasy day.
Upgrade Bias
One cool thing about the Cura system is the master cylinder accessory clamps are interchangeable with Magura, and also some Hope brakes. Have I mentioned how much I love my Wolftooth ReMote?* Actually, in all seriousness, I like Formula's solution for mounting up SRAM shifters and have used it with both the companies' systems.
*I couldn't resist the running joke.
The Cura 4 is such an improvement in control, even more so than power, that the 2-piston Cura 2 model I'm been running on my hardtail becomes a bit of a let down.
The solution here was easy since the Cura systems share a master cylinder assembly I simply bought a pair of 4-piston calipers and it was plug-and-play to set them up with a quick bleed that I was due for anyways. I have had to rebuild one of the Cura 2 master cylinders. There was no performance issue but it was squeaking on compression,. Otherwise, it's just a matter of swapping pads and a yearly bleed to keep them running.
Cura 4 Brakes
When it comes to choosing which set of DH-powerful four-piston stoppers to buy there are a lot of factors to consider from how easy it is to buy pads in a pinch (I keep an extra pair of Cura pads at home), to how easy they are to bleed, how much they cost, and finally how long a system will deliver good performance before a fresh system, or a full refresh, becomes desirable.
There's also the ergonomic factor; how the blades feel against your fingers and how the brakes feel in use. There's a huge difference between the lightest-action ever of the Hayes Dominion and the heavier, more positive feel of the Cura 4. I didn't have any issue modulating either system or SRAM Code brakes, or Magura's 4-piston MT series brakes, but there are notable differences in feel that are going to determine to influence the decision.
This testing process is a little irregular in that the Cura 4 was love at first squeeze for me and never gave me a reason to change my mind. They have a positive feel that delivers the level of feedback I've come to like from using Magura brakes. The long lever blades provide plenty of leverage and easy to control power. Aesthetically they don't have a bunch of big tool-free adjusters I'll use only once and I like the clean, organic, look. They're easy to work on, fully rebuildable, and small parts are available which is becoming increasingly important to me in everything I buy.
Are they the best brake system on the market? Impossible to say given all the metrics that go into a personal determination but I absolutely believe that, like the Hayes Dominion, they're a system you should squeeze before upgrading those woefully under-powered brakes that came stock on your new million-dollar long travel 29'er.
Out of the box, they're a competitive 210 USD per wheel before rotors. For more information check out the Cura 4 at Ride Formula.