PRESS RELEASE
Forbidden Brings Out the Big Guns - Introducing the Dreadnought
Inspired by the terrain that surrounds our home on Vancouver Island, even naming the company after the Forbidden Plateau - our local riding spot - should go some way to explaining our intentions as a mountain bike brand. The year-round riding conditions we experience here coupled with the sheer variety of trails on offer have given us the ideal location to design and develop cutting edge mountain bikes.
Established in 2019 by a growing team of industry veterans, the Druid's arrival on the scene set the tone for a brand that is not prepared to accept the status quo or adhere to the whims of mass-market trends. Small, agile and free to pursue the ideas that would ultimately lead us towards truly unique products that not only define us a company but who we are as riders. This approach has allowed us to really focus on ride quality and performance above all else, be it through suspension, geometry, materials, or construction techniques.
Forbidden Dreadnought Highlights
INTENDED USE: ENDURO/BIKE PARK
SUSPENSION: 170MM FRONT/154 REAR
WHEEL SIZE: DUAL 29"/ MULLET 
MATERIAL: CARBON
SIZES: S/M/L/XL
What's In a Name?
Throughout history many ships have bore the name Dreadnought; the most notable being the 1906 HMS Dreadnought that revolutionised naval technology. Its groundbreaking design rendered all that came before it obsolete and spawned a whole new class of battleship, the Dreadnought class. This new "all-big-gun" design became synonymous with Dreadnought.
Dread [Fear] | Nought [Nothing]
The Druid has proven to be a groundbreaking trail bike, blurring the lines between that of a traditional trail bike and the enduro segment. With Dreadnought we wanted to take that concept and push it further. We developed a bike that can pedal up any climb with the enduro crowd, yet it exhibits DH-like confidence on the descents. 'Fear Nothing' is the mantra of this bike; fear no climb, fear no decent. No more excuses, no more off-days, just 100% confidence in your bike and ability.
TRIFECTA - More Than Just Numbers
High Pivot: 
Positioned to provide a fully rearward axle path. Rearward axle path allows the wheel to move with the impact, this in turn allows the bike to better maintain momentum. Only with a fully rearward axle path can the movement of the rear wheel come close to following that of the front wheel. A fully rearward axle path is important as it ensures chassis stability as it moves into and through its travel. 
Rate Control Linkage: 
The Rate Control Linkage is designed to independently tune the critical stages of the shock's compression. The mid-stroke rate of progression is tuned to provide adequate support, yet remain open enough to absorb repetitive hits with no harshness. The end stroke sees an increase to the rate of progression providing a truly bottomless feel. The Dreadnought is optimized for the use of large volume air shocks and coil shocks. 
Idler Pulley: 
By careful positioning of the pulley, which is offset from the main pivot, we are able to fine-tune the anti-squat characteristics. Our bikes exhibit the ideal amount of anti-squat at sag to deliver a very stable pedaling response. Unlike traditional non-idler equipped designs we can achieve these levels of anti-squat with virtually no pedal kickback.
Our Geometry Philosophy
Recent geometry trends have seen a push toward longer wheelbases for increased stability. This push has moved trail and enduro bike wheelbases in line with that of DH bikes (this is a good thing). However, it has mostly been achieved using only a significant increase in frame reach. By only increasing frame reach, stability at speed is improved at the detriment of lower speed handling (this is a bad thing). At Forbidden we chose a more measured approach where we have achieved the same end goal through a combination of head angle reduction, moderate reach increase (used in conjunction with a shorter stem), and rear-center increase. 
Compared to the Druid, the Dreadnought exhibits a longer wheelbase for added stability in high speed situations. Yet it still delivers a remarkably agile ride characteristic in lower speed technical sections of trail. Where the Druid excels on 'all mountain' terrain, the Dreadnought aims to take that one step further and to the extremes. The downhill bike inspired geometry delivers a confidence inspiring platform that invites high speed manoeuvers and taking on the lines that are often left to be ticked off another day. Whether you're riding all-day epics, racing enduro, shuttling the local steeps or stomping the bike park, the Dreadnought has you covered. 
Geometry Highlights:
63.5 degree head angle dishes out DH bike confidence and stability.
Increasing rear-center with every size provides a balanced consistent ride for all sizes. Forbidden is the only brand to ensure the same weight distribution across all sizes. Rear-center grows 14-mm per size on the Dreadnought to ensure this.
ACTUAL seat tube angles steepen through the size range improving the fit for larger riders. This further emphasizes our goal of equal ride characteristics for all people.
Geometry
FRAME DETAILS
Strength to match the confidence: We tested the Dreadnought to DH standards. As such the frame is rated for dual crown use; perfect for all the park rats out there.
Construction: Coupled with our industry leading size optimized geometry we employ size specific tubing profiles to further emphasize our commitment to consistent ride quality.
Sensible Design: Platform commonality was a goal from the outset. Where possible hardware and fittings have been shared across from the Druid. Both bikes share the same Ziggy Link (mullet) compatibility. Threaded BB, 148 boost spacing.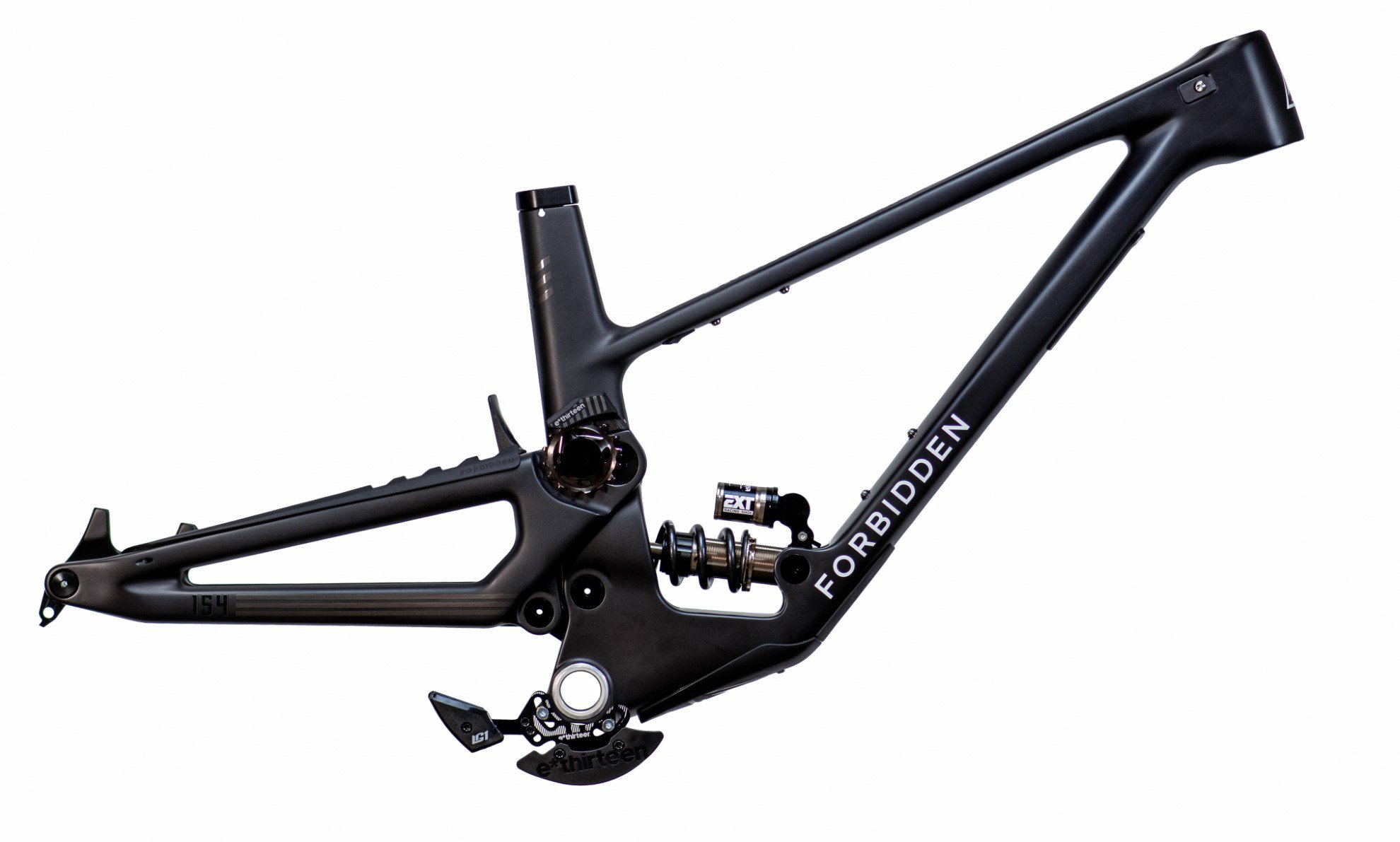 COMPLETE BIKE | XT
"Stealth" colourway only - ETA Q2
Fox Performance Elite Float 
Fox Performance El'te 38 Grip 2. 
Shimano XT drivetrain. 
Shimano XT four cylinder brakes. 
DT Swiss 350 hubs/ ethirteen rims. 
Bikeyoke Revive dropper post. 
Ethirteen cockpit. 
Maxxis Assegai EXO+ I DHR2 DD 

COMPLETE BIKE | SLX
"Deep Space Nine" colourway only - ETA Q3.
Fox Performance Float X2.
Rockshox Zeb Select+.
Shimano SLX drivetrain.
Shimano M6100 four cylinder brakes.
Shimano SLX hubsl Ethirteen rims.
Ethirteen Vario dropper post.
Ethirteen cockpit.
Maxxis Assegai EXO+ | DHR2 DD
Pricing
Availability
Limited run of frame kits using Push and EXT rear shocks available early Feb
Colourway 3 available Q2
Complete bikes in two spec options will be available summer 2021
It has been an extremely challenging few months for all brands, with extensive and significant delays for most parts. We are very proud of the fact that we have been able to work with our partners, both existing and new, to bring these products to market with actual availability to the consumer. it's not the launch we had originally planned, but we are extremely excited to finally be able to get the Dreadnought out into the wild.