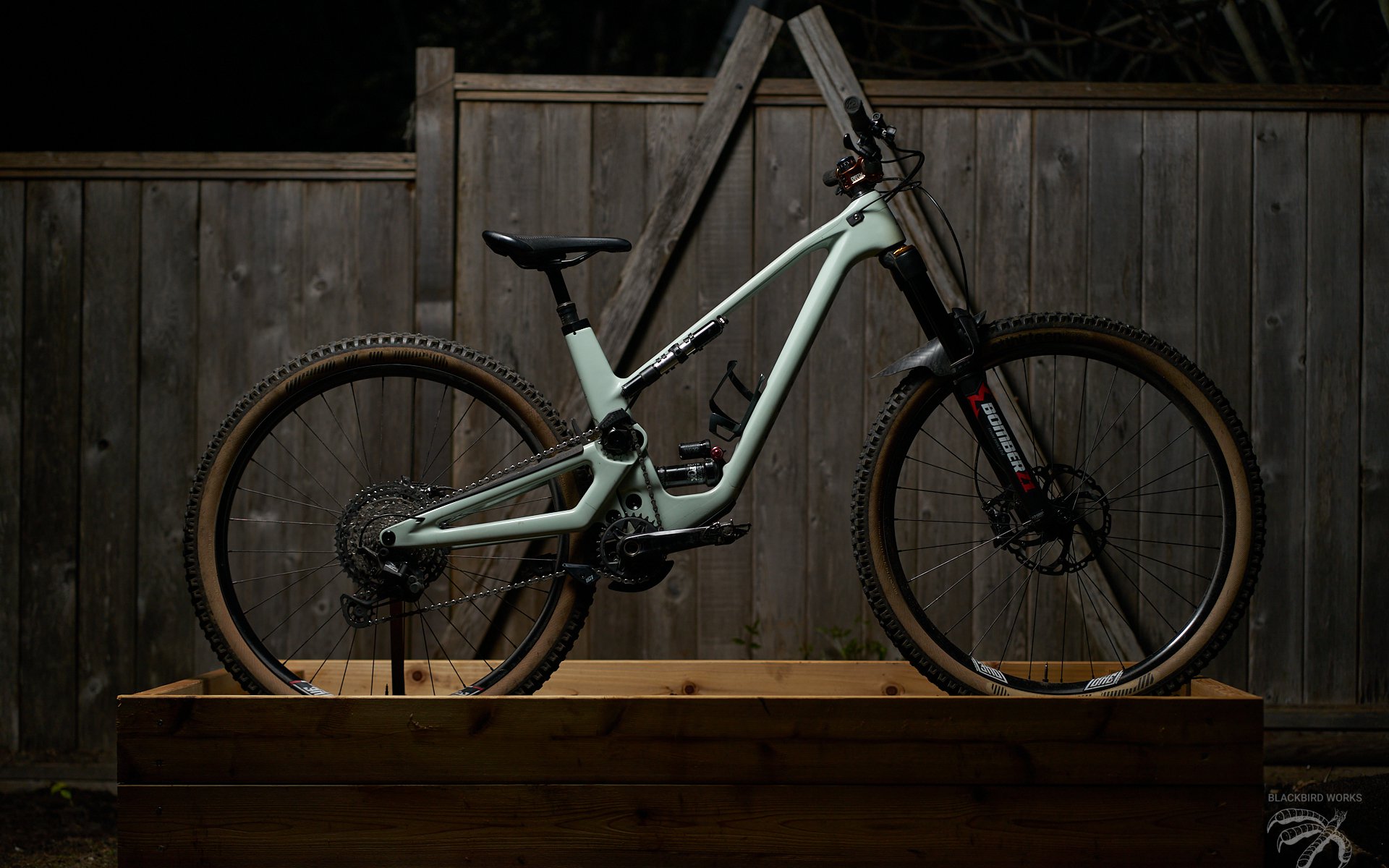 Chapter 1: The Build and the Honeymoon
Forbidden Bicycle Co. Multi Part Review
Forbidden Bike Co, Druid v2 Long Term test platform
Forbidden Bike Co.'s products, at the time of this article was written, are available as a frame and shock only option. Which makes it a perfect platform to test various components and products in an expansive frame of time. I hope to write about my experience of living with the parts that clad this beautiful frame in a few chapters.
Chapter 1 - Introduction and a bit of a glamour photography show off.
Chapter 2 - The Shimano XT Components
Chapter 3 - Fork performance
Chapter 4 - Could just be me telling dad jokes – but we should probably talk about how the bike actually performs
I took possession of the frame in February. It took a couple of weeks to gather the necessary parts to build up the bike which also coincided with moving and pretty much life as we know it coming to a screeching halt.
Chapter 1 - The Build and the Honeymoon
OH MY GOD nice Druid
WOW! What is that frame?
Nice Bike. Is that a Santa Cruz?
These are some of the comments I get to hear riding this thing around. It sure is a conversation starter. But just look at it!! I stare at it sometimes for a while and admire all the pretty lines.

The Build
Frame : Forbidden Bike Co. Druid, Medium, (with updated linkage more on that later)
Rear Shock : 2020 Fox DPX2 Performance Elite 210x55
Fork : 2020 Marzocchi Bomber Z1 Coil 29, 160mm
Handlebar : Enve M6 31.8 780mm
Stem : Deity Copperhead 35mm 31.8
Headset : FSA Orbit 44/56
Grips : RaceFace Gedda Grip 30mm
Brakes : Shimano XT M8120
Shifting : Shimano XT M8120 12sp
Chain : Shimano XTR 12sp Hyperglide
Derailleur : Shimano XT M8100 12sp
Chainguide : E13 Forbidden Bikes Custom top and bottom guides and bashguard
Cranks : Shimano XT 170mm
Pedals : Time Speciale 8 Enduro
Front Wheel : We are One Union 29, Industry Nine
Rear Wheel : We are One Union 29, Industry Nine Hydra Microspline
Cassette : Shimano XT 8100 10-51
Tires : E13 TRS+ 2.4 Skinwall
Seatpost : Oneup Components 180mm
Saddle : Ergon SM Pro Large
Protection : Bike Shield Gloss
Weight : 32.2 lbs with pedals
Forbidden also sent a package that included a new suspension linkage assembly and an updated idler pulley.
First Things First - installing the v2 linkage
It took a hell of an effort to get the v1 linkage out of the frame. The Ti shock bolts were incredibly easy to access and remove but the undeniably beautiful Titanium hardware squeezing the frame to the linkage had nearly welded itself together.
I had to reach out for the frame straightening tool jokingly called the "dog killer" to get enough leverage.
Once the old linkage was out it was a fine moment to compare the new design and figure out why the changes were made. The biggest difference is the construction of the units. The v1 was two machined halves bolted together with Ti bolts and sleeved end caps that slide in to the main pivot bearings. The massive Ti pivot bolt then slid through the entire assembly.
The v2 is a one-piece machined unit with 2mm larger diameter Aluminum pivot bolt that replaced not only the Ti one but also the sleeved end-caps that probably did not do much for lateral stiffness. The new unit allows for larger bearings in the linkage and a bigger bolt to fasten everything to the frame. I am told it also solves a creaking issue on the v1 linkage. I have zero kms on the first version but the v2 linkage has been trouble free since the day I installed it.
I have to say I miss the look of the Ti bolt heads that sit perfectly flush with the carbon frame but I'll happily take a creak–free frame over, well... a creaky one.
**UPDATE**
I have been informed by guys at Forbidden that the frame hardware is all Stainless Steel and not Titanium like the article mentions.
It fooled not only me, but the boys at Forbidden too.. Shock bolts however are Titanium..
The Build Process
Smooth as butter. Rubber cable grommets are fastened to the frame by more titanium goodness and rear brake hose and shifter housing is routed through the top tube. Easy to fish through and uneventful. The dropper housing goes through the downtube and loops in front of the BB and through a side channel on the shock tunnel. Magically, the plastic frame protector is bolted on by more Ti bolts and opens up to reveal a big cavity to fish the housing through and store a spare 29er tube. F'in brilliant.
On a size Medium frame, 126 links of Shimano XTR chain was right on the money for length. Larger sizes will need a link or two extra for a 12sp drivetrain, but may not if you are running a cassette without a dinner plate-sized granny gear.
Remember that new pulley wheel they sent me? Well it is designed to play nicely with the new Shimano Hyperglide drivetrain and is fully compatible with SRAM chains as well. It also has a DLC(diamond like coating) on the aluminum pulley wheel to increase life span and reduce friction. Forbidden offers a stainless steel version for monster pedalers out there who don't mind the extra weight.
Pre-ride checks and Introduction
I have 18 rides on this bike so far. That is eighteen, at the least 800meters of elevation gain, 17km+ rides. No shuttles. That is around 320km of pedaling and around 16.000meters of climbing. Days before the Covid-19 restrictions and recommendations came into effect, I had just moved my residence conveniently to the foothills of Seymour Mountain. Solo rides starting and ending back at the house have been the norm. Within 2 city blocks, I can dip into the trails and pedal as fast or as slow as I want to explore not only the new neighborhood but also the life on the Druid.
But to give perspective on 'what I do on the Druid', you'll need to know about me. I have a long history of doing silly things on bikes and it all started and evolved around Flatland BMX. Spending days and years in empty parking lots perfecting tricks were the norm for me. Bikes were heavier and built smaller than we wanted them to be. I competed in the small North American flatland scene and documented it vigorously turning myself into a photographer of bikes in the process.
I got hurt a lot, so I stopped playing on little bikes. I stand 5'9" tall and 150lbs out of or on the way into the shower. Shorter legs and longer torso, and dangly arms. Size Medium helmets fit me well and I stand somewhat off balance in size 42 shoes.
I have been riding clipped in for the past 2 years and for how much I move around on the bike, I could not get along with the shimano pedal system. The XT pedals spit me right out whenever I wanted to get the bike sideways in the air. I know its not the SPD's fault but Time pedals were happy to lend me the freedom to do less than ideal moves with my knees and not clip out mid air. Part of the reason I started clipping in was because I could not stay planted on my flat pedals in rough trails with less than ideal suspension designs on the bikes I rode. Pedals were finding their way to my shins more frequently than the soles of my shoes and enough was enough. Clipping in also made the heavier bikes seem lighter and less effort to move around. I am a smaller guy and somewhat lazy on the bike.
I took a bootcamp with a local bike guru to enjoy pedaling uphill and I can now hang with the best riding uphill all day long and shredding some sketchy lines on the way down. I ride with my hips a lot and like to skip holes and compressions using all of the trail, jumping from side to side.
Suspension Setup
The Forbidden Druid comes from the factory with a light tune Fox DPX2 Performance Elite shock. It is a brilliant little shock. You can however run just about any coil or air shock of your choosing. When I gear up to about 165lbs of stuff, I initially set the shock to 150psi air for a 30% sag.
It just did not feel right at first… I tried getting along with it for a few rides and unless I was riding at a race-pace, it felt too harsh for the promised suspension performance. The low speed compression was wide open and rebound compression was 3 clicks from full pogo.
Easy rides showed full travel on the o-ring with a strange feeling under my feet that I can only explain as, dead.. Then I had a chat with Owen Pemberton, the man behind the brand. He let me in on a setup tip that changed everything.
When he designed the Druid he wanted the ride height to remain low and the shock to recover fast for the next hit. He also needed the pedalling platform to be supportive and ground tracking, and damping control to be as unrestricted as possible. Which meant that the shock air pressure influences the ride height of the bike more than how it goes through its 130mm travel.
Down went the air pressure to 140psi in the shock and in went the grey volume spacer for more bottom out support. The bike settled nicely into 35% sag and rebound was set 1-click from full pogo and LS compression 2-clicks from open. With the Coil-sprung 160mm Marzocchi Z1 up front, the head angle slackened to a Shore worthy 65 degrees and everything started making sense.
The stability this setup gives me on the downhills has been an eye opener, considering the 130mm travel on tap out back. Because of the Druid's geo numbers, I was initially hesitant to take it into steeper terrain. I rode easier trails faster and faster and PRs started coming in. I was in my element. I have been happily riding terrain you'd reserve a 170mm bike for the last few rides and the agility of the Druid makes micro corrections with much less effort than a plow bike that needs commitment to the line. Z1 Coil holds me high up in the travel and does not fatigue me in a way the air sprung counterparts do.
The Druid can climb up anything. You point at it, It'll climb it. There's more than enough traction out back for any uphill shenanigans as long as your pedals clear said obstacles. There is some noise from all the things the chain is routed through, but no noticeable drag. People I ride with hear it, but I don't; it is white noise.
I can out corner my previous self. The low bottom bracket plays a role in this, no doubt. I've never cornered this well on any bike before. The closest cornering performance has to be from the New Pivot Switchblade, which I think is a great head to head comparison bike to the Druid. We'll save that for another chapter. 180mm OneUp Dropper is the other part of this story. Clearance is king.
Riding the druid has not been intuitive. I had to adjust the way I use the brakes and trust the traction at hand. Under heavy rear braking the bike will sit into its travel and have a hard time recovering. The head angle will slacken but the feedback under your feet will be increased. I had to remind myself to practice late braking and finding support on the corners to push off of at higher speeds. Too much front brake and the rear will sit high up in travel. The best option is to brake hard, late and commit through the obstacles. The suspension does everything it is designed to.
Looking further down the trail has also been on the menu more. It is fantastic advice regardless of the bike but finding the smallest bumps to air off of has been a major point of every outing.
Next chapter we'll tear the bike apart and see how everything is surviving...
to be continued...