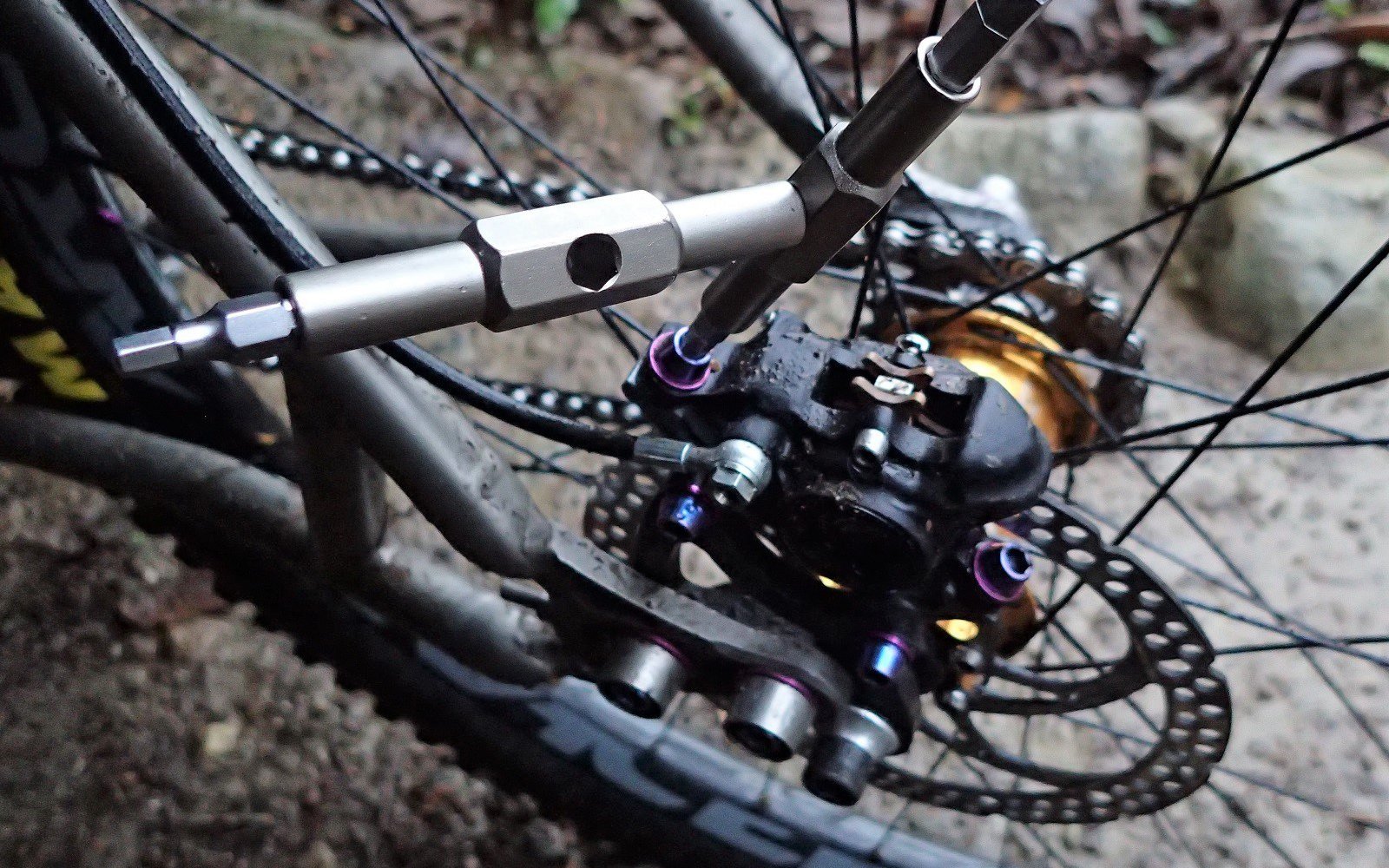 REVIEW
Fix It Sticks Replaceable (Updated)
Fix It Sticks
The idea behind Fix It Sticks is straight forward. Compact tools provide no leverage. Tools that provide leverage are not compact. With their Replaceable model, Fix It Sticks sets out to produce a highly portable high-leverage shop quality tool.
This is intended to be a lifetime tool with steel construction rated for a maximum of 54Nm of torque. Worn fittings are easily swapped out since the Replaceable uses standard 1/4″ bits; the options are almost endless.
Original Vs. Replaceable
The distinctive orange anodized alloy shafts of the Fix It Sticks Original model are easily recognizable. The complete tool weights only 55grams and is rated for a maximum torque load of 15Nm. The fittings are fixed in place and different variations are available to maximize the usefulness of the bits for a given bike.
The steel construction of the Replaceable doubles the weight of the tool and the number of stock fittings available with a single unit. Magnets hold the individual bits in place and any 1/4″ bits will work with the tool. It has the functionality – and weight – of two Original tools combined, can take 3.5 times the torque, and costs the same as a single Original tool.
Replaceable for the win!?
What's Missing?
The Fix It Sticks Replaceable comes in a sweet little carrying case. Between installed and included extra bits there are eight tool options: 2mm, 2.5mm, 3mm, 4mm, 5mm, and 6mm hex bits, Torx 25, and Phillips #2. The obviously missing bit is an 8mm hex for crank bolts (and in my case for Fun Bolts).
I have added a 6mm-to-8mm adapter from an inexpensive old multi-tool. Replacing it with a nice 8mm bit for 1/4″ drive has proven individually difficult. 8mm is larger than 1/4″ so it may be a case of manufacturing cost as the availability of smaller bits is legion.
The other bit I have added thus far is a T-10 Torx, which is of limited trailside application for most riders but something I like to carry. The point is the Replaceable gives riders the option to custom carry whatever bits they need and no superfluous fittings.
On The Trail
Cleaner and simpler than a folding multi-tool, greatly superior leverage, huge degree of individual customization, and constructed to last forever. The Replaceable is a welcome addition to my pack. Without beating a dead horse, it's the perfect compliment for my CT-6.
I know a handful of riders who choose to pack a full sized Allen key set on the trail. When it's time to go to work I agree it can't be beat. Leverage, durability, individual replace-ability of the most used tools, and they're just nice to use. But, I go on lots of rides where I don't need to get a tool out and carrying a small emergency folding tool block is the way to go in terms of weight and space.
The Fix It Sticks Replaceable is a beautiful compromise between the two.
Update : Three Ways To Use Fix It Sticks
I've received a few comments to the effect that Fix It Sticks are difficult to use to access some bolts. One good example is the small hex bolts for retention and adjusting sliding dropouts on frames where there is welded brace to account for disk brake loads – such as in the photo above.
That hasn't been my experience but it speaks to an oversight on my part in not highlighting the multiple ways the Fix It Sticks replaceable can be used. In addition to two different ways to assemble it as a T, one of the single arms can be used to drive a bit in tighter confines. I used the third option for adjusting my sliders and installing a bottle cage.
Looking for an upgrade to your trail side service experience? Pick up your Fix-It Sticks here.