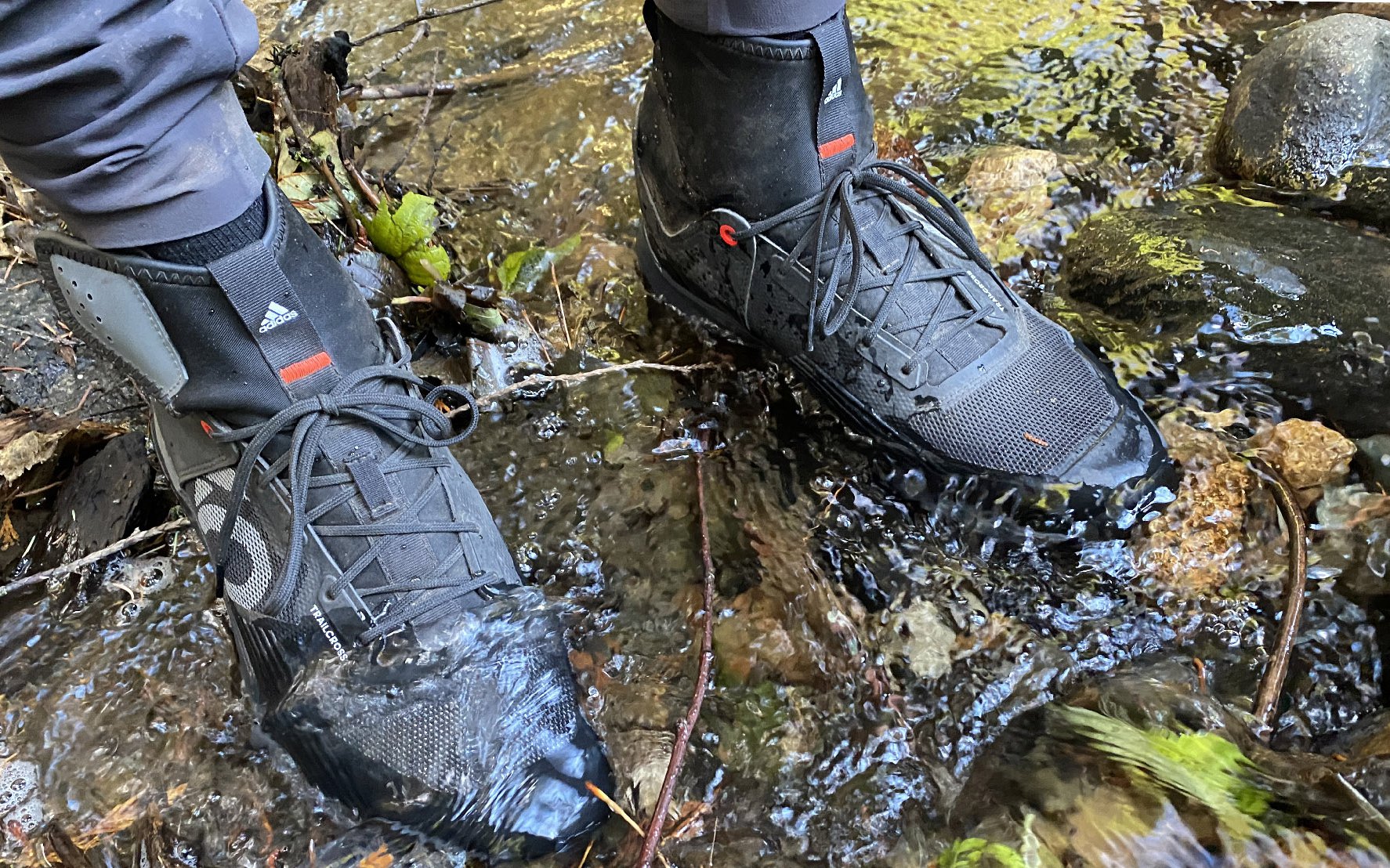 REVIEW
Five Ten Trailcross GTX Gore-Tex
Good Things Come to Those Who Wait - Pete Roggeman
But oh boy, have we waited.
The first time we saw the Five Ten Trailcross line laid out on a table under a tent in the middle of Whistler village during Crankworx back in 2019, we've been waiting for those shoes to materialize. And waiting. And waiting. That Trailcross preview article drew a lot of attention, and for good reason. The look of the shoes was polarizing, but the tantalizing prospect that the dual-branded Adidas/FiveTen shoes hinted at was printed for all to see on the side of one of the prototype models: Gore-Tex.
Finally the flat shoe maestros were going to do what so many of us had been asking for since long before the wheel-size wars: FiveTen was going to give us a waterproof shoe. Or so we thought. Not long after, the Trailcross models were teased. Three of them. And they looked pretty good, but the Gore-Tex model wasn't to be found. There were whispers. Rumors. I think a couple dozen boxes fell off a truck somewhere near the Borders area in the UK (an area that is just as wet and nasty as it is here on the West coast of BC). They could't be bought, and there was no definitive word on when they'd be available.
In the interim I reviewed the Five Ten Trailcross XT - the slightly higher than low-cut version that I liked but that ultimately let in too much trail debris through the well-intentioned but loose-lipped ankle gusset. Next up was the Trailcross Mid Pro, which is a higher-cut version than the XT with a proper gusset and padding on the inside of the ankle. Better effort as an all-around trail shoe and really just about perfect for most conditions for me; the only thing lacking (other than a waterproof membrane) was that there wasn't any armour in the forefoot or toe area, which wasn't a big deal for many rides. Given that the Trailcross line is intended to blend trail riding, hiking, and bikepacking, I'd say it hit its mark. We were all, however, still left wondering when we'd see the GTX version. Winter is coming after all, and before winter is Fall - the wet season here is to be feared. Little did we know this year's wet season would be downright biblical.*
*Biblical to the point that our riding friends in the Fraser Valley are currently dealing with flooding and issues that waterproof footwear can't fix. We're thinking of you folks out there in Abbotsford, Chilliwack, Hope, Merritt, and all points currently under water. We hope things get better soon.
Finally we got our hands on some of the elusive Five Ten Trailcross Gore-Tex (GTX) shoes, and it was both underwhelming and awesome. Underwhelming only because it took a long time to finally get my fingers on them after having seen proto version in the flesh, photos online, and having worn their close cousins for many rides. Awesome because after several rides and hikes, they've entirely lived up to what they promised to be: a mid-high cut FiveTen with Stealth rubber and a waterproof membrane. Typing it out now makes it seem fairly simple, but for whatever reason it's been an ordeal getting these shoes to market. At least when they finally arrived, they weren't a disappointment.
Almost everything I wrote about the Trailcross Mid Pro translates to the GTX version. There are small differences: the gusset in the GTX version uses hook-and-loop to close, which makes it snug as you could want and keeps out trail debris (unlike the Trailcross XT) and water - to a degree (the best way to keep water out is to wear pants with a cuff that comes down over the shoe's ankle gusset). The Stealth rubber sole hangs on to a good flat pedal like a crampon in a blizzard. They are comfortable and, as I alluded earlier, that comfort translates not only to pedaling but to hiking as well. This was a stated purpose of the Trailcross line, and I think the GTX version fits in to that trail/bikepack/hike category better than all the rest, if you consider doing those things in three seasons or four.
I have stood in puddles, walked across streams (ankle deep) and ridden in truly wet conditions where the spray off my front tire would have soaked any of my other non-waterproof shoes. And my feet stayed dry. While hiking, foraging, or clearing blowdown on trails and kicking out drains, my feet not only stayed dry, but I was comfortable. For less serious hiking of moderate distances (2-3 hours), these are perfectly good, making the 280 CAD investment a little easier to take if you're the kind of person who likes at least some of your bike gear to do double duty.
My only niggle with the Trailcross GTX is one that is possibly at odds with the designed intention of the shoe: it could have more of a toe bumper to guard against interaction with rocks and anything else that your forefoot could contact (or get squeezed into by your pedal if you end up in that awkward situation). That would add weight and bulk and make them less effective for longer days of pedaling, whether you're a bikepacker or just want to wear them for long rides. For me, it's an acceptable trade-off, and I hold out hope that there is a Freerider Pro GTX in the making. Until then, Adidas/FiveTen may have made us wait an awful long time for the Trailcross GTX, but it was worth it.
---
The Missing Piece - Cam McRae
Since my switch back to flats several years ago, I have spent little time lamenting the change. There are a few things I miss occasionally, like the knowledge my feet are likely to stay attached (particularly on janky single track climbs or at speed in rough stuff), and the ability to sneak through narrow spaces, but that's about it in terms of the riding experience. Shoes however are another issue entirely. COVID shortages aside, there has never been a better selection of quality flat pedal shoes. The days of Five Ten or nothing are long gone and other brands are unlocking the secrets of sticky rubber. You can choose between stiffer or more flexible soles, more or less protection, and even find a style that helps your feet look youthful, dewy, and desirable.
However, with minor decent exceptions along the way, a gaping maw had remained un-sutured in this market: an effective, widely available flat shoe for those of us who have to deal with both cold and wet conditions, generally at the same time, but without any performance compromise. I'm talking about something that is reliably waterproof and designed to also keep out muck from above. The Five Ten Trailcross GTX aims to be that shoe. Based on the fairer-weather Trailcross models, the GTX has an almost identical upper and lower to the XT and Mid Pro models. Neither is my current favourite, but I can ride well in either with few complaints. I wish the sole was a little wider, stiffer, and with less trail shoe camber, but lacing them up is no hardship. As a fussy flat shoe rider, they meet my minimum expectations.
The GTX rides virtually identically to the vented versions, but with a neoprene ankle cuff and a Gore-Tex liner. I've already had ample opportunities to ride these shoes in atmospheric rivers and my feet have stayed completely dry. The velcro cuff fits my skinny ankles very well but some will find them a little small. In my experience, the fit is quite true to size, or maybe a little large (although I've heard others say the opposite) but I find the toe box excessively roomy, meaning my feet swim around a little even with thick wool socks. For winter shoes I'd prefer them a little large though so I'm willing to deal with that. Furthering the swimming theme, I'd appreciate a more contoured insole to support my arch and provide a more positive feel under foot. Grip is excellent however although not at the top of the Five Ten friction scale. I generally have to sit to reposition however so those who prefer less traction my feel too stuck.
That underwhelming endorsement aside, I'm pretty thrilled with the performance of these shoes. I have stood in creeks and been doused by puddles parted by my front wheel, without feeling a hint of moisture. They are light, quick drying (on the outside mainly but perspiration is also dealt with efficiently), and extremely sticky. My favourite feature though is that very time I put these on, I feel a gurgle of mirth well up inside knowing my feet will be dry, and because they are dry they will be much more likely to stay warm. Warm toes are happy toes, and for 280 CAD, let's hope that joy doesn't fade any time soon. An even more satisfying feeling however is the knowledge that a big gap in my wet weather riding kit has been filled and henceforth wet feet will (hopefully continue to) be a thing of the past.