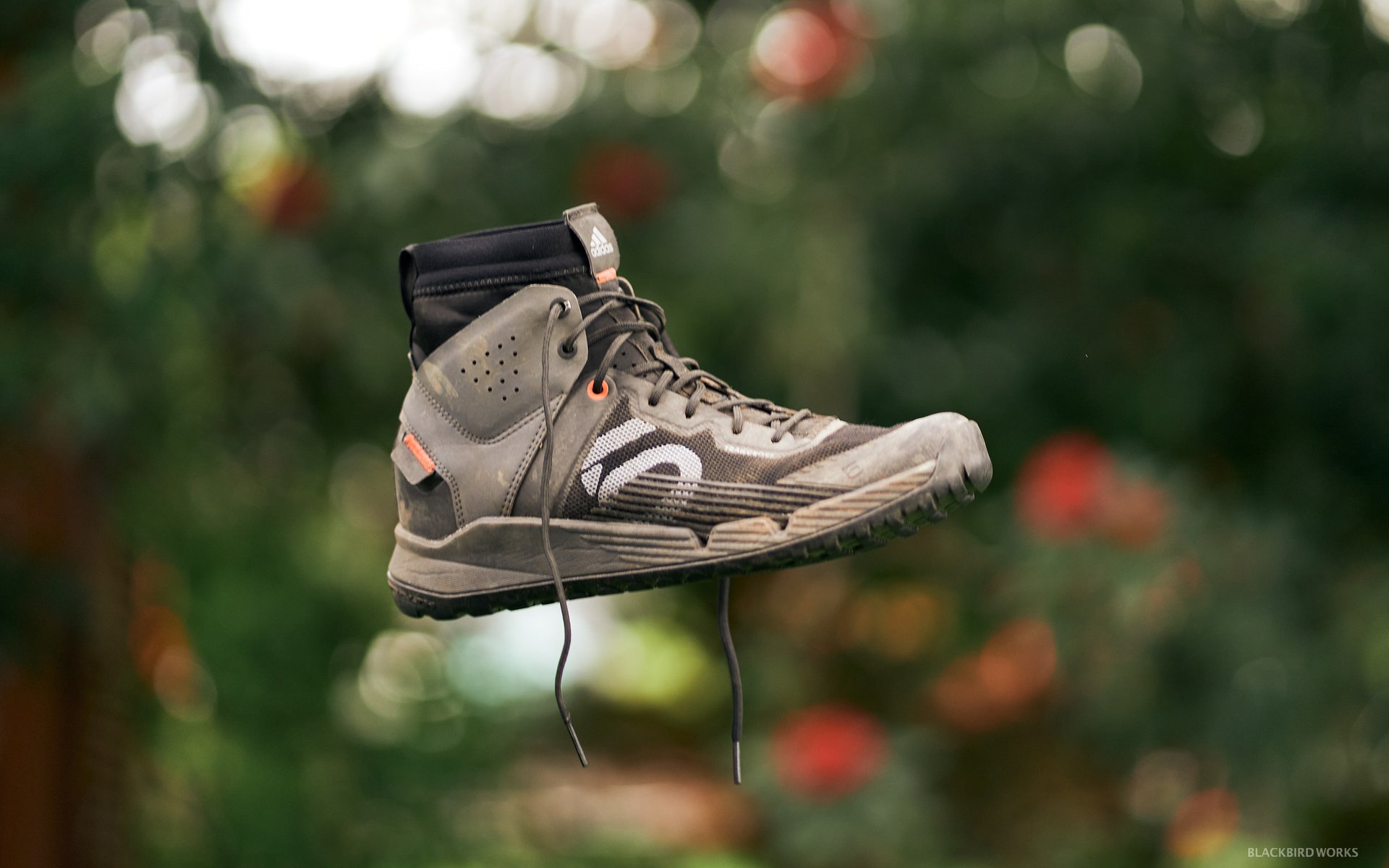 2-MINUTE REVIEW
Five Ten Trail Cross Mid Pro
Earlier this year I reviewed the Five Ten Trailcross XT. Like the Five Tens most riders are familiar with, they offer best-in-class grip, but unlike typical models from the flat shoe heavyweight, they share similarities to Adidas' outdoor brand Terrex's trail runners (or hiking 'shoes') making them lighter and very comfortable to walk in. This made them feel better on my feet when hike-a-biking and while I haven't found typical Five Tens like Impacts or Freeriders to be uncomfortable, the Trailcross' light weight and running shoe-inspired last was a cut above.
What I failed to report in that review, because it was a problem I discovered later, is that the neoprene ankle gusset - a great feature designed to keep out loam, rocks, and other debris - was sized too wide for my average ankles. The effect of this was that instead of keeping all that stuff out of your shoe and avoiding peddles and loam trapped in your shoes, it did the opposite, acting like a funnel, which increased the amount of that stuff that found its way into my shoes. This trait wasn't as noticeable in the winter months for some reason as it was when things dried out a bit - fluffier loam, more dust...I'm not sure why, but as January gave way to February and March, it became clear that every ride was going to end in needing to tip the shoes upside down to empty them out - if I made it that far, because frankly there were several rides where I had to stop partway through to eject trail debris from my shoes. I was otherwise impressed with the shoes but this trait makes them far from ideal if your ride conditions include loam or other bits of trail being sprayed towards your shoes or ankles.
Differences between the Five Ten Trailcross Mid Pro vs Trailcross XT
The shoe I'd wanted to test all along was the Trailcross Mid Pro, seen here. Despite the name, it is actually closer to a high top, and thankfully the neoprene cuff on the Mid Pros is more snug than on the XTs. Unlike the Trailcross XT, the Mid Pros do a very effective job of keeping out all of the stuff your front tire kicks up at your feet and ankles, leaving your feet protected and comfortable.
The other notable difference between the Trailcross XT and the higher-cut Mid Pro is the d30-clad protection zone on the inside and outside of each ankle. This feature will be one that appeals more to some than others but is thankfully thin and not really noticeable, so even if you have no use for ankle protection whatsoever, you'll never notice it. Unless you need it - then you'll be thankful. Those with bulbous ankle protuberances no doubt have memories of very painful contact with cranks, the occasional chain stay, or something on the outboard side like a stump or rock if you're really unlucky. No matter what it hits, your medial malleolus (malleoli?) is especially sensitive and that shit hurts. I've hit it over the years, and a little extra protection in this case is a nice touch, especially because it doesn't add bulk or weight that you feel.
Beyond those differences, the Trailcross Mid Pro is basically identical to the XT, but I'd recommend avoiding the XT due to the issue with the ankle gaiter, unless you have wide (c)ankles or aren't concerned about stuff getting in. The idea of a high top shoe for spring and summer riding may not be that attractive in hot climates, but the neoprene cuff is thin and perforated and the sock that encloses your foot, as well as the material on the forefoot of the shoe, are both mesh, so the shoe breathes very well.
What is odd to me is that the Trailcross Mid Pro has the ankle protection, but like the XT, it has none around the toe, which would be a great addition for V2 (hint hint Five Ten). I can understand having one or even two minimal versions of this shoe for bike packing and trail riding, but a high top version seems aimed at more aggressive riding, particularly with the ankle padding, and the rest of the shoe doesn't really have the same design direction, and although I'll admit it's worked well for me in all kinds of terrain, I have tagged my toes a few times and it reminded me that they're unprotected. Despite that, as with the XTs, the Mid Pros are comfortable, light, dry quickly and stick to the pedals like gum to a sidewalk. If you can forego the lack of toe bumpers, the Five Ten Trailcross Mid Pro are a great bet for all but the coldest and wettest days on the bike*.
*size them for thick or waterproof socks, though, and you can take on cold and/or wet conditions...at least until Five Ten released the Gore-Tex version of this shoe, rumoured to be landing this August.
Five Ten inventory seems to be more available recently, and the Trailcross Mid Pro is available for $170 US at Jenson (limited sizing) or Worldwide Cyclery (good size selection) either of those will ship to Canada, or $220 CAD from Bicicletta or as always, check with your local bike shop.